It was hard to say goodbye to Bangkok, but as we shoved my oversize yellow bag into the taxi one last time before heading to Thailand's second largest city, Chiang Mai.  I gripped Nico's hand and got a sudden rush of excitement. Part of the reason we chose Thailand as our honeymoon destination was the sheer fact that it almost too easy to jet around the country. This article is a collaborative effort with Expedia.com to share a romantic itinerary in Chiang Mai, Thailand.
This was to be part two of our four part trip, a newlywed dalliance in the lush mountainous north, we both were looking forward to some cooler weather after the very humid Bangkok. Chiang Mai also held a certain fascination for myself, formally the capital of the Lanna Kingdom, it boasts 300 Buddhist temples for exploring and I was itching to see it all.
I will say as well that Chiang Mai wasn't an immediate love story, I found the city at first a little confusing and 'eh' initially, which changed dramatically the longer we were there. Instead, my love for the city took a slow-growth, in fact that's probably the kind of 'amore' that typically lasts longer, doesn't it? It's the kind of place I would recommend getting lost, popping into the (many) temples in order to find your favorite and eating your way through the truly excellent Northern Thai cuisine. It also seems to be a popular hub for International creatives and a more chilled place for backpackers, we definitely saw a lot of foreign faces.
As soon as I stopped trying to see everything or feel stressed that I wasn't seeing enough, Is when I really allowed myself to have a good time.  I am very passionate about my 36-48 hours series as I feel like it is a great stepping stone to help travelers plan their trips, and in his case honeymooners, based on our experiences.
Sunday, 1pm – Welcome to Paradise
Arriv We were set to stay in the Four Seasons Chiang Mai, about forty kilometers outside of the city, a resort set in the middle of rice paddies. I had been stalking them on Instagram for about six months at this point. I was well-prepared for mosquitoes, a very unpopular citizen in this part of the country, and brought enough to erase part of the population that hopefully wouldn't congregate near us anytime soon.
After a smooth flight, we grabbed out bags and a driver from the hotel was waiting to whisk us off to paradise. And what awaited us was more than I ever expected, I felt a very 'welcome to Miami' Will Smith excitement. We entered the twilight zone of honeymoon moments, and this resort was nothing I had ever seen but something you would expect from the Four Seasons brand.
We then proceeded to a local Motorbike & Scooter Rental Shop where we hired out a few scooters to make travelling via roads a breeze. Next up, finding our dream bungalow.
Imagine your own private bungalow with bathtub big enough to swim in and a private terrace overlooking the rice fields. Our bed was made into two loved-up swans, sprinkled with roses and I spotted an overflowing bowl of fruit and bubbly waiting for us. Hallelujah!  I sometimes wonder if I will ever see a place as a nice as this ever again.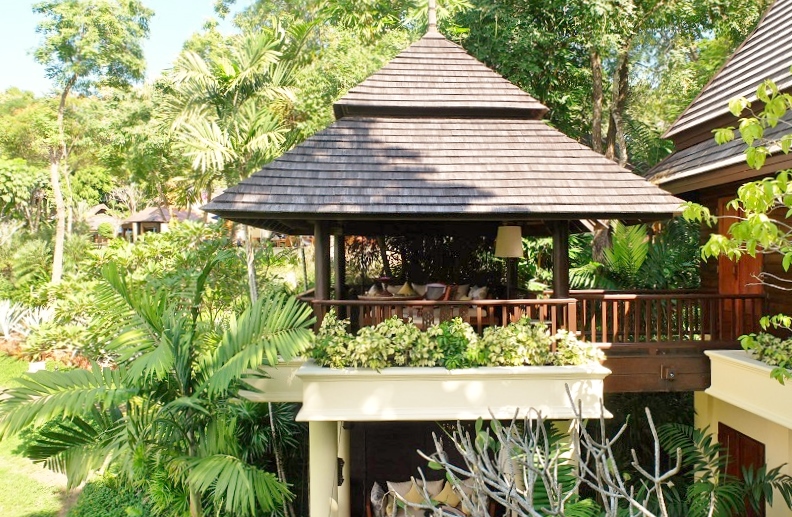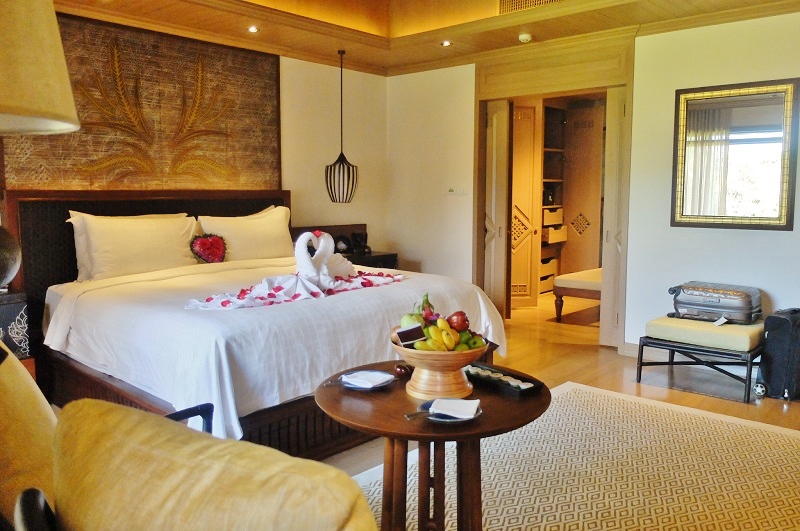 Lunch proved to be that Northern Thai flavors had to be my favorite in Thailand so far. Their traditional restaurant overlooked the rice paddies, a very scenic spot indeed to gorge on Hors D'Oeuvres Ruam,  medley of spicy flavors including a spicy Chiang Mai pork sausage, breaded Thai Shrimp Cakes with Plum Sauce, Grilled Chicken Satays with Peanut Sauce and more, followed by Pla Kapong Nueng Kratiem Tone (grilled sea bass with pickled pearl garlic and a spicy chili lime sauce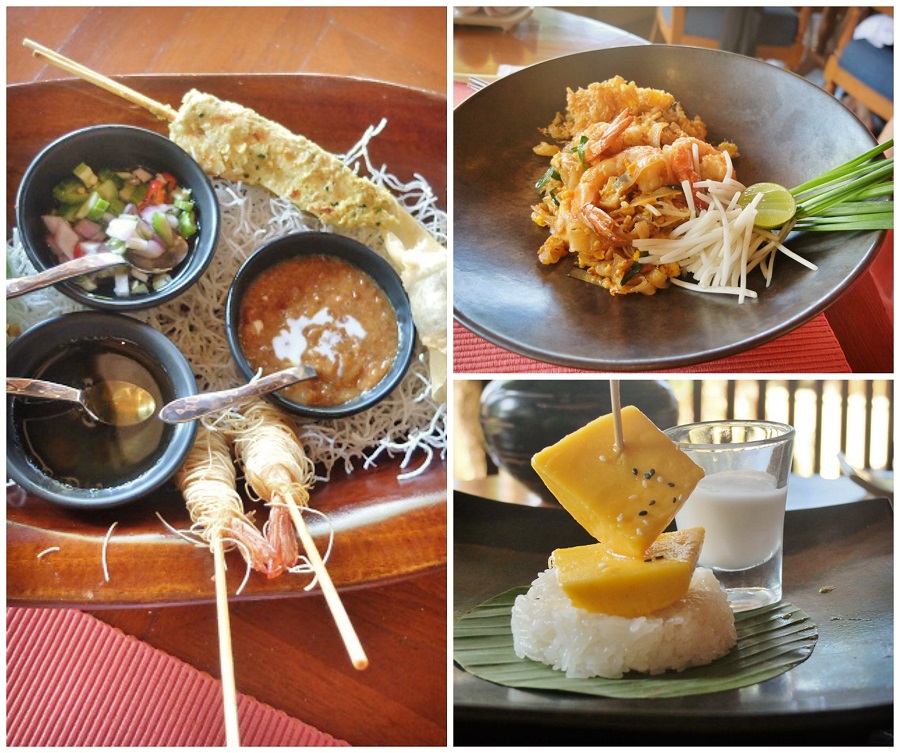 4Pm Shuttle to Chiang Mai and The Sunday Walking Market
What's interesting about Chiang Mai is that the old City is surrounded by a walled moat, and is just a single square mile. I noticed the backpacker and hipster vibe on Nimanhaemin Road, but the city seemed to me to be filled with contrasts. We stopped at Wat Buppharam, built in 1497 by King Muang Kaew,  it sits just outside the old walled city. The architecture is a blend of  the Burmese and Mon style,  it's as magnificent as it looks, inside the Ho Monthian hall there are numerous murals worth checking out.
https://www.instagram.com/p/–L9LrxTEQ/?taken-by=girlinflorence
It was hard to discover just 'where' everything was but since it was Sunday and the famous walking market, we soon figured out where to go. The Sunday walking market starts at Tha Pae Gate and runs for about a kilometer and a half down Ratchadamnoen Road. There are so many goodies to be found here. We picked up a pretty iPad case and I drooled over some khanom krok – miniature coconut pancakes. Nico was a fan too, pointing out the many street performers playing music.
If you have time, I also recommend stopping by Bann Khang Wat which is close to Wat Umong. It is a special artistic village that features local artisans that give back to the community,all located in a cute space around a small amphitheater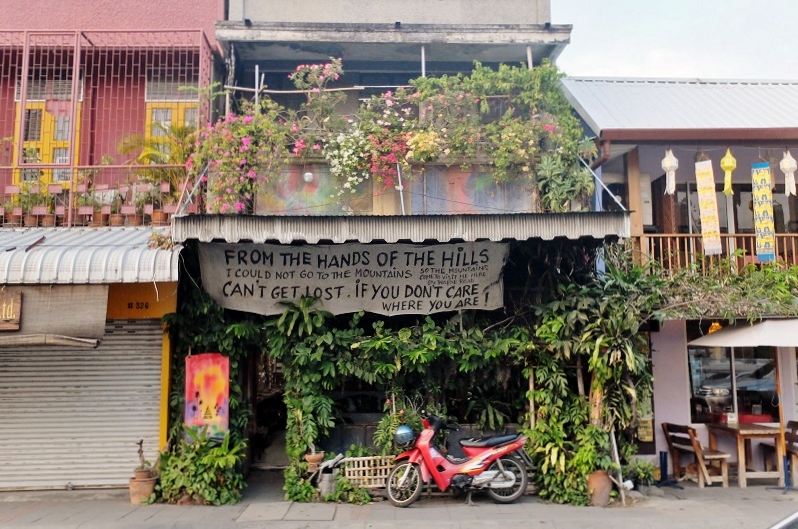 I heard that there is also a Saturday market on Wualai Road which is much less crazy than the Sunday version, but we were happy to be immersed in the chaos. Yes it is overly crowded, but we went early and were able to meander hand-in-hand checking all of the items for sales, and browse the many food stalls, before the real crowds kicked in after about an hour and a half.
It's a real experience and one that I would highly recommend; in fact we filmed our walk on the GoPro just to show you what it was really like. There are also two temples along the Sunday walking street route, Wat Phan Tao is on the main stretch while down a side street is the impressive temple of Wat Chedi Luang.

Monday, 9am Massage Of The Royal Variety
Massage and Thailand goes together a bit like sticky rice and mango, it just works doesn't it, and you don't ask questions. Like I mentioned before in my Bangkok post, you can find a wide variety of awesome massage options anywhere you can blink an eye in Thailand and Chiang Mai was no exception. Since we craved a truly luxurious experience, we did a couples massage first thing Monday morning. Nico was scared of getting his back pounded in like a few of the massages we got in Bangkok so word to the wise, dictate how much pressure you want.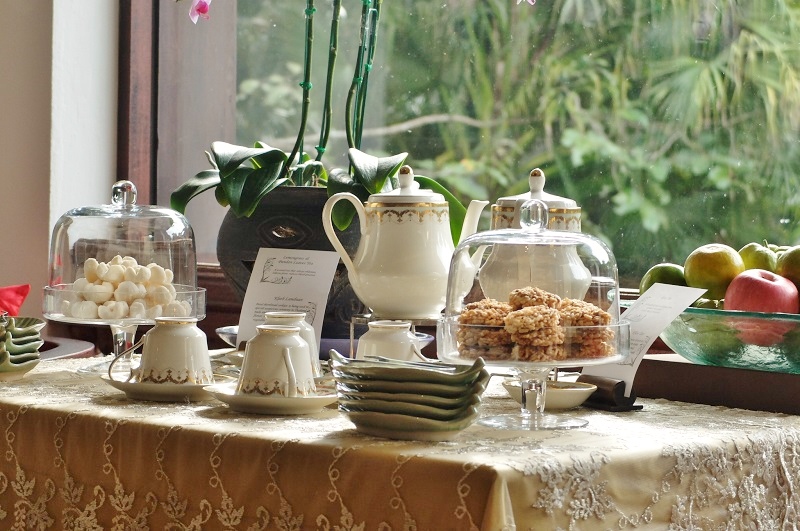 The 'royal sumunprai' massage offered at the FS is a traditional Thai experience that is unchanged from the 18th century, when hot poultices were used to treat battle-weary soldiers. I would describe it as the best massage I've ever had,  it was such a beautiful hour and a half. As they finished up, they placed a delicate gold leaf on our foreheads as part of the tradition. I felt seriously cool (and expensive) after this — ready for a day's work.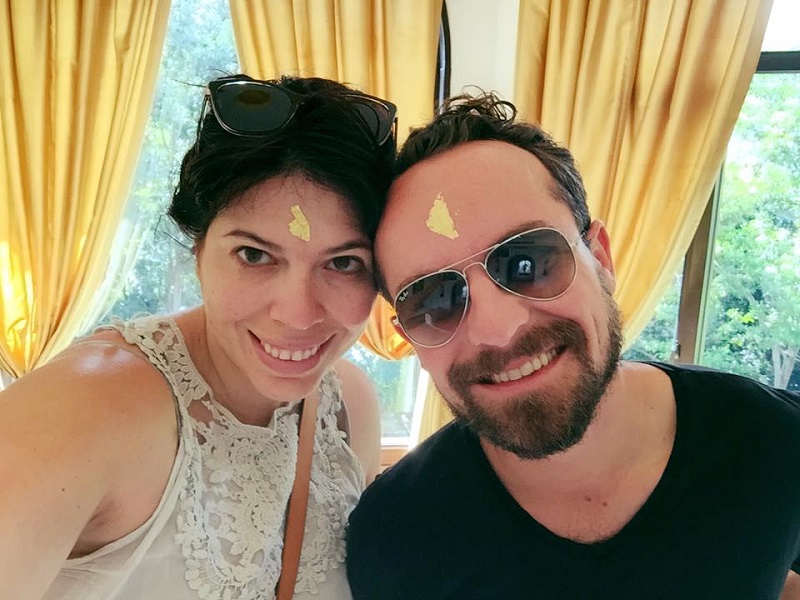 11am Pool-time and relax
At this point, the sun was high in the sky and burning us pretty much immediately, we decided to take a siesta by the pool before heading back into Chiang Mai. Part of any honeymoon itinerary should embrace a slower approach than your minute-by-minute travel itinerary. Of course that is my personal opinion but it was indeed nice to share plenty of lazy moments with Nico, catching up on all of the reads I promised I would get done with the year before. This trip I finished All the Light We Cannot See by Anthony Doerr and The Nightingale by Kristin Hannah, both excellent reads that I would recommend to anyone who likes WWII era-fiction.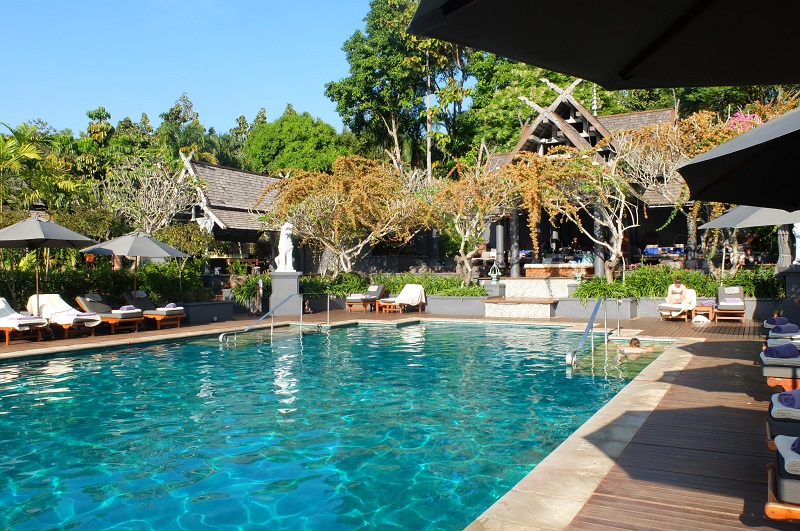 3pm Shuttle And Flytographer shoot.
At 3:30 that afternoon, we had an appointment at the very cool Fern Forest Café with a cool couple, Laura & Tim who were going to take a few honeymoon shots of Nico and I using the service Flytographer, which has local photographers in over 160+ countries.
After our experience in Paris, I knew I needed to call them again as there is nothing better than having some really beautiful professional shots of your vacation by people who know the best areas of town. They are a pleasure to work with and we traipsed around the back streets and tiny alleyways of the city. My scarf became somewhat of a protagonist in itself, ebbing and flowing through over the ancient walls of the city.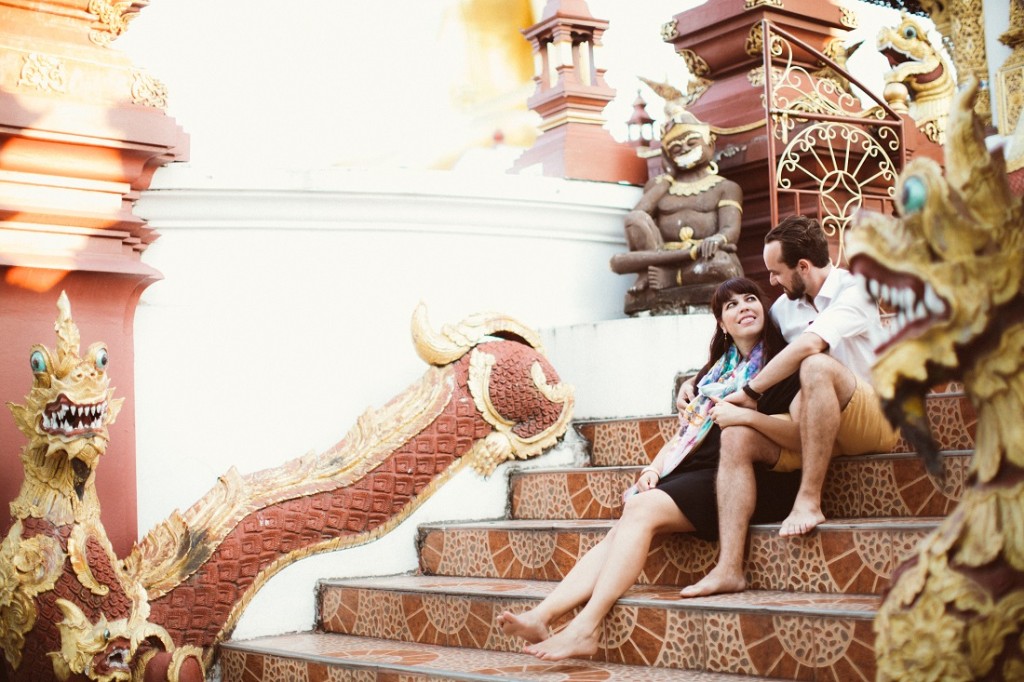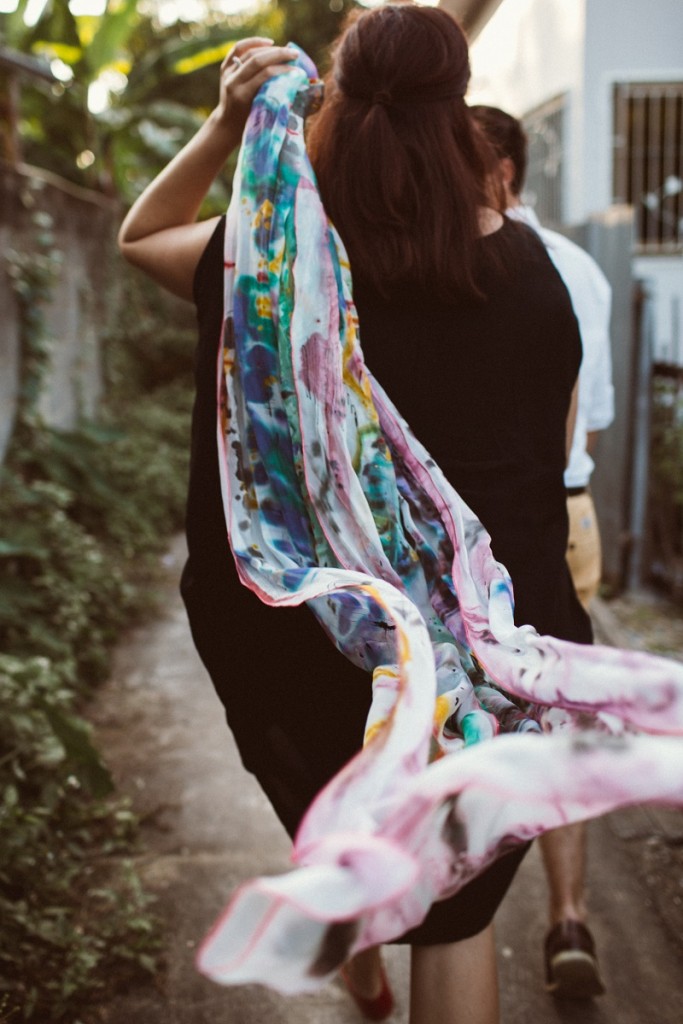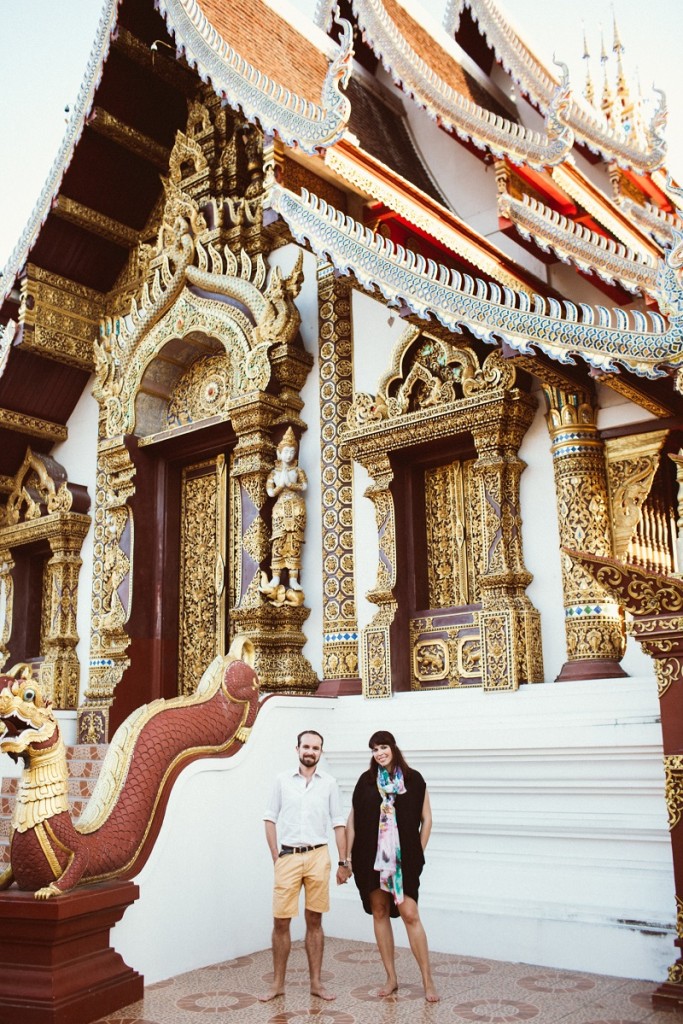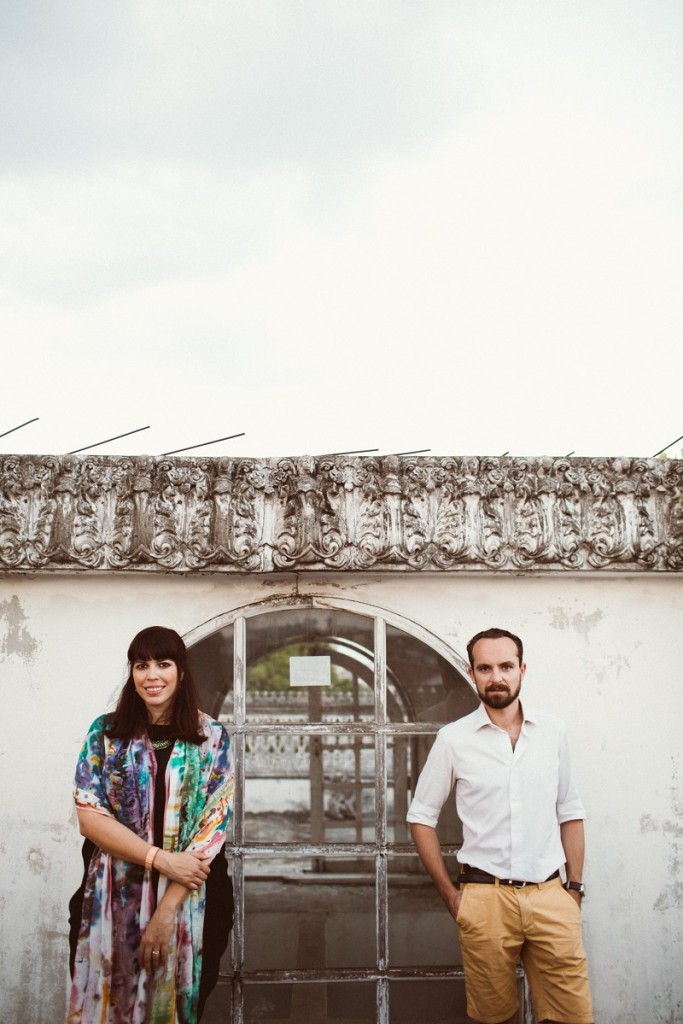 6pm Night markets and street food
After our amazing time taking shots all around the city, we were ready to get a drink and do a little market browsing. I soon realized that we were in no way close to where we needed to be so we took our first shared taxi or 'songthaew' to the night-market area, basically it looks like a larger 'tuk tuk with the back containing to long wooden benches).
Cheap and painless, we just pointed where needed to be on the map and showed the driver. The Night bazaar is on Chang Khlang Road and filled with imitation brands and a lot of well, crap. The truth is, the Sunday walking market is a much better market experience and after an hour of pointless browsing I was over it. We headed to the nearby 'Ploen Ruedeea'  area filled with food trucks and live music featuring popular oldies to get our own little party started.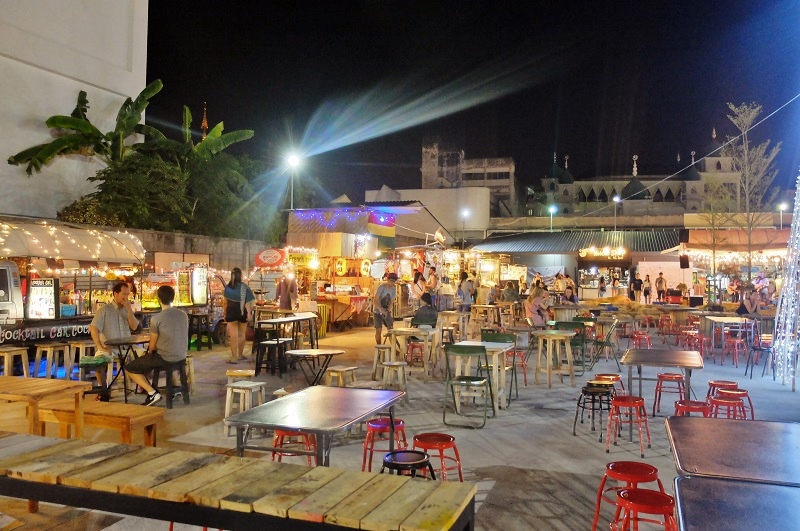 It was definitely more of an international flair when it comes to food choices but it's also a lot of fun, I had 'Thai bbq' and grilled corn which definitely hit the spot. For more traditional and authentic Thai choices try Warorot Market, Muang Mai Market and my favorite, the Chang Puak Gate Market. You will find all of the usual suspects — noodle soups and stir-frys featuring pork, chicken or vegetarian options.
Go for traditional favorites like Pad Pak Boong Fai Daeng (simple yet delicious stir fried vegetable side dish made with Pak Boong 'morning glory'), or Khao Soy, a curry and coconut noodle soup. Most dishes cost around 20-50 baht (a little over a euro) at most street vendors while at the hipster food truck market it is about double that if not more.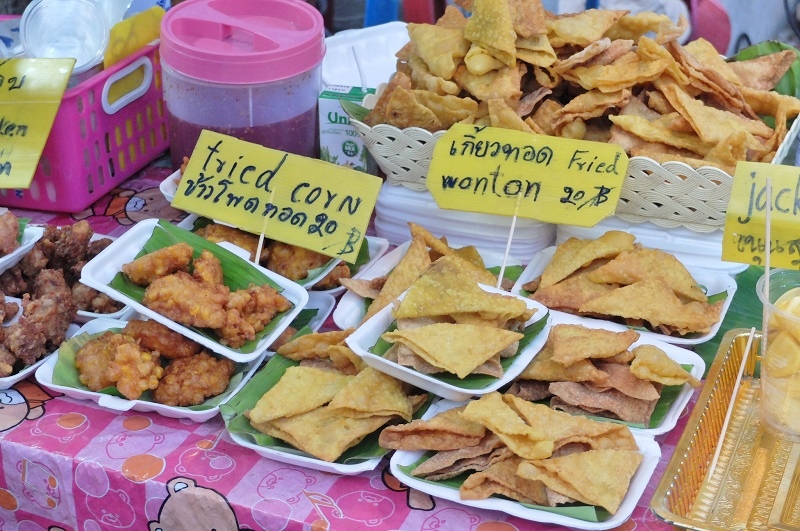 Also remember to try one of Chiang Mai's fantastic cafes such as the wonderful Free Bird (who also support a great cause) serving deliciousness such as pumpkin curry or lavender lattes on Maneenoparat Rd (only open until 5pm)
10pm return to the resort
After taking a walk in the pretty rice-paddies, we spend the rest of the night on our little terrace with a glass of wine and chatting about the day. Slumber came easy that evening as it often does when you've enjoyed a completely exciting day with the person you just chose to spend the rest of your life with. After all, this was our honeymoon
Tuesday 7am yoga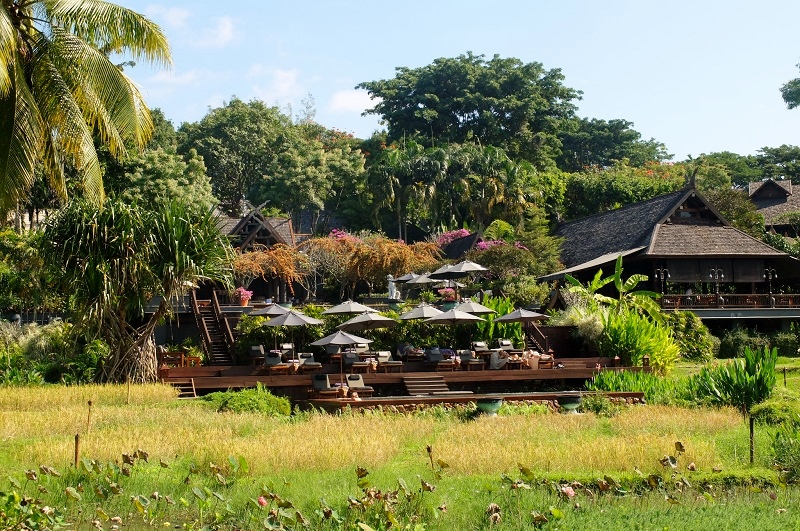 Thailand was the place of many firsts for me, another being waking up at the crack of dawn with Nico for a sunrise yoga session by the rice paddies at the Four Seasons. When I spotted this on the list of activities, I thought why not? I am may be the most awkward person in gym class, but at least it was going to be so early, I'm sure no one would notice.
"Please come, it is a splendid day for yoga isn't it?" says resident yogi Dheeraj.
He was calm, cool and collected – basically everything I am not, and he proved his patience by what happened next.  Just as the class was about to start the strangest thing happened. We heard voices behind us, they sounded Russian, loudly complaining that the class was not private and they were under the impression it was to be a private class just between them three. Like petulant children who didn't get their candy after school, I could hear the mans frustrated breathing. I stifled a giggle because it was just Nico, one other man and myself. Hardly the frightening group to do yoga with. Seriously dude? 
Dheeraj handled the situation with grace and class, firmly insisting that he indeed told them that the class was not private. They stamped off in a huff and the real adults were not ready to begin.
He took us into a variety of poses that challenged us but that were just as spiritual as they were physical. At one point, I opened my eyes and saw the sun rising from behind the mountains, just as we finished our last pose. It was one of the best moments during our trip, and something I'd like to incorporate more in our daily lives.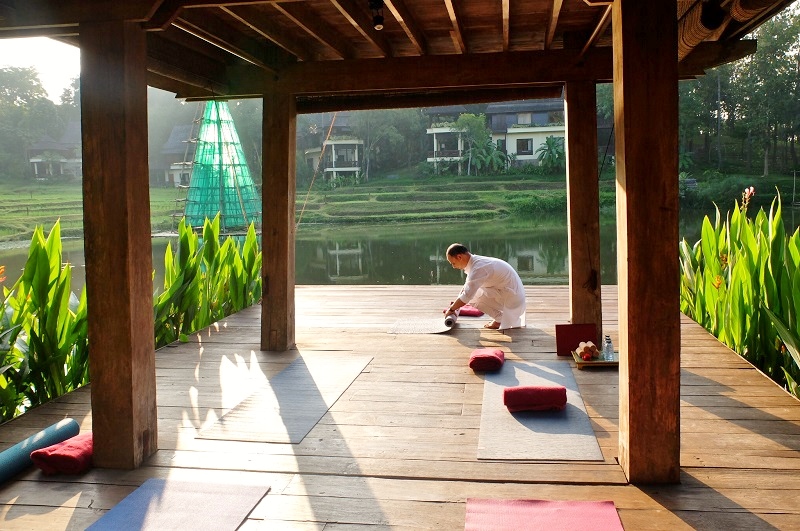 https://www.instagram.com/p/_Ax68SRTBe/?taken-by=girlinflorence
10:30am: rice-planting
Northern Thailand is known for the production of much of the countries rice, this grain represents a significant portion of the Thai economy and labor force which is why we wanted to learn more about it. It still happens that people will take a month of every year to return home and help their families plant rice (typically in September). There is a famous Thai saying that you should finish every grain of rice because of the work involved and after experiencing this myself, I will never waste rice again.
After getting outfitted in traditional farmer-wear of indigo-dyed shirts and trousers and rubber boots, we made our way to the fields where we met our guides for the hour-long experience. Farmer Tien has done this before, he wasted no time in showing us how the work is done while 'Paddy' our translator explained the process to us with a hearty laugh every two seconds.
He gestured for us to step into the mud and handed us rice to plant of our very own. I almost slipped but caught my balance, my row of little rice spring-lings was pretty pathetic next to Tien's extreme precision. It wasn't over, we then moved to a little wooden shed where the labor really started, we beat the dried rice stalks (called threshing) to loosen the hull and then tossed the grains in the air to remove chaff.
Here is where we also ran into the resident water buffaloes who seemed to have just as luxurious of lives as the privileged guests of the Four Seasons.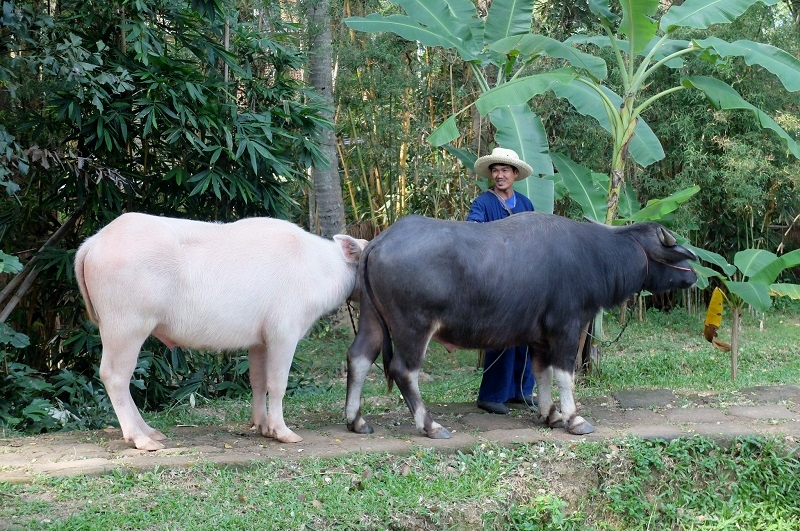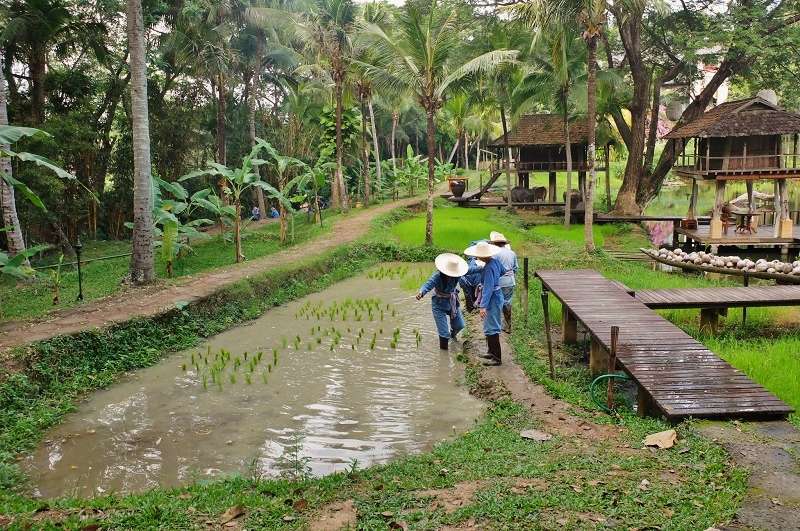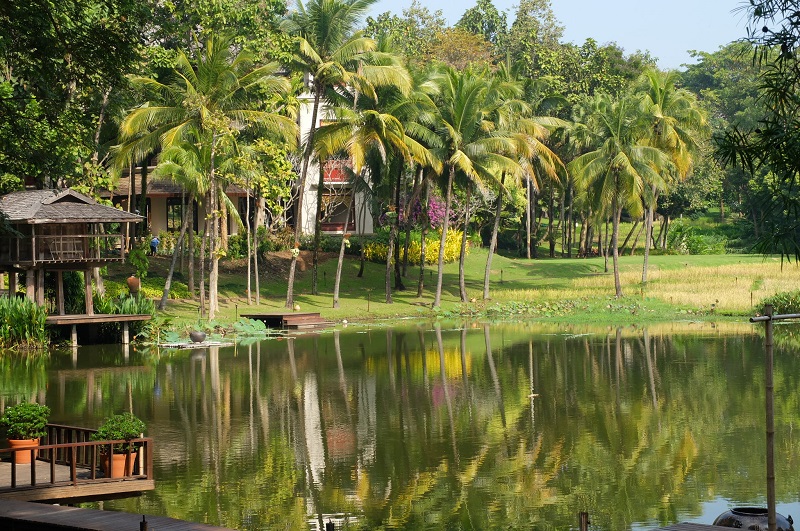 2pm Bike-ride, lunch and temple hopping around Mai Rim
After getting a pair of bikes on the recommendation of Dheeraj, we managed to visit the area of Mai Rim, which is extremely lush and beautiful to see on two wheels. Just grab a pair of sunglasses, mosquito repellent (always), water,  a bit of money and a hat (that sun is fierce) and make your way up and down the slight hills surrounding the resort. Nearby there is the 'Tiger Kingdom' and some elephant parks but I have serious doubts that taking photos with tigers that look drugged should be part of anyone's trips. I say avoid it. We also stopped by a few temples, which I cannot remember the name (there are over 300 temples here after all) which made for some pretty, ahem, creative photo-ops.
We discovered a tiny little café 'Sala' a few kilometers from the resort where locals congregate. Yet another example of the beautiful hidden finds around Chiang Mai. Lunch was a grand total of 10 euros between the two of us, this included multiple courses and drinks. I chose a simple and spicy red curry while Nico did the classic 'I'm in a Thailand, I'll just order pad thai everywhere we go.' We ended with a delicate lemon tart, with a bit of whipped meringue on top. After all those kilometers on the bike, we earned it.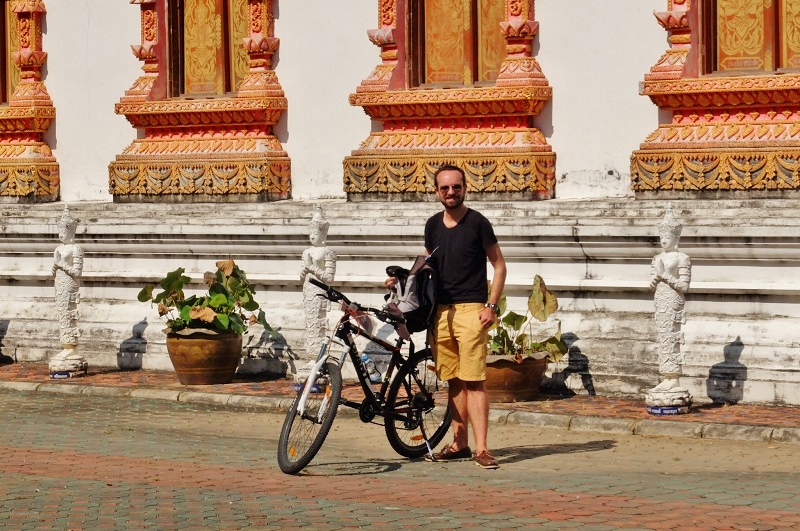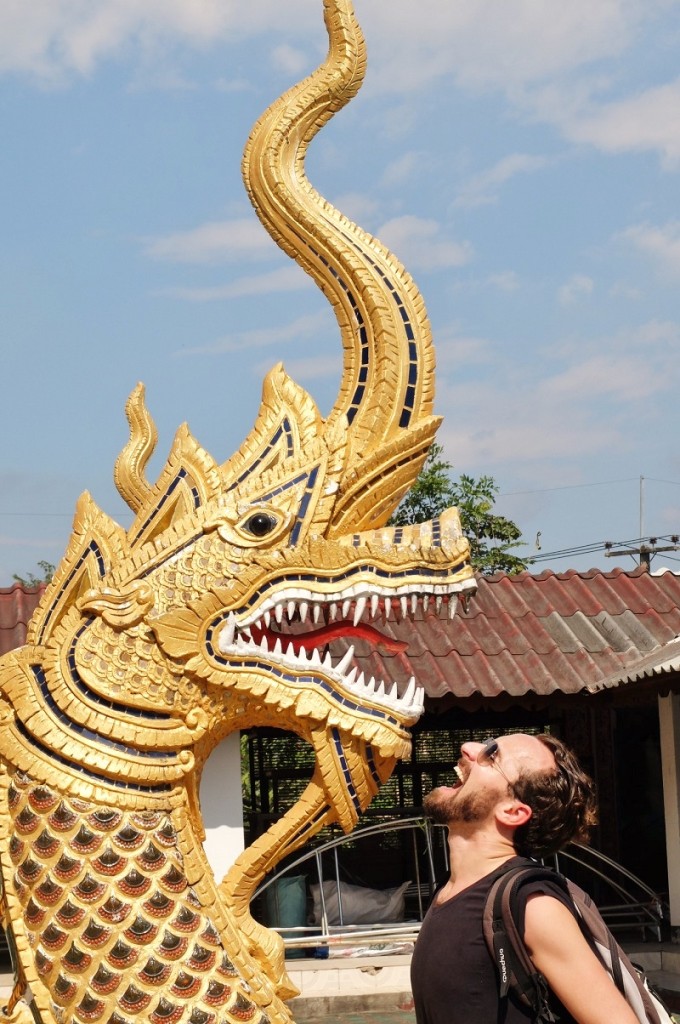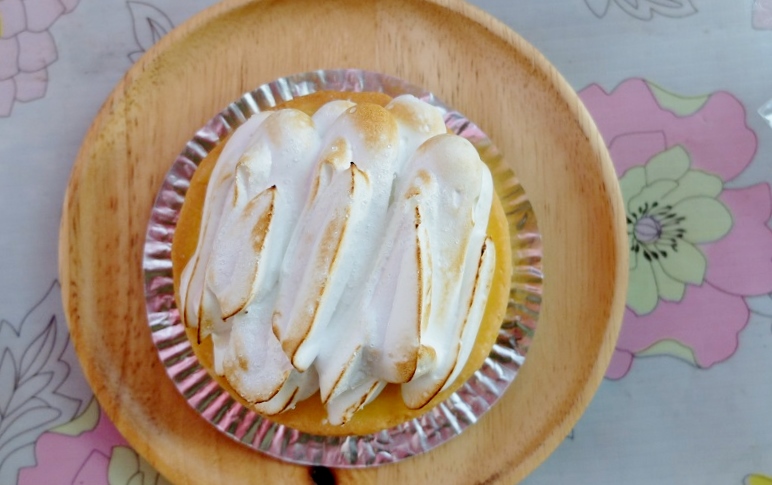 5:30pm Last dip and sunset cocktails 
We heard that the bar at the Four Seasons was the place for a drink from expert mixologist Javier de las Muelas, Ratree (a type of jasmine) is adjacent to the pool in a casual Thai space serving up avant-garde cocktails. Every evening they offer a 'sundowners cocktail' from 5:00 pm to 7:00 pm and we grabbed a prime sunset-watching spot, Javier's 'Chiang Mai Mule' (made with Stolichnaya Vodka, Chili, Ginger and Lime)  was sigh-worthy good. I love a hint of spice and this was the perfect degree of freshness with a twist, we clinked our glasses as the sun went down on our last day in this beautiful place.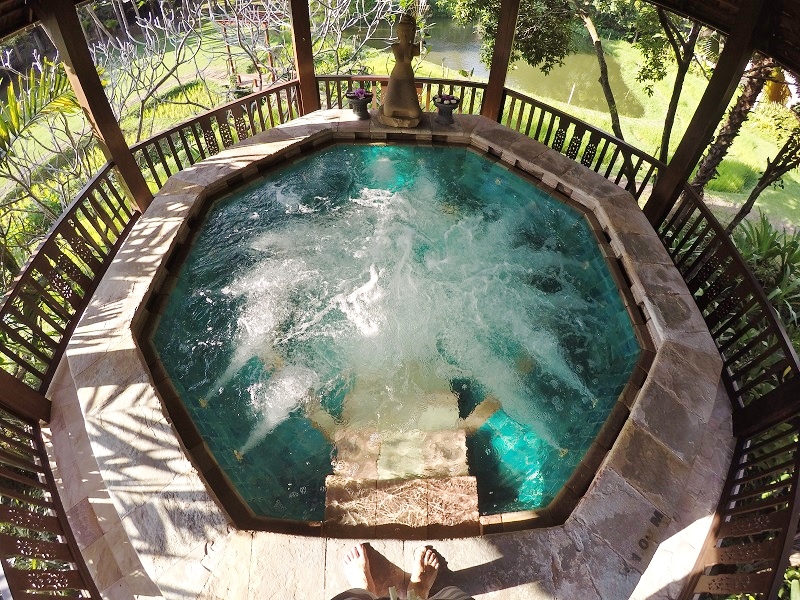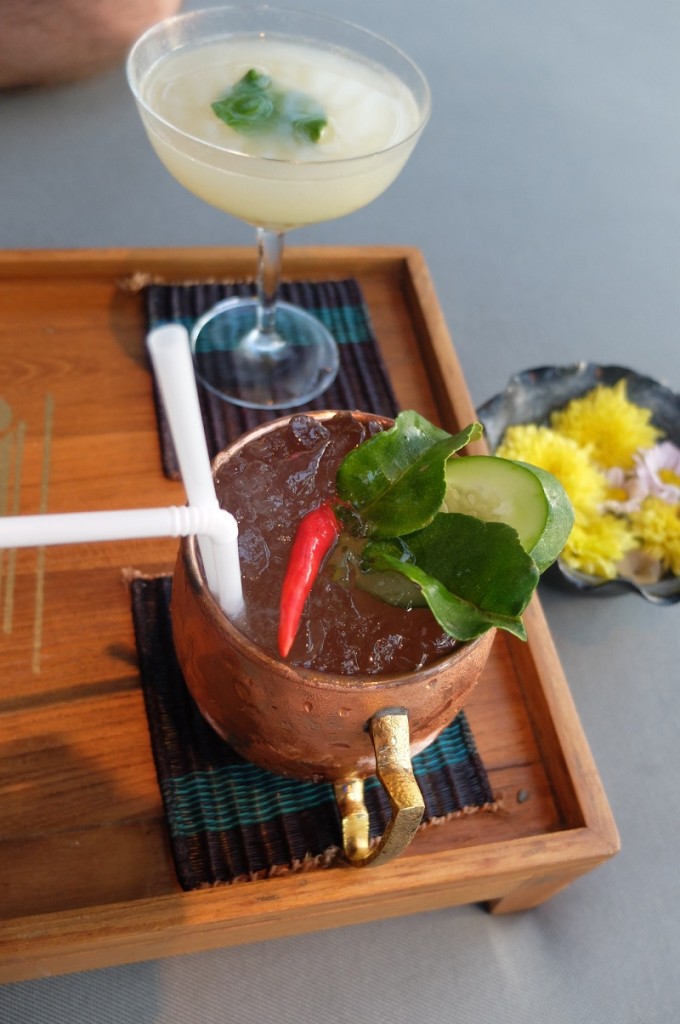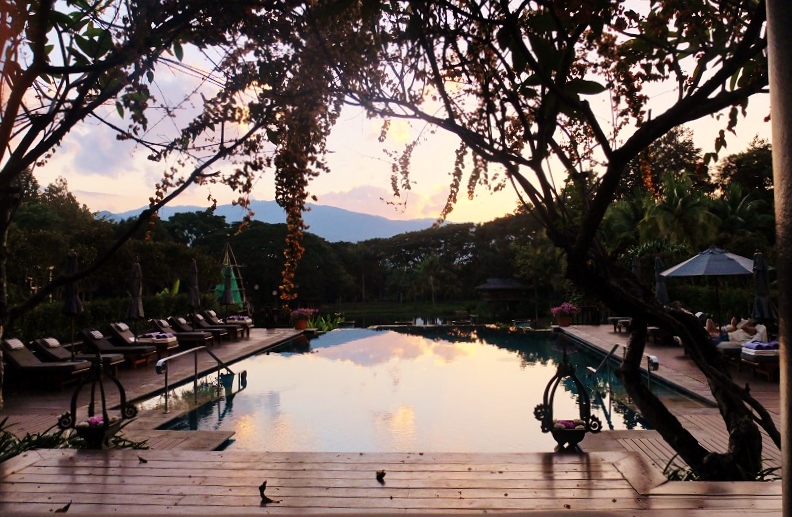 ---
Additional resources
If you liked this post, please pin this image and share, I always appreciate it and I also welcome and all comments. Let me know what you thought of Chiang Mai and let us in on hidden finds you adore!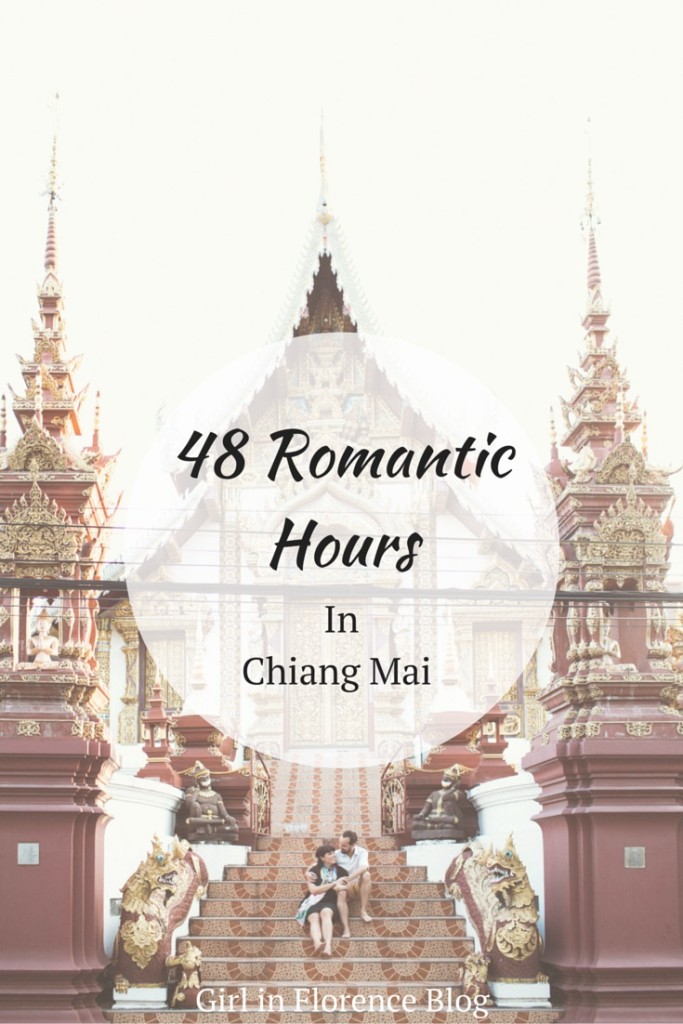 Where we stayed
Four Seasons Chiang Mai, Mae Rim-Samoeng Old Road, 50180, Thailand, website.
Where we ate
Sala Mai Rim (Four Seasons)
Sala Cafe, Maerim-Samoeng Road, Mae Rim 50180, Thailand, facebook.
Fern Forest Café, 2/2, Soi 4, Singharat Rd, Chiang Mai, Thailand. 
Food 4 Thought, 15/5 Moo 1, Soi Sudjai, Tanon Khlong Chonlapratarn, Tambon Chang Phuak, Mueang Chiang Mai District, Chiang Mai 50300, Thailand. Awesome spot serving for a healthy western-style brunch.
Ploen Ruedeea night market, open daily 5pm-Midnight (excluding Sundays). Chang Klan Road | Opposite mosque, Chiang Mai 50100, Thailand. Fun street food area with a hipster vibe.
Free Bird Cafe, Manee Nopparat Rd, Mueang Chiang Mai District, Chiang Mai 50300, Thailand. Really excellent Thai iced tea, french toast and lavender (yes) latte!
For additional foodie haunts, check out this post by The Culture Trip.
Where we visited
Wat Phra That Doi Suthep temple, Address: Mueang Chiang Mai District. It will take you 309 steps to reach the pagodas and this has to be one of the coolest spots (just outside) of Chiang Mai. Apparently the sunsets here are drool-worthy.
Wat Buppharam temple, Address: Tha Pae road, Chiang Mai. It features the largest teak Buddha image in Thailand.
Bann Khang Wat, 1 123/1 ???? 5 Mueang Chiang Mai District, Chiang Mai 50200, Thailand. An artistic village that I discovered from a Bangkok blog that chooses conscientious businesses who give back to society, who doesn't love that? Read more about it here. +095-691-0888, 090-056-9042. Open daily 10am-6pm.
Flytographer, our shots were taken by Laura & Tim, a cool couple who made our stay in Chiang Mai even more delightful. Booking your own shoot is extremely easy & straightforward and I highly recommend it. After all it's all about the memories. 
What we missed
One thing I wish we would have had time to do was a morning hike on Doi Suthep, I read about this in the NY times and yet we just didn't have time to fit it in with everything else. I will say that we purposely didn't visit or ride any elephants because things like that make me sad, clearly no animal wants to be a tourists photo-op all day every day.
I also wish we could have visited the 'sticky waterfall' Bua Tong which sounds as freaky as it does interesting.
Please check out Paperlines Blog, a resource that I personally found extremely helpful for discovering Chiang Mai and even Phuket old town. She has made Chiang Mai her home for a number of years now and I found all of her recommendations to be spot on. To tell you the truth, she had me at hello when I read this post on her café suggestions in the city. Let's just say I'm the kind of gal who cannot go without a caffeine fix. Also check out this post on 50 free things to do around the city, because who doesn't love free.
We also didn't get to stop by the most famous smoothie cart which I read about on Legal Nomads. I did however have my fair share of fresh fruit and coconut water.
Disclaimer: While we did get hosted for certain aspects and parts of this trip, all opinions and thoughts are 100% my own.