30th birthdays are a big deal around these parts, entering a new decade and leaving another is a realization that things are going to change a little, if anything the excuses you can't use anymore. 'ya know… in your twenties..'. When I turned 30 last year, Nico surprised me with a trip to Puglia. He literally kept up the secret until we passed security at the airport. So when his birthday rolled around recently, I wanted to do something special but reasonable since we are getting married this month and have to keep costs down.
Without getting all cheesy but honestly I don't care I'll go for it anyway, he is the kind of man that you want to do things for. He asks for nothing, does the majority of the housework and still smiles and tells me my salty soup is the best thing he's ever eaten. Love is a funny thing, I used to validate it more on peaks of passion that always seem to subside as the years go on but in my time with Nico it has slowly grown. I think I had to trust myself that someone as good as him actually exists.
As I sat thinking about a romantic town in Tuscany that we hadn't yet seen, I decided it was time to leave our beloved region and discover Veneto a little better, and why not visit Verona. UNESCO-recognized for the urban structure and architecture and set of three Shakespeare plays Romeo and Juliet, The Two Gentlemen of Verona, and The Taming of the Shrew. Plus the close proximity to the Lago di garda (lake garda) was attractive as well, Italy's biggest lake was something I insisted that Nico see in person. Truth be told, I know little about Veneto. Having only been to carnival a few times in Venice and Padua (beautiful city), I really have an itch to discover more of North Italy .
We brought along our beagle Ginger, not originally planned to come with us, but luckily our accommodation claimed to be dog-friendly. Chugging away in our Fiat 500 with Ginger managing to not hop into the front seats, a miracle in itself. I should note that I have been to Verona before, briefly, during a trip with some students during the 'Verona in Love' festival the city hosts near Valentine's Day. It was pissing down rain, bone-chilling cold and the streets were crowded with revelers. I thought the city was pretty but I don't remember much else. After this visit, I am more fascinated by this city than ever before, a place where a murderous clan the Scaliger family (who ruled from the 13th-14th centuries) left their mark on the town with five Gothic funerary monuments. And that is just the beginning.
Keep in mind, I tend to write a lot, a bit like how I speak so if you are short on time scroll on down to the bottom where I have listed all of the quick details of this trip.
4-5Pm Arrival & Check In At Corte Realdi, Friday
Upon arrival, we parked our car outside of the center at Parcheggio Arsenale which was a cheap option at 12 euros a day, since our apartment was located in the historical center and we couldn't drive any closer. Parking is outside and can seem in a sketchy, unkept area but it worked for us. It was a glorious afternoon, we walked along the river passing a little market on the Medieval Scaliger Bridge,  next to the Castelvecchio, a 14th-century, red brick, fortified castle on the banks of the river Aldige. Sun beating on our faces and ginger doing the obligatory sniff of every dog's butt that we passed.
Walking in into the center, local Veronese were already out and about, hitting up shops and looking every bit as dapper as I imagined.  Finally we got to our street for the weekend, via mazzanti, which looks straight out of a fairy-tale. All cobblestones tall facades, a well perched directly in front of our door, a 15th century palazzo that is as grand as they come. This is Corte Realdi Verona.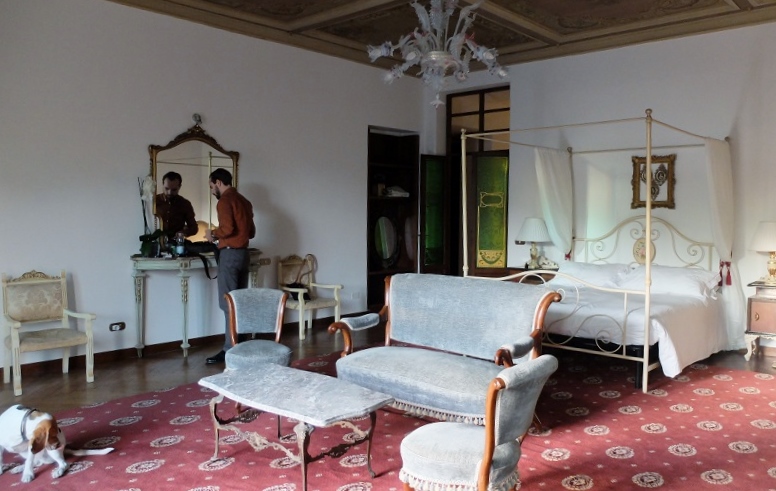 After essentially gawking at out surroundings, we were left with the keys to then freak out like little kids on just how cool this place really is. Two-bed, two bathrooms and they even left a bottle of prosecco with 'happy birthday' for Nico, a very nice touch. Our bedroom's terrace looked out onto piazza delle erbe, the market square that gave us live piano music day and night, and a smaller terrace on Piazza dei Signori. Ginger was in a puppy heaven, plenty to smell I'm sure.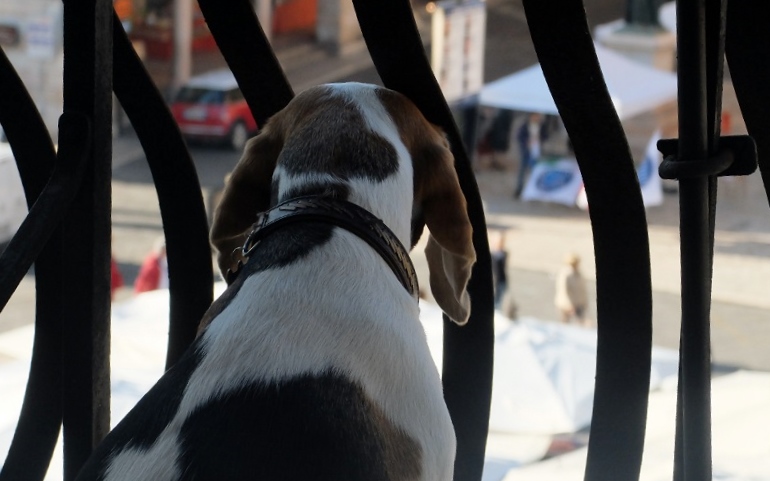 6pm Passeggiata & Shopping
We popped open the bottle of prosecco and a made cheers to a weekend that wasn't over-planned by me or a blog tour. This was all about rest, relaxation and taking it slow, something I need to remind myself. After walking Ginger, we dropped her off at the apartment for the classic Italian art of 'la passeggiata' or walk in town before or after dinner along the main shopping streets Corso Porta Borsari and Via Mazzini. As soon as the sun sets, which is much sooner because of the time change, everyone is out and about, shopping, drinking and Verona has a wonderful atmosphere in October. The summer crowds have thinned and everyone was in a great mood.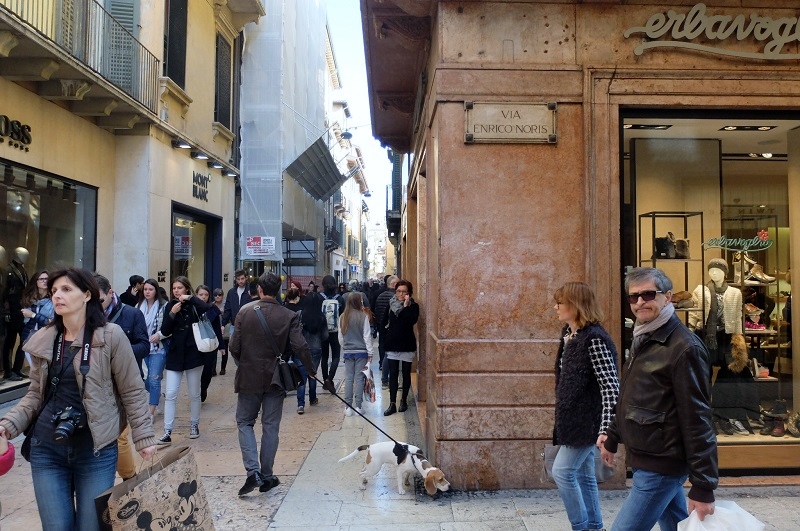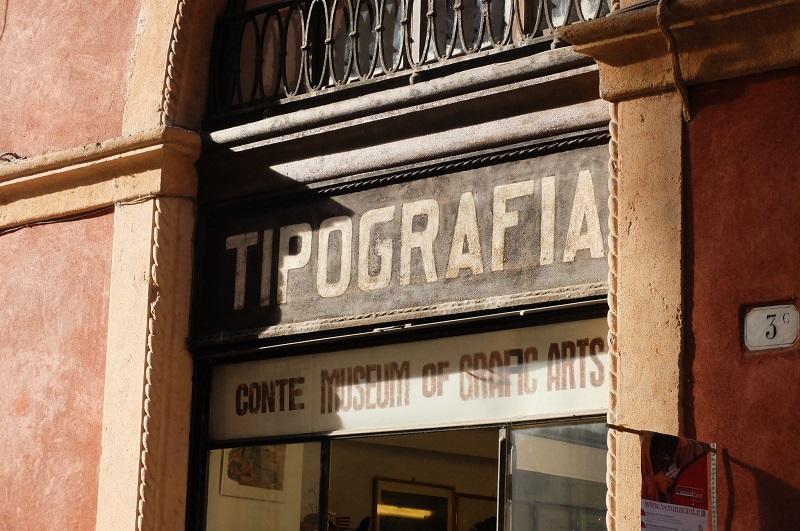 We were on the hunt for a winter coat for Nico and within 20 minutes of looking in Verona, we found a fantastic, elegant long classic dark blue one at an Amsterdam chain Scotch & Soda. Shopping in the store our first experience with the Veronese accent which is very different than what we are accustomed to hearing in Florence, it's really cool to notice these details once you're fluent in a language. The guy trying on clothes next to Nico was a primadonna of sorts who kept saying asinine things and preening himself like a peacock in front of the mirror, I admire the confidence of some people, I was just trying to stifle a laugh.
I also spotted a cute vintage shop on Via Quattro Spade 22. I didn't catch the name but it definitely caught my eye for the cute window displays and high-end vintage designer goods.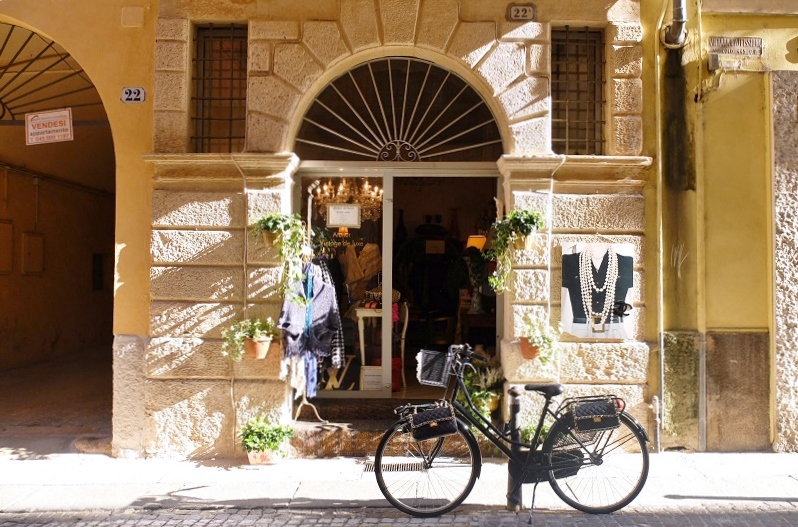 8:30Pm, Dinner
Our place for dinner that night was a typical trattoria recommended by a friend, Hostaria La Vecchia Fontanina, which is as down home as they get. The indoor decor was nothing to get excited about, it almost looked like a circolo of sorts, and outside a group of screaming Italians meant one thing was for sure, it was Friday night. We sat down, ordered a bottle of local Valpolicella Ripasso Villa Novare 2013, the wine here is great, bold but with fruity undertones and less stuck in your mouth than a Chianti Classico. I ordered a soft cheese tart while Nico went for polenta, typical of the area. Afterwards we both got the risotto made with Amarone wine, something you see on all of the menus in this city, along with horse meat or even donkey. A pleasant meal in a place that could definitely work on the atmosphere which was a little 'meh' for my tastes. I have been told, and I am not sure if it is true but finding really great food and affordable prices is a little tough in the center of Verona, I still have yet to be wowed, but then again, I'm not a local here.
Saturday, 10am Long Walk And Puppy Integration
It was hard to leave our wonderful apartment, we enjoyed a lingering breakfast on the terrace with the piano man back in action to serenade us all. It was a glorious day, the sun already high in the sky and begging us to get a move on. Our plan was to take ginger on a long walk and then drop her off before visiting a few sites. We checked out the Porta Borsari, an ancient Roman gate made of local limestone dating back to the first century AD. We walked along the river Adige, the 2nd largest river in Italy after the PO, its source in the Alpine province of South Tyrol near the Italian border with Austria and Switzerland. Local attractions the ancient roman ruins, including the famous arena completed in 30 AD, Castelvecchio and the modern art museum, the Roman theater, Lamberti tower, and plenty more, which you can find on any travel guide online.
Since some things are better explained with photos, here we go.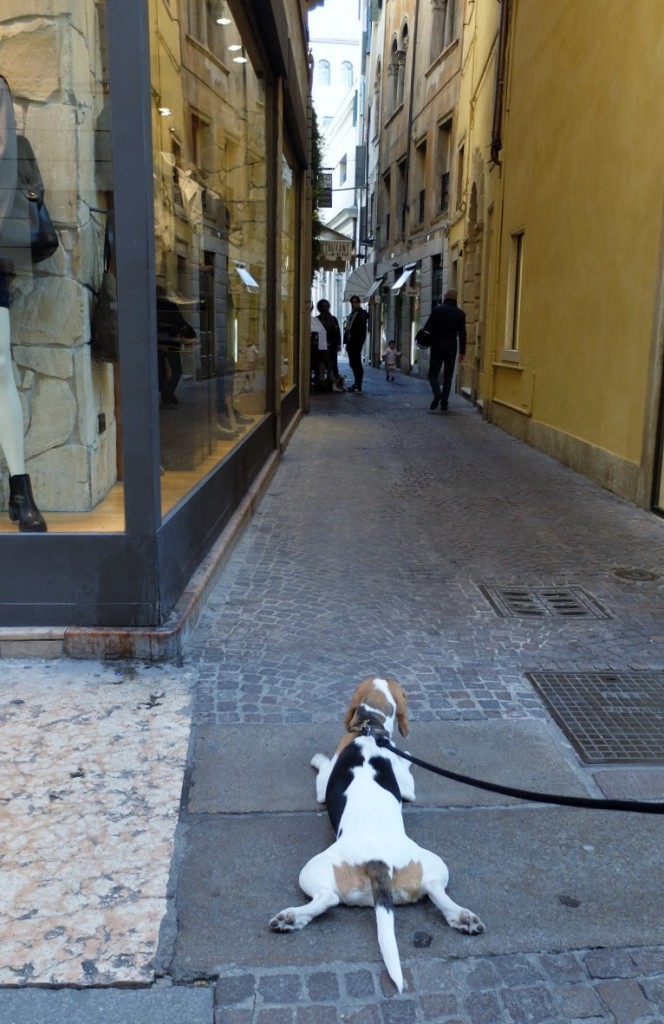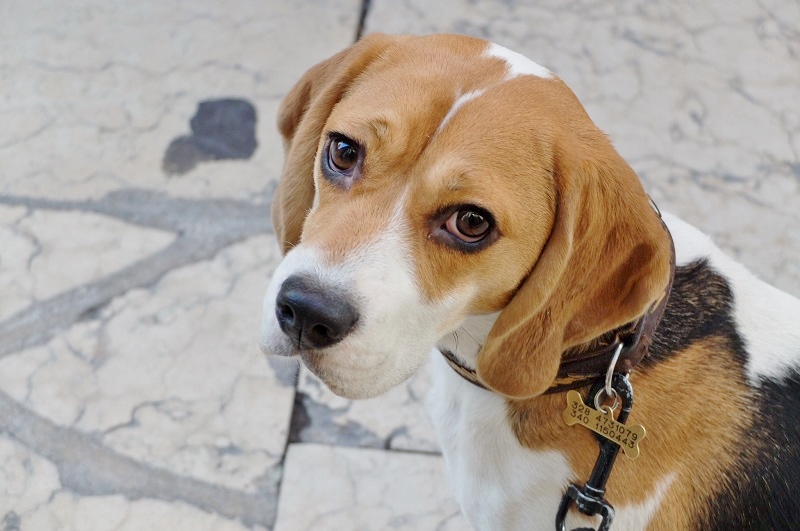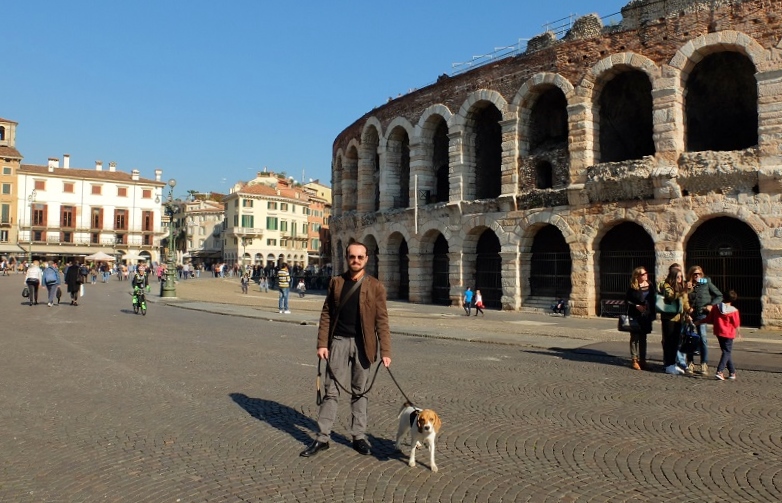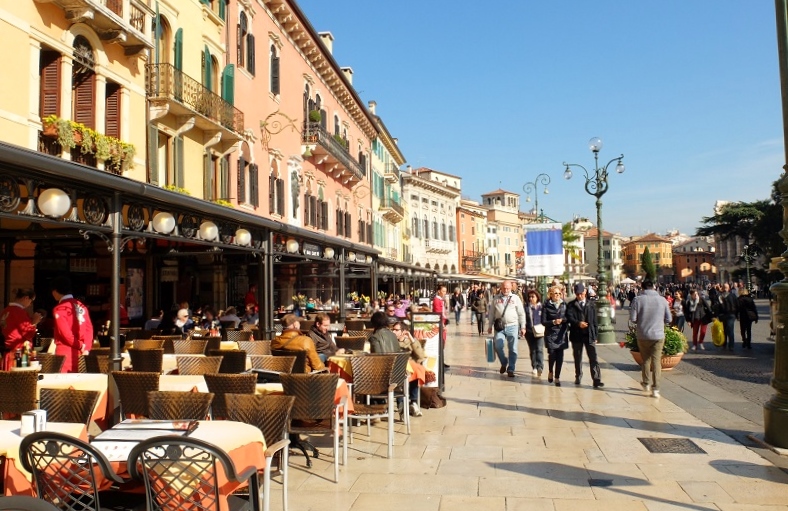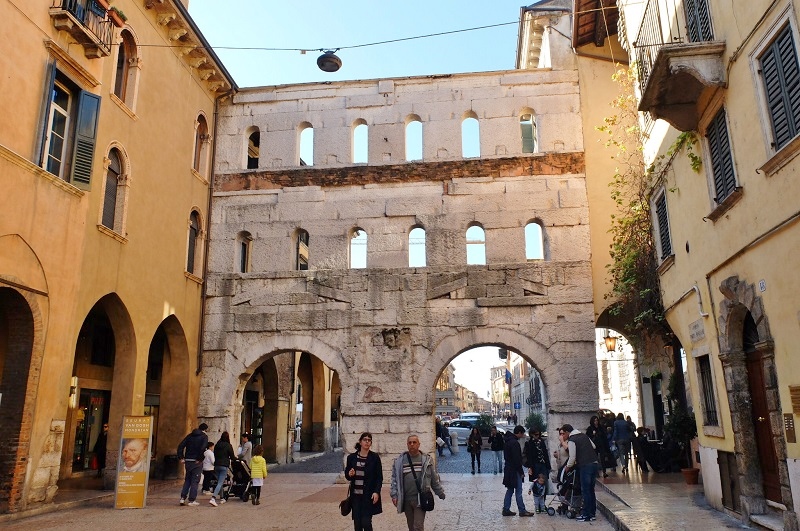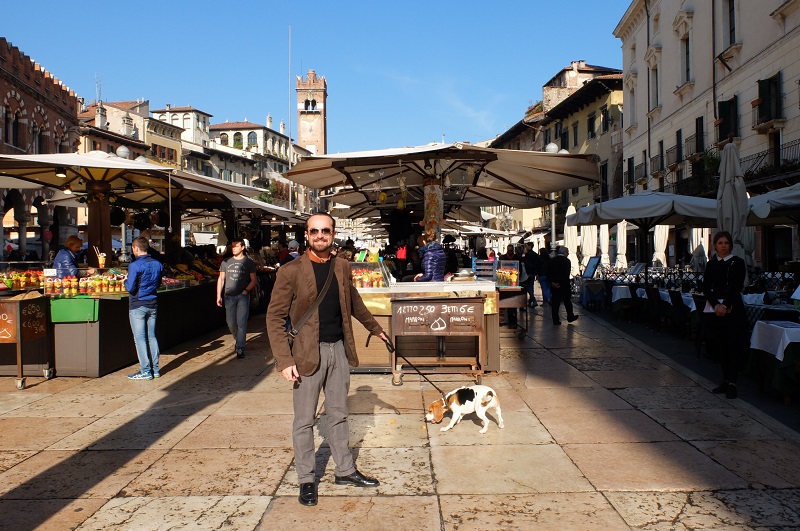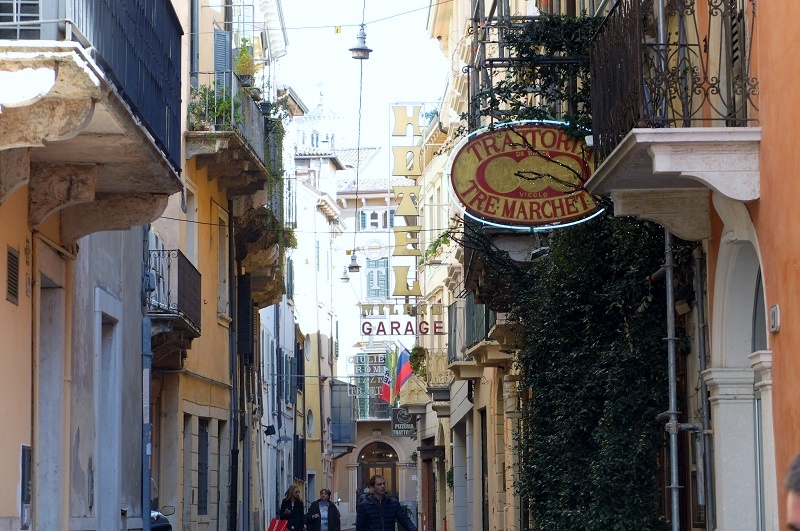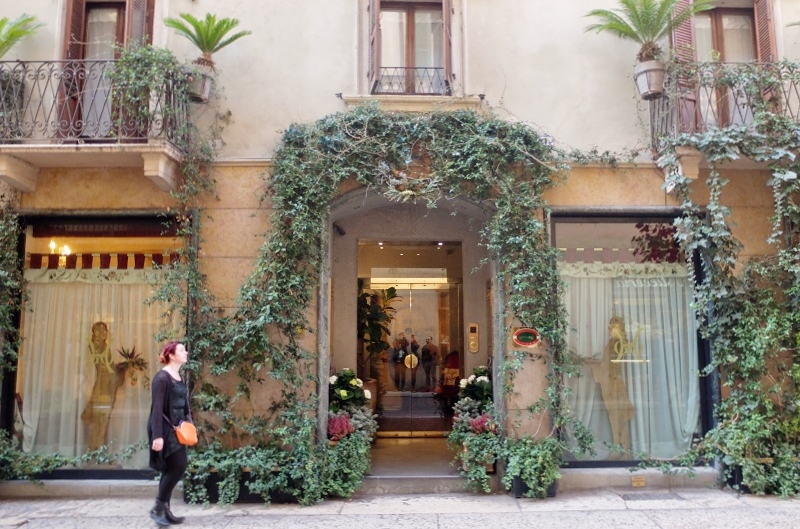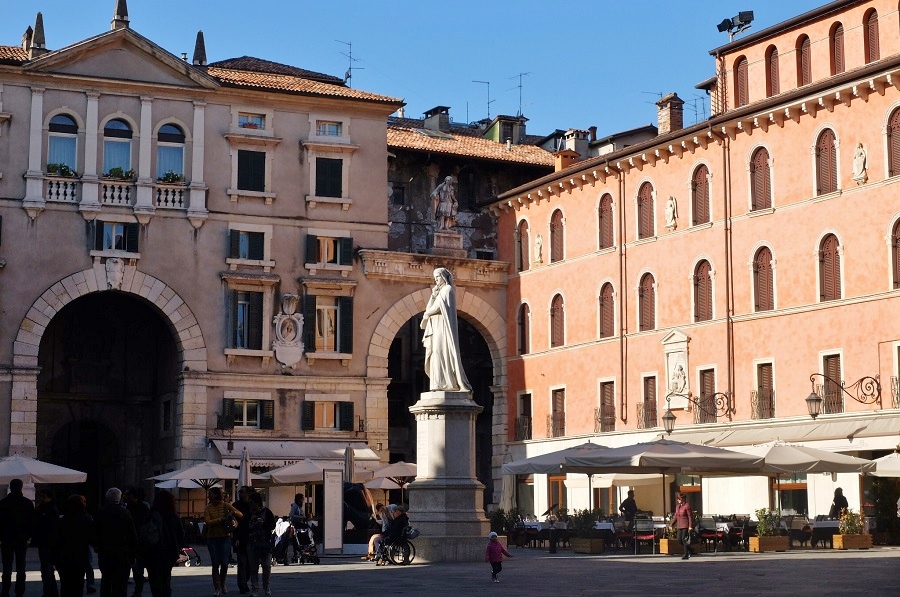 It's true that the city is romantic. I spotted kissing couples of every age and type.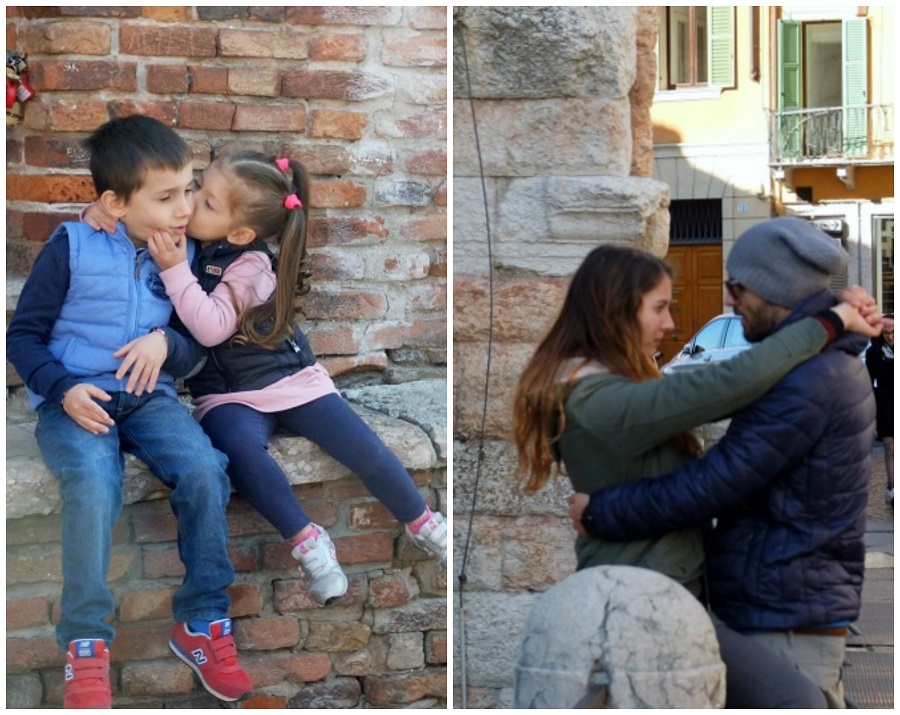 The most unromantic part of the city is probably Juliet's balcony, one of those tourist attractions that makes a person cringe. We walked by with ginger and saw an insane amount of people crowded into the tiny courtyard whose entryway was filled with gum and trash, all in an attempt to grope a statue's boob (seriously?) and take selfies on the balcony. If you want to write to Juliet, by all means go right ahead, the address is here and its better than grabbing her in a group of people.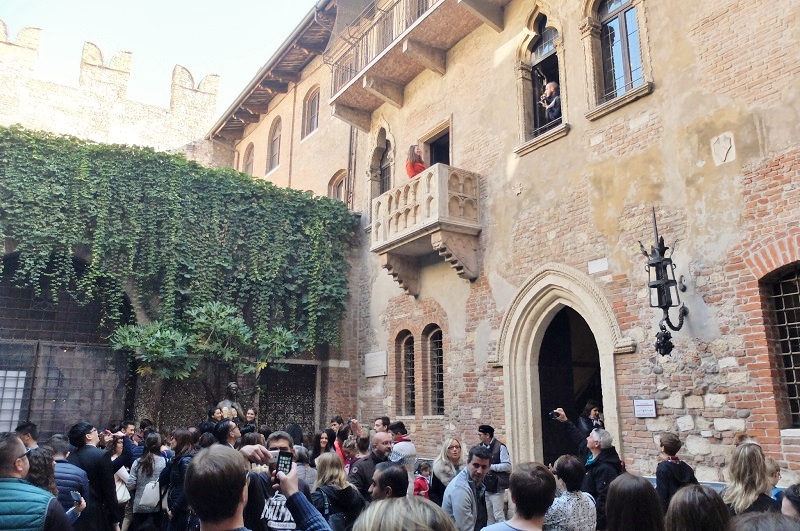 12:45 Lunch
We had worked up an insane appetite at this point so we decided to lunch 'early' which is essentially before 1pm by Italian standards and went to a local pizzeria Du de cope, located in the galleria pelliccia. There were nice options with ingredients such as buffalo mozzarella, basil and Parmesan cheese, paired perfectly with an artisan-made beer. Service was excellent and while I've definitely had better pizza in Italy, this was a great lunch option in central Verona. Since this was Nico's actual birthday, I think I was being slightly neurotic by asking if he was cool with my decisions way too many times, considering I have two brothers and grew up with men, it should be fairly obvious that pizza and beer will make any person happy. We wiped rucola off one another's mouths, as you do (it's excellent on pizza btw) and went on our merry little way.
2:30pm, Visit To Lamberti Tower
At this point, we needed to walk and I was itching for a panoramic viewpoint of this aesthetically gorgeous city. We headed to the Lamberti tower, Completed in 1463 and with an impressive 238 steps up the 84 meter watchtower (the bells have two rings meaning entirely different things), don't worry there is a lift too, the last floors you must walk on foot. The cover photo of this post was taken from the top. It is absolutely worth it.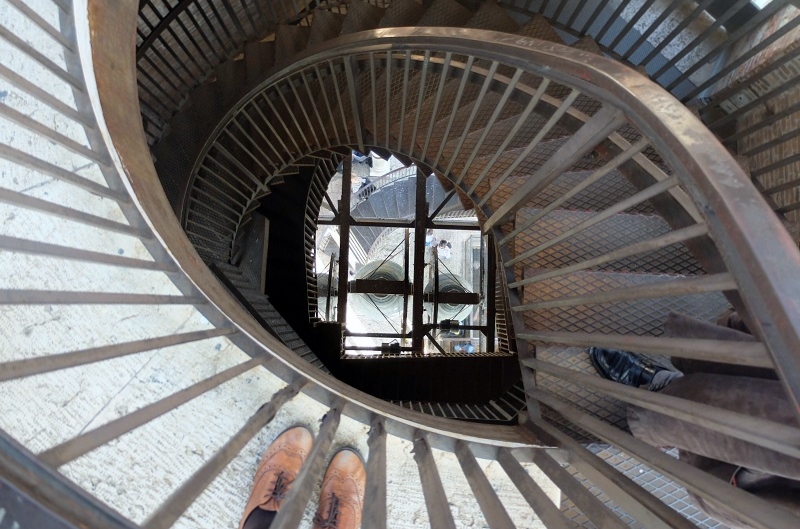 3:15 Wander Around Verona's Historical Sites
There is much more than I imagined to see in this small city, but we wanted to check out at least a few important historical sites so we hopped first in Sant' Anastasia. This church, located near ponte pietra in the most ancient part of town, follows the Dominican order and is in the Gothic style, started in 1280 and completed in 1400. Inside, you can't help but be struck by the intricate detailing, cross vaults and red and white Verona marble. Very different than our churches in Florence but no less beautiful.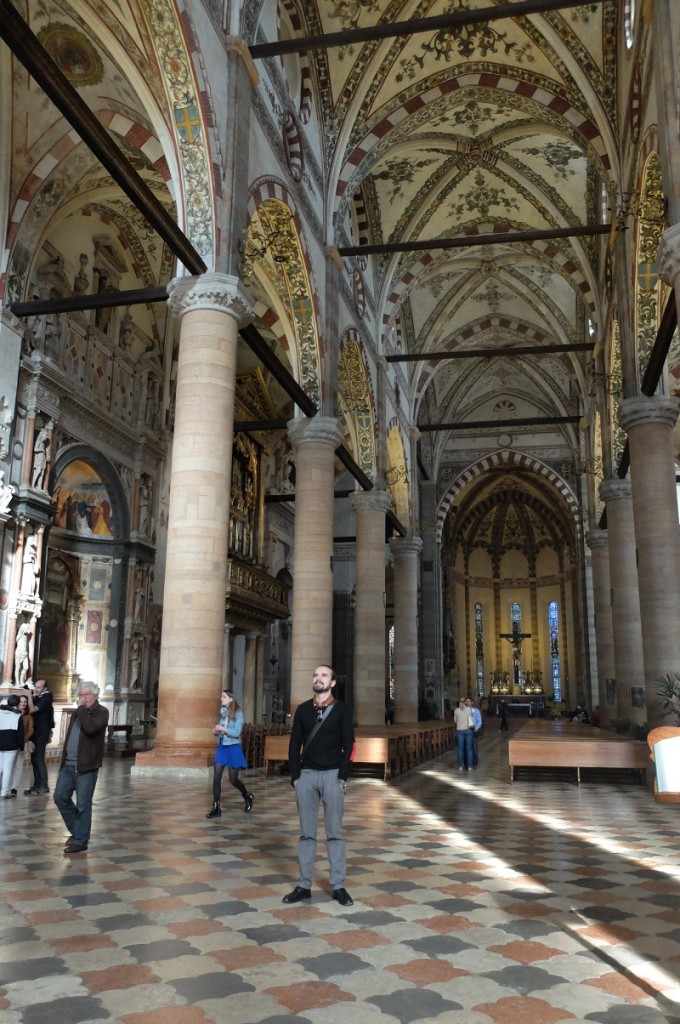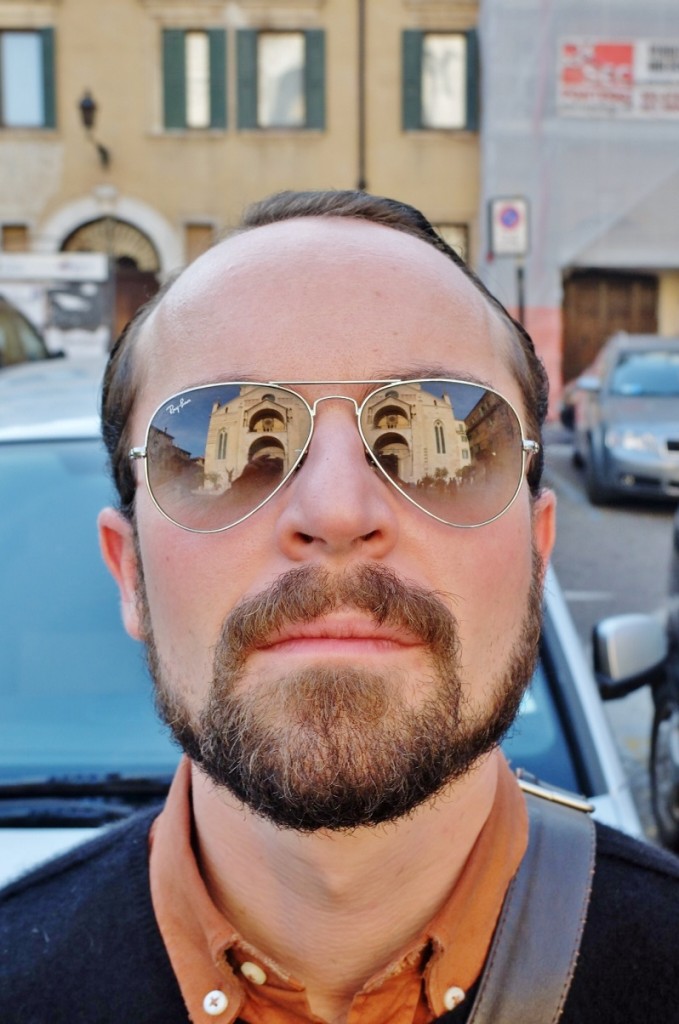 Since time was of the essence we decided to head towards the river to visit the old Roman theater and panoramic point that I had heard so much about. It was built in the first century AD on San Pietro's hill, between Ponte di Pietra and the Ponte Postumio — not much remains except the stage, cavea, steps and some of the loggia. You can also see the church of S. Siro, built in the 10th century. perched above the steps. It was only found in the first half of the 19th century by archaeologist Andrea Monga, during the summer they host theater shows here and guided visits.
Located nearby was the actual most romantic area of Verona, the panorama of Castel San Pietro, located up more steps and where they say Verona was first founded. In fact we were getting quite the workout this Saturday but I was more than happy for the adventure. Giangaleazzo Visconti built Castel San Pietro in 1398 and the area was inhabited since Roman times, later demolished and an Austrian fortress was built in its place in the 19th century. You can't visit the inside of the fortress but this walk is completely worth, I have to say it probably lives up to one of the best views I have ever seen, in fact we were right next to a musician being interviewed here ;-).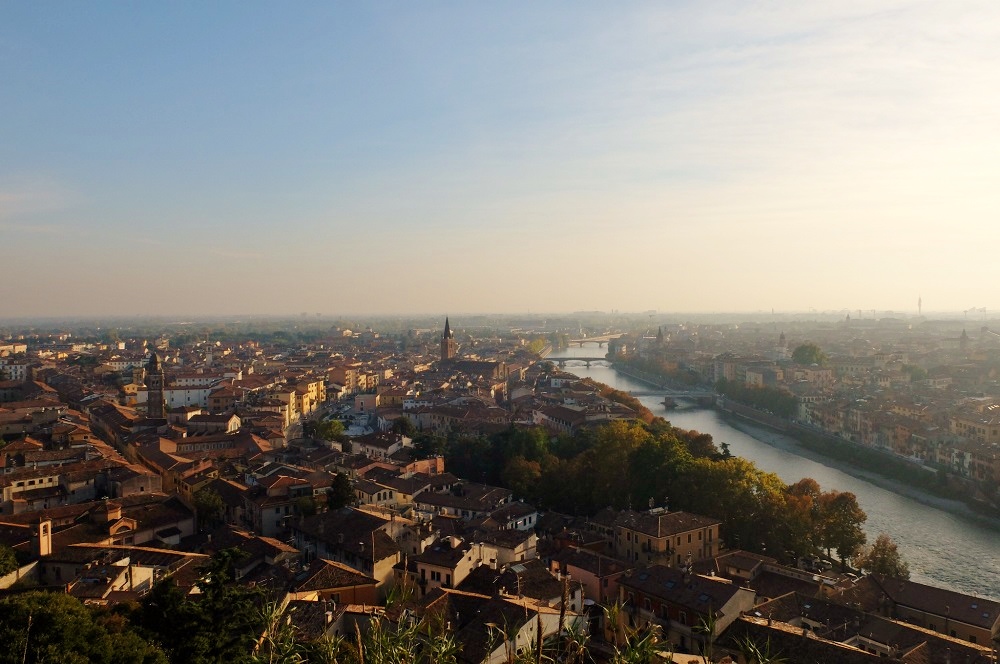 7:30pm Aperitivo Like A Veronian
After a shower and ginger cuddle back at the apartment, it was time to take part in a local past-time, aperitivo or 'drink before dinner'. They certainly know how its done up north and our preferred spot of choice was a cool place called Archivio. We walked past on Friday and saw that it was full of locals so on Saturday we made it a point to come a little earlier to grab a spot. This place is as hipster as they come, these cocktail mixologists are something else, albeit in the cradle of red wine, Amarone.
Inside the tiny interior, you see all sort of strange ampoule filled with their home-brewed concoctions. I was extremely impressed with my 'Oaxacan Rita' made with del maguey vida mezcal, white tequila, agave, lime, paprika and smoked salt along the rim of my vintage glass.The bartender's mustache looked almost like a prop and I always impressed by the willingness of Italians to stand in the street to drink delicate cocktails. This place is great and surprisingly affordable considering the quality, I think we spent max 8 euros a cocktail and this is someone I'd like to interview.
8:30 Birthday Dinner At Ponte Pietra
We were well on our way to a happy, slightly inebriated evening so we headed to Ristorante Ponte Pietra, on a bridge whose foundation was laid almost 2,000 years ago. I had read about this place in a few different locations, who said it was the perfect blend of romance and great food with a nice view which always a welcome plus. Nico is more into ambiance while I will eat at someone's house I don't know if the food's good so I was happy to see his face light up when he saw the place.
The menu is also quite interesting and I sort of wanted to chew on the menu. Think starters of Slow-cooked Egg on toasted Bread, Parmesan sauce and Black Truffle or what I chose, a creamy Anchovy toast, with a beetroot coleslaw and thinly sliced green apple. Afterwards we got a chestnut tagliolini with leeks and bacon which was nothing short of excellent.
As our waiter came to the table his cheeky grin expanded when I asked his recommendation and he said 'oh you must have the 'pluma" which of course I had no idea what he was talking about. I trusted our new friend and I have to say my patanegra Plumacut of pork) with chanterelle mushrooms, shallots and parsley was as tender and flavorful as they come. Prices ranged between 15- €24 a plate. Our wine was a le poiane valpolicella ripasso was yet another wino win, bold and peppery at the same time.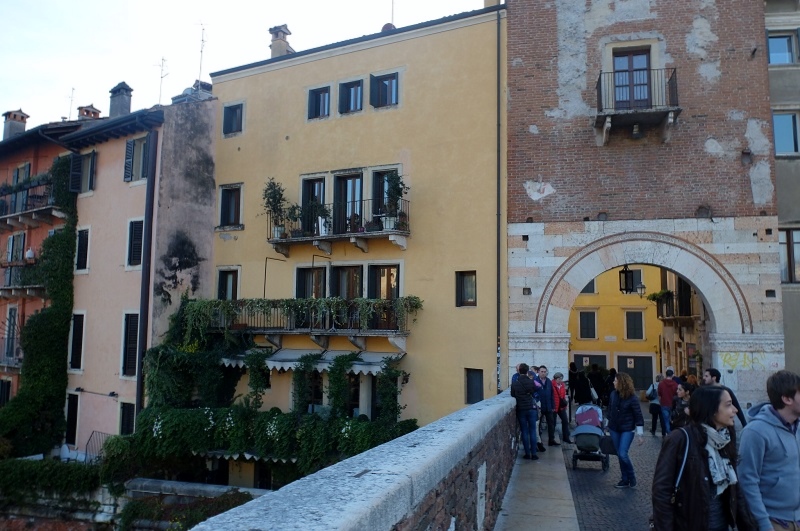 11am Checkout And One Last Walk In Town
You can imagine that it was quite hard to leave Verona, after these splendid few days but alas, even Romeo couldn't live forever right? We reluctantly left our luscious apartment and made our way through town with Ginger and our luggage struggling to leave. As what often happens when you love a place, I felt and still feel like we only scratch the surface, but it gives us a reason to come back. Also because I'd like to see the ruins with a seasoned guide who could give us the full regalia of history that I crave about place like this.
12pm Lake Garda – Boat Ride Around Sirmione
Before heading back to Florence, we headed to the town of Sirmione along Lake Garda, a historical village which is also home to some Roman ruins. We grabbed a quick lunch before going on a lovely boat ride with the guys of SirmioneBoats, Motorboat Consortium which takes people out around the peninsula starting from the Medieval Scaligero Castle. We were even able to bring our dog Ginger, which was a surprise but she was more than happy to feel the wind in her ears.
During the ride you can spot Maria Callas's 1920's villa, the Roman villa known as the "Grotte di Catullo" (not a grotto, but named that because seen from afar, that is what it looked like), named  for the home of the famous  poet Catullus. Here you can walk through and visit important archaeological ruins. Massimo even showed us the bubbles from the Boiola sulphur spring, we could have been in Iceland. When our boat passed under one of the awnings of the Rocca Scaligera castle, you can't help but be impressed. The wonderful thing about this service is that with a group you can spend as little as 10 euros a person, or do something a little more specialized and personal with on-board aperitif or even lunch. Affordable and fun.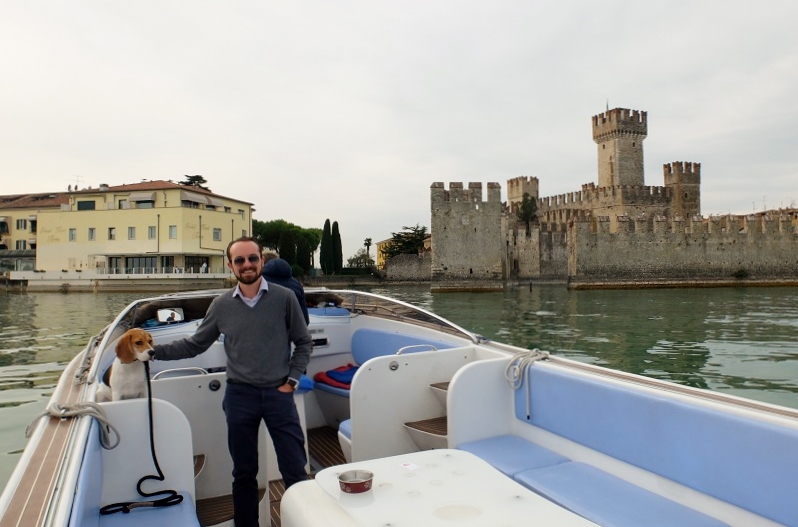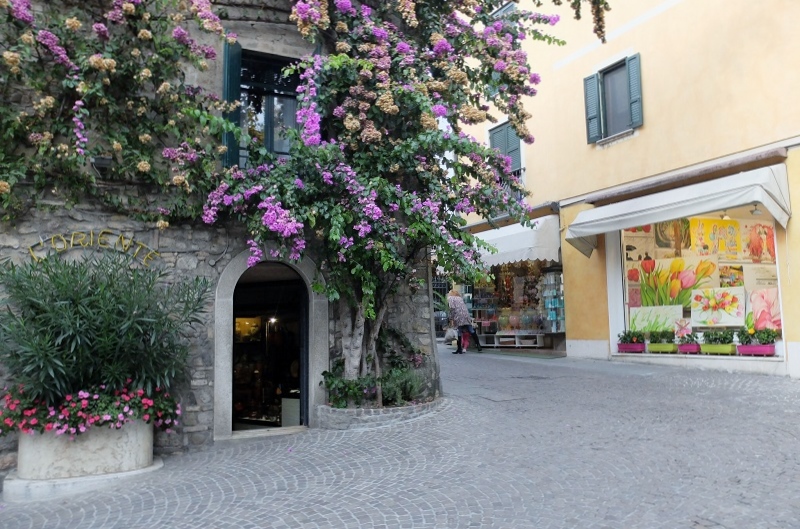 One thing to keep in mind is that Sirmione is a very popular holiday resort with Italians and in the summer can be quite crowded. It wasn't too bad when we were there but you definitely get the feel that is a little more infiltrated with tourism than other towns on Lake Garda, you know the crappy postcards and gelato every meter, and it definitely didn't look 'artisan-made.' A term that is being more abused than ever around the world. We actually were meant to visit riva del garda up north, a place much less hit by cheesy tourism, but I couldn't really justify another hour and a half in the car after we hd a long drive home.
4pm A Last Spritz In Lazise
We wanted to visit one last town before heading home, so we chose Lazise since it was yet another place neither of us have been. It is located east-side of the lake and the village has prehistoric origins. I really liked this town, which I felt to be even prettier than Sirmione. There are several Villa worth visiting Villa Pergolana, Villa Bernini and Villa Baratta and important churches – the Romanesque church of San Niccolo (XII century) near the port and the church of San Martino. Or you can do what we did and just stroll the tiny, picturesque streets. We caught the most incredible sunset, with couples hand in hand watching the waters stretching out as far as your eyes could see.
We ordered one last spritz, a steal at 4 euros at one of the bustling outdoor cafes and sipped as the sun slowly drifted down and the air got quite chilly. It was simply, the perfect ending to one of the best weekends we have both experienced in a long while. All that is most important to me in Italy, in one place. I am so happy I left my computer at home and just embraced a slower rhythm this weekend, the only concern was where to get the next espresso and hoping Ginger didn't poop on the boat. Weekend success and my Frenchman has officially passed into a new, better decade, who knows what the future will bring.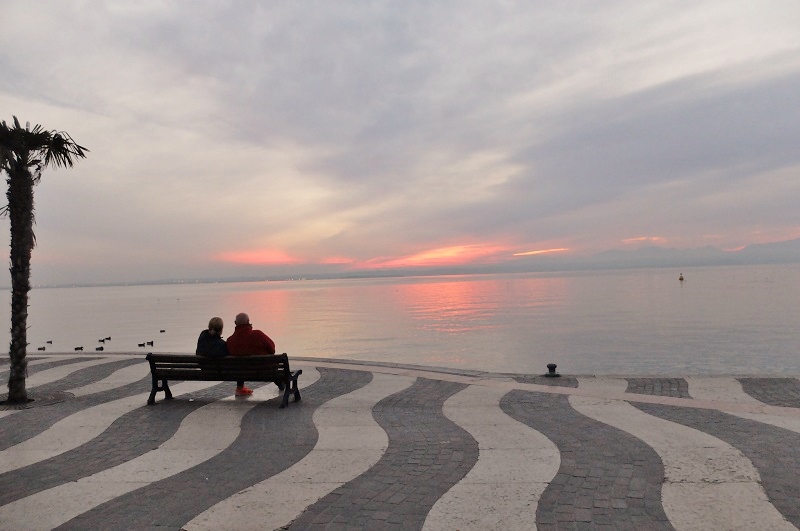 Veneto, you are something else.. 
---
Essential Details
Also check out this google map I customized with all of the links you see below.
Where we stayed
Corte Realdi, price €310 per night for up to 5 people (in 4 you would only pay 77 euros per night), a steal when you see the location and beautiful ambiance. Breakfast is delivered to your door (nothing too special but still, very nice). The fridge has essentials and there is a nespresso machine (score). One huge plus? The actual working WiFi! website. Vicolo Cieco Monachine 6 Verona, Veneto, 37121, Italy
+39 045594015, email: info@corterealdiverona.com.
Where we ate
I wouldn't say that eating out in Verona is cheap, I definitely felt it was pricier than Florence but I am 100% not a local and I know you can spend an arm and a leg in my city too. The great thing, there are ton of options. Just do a little research or better yet, ask a a local. I added a few extra tips in addition to where we ate so you can have more options from recommendations I got from Corte Realdi and friends.
Du de cope, located on galleria pelliccia. A pizzeria with a simple indoor ambiance, it was quite good as a lunch option if you are looking not to break the bank. While the pizze prices aren't super cheap, it does include your service charge and coperto. prices are budget-medium
Hostaria La Vecchia Fontanina, Piazzetta Chiavica, 5. Down-home cooking and no-frills, the food was great even if I wasn't super thrilled by the indoor decor, which is kind of cheesy. They do however, offer you a cinnamon shot of liquor before you leave. prices: medium and the place was full of Italians.
Osteria del Bugiardo, Corso Porta Borsari 17 | Close to Piazza Erbe, 37100, Verona, Italy. The cool thing about this place is that it is very central and boasts a lovely, fun atmosphere. Also great for just a drink before dinner.
Ristorante Ponte Pietra, Via Ponte Pietra, 34 | Verona, 37121, Verona, Italy. Elegant atmosphere with beautiful balconies where you can eat in the summer. This is where we dined for Nico's birthday dinner and it was a very romantic, elegant and lively atmosphere. Excellent service too! website.
Locanda 4 cuochi, via mario alberto 16, a suggestion from Corte Realdi, is an excellent choice. A fine-dining experience without the crazy bill. website.  prices are medium.
Ristorante Antica Torretta,  Piazza Broilo, 1, 37121 Verona VR. A nice place to eat seafood near Ponte Pietra, dishes include seared tuna and the crab ravioli. Prices are medium – expensive.
Where we drank
Zoo'e, Via Crocioni, 3, 37121 Verona VR. Cool little spot for drinks before or after dinner and full on the weekend we were there, also a restaurant.
Archivio, Via Rosa, 3, 37121 Verona VR, Italy.
What we visited
Lamberti Tower,  Via della Costa, 1, 37121 Verona VR, Open 10am-6pm, Last entry around 5:15pm. Price —  adult/reduced includes Galleria d'Arte Moderna Achille Forti €8/5
The Scalinger Tombs, five Gothic funerary monuments by one of the most influential families in Verona's history. They are located in the court of the church of Santa Maria Antica and are one of the finest examples of Gothic art.
Sant'Anastasia church, address: Piazza S. Anastasia, Verona VR. price Standard € 2.50 , also part of the Verona Card.
Basilica of San Zeno, Piazza San Zeno, 2, 37123 Verona VR (opened in 1135).
Teatro Romano, Teatro Romano, Rigaste Redentore, 37129 Verona VR, Italy, 1 euro to visit.
Castel San Pietro, best view of Verona, Castel San Pietro, Piazzale Castel S. Pietro, 37129 Verona VR, Italy.
—
Lake Garda,
Sirmione Boat Tours, a short 25 minute tour costs only around 10€ a person with other people.
Where to park/How to arrive
My advice is to check with your hotel regarding parking because if you want to come inside the historical center, you will need permission otherwise you risk a fine. Otherwise just leave your car in the below car parks, the city itself is quite walk-able.
Parcheggio Arsenale, address: Piazza Arsenale, 8, 37126 Verona VR. 12 euros per day (outside).
Parcheggio Cittadella, address:  Piazza Cittadella, Verona VR. undergound car park, open 24 hours, € 16.00 daily rate.
If you plan on parking on the street, keep in mind you must pay every two hours.
Train travel: Depending on the type of train, your journey could be anywhere from 1:45 minutes to 3 hours. The ferrciarossi fast train costs around 42 euros from Florence to Verona's porta nuova, otherwise if you book ahead you could spend as little as 26 euros, even with a quick journey. Tyically there is one change, either in Bologna or Padova.
Shopping tips 
Quid, via Pellicciai 5a, Verona. I found this shop purely by accident but I am thrilled to have done so. They sell limited-edition eco-chic collections from the best of Made in Italy. The QUID project, started by a few friends, stems from the desire to experience the re-employment of women in need through their use in productive activities that respond to the logic of the market and make cute clothes. closed Monday, 10:30 – 13:30; 14:30 – 19:30; Saturday :10:30-20:00; Sunday 10:00 -13.30; 14:30 – 19:30. facebook.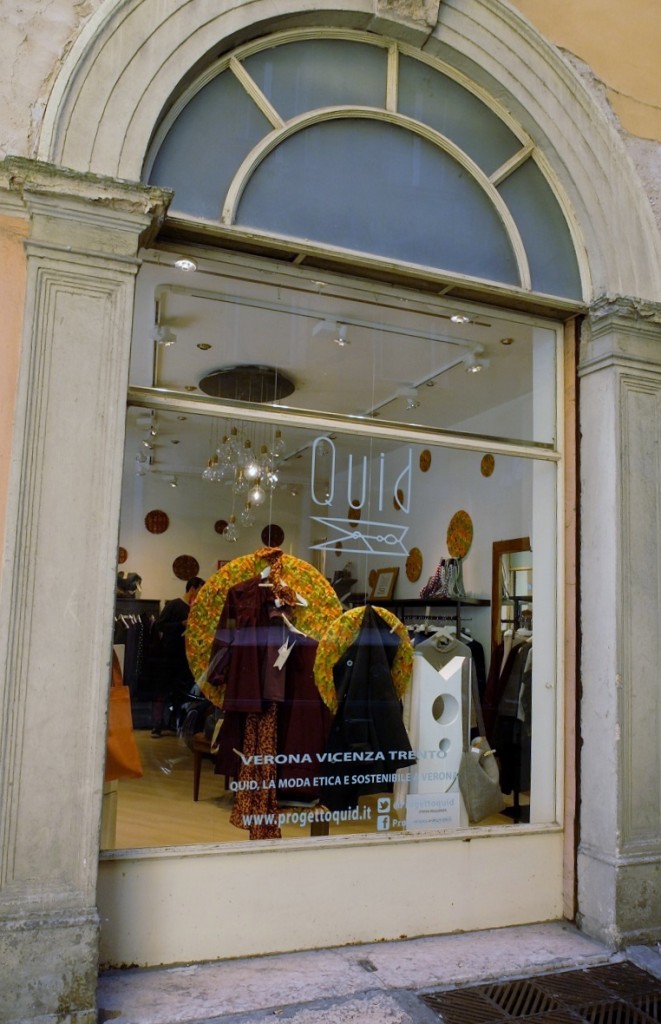 Lazzari, Piazza delle Erbe, 15, tel: 045 800 9260. A local designer with a fun and fresh style recommended by Corte Realdi. I swooned over the beautiful dresses that range around  € 105 upwards. Open 10/11-7:30pm.
Boutique Le Depò Verona, Vicolo Crocioni 3A – Verona.. Fun little boutique selling funky accessories in the center of town.
Elisa Baroli Store, Piazza Erbe, 38/A, Verona (VR), tel.045-2526775. Young local designer who is based in piazza erbe, her designs are edgy and fresh and she has been present at Milan's Fashion week.
Macondo, via scudo di francia, a cool store for both men and women featuring interesting new designers, I would say the clothes have a sort of architectural mind behind them. facebook.
Scotch & Soda, Via Carlo Cattaneo, 8, 37121. An Amsterdam flagship on a quiet street in Verona, since we don't always a wide variety of options in Florence, this is a godsend of a shop. We got Nico's birthday present here, a classy men's coat that he is super pumped about. Worth a visit. website.