"No that one, that's for the Pope" says Paolo, as casually as one does when mentioning a person that many people in the world consider a deity.
There it was a holy chalice, perched on the large desk covering an entire area of the shop, one of four for Francis himself. I could have taken it and ran, but I'm pretty sure the Pope's team would have nabbed me in no time. I was inside the small bottega, the goldsmith workshop of Paolo Penko, a legendary family that that before last week, I had no idea even existed. The saddest part about it all, was that apparently Paris Hilton did. I spotted a framed photo, a little dusty, with the shining face of Paris itself, wearing some of Penko's jewelry – looking every bit the barbie doll, or perhaps….nevermind. Franco told me Madonna was also a customer of his shop, which led me to think, how did I never hear about such a place? But that simply is Florence for you. Even after almost a decade in a tiny town that takes about half an hour to cross, there is always something to discover and that's what continues to keep me excited about our postage-stamp sized town.
This particular day, I had joined a tour with Context Travel, a company that adheres to the concept of deep travel, and whose docents are highly-educated professors who lead small groups along tours like this, exploring artisans located in and around the historical center. I have used them a few times before, and I've been eager to get to know places like this beyond my neighborhood on the other side of the river, while this tour was less full-on educational than the ones that I have gone in the past, meeting new artisans that I did not know about was why I was there.
After meet at the exact central point of the city, the Column of Abundance, between two ex-Roman roads in piazza della repubblica. Our first destination was at Paolo's shop. Three generations of goldsmiths, with an amazing array of interesting wonders contained inside.
Paolo realized the secret to success was to bring the botteghe to street-level, let people see what they were doing instead of hiding behind closed doors. That itself, was a revolutionary move in the 70's, when most artisans worked behind closed doors, toiling away in tiny back rooms. Paolo's shop has been open for over 25 years, and remains one of the few spots in town using the ancient Florentine techniques still today. He has been featured by Vogue, appears in national museums and is an all-around nice guy. Inviting us to return when the Pope chalice's were done.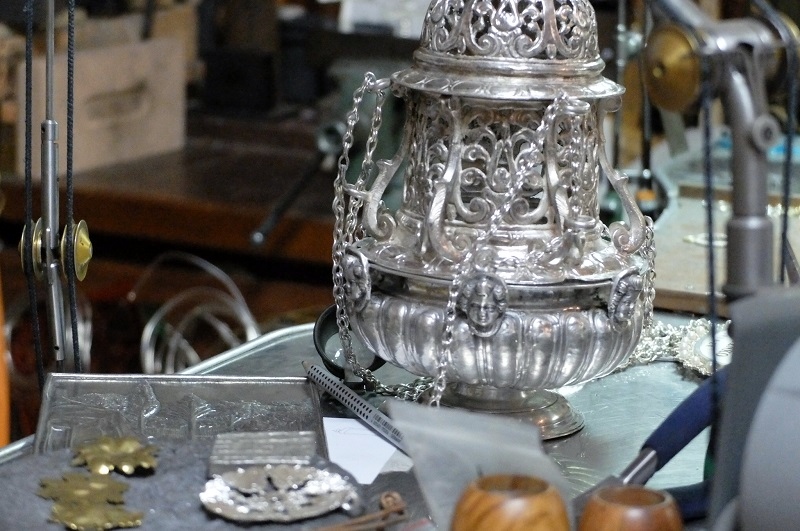 As we crowded around to see all of the beautiful Renaissance-with-a-contemporary-feel pieces that Paolo and his son Alessandro set out for us, Paolo recounted "you know all of the major artists were orafi right?". He was right, artistic greats such as Donatello, Brunelleschi and Ghiberti all received what was likely their first training in the shop of a goldsmith.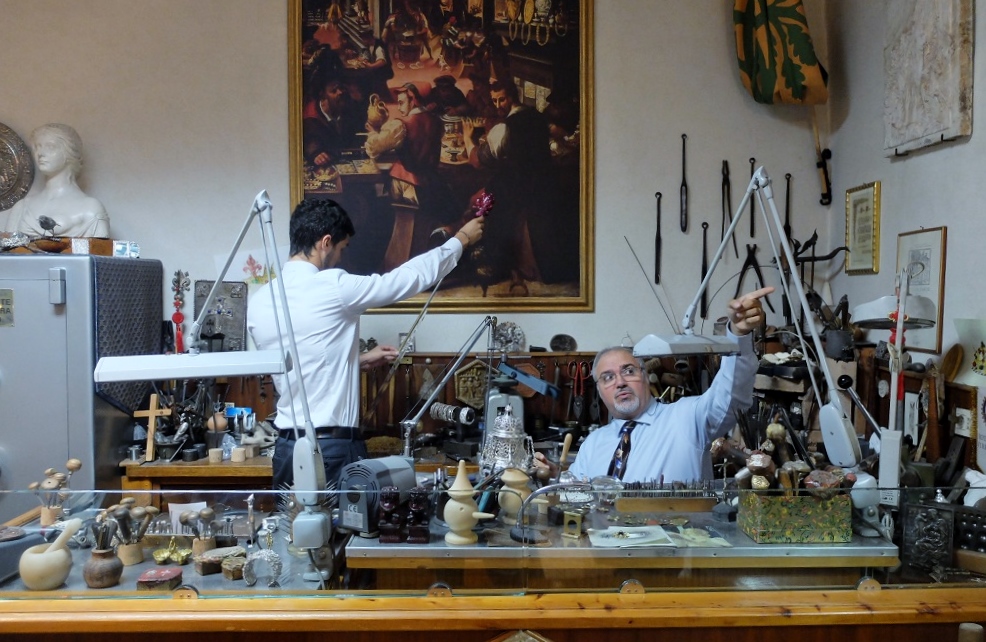 Paolo himself went to the Art Institute in Florence, where he developed a fascination for Renaissance style which is reflected in the beautiful pieces he makes today, inspired by artists like Botticelli, Andrea della Robbia, Ghiberti, Pontormo, Donatello, and Ghirlandaio. You know, those guys. And lucky for him, his wife Beatrice is an expert gemologist — together using ancient Florentine traditions they create the most exquisite pieces just a stone's throw (mind the pun) from the Duomo that Brunelleschi built, that ex-goldsmith guy ;-). When he's not at the shop he is teaching at the Sacred Art School in Florence.
Everything has a meaning, and Paolo is happy to tell you what that meaning is. Gold brooches, silver pendants, stone-set rings, small works of art, including a tiny little Pinocchio made of silver, the ultimate present for the well-heeled child. All of his works are engraved by hand using tiny picks, or 'burins' as they are known to those in the trade, also known as a stone-age tool, often over a high flame. In the age of crap mass-market jewelry probably made by someone exploited on the other-side of the world, what he does is quite special — and quite worthy of a celebration.
You can see the intricate detailing in his work, and how similar it is to the marquetry, spirals and friezes of great Florentine architects like Brunelleschi. As I glanced around at all of the items peppering his furniture, what was especially intriguing to me is his sophisticated mastering of an Etruscan technique called "cesoro"(not sure of the exact spelling on that one) and incredible engravings that require painstaking attention to detail. It is no wonder that some of his important pieces are featured in the National Museum of the Bargello and the Silver Museum in the Pitti Palace. Which by the way are two museums that are completely underrated yet are some of my favorite in Florence. That's a hint that you should go.
He is recognized internationally for his commitment to keeping this trade alive and is eager to share what he knows with curious guests like ourselves. Below, you can see him pointing at a broach that is the exact replica of that in Botticelli's Primavera. Pendents like these typically take four days to make and I'll tell you where you can get them below.
At a certain point Paolo points at what looks to be like a huge mallet, his smile working its way to a full on grin as he asked "ok, who wants to make a florin" (florino d'oro). He is referring to the ex-currency of Florence, first invented in the 1200's and made of actual, real gold. This was a major point in the city becoming a powerhouse for banking, the florin was immune to inflation, even now, you can't really argue about the validity of one of the earth's most precious resources. On one side is Saint John The Baptist, the city's patron saint, on the other — the lily, the symbol of Florence. They are tiny, pretty and I kind of want to have jar full of them at home, like a modern-age leprechaun with the world's best treasure.
However, when it came to actually making one, I was pretty clueless. Being from Texas, you might assume I have a previous relationship with items resembled mallets or sledgehammers, but this was going to be one of those 'firsts' which constantly seem to happen in Italy. Naturally Paolo knew the technique of using this to create the tiny florin and in this instance involved smashing the mallet onto a huge block which would then form the coin's tell-tale shape. Naturally I had to take a 'swing' at it, also because after a few cups of espresso that morning, I needed to get rid of a little energy ;-). Sadly my Florin made of tin was anything but cute, but I highly recommend watching this video of Paolo making one himself, it is decidedly more impressive and dramatic, it is more intricate than one might think and much cooler when he is doing it.
Far from being totally traditional, I was surprised to see a flashing jewel in a corner of the shop that Paolo was very excited to talk about. His precious video-jewel was recently made for a famous artist, and consists of a special pendant made with the innovative "penkato®" technique, embellished with stones in various shades, with a tiny LCD screen housed inside that projects a video. Thus creating a unique harmony of lights, colors and images. For this particular artist, the jewel contained many of his works, each image flashing to the next, a bit Renaissance-meets-back-to-the-future. I can't imagine how much that costs, but luckily many of his works are more than affordable, and so iconic that I definitely will be back for a cheeky browse. My advice is to visit Paolo and his family at the shop, let him show you how his mind works, which is every bit as intricate as the pieces he makes.
You can also find him in the new Made-In-Italy section on Amazon Italia and UK, which sells his pendants from 45 euros and above, completely affordable when you think about how these are made. I visited with the wonderful team of Context Travel, whose tours include 6-people max, and encourage #deeptravel discussions with excellent docents.
Paolo Penko Bottega Orafa, address: Via delle Oche 20r Florence, Tuscany, 50100, Italy. Open Tue – Sat 9:00 am – 7:30 pm. Closed Sundays, website.