Where were we before instagram? It seems as if the hottest thing since 'calling my bully on youtube' is photographing your avocado toast or cappuccino on everyone's favorite social network. I feel pretty confident saying that — with over 80 million photos uploaded to the social network each day as it celebrates its 5th anniversary, and 400 million monthly users in total according to well, them.
In Italy, there is actually quite a strong presence of intagrammers all over the country, from Sicily – to Rome, to Milan and of course, Florence, We can't get enough of snapping interesting tidbits and dalliances of daily life, and we have plenty of visual inspiration to choose from around the boot.
This past weekend, I hosted my very own instameet for #WWIM (worldwide instameet) in its twelfth edition, with the theme of #TodayIMet, seeking to bring together the community in a more intimate, poignant way. And safe to say, that's exactly what we did, in fact there are about 500 photos to show for our few-hour adventure around the city of Florence. I am beyond impressed with the quality and vision of all of those who participated.
My fellow co-captains did a great job with Ilaria Vangi, aka our fearless leader who made the map you can see below, and if you are looking for interesting people to follow in Florence (and Tuscany) check out Tuscany Buzz, Yelp Firenze, Ilaria Gori, The Florentine, Arttrav and Discover Tuscany. 
In case you want to know how to organize your own instameet, we first promoted the event with white balloons covering our faces to represent people we 'would' meet about two weeks in advance, then a week– than a few days before the event to remind people of the time/date, which is important. Because we hoped it would be a big turnout, we decided to break everyone into four different groups in the ancient divisions of Calcio Storico in Florence. This way we could get a completely different vantage point on our beloved city, while coming together at the beginning and end. We also encouraged people to use the event hashtag #WWIM12Firenze along with a few others.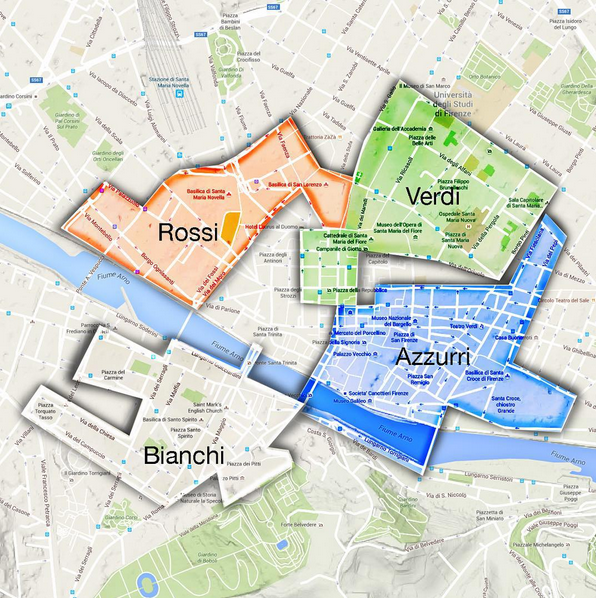 What I really enjoyed about this angle was that it was yet another reminder of what is unique about Florence, even if the tie in to an ancient and quite bloody match that still takes place every June, has its, well, pros and cons.
From the Basilica of San Lorenzo, favorite of the Medici family — to unique boutique shops and contemporary art on via maggio (my group was the Santo Spirito gang). The entire point (and yes people asked what was the point trust me), was to actually meet people in the community, and this was a fun way to do so on a glorious Saturday.
https://instagram.com/p/8Xpl_KI8DY/?tagged=wwim12firenze
Our turnout was more than I ever expected, with over 130 people coming from all areas of Italy (and even Switzerland) to participate with us. My friend Annie came up from Rome, plus a few friends from Milan, and Tuscany – plus plenty of locals.
https://instagram.com/p/8YOSGwRTDp/?tagged=wwim12firenze
I have a few behind the scenes photos worth sharing done with my 'real' camera, a Fujifilm X20. Because yes, not everything can be taken with your phone. An especially cool moment was when I met a couple from Hong Kong (see below) who had used my blog for tips and advice and wanted to spend their last day in town at the instameet, super humbling and I tried not to make them late for their early-evening flight. ;-).
A Few Tips On Organizing Your Own Instameet
Plan ahead, while doing a last-minute get together is cool. Ideally a few week's in advance is best just in case people want to plan attending your meetup in advance. Make sure that the theme/hashtag is clear so people know what to expect when there. Having a few hosts is a good idea to break up the burden of planning and greeting people upon arrival. Choosing the date is important too, weekends are great because people are off from work and you can meet when the light is still nice outside. To create a text-on-photo instameet leadup (which is smart – see balloon photo above with text on top), you can download this app.
Share the instameet on your social networks/blog (I put it in my October event's list) and local community members/igers groups. I also recommend sending it the local paper (which might publish it, who knows!), bloggers and anyone you think would find it interesting.
Create a unique hashtag for the event. You'll want to track all of the photos taken during the walk, so make sure that the hashtag chosen is unique, easy to remember and is communicated to all of those who came. Having two could be a good idea so that you can add a more personal element (like how instagram did with #TodayImet) but anything more than two is too much (sounds like a pun).
Make it as easy as possible to spot you at the meeting point. The reason why you see so many balloons at instameets is that they are perfect markers at your chosen area for people to identify and spot easily. If you see someone walking around confused, assume that they want to take part in the walk. Heck even if they don't, they might be intrigued. Also have the duration be feasible (like two hours), also typically having an 'end' point at a spot where stragglers know they can find you and join in on a final drink/chat/tea is a great idea.
Ok you got em' there now what do you do? Ideally you should already have a rought idea of where you want to take people. My recommendation is to take a pre-walk in advance, covering the same streets that you will go with your group. Keep in mind you will be moving much slower than normal as the whole point is to stop and take pictures. I needed that reminder from time to time.
Panoramic views score big. My friend Annie and I did a photowalk_Florence instameet in September and took everyone to Forte Belvedere where you can get a 360 view of the city, plus there was a fascinating contemporary art exhibit at the same time. You want to keep in mind interesting locations and light, it's all about getting artistic with your surroundings.
Make Non-Instagram Pros Feel Welcome. One thing I see sometimes is the instapros sticking together and not branching out. Since my thought is that this is actually about the entire community, not just a community of only the most "popular" kids. Make sure to make everyone who attends feel comfortable. Meet and greet each person and swap stories.
Bring nametags. Before you say 'I'm not wearing that' just remember, the entire point is meeting people in the community. In order to meet them, you might want to know their name. And since 99% of us forget someone's name the second they tell us, these tags come in handy. Ask them to write their instagram handle as well. You'll also want to take a group photo before you go to remember the occasion.
Relax and just have fun. While it can be overwhelming (I can attest to that), instameets are a whole lot of fun, and I generally learn a lot about taking photos during them. Smile, don't take it too seriously and be friendly,
Thank you Annie from Rome And Tuscany Tours for sharing your own personal expertise on instagram and all that it can do. Speaking of instameets, I obviously can't share all of my favorite shots since it would probably crash my blog, but I'd like to show you at least 10 that I adore. I might even have to print them out on the cool service Square Snaps, which is a cool way to have a real-life version of these digital shots.I'm too shy to include the ones that people took of me, but I thank them all, I really wasn't expecting such an awesome, kick-ass turnout.
My Favorite 10 From #WWIM12Firenze
https://instagram.com/p/8YgFswMLyL/?tagged=wwim12firenze
https://instagram.com/p/8YbT94htIS/?tagged=wwim12firenze
https://instagram.com/p/8Yb65rH61C/?tagged=wwim12firenze
https://instagram.com/p/8Y0HzXlA78/?tagged=wwim12firenze
https://instagram.com/p/8YcokYD_At/?tagged=wwim12firenze
https://instagram.com/p/8ZDXApIIAF/?tagged=wwim12firenze
https://instagram.com/p/8YcJCgvDHW/?taken-by=arttrav
https://instagram.com/p/8bT4FACGXd/?tagged=wwim12firenze
https://instagram.com/p/8aTaHVO4Xs/?tagged=wwim12firenze
https://instagram.com/p/8ZMMyPQziy/?tagged=wwim12firenze
My only regret is that I didn't get a video but alas, there will be another time. Did you attend this instameet last Saturday in Florence? If so, what did you think?