It may be a rainy Sunday in Florence, but that hasn't stopped the coffee flowing and the inspiration from coming. Locals I love is back this week with a really special interview, with my ITALY Magazine colleague, Silvia Donati. She is the expert for anything and everything in her hometown of Bologna. Sweet, witty, smart and generous with help and information, she is such a pleasure to work with and I had to pick her brain for the blog so you guys can get to know Silvia yourself. A lover  of the American life as well, she works part time in the states every year, the rest in Emilia-Romagnia. You can also find her 'Bolognawisdom' at her blog Bologna Uncovered, and follow her on twitter and facebook. Let's get to know her a little better :).
your name: Silvia Donati
nationality: Italian
profession: Journalist
favorite drink: Margarita
Where are you from originally and where are you currently living?
I'm from Bologna. I live in Bologna, but spend a few months in California every year.
I love that lead photo, brings back great Cally memories! Where else have you lived in the world — Can you tell us about those experiences?
I lived in California for many years. I spent my third year of college at the University of California in Santa Cruz as an exchange student. I loved it so much that I decided to return to California after graduating from the University of Bologna. I was hired by a tour company specializing in travel to Italy based in Los Angeles. What was supposed to be a one-and-a-half-year experience turned into five happy years. After working in the travel industry for three years, I decided to return to school to study journalism – my passion since I was little! – at UCLA. I was hired by a local news agency in LA right after completing my program. Even after moving back to Italy, I have returned to California every year, one time as a reporter covering the entertainment industry for an Italian news agency. Quite an experience! I had the chance to interview actors of the caliber of Leonardo DiCaprio and Al Pacino, and reported live from the Golden Globes for ANSA.
I also heard you interviewed Ryan Gosling (jealous). Have you ever experienced culture shock? What were the biggest differences from working/living in the USA than Italy?
More than culture shock, I have experienced reverse culture shock! I've always been very attracted to the U.S. and it was easy for me to adapt to life there – it's a country that 'agrees' with me. Coming back to Italy on the other hand was really hard. I began my professional career in the U.S. and the workplace culture there is very different from here in Italy. In the U.S., it's more efficient and more organized, plus it's easier to find work opportunities even if you don't know anybody. In Italy, you often have to know someone even just to get an interview. The lifestyle is also very different, and there are things I like and dislike about both places. Consider that I was living in Southern California, an area that, for someone who, like me, loves the outdoors, the beach and sunny weather, is paradise! I love the beach culture there and I used to spend a lot of time at the beach, something I obviously can't do in Bologna. Also, LA is a very multi-cultural city, with residents from all over the world – I loved the energy that such a mix creates. Bologna is much more provincial in that respect.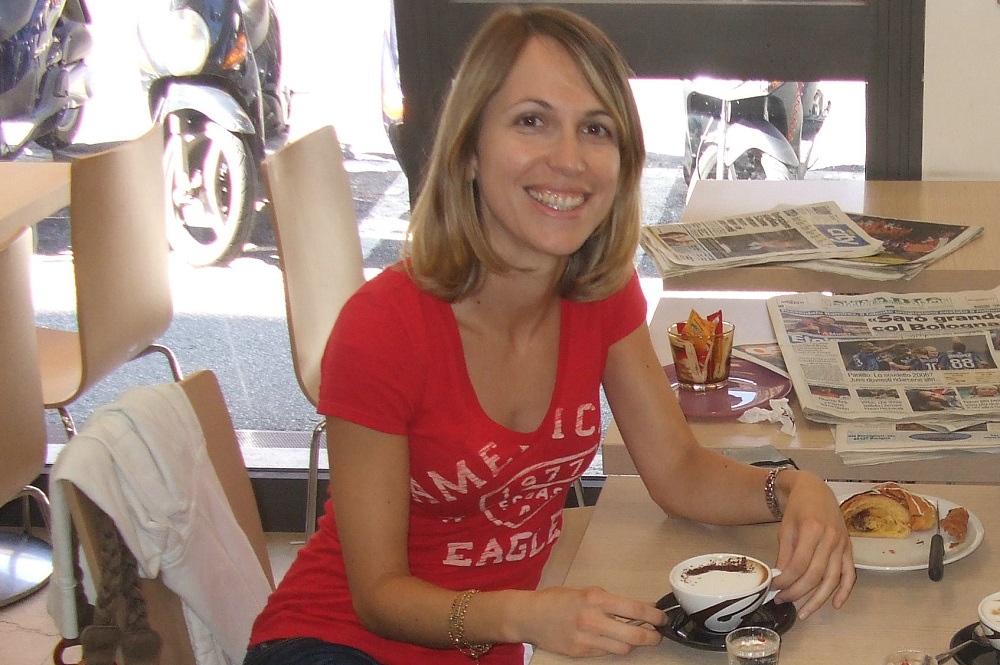 Would you move back? Why or why not?
Good question – I'm still very conflicted about that. I don't think I'd move back permanently, but I still want to go there every year! I think the ideal situation for me is being able to spend a bit of time here and a bit of time there, as I'm doing now.
I'm thrilled to work with you on ITALY Magazine, you are a wonderful writer – can you also tell me about your Bologna Uncovered project and what else you do for work/passion?
Bologna Uncovered is a website in English I created where I write about my native Bologna and surrounding region of Emilia-Romagna. It actually started as a school project while I was working on a certificate in Digital Journalism. The area where I live is often overlooked by foreign visitors, but it has a lot to offer in terms of art, history, cuisine, nature, so my articles focus on those aspects. I also now offer travel consulting for people planning a trip to the region, as well as guided tours with a professional guide.
What else I do for work: I'm a freelance journalist specializing in all things Italy. I mainly write in English for foreign publications.
Is there anything about life in Italy that annoys you?
Oh yes, so many things! First of all, the lack of 'civic sense', beginning with something as silly as being unable to form an orderly line, or even worse, cutting the line; in general, the disrespect for civic rules. Then the culture of nepotism and cronyism that you see a lot in the workplace, which means the people at the top are often there not because they've earned it, but because they knew the right people and are willing to do anything for them, which in turn means that talented people are not necessarily going to make it to the top, creating less efficiency, less mobility and less opportunities. I also can't stand the corruption of politicians and the fact that all they do is bicker, while not solving any of the real issues affecting the country (organized crime, tax evasion, excessive bureaucracy, monstrous fiscal pressure).
Three of your favorite places in Bologna and foodie tips too (feel free to go further) – I would like a sneak peek of your insider tips.
Three favorite places
1. Piazza Santo Stefano, Bologna's most charming square, with its classic red ochre buildings, cobblestone pavement and the amazing church complex of the Sette Chiese.
2. Basilica of San Luca, on top of a hill overlooking Bologna on one side and the hilly countryside on the other. A beloved sight to the Bolognesi, who, upon seeing it from the highway, know they have arrived home. You must conquer it on foot!
3. The old open-air market in the Quadrilatero, on the same site since the Middle Ages, where you can taste the local specialties. The area also has many great places for aperitivo.
Foodie tips: Head to the so-called "Quadrilatero" area, the old medieval market and food shopping area whose tiny cobblestone streets are framed within a quadrilateral area. Here you'll find historic shops selling the local specialties, including mortadella, tortellini and fresh pasta in general, ragù sauce, Parmigiano-Reggiano, wine, fruit and vegetables. Insider's tip: buy some traditional food, then head to Osteria del Sole, Bologna's oldest osteria (founded 1465), which only serves wine but allows you to bring your own food. A very "Bolognese experience"!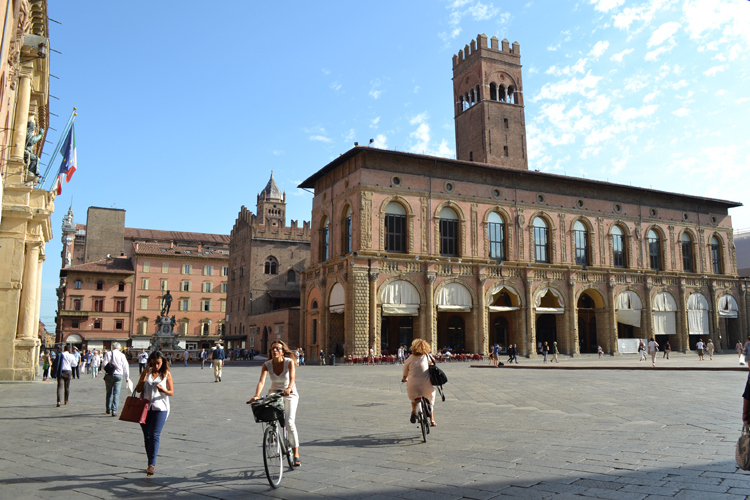 Oh my gosh, thank you! I definitely need to come visit soon. When you need to get away from stress and work, where do you go?
To the mountains! I love hiking, being active and being amid nature. I especially like the Dolomites here in Italy. I also run and practice yoga, and I go to the park almost every day. I need to be active and be outdoors to de-stress!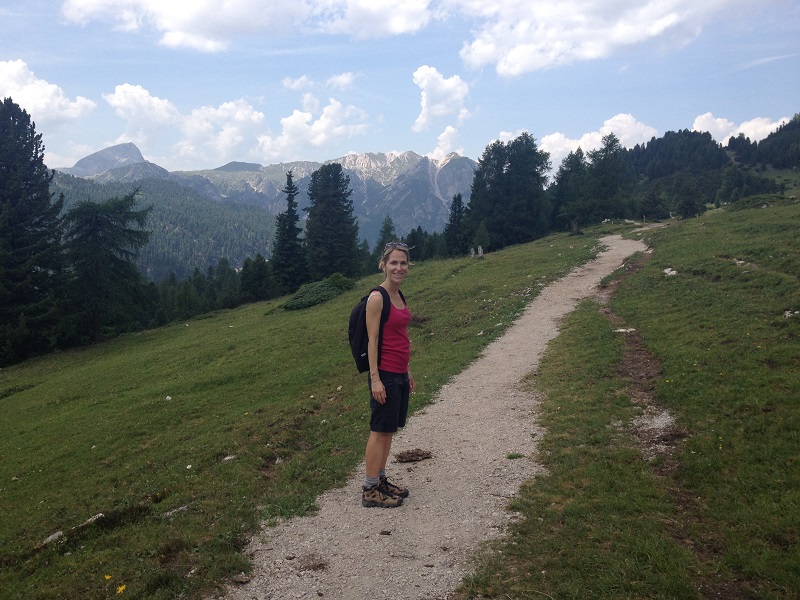 What do you think people coming from the USA or outside of Italy should know about Italian culture and people before they arrive?
That it's not just about "la dolce vita"! I often like to say that life in Italy isn't sweet, it's bittersweet. I think people from abroad often have a very cliché idea of Italy. It's not all family dinners, evening passeggiata, prosecco drinking and romantic Italian men 😉 I have mentioned some of the aspects I don't like about Italy above, and I think people coming from abroad, especially from Anglo-Saxon countries and northern Europe, where they are used to things generally working and to better manners, need to be aware of that.
Sound advice, I concur! What do you think the future has in store for young people in Italy? Are there opportunities? From your own experience ☺
From my own experience, I'd be inclined to say that the opportunities are scarce, in fact, I live in Italy but I mostly work with foreign companies, which is something I sought out to do because I felt I wasn't getting the opportunities I deserved with Italian companies. I have friends who have had to move abroad because they couldn't find a job and they're highly qualified people. At the same time, I don't want to be completely pessimistic, and still like to believe that if you work hard, you will achieve something. I'm also a big believer in the fact that you have to create opportunities for yourself, not sit around and wait. I sometimes see a bit of entitlement and that won't take you anywhere.
I feel the same way, while you can't really expect to find (often) a decent paying job, it forces you to be creative. What can you do in Italy and nowhere else?
Evade millions of euros, play bunga bunga until the wee hours, sleep with an underage prostitute, all while being the country's prime minister. Just kidding. Sort of.
No-kidding answer: I'd say that there is hardly any other country where the art, cuisine and landscapes are so stellar everywhere you go.
HA! One of the most honest answers I've gotten on Locals I Love ;-). Lastly, can you provide me with a quote about Bologna that is 100% Silvia?
I always like to say that Bologna is jovial. After all, a town nicknamed "la grassa" (the plump one) cannot but inspire an idea of conviviality and cheerfulness – and you'll see lots of that in Bologna, especially when you head to a local osteria, the best place to taste the traditional cuisine of tagliatelle al ragù, tortelloni, tortellini and lasagne, while mingling with the friendly Bolognesi.
…
Thank you so much Silvia for letting me interview you. I am very inspired to return to Bologna and see more of this city through your valuable, poignant advice. 
You can find Silvia at her blog, Bologna Uncovered, ITALY Magazine, twitter and facebook.