As we get ever close to #MyTuscanWedding this November, I have been on the hunt to get feedback from friends and family who have recently been married, especially if Tuscany was their location. As I continue this process with the fabulous advice and help from those sharing their wedding stories in Italy, I love getting lost in their stories of love and joy. I never thought I would be this in to the entire wedding process, but I find myself asking them every nitty gritty detail possible. So in order to help readers plan their own weddings in Tuscany, and just to sit back and find out more about people I know, the 'Getting Married in Italy' interview series was born. This week I picked the brain of newlywed Willemijn, whom I had the pleasure to meet earlier this year in Rome as part of a blog tour. Her personality and wisdom is magnetic (this girl is THE expert on ancient Rome, watch out!) and her Tuscan wedding was an affair to remember. Let's here from her directly on how she planned the big day and her advice for future brides.
Introducing: Willemijn
Nationality: Dutch
Profession: writer & blogger
Favorite drink: Spritz Aperol
Marriage location and reception: Convento di Giaccherino, Pistoia
Number of guests: 100
Dress maker: Brand: Affezione, store: Covers (Utrecht, The Netherlands)
Catering: Lo Scalco (Scandicci)
Photography (for image credits): Charmwedding / Iuri Niccolai
Where are you from originally and where are you currently living?
I am Dutch and currently live in the city of The Hague, in The Netherlands
Tell us about the proposal! How did your other half pop the question? And do you think proposals in 2015 are getting out of hand?
If my boyfriend would have organized one of those crazy, over the top flash mob proposals you see on the internet nowadays, I would not have been happy… But then again he knows me so well, so he would never even think of it. He did, however, go out of his way to give me a super special, unforgettable proposal. He tricked me into going to Rome by myself, organizing a – what I later found out to be totally fake – press trip. I write for the Dutch Italy blog Ciao tutti, so I get these press trip invitations all the time. I was not suspicious at all, just very excited to go to Rome because I had a full 3 day program in my mailbox with, 'coincidentally', a lot of activities that were right up my ally and had not done before. I was 'taken care off' from the moment I set foot on Fiumicino airport. I had a pick up service waiting for me, a hotel receptionist that was fully aware of the 'press trip' I was part of.
I had been told that all the bloggers and journalists had different arrival times, that the kick off with the whole group would be at aperitivo time in a restaurant, and that since I had such an early flight (by 10 am I was in the city center) they arranged a personal tour guide for me, with whom I would be doing some really cool stuff, like visiting the archaeological remains of some ancient Roman houses they found not too long ago underneath the palazzo of the Provincia di Roma. Later in the afternoon my guide told me that the program had finished, that I had some time to go back to the hotel and freshen up, before I was expected at the very fancy Casina Valadier in the Villa Borghese for aperitivo and diner. I showered, put on a dress and hopped on a cab to the Villa Borghese. When I asked the first waiter I stumbled upon where I was supposed to go, he told me he was not aware of any such a group and that the invitation I showed him was (obviously…) totally unknown to him. I was about ready to exit the villa, going through my email on my iPhone to look for a telephone number of someone in the 'organization', when the grumpy waiter, who was suddenly not so grumpy anymore, rushed back and told me I had to straight ahead and then turn right at the terrace, where 'they' were waiting.
I was totally relieved, walked on to the terrace only to find my boyfriend there standing next to this lovely little dinner table with a fancy champagne cooler on it, everything beautifully set against the pink evening sky and the dome of Saint Peter's in the background. I was in total shock, didn't really realize what was going on (and what had been going on) until he got down on his knees and popped the question. I mean I bought the whole thing so hard that by the time desert came I was still worried that the press trip would go on the next day – and than where would my boyfriend go? Instead, we escaped the very hot city the next day, rented a car and drove to Tuscany, where we had an amazing holiday in a small, lovely B&B near Pistoia.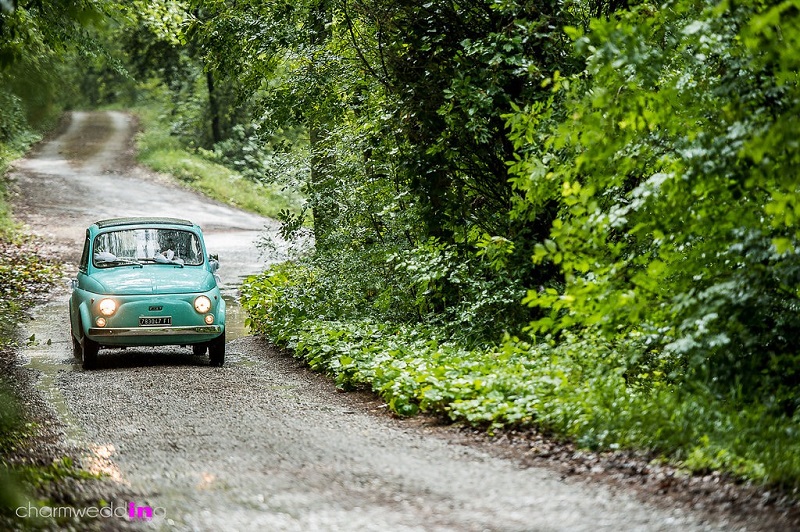 Wow that sounds absolutely perfect for you! What made you choose Italy as the destination for your wedding?  And How did you choose your wedding location?
For us it was really not even a topic of discussion – it was going to be in Italy. I lived in Italy (in Lecce and in Rome) when I was studying history & classics, my first real job was dep. editor-in-chief of the Dutch version of ITALY Magazine and ever since I am a freelance writer/blogger it is, even more, all about Italy, mostly Rome. Luckily, when I took my boyfriend to Italy for the very first time he fell in love too. It was actually my boyfriend who really insisted on getting married in Italy – he would not have it any other way. We were living in Amsterdam when we first got engaged, and I told him I would be more than happy to hop on the back of his bicycle in my wedding dress, and have a laid back urban wedding in Amsterdam. I was afraid he would assume that I had some big Italian wedding dream in my head that we could never afford, so I wanted him to know that for me it would be perfect anywhere. But we ended up having the big Italian dream wedding, and looking back it was the wedding that said 'us' more than anything else would have.
We actually found our wedding location a few days after the proposal in Rome – it was on a hill near the Tuscan town of Pistoia. We could see an old building on top of that hill from the swimming pool of our B&B, and asked the owners what is was. I just so happened to be an ex-monastery…  We went up the hill, met with Illaria, the lovely Italian lady who was in charge of the place, and fell in love immediately. We came back to Tuscany later that year, visited lots of beautiful venues that were picture perfect, even more so than 'our' convento in 'our' Pistoia, but they just didn't feel right. So after months of searching, we went back to our very first choice. What I loved most about it was the Italian-ness of the place – it was not one of those places that had a foreign wedding every other day, where you're over charged if your not Italian and caterers were used to loud, beer drinking, guests. It was 100% Italian because they didn't know how to have a wedding any other way. We even made the local Pistoia newspaper the day after our wedding, for being the first couple in 500 years to have a (civil) wedding ceremony at the convento!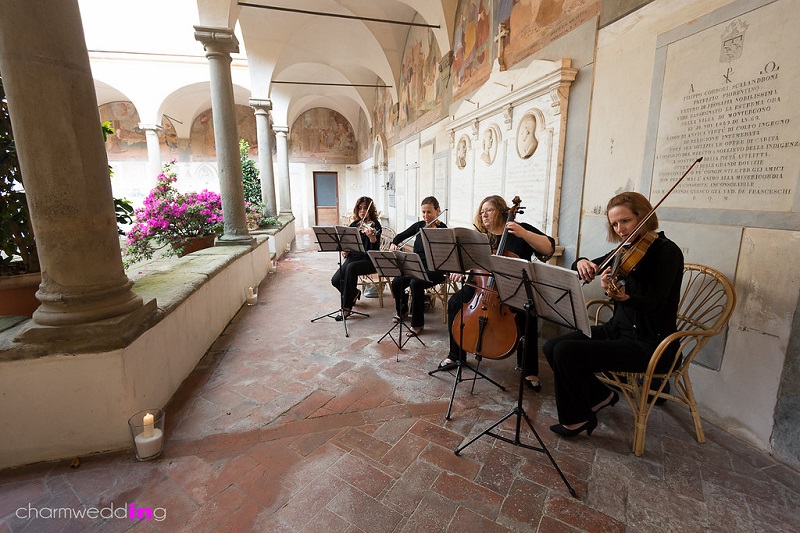 How did you start planning, can you walk us through the red-tape you needed to do before getting married?
We started at our own city hall, where they were very helpful and told us that all we needed was an international wedding 'license'. Ilaria, of the Convento di Giaccherino, contacted the local comune in Pistoia and through her we received a list of forms and documents that were required there. Really it was just birth certificates, passport copies and that 'license' we had already arranged. I was told we were obligated to have an official interpreter at the ceremony if one of us didn't understand Italian. Even though I am the only one who actually speaks Italian, I didn't want an interpreter there so I just told them we were fine without one and started translating the Italian texts that are usually said at a civil wedding ceremony in Dutch, so my boyfriend would know what he was going to say 'si' to.
Did you use a wedding planner or not? Please explain why!
We did not. But. I speak Italian and am very familiar with the Italian ways. If you are not, and if you don't speak a word Italian, I would recommend that you do get a wedding planner, or local help of some sort. We also lucked out with Ilaria, the representative of the Convento di Giaccherino – she was very helpful and basically took on the job of wedding planner without charging extra. I had also already been on a press trip to Pistoia before, so I knew some people there. And then there were the owners of our B&B, who helped us out a lot. So we really didn't need a wedding planner to help us find our way in Pistoia. We could have gotten one for all the other wedding preparations (flowers, decoration, etc) but in Holland we are more used to taking care of these things ourselves, to have a slightly less 'orchestrated' but all the more personal wedding. That's what we wanted as well.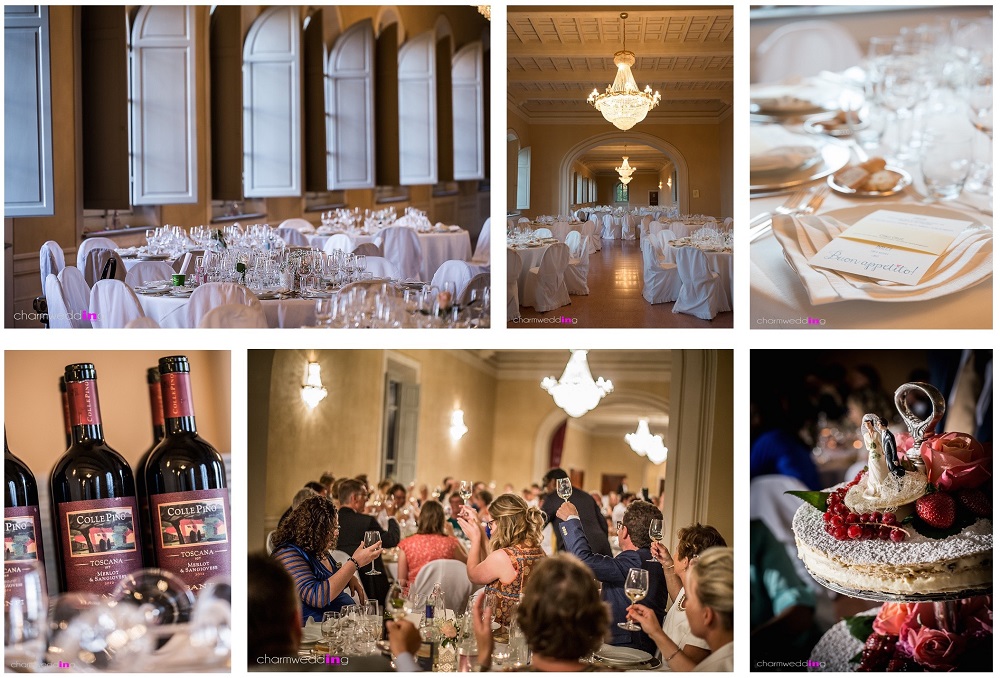 What were the hurdles you ran into while planning a wedding in Italy?
There were very few – if any! – hurdles in the months of planning the wedding. I thought that was kind of suspicious as well… We were actually driving somewhere between Switzerland and the Italian border, exactly one week before the wedding, fully packed and with my wedding dress in a ski box on top of the car, when I received a text message from our wedding venue. The comune had contacted them to let us know that we were not allowed two witnesses each (as is custom in The Netherlands), that the witnesses could not be relatives and that, oh yeah, they did not authorize getting married in the garden of the Convento, only in the one sala that was especially appointed by them to perform the ceremony.
When we booked the venue, we had decided to do the ceremony and the grande aperitivo outside, and move to the very impressive salone delle feste inside only for dinner and party. Since the wedding was in May we figured it would have been ok to stay outside until about 8 o'clock in the evening. So I sort of freaked when I got the text – I had already officially asked my two witnesses, and they were both family. I thought I might be able to persuade the local government official who invented this rule but I was kind of sad about the wedding location; I mean I had envisioned myself walking down the stairs and through the garden with my father so many times…
A few days later, when we finally got to sit down face to face with the very nice woman who was going to marry us, it turned out the whole witnesses-can't-be-related issue was just some mix up on their side, that we could find a workaround that would enable us to have our 4 witnesses sign the papers. The government institutions can be difficult about these administrative matters but once you are face to face with the actual person behind the institution, Italians usually turn out to be quite inventive and flexible. There was one thing that was beyond her control, and that was the only room that was officially appointed for the ceremony. It turned out we were the first couple ever to have a civil ceremony at the Convento, and slowly I realized that all the permessi had only just recently – I mean the week before – been arranged. Let's say looking back I am very happy that at the time of booking the venue I did not know all that.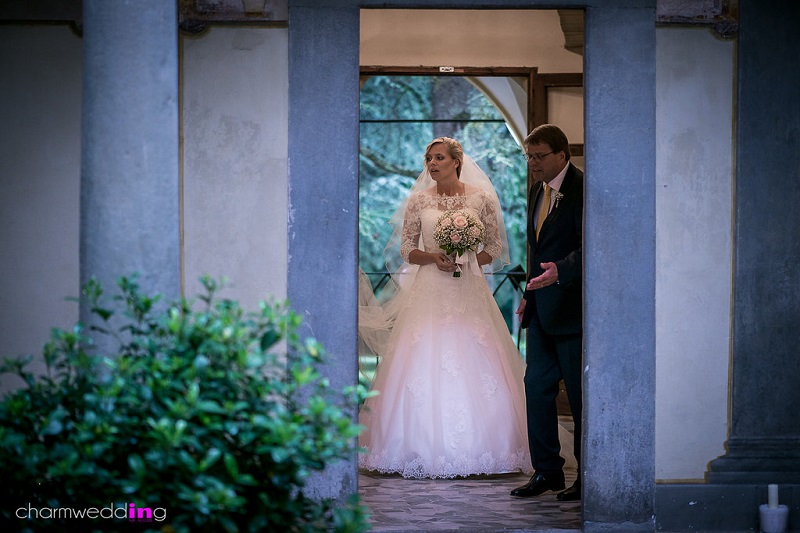 Let's talk culture! What traditions did you keep from your country and which ones did you adopt here? Feel free to elaborate as much as possible.
We had a traditional Italian wedding and kept little traditions from our country. Starting with a benvenuto cocktail at 15.30 followed by actual ceremony, than the grande aperitivo with more cocktails and lots of buffet-style finger foods (which, in Holland, would have been beer, wine and some olives and small bites), than a lots-of-courses diner with our 100 guests (we're used to having less courses and more intimate wedding diners where we come from), wedding cake and spumante for desert (in Holland you have cake and champagne right after the ceremony) and afterwards a great party with negroni cocktails instead of beer.
The thing that sort of startled the Italians was our ceremony. I had been to non-church weddings in Italy before, so I knew that they would wrap the thing up in 10 minutes, 15 if we were lucky. It was quite unusual that we booked our government official for an hour, because we wanted a kind of built-in symbolical ceremony, performed by one of my family members who was once a priest and as such had baptized me at birth, as well. Afterwards, they all said it was a lovely idea, but beforehand they frowned upon it a little bit. And also, our celebrante told me (twice) in the days before the wedding that surely, we would get married in a church afterwards, when we were back home. I guess that's one of the big difference in culture and tradition – none of my friends in The Netherlands had or plan to have a religious church wedding.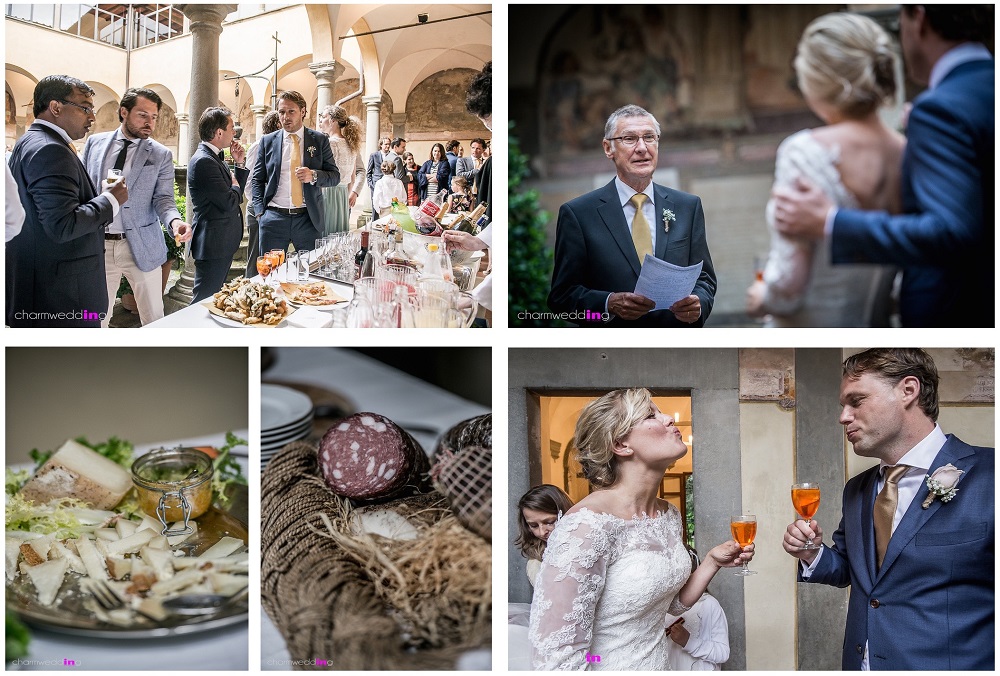 Now For The Typical Dress Question. How did you choose your beautiful dress and what advice can you give someone (like me) who is looking. Also did you do anything DIY for your wedding?
I don't know many Americans personally, but if I am to judge by what you see on television and online a lot of American girl dreams about her wedding dress from a very young age. That to me seems very convenient, because by the time someone actually pops the question you know exactly what you want. I didn't. I had never given it a thought before in my life. I started out on Pinterest and than moved on to the actual trying on dresses. I found it a lot more helpful to actually try on lots of dresses than to keep looking at thousands of almost equally beautiful dresses online. I know that, at least in Holland, it is not good for your image to admit watching SYTTD but gosh I did watch it a lot and it actually helped me out a great deal, in realizing that no matter how tall, small, big, petite or beautiful the model is, a dress has to fit your body and your personality and to know if it does you need to try it on. In my experience, when you have on the right dress it makes you feel so good there's no denying it – your face tells.
Dress wise I did not have anything DIY, but we did all the decorations, candles, (bilingual) booklets, flowers, menu's and giveaways ourselves. We had the (indispensable) help of our two masters of ceremony to do all that. My mother made little white pillows for our little ring bearers, my uncle custom made a big white candle to perform a symbolic ceremony of light and I designed our invites myself. The sposini, the little couple on top of the cake, was actually the one that was on top of my parents' wedding cake decades ago. I guess I just like things to be personal, vintage and home made J.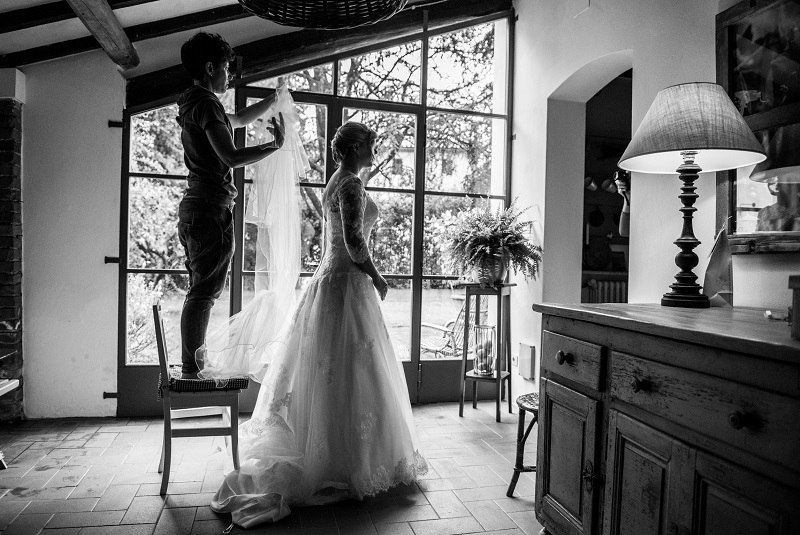 If you had to get married again, what would you change? (if anything)
Difficult to say, I would probably do everything the same way but looking back it might have been smart to start a little earlier in the afternoon because we had a pretty tight schedule and it already goes by so fast, even if you take your time… Oh yeah, and I would ditch the veil. Or at least get a short one – I kept standing and sitting on the darn thing and that kind of ruined my hair for the rest of the day.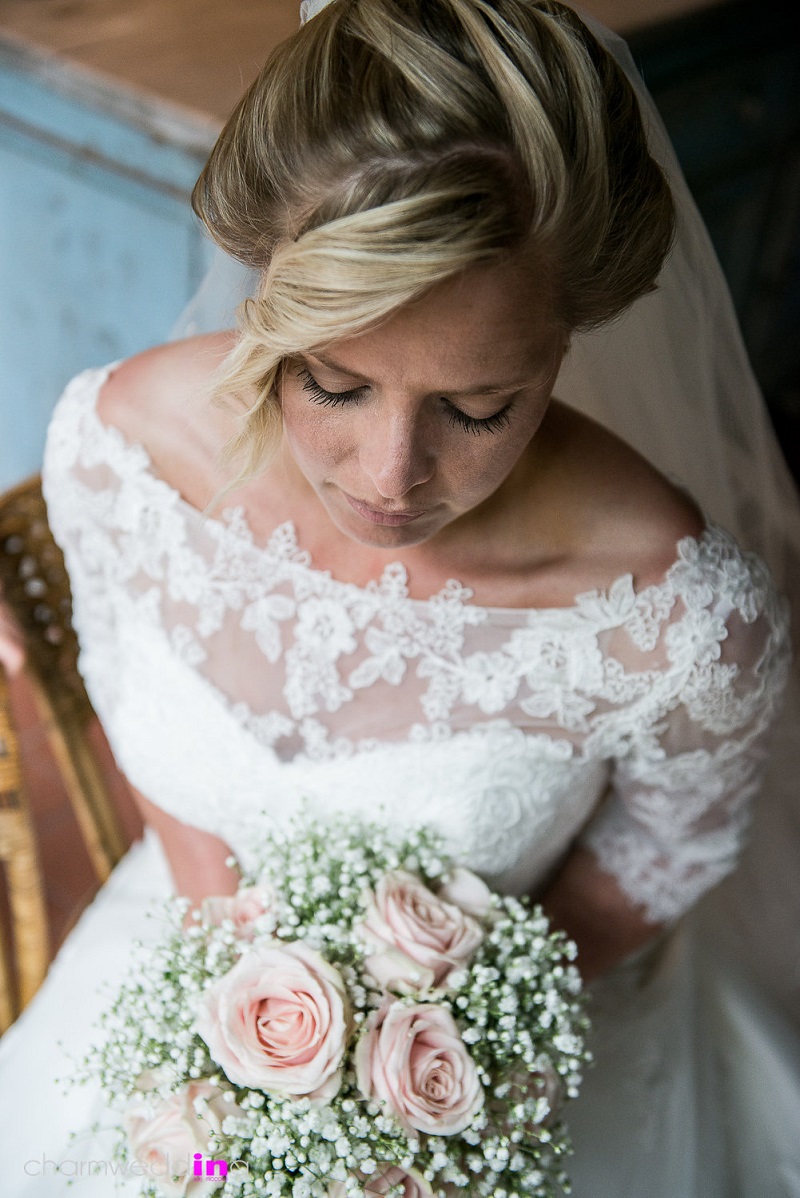 What advice can you give a future bride on what she should focus on for the big day, and what maybe should be a little less of a priority.
We had an incredibly sunny week in Tuscany before the wedding, there was an explosion of sun every day and it was perfect spring weather. At least that was the case on Monday till' Thursday, and on Saturday and Sunday. Our wedding was on Friday. On Friday, and Friday only, the weather forecast app I checked on a daily basis, Inferno was supposed to arrive on our wedding day. Storms, thunder, heavy rain, a drop in temperature of I don't know how many degrees. It turned out they were spot on; we had all that on our wedding day and looking back I should have focused on it less. It really is out of your hands, and on my wedding day I never noticed the rain anyway. Luckily most rain fell in the morning and early afternoon, so by the time we had aperitivo (which we moved from the garden to the chiostri, sort of half-outside and also very charming) it was all right. We had planned the dinner and party inside anyway so in the end it really didn't bother us at all. So: make sure you have a back-up plan for bad weather, but don't make it a priority. In fact, don't stress about anything. Instead, focus on having as much fun as you can possibly have during your wedding preparations – it will be perfect no matter what because you'll have all your friends and family together just for you and your celebrating love all day. You will feel so blessed, at least I did!
One last piece of advice when you get married in Italy: go local! At least we thought it would be nice to involve the community of choice as much as we could. We didn't bring anyone or anything with us from The Netherlands; we choose a local photographer (they ended up coming with 3, and they were fantastic), a local caterer, local food and drinks, etc. It is just much more fun if everyone there can benefit from your wedding; the whole commune will be more involved and maybe you'll even make headlines J, like we did!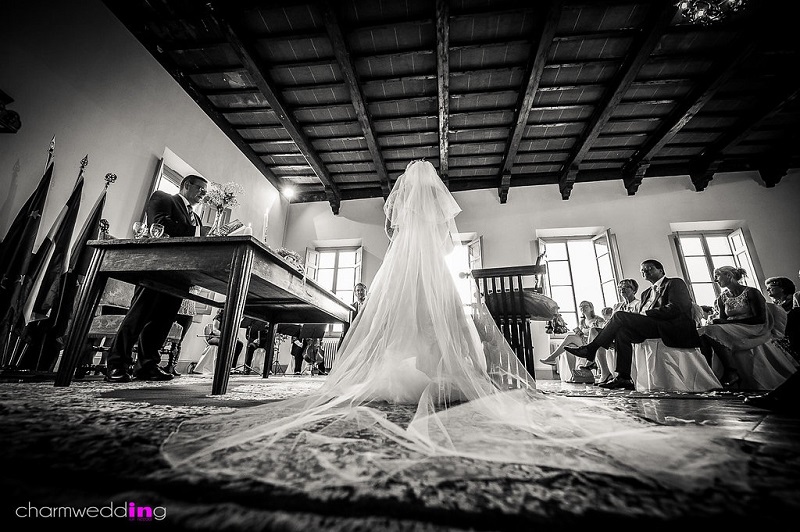 Best memories from your big day – please share!
I have tons of amazing memories; my brother standing on the doorstep of our lovely B&B to bring me the bouquet, my sister and her little girl who did not leave my side during my hair & make up, the look on my parent's face the whole day, the warm and moving speeches and gifts (they actually all chipped in to give us a piece of a Tuscan vineyard – in a few years we'll have our very first bottle of wine), eating, drinking and dancing the night away with all our friends and family… But my favorite memory is, hands down, entering the sala of the wedding with my dad. The string quartet played Monteverdi's Pur ti miro, the room was filled with excitement and my husband to be was anxiously waiting to see me at the end of the isle. Through the windows the Tuscan landscape was surrounding us all beautifully. We choose not to see each other before that moment so it was a very emotional moment anyway, but then when everybody stands up as you walk down the isle. It was an amazing moment I will never forget.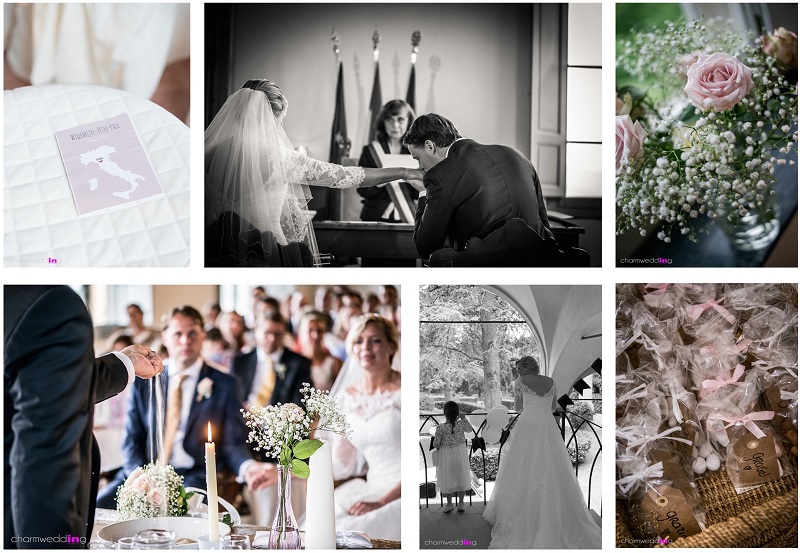 Lastly let's talk honeymoon! Where did you go and why?
Our honeymoon still awaits us! We were in Italy for two weeks for the wedding – a week before and a week after. That week was supposed to be a little pre-honeymoon, but unfortunately there was an accident the day after our wedding and I ended up spending the next week by the side of the hospital bed of my sister's 6 yr old little girl (who is sort of like my daughter too). It was horrible, but she is fully recovered now and we are looking forward to making a fantastic road trip in the USA (California, Arizona, Utah, Nevada). It's just one of those trips we've always wanted to make and we are not the types of people who want an overwhelmingly luxurious Ibiza-style honeymoon. I guess we think hiking together through the gorgeous nature of Bryce and Zion is far more romantic!
***
I am so sorry to hear that regarding the accident affecting your niece and honeymoon Willemijn, but I am happy that she is fully recovered, what a relief! I know your honeymoon will be absolutely remarkable and I can't wait to see your photos. Nico was in that area two years ago and Bryce canyon is gorgeous! Thank you so much for participating and sharing your pretty amazing story, you have a philosophy that I can relate too and it looked personal and quite special, which is all one can hope for. A toast to love and you two 🙂
Keep in touch with the fabulous Willemijn on twitter, at the Dutch publishing house Ambo Anthos, she is also proud to be part of Holland's number one Italy blog, Ciao Tutti, and also occasionally blogs in her personal website (in Dutch).