Any party that involves a plethora of fresh flowers, island hopping and a massive bonfire, is just the kind of place I want to be. We ate fish, we drank beer, we learned how to slow dance with people we had just met. We drank salty licorice shots and tried (badly) to sing in Finnish.
This June, for a lovely long weekend, Nico and I returned to Finland. A country I never thought I would get the chance to visit, but last December we were first introduced to Helsinki thanks to the Visit Helsinki tourism board, especially the tireless, wonderful and exuberant Elisabeth.
We first were there to discover, experiences and celebrate the annual St. Lucia festival. Bundled up in large coats and plenty of winter accessories, I always wondered what it was like there in summer, and this year we got to see exactly what that was like. An excited fter hopping on a plane from Italy's fashion capital, Milan.
Summer solstice is a big deal for Finns, and once you've visited in the winter, when the sun starts to set around 3pm in the capital of Helsinki, you can most certainly understand a celebration centered around the sun. Midsummer is known locally as Juhannus. The tradition dates back to 1316, the summer solstice was called Ukon juhla, after the Finnish god Ukko, if you do a quick google search he resembles a combination of Zeus and HeMan. The festival also commemorates with that of the birth of John the Baptist, the saint who baptized Jesus. The fact that this is both pagan and Christian isn't at all weird to me, I imagine many festivals we find totally normal have a similar background.
Many Finns leave the city in droves to their cottages on the countryside or one of Finland's 180,000 (no exaggeration) islands. In fact much of the city was shut down and there was a buzzing holiday vibe which was quite exciting to be a part of. Expect a fair amount of partying but, in a good way. They enjoy and cherish their free time, Finn's get about 30 days off a year (after the first year of work), plus 14 paid public holidays. Once again why I will never leave Europe.
The fun happens on Midsummer's eve, which fell on June 19th this year. Arriving in Helsinki, we weren't exactly prepared for the cold winds and weather, my one jacket was the smartest item I packed, but what was even more shocking, was the time of sunset, typically around 10:20pm. Midsummer day is all about feasting with the family and of course the sauna, which I will cover very soon on the blog.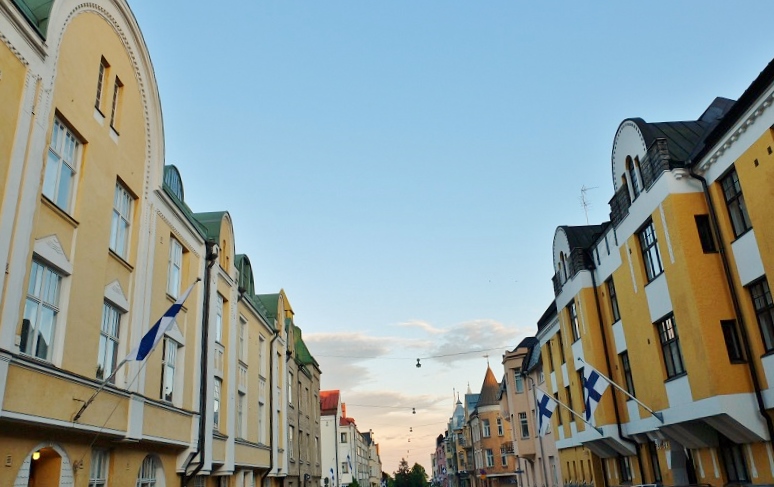 Our personal guide for Midsummer was the lovely and bright-smile Liisa, the young owner of Day With A Local Helsinki, originally hails from a small town called Iisalmi, about 500 km from Helsinki. I instantly took to Liisa, who like me, has a vibrant passion for her adopted city which made this business idea a natural win. Her bright attitude and eagerness to show us the best of Helsinki was evident within the first 5 minutes of meeting her. She gave us two traveler bracelets, with international symbols that would be recognizable to anyone who perhaps can't understand your spoken word.
She and her team of guides tailor to small group tours, which gives visitors like me the chance to discover the city with a local person who is eager to show you their favorite spots. She was hands-down one of the best guides we have ever had the chance to meet, perhaps because my heart warms at young people taking on an entrepreneurial role and doing it better than most.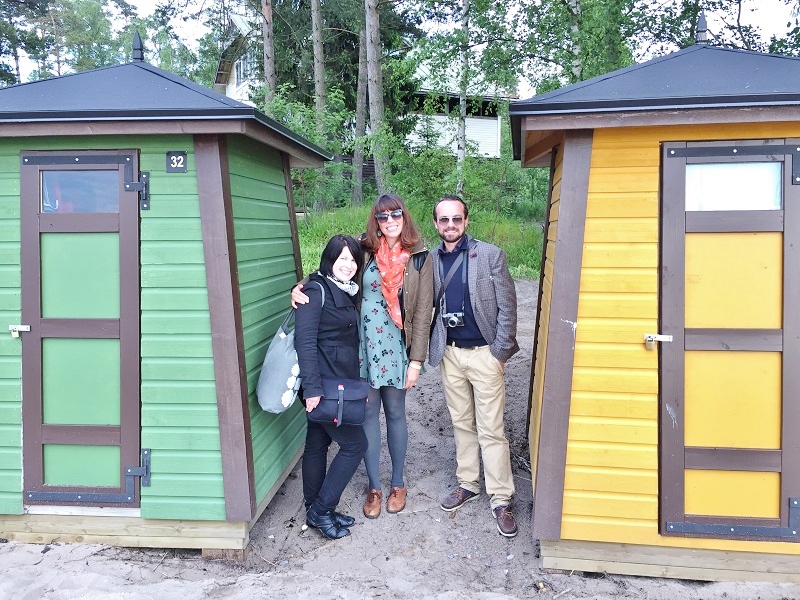 We headed to one of the 330 islands in Helsinki's archipelago on a boat covered in birch branches, arrival was the nearby Pihlajasaari Island, from where we would be watching the bonfire with Liisa and having (you guessed it) a fish dinner. I cannot tell you how beautiful this country is, pure unadulterated nature is national mainstay in this country of simple delights. Living in the center of Florence, I don't often get to see anything 'green' and this was a chance to feel a little bit closer to my roots in rural Texas, even in a place is so far away from anything I've ever known.
Astounding that just a 1o-minute boat ride could transport us into another world, one of midsummer dreams and worthy of a Shakespeare rendition. This island is a very popular spot for locals to beat the 'heat' and relax on a beach or opt for a fresh salmon dinner. In fact, most of the voices we hear were Finnish, as everyone geared up to see the bonfire with close friends and family. Another popular destination is the open-air museum of Seurasaari.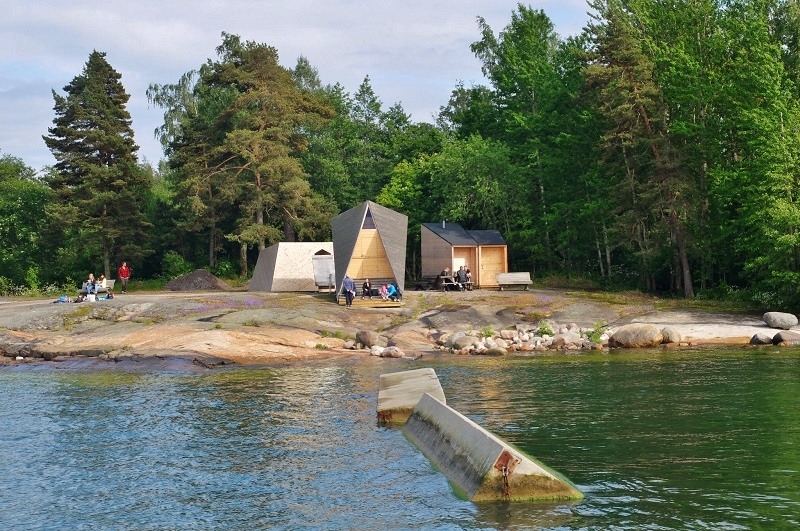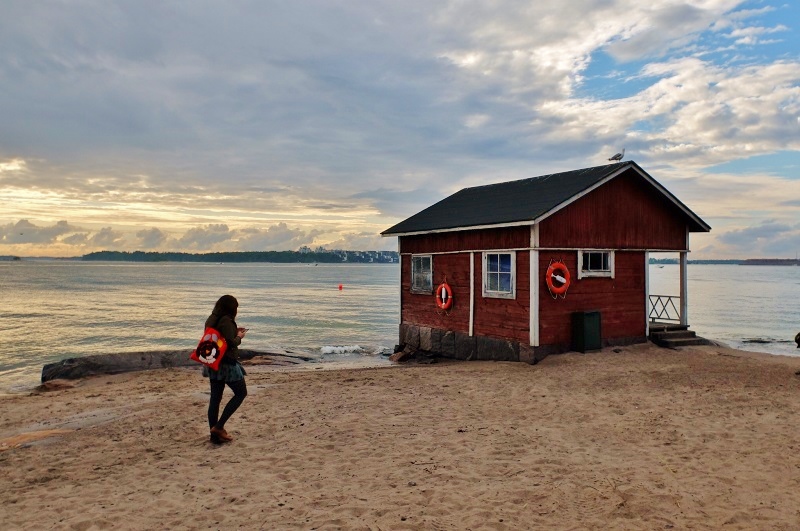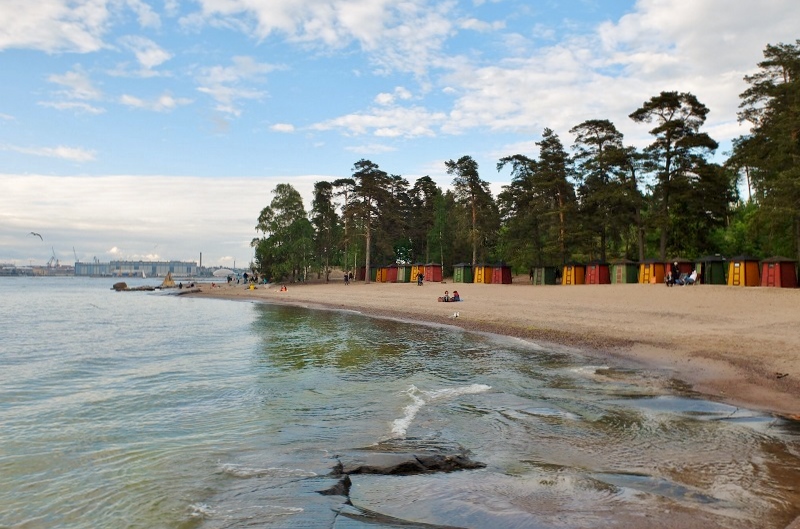 We explored each rocky cove and the explosion of nature on every single side. As we made our way to the other side of the island, I spotted a place that took my breath away. I would have wrestled a reindeer to have a house like this, but something tells me that the Finn would probably win. The colorful beach wooden shacks, used as changing rooms and storage, have been there since the 50's and are beloved by local residents.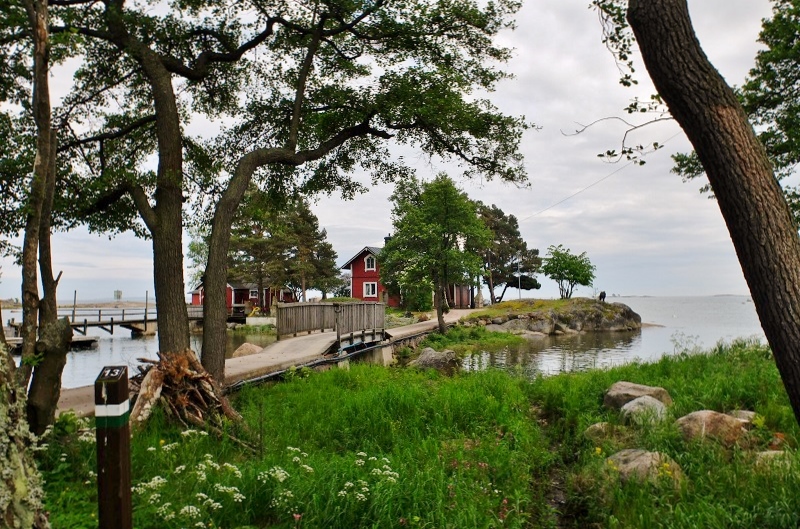 Dinner was early, around 6:30-7, at a little cottage, Villa Hällebo, that serves traditional food to customers for over 80 years. Beautifully simple, we ate huge plates of salmon smoked from their own facilities, served with ice-cold chardonnay and these delicious homemade doughnuts called 'Munkki.' My Texan roots smiled at this place, it reminded me of home, except swap the salmon for steaks.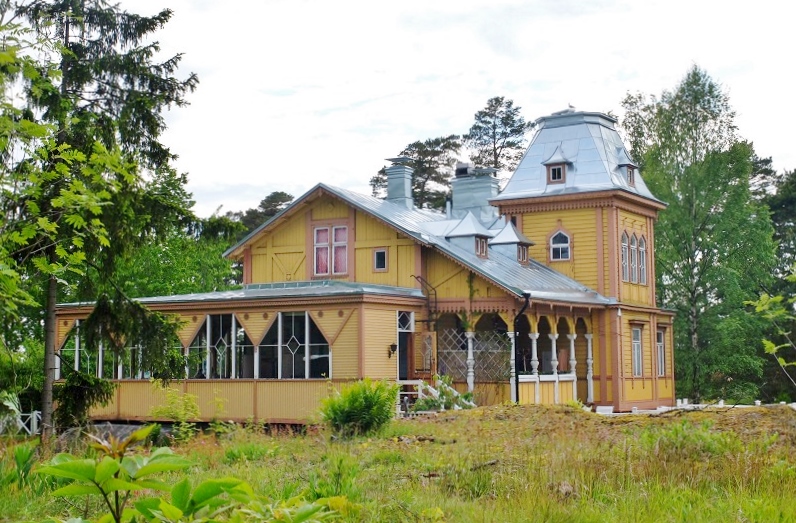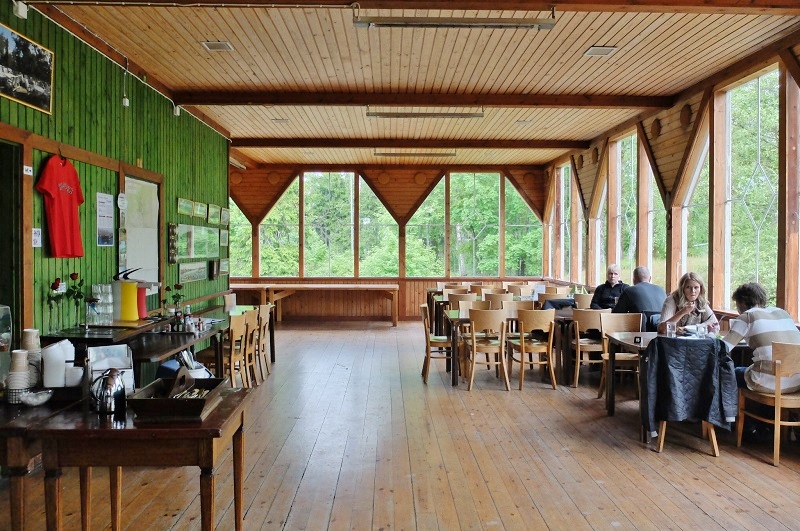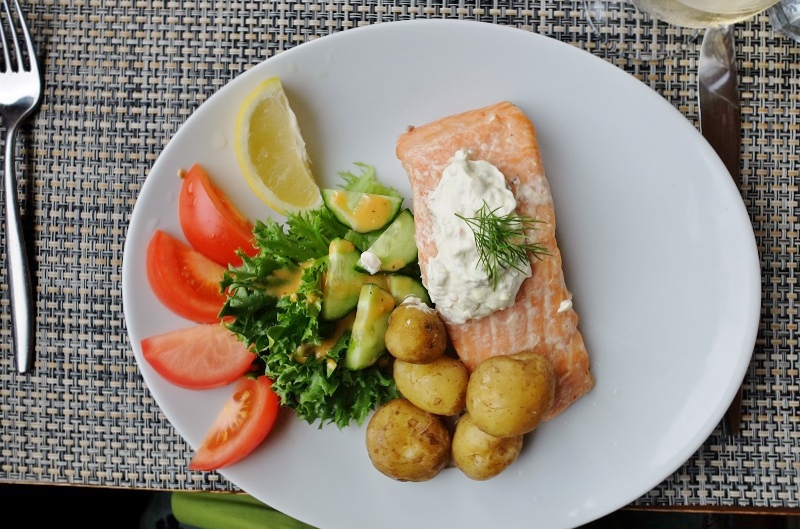 Liisa explained that historically that this was also a time of love spells and rituals. Spirits and supernatural occurrences were known to happen during Midsummer night. I'll admit that I was always one to be caught in the aisles of Barnes and Nobles, looking up star sign traits — any reason to spiritually link my young heart to any of the many 'men' mistakes I've made in the past, this was particularly intriguing.
In Finland, these traditions encourage young women to collect wildflowers ( 7 or 9 different varieties) and put them under your pillow in the hopes of catching a glimpse of your future spouse in a dream. I noticed many girls wearing crowns of flowers on their head, like an ethereal fairy tale. Another tale includes young women bending over a well, naked, in order to see their future husband's reflection or run through a field, which makes me wonder who exactly made this rule up? There must be an Italian guy hiding in that well somewhere ;-).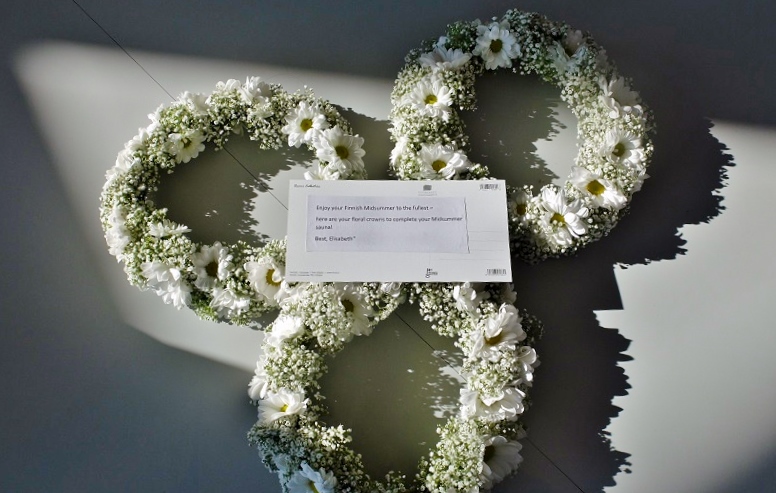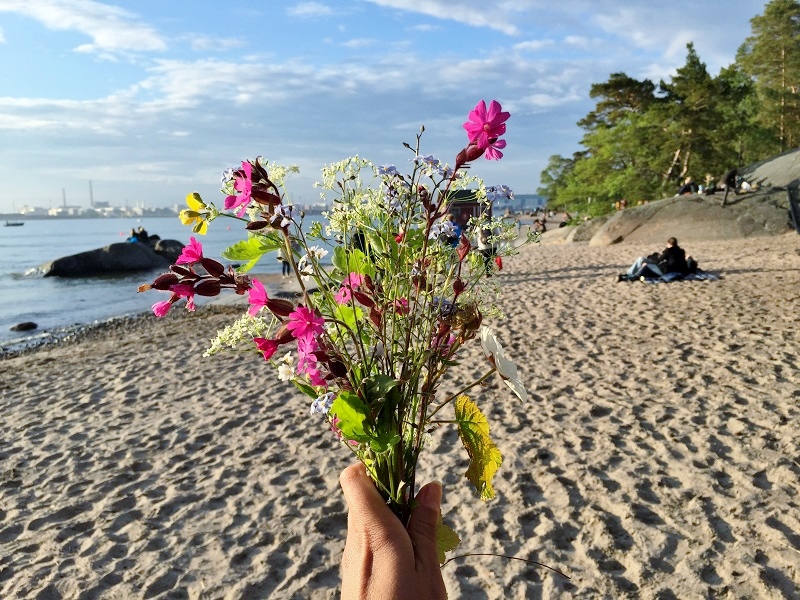 After we were all bonfired out, I mean you can only stare at burning logs for so long. We headed back to our boat to go back to Helsinki, where we would attend a lavatanssit, A Finnish social dancing event. It may sound like something your grandmother might find fun, but this was truly special.
We Love Helsinki organizes traditional Midsummer dances each year by the same guy who started restaurant day, our destination was the cool ex-factory turned club Kuudes Linja. Young people were packed inside, dressed in vintage clothes, many girls hair adorned with flowered wreaths. The space itself was unreal, it was so beautiful, and very hipster friendly, heck even the newly-elected green party representative was there.
Everything was well-organized (those Finns) and we got into the literal swing of things. Lissa is a very passionate dancer, and was excited to show us what they had on show, the first room filled with waltzing couples. It was like another, more civilized universe and I for one was scared of this world. Plenty of skirts, low heels and swinging ponytails. Since Finns are taught in high-school to properly dance (not like our booty-shaking dances in Texas with teachers giving us the stink-eye every 30 seconds) this was a hell of a lot classier.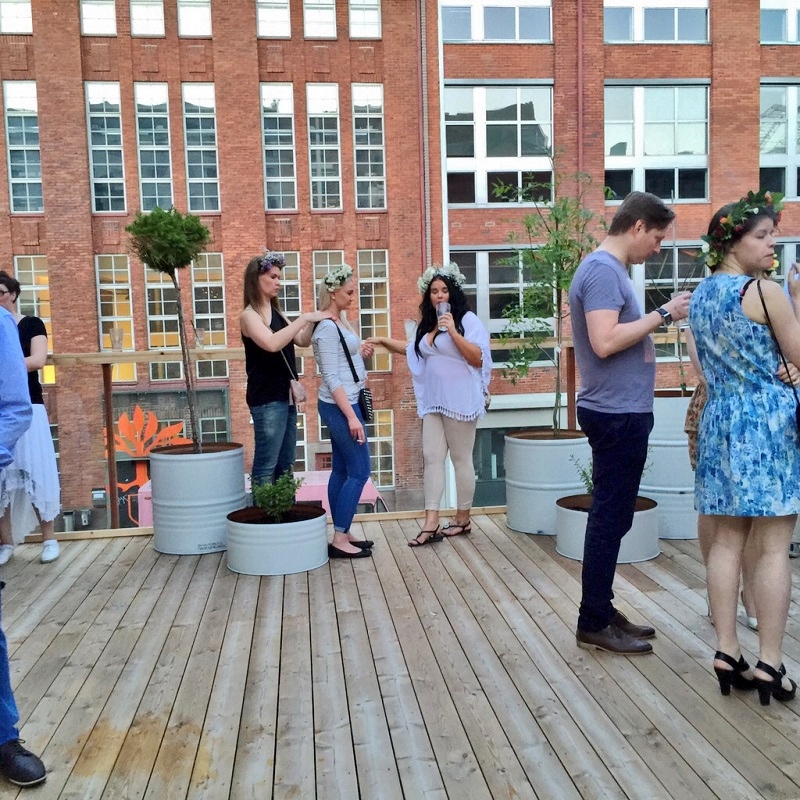 Armed with a shot of the local brew, salmiakki (a salty liquorice spirit), I swung my head back and danced with a few strangers. All of who were better dancers than me. Rather than let Nico and I be awkward together, Liisa insisted we separate which was actually a smart  move. I danced with a good friend of hers, and then with another guy who just smiled at me and thanked me.
It would have been rude to turn down an additional dance, so I tried my best to let the poor guy lead me and managed only to not step on his feet half of the time. I wish I had his address to send him a profusely worded 'I'm sorry I learned how to dance when Britney Spears was the pop queen and wearing matching denim with Justin Timberlake.'
I recognized much of the music, though it was dubbed in Finnish. There was plenty of space in this club to relax and talk, an outdoor terrace brimmed with happy midsummer-eve goers seeking fresh air and sunlight at almost 11pm.
There was another area featuring pop music and I able to 'hang' until around 2am when my fatigue at celebrating midsummer got the best of me and we left this wonderful world of music and happiness.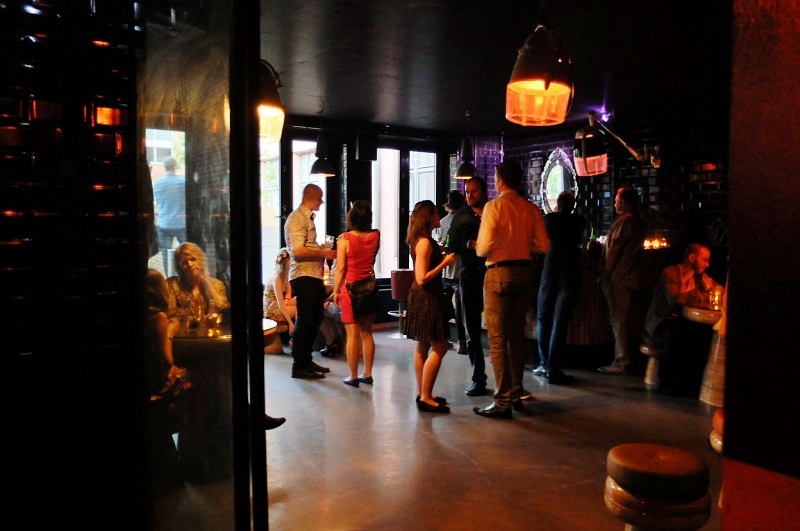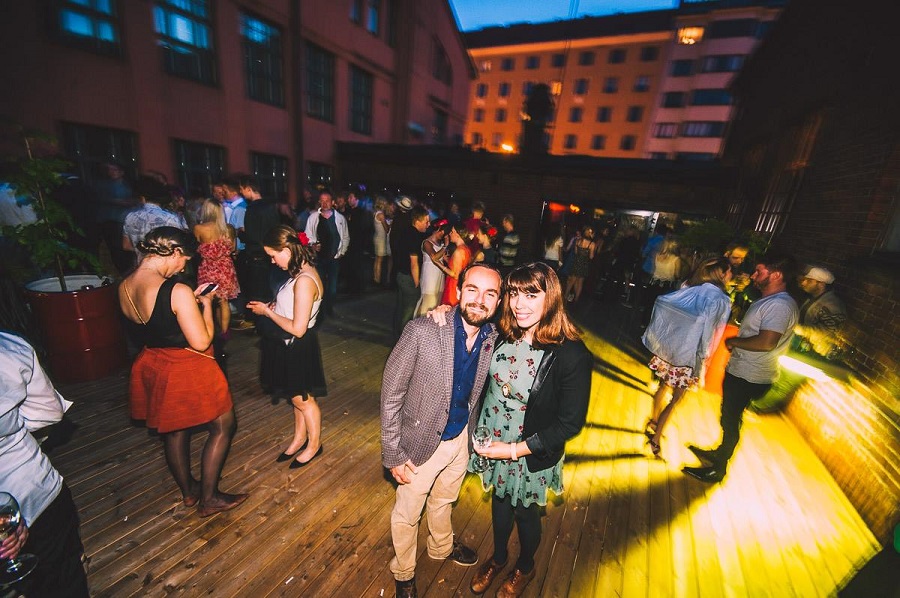 The best part was yet to come. We made our way back to our hotel, opting to walk off our drink and celebrate what was clearly a fantastic night with locals. We made out way to the train station, where Liisa promised a surprise. We kept walking until we got to a little area of the bay, hidden from the general mayhem of the train station, like an oasis of calm. The surprise was worth it, we were greeted with a stunning sunset that never seemed to go away. I wanted to listen to Coldplay and stay forever in this place, stuck forever in a perfect blend of harmony and darkness at 2:30am.
Just us and this immortal moment.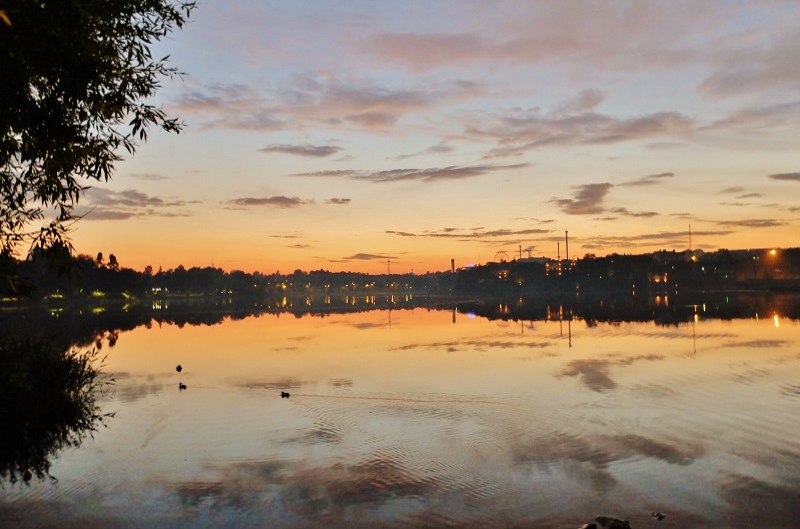 ---
How To Spend Midsummer, or any time in Helsinki, Like a local
Day With A Local Helsinki,  phone +358 44 4000 404, [email protected]. Explore Helsinki with a Local! Private tours held by Locals for groups of 1 to 8, price per group: 335 €/6 h, 195 €/3 h, and 105 €/1.5 h.
You get a bit of history, and a huge dose of culture, but it is more like being with a really good friend, one that knows all of the best spots and that should get a gold medal for organization. She sent me these local words used quite often during this time of year that I had to share with you all since you will appreciate all of that 'lohi' on any future trip to Finland.
Midsummer = juhannus
Midsummer Eve = juhannusaatto
bonfire = kokko
Midsummer bonfire = juhannuskokko
salmon = lohi
rowan = pihlaja
island = saari
Visit Helsinki, the one-stop shop for all of the tips you need to know before you visit my favorite Northern city. Highly recommend reading the cleverly-named 'Hel Yeah' guides that cover everything from food to artisan shops, I will be tackling more of those experiences in future posts. Learn more about midsummer here. 
Where we stayed: Rivoli Hotel Jardin, cozy family-run contemporary hotel in the heart of the design district of Helsinki, very close to the pretty Esplanades, Helsinki's central shopping precinct. Rooms run from €105 a night.
Address: Kaserngatan 40, 00130 Helsingfors, Finland
Phone:+358 9 681500
Pihlajasaari island. Only 10 minutes by boat and highly recommended. There is a camping area and a unisex nudist area.
The connection ferries to Pihlajasaari leave daily from Merisatama behind Cafe´ Carusel 9.5. – 30.8. and from Ruoholahti 13.6. – 9.8. Busses number 14, 18 and 24 and trams number 1A and 3 take you near Merisatama. The underground, the tram number 8 and busses number 20, 21V, 65A and 66A take you to Ruoholahti. website & restaurant info. Visit Helsinki info.
Underground Club Kuudes Linja, Hämeentie 13 (entrance from Kaikukatu 4)
00530 Helsinki. website.