While most people are aware that Napolean Bonaparte was exiled to the Tuscan island of Elba, 20 kilometers off the Italian coast, not many know that he actually chose this gem of the Etruscan archipelago. See, Napoleon, who perhaps had a bit of that 'short man' complex, knew that this place was special. Clear blue waters, sandy beaches, wonderful panoramas, Elba is my idea of a still unspoilt Tuscan paradise that has managed to retain its identity more than other coastal towns like Forte dei Marmi or Portofino (my opinion). In fact, the Financial Times marked Elba as an interesting place for those looking to buy a second home, due to falling house prices since 2008.
What surprised me about this trip was just how many people have never heard of this small island. Essentially an easy an hour ferry ride from the port town of Piombino which is about an hour and a forty minutes from Florence, but mention Napoleon, and everyone nods in agreement, that alone has done wonders in publicity for this place. His face is on the local mineral water I eagerly drink up and a cartoon version adorned the back of a little shop in the Marina di Campo area, where we based for our weekend 'exile.' It seems that he's not going anywhere, anytime soon and honestly it lends an even more interesting mark to the local history.
This little island has a lot to speak for, the granite mined from the mountains helped build the Pantheon of Rome, and there is a certain mystery and air to this place. There is a green lushness about this place and it is more mountainous than you might think. I was there thanks to Federica and Andrea who are the brains behind Elbamylove (with the help this trip of Tuscanybuzz), a new web portal seeking to show people what they love about the island, both chose to move there from Milan because of the slower pace of life. I really can relate to them because not being from Florence or having any Italian ties myself, I truly feel the almost innate need to share what it is I love about this country.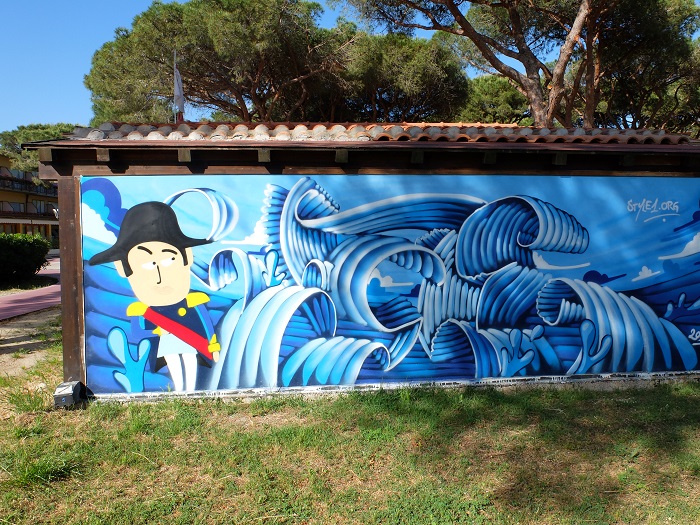 Getting There
First step was hopping on the ferry, while you can visit Elba without a car, I don't think it is a great idea. Instead rent a car or bring your own and get a ticket via Blu Navy, which offers returns for about a 100-150 euros for two people, depending on the season.  The ferry ride itself is quite easy, and we even got a tour of the boat with these fun guys. In fact let all of those sailor fantasies come to light ladies, I wouldn't blame you.
They are the ferry newbies in Portoferraio and offer more competitive rates than the other two large, monopoly-like companies that dominate the market. What I liked about them was the fact that they were sincere about wanting to bring about a more affordable option for both residents of Elba island and out-of-town visitors. It used to be much more difficult and expensive to get here, and now, they even have flight service to encourage more visitors.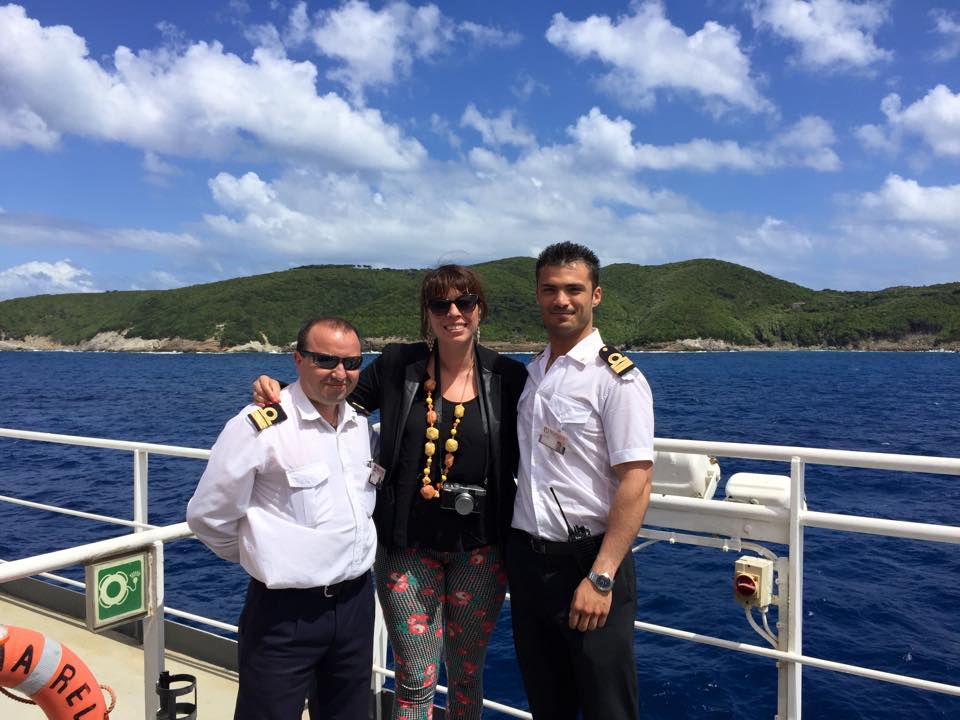 Stay, Plenty of Options
We landed and headed straights to our hotels, which are all listed on this fantastic new website offering tips on where to go, eat, and of course, stay on Elba Island, our lovely hosts, Elbamylove. Our hotel was a 100 meters from the beach, the three-star Hotel dei Coralli, with a large swimming pool and tennis courts. Simple, comfortable and affordable, prices are from 120 euros a night, which includes breakfast. I was greeted with 'Gutenmorgen' since apparently there was a larger German group there, they embrace a more sporty holiday it seems while I just look to sip spritz's and lie on the beach. Coralli was the kind of place I actually could afford even if I typically seek out more boutique, smaller kinds of accommodations.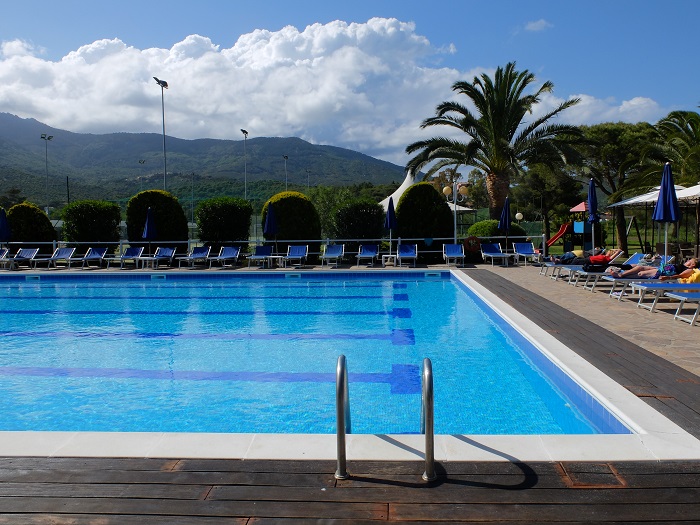 Life's A Beach
The best reason to come to Elba island is for the beaches and hiking, when I first came with my group of girlfriends a few year's ago, we took our little car everywhere (and got stuck a few places as well). The options here are actually more than you might think. We of course, based from Marina di Campo, which has a gorgeous beach that was more than adequate for making this girl happy, plenty of sand and opportunities for long walks with pretty panoramas.
The beach stretches almost 2km in total, like many Italian beaches, there are the free sections and the paid (umbrellas and chairs) section. I particularly like the Bagno di Sergio beach bar,nice staff and definitely not overcrowded when we were holed up there in May.
Probably my favorite beach is that of Capo Bianco in Portoferraio. There is a little parking lot where you will take the staircase down below, even your car is lucky enough to get a spectacular view. This place is like nature's heaven, hence why we had a little 'make your own photo-shoot' moment with our Acqua dell' Elba (which seems to have advertising EVERYWHERE) perfume and a slightly hairy Frenchman. It would be a damn shame to miss this beach if you come to Elba, so don't. 
Another beach we visited this trip was Biodola, the largest beach in the Biodola bay and the place where we caught the most spectacular sunset during an apertivo dinner that I will never forget. I highly recommend checking out this list of beaches by Around Tuscany, which lists the top 10, a bit weird that it doesn't include capo bianco but never fear, it's noted above ;-).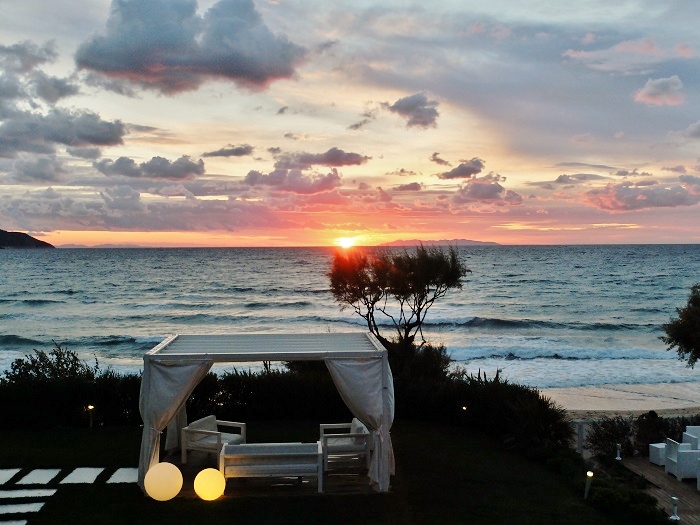 Eating (Almost Literally in) Elba
There are plenty of foodie options in Elba, naturally being that you're on an island, you tend to pay a little more for things that would cheaper than on the mainland. For example, I noticed dishes would be at least 3 euros more than in Florence, nothing too crazy but worth noting when planning a budget. Since we were there for only a weekend, we definitely took advantage of a mostly seafood diet because when in Rome… well you get what I'm saying. 
First dinner was at the very modern Hotel Montecristo (a throwback to the nearby island – which is protected). I feel a little bad saying this but, I am pretty sure our meal that night cleaned out half of Elba's fish, there was so much delicious food, and so very well-presented, which I very much appreciate.
We started with a light aperitif with a local liquor served with  some perfectly toasted crostoni bread topped with sweet tropea (best onions on the planet) onions. This awakened my already carnivorous palate and our main courses stretched endlessly, a beautiful and quite refreshing gazpacho soup with a tempura of zucchini flowers was positively dreamy, as was the antipasto plate featuring a visually impressive take on a 'can of sardines', anchovies served with marmalade and a cappuccino of peas with octopus.  Served with locally-produced white wine. Our main courses were, of course, plenty of fish, all of it very delicious. Well done Montcristo!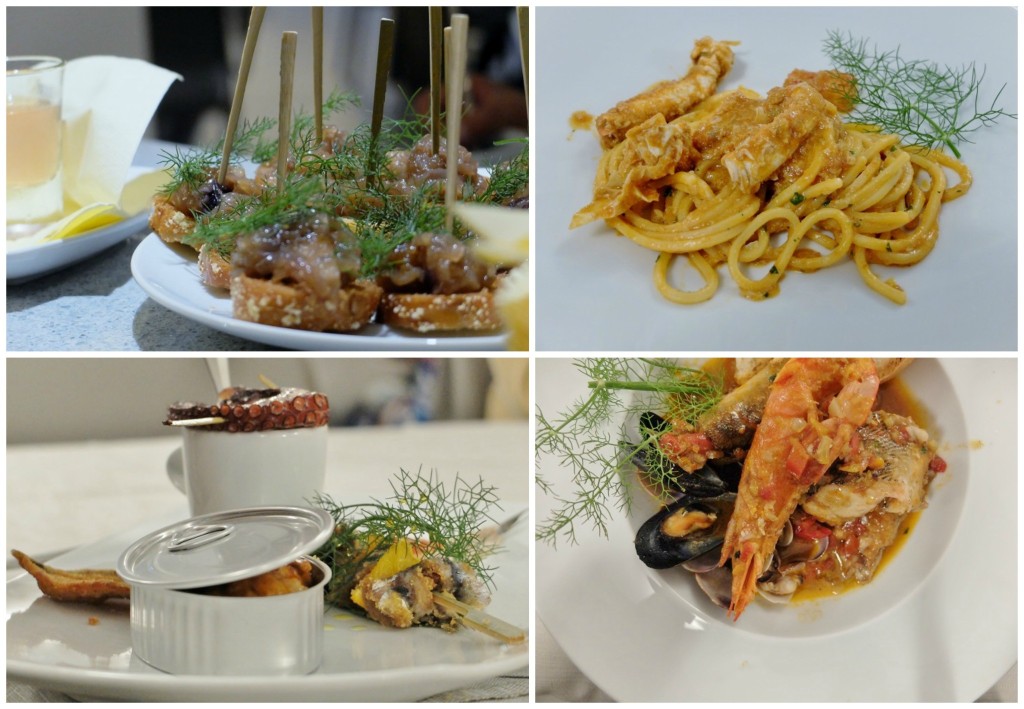 Lets talk about lunch, I certainly don't need nor want to be a fancy-pants during an entire weekend away. One of my favorite moments from the trip was a beautiful picnic on a secluded pebble beach while hiking above Marina di Campo with delicious packed food from Osteria Al Moro. We had a Tuscan favorite panzanella, a Tuscan salad of bread and tomatoes, onions and basil, a very fresh and inviting summer lunch, along with asparagus frittata and a nice apple cake, summer perfection!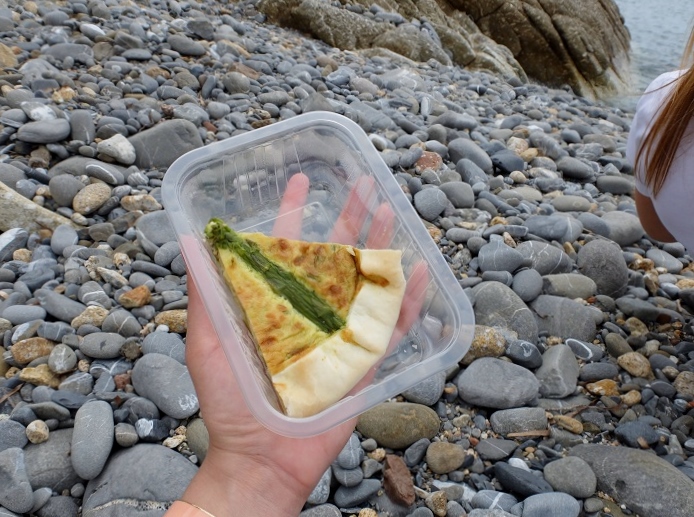 Another memorable meal was more inland, at the lovely rustic Pizzerla La Fonte in the charming hill-top town of Sant'Ilario. while I fortunately neglected to take decent photos, you can check it out on Discover Tuscany's post about our Elba trip. Taking a break from seafood, we dined on vegetable soup that was Grandmother Rosina's own recipes, along with delightful homemade pasta with wild boar ragu, and an interesting type of bread that looks like it was tangled in a washing machine. It's pretty much the only place in town to eat but I quite liked the very simple, family vibe.
They told  us at lunch this story about how the men of the town would serenade the women they fancied under their windows, a bit like Romeo and Juliet, except I'm sure everyone in this town knows each other and is in each other's private business when it comes to these things. And If the women fancied them back, they would bake them a cake. I love that kind of romance, though for me it would probably be a Thai curry and not a cake.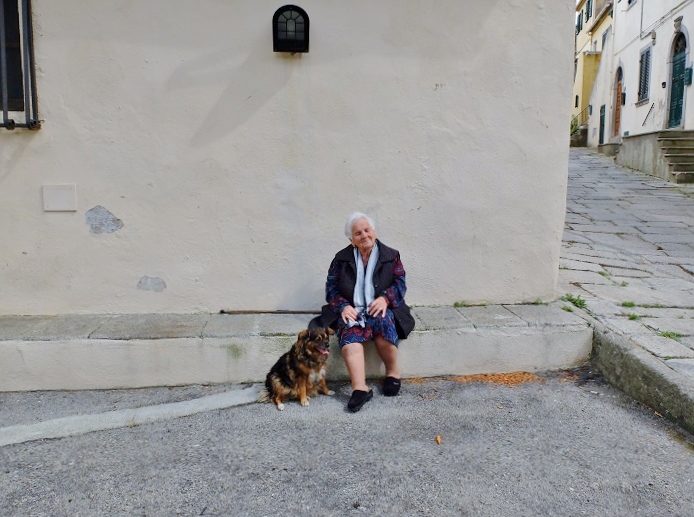 For a nice dinner or aperitivo, the place to go is most definitely Baia Bianca Suites, a luxury resort that is as exclusive as it is beautiful. Modern is key here, think all white, plunge pools and beautiful sun beds with a gorgeous ocean view. No, I didn't get to stay there (I wish) but we did have a sunset drink and some food in the modern restaurant overlooking the beach. The food was almost too pretty to eat, stuffed bell peppers artfully arranged, raw veggies, fragrant fish dishes, everything was incredibly good, and the view was top.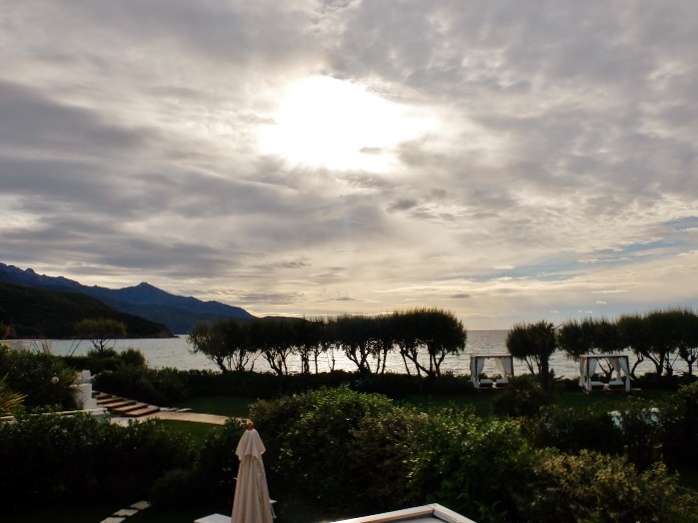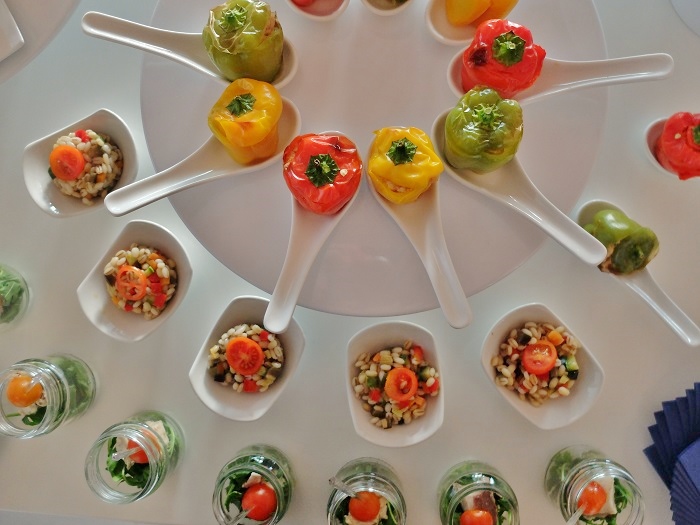 Our last dinner took us back to where we came from, to marina di campo, at the restaurant at Paglicce Beach. Head chef is Jordi Franquesa Guiteras from Barcelona who specializes in fish and everything else. We had the most beautiful table right in front of the water, with endless rose wine and dish after dish of seafood heaven. There was no better way to end a weekend on an island, trust me.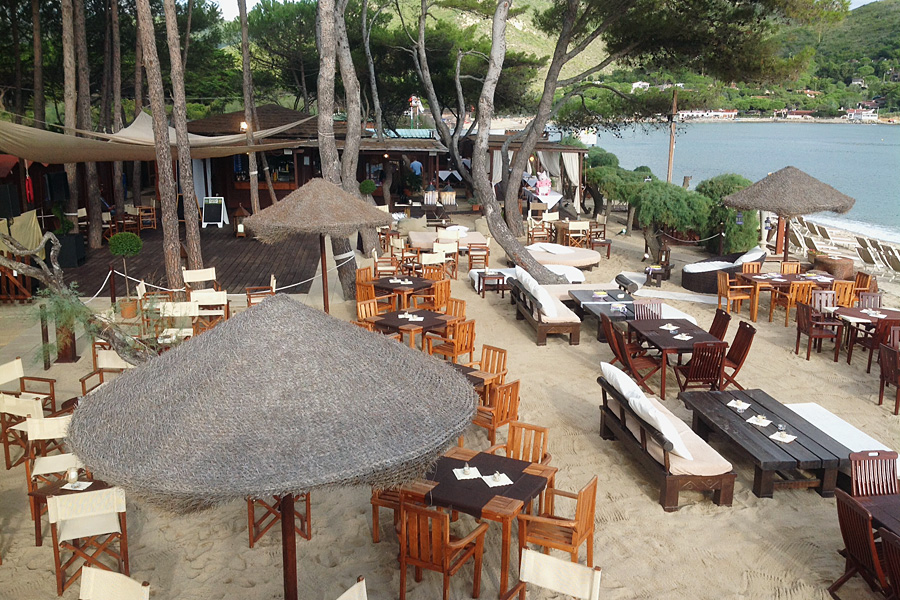 Play: Visit Elba
Naturally there is plenty to do other than eat and swim on Tuscany's biggest island in the archipelago, although I won't judge you if that is what you want to do, but here are a few suggestions on what you can do on the island.
Basing in Marina di Campo was a a pretty wise thing to do, it still retains that small town authentic feel that I adore about Tuscany outside of the big cities. It felt like everyone lives on permanent holiday, everywhere you spot people on bicycles, or having an early morning walk on the beach. I found it quite easy to walk to the center of town from my hotel and embrace a little exploration, popping into fish shops to chat with a local nonna, or take far too many photos of three-wheeled vehicles.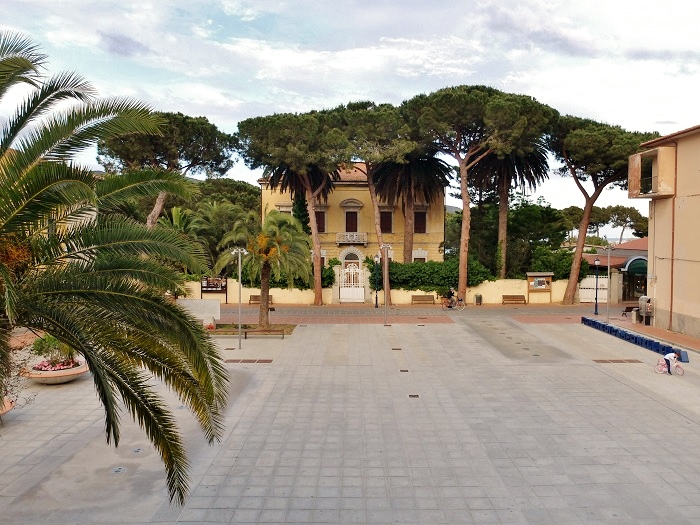 Marina di campo is located in the borough of Campo nell'Elba and after just a day, I already felt quite at home here, heck we even met the mayor in blue jeans. The perfect place to stroll through slowly.
For a change of pace from the sea, I highly recommend visiting the charming town of Sant'Ilario, a place that looks set back in time, with plenty of curious nonni peeking out from doors and windows, or offering us crema di limoncello. Though you probably could walk around in 2.5 seconds, we took more than an hour taking in every pretty corner.
For more sporty-minded folk, you won't be disappointed here, there is so much to do, from snorkeling, to scuba, to plenty of hiking trails. Since we were there for only a short time, we didn't get to try much, but I really enjoyed our hike in the hills above Marina di Campo with our Acqua dell Elba guide, along a path called ' "La Via dell'Essenza.' (trail of the essences). Italians love to get all romantic when it comes to these things. I'm pretty sure this is one of the best ways to see Elba, because the sea views you get are well worth the huffing and puffing (it's actually quite easy and I'm extremely lazy).
The entire path covers an area of 127 km which stretches around the island, almost always at the seafront, but it is broken down into twelve different parts so don't think I am leading you into some sort of Hunger Games Gauntlet. The particular path we took was on 'rosemary lane' above Marina di Campo, about 9 kilometers from Colle Palombaia through Marina di Campo to Fonza (we didn't do the entire walk). Our guide Silvia from Acqua dell'Elba took us on this awesome walk and you can read more about the different trails (in Italian) here.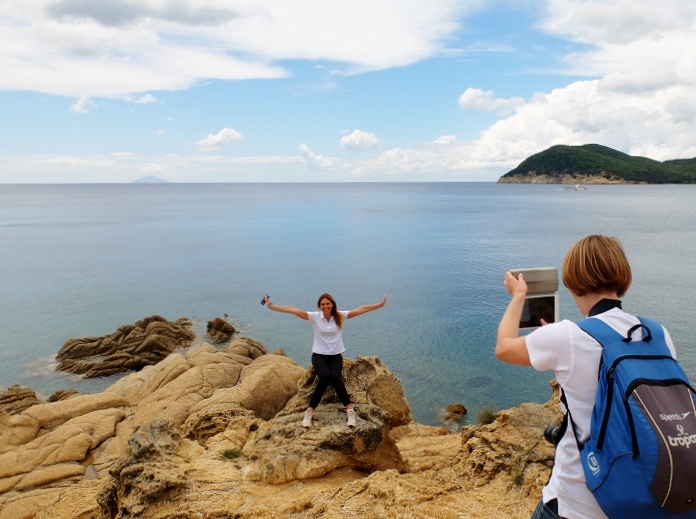 We also had to do a little shopping, I mean come on now, I couldn't exactly come back without picking up a bit of sweet red Elba Aleatico wine – look for the DOCG lable, a great example of all that Tuscan wine can do. The wine is made from passito Aleatico grapes and grows over 32 hectares on Elba, the wine culture on this island dates back to the Etruscan times, so they mean business. In fact Napolean liked it so much he once said ' the inhabitants of Elba are strong and healthy because the wine of their island gives them strength and good health', so well there you go if you want the answer to a good  life, drink plenty of wine ;-). I would describe it as sweet but not overly so, and best paired with not overly sweet desserts, think biscotti, dark chocolate or pound cake.
After stopping by an Acqua dell'Elba shop, I have fallen in love with these little green shops I spotted everywhere on the island, now there are even two locations in Florence. The first one started as a family business 15 year's ago from Marciana Marina and now has more than 300 perfume shops all over the country, talk about success story! They were nice enough to explain how they still bottle each one on the island before sending it off for shipment. The perfume's essence is taken from the natural elements of the island, we have a bottle of their newest 'sport' version at home which is actually uni-sex, a sexy scent mixing citrus with pepper, sage and sea lily. They also sell a variety of bath products, fluffy towels and perfume for the home (which I tend to spot at many hotels in Florence).
---
Quick Details – More Tips on Elbamylove
How To Get There
Blu-Navy: Ferry service from Piombino to Portoferraio. Reservation center: Tel. 0565 26 97 10. (2 people + car around 96 euros return) website. Ticket office email in Piombino, [email protected]. 5 trips a day, stating at 7:45am, the last one at 8pm.
Beach Tips
Capo Bianco, my favorite beach on Elba Island, crystal clear water, all pebbles. Bring your camera! address: Via Capo Bianco, 5, 57037 Portoferraio LI, Italy. Not far from the port where you arrive.
Bagni da Sergio: Facebook. Marino di Campo beach bar, great service, food and clean facilities.
Additional wonderful beaches (which I will add to the google map below) include,  Biodola beach, Forno Beach, Scaglieri, Cavoli,
What To Do
Visit the Palazzina dei Mulini, Napoleon's former residence. Open Weekdays 9am – 7pm (no tickets sold after 6pm), Sundays and public holidays 9am – 1pm (no tickets sold after 12pm), Closed on Tuesdays
Head to Marciana Alta, where you can take a cable-car to the top of Monte Capanne, the highest point on Elba for a great view.
Hike on the 'via dell essenza' read more here (in Italian).  The path we did was called 'La Via dei Rosmarini' which is typically the best path to walk in February from Colle Palombaia – Fonza.
Ride an electric bike, while I didn't get to try it this trip, my friends at Discover Tuscany did and this is what they had to say about their experience. Go for the company Elba4fun, Via Roma 343, Marina di Campo. 28€ per day, €183 for 7 days.
Shop for the locally prized sweet Elba Aleatico wine, perfect for dessert. Check out this list of local producers.
Visit an Acqua dell' Elba shop, located all over the island. A bottle of 'sport' 50ml costs € 41,00. List of shop locations are here.
Visit a market! Here you can pick up fruit and food, plus typical specialties from the area. Mondays: Rio Marina, Tuesdays: Rio nell'Elba and Marciana Marina, Wednesdays: Marina di Campo, Thursdays: Capoliveri and Procchio, Fridays: Portoferraio, Saturdays: Porto Azzurro, Sundays: Lacona. In the summer months, you will tend to spot more of these which is always a fun thing to visit after dinner.
Where to Sleep
Budget: Hotel Dei Coralli, Viale degli Etruschi, 567, 57034 Campo Nell'elba LI.
Luxury: Baia Bianca Suites. Loc. Biodola, 16, 57037 Portoferraio LI, website. 
Where to eat:
Hotel Montecristo, lungomare Pino Nomellini, 11, 57034 Campo Nell'elba LI. phone:  + 39 0565 976861 website.
Osteria al Moro (supplied our picnic lunch) address: Loc. pozzo al moro 20 or viale Giuseppe Pietri 1256, 57035 Marina di Campo (LI) website.
Inland: Pizzeria 'LA Fonte', Piazza della Fonte, 57034 Sant'Ilario LI. Pretty much the only place to eat in Sant'Ilario. website.
Baia Biaca Suites (aperitivo), Loc. Biodola, 16, 57037 Portoferraio LI
Paglicce Beach restaurant (great dinner option) (+39) 335 5330148. Marino di Campo, V.le degli Etruschi) Coordinate: 42.749399 – 10.239636 .