Earlier this year, the weather was never very stable, the only thing that was consistent, was the inconsistency itself: rain, sun, rain, storm, snow, sun – which meant that one must always plan things very spontaneously. Alas, one day we got up early this February looked out the window, the sun shining bright in my face saying "The weather is gorgeous, then we have a day off … then we go somewhere where we've never been before."
The only condition was the distance factored, obviously we could not spend all  day in the car! So we chose to go to Monteriggioni. A town in the province of Siena located on a small hill, surrounded by vineyards and olive groves – a charming and breathless place that looks set back in time. Already Dante Alighieri in his Divine Comedy '(canto XXXI, 40-41 Inferno) spoke of the 14 gigantic towers of this village that even today are all still intact, as well as the surrounding walls.
"As with circling round
Of turrets, Monteriggioni crowns his walls;
E'en thus the shore, encompassing the abyss,
Was turreted with giants, half their length
Uprearing, horrible, whom Jove from heaven
Yet threatens, when his muttering thunder rolls."
The best thing to do to enjoy one of those breathtaking panoramic views that we all dream about would be to do a walk right on the wall which is at least 570 meters long (one must be careful only to the opening hours, which you can see here.
Another interesting thing to visit, especially with children who love listening to stories of knights and their struggles, is the fun 'Armour Museum' which houses pretty incredible reproductions of medieval and Renaissance weapons and armor. One thing we really thought was cool was the fact that you are able to 'hear the story on your skin' and try on some of the weapons and armor. After all, what child does not dream of being a knight for a day (and let's be honest, many adults too)? Speaking of seeming like a movie set, many people would be delighted to know that some scenes of the famous blockbuster film, Gladiator were filmed here.
For those who want to feel even more involved in the Tuscan Middle Ages should be in Monteriggioni  July 3-5 or 10 to 12  to attend the 2015 Medieval Festival which will host magicians, jugglers, acrobats, theatrical improvisers constantly in rhyme, noble maidens, plus you will also find an apothecary and a medieval hospitable to restore your health.
Check out people eating swords, escape a snake charmer and see some of the most important artists of the folk tradition of Tuscany – it will be like a trip back in time, a truly unforgettable event! As you can see Monteriggioni is not only a stage for many pilgrims on the Via Francigena 'road to Rome',  but also is a great place for those interested in the history and romance of the Middle Ages, which you can literally breathe in these (still intact) walls.
As they say…. if these walls could talk.. my feeling is that Monteriggioni's would have a lot to say..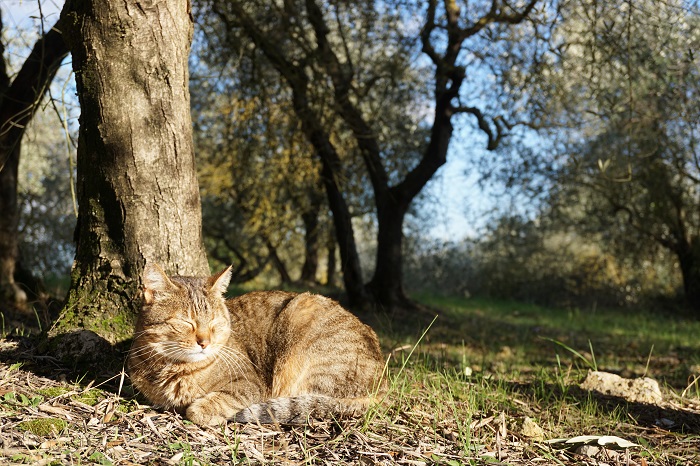 This cat had the same idea as us- to stop and enjoy the winter sun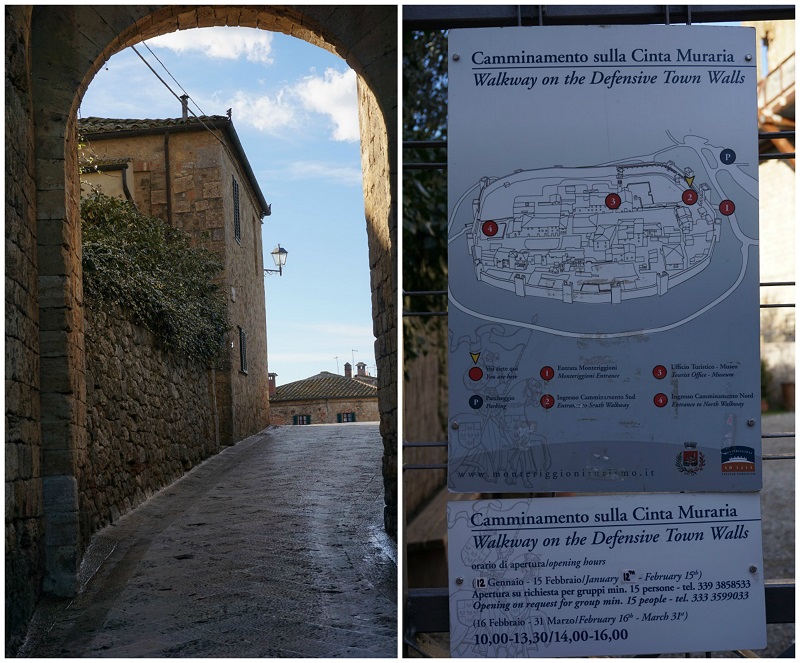 A quiet town with all of the medieval walls still intact (which is very rare), you can also take a walk on them with a splendid view of the Sienese countryside.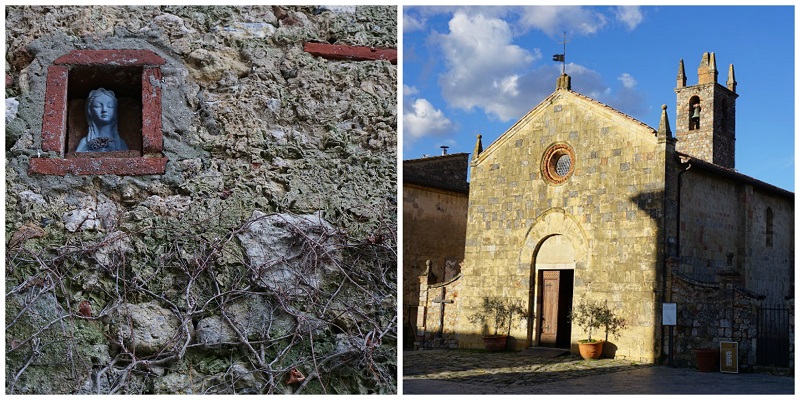 We discovered this small Madonna in the walls, who knows how long she has been spying on people from up there?Next to her is the church of Santa Maria Assunta, a building in the village that best preserves its Medieval character.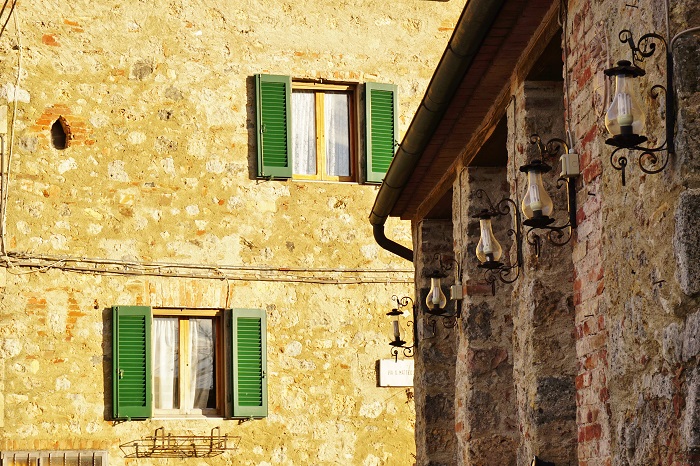 A game between shadow and light – the old walls could tell many stories.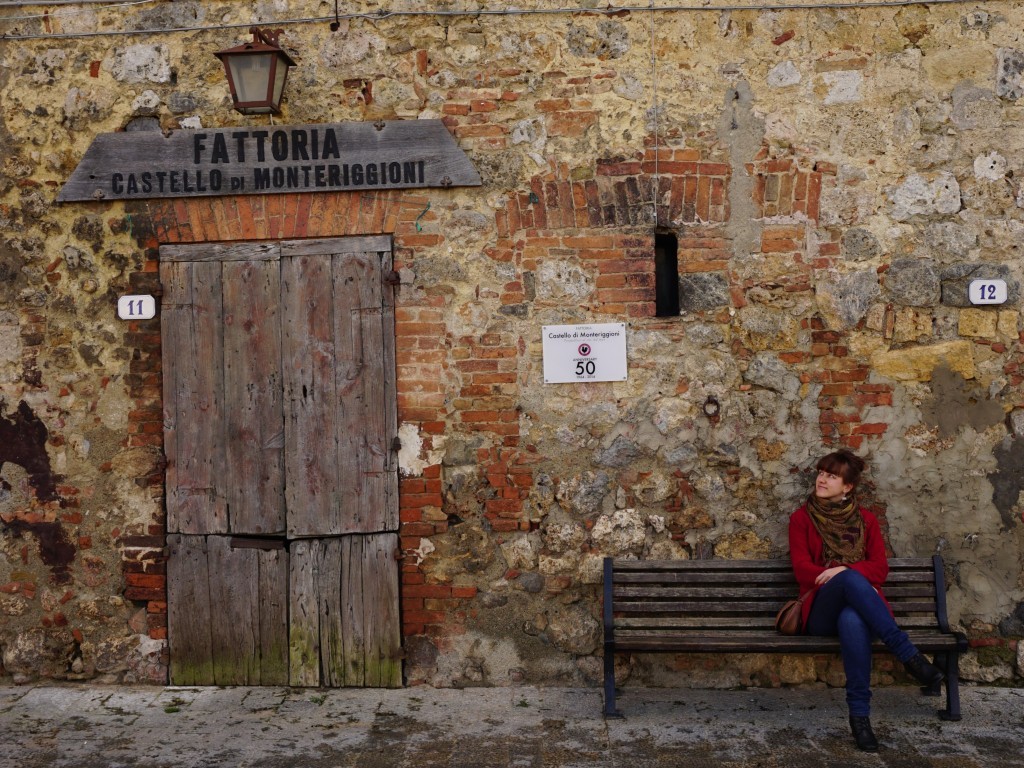 Coco totally in love with a door, like so many gorgeous ones in Tuscany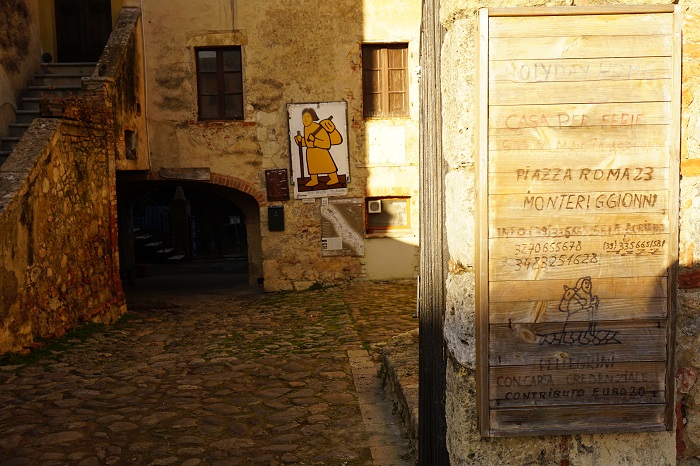 Monteriggioni – a stage of the famous 'Road to Rome' the pilgrim route known as Via Francigena.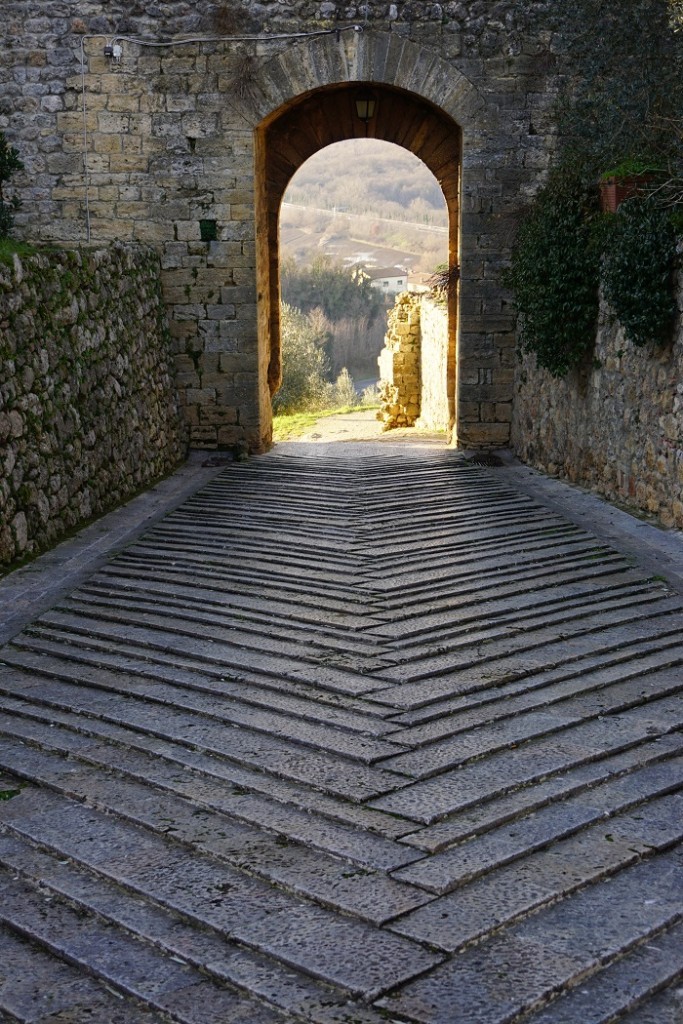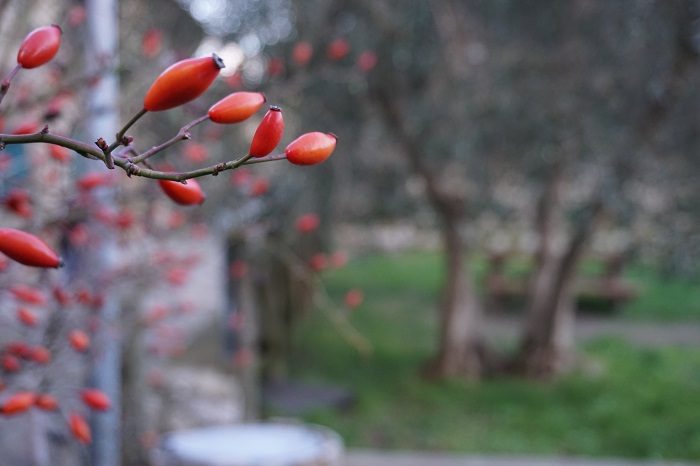 The view through and the 'Porta di Ponente' in Monteriggioni – what a show!
---
 Useful Info For Monteriggioni
What To Visit
Besides the city itself and the panoramic walkways  are a wonderful thing to visit. They cost 2 euros per visit which you can combine with the Weapons Museum for 4 euros to do both. Read more info here.
Weapons Museum : Museo "Monteriggioni in Arme". 3 euros entrance, audioguide 1 euro. Kids under 12 can visit free.
Opening hours for both attractions are February 16-March 31 10 am – 1:30pm. 2pm – 4pm. Closed on Tuesdays
April 1 to September 15th. 9:30 am – 1:30pm, 2pm – 7:30pm.
September 16 – October 31. 9:30 am – 1:30pm, 2 until 6pm.
November 1 until January 15th, 10am until 1:30pm, 2pm – 4pm (closed Tuesdays).
Medieval Feast 'di torre di corona' takes place during two long weekends in July. It's a lot of fun to go to for both adults and families because the entire town gets involved in the fun. You can get the latest news via their official website here.
How to Get There
Monteriggioni is 14km from the city of Siena and 54km from Florence, it is recommended to arrive by car, there is both a free parking lot or paid ones (closer to the doors) surrounding the city. For those who prefer to arrive by train, look for the Castellina Scalo train station, which is 4 km from Monteriggioni on the Empoli-Siena trainline. The main line from Castello di Monteriggioni is the 130 A and R, connecting Siena and San Gimignano. There is no bus to the castle itself. There are three different stops close to the hill town: 'Monteriggioni Scuole', 'Monteriggioni Comune' and 'Monteriggioni Rotonda', with a 300-400 meters walk to the castle from each stop.