"Istanbul, a universal beauty where poet and archaeologist, diplomat and merchant, princess and sailor, northerner and westerner screams with same admiration. The whole world thinks that this city is the most beautiful place on earth." —Edmondo De Amicis
It's safe to say that this metropolis of 'grit and gloss' blew me away. I was like a teenage girl being asked to prom by the cutest guy in the school, his brief kiss leaving me dazed enough to draw pictures our names together for hours in class, hoping no-one would see.
Slightly dramatic but  number one, I've become Italian, and two, I don't know how else I could explain the feeling of this city, which I liken to how I feel about Florence. A type of 'sudden' yes this place is perfect for me, which is quite rare.
Before going, I hungrily devoured the novel of young Turkish author Elif Shafak, The Bastard of Istanbul, a fascinating interwoven story from a family in my beloved ex-Constantinople with one in Arizona (highly recommend). I got lost in the descriptions of culture, family dynamics and the city, small details like Zeliha heading to the bazaar to buy cinnamon and coming home instead with tea glasses, which were so fragile they would often break.
A book that touches on hard subjects like genocide and dark family secrets, focusing mostly on human psych. I also developed a severe craving for ashure, a traditional dessert also known as Noah's Pudding, and also a symbol of peaceful multiculturalism and unity in diversity. After this visit I was definitely inspired to download The Museum of Innocence by acclaimed author Orhan Pamuk, a recommendation from some locals. Another read I recommend getting before visiting is one of my all-time favorites, The Historian by Elizabeth Kostova, which delves into Ottoman history in an exciting thriller.
When we came, it was after Christmas and we planned on staying until the first week of January. Visiting in winter should be no deterrent, the city is buzzing just as any other time in the year and there are plenty of advantages to visiting in the off-season, here's a few examples that I covered in the blog for The Guide Istanbul. 
I wrote about my first impressions of this great city here, and this is the second in a series of article about this huge metropolis. Since it can be quite difficult to know 'where to start' in a city as a big as this one, you might want to talk to a local or better yet, hire someone to help you get to know the history and secret spots you might be a little nervous to explore yourself. When looking for tours in Istanbul, we ended getting a recommendation for Istanbul Tour Studios. I was attracted by their really wonderful site, easy to understand and with interesting options to discover contemporary and street art, exploring the Bosphorus and foodie walks.
I am a fan of small, curated group tours since nothing excites me less than being herded around like cattle. I actually got the chance to skype with Sinan before we left. He ended up being our guide for two tours that we embarked on during our week there. It was a wonderful experience, we had a lot in common and it was more like friends showing us their city.
Since I wanted to see interesting neighborhoods, I asked Sinan to create a tour that included a few highlights like the Hagia Sophia and the Basilica Cistern since the history is so important and interesting to know, but that also took us a little off the beaten path. Of course this all had to be 'weather-permitting' since we were there the end of December and beginning of January. The first step, was getting to know all of the different areas of the city, which I still feel like I need a lesson on.
Old City – Where History & Simit Sellers Collide
The most famous area of the city is located in the peninsula and is known as  Sultanahmet. Home to the Blue Mosque, Hagia Sophia, the Basilica Cistern, and the Grand Bazaar. Magically chaotic, you obviously will be visiting this area if you come to Istanbul. According to The Guide Istanbul "Greek colonist Byzas first founded Byzantium, the settlement that was to become Constantinople and then Istanbul, he chose the tip of the peninsula that juts out into the Bosphorus and the Sea of Marmara. It was here that the Byzantines built their Great Palace"
You can spend hours wandering through the treasures in the area, it is easy to see how a day could pass without leaving some of these places. I will never forget our walk through the Hagia Sophia, built-in 537 and the perfect example of an evolving country. First a church, than a mosque and today, a museum.
For lover of the 'hammam' experience  the Ayasofya Hürrem Sultan Hamamı is supposed to be the city's best Turkish bath. While we didn't get a chance to go ourselves, this incredible place is said to be one that 'everyone should visit' , designed by Sinan for Roxelana, the much-loved wife of Sultan Süleyman the Magnificent, in 1556. She obviously was doing something right.
Then there is Topkapi palace, the primary residence of the Ottoman sultans for approximately 400 years. We easily got lost in the harem as the sun went quickly down, getting drunk on the intricate details in each room. I could almost imagine all the events that went on in here throughout history, the Emperor's concubines clamoring for attention combined with the daily tasks of the harem eunuchs, the keepers of all knowledge.
The view from this palace is unbeatable, obviously this was not an accident. The day we happened to be there was one of the windiest I think ever have experienced in Europe and I feared the trees that almost seem to veer sideways after a certain point, but we still struggled to leave such an incredible and important piece of history in the city.
There is a Four Seasons location in a former prison next to the Blue Mosque that looks absolutely stunning, we stayed for a night in the location along the bosphorus but I would really like to visit this location next time after reading this review on MrsOAroundtheWorld blog.
Don't leave without seeing the above mentioned sites, the fascinating hippodrome where Byzantine chariot races were once held, and the Archaeological and Turkish and Islamic Arts Museums. Make sure to walk down  the Arasta Bazaar (south side of the Blue Mosque) to visit the interesting boutique shops.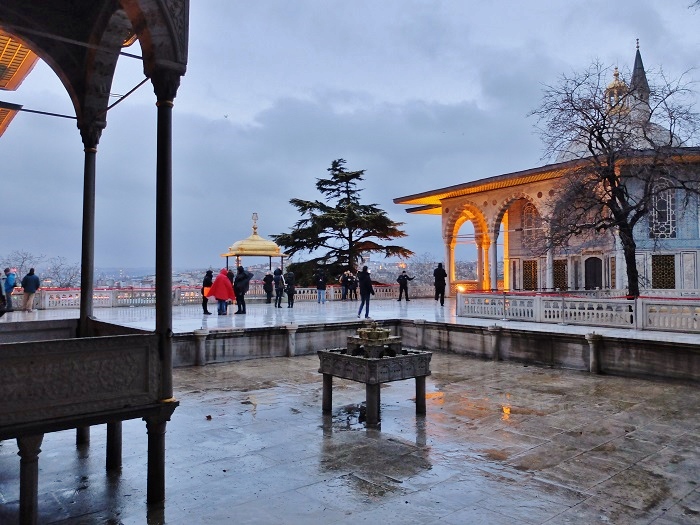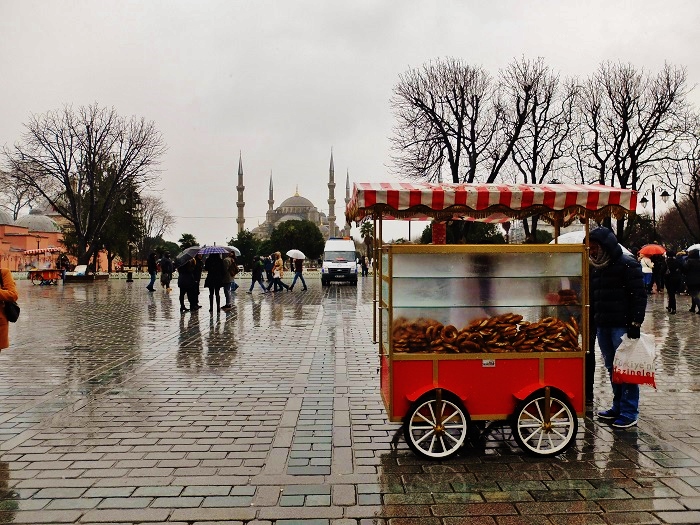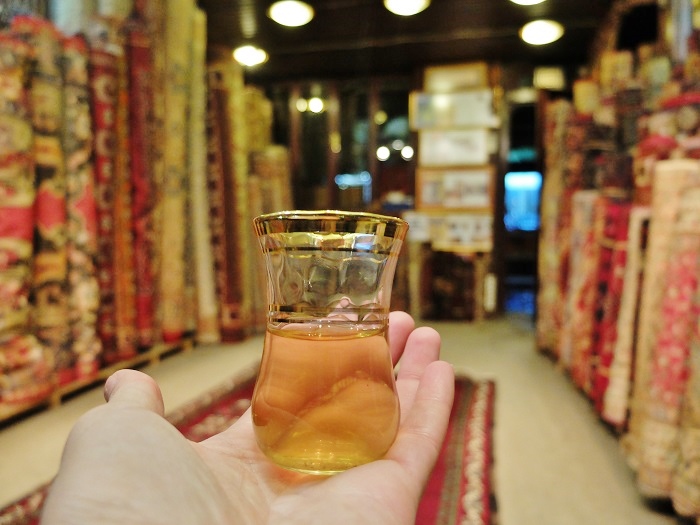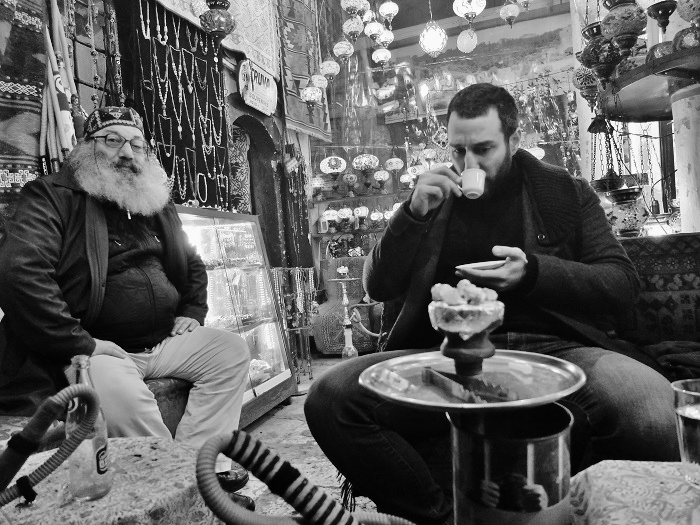 Beyoğlu – The Place That Felt Like Home
We wanted to feel like locals for our week in Istanbul, well as close as possible to locals as a first visit would allow. Staying in an apartment for the majority of out stay seemed like the most logical option so we opted for a place located in the district of Beyoğlu, the lovely neighborhood of Cihangir. It seemed the most like our beloved 'oltrarno' in Florence, the place where artists, hipsters and Bohemians live, work and brunch.
We chose well, we chose very well. Our apartment was a cozy, modern oasis in an area that I instantly loved. Plus it was located close to Çukurcuma, where the city's vintage and antique shops reside. I was constantly on the hunt for the best menemen (scrambled eggs with tomatoes and peppers) and we soon fell into a comfortable rhythm here.
One fond memory was while we were getting ready for New Year's Eve, as we walked towards our apartment there suddenly was a blackout on our street, after a half hour, the only solution seemed to head over to Savoy Pastry shop. A local pastry shop and a favorite with the locals since the 1950's, we picked up baklava and sweets. Without electricity, the man working there held up a flashlight to show us the local specialties, we ate them by candlelight until the light came back on, a rather 'sweet' way to start the last hours of 2014.
Make sure to visit the Tepebaşı area, home to the Pera Palace where Agatha Christie penned Murder on the Orient Express, eat at Meze By Lemon Tree right in front. Brunch at Cuma,  Çukurcuma Cad. No:53, Çukurcuma/İstanbul, Turkey, which was one of my favorites. In Cihangir, stop by coffeeshop, Kronotrop for a flat white or traditional Turkish coffee, this was my local haunt, website.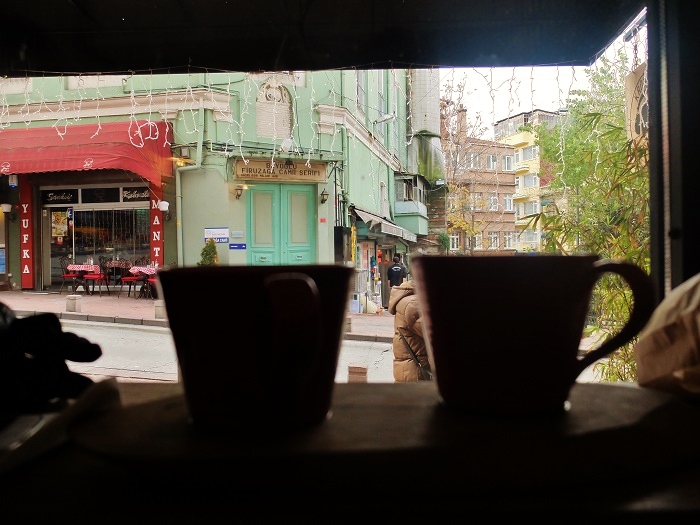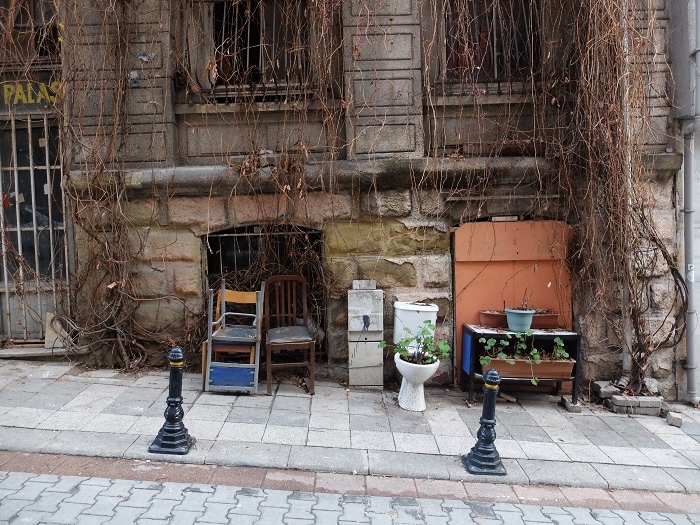 Karaköy & Tophane – More than just a Tram Stop
One of our favorite areas of town had to be this neighborhood. Karakoy, an ex-port and now capital of 'coffee culture' and great baklava, mingled together with Tophane where you have the awesome Istanbul Modern Museum, a must-visit for lover's of contemporary art and culture. We spent a few hours on out last day browsing through Turkish art, plus they have a beautiful restaurant with stunning riverside views. You can tell that this area is going through an evolution, and probably has for some time, once office space and port activities, and now including a blend of hipster cool. Galata is no longer the shining star.
Karakoy is also home to the incredible Kiliç Ali Pasa hamami, for our very first hammam experience. Located next to the mosque of the same name, it was first constructed in 1580 and has semi-recently undergone a seven-year restoration in 2012. Minimalist with a 17 meter high dome, this place was incredible. Once you enter, you immediately get a glass of sherbet and they take care of the rest. Whatever qualms you have about another human physically washing you, leave them at the door because it really should be experienced, trust me. I don't think I have ever felt so clean and I felt like a Turkish princess. Girls and guys must go at different times (girls in the morning and guys in the late evening/night), they do speak some English.
Try and take a look out for the 'rainbow stairs' which actually lie more in the cihangir neighborhood, but you can get off at the Tophane tram stop and walk in the direction of Istanbul modern, you will see the colorful staircase on your left. The heartwarming story of how these stairs came to be multicolored is fascinated, first done by a local man, Huseyin Cetinel, looking to spruce up the area and quickly becoming an almost political issue after the stairs were painted over by the police (later they allowed them to be repainted), read more about this here.
You don't want to miss Karakoy's coffee houses, some of the most popular places are Unter and Karabatak. For cute gifts, Atölye 11 is a great place to browse clothing and accessories by Turkish designers. Apparently there is also a Saturday, Pop-Up Pazar Souq, selling artisan goods by local designers at Külah Karaköy, is an art space housed in a former ice cream cone factory located close to the Tophane tramway stop, check out their latest news here. Check out this list of the best art galleries in the area and more of the history of the area here.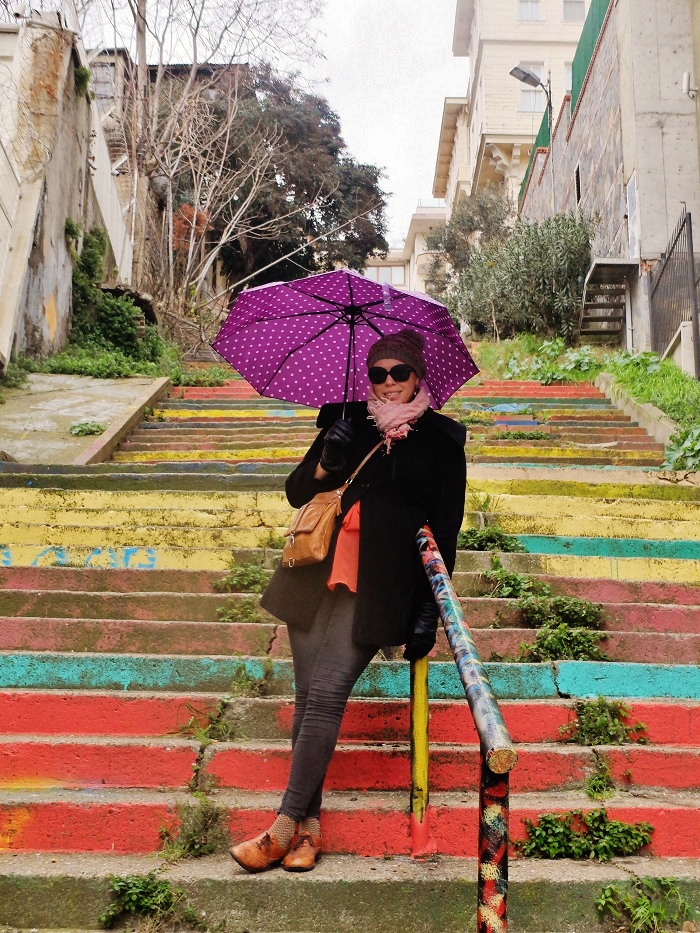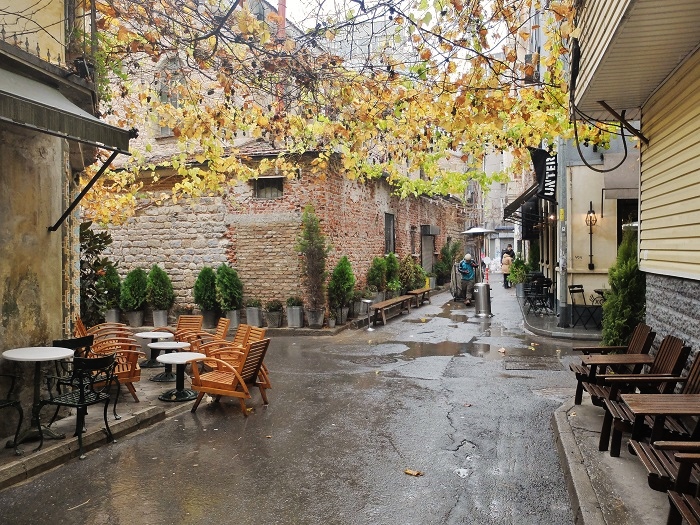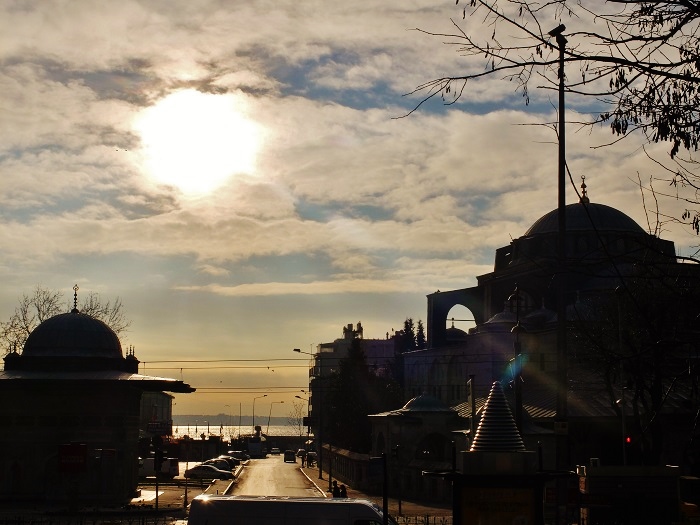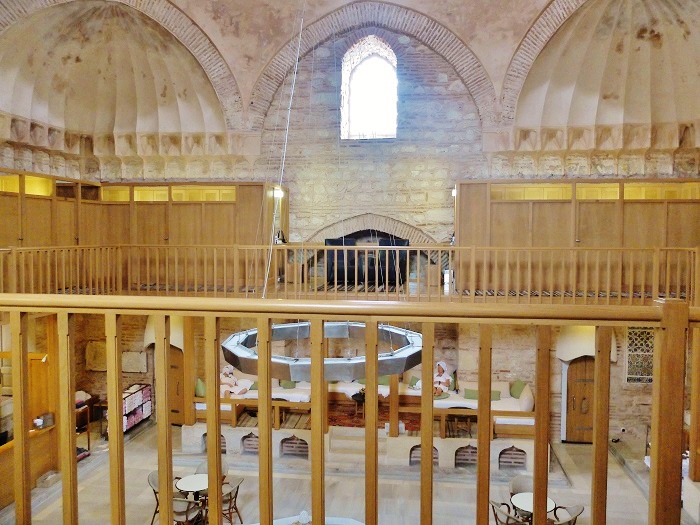 Galata – The Beacon of The City 
If you ever get list in Istanbul, and this is a fairly easy thing to do, just look for the monument that stands 67 meter's tall, the iconic Galata Tower. This landmarks helps travelers gage where they are in the city and overlooks cobblestones streets and the famous Serdar-ı Ekrem and surrounding streets. In the 11th century, it was home to the Jewish community and later became an enclave for the Genoese. Connected with Taksim, this is considered the vibrant city center, especially for nightlife.
There is a lot to do in this area, everywhere you turn an enticing restaurant or cool shop stares at you. We had an early lunch at the famous Konak Cafe, which offers up the same views as the Galata Tower and looks straight out of the Orient Express.
Walk down the main pedestrian street İstiklal Caddesi, to window shop and take a look for the impressive consulate buildings, this area was once the original diplomatic district. If you have time, a visit to the Pera Museum, housing a painting and archaeological collection used in the Asia minor. Pop in the S. Antonio di Padova Catholic Church, the largest church in Turkey. Visit the Nardia Jazz Club, recommended by the New York Times and named after one of Miles Davis's songs, it is Istanbul's most famous and internationally acclaimed jazz venue, more info here.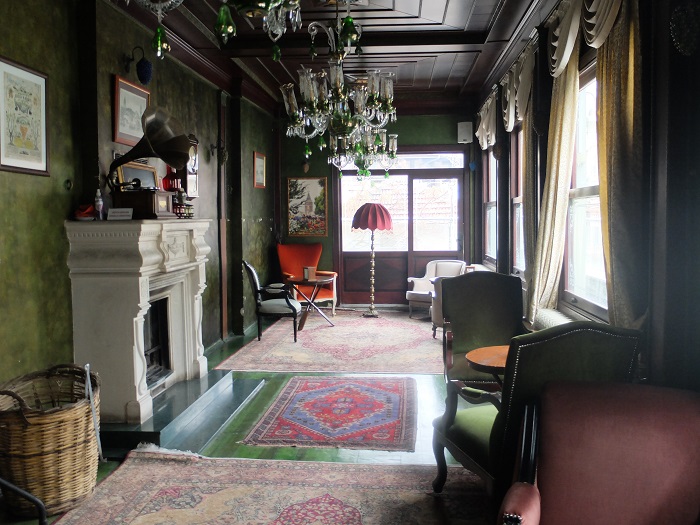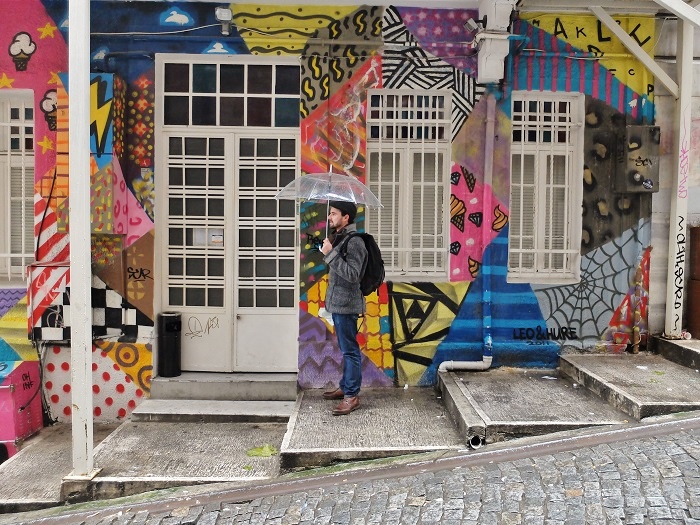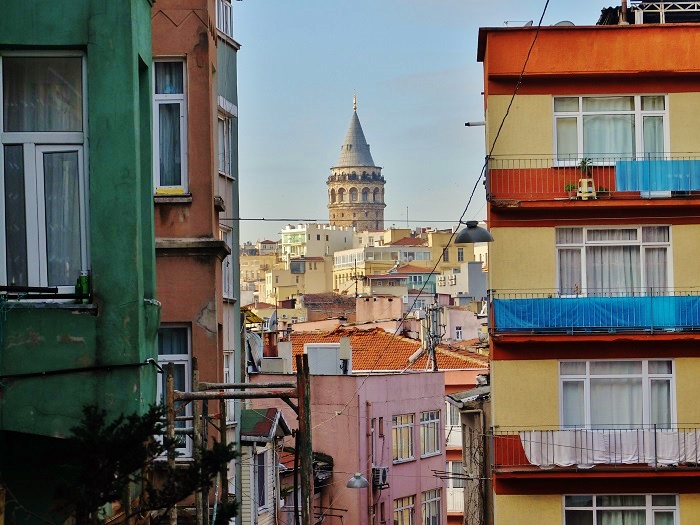 Bosporus – Trendy Village with 'Yummy Mummies'
The 'yummy mummy' comment was shared with us by Sinan our guide, who told us about a Brasilian guy he met at cool brunch place, Mangerie, who upon seeing the place claimed that it was definitely the kind of place that attracted pretty women otherwise known as 'yummy mummies.'
You can sort of tell right off the bat this is the kind of neighborhood where Chanel bags and stunning views collide on a daily basis. Leafy, pretty, with plenty of joggers and a Starbucks with the best view I'd ever seen. Bebek is the 'west village' of Istanbul, and it smells like money. Even in the 19th century, the Ottomans wised up to this area offering stunning views of the Bosphorus from its bay, they picked this area to build summer houses.
Don't miss the Egyptian Consulate, constructed in the 19th century by Abbas Hilmi II,the last Khedive of Egypt and one of the few remaining examples of old architecture from this area. Take a walk along the Bosphurus, definitely one of the best paths in the city. Have brunch at the gorgeous Mangerie, or spot celebrities at the trendy bistro Lucca. For additional tips, check out this helpful post from Witt Hotels Istanbul.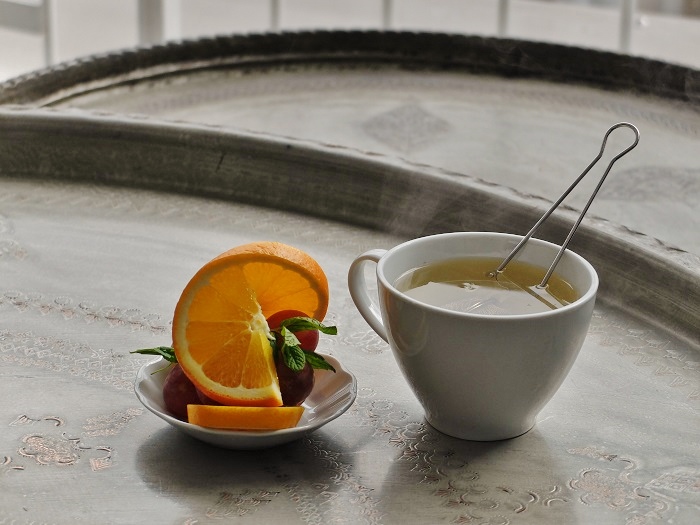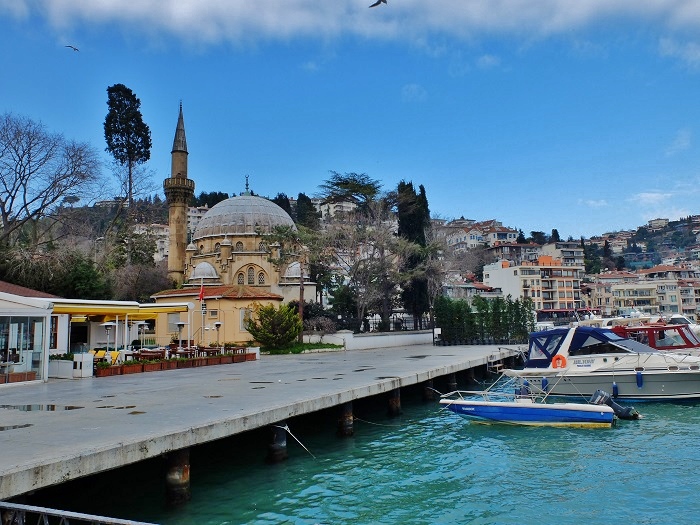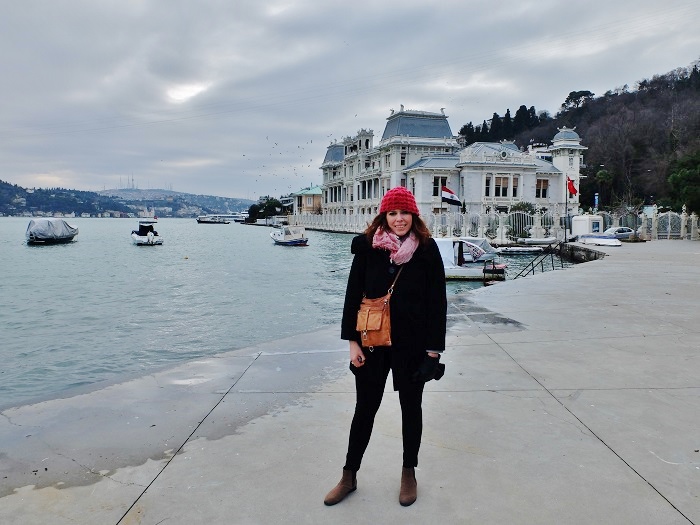 Nişantaşı  – The Shopaholics Haven
A world away from the crumbling buildings in Kumkapi, this neighborhood is all glitz, glam and shopping. Many of the world's biggest luxury brands are located here, on Abdi İpekçi street, and we visited just for a few hours. I definitely can't afford anything in this area but I did have browsing and having a drink at a trendy cafe. I even spotted a NY institution, a Nathan hotdog stand, in one of the outdoor shopping pavilions.
Half the fun was jumping on the funicular from Taksim square. We made a point to stop by a beautiful boutique called Fey, owned by Turkish Marie Claire's long-time General Manager and Publishing Director Fatoş Yalın containing an interesting array of clothing and accessories that look a bit like what she would actually have in her closet. You have to stop by, read more about this place here.
Asian Side – Üsküdar & Kadikoy
No trip can be complete without a visit to the continent of Asia. The fact that you can hop over for less than a few dollars on the public ferry is pretty damn awesome. Definitely quieter and more residential than the European side, I really would make time to see this area of Istanbul. Our first top was in the wonderful panoramic point of Üsküdar. We stopped to take one too many photos, and despite the cold weather, the blue skies brought out a fair amount of people sipping tea on the colorful rugs with the best view in town.
Next stop was Kadikoy, thank god for cheap cabs. We wanted to visit a few vintage shops and wander through the markets. We stopped at Cafer Erol to try some traditional salep and boza. Winter drinks that will warm your soul. After a quick browse through a cool shopped called Henna, a bit of a bohemian dream, that allowed me to finally buy a cute knit hat to wear on those cold winter days.
I mentioned to Sinam that I love street art and if we could see some in Istanbul. He showed us a few murals on the Asian side, done in accordance with local law, located in parking lots in the Kadikoy district (where I spotted the mural showcased below). There is an app you can download to find the art, along with this list of tips to find the best murals in town.
An emerging scene in the city and one worth noting, Istanbul Tour Studio even offers a one-day tour of some of the best street art in the city, I would love to come back and see the murals in Maltepe. There is also an annual street art festival which was created in 2007 by the artist Pertev Emre Taştaban. It now attracts artists from all over the world who stay for a few weeks to create their works of street art. Impressive. 
What to do: take the ferry from bebek and head to the shores of Üsküdar for a tea and a few photos before heading to nearby Kadikoy to wander the streets and markets. Check out the street art murals. Pop in a few vintage shops and try the semolina dessert at Cafer Erol before heading to the dock before sunset to take the ferry back to the European side.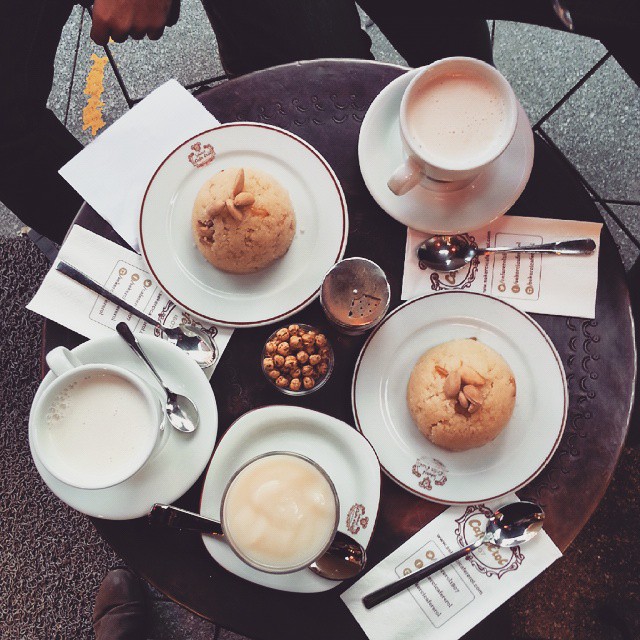 Kumkapı – A Neighboorhood of Contrasts
A stone's throw from the new mosque, Kumkapı is a quarter in Fatih district of Istanbul, located along the northern shore of Marmara Sea, once a busy harbor in the Byzantine era. We heard that there was a nice fish market and area of traditional wooden houses that worth checking out, so after lunch one day we headed towards this area was mostly inhabited by Turkish Armenians. On weekends at night, you will see the fish restaurants in this area fill up, men drinking raki and listening to live fasil bands.
We were both struck by the pretty major visual contrasts in this area, we walked by buildings half-demolished. Families digging in the rubble, collecting things that could be resold. I don't think I've ever seen anything quite like it. How can one city have shiny new high-rises, fashionable boutiques and then just down the road, what looks like a war zone?
We eventually found the streets with rows of beautiful, colorful wooden houses. Obviously we weren't alone, I spotted many others snapping away at a bit of Istanbul history. One of the houses windows popped open and two little girls giggled and waved at us, clearly used to being the center of attention. Or what about the ice cream seller, who happily posed for a group of Asian tourists twirling what looked like a batch of noodles but which was actually ice cream, apparently some of these guys have even gotten famous for their theatrical shows whipping around the gelato like it was some sort of circus trick.
This area is also full of fish restaurants, with vendors shouting that their products are obviously the best and 'most fresh' the fishes gills open so you can see the flesh underneath. I loved the colorful paper lanterns and busy atmosphere. I also loved this post on the a Sunday morning in the neighborhood by Istanbul in 91 Days which showcases the atmosphere perfectly with their lovely photos.
What should you visit here? The Armenian Patriarchate , Tavasi Suleyman Aga Mosque and the Greek Churches.
---
Additional Resources
To see more extensive neighborhood guides, check out this list by The Guide Istanbul, who was tremendously helpful for me planning our trip.
Istanbul is a huge city, which can be daunting to navigate for a first-timer. The Istanbul Tour Studio was gracious enough to take Nico and I around the city for two days and I could not recommend them enough. Like having a fun friend show you around their secret, beloved haunts. Because of them, we saw areas we probably would have never discovered.