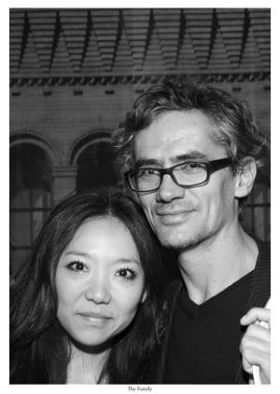 I wasn't planning to write a post like this, mainly because you would hope to not be compelled to but since I have a high esteem for the work of street artist Clet Abraham, his wonderful partner, and the people he works with that have become friends. I had to share this ongoing story that we still don't know the ending to.
Clet's work using peelable stickers to modify urban street signs are pretty famous in Florence and around the world, I wrote about him in this recent article about street art in Florence, and you can see his interesting street signs all over Europe and the world. No doubt, they inspire everyone who comes across them smile, and make something normally ignored (especially in Italy) into a living talking point. 'Dangerous' I think not, since the sign's original function is always respected.
Brian Ashcroft has written about Clet pissing off Japanese authorities on this last recent trip.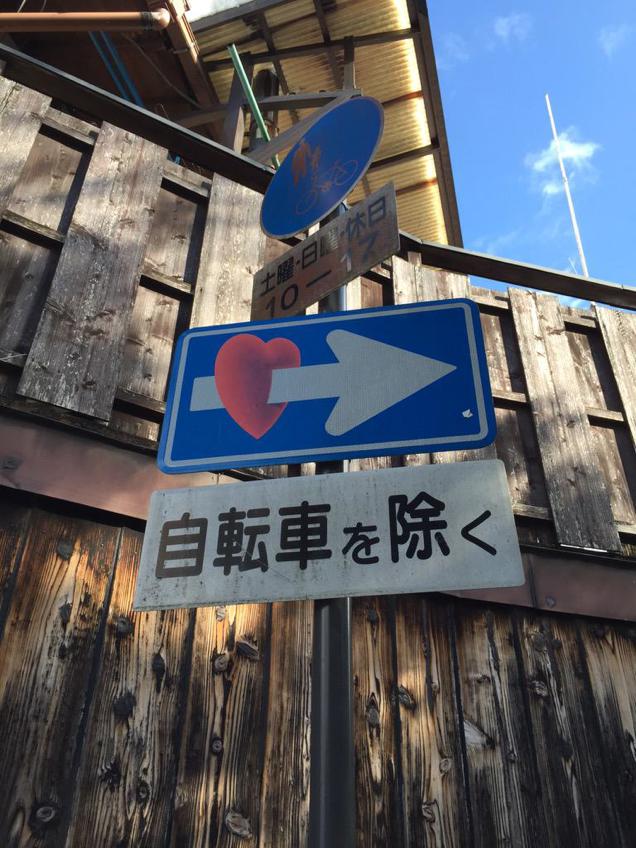 But you might have missed the photo above circulating on the official Clet Facebook page noting that Mami Urakawa, Clet's partner has been recently arrested Osaka for apparently 'helping' Clet modify street signs and protecting him from prosecution.
They were both in Osaka this January, with Clet returning on the 5th after 'signing' over 80 works there. Mami however never made her flight home because she was arrested by the local Osaki police solely for being Clet's partner, which is so simply ridiculous. Though I sadly say that I am not surprised about ridiculous arrests in Japan because apparently dancing can also be a 'crime'. 
Clet isn't the first street artist in Japan facing issues, '281 Anti Nuke or Japanese Banksy' has said "The "Japanese Banksy" admits to being "frightened" of a government that he says is becoming more right-wing by the day. There have been huge changes in Japan in the past couple of years," 281 says. "The government and the police have become much more aggressive. It's more of a dictatorship."
I get that there are strict rules in Japan but considering she is not the street artist in question, I was rather shocked that a 'democracy' would go so far to arrest the partner of the person they really want. Mami is currently being held with the Sonezeki police department in Japan facing a large fine before she come back to Italy and she is meeting the prosecutor today who is going to decide what will happen next. This Corriere Fiorentino article covers the news here.
If you are wondering why Clet does what he does, read his own words (translated from Italian).
"Street signs are not very loved, because they represent strict rules are always the same. They become little noticed by the average person and boring, they are often treated quite badly. My work is not about transforming the sense of the street sign (after all, my work takes only 10% of the entire sign) but instead is meant to make street signs more interesting so that people appreciate the signs more, a sort of 'rule' with a smile which in the end is more useful and effective.
To appreciate my idea is to first understand that there is nothing dangerous about my 'speech', in fact every visual communication knows that in difficult to see conditions, the human eye only reads the main meaning of things while forgetting small details in order to send information faster to the brain in an emergency.
It is also important to note that the idea that the signs should all be exactly the same so that they are 'recognized' and respected is a misconception. In fact experts say that the major cause of road accidents are distraction, lack of concentration of the driver, and the constant repetition of an action this rendering them all equal and to create them more trivial and subject to disinterest.
For example, very often work accidents are due to a loss of an attention to an action that is always the same. Thus, road signs with small interesting details (which does nothing to hinder the general sense of the sign) break the monotony of the message and make it more attractive to the rules of the street, and more effective"
I have personally met Mami with my good friend Yasmine on a number of occasions and I can't imagine a lesser risk to society than herself, she is one of the sweetest people I have ever come across. I really hope that she is released soon and that Japan's police department in Osaka has a think about what is really a 'crime' because surely just dating a street artist shouldn't be worthy of an arrest. Keep updated in this story here.