Florence and Italy in general, is full of amazing humans. People doing creative things, breaking out of social norms and carving their own niches in their own, unique way. Henceforth we have an interview for a Sunday afternoon. This week, I am talking to Denya, a Brazilian Journalist and blogger (who also has pretty awesome instagram account you should follow) who I met earlier this year.
She always has a smile on her face and has a kind of unique style that makes me wish she has a human 'pin it' button alla pinterest. Denya juggles work and her family, plus her popular blog, Grazie a te in Portuguese, all about life in Italy and offering tips in her mother language on how best to see the country.
As a blogger in Florence, I am always happy to get to know fellow writers in the city and beyond because quite frankly they inspire me. Denya is definitely one of those people. Besides her effortless style, she always maintains a positive attitude and takes incredibly beautiful photos.
Name: Denya Pandolfi
Nationality: Brazilian
Profession: Journalist
Favorite drink: red wine
How long have you lived in Florence and where are you from originally.
I arrived in 2005, when I got married, and I'm from Linhares, a city in the North of Espírito Santo, in Brazil
What brought you to Firenze and why did you decide to stay
I live here since I got married. Florence is my husband's hometown. He used to live in Brazil and after a few years there we decided to settle down here. Now we have 2 kids and life is safer than in Brazil. Besides we have more opportunities to travel and visit different places from here. Italy is very familiar to me because it is also the country of my mother's family and I always have had admiration, respect and passion for this country.
What are you up to in Florence? Work, daily life, passions?
My life is very busy and I always have the sensation I don't get to finish all the things I am supposed to! My kids are still young, they are 5 and 2 years-old, and still need assistance for almost everything at home. Fortunately I have a part-time job (I work three days a week for an Italian luxury brand) so I'm able to organize my daily schedule at home and also dedicate time to my other two passions: my blog and my photography project, with two Brazilian friends.
I started The Grazie a Te blog last year with my friend Isabela who lives in Veneto. Few months ago I launched with my friend Marcela the Hashtag Italy Photography. We do shootings of families, tourists in Tuscany and fashion shoots, mostly for Brazilians. I also collaborate as a freelance Journalist with several magazines and blogs. So many things going on at the same time, but at least they are related and I'm so happy doing things I love!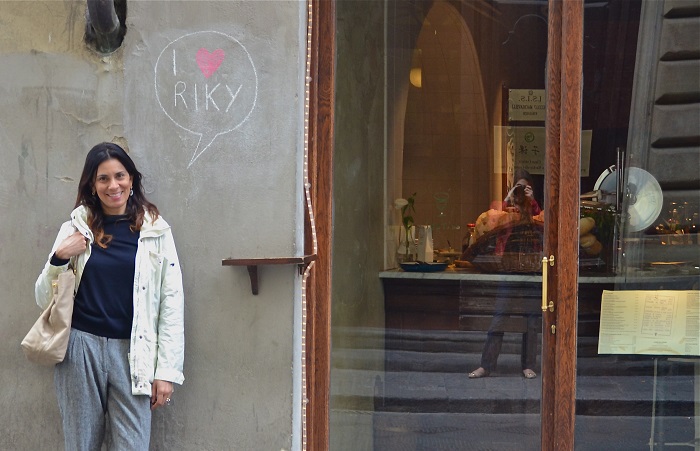 Denya in Florence
What annoys you about Florence? Tell me the truth!
Well, let's start… Seems to me people don't really care about the city. I have the impression that Florence is a bit abandoned (and I'm sure it wasn't like that when I first visited the town, 15 years ago). Too much rubbish, dog poop everywhere and construction all over. I realized that some people consider normal to throw cigarette packs on the floor, it's a shame. Another thing that annoys me is that some people are so pessimist and stressed.
They complain even for the little and insignificant things . And the last: they should be just a little bit more "carini". Good manners are always welcome. It drives me crazy when I prepare and dedicate an entire post on my blog to a shop or to a restaurant and then I contact them to make them aware of the post. Well, at least half of them just forget to reply to, not even a grazie. I mean, some people would pay for it and when you do it for free they cannot even say thank you?
Do you think life in Italy is for everyone? Why does it work for you?
I don't think life here is for everyone. Whenever you go, the first think to consider is that things will be different from what you are in use to have, so don't complain. One brings the background from his culture and the best thing to do is to observe and try to accept things you cannot change. You need to be flexible to adapt. I don't think Florence is an open-minded city in spite of lots of foreigners who live here and contribute to make it look like a cosmopolitan place. And I'm saying that because I spent almost 2 years in London and I used to travel a lot for so many different countries and got to know local people whenever I go. Here you have to be very strong and independent because Florentines are a bit closed.
Alright, enough…. Now I'll tell why life here worked for me. Because I worked on it. Yes, in the beginning I used to complain a lot (to myself and to my husband, poor guy). Then I started to see things from a different perspective and started to consider myself lucky to live in such a fantastic place. I learned how to maximize the positive things Florence offers. And it does offer a lot!!! Now even a simple walk on the small markets and bodegas to observe people working, the beauty do the Renaissance buildings, the artworks, all the colors and flavors, food, wine, the landscape around Florence, the creative people. It's a privilege to live here.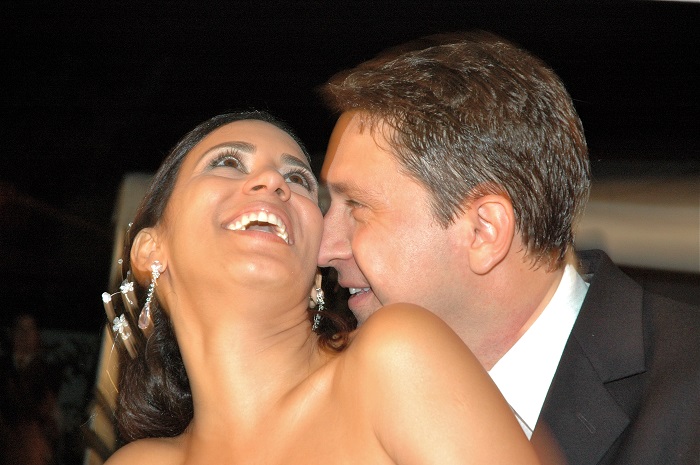 Denya and her husband Marco
 What advice would you give a person who dreams of moving to Florence?
To study some Italian before coming to be able to communicate. You have to be patient, observe and learn how things work here. For example, the way people communicate can sound arrogant but in the end is the way people normally talk. If you are not used to it you'll think they were fighting. Besides, one has to love the Italian architecture, the old style of doing things and traditions … In poche parole, one has to love the Italian lifestyle. Last thing, to enjoy as much as one can every single opportunity that the place offers.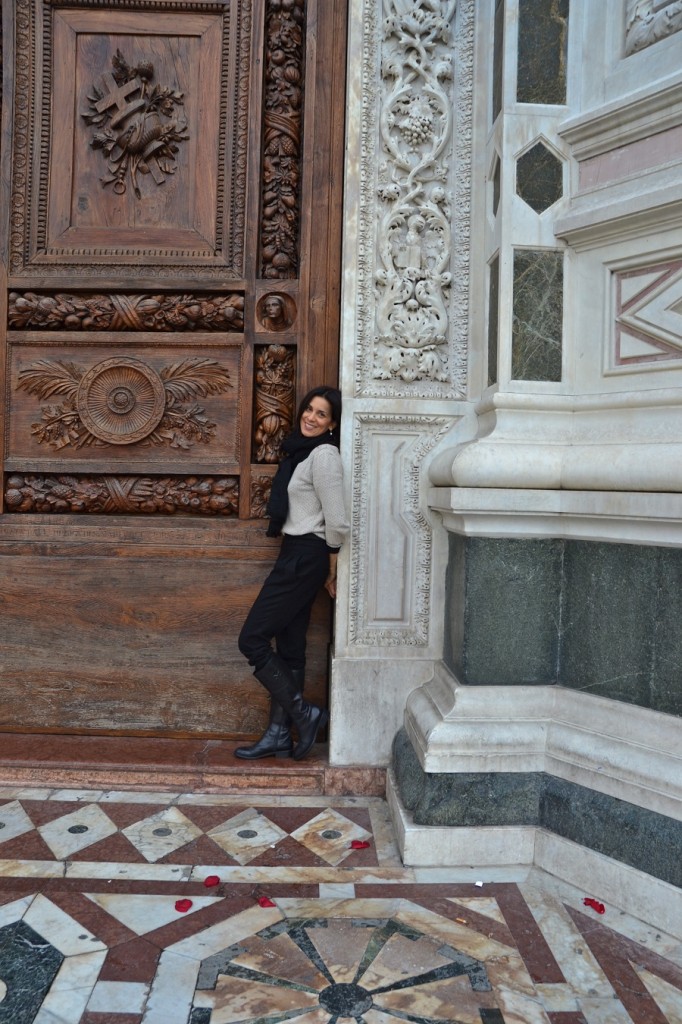 Denya in front of the Santa Croce Basilica during the #crazyforpazzi instameet 
 Three finds/places everyone should know about in Florence?
A region I really like is the Oltrarno, between Piazza Santo Spirito e Piazza della Passera. I could spend hours admiring all the small bottegas. It's amazing to see the artisans working on their "mestieri" producing handmade shoes, or stitching or painting. It's absolutely fantastic! And I also love some restaurants in that area. Another place I consider beautiful is the Giardino dell'Orticoltura where I can go very often with my family. There are lots of nice events there that I like to visit. From the panoramic entrance, in via Trento, the view is breathtaking.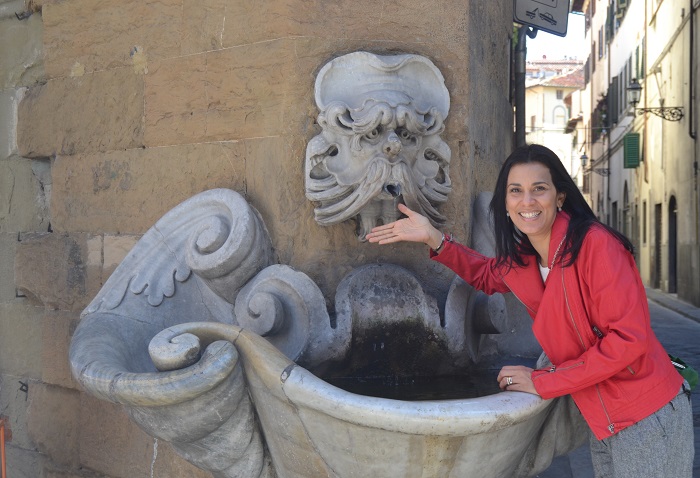 What's the weirdest thing you have seen/experienced in Italy?
The weirdest thing I saw was a teenager peeing on the floor while he was walking, close to my house. I was with my husband and asked the boy: but where do you think you are? And he answered: in Italy! No comment.
 Woah! What can you do here and nowhere else?
I can take my bike and reach the most beautiful and famous attractions that the city offers. As Florence is very flat you can do almost everything by bike. The only exception is if you want to go to Piazzale Michelangelo… well, I'm not an athletic person, but for sure this is very easy to reach for lots of people!
How did you make friends and assimilate – was it difficult?
I think it is quite difficult to make friends here and this for me was the most difficult thing to deal with when I first arrived. What I realized is that here are lots of small groups and it's not easy to find people who include or invite you to do things together. I'm a very friendly and communicative person, but even for me it wasn't so simple. I love to spend time with people, to dedicate time and attention and introduce people to each other. But some people just don't want to share their friends… such a strange attitude.
Nowadays our friendships are also based in our kid's interests.Very often we hang out with other families from our kid's schools. And since I started to write the blog, I met lots of friendly and interesting people (for example Georgette, thanks to our blogs we met and I'm so grateful for it!) and I have been invited to many events where I have the opportunity to meet fantastic people. Well, you have to make an effort to maintain a friendship and even with my crazy life, I always make time to have a coffee or lunch with my friends.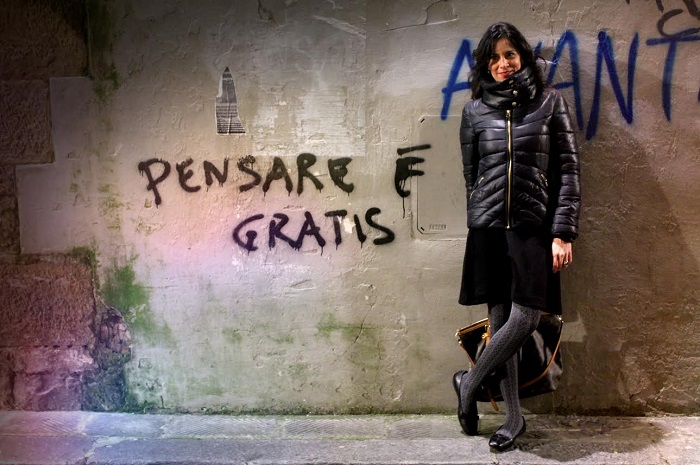 "Thinking is Free" | Denya clearly appreciate street poetry
Florence is full of amazing food, what is your favorite dish and foodie spot in the city?
I don't have only one favourite dish and what I like most of the Tuscan culinary is the simplicity. With good and fresh ingredients you can have a wonderful meal. Normally I love all the appetizers. I always ask for the crostini misti toscani! I think I'm quite happy even with "only" the appetizers! Also the pecorino cheese with honey, Parma ham and pasta. But it's hard to resist to a bistecca alla fiorentina, hummm. But I can be very happy with a good and simple panino! And then a gelato for dessert!
If you had to do it again (start a new life abroad) would you and why?
Oh, yes, sure. No regrets at all. But the point is that now we are in four, so it means we should plan it very well. For now we are quite happy here.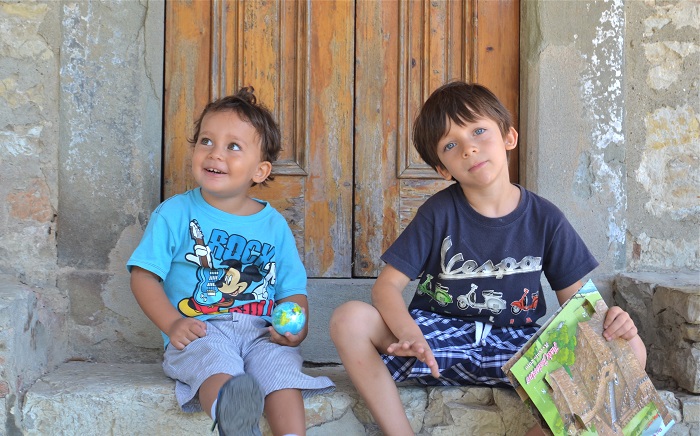 Denya's beautiful children, Lorenzo and Bruno
If you had to make up a tagline for the city – what would it be?
Just two words 😉 be creative!
---
Make sure to connect with Denya via her blog Grazie a te, the blog's (awesome) instagram, twitter, facebook and also her Photography project here.