I get it, a Finnish Christmas party even before Thanksgiving? I'd think it was strange too if it wasn't me but alas that is exactly what happened in my little apartment in Florence last week with a group of close friends.
Before you start thinking I'm one of those weird people who starts shopping in October and blasting Christmas music to the point of inciting the hatred of my patient neighbors, keep in mind that I normally don't even get a Christmas tree. This is what happens when you choose the life of a semi-nomad.
For me however, the 'real' land of Christmas has always been Finland. While us Americans think of 'the North Pole' as somewhere in Antarctica where we all regaled in holiday tales of a chubby Santa and his reindeer. In Europe – if you want to see Santa uh, I mean Joulupukki, go to Lapland, naturally in the article circle.
I actually have his personal address, because naturally, we are facebook friends, so feel free to send your kid's letters to Santa Claus Village, FIN-96930 Arctic Circle.
Thanks to the wonderful resource that is, in fact, the internet. I discovered a few more fun facts about Finland.
They drink more coffee than per person than anyone else in the world (around 12kg), twice more than Italians. This makes sense because Finland is cold
Sauna's are as common as a bidet in Italy, clothing not recommended ;-). It's a good thing each family has one because after a dip in ice-water you may feel the need for hot steam daily.
Finland is home to two things we all know and love : Nokia (phones that never die) and Angry Birds. I would like to ask why these birds are so angry
Finland has over a 100,000 lakes, which is one more lake than I personally own
Not only is Finland the least corruptible country, they also fine people based on income, I would adore to see this happen in Italy (stifling a laugh as I type).
That being said, like everywhere, parties with friends before Christmas day are quite frequent and actually have a specific name in Finnish, pikkujoulu. Which looks a little like you are cursing online, in English.
For my very-early pikkujoulu party, I decorated my house in some cheesy decorations picked up from Tiger and made sure everyone at the festa had at least type of santa hat and added a couple of wild-cards like antlers and a blinking Christmas tie for Nico. I also had some very special ingredients from Finland to make the occasion even more special.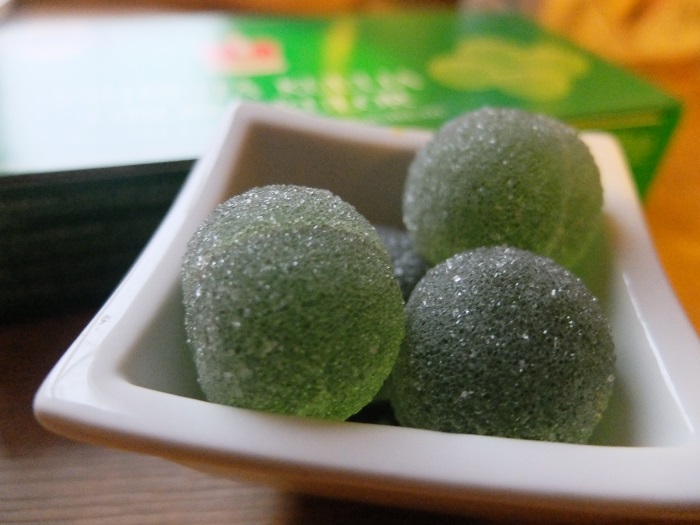 Fazer's Green Jellies – A Finnish delight (kind of already addicted to them)
My goodies were sent direct from Finland and included a packet of  glögi spices to make Finnish mulled wine, handmade Finnish Gingerbread cookies from Stockmann's (their largest department store), Fazer's Green Jellies, Moomin & Fazer chocolates in a Christmas ornament and a pretty awesome Angry Birds' Candy Cane. Which of course was fitting on my 'Finnish' theme since 'Angry Birds' happens to be their national pride & joy.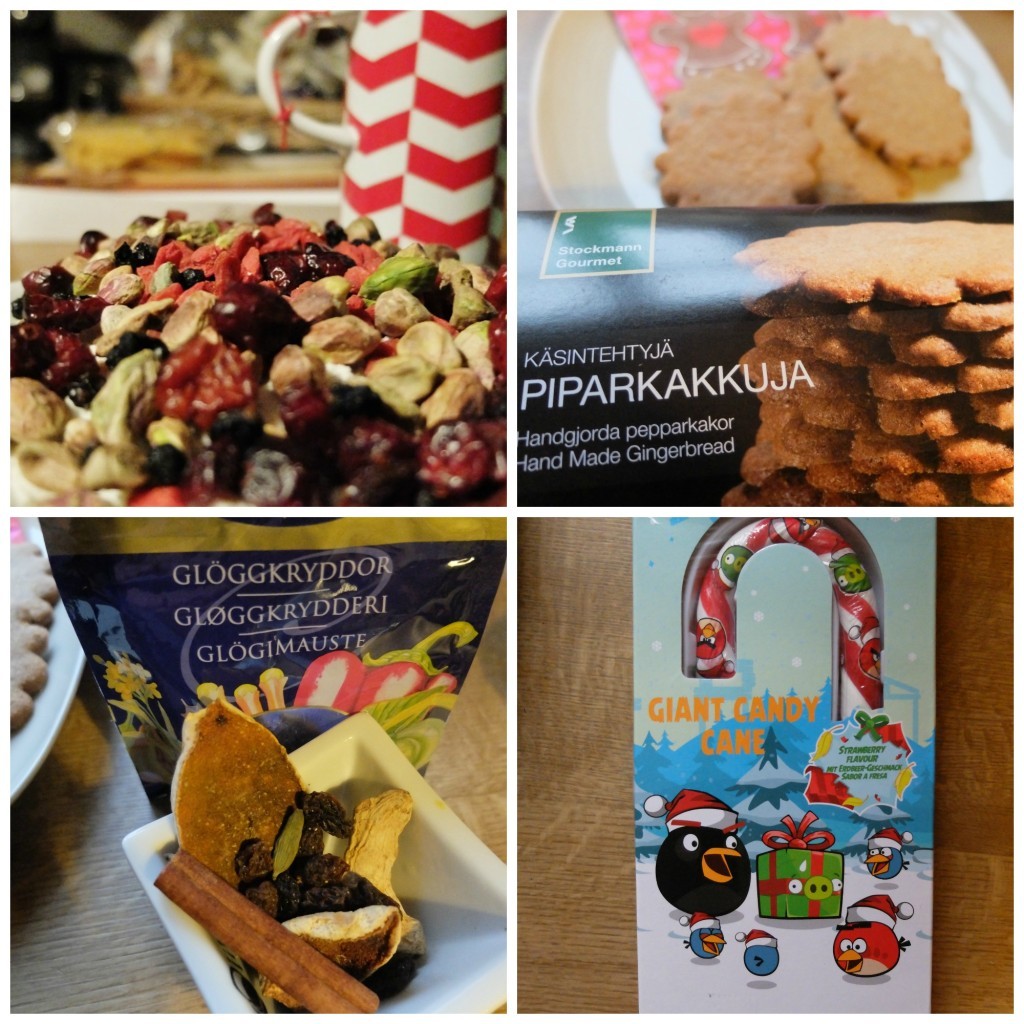 To complete the fun, I also had some soft goat cheese covered in dried cranberries, pistachio and goji berries ( I don't know what they are either) and of course plenty of things to drink.
If you haven't ever had mulled wine (hot red wine with spices) I highly recommend you try it, the quintessential Christmas drink, perfect for those cold, bitter winter days. I am slightly obsessed after a late-November trip to Berlin. Luckily my friends are always game to participate in any sort of wacky idea I conjur up, so without complaining, they joined the pre-Christmas cheer and we made Florence a mini 'Helsinki' for one night only. Even our beagle puppy, Ginger, partook in the fun, mainly she was just trying to eat whatever dropped on the floor. Working online and most specifically working from home, means that get-togethers like this are even more special.
Being a foreigner abroad is never that easy during the holiday season so doing casual, fun nights like this with my friends keeps me sane when I get a dangerously close to having a conversation with my computer.
While I am hardly an expert on Finnish people or their traditions, I have always wanted to visit. which actually, was the entire reason we did this party. Because lo and behold , Nico and I will be getting the chance to visit Helsinki for a weekend  (not enough time I know) with Nico this December courtesy of the Visit Helsinki as part of a blogger contest, #bcfinnishxmas. Yes, this is why being a blogger rocks.
What I appreciated about this particular correspondence is that they are pretty much letting us see the city for ourselves which means the way that I'll write about it will be based on what I really want to see, instead of solely an organized tour. Truth be told, I don't know much of anything about Helsinki but I am doing my research in happy glee (see my pinterest board)  and that is where you guys come in.
If anyone has visited the city and has some advice, tips, (especially on what to pack), best foodie hotspots and cool shops I can't miss, I would be forever grateful if you shared them with me.
In the meantime,  you can follow me during my travels via twitter, instagram & facebook using the hashtags #visithelsinki #bcfinnishxmas