This week's local I love is someone who I have known about for years through her amazing network in Rome. Nico and I stayed in The Beehive this past August for a weekend in the Eternal city and loved it, I knew I had to make Linda Martinez one of my 'locals I love' since Rome is quickly becoming one of my favorite cities in Italy. I asked her why Rome? And In her words "In 1999, my husband Steve and I packed up our apartment in Los Angeles, and along with our 2 cats and a Swiss Army knife, moved to Rome and opened The Beehive, a cross between a budget hotel and an upscale hostel – a place where we wanted guests to feel at home.
In 2000, we started our second business, Cross-Pollinate – an accommodation booking service with personally researched B&Bs, guesthouses and private apartments in 8 cities. My favorite "projects" though are our 3 daughters – Giulia, Paloma and Viola. I'm active on social media and can be found on my personal page on Facebook as well as The Beehive's Facebook page,  I adore Instagram and am not so crazy about Twitter. I consider myself a blogger who doesn't blog – I'm working on changing that as I have loads of ideas and things I want to write about.
Name: Linda Martinez
Nationality: American
Profession: Hotel owner
Favorite drink: Water & wine in that order
 How long have you lived in Rome and where are you from originally.
I've lived in Italy for 15 years with a 2 year sabbatical in Bali, Indonesia. "Where am I from" is more complicated. I was born in Germany, but grew up in Puerto Rico, Panama and Colorado in the US. My family is Puerto Rican.
What brought you to the ancient city of Rome and why did you decide to stay?
Steve, and I moved to Rome for the sole purpose of starting our business, The Beehive. We had no back up plan or funds to make the move back to the US – so we had to work very hard to make sure our business succeeded.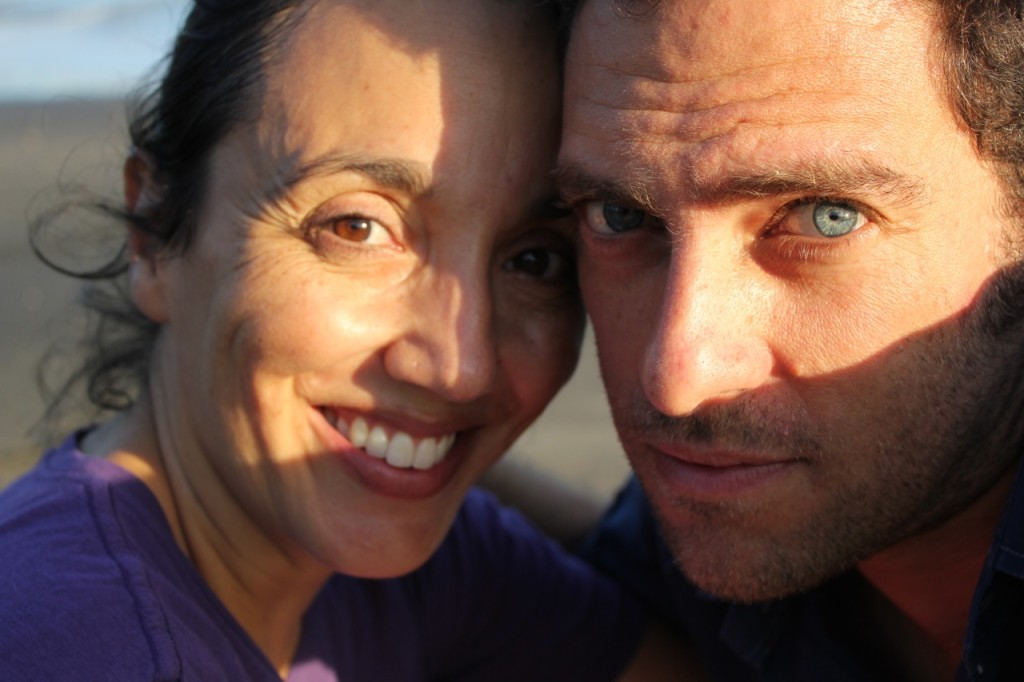 Linda and her husband Steve
You own 'The Beehive' a famous Bohemian hostel/hotel that I personally love, when and how did you come up with the idea. What is it REALLY like to run a hotel?
Thanks! I think it's so cool when people like our place because we recognize it's not perfect, but we love our little place and are so gratified when other people love it too. Steve and I knew that life in the US was not for us. I'm not a hater – it's just we never felt like we belonged there and we knew that we wanted to live in another country, work for ourselves and work together – we're one of these weirdo couples who have no problem being around each other 24/7.
We came up with a lot of different ideas of how we could have a life and earn an income outside of the US – some far-fetched, some kind of boring. The "craziest" of our ideas was packing up and moving to Rome to open up a hostel. That's the idea that stuck and we decided to do it when we were in Rome on our honeymoon in September 1998. Six months later, Steve moved to Rome looking for rental properties – one for the business and one for us to live in and a month after I followed with 5 suitcases and our 2 cats with the rest of our belongings on a ship destined to Rome with no address.
We opened our doors on 11 May 1999 and we moved to our current, permanent location in 2002. Neither one of us had ever run a hotel before, but we both knew what we liked. Steve had done some reception work at a couple of hotels and we both had an intuitive sense of what it was like to run this business – thank goodness! What it's really like to run a hotel? – well, that's a whole different interview!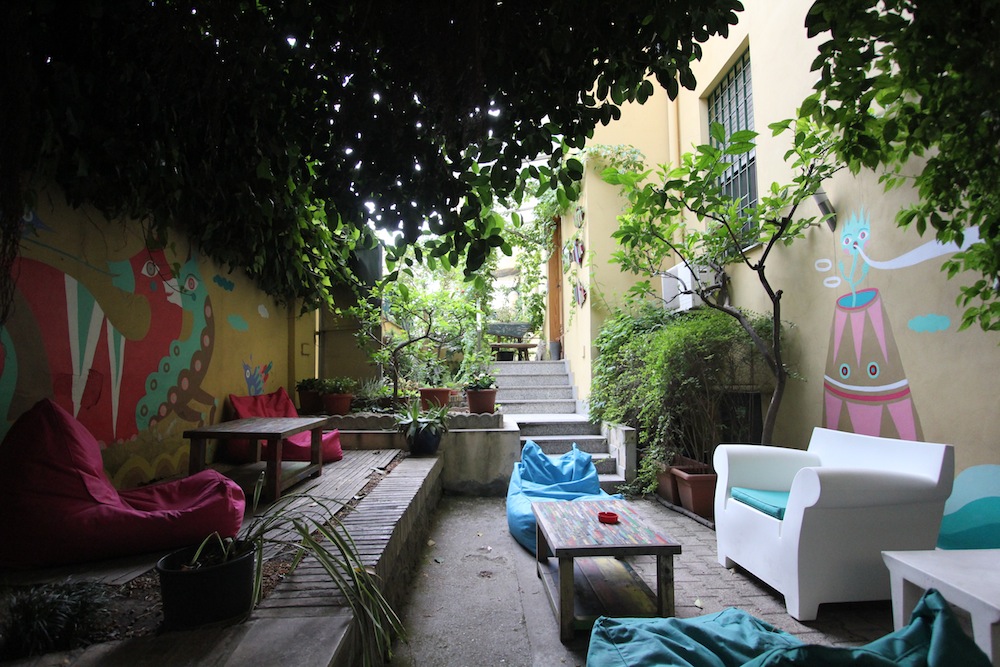 The calm public area of the Beehive hostel in Rome, loved relaxing in this space!
 'Crazy' ideas are normally the best, The Beehive is great! What annoys you about Rome? Tell me the truth!
What annoys me is the fact that many of its residents treat this city like shit. We are in a country that has about 60% of the world's cultural patrimony with Rome having a huge chunk of that and yet the degradation here is appalling. Rome is very badly run and has a lot of problems with its infrastructure. The city government's responses and actions are inadequate or outright stupid and yet despite that I'm finding there is a nascent optimism here. There are many people who want things to change and who are trying, but who are blocked because of an outdated and completely ineffectual system and by those who benefit financially from keeping it that way. Rome has so much potential to be a truly amazing city in every way and it's frustrating that potential isn't being met.
  Do you think life in Italy is for everyone? Why does it work for you?
No, I don't think Italy is for everyone. I knew Italy would work for me when I felt so very at home here almost immediately. My family is Puerto Rican and although Italians and Puerto Ricans are different – there are similarities in life outlook, family connections, sense of humor, flair for drama and perhaps it's those similarities that felt so familiar and so right for me.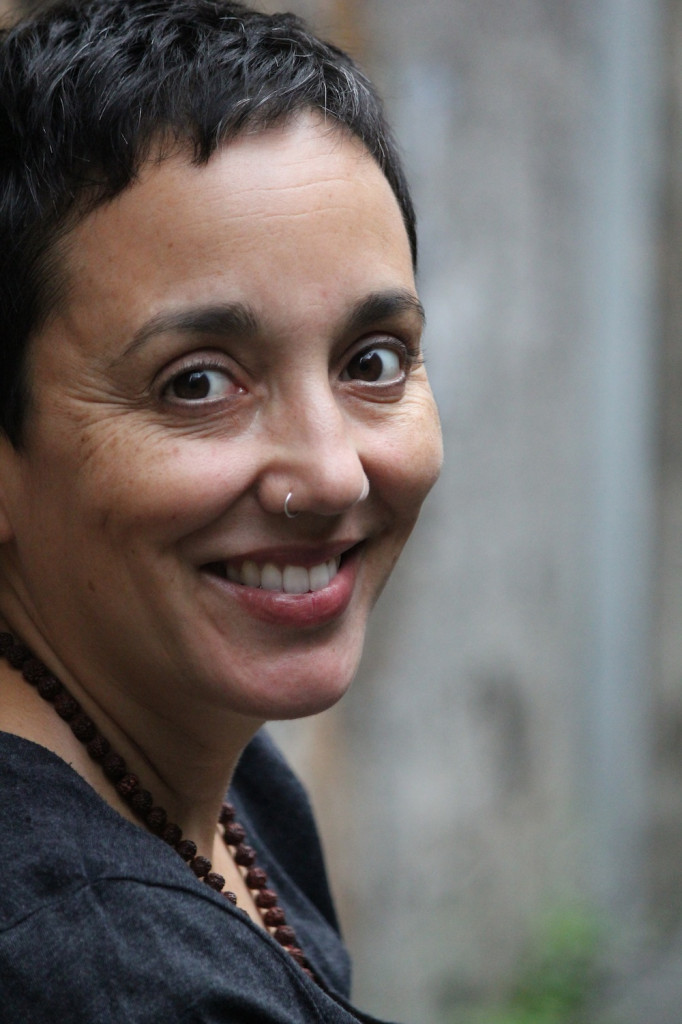 Quintessential Linda, love those shoes 🙂
What advice would you give a newbie?
I know I'm mentioning nothing original here, but forget what it's like "back home". You've come here for something different, so don't expect things to be the same and why would you want them to be anyway? You will be setting yourself up for needless misery and frustration otherwise. Besides, believe it or not, there is a long and complicated history as to why certain things are done the way they are and informing yourself about the reasons will hopefully help you be more understanding about those things you find irrational or illogical. Embrace the differences and keep an open mind. Also, learning the language is imperative – it will make life so much easier and richer for you here.
Three finds/places everyone should know about in Rome?
– Palazzo Massimo one of the four National Roman Museums and overlooked despite being literally right next to Termini train station – it has a gorgeous and important collection of classical art.
– The Protestant Cemetery – a beautiful, shady and peaceful area with lots of cats who come there from the nearby cat sanctuary – I go to pay my respect to Keats who is buried there.
– Villa Torlonia, a lovely public park that has La Casina delle Civette – a small museum in the former home of Prince Giovanni Torlonia – it's a lovely quirky building with beautiful stained glass throughout.
These are to name just three. Yes, the Colosseum, Pantheon and Piazza Navona are amazing, but there is SO much more to Rome and we do our best with our own recommends guide and information we provide to get people off the beaten track. For example, recently I had a Dutch guest ask me about going to Eataly as she was writing a foodie article for a Dutch magazine and I responded with – "Eataly?? Why Eataly???" and pointed her instead in the direction of the local Lazio farmer's market – the Mercato di Campagna Amica near the Circus Maximus. She loved it and said she would have never known about it if I hadn't told her. It felt great to score one for the local team!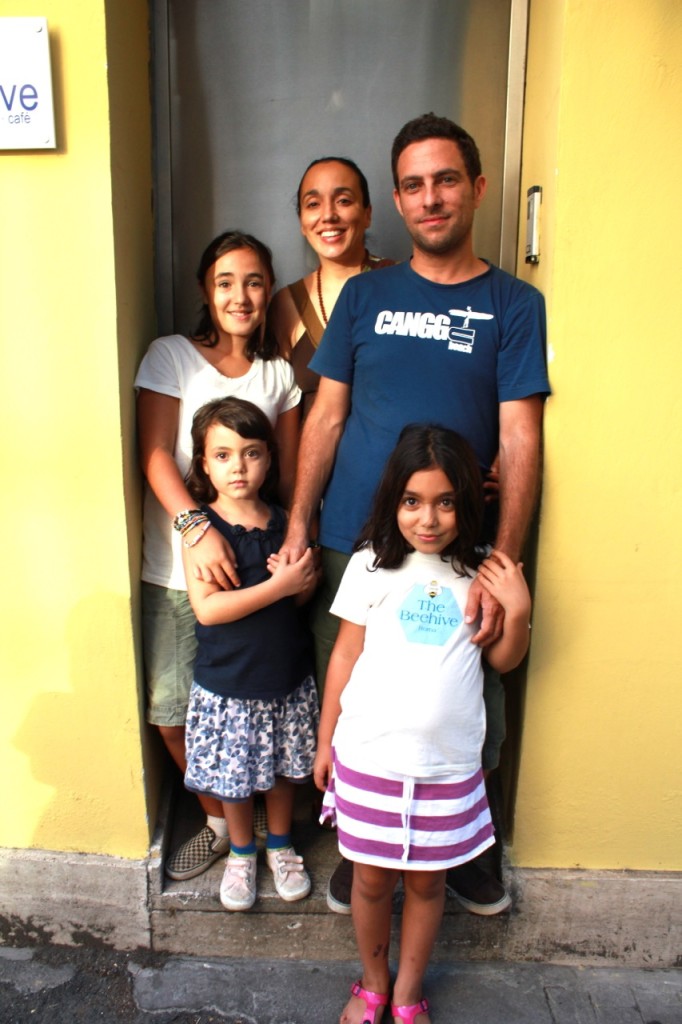 The Martinez-Brenner family <3 
What's the weirdest thing you have seen/experienced in Italy?
Well, the weirdest thing that has ever happened was by association and happened to Steve. The amount of bureaucracy in owning a business like a hotel is endless. He once had to get something called "assistenza in essere" – essentially a certificate stating that he exists. There's also "nuda proprietà" – a racy sounding name for what is essentially a special discount on buying real estate because you can't possess the owner's property until they die. Their age is always advertised and the irony of this system is that it seems to inevitably ensure increased longevity for the owner.
How do you 'prove' that you are YOU? weird! What can you do here and nowhere else?
I would have to say how we started our business – which was open first and get the license later. We had various authorizations throughout the years, but it took us 10 years to get our hotel license. Another is the interweaving of the ancient and the modern, Romans have been very inventive and creative in this regard. Having been born and raised in Rome, our children take these things for granted, but I am still constantly blown away by Rome and other cities in Italy.
How did you make friends and assimilate – was it difficult?
As an introvert who seems like an extrovert, I sometimes feel like I'm living a secret life – so while I love people, it takes a lot of energy for me to be in social situations and I really have to push myself to do it. I'm crap at small talk and dismal at networking, but I'm truly interested in people and their stories. Unfortunately, most people don't expose deeper more interesting parts of themselves until they know someone very well. I just don't have time for that. Life is too short! No, I'm not going to tell someone my life story the moment we meet nor do I expect them to do the same, but I've known people in Rome for many years who I still have only superficial connections with and it's frustrating.
Many people think of Italians as outspoken, gregarious folk, but I have found many Italians to not be very open with their feelings or their personal life. I truly value the friendships I have made here where we have been more emotionally open, where we've collaborated or helped each other out and I feel a close connection with only a few people here – both expat and Italian. That said, I don't discount the other people in my life here that I'm not particularly close to right now because you never know – things can change and deeper friendships are possible – I'm ever hopeful!
Rome is full of amazing food, what is your favorite dish and foodie hideaway?
When I ate meat, it used to be straccetti con rucola and saltimbocca. I've been vegetarian now for about 9 years and so now my favorites are more pasta based. Cacio e pepe is a favorite Roman pasta dish and Flavio Al Velavevodetto in Testaccio makes a very good one – not too dry, not too heavy. Roman pizza is a must and Pizzeria Remo in Testaccio and Mangiafuoco and San Marino Vecchia (not the newer one by the same name) in the Trieste neighborhood are personal favorites. My regular pizza is a margherita with fresh rucola and shaved parmigiano. My favorite restaurants are ones that cook casareccio (homemade) style – no frills cooking using simple ingredients and methods to create delicious food. That said, my favorite chef is Steve – he makes some dishes that are literally to die for. Forget the fancy car, guys, if you want to get (and keep) the girl, learn how to cook instead.
 If you had to do it again (start a new life abroad) would you and why?
Without hesitation I would do what we did over again. For many years, I felt so lost and was constantly searching for that elusive "something". The second we got here – I knew this was that something I had been looking for. I love what we do and have met such great people. I'm happy with my life here. Italy has been very good to us.
If you had to make up a tagline for the city – what would it be? 😉 be creative!
Here's two:
Rome – not for the faint of heart, but definitely worth it.
Roma è sempre Roma.
---
A big thank you to Linda for taking time to chat with me about her life & work in Rome, I think she is a prime example of someone moving their life abroad and really creating a community, she is definitely leaving her mark on a city of so many. I highly recommend checking out The Beehive for the next time you're in Rome, they also host themed vegan dinners that make me drool from Florence!