A painting lives like a human being, it changes according to the mood of the person looking at it – Pablo Picasso
There is something about saying that you are going to see the latest Picasso exhibit that makes person's eyes light up as if you going to meet the man up close & personal, and not just his artwork. One of the first artists delving into modernity that I learned about as a little girl, besides old issues of the National Geographic pictures of his work were some of the first times I had ever seen nude images. I think it important to note that I am not at all an art expert, in fact for truly in-depth and interesting critical posts on art, I highly recommend you scoot on over to my friend Alexandra Korey's blog, Arttrav. However like many non-art experts out there, I really enjoy going to the odd exhibit every now and again especially when I hear that the Palazzo Strozzi is opening a new show.
The Picasso & Spanish Modernity exhibit is running now until January 25, 2015 . The exhibit is composed of a prized selection of paintings, drawings, sculptures from the famous artist among other famous names via a collaboration with the Museo Nacional Centro de Arte Reina Sofía in Madrid and curated by Eugenio Carmona. It explores the major themes developed throughout the career of a painter who had the greatest impact on the history of the 20th century. The exhibition has also partnered up with foodie heaven, the central market [mercato centrale] to give guests of both places discounts and special gifts, more details below.
Pablo states above 'art changes according to the mood of the person looking at it' which makes me feel a little better about adding my own, non art-expert two cents on a few things I learned about this exhibit and what I think you would enjoy knowing about too.
1. It's Not Only Picasso
While some might be disappointed that Picasso isn't the only artist showcased at this exhibit (however out of 90 works, 42 are his alone), embrace the fact that there are so many other great artists featured including Joan Miró, Salvador Dalí, Juan Gris, Maria Blanchard and Julio González. The important of this exhibit is to look at Picasso's influence on Spanish art and his relationship with other artists. I stopped looking for Picasso's name after about 20 minutes when I started to really get into slowly taking in each piece with the #pabloalmercato crowd.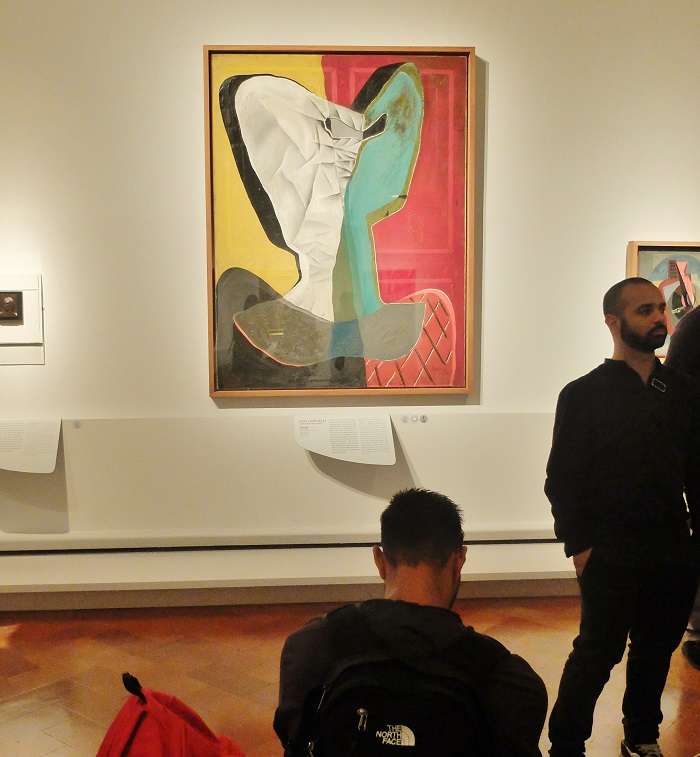 Salvador Dalí : Arlequin, 1926 
2. What Really Is… Reality?
Everything you can imagine is real.― Pablo Picasso. One of the underlining themes of the exhibit and Spanish modernism when it comes to art, is the simple notion of reality. The one we might feel is omnipresent in everyday life,  was instead  constantly questioned by Picasso and his fellow artists. In fact, the invention of 'cubism' as an art moment arose out of the need to define and represent the then new modern reality. I say embrace the surreal and look to see beyond the chaos. The making of the artwork is as important as the final product itself.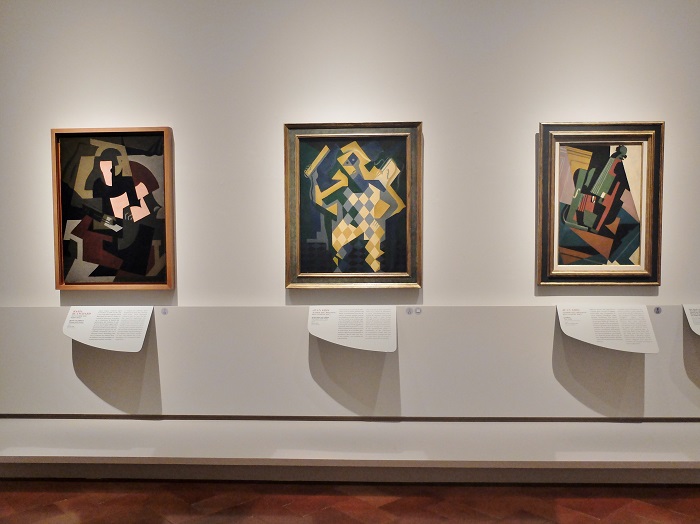 Maria Blanchard 'Donna con chitarra 1917', Juan Gris 'Arlecchino con violino' 1919, 'Il Violino' 1916
3. The Guernica Room is The One To Watch
Like many of my fellow bloggers & journalists along a special #pabloalmercato tour, I was taken with the room dedicated to the preparatory drawings and works for the famous painting, Guernica. It was divided in two chapters: "Towards Guernica: the Monster" and "Towards Guernica: the Tragedy". Fascinating to this Americana, the first chapter focuses on Picasso's alter ego, the minotaur while the second focuses on a tragedy. The bombing of Guernica (a Basque Country village in northern Spain) by German and Italian warplanes at the behest of the Spanish Nationalist forces on 26 April 1937 during the Spanish Civil War'refocused a 'struggling for inspiration' Picasso and thus a masterpiece was born. This room is dark, this room is scary but you wouldn't expect not want it to be anything else.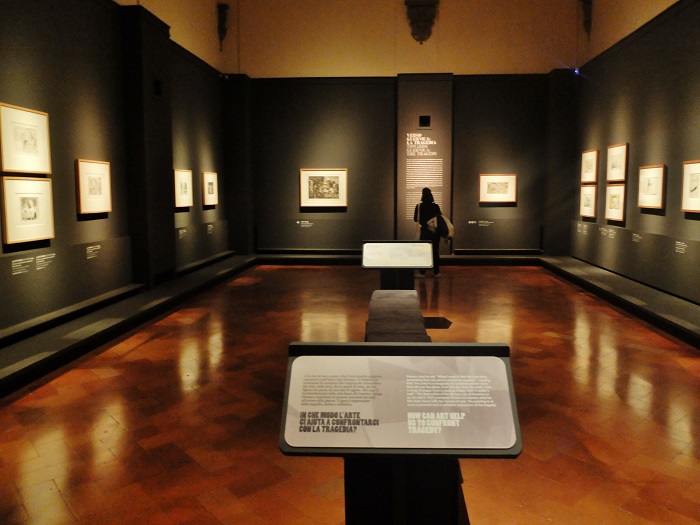 The Journey of  the making of Guernica 
4. It Asks You Questions
One thing I really love about the Palazzo Strozzi and how they get people involved in the art, are the various panels around each room that ask the visitors questions, while providing a little background. Fun for both adults and kids, I made sure to look at each question and really think about it. It made my experience much more interactive and was a wonderful way to have a little glance at the mind of the artist. I find with this type of art that a more in-depth thought process is a real necessity because just by 'looking' at it, the pieces can seem almost 'aggressive' to the untrained eye if you don't know the process behind the work.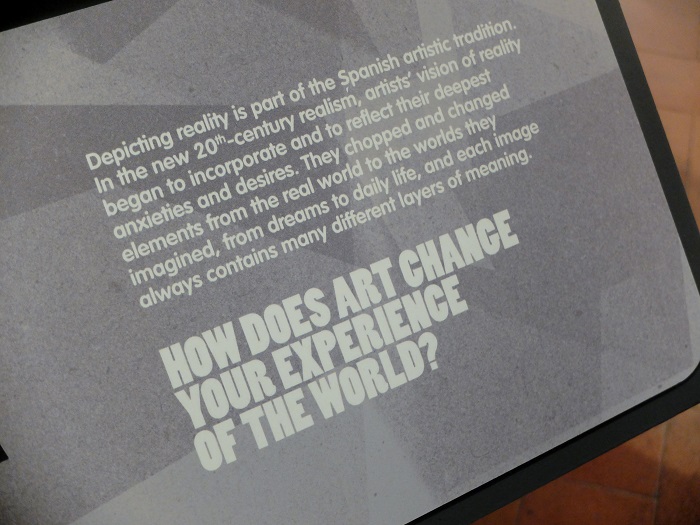 5. The Artworks Span from 1910 to 1963
The works in this exhibition cover the years from 1910 to 1963 and examine the relationship between art & culture and the artistic awareness in the Spanish cultural scene through shared styles and common interests. I especially enjoyed looking at the evolution of these styles over time by each individual artists, especially when influenced by important political, social  and historical moments. From the first section you already are thrown into the fate of Picasso, both as a legend and as an artist, metaphorically displayed in works of art such as 'The Painter and the Model'. It moves on to other key phases of his artistic career  and those of others.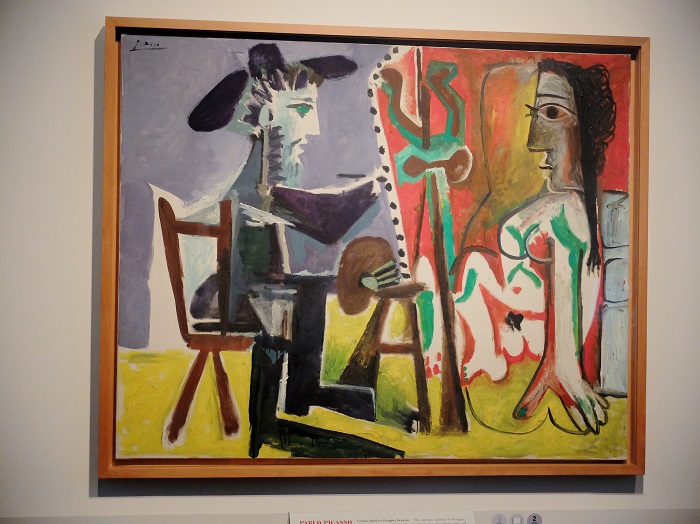 Pablo Picasso 'The Painted and The Model' 1963
6. You Wouldn't Want to Have Dated Picasso
Much of Pablo's work was inspired by love, a charming notion that we attribute to an artist's passion. In fact his works 'Seated Woman Resting on Elbows' and 'Portrait of Dora' were inspired by Picasso's ex-lovers, spanning a number of decades. While some girls might fantasize about being one of Pablo's muses, it wasn't as great a role as you might think. Picasso was jealous, unfaithful and destroyed the lives of otherwise normal & intelligent young women. Having a relationship with Picasso often resulting in suicide or severe psychiatric depression. His lover Dora quoted " "I'm the weeping woman, I'm the green woman in the genius' pictures, I'm the embodiment of pain: my pain, his pain, the pain of the world." My advice ladies, is to date an engineer.
7. Avant-garde Sculptors Make Their Mark
In the fourth section of the exhibition, "Lyricism. Mark and Surface" they examine how lyricism is defined in painting and sculpture by marks, surfaces and space, definitely one of the sections of the exhibition that is work an extra look. One that caught my eye was completed by Angel Ferrant's 'Industrial Women', which is pictured below. About the piece Ferrant once quoted "There is nothing that looks less like a natural object than a mobile. And yet there is nothing more natural. In a mobile, everything is true: real, weight, balance, lift. It is not just that gravity cannot be avoided in a mobile, it is actually stripped bare in it; it is the mobile's very flesh and marrow, string or wire."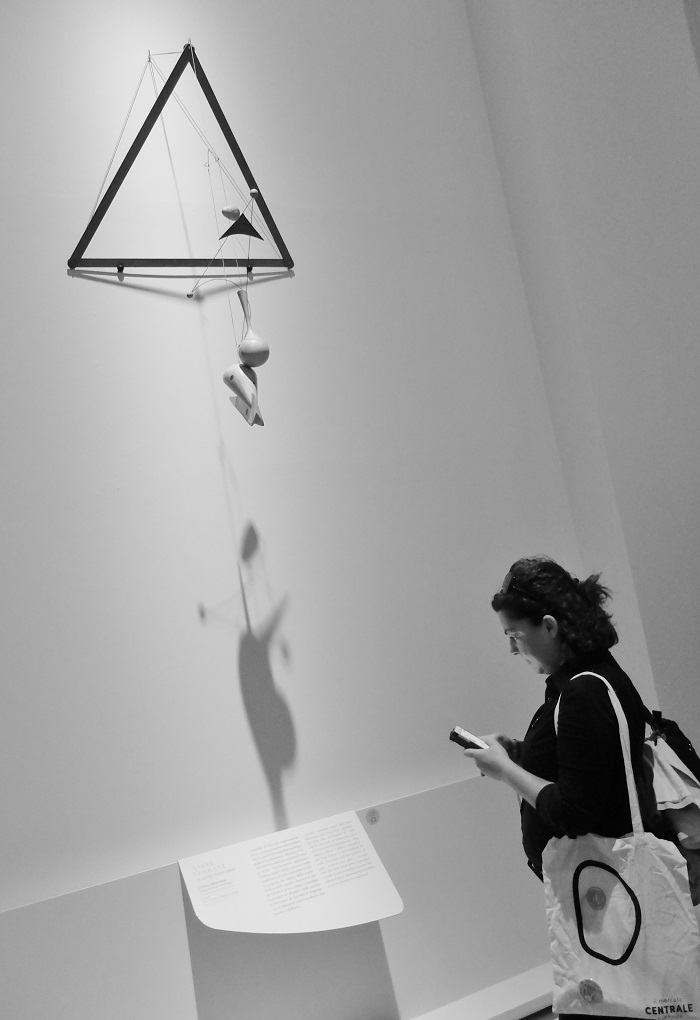 Angel Ferrant's (Industrious Woman, 1948) and Ilaria from Instagrammer's Italia
 8.Visiting This Exhibit May Result in Supernatural Effects
While I can't promise this would happen to you, as we left the exhibit to head to lunch we were in the midst of the craziest hail storm I have ever seen. Besides the fact that it covered the courtyard of Strozzi in a 'snow-like' blanket of tiny hail stones, the whole city was affected by this quick & ferocious storm. It actually caused a lot of damage that we are only now starting to find out about. Not the work of Picasso, but a sort of was an eery coincidence, especially since I couldn't get the Guernica section out of my head.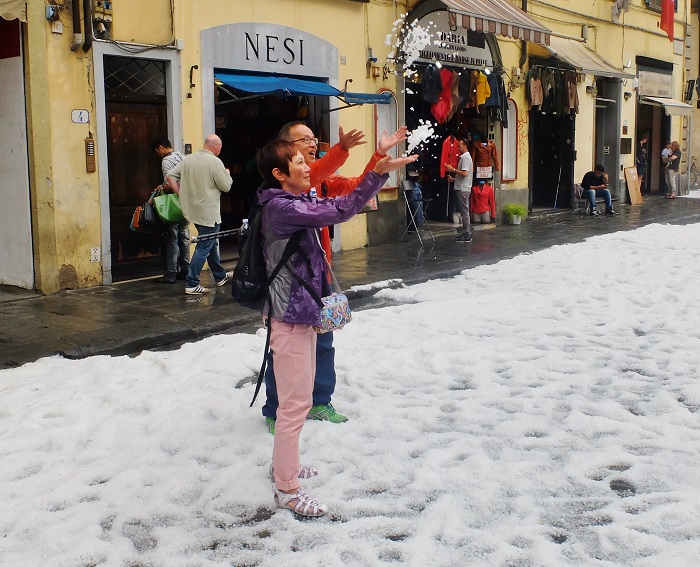 9. Picasso Wants You to Eat!
The entire reason I was there in the first place was as part of a blog tour touring both the exhibit and later lunching at the Mercato Centrale, which you may have remembered I have written about. The great news is that the market has partnered up with Palazzo Strozzi and is offering patrons of the 'primo piano' a chance to get 15% their museum ticket by just asking for a special coupon from the info point at the market. After going on an artisan 'taste journey' in one of my favorite new places in Florence, the new Central Market first floor,  why not work off some of that fresh mozzarella di bufala with a trip into Spanish modernity, sounds like a pretty sweet deal to me. * Also note that if you visit the exhibit first, you can get a special gift and a map of the market from the Palazzo Strozzi ticket office. We ended on a high note by touring the 12 artisan's market stalls and lunching all together in the balcony above the first floor.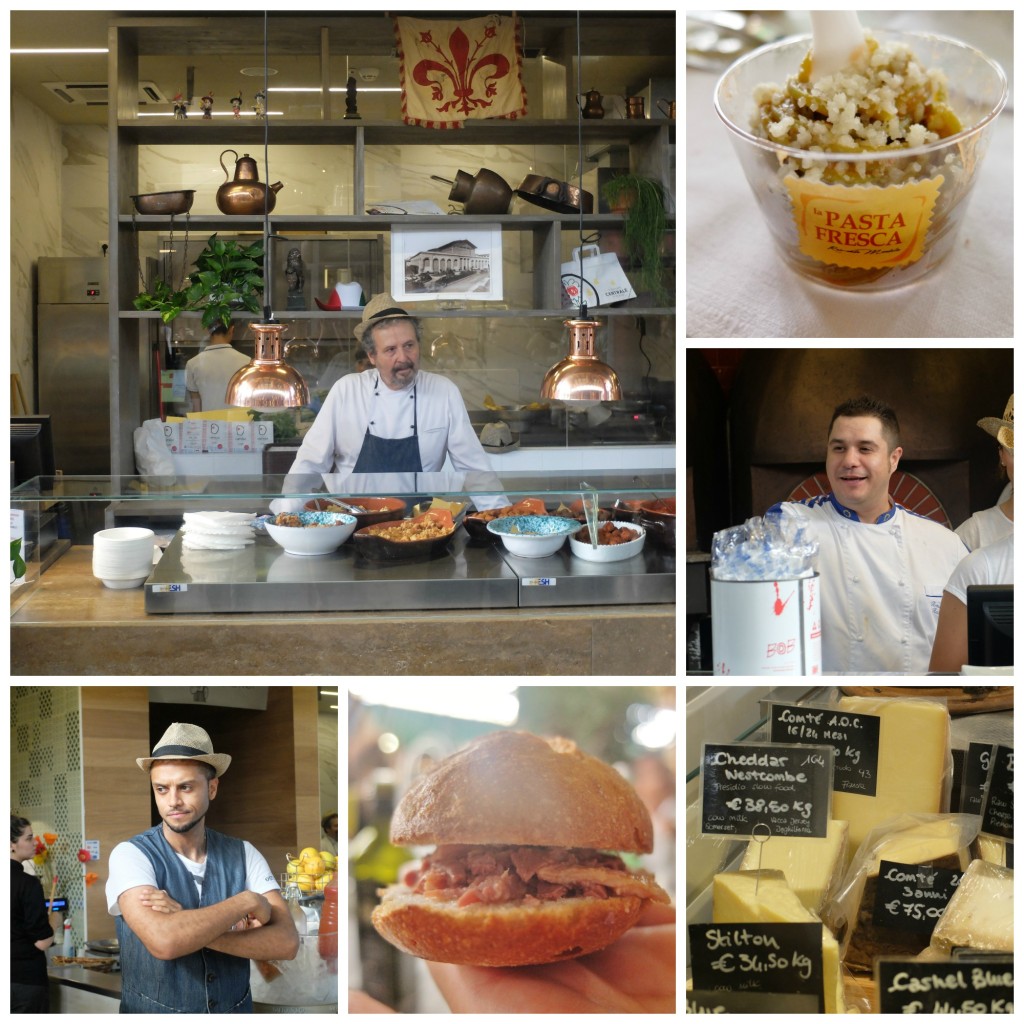 Visit these 'artisans of taste' at Florence's Central Market, the new first floor 
 10. Picasso Was a Fan of The Market
What's really interesting about the collaboration of this Picasso exhibit and the Central Market is that Pablo Picasso once visited this bustling market and it left a lasting impression. According to Discover Tuscany "The collaboration between the museum and the Central Market is not accidental. It actually seems that Picasso was very attracted by the colors and scents of the market (built-in 1874 in iron, glass and stone) and that during his visit to Florence in 1949, he was literally fascinated by the stalls of the fishmongers and by the rich shades of color found in their fish."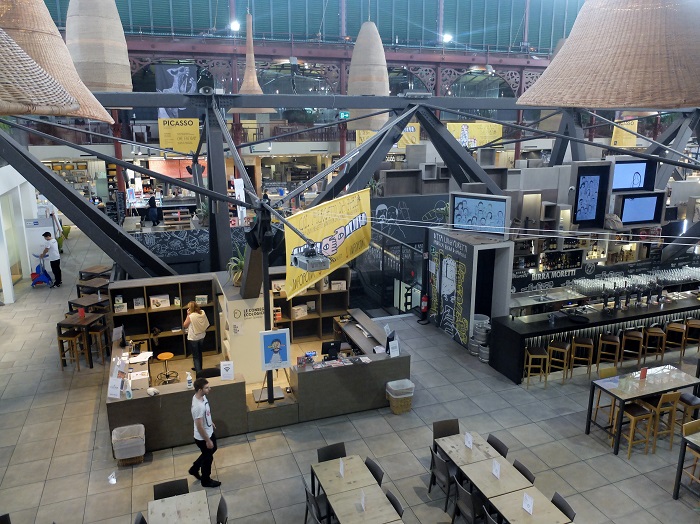 Check out the colorful posters featuring artwork in the exhibit with clever phrases at the central market
---
Picasso and Spanish Modernity
September 20– January 25, 2014
Palazzo Strozzi, Florence.
Opening times
Every day 10am-8pm, Thursdays 10am-11pm
Tickets
10€, reduced 8.50€ (under 26 and over 65 years old), free for children under 6. 15% if you eat at the Mercato Centrale, head to the info stand for a special coupon to get 15% your Picasso & Spanish Modernity ticket. When at Strozzi, you can also ask for your special gift if you plan to head to the market and they will also provide you with a map.
Have you already seen this exhibit? According to local news sources, 3,000 stopped by Strozzi the first weekend alone, pretty impressive! I'd love to hear your thoughts, yay or nay?