It's no secret to anyone who reads this blog or knows me in person, that I am more than a little obsessed with ginger. My affinity for Moscow Mules is due to the satisfying bite that ginger beer provides. Also I should mention my 7-month old beagle is named after this dynamic spice. Short of having this root tattooed on my ankle, I put it in almost every single dish, minus pasta, that I make. After a whirlwind August and September and a lot of traveling, both Nico and I are looking to eat a little healthier while at home to balance all of the 'on the go' food which often is anything but light. Beets are one of my favorite vegetables, and happen to be quite the super-food. Hence it was high time to whip up a fresh, tasty soup which was the perfect way to feel good before stuffing my face with yet more truffle pasta. Plus it allowed me to add my precious zenzero (ginger) without it being too overpowering for the palate.
One thing to note is that you can really have fun with this recipe, for example roasting the carrots or adding some curry paste . I suggest baking a loaf of fragrant garlic bread to go with this hearty soup, which is great served both warm and cold.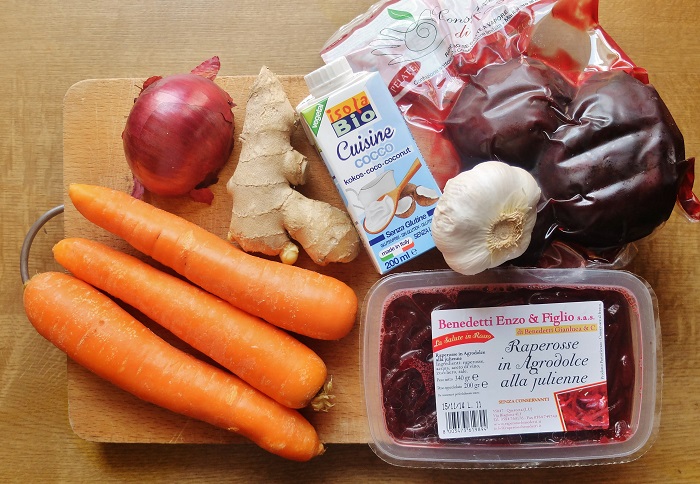 Coconut Ginger Beet & Carrot Soup
Ingredients
3 Medium beets, washed, peeled and chopped
¾ lb carrots, peeled and diced
1 medium-sized red onion
1-inch piece of ginger, minced
3 cloves garlic
1 cup coconut milk
4 cups vegetable stock
2 Tbsp. olive oil
1 tsp. turmeric (or more to taste)
Salt and pepper to taste
Chopped fresh herbs and a sliver of ginger & julienned beets to garnish (optional), 1 tsp zest of an orange or lemon.
In a large soup pot set over medium heat, saute the onion and garlic in olive oil. Toss in the roughly chopped carrots, minced fresh ginger and cook while stirring frequently for around five minutes. Next goes in your fabulous beets and you can add your vegetable stock (or just water) and coconut milk, bringing to a boil. Toss in the turmeric and cover and simmer for around 40 minutes until your veggies are tender, then you should add your lemon or orange zest.

Puree the soup or use an immersion blender (remember the soup will be hot) and return it to the pot to reheat. Season with salt & pepper to taste. Garnish with fresh herb, thinly sliced ginger (optional) and Julienne style-beets. I served mine with hot, crusty garlic bread fresh from the oven.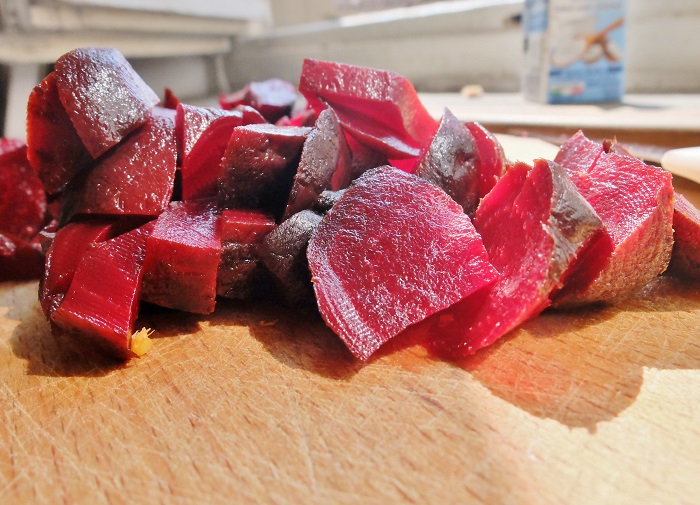 A soup that will have you coming back for seconds, thirds and possibly fourths – I like it that much! Anyone else have an obsession with ginger like me? I'd lobe to hear your recipes!