This week's 'local I love' is the lovely Coral aka Curious Appetite, a gourmet food blogger who is currently being held captive in her hometown of Seattle but started her love affair with Florence in 2012. She works as a tour leader for group and private food tours in Florence and Tuscany. She will be back eating and drinking through Florence as soon as you can say cin cin (cheers)! We met for coffee at the new hip coffee joint in Florence, Ditta Artigianale and bonded over sharing stories on what it's really like to live in Florence. I knew I had to make her one of my #localsilove also so I could not-so-discreetly steal some of her foodie suggestions ;-). Without further ado let's get to know this Seattle native who has an uncanny resemblance to Zooey Deschanel.
Nationality: American, with Italian and Iranian heritage.
Favorite drink: Cocktail: Negroni Drink: WINE of course!
 How long have you lived in Florence and where are you from originally. 
I started my love affair with life in Florence in June of 2012 but I have been coming back and forth to Italy since 2005 whether for vacation, volunteering (yep, I WWOOF'd!) or study abroad (In Rome and Perugia). Where am I from…that is a good question. I moved around a lot growing up (Memphis included) but I'd say I am from Seattle but originally from Southern California.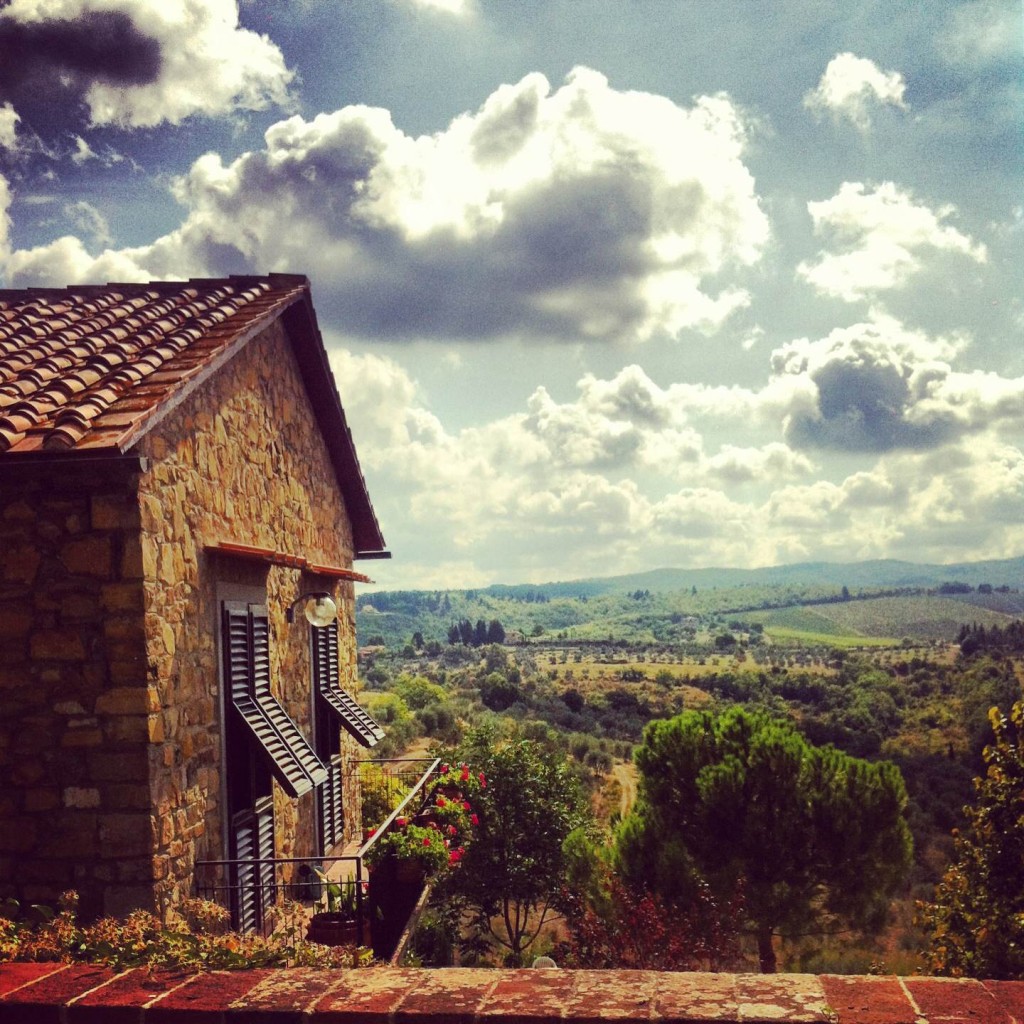 You have to tell me more about volunteering! Right now you're in Seattle, are you planning on coming back to Florence, if so – why?
Yep! In Seattle alright! I work as a tour leader so I normally go home during the slow months anyways but I decided to take a long break to spend some time with family and do some work back home. I'll for sure come back to Florence because I think it is one of the best places on earth- obviously!
Sounds like perfect balance. What are you up to in Florence? Work, daily life, passions?
Well, when I was in Florence I had a couple different hats. I worked part-time as a travel agent, a food tour guide, a culinary class interpreter, a freelance blogger and a private English teacher. So my daily life was a constant juggle of my million jobs until I decided to focus on my primary passions which is tour leading and blogging.  Despite seeming like a workaholic, I actually have a pretty good work-life balance going out with friends for aperitivo (happy hour), cooking, trips outside Florence, hosting dinner parties, etc. My favorite part of my daily life in Florence is walking though the Sant'Ambrogio market to do my grocery shopping. It is a reminder of why Italy is the best place on earth.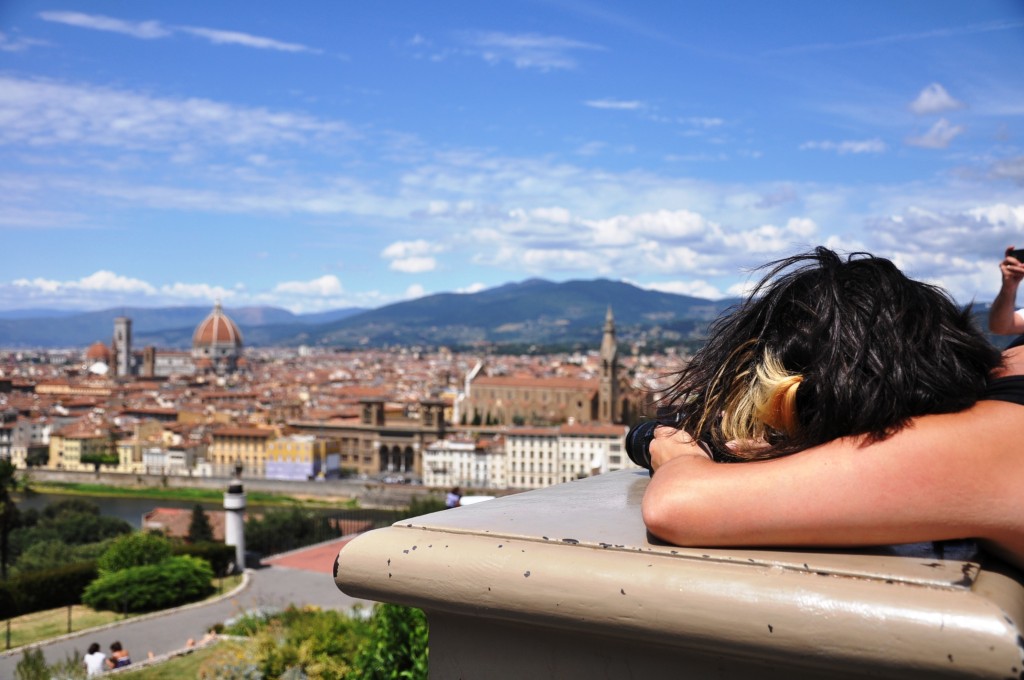 A million jobs, I can absolutely relate to that ;-). Tell me about food tourism, how did you get started and tell us some fun stories!
Funny enough, I started giving tasting food and drink tours when I was living in Seattle before I moved to Florence. So before my naïve American optimism was beat out of me, I tried to straight up apply to companies in Italy to be a food tour guide as soon as I arrived in Florence. To get experience, I started working for a food and wine tour operator In the meantime, I started to work as a travel agent for a food and wine tour operator. I assisted with culinary classes and accompanied clients on food and wine tours whenever possible outside of office working hours to gain experience. 
I learned SO much about tourism from that job, which was my 1st job in Italy. I got really lucky. In general, I started to apply to tour operators who offered food and wine related tours in need of tour leaders. 
Fun stories, well I have definitely met some personalities on tours and have met some of the most interesting people in the world. I think what is most funny is to see how some of the men at the food and wine stops are the totally stereotypical "latin lover" and go gaga for guests as if they have never seen a woman (or someone with blond hair) before in their lives. 
Thanks for such an in-depth answer,  I am now inspired to go on a food tour ;-). What annoys you about Florence? Tell me the truth!
Okay to be honest, the humidity, the post office and the mosquitos are the worst. I do have some opinions about the Florentine attitude, the fighetti (cool people) and the streotypical Florentine social cold shoulder, but I think that only applies to a small percentage of people and I know plenty of Florentines who prove that stereotype wrong and are extremely awesome people. I think those ideas that people tend to have about Florentines is just a human thing. There are people with challenging interpersonal skills all over the world.
Fair enough! Do you think life in Italy is for everyone? Why does it work for you?
No, absolutely not. Unless you have an innate urge, some Italian spirit or a suffocating desire to live in Italy and not just some cute romantic notion of living in the fairytale country to get swept off your feet by some Italian Fabio and run away in the countryside together, Italy will chew you up and spit you out. I am one of the few people I know that originally came here because I wanted to be in Italy, despite all of her imperfections. I had no Fabio, no family and no job. I worked ardently for about 7 years before I even took the plunge to come. 
"I had no Fabio" – one of the best answers to this question, ever. What advice would you give a newbie?
Wow, that is a good question.Well, 1st off have a lot of money unless you already have a job lined up. Be prepared and be willing to do a LOT of jobs you would not normally do. Be mature. I repeat- be mature and be prepared to be humiliated constantly from the language, from the culture clash, to the assimilation process to having to figure everything out that was once 12 times easier. I think people get frustrated with Italy, myself included. But what I personally found helpful is to not blame anything or anyone and to understand that things are just the way that they are and to take personal responsibility when needed. Like last winter our boiler (water heater) broke and since it is Italy, it was an interesting process to resolve.
More advice: most scruples are just misunderstandings and sometimes a result of being convinced that we are the ones with ragione (who are in the right). Try to put yourselves in their shoes and understand them also from their cultural point of view. I think Italy taught me that understanding, humility and flexibility is necessary. Just like with any relationship, there are massive rewards to the compromises and tolerances you have to sustain here. Things are the way that they are so you either accept them and learn to work with them or leave. Another piece of advice is to have a good attitude but still be on your guard.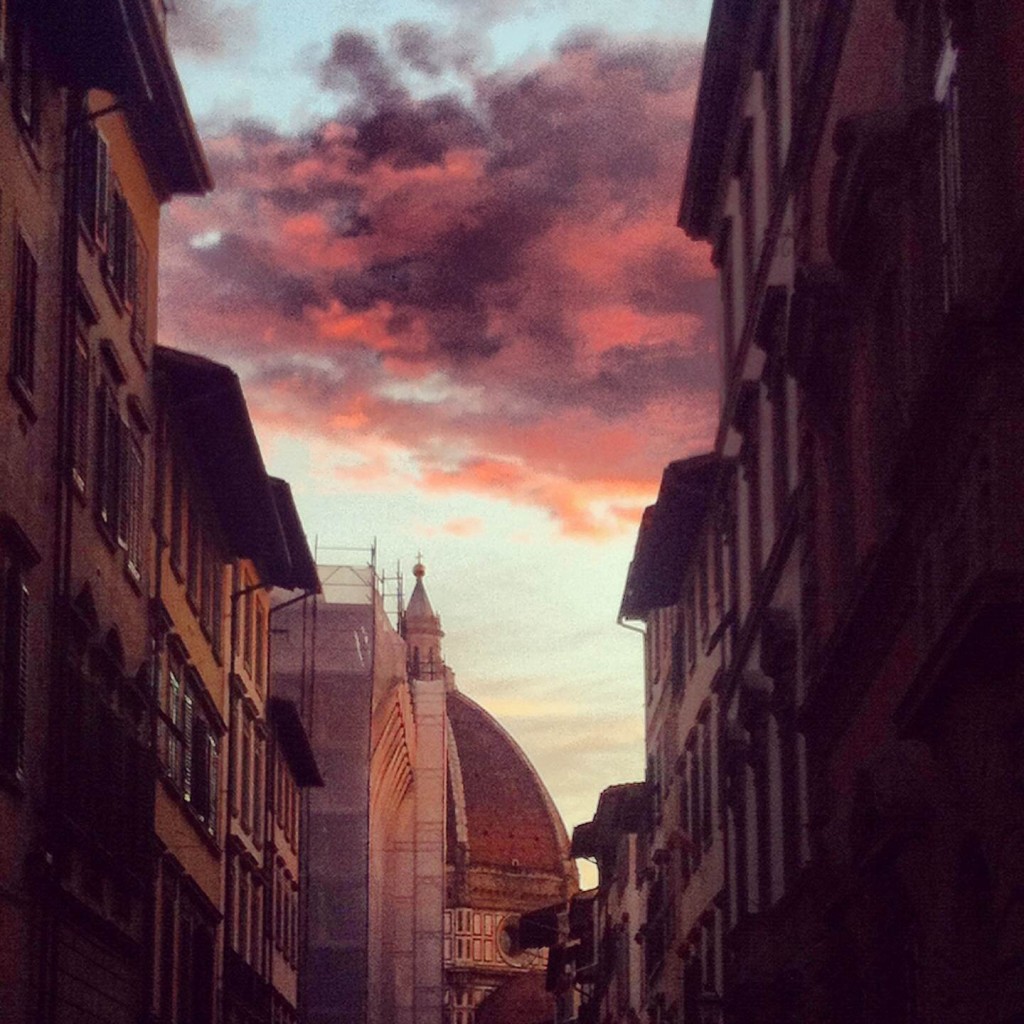 You made some seriously good points, especially about most scruples being misunderstandings, newsbie's take that to heart!  Three foodie finds everyone should know about in Florence (I'm seriously excited to ask you this!)
Oh joy- my favorite topic! Leo the fruit and veg vendor in the Sant'Ambrogio market on the corner facing Enoteca de' Macci who strangely resembles The Comic Book Guy from the Simpsons is the best foodie find in Florence because he has the best fruit, veg and herbs on my planet (whole foods are just as crucial as fancy foods!), le volpe e l'uva (which is not so secret) and Semel the sandwich shop in Sant'Ambrogio. The owner of Semel whips up distinctly flavored panini (sandwiches), but at times feeds me food for thought.
Wisdom with your panino? Um let's plan on going together when you come back! What's the weirdest thing you have seen/experienced in Italy?
Probably seeing a child in Palermo, Sicily ride an old donkey around the city streets. I'll never forget his mullet haircut or how 'normal' a scene this seemed to be. 
Wow I don't even know where to start, who knew plastic bags could label you a communist? What can you do here and nowhere else?
Healthy, affordable fresh local produce that even the poorest of people can access, Hang out in the piazza and meet your friends for a drink outdoors, hanging outdoors in general even when it is cold outside, watching the sunset from some awesome pat of Florence that has a view of the DUOMO with a bottle of 5 euro prosecco which does not suck, eat mind blowing food including Chianti wine and the Florentine steak for under 15 euros a person, see a constant flow of gorgeous men strut effortlessly through the streets with a tragically beautiful sense of style and culture, be stunned by Renaissance architecture at every turn, mix-up Italian AND English in the same sentence and still be understood and drink wine at almost every meal and not be broke (or weigh 500 kilos) at the end of the month.
I loved your answer, the quality of life here is high even if salaries are laughable. How did you make friends and assimilate – was it difficult?
Luckily I tuned into the local couchsurfing chapter and made friends instantly. But they were all travelers and foreigners so I had to work really hard to find friends who were professionals with intentions to stick around for a while. These people are usually not Florentine but I totally relate well with fellow transplants. We understand and experience the same challenges of moving to a new city and share an appetite for travel and cultural exchange.
Florence is full of amazing food, what is your favorite dish and is there anything you don't like?
My favorite dish is anything with truffles and usually depends on the season but my all time favorite dish in Florence is lampredotto. Mainly because of what it represents in Florentine culture and food history. It is a food so crucial to the local food culture yet no one who visits Florence knows about it. My goal on my food tours is to teach people about real, Florentine peasant foods like lampredotto and fried foods. What I don't like: Overcooked, boiled to death vegetables, poorly cooked potatoes, anything in a microwave (see poorly cooked potatoes) or the mensa (cafeteria) style aperitivo ( happy hour) bars with crappy mounds of packaged pasta and canned sauces, cut up hot dog and eggs with rice (??? seriously that is gross, Florence.)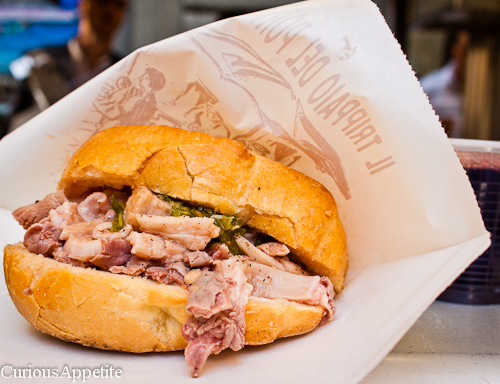 A lampredotto panino, quintessential Florentine street food
Kudos on the lampredotto and I very much agree with you regarding 'mensa' style aperitivo, if I see another 'cold rice salad with old tuna', I might barf. If you had to do it again (start a new life abroad) would you and why?
Yes, because I pursued a dream to live in Italy and made it happen- and that is exactly what everyone has the right to do at least once in their lives.
Brava! If you had to make up a tagline for the city – what would it be? 😉 be creative!
Florence- The eternal Renaissance cobblestone jungle of slightly anarchist Vatican adversaries where cow guts are eaten for breakfast.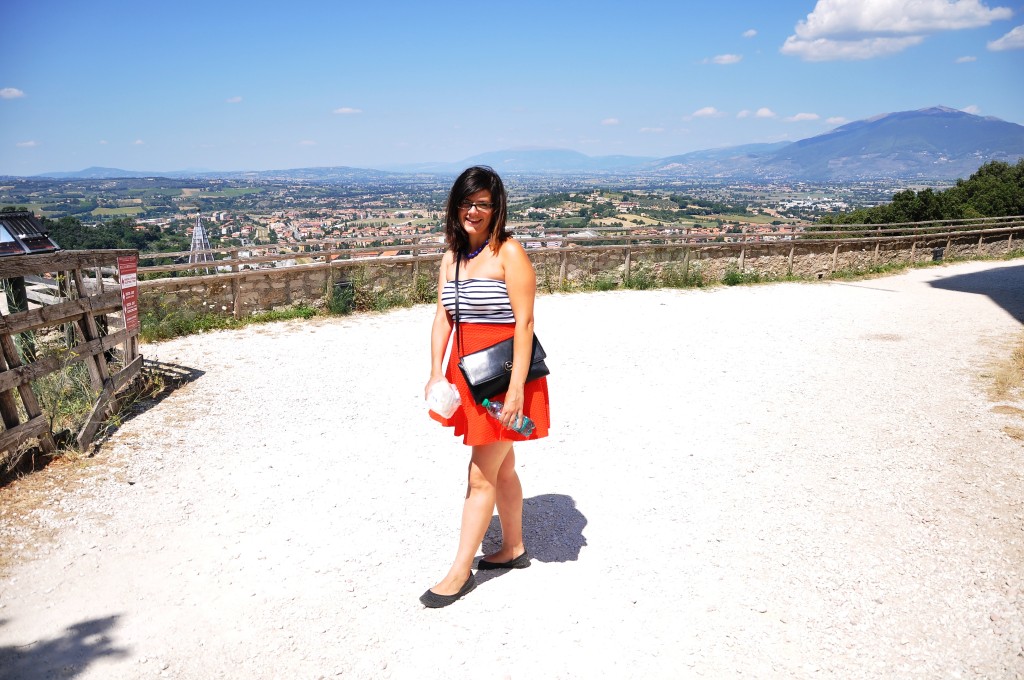 ---
It was an absolute pleasure to chat with Coral who was a seriously good interviewee. I really appreciated the time she took to answer my questions with detail and care.
Keep in touch with Coral via her awesome blog  The Curious Appetite, Facebook,  Instagram, Twitter, Google+: Coral Lelah