Every once in awhile a girl has to treat herself to a sweet treat. Sounds like a dubious comment made by Samantha from Sex in the City but nope instead I am referring to the delicious and decadant 'party in your mouth' that was a recent dessert I tried at the Hotel Savoy in Florence, Italy. A five-star hotel that has made it's name as one of the top places to stay in the city, with an outdoor restaurant that is the prime people-watching location in Piazza della Repubblica. I was invited to try the latest merge between two famous names, Fulvio Pierangelini and the most famous macaron store in the world, Ladurée.
Beautiful flower & Ladurée display
For a two-week period anyone can head to The Savoy and try this special summer menu, a bowl of one of their fabulous artisan gelato and macaron combinations. You can spot the really cute turquoise Ladurée cart outside the front of the restaurant. I actually spotted this when shopping this past weekend and was secretly plotting on taking the cart home with me when no one was looking (kidding, well not really).
On a side note –  If you haven't yet heard about Fulvio and you love food, I suggest you pull up a chair. He is the mastermind behind all of the culinary experiences at the Rocco Forte Hotels and considered the best Italian chef in the world by the French. Tony Blair's wife recently hired Fulvio to cook a meal as a birthday present, just to give an idea about how awesome this guys really is. By the way he is also happens to be the genius mastermind behind the famous Gambero Rosso restaurant  (now closed) which was considered Italy's best eatery.
The great Fulvio Pierangelini! Photo Credit: Vanityfair.it
While I wasn't able to make the actual gelato event, I did stop by for lunch at the Savoy with Fabiola the day after to see for myself what their food is all about. Since it was Friday it felt completely appropriate to start with a rossini cocktail, a mix of fresh strawberry puree and prosecco. It's 5 o'clock somewhere right?
The menu is one I would expect from a five-star hotel, a mixture of tradition and innovation.  Fulvio's foodie philosphy is 'keeping it simple' and focusing on the quality of ingredients and methods of preparation. I got to meet him at lunch where he told me that in order to make the pappa al pomodoro, he insists that the tomatoes actually be massaged. Because as Fluvio says, Tomatoes need love too. Mark my words, this is exactly why Italian chefs are so amazing, it's all about the romance..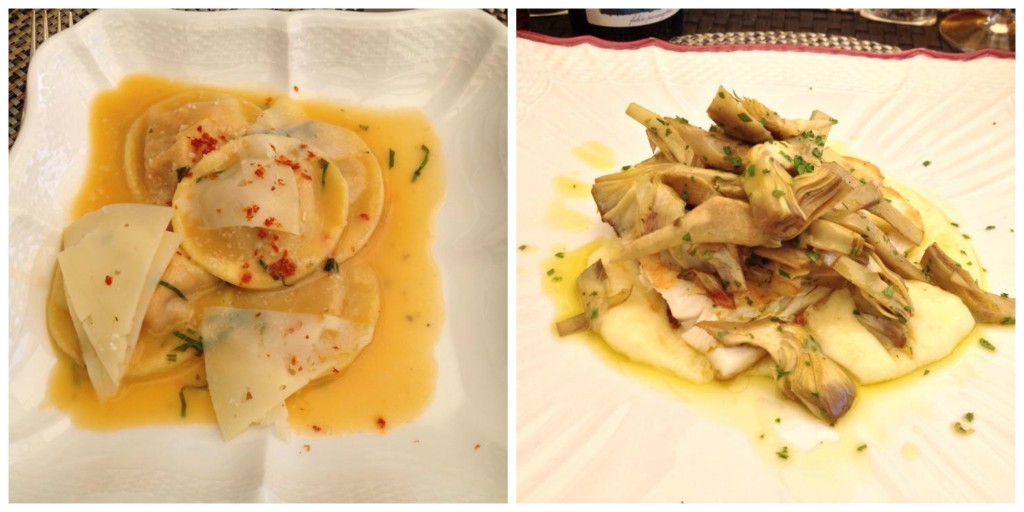 I started with ravioli filled with this famous pappa al pomodoro (classic Florentine dish made with tomatoes, bread, olive oil and spices) which was simply perfect, after I tried the swordfish with artichoke over a bed or potato puree made with extra-virgin olive oil. Delicate and full of flavor, it was also the perfect amount which meant I could try the famous gelato & macarons with a non-guilty consciense. The menu is really interesting, combining macarons of all different flavors with artisan gelato or sorbet with a cost of around 10-12 euros. I tried the vanilla bourbon gelato with a Peruvian chocolate macaron and it was awesome. When I scraped away the final bite, I honestly considered ordering another one or perhaps marrying this dish. I am sure in some country that would be allowed.
Dear dessert: Will you marry me?
I wish this special menu lasted longer than two-weeks but alas, the cart must move on. In the meantime, take it from me – this place is absolutely worth a try for a luxurious lunch. Plus I'm pretty sure we were sitting next to someone famous, because at a certain point someone from the street asked to take a picture with whomever was sitting there. I wanted to ask if he too, was going to try try the gelato and macarons but he seemed pretty busy.
Thank you Hotel Savoy for the wonderful Friday afternoon and especially for this heaven of a dessert which I kind of need to try again before this ends..
Hotel Savoy,  Piazza della Repubblica, 7, 50123 Firenze