Ask me a year ago about Lille, and I probably couldn't have pointed this Northern French city out on a map. The country of France is so vast, that to truly get acquainted with the Francs – the best idea is to visit each region slowly. Since being with my Frenchy, we have visited France a few times, mostly sticking to the south-western region where he's from. While the south of France still has my heart, after our recent adventures in Lille, I have gained a real new respect for this city of the north, also the birthplace of ex-French president Charles de Gaulle.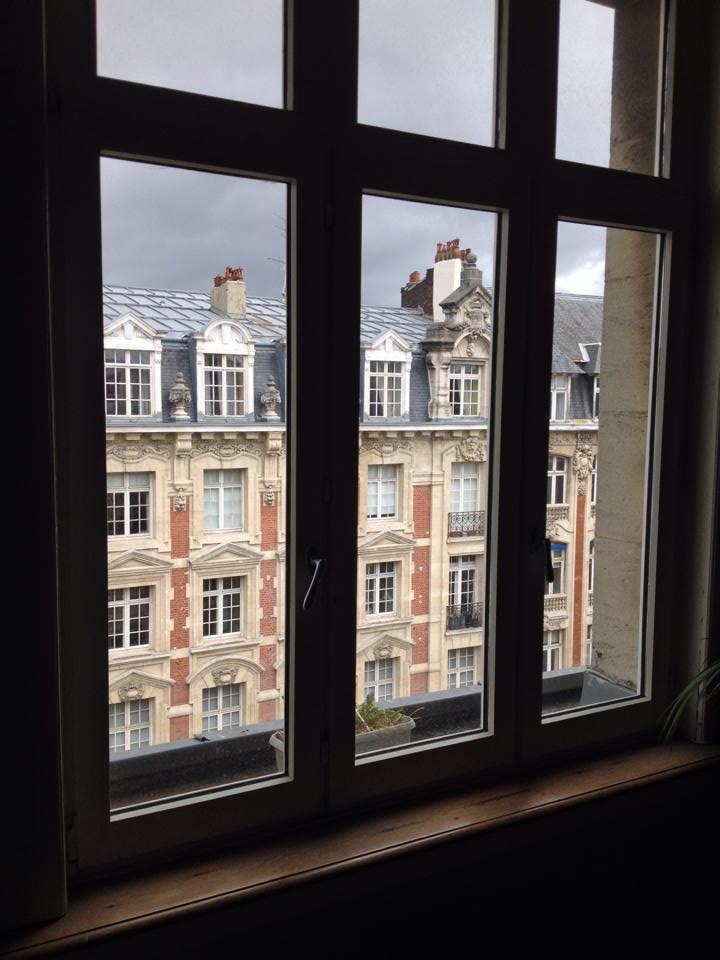 One thing to know about Lille is that it is heavily influenced by its Flemish neighbors, a surprising fact is that it only became French when Louis XiV captured it in 1667. The architecture reveals many stunning 17th and 18th century buildings, I really could not stop snapping pictures – this place has to be a photographers candyland.  Plus the city is very colorful and charming as you stroll down stone-covered streets – the Northerners are a lot nicer than their Parisian counterparts, especially in the Vieux Lille (Old Town).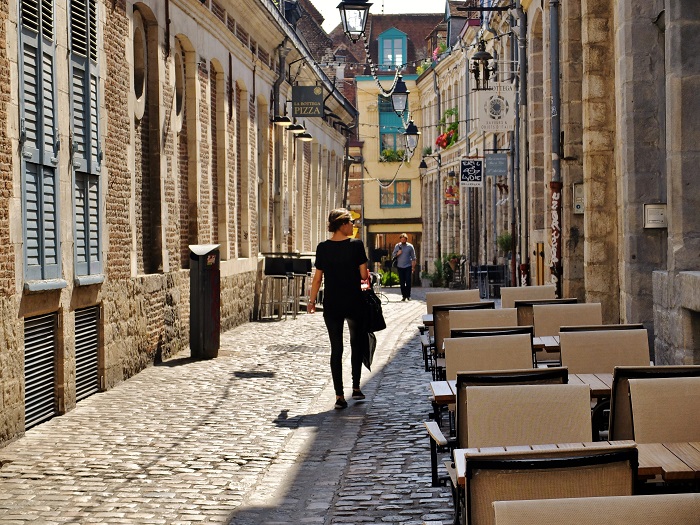 Wandering around The Grand Place Plaza, as central as you can get, was a real treat. While Lille had its fair share of people milling about, it definitely does not have a touristy feel. We didn't get to do as much as would have liked, after all one day is absolutely not enough, walking around town was so much fun and inspired me to give the North a chance.
Inner courtyard of Lille's Fine Art Museum
The city is very walk-able, and they also have a trusty metro system for those who need it. We visited a bit of the surrounding area of town before heading to the historical center (mainly because we just got a little lost). The more we walked, the more I started to fall in love with this town. The tiny streets, so much color and a definite bohemian vibe in the old town.
I have to say that everywhere we turned there was a cute chop, bakery or wine store and the city definitely had a bustling feel about it. People out having coffee, meeting with their friends, I cannot tell you enough how nice to be among that vibe. Both Nico and I are not a fan of cities that seem deserted, you want to at least pretend for a moment that you are one of them after all. Nico dragged me into a cheese shop, which I could smell from outside (this is France). I absolutely loved browsing through all of this wonderful glory, stinky cheese is growing on this Americana and while I might not be able to take them all, I think it's only a matter of time before I do.
This wouldn't be a Girl in Florence travel post without talking about food! We ended up stopping by a cute restaurant with an inner courtyard just off the main piazza in the historical center which was a real find. We wanted to try typical dishes so we ended up ordering a variety of things which apparently scared our waiter. The poor guy kept asking us if we were 'sure' we wanted so much food and even made us order water at a certain point (good man!). It was pretty funny and I appreciate that he was looking out for our health, for certain he thought we were crazy gluttons which I suppose is true. I highly recommend trying dishes from the area, which while heavy, will blow your mind they are so good – this is a great place to make that happen.
We avoided the meat options since we were in such a mood for cheese after visiting the shop above and started with a steaming hot Petit camembert roti (melted camembert with a crusty top which you eat with a spoon and dip your bread into) moving onto a Feuille de brique à la Fourme D'Ambert et tomate (like a flaky pastry filled with cheese) and finally the Welsh des Compagnons served with fries was heaven. Imagine cheddar cheese, melted with beer and bacon and a friend egg on top?! This restaurant was awesome and I highly recommend making this a must-try, also for its charming and quirky ambiance. This is an area known for its fabulous beer so ask for a local brew and you won't be disappointed.
Les Compagnons de la Grappe, 26 Rue Lepelletier, 59000 Lille, France
+33 3 20 21 02 79. FB page
What I would like to see next time
Most definitely the Citadel fortress, which is a 'city within a city, a fortification with five-points and which can be visited via guided tour. Also we didn't get the chance to visit The Palais des Beaux-Arts de Lille, which is one of the largest museums in France with works by Rubens, Van Dyck, Goa and Delacroix among many more. I have heard mixed reviews about the Sunday flea market, Wazemmes, but I would definitely stop by if we were in town again.
Though if you are looking for a truly amazing market to browse, you have to visit the Braderie de Lille (Lille Flea Market) this fall Saturday 6th September, until Sunday 7th September, 2014. Apparently it's madness, 33 hours of non-stop market fun with thousands of exhibitors and apparently since they all sell mussels for hungry market-goers they have a 'unofficial competition' on who can stack the most shells. If anyone reads this posts and goes to this market, please take some pictures for me – I would love to see this!
Now it's your turn fair readers, have you been to the beautiful Lille? What did you think?