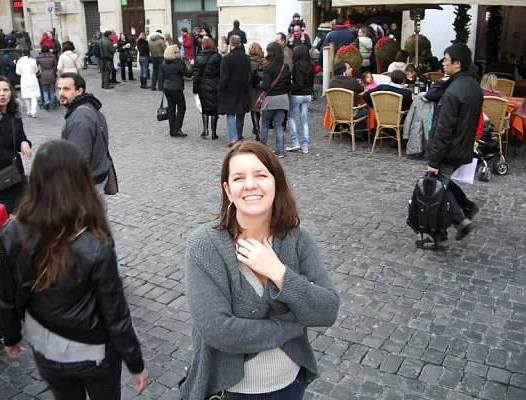 This week we are chatting with Amy Gulick from http://thebittersweetgourmet.com/. I met Amy on a recent blog tour cooking competition in the lovely city of Terni. We instantly clicked, her warm demeanor and love for all things Italy shines through her positive character. She's one of those people you wish you would have known since day one and she has a wonderful blog full of awesome recipes from France to Italy, I literally drool over everything she makes. Her last post on facebook was that of a beautiful spicy herb-marinated grilled eggplant w/ ricotta fresca & purple basil – how can you not appreciate that? Let's get to know Tuscany from her perspective :).
Introducing:
Vital Details:
Name: Amy Gulick
Nationality: American
Profession: Freelance editor and translator
Favorite drink ;-). Dirty Prosecco
Amy! First of all thinks for letting me interview now tell me about yourself 🙂 
Short Bio: Before moving to Italy, I studied English Literature & Composition in California and had planned on pursuing a career in publishing in the San Francisco Bay Area. My year abroad in Florence turned those plans around, however, and at the age of 30 I took a major life detour that led to marrying an Italian and settling down in the Mugello area of Tuscany
How long have you lived in Tuscany and where are you from originally?
I moved here officially in September of 2002, so almost 12 years. I'm from Sacramento, California.
What brought you to Toscana and why did you decide to stay?
When I was close to finishing up an M.A. in Sacramento and preparing (so I thought) to start a career, I realized I had gone through all my twenties and all my college years without having seen much of the world. I craved some kind of international experience. I figured, if I don't do it now before 'real life' sets in, I might never do it. I was not entirely sure what I wanted to do. I considered the Peace Corps, but after attending a few informational meetings realized that was not for me.  I thought about further studies and applying for a Fulbright Scholarship, yet I'd been in school so long already, I was not exactly enthusiastic about pursuing a commitment of that magnitude. I had always been interested in Italy though. I'd been taking Intro-level Italian classes while completing my degree, and in fact it was my Italian prof who suggested I look at my university's program in Florence. So I applied and ended up coming to Florence to study from September 2001 to June 2002. That year, I met my husband, Luca, who is from Borgo San Lorenzo. That's why I stayed.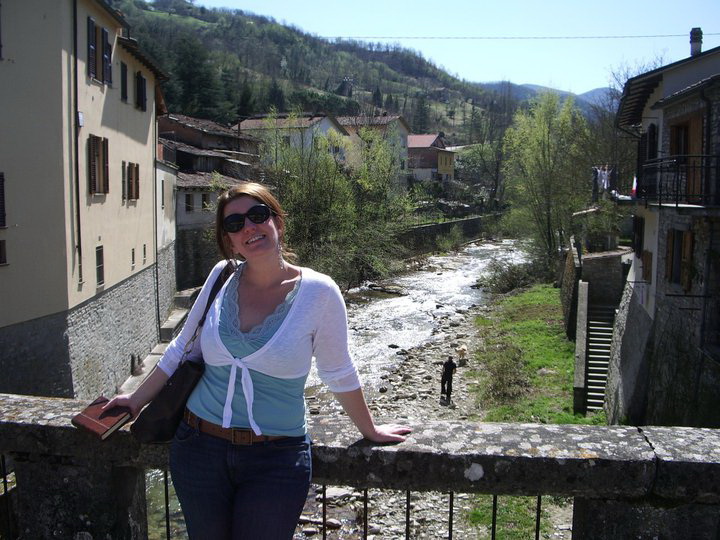 What are you up to in Italy? Work, daily life, passions?
I worked in the Study Abroad sector in Florence for over 10 years, but that has just recently come to an end. Right now I am editing for a local newspaper and doing translation work. I enjoy both, although translating is quite challenging work. I love cooking, writing, gardening, walking in the country, travel. I have lots of time for such pursuits now, something I'm really grateful for.
What annoys you about Tuscany (your city) ? Tell me the truth!
I lived in Florence for one year, and that was plenty! Seriously, although I wouldn't call it my city, I have spent so much time in Florence I suppose it's been like my 'base'  here in Italy. So, with regard to Florence, what annoys me is that Florentines can be extremely rude. People often justify this rudeness by citing the famous 'Florentine character'—widely considered reserved, slow to warm to outsiders—and while that may be a factor, the more obvious reality is that impolite and even ill-mannered behavior is really quite commonplace among Florentines. They know it; they're aware of it. And I sometimes think they simply consider themselves above courtesy. I lost track years ago of how many times a shop-keeper, cashier, waitress, nurse, or bureaucrat was surly with me, made me wait for service while they completed a personal phone call or chat (while eyeing me as if I were the one imposing on them!), or said something completely inappropriate and cheeky to me. It's so not charming. I'll never get used to that.
In Grezzano, the small town outside Florence where I live, what annoys me most is littering and graffiti. On the whole people here respect the rules about waste disposal and the like, but occasionally you see furniture dumped on the side of the road, or an old building all tagged up with spray paint. I know this happens everywhere, but in a small, pretty town like mine, I find it particularly annoying.
Do you think life in Italy is for everyone? Why does it work for you?
Absolutely not. Italy is a huge challenge, socially, culturally, bureaucratically. You've got to have a super thick skin plus a very compelling reason to make a life here. It works for me because I live in this laid-back little village surrounded by lush mountains and fresh air and super nice, gracious people; and because I have Luca, my husband, who helps me with everything. I couldn't 'do' life in Italy without him, for sure. I think that makes a big difference for a lot of foreigners who choose to stay, having a special (native) someone to rely on. 
What advice would you give a person who has just arrived?
Do your research before sitting down for a meal in a restaurant. A lot of people assume that merely being in Italy means great eating experiences are guaranteed. Quite the opposite is true. So many restaurants these days are offering mediocre fare at disproportionate prices. While there's something to be said for being spontaneous, especially while on holiday, stumbling into a place that looks appealing can end up being a total disappointment. Consult a trusted guide-book, talk to your concierge or hosts or any locals you meet to help make choices. Be willing to go out the way to find the right place. There's no greater letdown than a mediocre meal in Italy, but it can be avoided if you do your research and recognize that in Italy there are actually some rather poor cooks among all the great ones.
 'Mediocre fare at disproportionate prices' is my huge pet peeve in Florence, it actually makes me really angry. Three finds/places everyone should know about in Tuscany?
The restaurant La Lombricaia outside Montespertoli
The 'Bagno delle Donne' beach in Talamone
The Tortello Sagra in Grezzano every June. Chat me up if you make it out here! 
Amy Gulick and I at the awesome Chef Academy in Terni, Umbria
I'm coming to that sagra! What's the weirdest thing you have seen/experienced in Italy?
Definitely this: I have never in 12 years stepped in dog poop in Florence. That, and once in the Bologna train station in the middle of the night, my husband and I witnessed a young American woman, barefoot, chase a thief around the station for 15 minutes, shouting at him to give her passport back. She didn't care about her purse—she just wanted her passport—or so she kept screaming at him. She was fast, and she stuck on him like glue; he couldn't find the exit and he just couldn't shake her. Eventually he gave up and tossed her bag at her in defeat, including her passport. Extremely winded but triumphant, she stopped to talk to us for a moment. It was then we noticed that she was wearing a prosthetic leg! We still joke about that guy. The world's lamest pickpocket, we call him, run down and forced to yield by a girl with a prosthetic leg!
That story is honestly just amazing! What can you do here and nowhere else?
I'm going to verge into controversial territory and say that here in Italy you can break the law with near-impunity. Italians are constantly breaking the law. I don't know if this is due to the anarchic Italian character, or if it's an expression of resistance against authority, or a result of a lack of law enforcement resources, or what. Personally I observe a startling amount (and fascinating array) of infractions and violations nearly every time I leave the house: Speeding, of course. Running stop signs. Parking illegally. Driving with your toddler on your lap. Driving with your toddler climbing on the dashboard. Riding a motorcycle without a helmet. Littering or dumping. Not issuing receipts for purchases. Riding the bus without a ticket. Riding the train without a ticket. Selling alcohol or cigarettes to minors. I have no idea how to account for this aspect of life here. Italians just don't like to follow rules, I guess.
Thank you for such an honest answer 'Italians are constantly breaking the law' is something no one says but everyone knows. How did you make friends and assimilate?  
Through work, mostly. I was very lucky to meet many wonderful people when I worked at Syracuse University in Florence, and those people make up my primary circle of friends in Italy still. Most of them are American women who stayed in Italy for reasons similar to mine and so it was very natural forming friendships when you have something as significant in common as trying to make a life here. Plus they are just plain awesome people.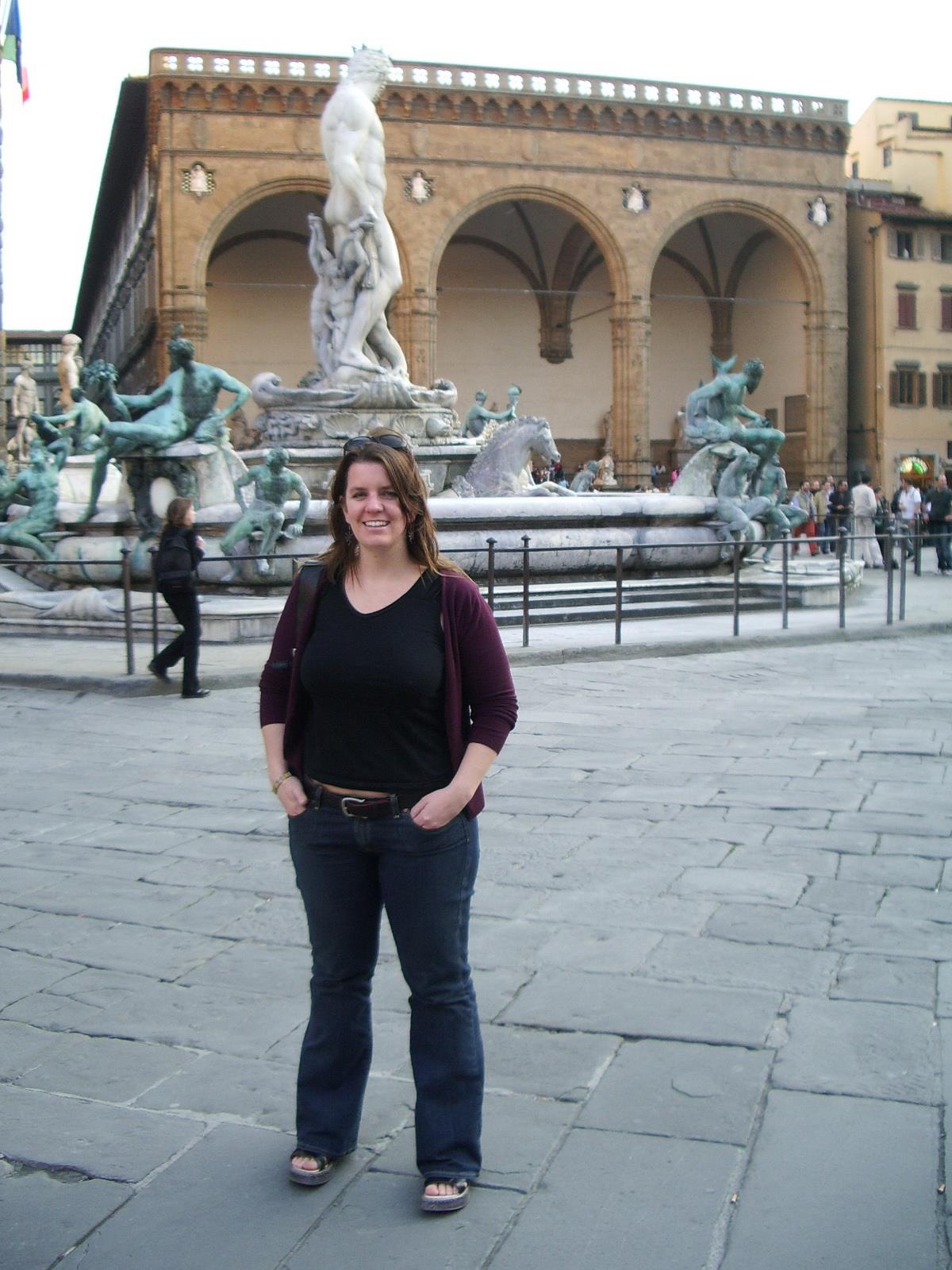 Favorite food. Guacamole.
Guacamole means you and I can be friends for life ;-). If you had to make up a tagline for the city that you truly believe – what would it be?  Be creative!
Florence: 'Come for the art and architecture; leave for the rotten air and surly waiters.'
Grezzano: 'The sleepiest town in Tuscany.'
—
A wonderful interview with a an absolutely delightful person, how can you not like Amy? Follow her at http://platform17.wordpress.com/, and her great foodie blog The Bittersweet Gourmet, twitter or facebook.