Ever have one of those moments that remains burned in your memory for a lifetime? One that started off awkward but then turned into a hilarious inside joke that will probably stand the test of time? That's exactly what this post is about, a really bad lunch that made me remember the town of Abbadia San Salvatore for more reasons than just one, namely for making our small group of blogger/videographer/photographers into a family.
The reason I was there in the first place was as part of a promotional tour for PlayyourTuscany – an awesome initiative that let lucky us explore slow Tuscany – and our mission was to experience some of Tuscany's most famous thermal spas, Abbadia San Salvatore being our next stop after exploring one of my favorite towns Bagno Vignoni.  We had just visited the mine museum of this town, with a powerful history that you can relive through Sophie's fantastic storytelling. As usual during these sorts of tours, by the time lunch rolled around we were all clamoring for some food so we headed to Enoteca Sala Carli in the town center.
The first sign that maybe we weren't in for some a wonderful gastronomic experience is when our driver, who had eaten every other meal with us, surprisingly declined this lunch. Note to self for future tours: the driver always knows best [or worst in this case]. The city with its stone walls and quiet vibe was very pretty and when we came up to the enoteca, we were all excited to see what was on the menu for the day.
When walking in, the first thing the videographers asked Piero, the elegantly dressed older man who was to help us that afternoon, was if they could videotape and photograph the kitchen, a very normal request for tours such as this. Piero who was all smiles and polite gestures answered with a firm 'no' offering no explanation as for why he didn't want us to be back there.
A little taken aback, we were ushered into the back room to a table that had already been prepared for us and a few wine bottles already opened. Piero wanted to make sure to pick out something nice for us, he said with a smile. The room itself was stunning, an air of an aristocratic past with large paintings hung on the walls with lights focusing on each one, a lovely fireplace and old record player. The only thing was that on this particular Saturday, no one else was there to eat.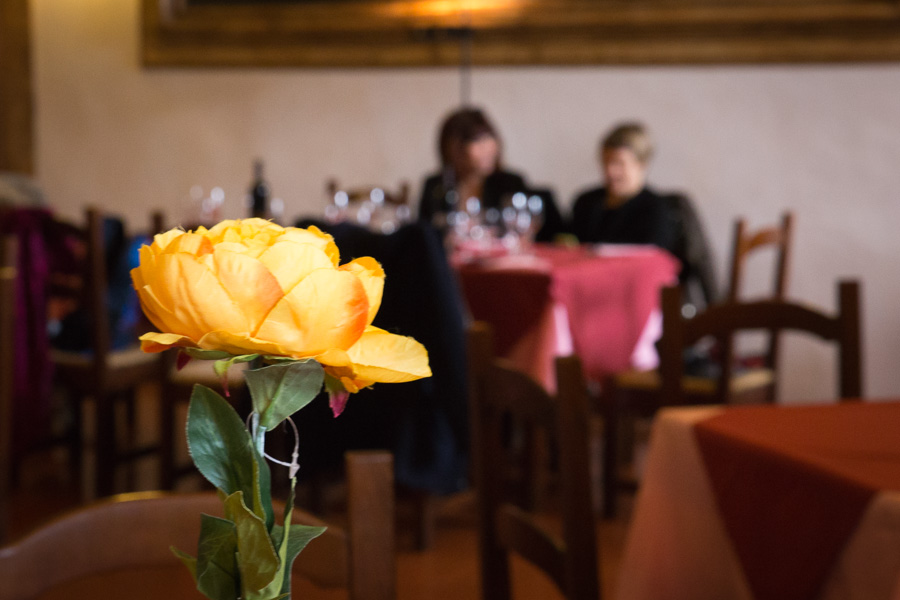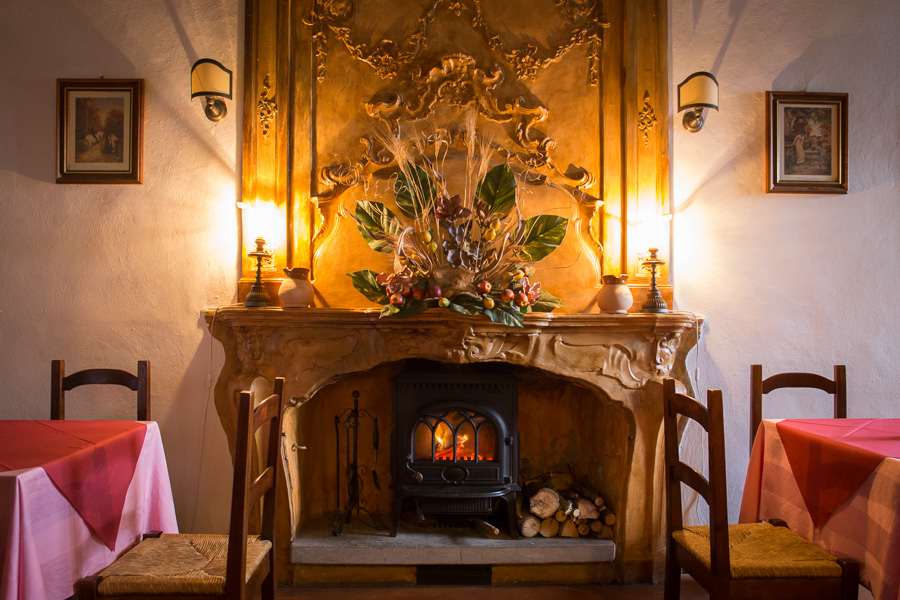 Is the fire microwaved too? Photo by Goncalo Figueiredo
Piero served us some bruschetta [Tuscan toasted bread] with olive oil and salt, a simple starter that we all really enjoyed. Honestly if the EVOO is good, I could probably eat it off a table and be happy. We had a sort of set menu that involved a pasta dish [pici] and a second entrée, trippa [tripe] a Tuscany favorite that might make some squeamish but is quite loved around these parts, some of us instead opted for wild boar and vegetable sides.
The tastiest part of lunch – Photo by Sophie Kruijsdijk
The first sign that something was a little strange [after the refusal to let us see the kitchen] was that we had no water for the table and Piero, which admittedly was working by himself that day, was nowhere to be found. Sophie, being Dutch and always ready to find a solution, went to fetch the water for us and when she came back she plopped the jugs of water on the table and said 'uhhh, I think I know why he didn't want us to see the kitchen'. Pretty much the last thing you really want someone to say as you wait for what seems like a quite hearty meal. When Sophie peeked into the back for the water she discovered that there was in fact NO kitchen, just a fridge and a microwave which Piero was sticking dishes into while he made himself a coffee. Gasp, horror. 
Disclaimer – While I am no strangers to microwaves in kitchens, after all many take-away places have them for a quick heat-up, I have no issue with that as long as it's in plain sight. It was quite shocking that a restaurant that claimed to be whipping up home-cooking was using a microwave to heat up our lunch. ugh. Of course at that moment Piero was done with his coffee and brought us our pici starters which were all a bit soggy and cold, which is what happens when you have to microwave seven plates of pasta. The taste however was not bad, but slightly cold, meat pasta is not really my idea of a good time.
We all wished we could escape at that moment but no, the best was to come. After one of the organizers, Costanza – now my moscow mule side-kick, told Piero that the pasta was cold, he claimed it was because we took too long to eat it but at that point it didn't seem worth arguing about. Obviously during a tour promoting Tuscany, your foodie experiences are usually off-the-chain amazing which made me wonder why the comune of this town would suggest a restaurant that microwaves its meals?
It wasn't over – to diffuse the tension, Piero decided to add some entertainment to the menu and bring out a dusty accordion to play and sing for us [first he claimed to play a Dutch one but it was actually Belgium which I think he thought was the same country].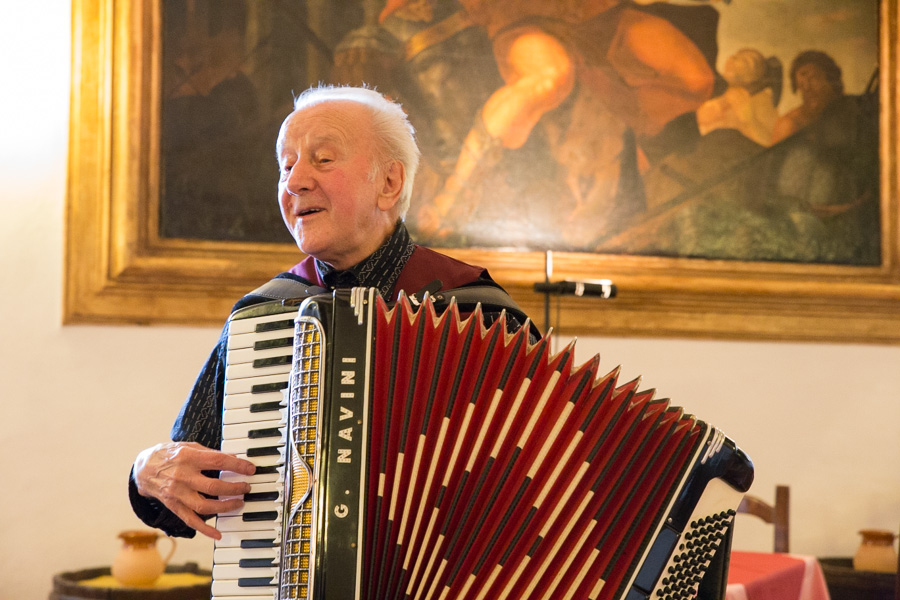 Piero in his element – Photo by Goncalo Figueiredo
Piero definitely had a spring to his step when it came to music and we all welcomed a repose from the meal itself. At a certain point me and Sophie actually got up and started dancing in this grand room since the second course took so long to come #microwaveproblems, we assumed.
The second was just bad on every level, just imagine french fries that had been cooked already but then microwaved a few hours later – let's just say its not pretty and I'd rather not get into too much detail about the rest of the food. On a side note, Sophie also had to bring back a stack of plates that were dirty to add an extra fun tidbit to our afternoon.
The best part? At one point Piero was telling us how the food in the area was all so very fresh and local, at the height of the conversation we heard a long PING* from the fresh, local microwave finishing its work for the day. That basically set us all off into a laughing frenzy, we could not contain ourselves anymore. Dessert was lemon cake out of one of those boxes you get on sale at your local Coop supermarket.
The only one who actually ate anything was our sweet Alessio from Sicily, one of the videographers whose soul belongs to that of Mother Theresa. "I just can't leave all of this food on the table" as he shook his head at our disbelief. Bless Alessio, a true Saint that one! 
The moral of this random tale about where not to eat in the town of Abbadia San Salvatore is that this moment during the tour really brought us together. From then on, PING* jokes were by the minute. 'What is Piero doing right now? PING*', when's the last time someone ate at that restaurant? PING*. I think you guys get the idea.
I have been on my fair share of tours and this group was probably the most connected, it felt like a family after that lunch and since then a few of us in Florence have gotten together to share Piero stories, laugh and eat food from not out of a microwave. Piero in fact was just the right kind of protagonist to do that, a man who had probably been working there since 1955, seen a lot in his life, and wore those same shiny black shoes day after day. And I have to say, his taste in music was on par and he did play a damn good accordion..
PING* If you need a laugh and maybe just want to meet Piero himself, I recommend visiting, not for the food, but for the sheer entertainment. Enoteca Ristorante Sala Carli Via Pinelli, 46 · 53021 Abbadia San Salvatore (Siena)..