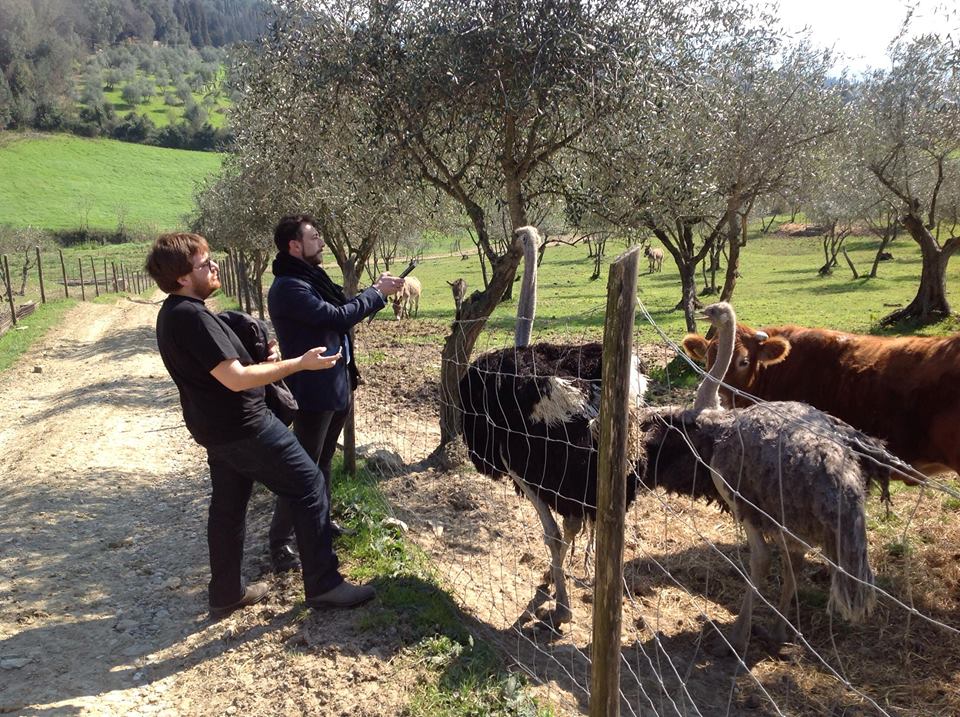 What you should not do when visiting a farm, try to instagram ostriches
If someone would have told me that on a random Wednesday afternoon I would be snacking on delicious extra-virgin olive oil, well that could seem reasonable. On the other hand, if you would have said that I would have been chilling ostriches, baby goats, and off-roaded to a stunning english lake in Tuscany, I probably would have said you were crazy. Yet that's exactly what happened on a recent trip to Fattoria di Maiano, a place where history and quality olive oil is combined with being a real working 100% organic farm in Tuscany. 
I've been here once before to see first-hand how Laudemio (a consortium) makes their trademark quality extra-virgin olive oil during harvest season. I really enjoyed learning how this green-gold is made (they have an impressive 20.000 olive trees on 110 hectares) and it's important to note that the olive oil is bottled upon receipt for those looking to buy the freshest of the fresh.
One of the highlights from this day's tour was trying some of the oil directly from the stainless steel vats – way to make a girl feel special! :). Though it might look like something you would drink like a shot of limoncello, instead the trick is to savor it slowly, letting it slip under your tongue to try the variety of flavours and spiciness of the oil. I know it might seem strange trying olive oil without anything else but it doesn't seem so strange to me after living in Italy for a few years, truth be told it tastes even better than it looks.
Plus the fact that this place is only 5 kilometers from Florence makes it a very attractive place to revisit when family members  are friends are in town, especially those with kids. You have all the elements of a great day out near Florence – beautiful pool, cheeky farm animals, a great restaurant with a view, historic villa -just ya know, Tuscany at your doorstep.
The fattoria itself dates back to the 15th century
We actually got the chance to 'off road' in a huge landy down to the area where the lake and animals were located. Being a Texan, I truly can appreciate a huge 4X4 and the feeling of being a bit 'into the wild' for once.
"Laghetto delle Colonne" once sketched by Queen Victoria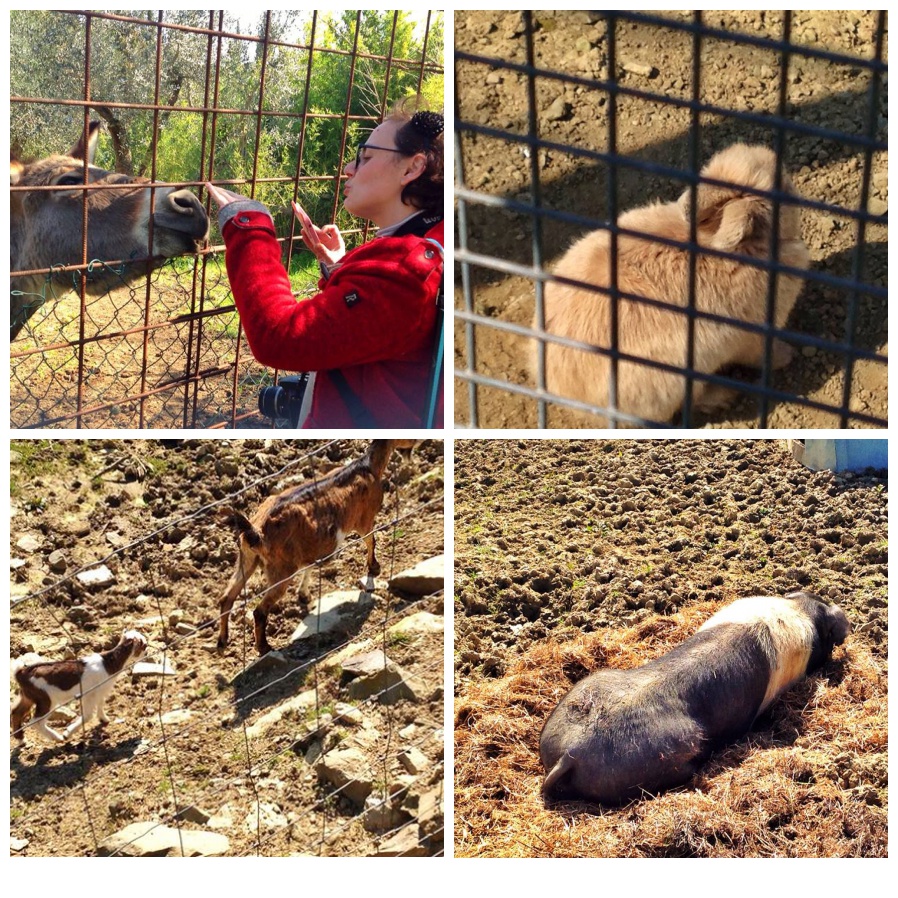 Animals Galore – including 'Donkey whisperer blogger Valentina
Anyone could have been won over seeing baby goats scamper after their mothers and cute bunnies hiding under logs. And the ostriches were quite a sight to see even if for some reason they kind of freak me out. calculating, those birds..
Of course we worked up quite the appetite, we headed over to Lo Spaccio, the restaurant with a view located on-site. We snacked on crostini with a tomato sauce and fresh cheeses with honey, everything was very good. Though I do believe their version of 'light lunch' and mine are a little different, I could have happily had a pasta dish after – that's the golosa in me ;-).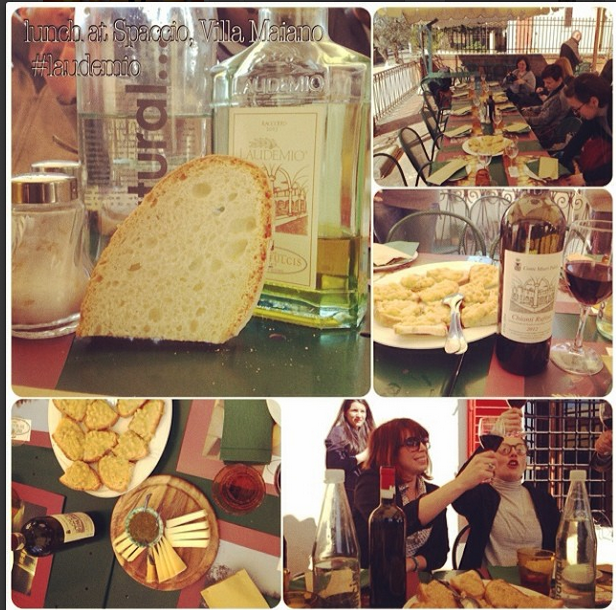 Want to visit the Fattoria di Maiano? I recommend it  for families or anyone because of the vicinity to Florence plus they also have a plethora of activities, a teaching farm, art and restoration classes, Villa di Maiano "room with a view" and Olive Mill guided tours, tastings tours of Tuscany, a night safari and more. More info here. 
We then piled into our car and headed to the Frantoio di Santa Tea – a farm owned by the Gonnelli family that has been making extra virgin olive oil since 1585 (previously owned by monks)!
I have to give our awesome driver a mention, he was dressed like we were going to a Pitti Uomo fashion show, not getting our shoes dirty in wet olive oil groves, well this is Italy after all. Gotta keep that style going.. 
At Frantoio di Santa Tea, they have 30.000 olive trees around Tuscany of different varieties, which produce 11 different olive oil flavours, from intensely fruity types to delicate sweet ones.
A place that is not an aesthetic dream but instead represents a working olive oil processing farm that takes their job quite seriously. We went out to the fields where we spotted men trimming the olive trees and they explained the recent rules imposing a higher level of safety standards during olive oil harvesting. They showed us some of the machinery used in ancient times to make olive oil which was very interesting. It's especially interesting to see the evolution that the process of producing extra virgin olive oil actually undergoes (or how much it hasn't really changed – just that technology has helped quite a bit) and it helped that they were knowledgeable and passionate!
Obviously after seeing and hearing all things olive oil for an afternoon, I picked up some bottles for myself and for my family for upcoming trip back to the USA for my brother's wedding. It's so much cheaper to buy it direct from producers and you know that what you are getting is top notch, especially if it boasts the Laudemio stamp. Needless to say, we are enjoying the fruits of their labor at my house 🙂
Gonnelli 1585 Srl
Via E. de Nicola, 41- Loc. Santa Tea 50066 – Reggello (FI)
Tel. 055.868117 Fax 055.869142
info@gonnelli1585.it