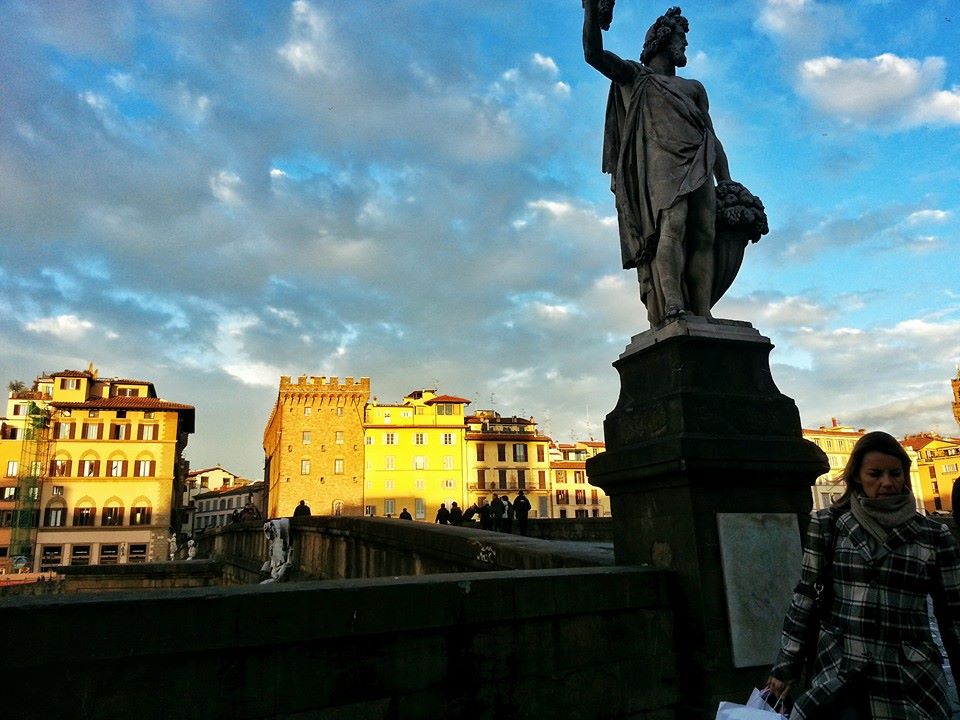 For some reason, January has creeped up on me without any warning. One second we were departing from the Florence Peretola airport headed to France for Christmas and then suddenly, we were in Lisbon, Portugal bringing in the new year with plenty of Rose and now, I'm back in my chilly apartment in Florence. Of course, despite a bit of post-vacation depression, Florence is as beautiful as ever. Chilly sure, but also sunny and full of people taking walks in the center and downing cup after cup of coffee and hot chocolate.
We have the holiday of Befana, today on the 6th of January which means work can be happily postponed until tomorrow. Unless you work online like me ;-). Without further ado – check out my top list of January events around town this month and remember to check back every so often as I add events throughout the month as I find out about them. 2014 is going to be a good year!
– Here is the link to the official list of January events by the Comune di Firenze (in Italian), or check out this link from The Florentine english newspaper, where you can see whats on at the cinema, exhibits, events for Children and much more.
Fashion: Pitti Uomo. January 7-10. Are you a man who loves fashion and love the latest trends in male fashion trends? Look no further than the famous annual fashion fair that is Pitti Uomo this year dedicated to Rock Me Pitti. While events and parties are quite exclusive and are strictly invitation only, you can expect a whole lot of attractive men in all sorts of getups walking around Florence so sneak a few shots on your camera phones, you know I will! Here is a full list of events. You won't want to miss this special party featuring famous musical artists at the Hotel Il Salviatino, For info and reservations, email : emanuele.bercigli@femhls.com
Fashion Kids: Pitti Bimbo. January 16-18 (Fortezza di Basso & around Florence). After Pitti Uomo, there is the subsequent 'pitti bimbo' celebrating kids fashion and probably a much more relaxed atmosphere. Full list of events is here.
Fun: Firenze Winter park, until March (along the arno river, lungarno also moro- obihall). I mentioned this in my December list of events but I also think this is an awesome option for lazy days in january as well. You can snow tube and ice skate, plus its reachable by an ATAF public local bus. Rent ice-skates for 2 euros and the entrance fee is 6 euros just for ice-skating. One trip on the snow tube cost 1 euro, they do have special packages for families, so you can browse the prices here.
Fresco workshop + Brancacci Chapel – Saturday, January 25 at 10am. The Florentine has teamed up with Accademia d'Arte San Giovanni Firenze to offer their readers an incredibly unique experience via a two-hour fresco workshop (plus you get to take some artwork home!) and lunch at a typical Tuscan trattoria for 40 euros total! Honestly I am super excited to attend this and since only 15 people can attend, if you also want to go – Reserve now by emailing Alexandra Lawrence at a.lawrence@theflorentine.net. See you there!
Fashion: Vintage Selection. January 22-26th – Stazione Leopolda. Our favorite vintage fair is back with this year's theme being retrogaming so trendy gamers – stay tuned for this year's event! Along with a unique vintage tour, look out for the exhibition "THE GARBAGE REVOLUTION" featuring artwork using trash and saved objects. For he first time, there is a 'Vintage food & beverage' section examining products that have lasted the test of time.
Party! Ceres 3D tour. Ceres beer company is hosting a FREE and fun party at Saschall Obihall on Saturday, January 25th. It's free to go and all you have to do is 'like' their Facebook page. Dj's RESET! e Frank Sent Us will be mixing tunes and they even have a free shuttle bus to the station. How cool is that?Times.
Bus from the Piazza Della Stazione direct to the all' OBI Hall
Departing at:
22.30 / 22.45/ 23.00 / 23.15 / 23.30 / 23.45Returning
Bus from the Obi Hall to the Stazione
Departing at:
2:30am – 6am, one ever 15 minutes