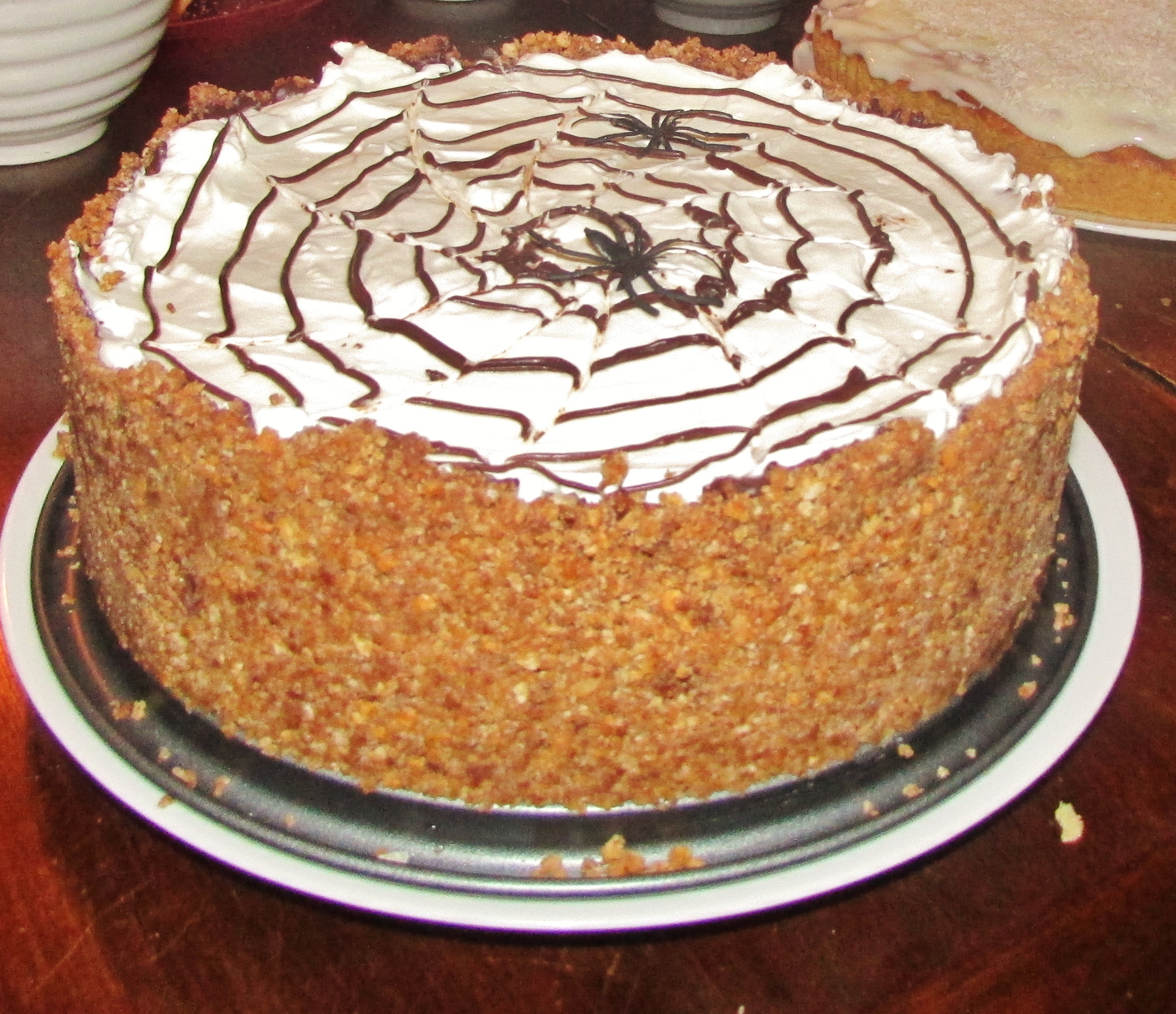 Some people choose the people they live with at random, but when I was looking for someone to share my little piece of heaven in the oltrarno, I asked a very important question – Do you like to cook. Not only did I get a yes, but an 'I love to bake' which is a skill that I myself, have yet to master. Needless to say, you can guess who won the roomie spot! As a tribute to her, I want to share an awesome recipe that she made this past Halloween for a little festa we had at our house. Thank you, Jessica!
Chocolate Cheesecake (Halloween style) by Jessica Marantelli
Crust
500g choc ripple biscuits, crushed (you can't buy these in Italy– instead use latte biscuits and 100g of melted dark chocolate) (as for the biscuits- put them in a food processor or just put them in a doubled zip lock bag and run a rolling pin over them).
185g unsalted butter, melted
Filling
1kg cream cheese, softened
1 1/2 cups caster sugar (This is very fine white sugar but not zucchero di velo. In Italy, I either grind my white sugar or run it through a sieve to try to make it finer).
1/4 cup lemon juice ( I prefer lime juice)
1 1/2 cups thickened cream
Preperation
Step 1
Make Crust: Combine biscuit, butter, and chocolate in a bowl (Mixture should cling together). Press mixture over the base and 6cm up the side of a 6.5cm-deep, 25cm round springform pan. Cover. Refrigerate.
Step 2
Make Ganache: Place chocolate and cream in a heavy bottom saucepan and slowly melt until smooth, stirring with a metal spoon halfway through cooking. Reserve 2 tablespoons of ganache for decorating. Spread remaining ganache over base and side of crust. Cover. Refrigerate.
Step 3
Make Filling: Using an electric mixer, beat cream cheese on medium speed for 3 minutes or until fluffy. Reduce speed to low. Gradually beat in sugar until combined. Increase speed to medium-high. Beat for 3 minutes or until very fluffy. Add lemon juice. Beat until combined. Whisk the cream until medium-stiff peaks form. Fold in the whipped cream gently until combined but not flat. Spoon filling into prepared crust, spreading evenly.
Step 4
Heat remaining ganache on low heat or in the microwave on high for 10 seconds or until ganache is smooth but still thick. Transfer to a snap-lock bag. Snip 1mm off 1 corner. Starting from the center of the cheesecake, pipe a spiral over the top of the mixture, spacing lines about 1.5cm apart. Run the tip of a small knife, curving slightly, from the center of the spiral to the outside edge. Wipe the knife clean. Repeat every 2cm to 3cm to form a spider web.
Step 5
Cover, being careful not to touch the top of the cheesecake. Freeze for 4 hours or leave in the fridge overnight, if time permits. Remove cheesecake from pan. Decorate with spiders. Serve.
You better believe we ate every last bite! We highly recommend hiding this cake from your guests so that you can later attack at various hours in the night when you think no one notices 😉