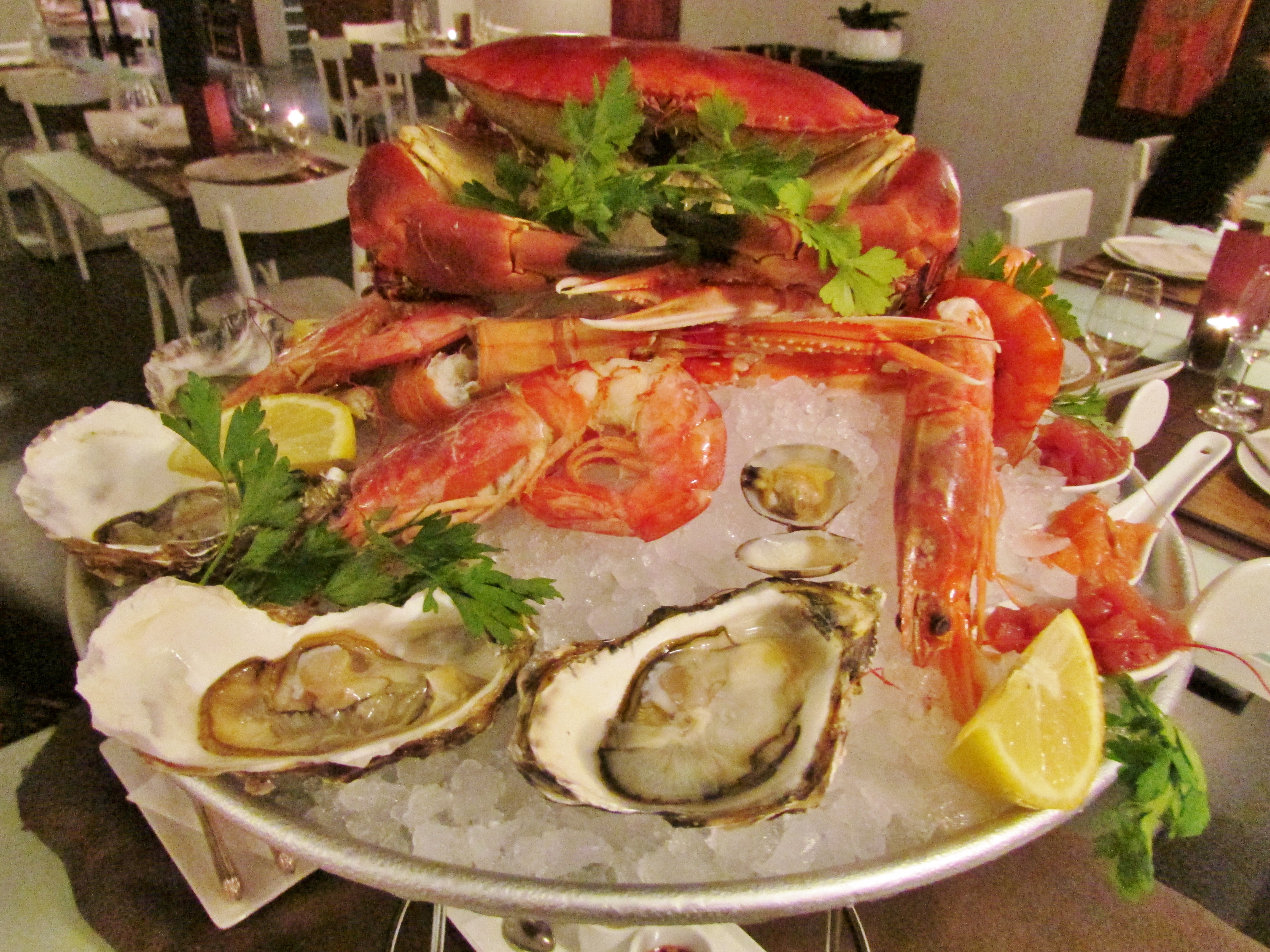 Sometimes when I have wolfed down too many plates of ribollita or baccalà alla livornese, I crave something a little lighter. There is so much variety when it comes to delicious food in any season in and around this city, finding a seafood restaurant isn't always that easy. I can tell you where to eat a crispy thin Tuscan pizza or a heartier neapolitan with nduja but fresh fish? Hmmm, that requires a bit more thought.
Which is why when I got the opportunity to try this seafood restaurant located just a 5 minute walk from my house, I jumped at it. Unbeknownst to me, Bistro del Mare has been open for three years and yet I probably have walked by this place along the lungarno a million times without ever peeking in.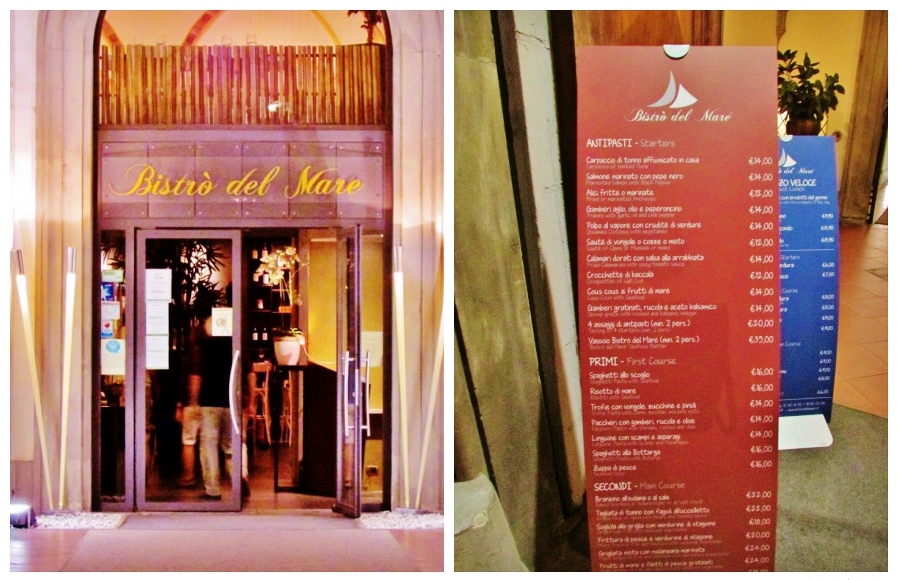 While the entrance can seem somewhat intimidating, which is always the case when the actual door of the restaurant is a bit more hidden from the entryway – the interior is nicely lit, romantic and inviting. I snooped around and spotted a pretty bar area where you can get a drink before dinner.
Back to the meat I mean um ,er fish of my main discussion, we started our meal with two pasta dishes. The famous pasta allo scoglio (shellfish pasta) and trofie pasta with Vongole, Zucchine e Pinoli (small clams, zucchini and pinoli nuts). They were both delicious and perfectly dressed with just the right amount of salt. I really love trofie-shaped pasta in general and this dish was no exception.Their primi range from 14 to 16 euros a dish.
We opted to share the massive plate of seafood pictured above after I spied a couple at a nearby table order it. My food jealousy required that we try it as well. It reminded me of the kind of plate that high-flying businessmen in the 1980's ordered while sipping martinis and making deals (we preferred white wine). I wish I could remember what this huge plate was named – but since my way of ordering was by pointing at the next table, the name will forever (probably not forever actually) remain a mystery.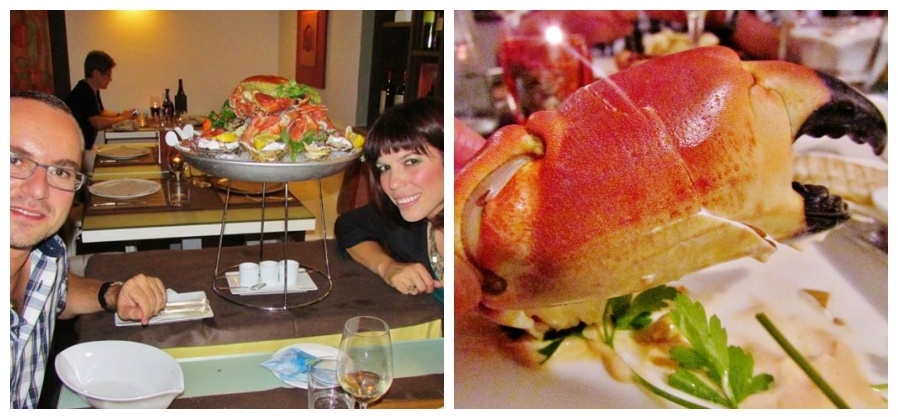 The fish was spectacular. I enjoyed the oysters here even more than the ones we tried in Sardinia which is a bit surprising. The crab was already partly pulled apart and its meat, tender and sweet. It came with a variety of sauces, olive oil & lemon, a vinegar onion dip, plus your standard mayonnaise. There was small spoonfuls of salmon and tuna tartar which was really nice and flavorful. This is the kind of fish plate that I dream about (besides a crispy tempura or fish-filled coconut curry).
As you can imagine, this girl always leaves room for dessert and the ones listed on the menu looked particularly delightful. For once I skipped the cheesecake and went for cremino al doppio cioccolato al profumo di lavanda e sbrisolona ai pistacchi (isn't that a mouthful!) while my partner in crime went for the chocolate souffle lava cake. Both were absolutely the perfect ending to a great meal, or accompanied with an after dinner vino passito (dessert wine) and maybe a shot of lemoncello.
Don't judge me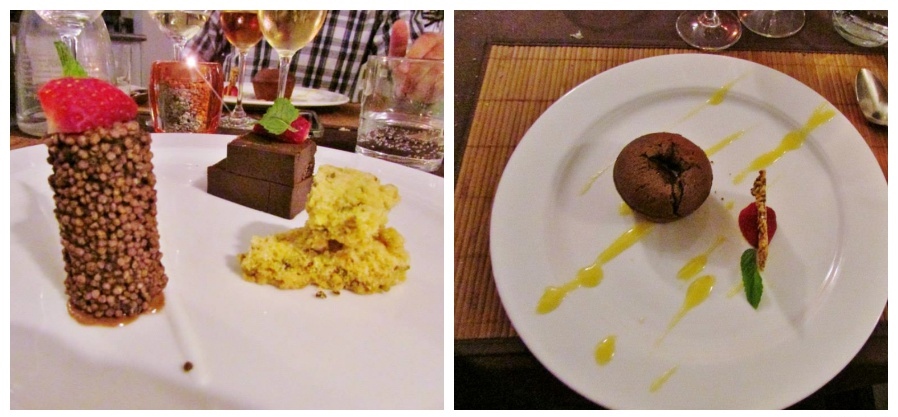 Afterwards we both needed a walk so we first checked out their wine cantina where they host special events and dinners among the bottles of wine. We even stopped in the kitchen which was basically a first for me. I must say that chefs are always an interesting bunch so we said our ciao's and grazie's and I was surprised at how utterly big it was. You likely could have landed a small helicopter in there.
A memorable meal to say the least and I will certainly be back once my seafood craving kicks into overtime. If you go, ask to sit on the panoramic inside terrace area which is very pretty. I thought the prices were very honest considering the quality of the food and wine and also the location itself. Their menu isn't too vast (which is always a positive sign in my book) which means they can focus on the dishes they offer with more finesse than a menu bursting at the seams.
Bon Appétit 
Lungarno Corsini, 4 50123 Florence, Italy
+39 055 239 9224