Sweet Boston, you were good to me in every possible way. Well to be frank, I owe everything to my friend Erin and the beautiful setting of New England itself. I already touched on my local food favorites in this town but now the city itself is the center of my attention. The best way I can describe this city is through photography. Luckily both me and my friend are both amateur paparazzi and truth be told I probably took too many photos — but when your inspired, your inspired.
Enjoy this photo diary from my May 2013 trip to 'Bawstun'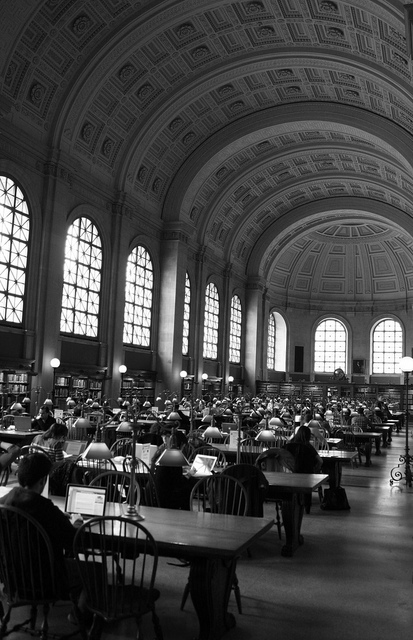 Where shall we start? The Boston Public Library was a great first stop, why? Perhaps because its the first publicly supported municipal library in the United States, the first large library open to the public in the United States, and the first public library to allow people to borrow books and other materials and take them home to read and use. Not to mention that it's stunningly beautiful and this book nerd appreciates a good read!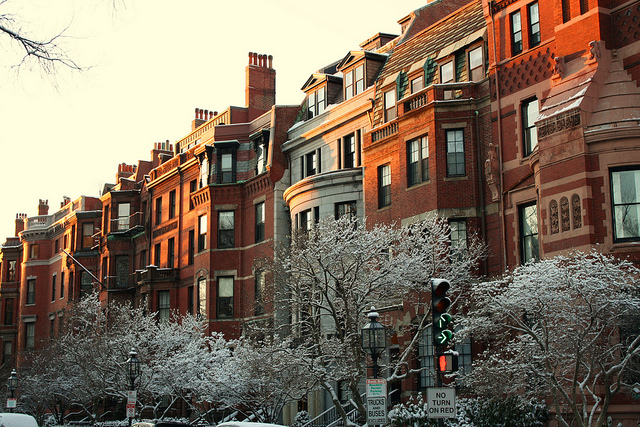 Back Bay – when you think Victorian brownstones, this is where you want to go. I soaked up the rich 19th century urban design. Welcome to the world of rich people and cool hat shops. If anyone is looking to give away a brownstone in Back Bay — you know who to call!
Copley Square, named for painter John Singleton Copley. Iconic place in the center of Boston in the back Bay area and home to  famous places such as the Boston Public Library and also close to where the bombs went off during the Boston marathon. I made it a point to visit the memorial housed in the square which honestly was absolutely a humbling experience. The area was covered with running shoes, toys, and touching notes from people all over the world. Boston is in the minds and hearts of many, that much is true.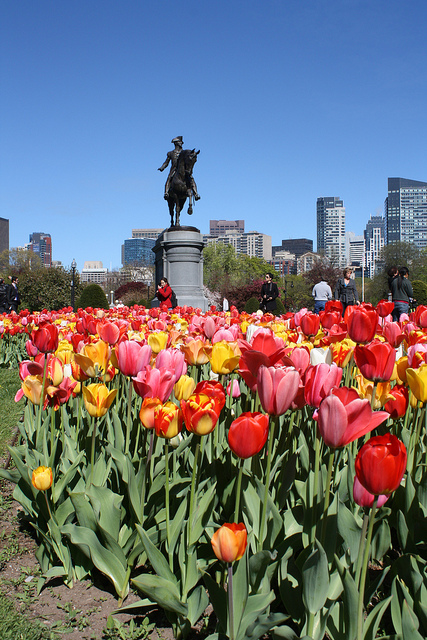 Of course we stopped in the public gardens adjacent to Boston commons, this 24 acre area was first established in the 1800's as the first botanical garden in the U.S.A.  Robert McCloskey wrote Make Way for Ducklings, a children's story about a family of ducks and their journey to the Public Garden. Beautiful as can be in pleasant May — I could easily pass hours people watching and reading in this park.
Don't forget to check out one of the most prestigious universities in the world – Harvard! We ended up sneaking inside in one of the classrooms to snoop around and have a little fun writing on the blackboard. Because why not. 

Don't forget about MIT, who didn't secretly want to meet a Matt Damon- Good Will Hunting doppleganger?
The Green Monster or Fenway park was a must-see for this girl. Fenway has served as the home of the Boston Red Sox baseball team since 1912 and is the oldest baseball stadium in use! I absolutely adore all of the historical elements of this city and just learning a little about the history of each place is pretty awesome.
This is such a small sampling of all the wonderful aspects of this city. I was only there for five days and wished I could have stayed much longer. There is a very real vivacity to this place and the people who choose to live here. I really felt like this was a city that I could live in which is something I rarely say nowadays.
Looking for free fun things to do here? Check out this guide by National Geographic with some great suggestions to get the most out of your stay without spending a penny!
Coming soon – a post about nearby Concord, a suburb of Boston where we spent a lot of time exploring historical trails, buildings and.. eating ice cream on a tractor.