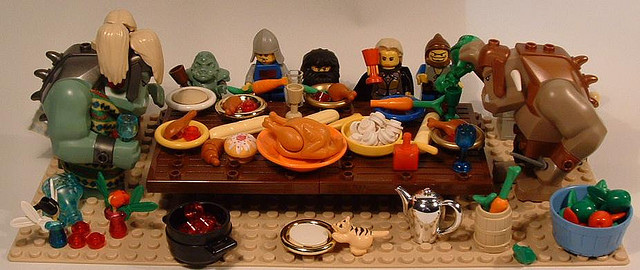 Thanksgiving is back again this Thursday the 22nd  (unless your Canadian in which you already had your turkey day) and all of the Americans in Florence are stocking up on puree pumpkin, scouring the market for turkeys, and wondering if Italians will understand what the hell yams are. Obviously not everyone bothers to celebrate but for those who like a little tradition abroad, never fear as usual Firenze is more than willing to provide the experience for you – at a price.
For a little history on this special day, here is the wiki link. I am much to lazy to explain it now but basically it all boils down to being thankful for a good harvest  and celebrating with a huge feast. In the early days of the Americas – a good harvest meant the difference between life and death which we now overcompensate by having 100 different types of diet coke. kidding. Traditional Thanksgiving dinner normally includes a huge roasted oven-roasted turkey, mashed potatoes with gravy, dinner rolls, candied yams, green bean casserole, cranberry sauce and pumpkin or apple pie. After scoffing down this huge meal you are supposed to mimic one my favorite – and highly underrated animals of our time – the sloth. I highly recommend wearing sweatpants or pants that allow for a little stretch ;).
If you are making thanksgiving dinner for your Italian friends in Florence, consider taking this handy New York Times "thanksgiving -erator". They will of course accept the invitation – since what Italiano (or anyone) would turn down a free meal.
Still uncertain about what kind of menu to plan for Thanksgiving? Choose from one of the following themes. After answering a few simple questions about your preferences regarding main dishes, sides, desserts and drinks, your menu will be planned for you.
It is pretty awesome. I got the EXTREMIST MENU with a stuffing recipe including Sourdough Dressing With Truffle Butter and Candied Chestnuts. um yes please!
Kudos to you if you are making your own thanksgiving dinner – I have done it a few times but t-mans mom freaked out at me using the oven for 7 hours so for the past few years it has been a more casual pot-luck affair. This year I plan to spend it with a few friends and perhaps indulge in a catered-menu from Mama's Bakery & American Salad co. What is this you wonder? perfect time to get into the "meat & potatoes" section of my post – love the pun?
A little help planning your 2012 thanksgiving in Florence. And no – not one of them will include either a beer-can chicken or involve someone's balcony erupting in flames after a failed trash can deep-fry attempt. so enjoy and gobble gobble!
DELIVERY:  Mama's Bakery & the American Salad co. are offering special "thanksgiving kits" that include all of the traditional favorites  – turkey – sweet potatoes – gravy etc. Tell them the number of people and they will prepare your thanksgiving dinner. Doesn't get much better than that. For skeptics out there – I have had food from both companies and they both rock. In fact, they are probably the only two places I would actually trust for a take-away thanksgiving feast. Rumor has it that the price is around 20 euros p/p (depends what you get). More deets here and make sure to put in your order by Monday, November 19th.
RESTAURANT: Hard Rock Cafe Florence – Piazza della Repubblica. Obviously you know they were going to organize something and for a reasonable price of 28 euros, you will get corn chowder soup, turkey and veg, pumpkin pie or apple cobbler and sodas.
DINNER: Thanksgiving dinner with the Tuscan American Association, at the Palagio di Parte Guelfa, 8.30pm, including plenty of vegetarian options. Reserve a place by calling 338/7078614.
RESTAURANT: The Diner – via dell'acqua. This popular student hangout is offering a yummy thanksgiving dinner (make your reservations ASAP because this will get sold out quick) for 25 euros a person. Tortelli stuffed with pumpkin (yum), roast turkey and veg, dessert & wine, water. Plus they just renovated their location so it may just be the perfect chance to visit. Facebook event page here. Two time slots : 7pm & 9pm.
RESTAURANT: Four Seasons on Borgo Pinti. Also famous for their annual Thanksgiving feast, this is going to be the priciest option but of course you can expect a lot of glitz and glam with your dinner. Just to give you a 'taste' of what kind of menu this is, this is just one of the foodie treats offered.  Topinambur flan with truffle fondue and quail eggs. Time: 8.30 pm, Il Palagio Restaurant, Euro 95.00 per person (wines not included). For information and reservations: (+39) 055.2626450
RESTAURANT: Ristorante Accademia: Piazza San Marco. While I can't vouch for its authenticity – I imagine if they have been doing this for twelve years, something must be right. 35 euros a person. One awesome feature  – Pumpkin soup with – cornbread. yum. 
RESTAURANT: Olio & Convivium. Via S. Spirito. This awesome wine-bar/restaurant is offering a thanksgiving dinner for 40 euros a person. You can reserve by calling +39/0552658198. The food is really good here so I imagine this will be too.
RESTAURANT: The Clubhouse – Via de' Ginori 6r. I tried to look for the details of their thanksgiving dinner but couldn't find it but they for sure are having one on the 22nd. Check their facebook page for more details. 

RESTAURANT: L'Osteria di Giovanni – via del moro 22. is hosting their dinner and you can see the full menu here. €40 gets you turkey with cranberry stuffing,  a tasty sounding risotto with chestnut & leeks, cornbread (my favorite), house wine, water and more.
CHARITY CONCERT/DINNER: Robert F. Kennedy center – weekend. The Robert F. Kennedy Center for Justice and Human Rights in Europehas organized the first ever "RFK Thanksgiving Weekend" in Florence, Tuscany on November 22-25, 2012. This is so out of my price range but if I could afford it, you better believe I would go!Participants of the "RFK Thanksgiving Weekend" will have the opportunity to taste wines and local food in Chianti, take tours of Florence and Tuscany in a historic Fiat 500, visit the Basilica of Santa Croce, take part in unique cooking classes with famous chefs, and finally, have the chance to attend a concert at the Maggio Musicale Fiorentino Orchestra, directed by Zubin Mehta.Special guests of the evening will be Kerry Kennedy, President of the RFK Center and Honorary President of the RFK Europe, and RFK Speak Truth To Power defender Marina Pisklakova of Russia.After the opera, a gala dinner inside the Piccolo Teatro del Maggio Musicale Fiorentino will be held to raise funds for the work of the RFK Europe and the Maggio Musicale Fiorentino. During the dinner, there will be a "win win" lottery and an auction of the photographic exhibition "Presidents" by Harry Benson.To attend the concert and gala dinner, please register by filling out the registration formand send it by email to [email protected] or by fax to 39.055.5383602.

The Florentine wrote an article about thanksgiving in Florence, check it out here.