I didn't want to include this with my last post about Berlin because I felt it worthy of its own spotlight. After all, I have never even heard of this place before going to Berlin and I feel like many people like myself, want a little diversion  from city traveling and get out to the countryside for at least one afternoon.
Since we were in Berlin for a full week, which honestly you really need at least that to get a good idea of the city, we wanted to daytrip it up.  I originally wanted to go to Poland which I heard was close but after speaking to my Berliner friend, she recommended Potsdam instead which was close enough but very different.
To get there : We purchased the 5 day Berlin welcome card which included the travel to Potsdam. We only needed the 5 day one because we arrived around 6pm the first day and got metro tickets to the apartment and thats it and than of course the last day , the same deal since we left in the morning. ****warning, be careful of people hanging out by the metro ticket machines by the airport when you arrive because its very common for people to try and sell you used tickets that they claim are still valid. Just say no, and get your own, remember its Germany and you don't want to get caught with an unvalid ticket. Also when we were going back to the airport to leave, someone asked for our tickets and I glared at them and claimed that I was in the same business and  wanted to sell my OWN reused tickets..lol..
If you want to go to Potsdam just make sure and get the welcome card with the potsdam option ( includes zones ABC) , its a little more.. and btw the card is valid for all methods of travel.. bus, tram, subway..  You need to travel to the Potsdam Hauptbahnhof, which is the final stop for S-Bahn S7 and also served by Regionalexpress RE1 towards Brandenburg or Magdeburg. From the most centrally located station, Friedrichstrasse, it takes 42 min to Potsdam Hbf by S7 and 30 min by RE1. From the central station its very easy to get to the center walking or by tram. The station itself is very pretty.
First, what is Potsdam? I didn't know either but its the capital of German federal state of Brandenburg and borders Berlin. The town has population of approx. 146,500. It is widely known for its castles and landscape as a World Heritage Site. Potsdam is more than 1000 years old. Many historic buildings are under re-construction after World War II and the period of the GDR (wikitravel).
If you go in the winter months like we did, try and get to Potsdam earlier rather than later since the sun sets around 4pm in the colder months. I would say getting there by at least 10am which is a good idea if you want to see the palaces and browse around the center. We got lucky and had sunny day and were able to catch the electric tram and visit the famous palaces and gardens surrounding the city. It was to me the German Versailles  ( and apparently has the same status as Windsor has to Britain) and we just wandering around enjoying the sites.  Potsdam was the residence of the Prussian kings and German Kaisers, until 1918. Around the city there are a series of interconnected lakes and unique cultural landmarks, in particular the parks and palaces of Sanssouci, the largest World Heritage Site in Germany.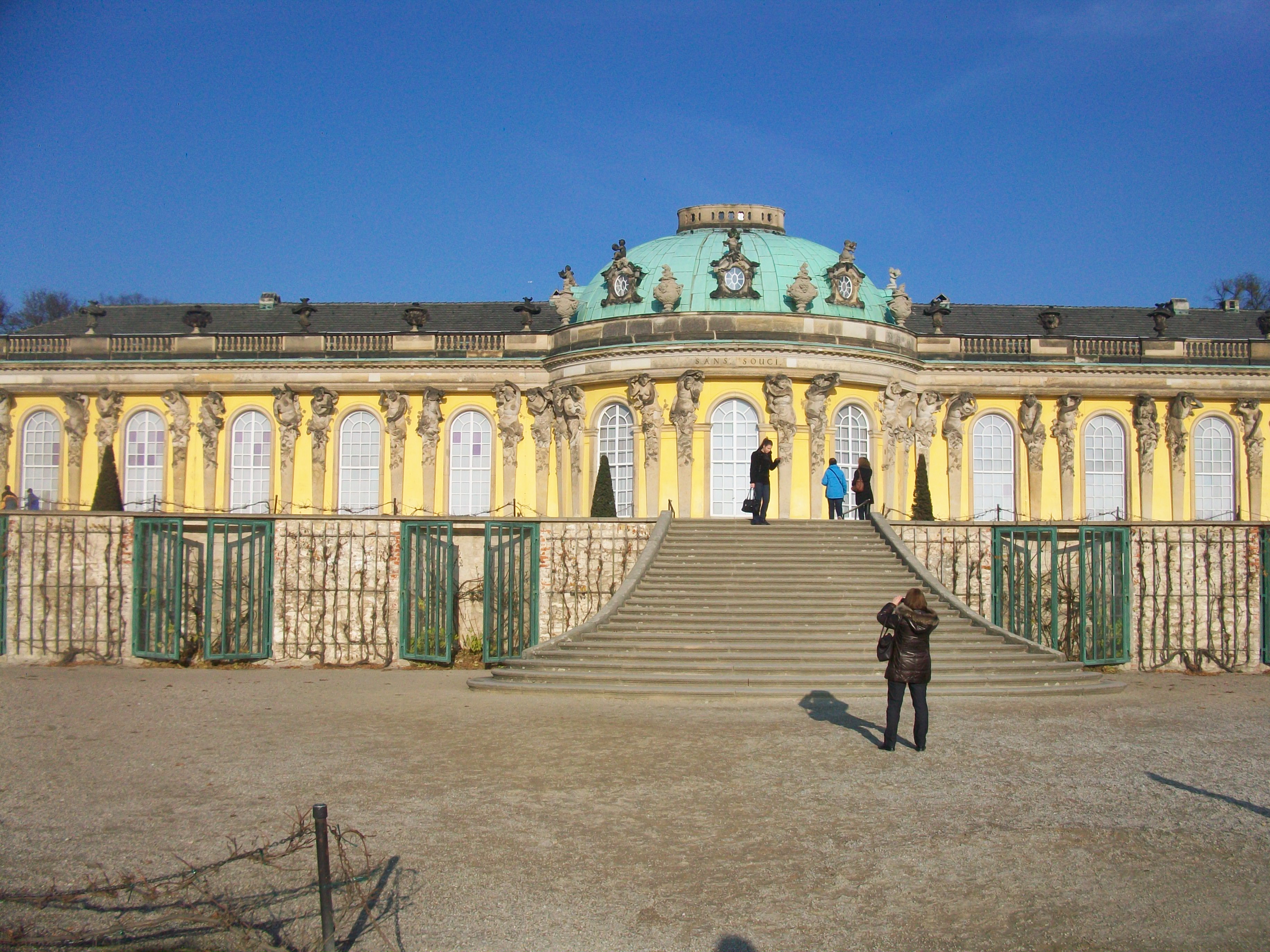 Sanssouci is the name of the former summer palace of Frederick the Great, King of Prussia, , it was really beautiful if not garish.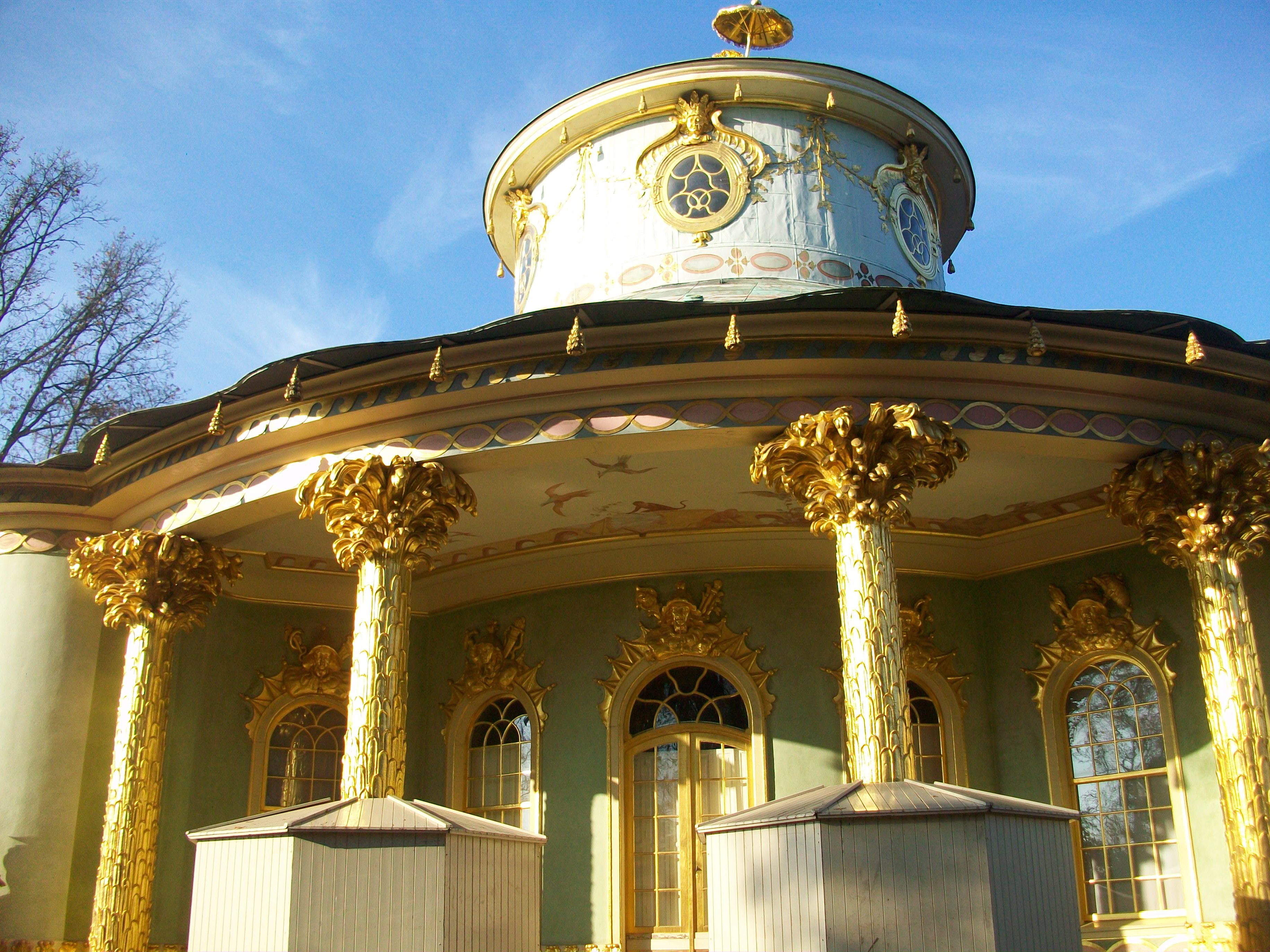 After walking around for an hour or two, we headed back into the center of Potsdam and toured the christmas markets in the city. We ended up grabbing a delicious snack, some sort of fried goodness in a ball..
They have all sorts of yummy goodness and gifts.. We were tempted to try the yummy smelling garlic mushrooms whose scent is intoxicating but decided to wait for lunch. Good call because it was one of the BEST lunches we had in Germany.. I had a local beer ( Berliner weisse )  infused with raspberry syrup which was insanly delicious, in fact I want it now and its about noon on a Sunday 😉
I was obsessed with my plate, it was all I wanted in a German platter, baked potato , sour cream with herbs and of course a nice salad and chicken. T-man got goulash which was the lunch special and he loved it. He also did a sacred error in the Italia world and had a cappuccino after his meal which he felt was "ok" since we were in Germany ;). We headed out for a walk after, and checked out the Dutch quarter of the city.. The architecture of the houses are really interesting and the covers an area of four city blocks with about 150 houses built of red bricks in the Dutch style. This ensemble of buildings is unique in Europe. It was built in the period from 1734 to 1742 for Dutch craftsmen who were invited to come to Potsdam by King Frederick Wilhelm I, the Soldier King.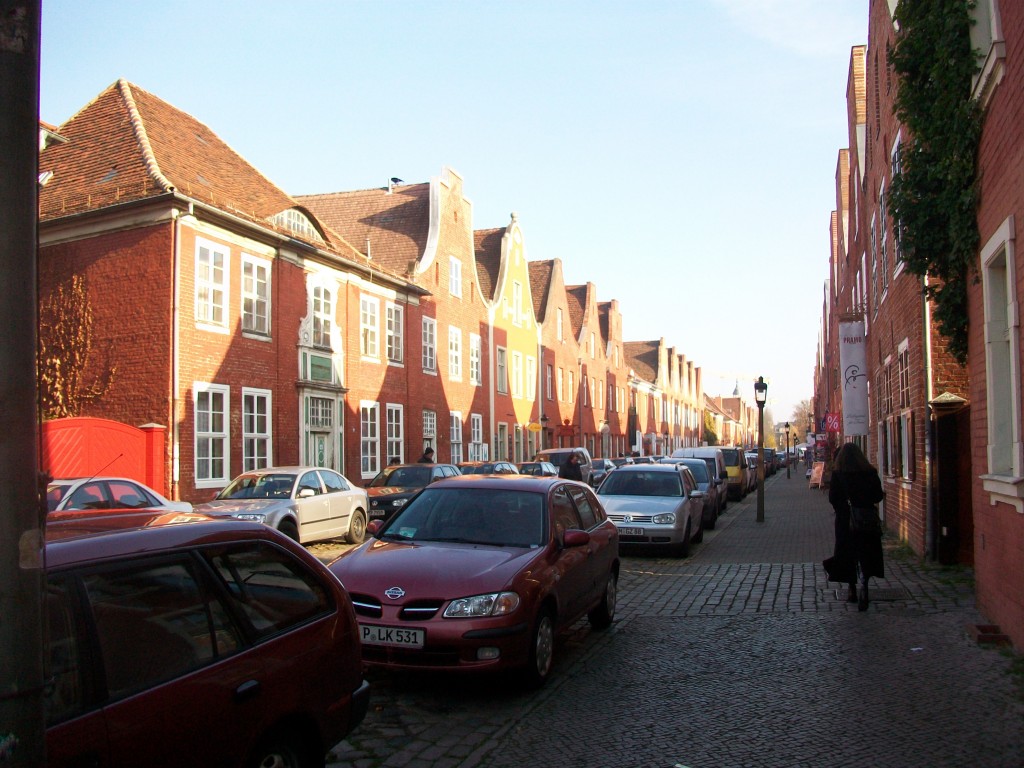 Potsdam also has its own famous gate and  Potsdam's Brandenburg Gate was built twenty-one years earlier in 1770 and is a typical baroque construction.
I actually really enjoy learning a bit of history along with visiting a city so I spent a little time the night before researching the history of Potsdam and the Prussian king. I am not much of a "tour" person , at least not yet but its nice to know what your looking at, like art you have much more of an appreciation when you understand. All it really takes is an hour or so of internet research or buying a book but learn a little before you g, take a guide book on the train ride from Berlin and you will be pleasantly surprised about how much more fun your trip is.
Also worth mentioning is the Russian colony in the north of Potsdam, we did not personally have time to check it out but we will make a point to visit next time we go to Berlin. It consists of thirteen wooden houses in Russian style, which were built between 1826 and 1827 on special wish of the former Prussian king, Friedrich Wilhelm III. In 1999 the UNESCO (United Nations Educational, Scientific and Cultural Organization) has declared the Russian colony Alexandrowka as part of the cultural heritage of the world.
Try and make it out here if you visit Berlin, we really had a great time especially during the holiday season and it was literally the perfect day-trip to get us out and about in countryside and discover a beautiful and historical place… and did you see the food pictures? Is that not reason enough? ENJOY!