January may not be the most popular month to visit Florence, Italy, but it is one of my favorite months. Less crowded, plenty of sunny days, and dare I say it… sale season is just a few reasons it makes sense to make the most out of the city right now. I've always enjoyed long walks from Porta Romana to San Miniato al Monte, Fiesole, or Settignano. So with the sun shining and brisk air, it's a great time to get moving and treat yourself to a warm cappuccino and pastry after.
Remember that the one time you will see more people milling around this month is during the Pitti Uomo men's fashion fair that will take place from the 10th to the 13th, providing for some prime people-watching, especially near the Fortezza da Basso entrance. It is so fun to see what outfits make the rounds this year, and if you're scratching your head as to what exactly Pitti Uomo is, I highly recommend this hilarious video by Aaron Christian.
It's also a time to dive face first into Tuscan cuisine – think hearty ribollita bean and kale soup or the crespelle alla Fiorentina, stuffed with a ricotta and spinach filling, folded or rolled, then covered in generous amounts of béchamel sauce, a few spoonfuls of tomato puree, grated Pecorino cheese, then baked in the oven until golden brown.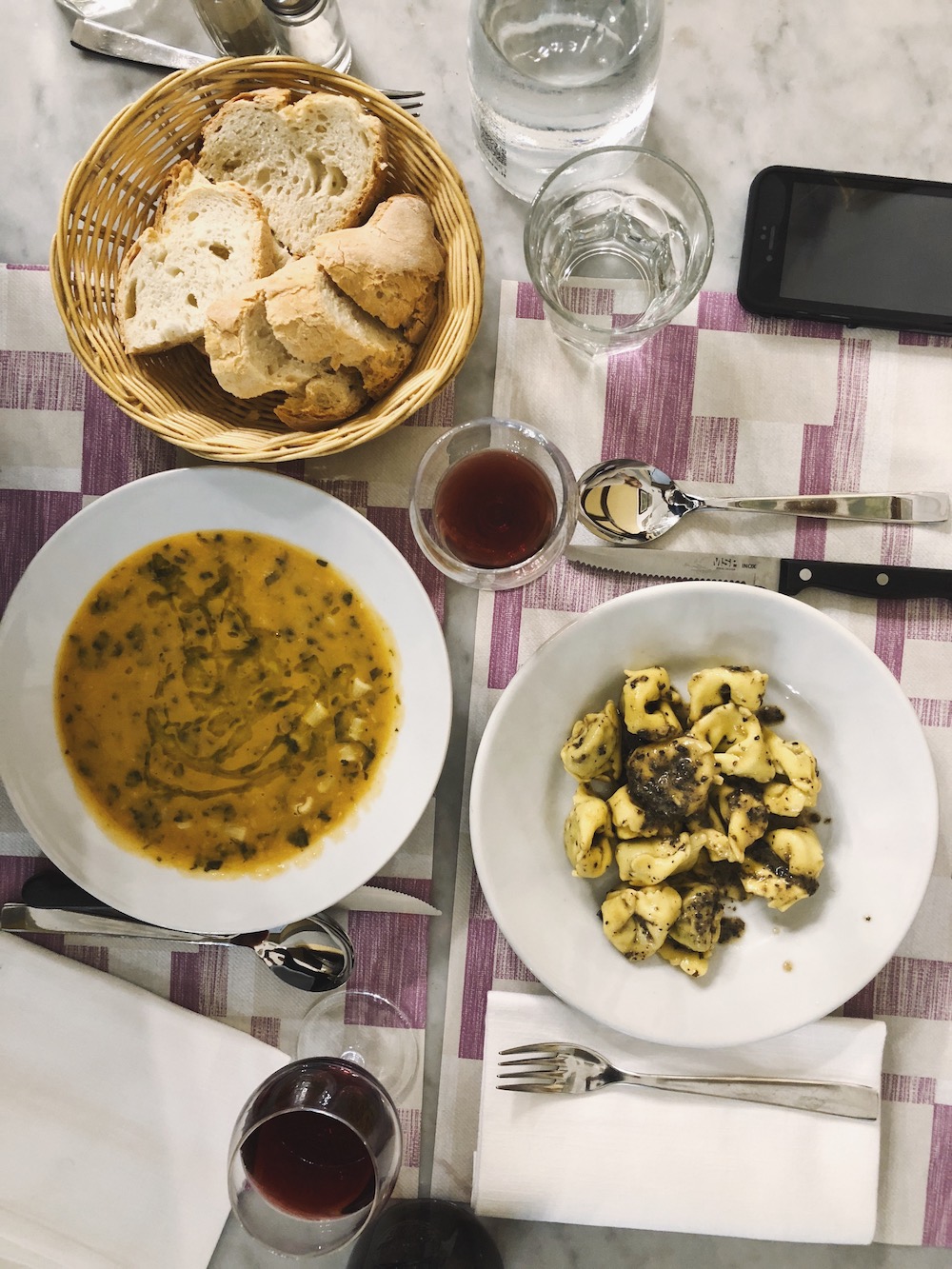 For great Tuscan recipe inspiration, I highly recommend checking out Jul's kitchen or subscribing to the substack newsletter by Emiko Davies (I especially love her "Ode to the Tuscan Trattoria").
I am also updating this list on the blog with personal restaurant recommendations around town, so hit me up if you think I missed something delicious!
Helpful weather tips and how to dress in January
The mantra for staying properly covered in Florence in January is to focus on layers, layers, layers. Traditionally it is one of the coldest months of the year, with an average temperature fluctuating between 10.9°C (51.6°F) and 2°C (35.6°F). Still, this year has proved mighty mild thus far, with highs reaching up to 60 degrees Fahrenheit (15 celsius), and it's not even mid-January yet. Good waterproof shoes are a must, as well as a scarf, hat, and decent jacket. I'll typically throw on a sweater over a shirt and shed a layer if the temperatures rise. When it comes to style, things have changed since I wrote this post back in the day, and I have tended to see all sorts of styles crop up (thankfully) on the city streets.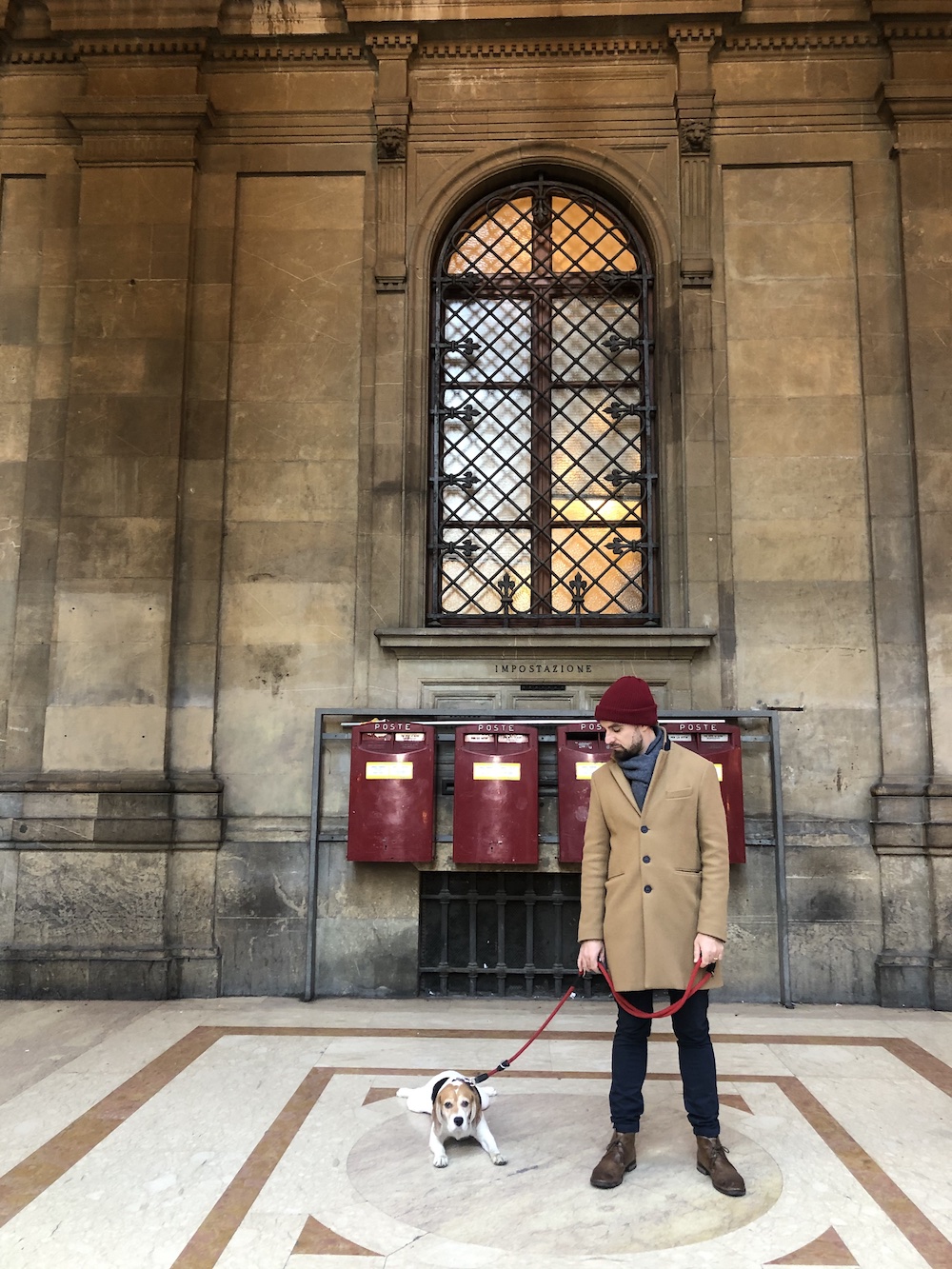 Also, if you're a working mom or want to meet other moms, the wonderful founder of International Babysitters (who we have used on many occasions) has launched a new Thursday morning coworking group at Palazzo Niccolo in Florence, kicking off on January 19 from 9 am-12 pm. It offers an affordable way to combine childcare with coworking, and yes, there's coffee! You can follow them on IG here.
Enjoy these tips on fun suggestions for activities in and around Florence this January (also, a few apply to armchair travelers and those who love and appreciate the city from afar). I hope to go back later this month or in February, so stay tuned!
---
For culture vultures
Don't miss the last days of the First Act, a contemporary art installation by Marya Kazoun
Inspired by the Nativity scene and the ongoing environmental crisis on display in Palazzo Pitti's Sala Bianca until January 29, 2023, the First Act is a contemporary art installation by interdisciplinary artist Marya Kazoun born in Beirut in 1976. Within the artwork, the wind, which represents those things that are transitory and elusive, acts as the vital breath of the universe and those who inhabit it. In opposition to it, the ominous presence of a swarm of locusts made of Murano glass symbolizes the climatic ruin increasingly looming over the planet's fate.
Pop into the newly-renovated Magliabechiana library at the Uffizi Galleries
This spectacular space has just reopened after a 20-month restoration enriched by a new, impressive eco-sustainable lighting system. The library is named after Antonio Magliabechi (Florence 1633-1714), an Italian scholar, academic and librarian to the Grand Duchy of Tuscany at the time of the Medici. Cosimo III entrusted him with overseeing the Medici's Palatine Library in the Pitti Palace, and he wrote a vast catalog detailing the library of Cardinal Leopoldo de' Medici. On his death, he left a legacy of around 30,000 volumes, and thanks to this donation, Florence had its first public library, the original nucleus of the current National Central Library. On December 16, 1998, in the Magliabechiano hall, the original site of the collection of the National Library itself, the Uffizi Library was established, specializing in topics such as art history, museography, and local history. The library will be freely accessible to scholars Tuesday from 9 to 17, Wednesday and Thursday from 9 to 13. Info can be found here.
Take an online course about badass lesser-known Renaissance figures
We are all familiar with the idea of the 'Renaissance Man'—the polymath geniuses, scholars, princes, courtiers, writers, and artists that lived and worked in the 15th and 16th centuries. But what of the 'others' not included in the traditional canon? Take an online course that kicks off on January 10 about Renaissance women by local expert Alexandra Lawrence. This two-part course takes inspiration from the enlightening studies put forth in the 1988 book Renaissance Characters (edited by Eugenio Garin) and revisits Renaissance society by looking at some of the less traditional and more radical figures in Italy at the time, including creative and powerful women and the magical and mysterious people that populated Italy alongside their more mainstream counterparts. More info and where to sign up can be found here.
Book Recommendations centered around Florence
For my fellow avid readers, I appreciate this list of winter book recommendations with a Florence edge that local bookstore The Paperback Exchange compiled for The Florentine. It has some gems in it, such as Ross King's The Bookseller of Florence – an ode to books and bookmaking that charts the world-changing shift from script to print through the life of an extraordinary man long lost to history, one of the true titans of the Renaissance.
Celebrate Befana in Piazza della Repubblica on January 6
Many places are closed until the 7th, and many people return to work the weekend after the 6th. That's thanks to everyone's favorite folklore character in Italy, La Befana, which coincides with the feast of the Epiphany on January 6, a public holiday in Italy. Befana is an older woman who flies across the country on her broom in the night between the 5th and 6th of January and fills the socks by the fireplace, which the children had hung up the day before, with sweets and little presents. But beware: children who were not well-behaved will get coal! The good children also get coal because Befana's candy coal is tasty. If you want to see her for yourself, head to Piazza della Repubblica around 11:30 am on the 6th to catch a glimpse (and maybe a treat!).
---
For Those Looking to Relax
Soak in one of Florence's fabulous Spas and Become Mindful
I am a girl who loves a great sauna/Turkish bath and thermal pool, and lucky for you guys, there are two fabulous options in the city (and one slightly outside) worth your time and energy. My top pick of the town is a bit of a splurge: the Helvetia & Bristol day pass (50€), which will gain you entrance to the new Roman bath experience below the Helvetia & Bristol hotel. I've been there myself with a friend, and it was as fabulous as it sounds, with warm saunas/tepid versions/an ice room, and a relaxing pool area that makes you feel like you've escaped the hustle and bustle of the city, albeit while you're as central as you can be. In the area of Campi Bisenzio, there is the grand Asmana Wellness World features a large outdoor/indoor pool area and countless relaxing rooms/saunas and rituals throughout the day.
For those looking for a wellness place in the center of Florence that caters to fitness (they do EMS, yoga and pilates) and mindfulness, I highly recommend Relax Firenze. They have a range of options, including mindful counseling, reflexology, expert massages/treatments, and courses – also, mind that the space itself is so inviting and cozy. Relax is genuinely the place to indulge in self-care, which could be less of a "one-off" and more ritualistic.
---
For Gourmet Gurus
Go on a craft beer tour with Curious Appetite
Italy, and especially Tuscany, is synonymous with wine but what might surprise you is that there is a wide array of excellent craft beer across the country. I am a lover of artisanal beer myself, and one fun activity this January worth doing is signing up for a craft beer tour with your friends run by the expert foodie team of Curious Appetite. The producer's willingness to experiment with locally produced specialties such as chestnuts, saffron, peppercorns, flowers, ancient grains, wild honey, and seasonal fruit makes Italian craft beer so fascinating. During this tour, you will stop in 2-3 craft beer locales around Florence and partake in guided tastings with the on-site brewmaster and beer experts, along with snacks to perfectly match each sip. So make sure you invite me too.
---
For Active Souls
Take a spin on the Florence Eye/ice skate around one of the large rinks in Europe
The Florence Ice Village closes up shop on January 15 (why!) So the time is now to head on over and appease all family members who enjoy a little adventure on a pair of skates or those without a fear of heights who want to see a unique perspective of the city from above. Open daily from 10am-midnight; you'll also find some street food options to quay any appetite.
Go on a winter hike, urban or otherwise
There are so many fabulous places to explore within Florence or that lie nearby. One of my favorite things to do is simply download a few podcasts and go on a long walk with our beagle Ginger, in the hills around our house near Piazza Tasso and Bellosguardo or to San Miniato al Monte. The Florentine has a great list is local hikes that you can find here. If you are feeling especially ambitious, think about doing a 130 kilometer (around six days) hike on foot like the pilgrims used to from Bologna to Florence along the "path of the gods" like my friend Silvia Donati did, could be quite the adventure to kick off the new year!