Since 2016, I have had the pleasure Hicam Benmarek Sherian or "Ben" a person who himself embodies a community in just how effectively he brings people together, especially with one of those infectious smiles and an enthusiastic pat on the back.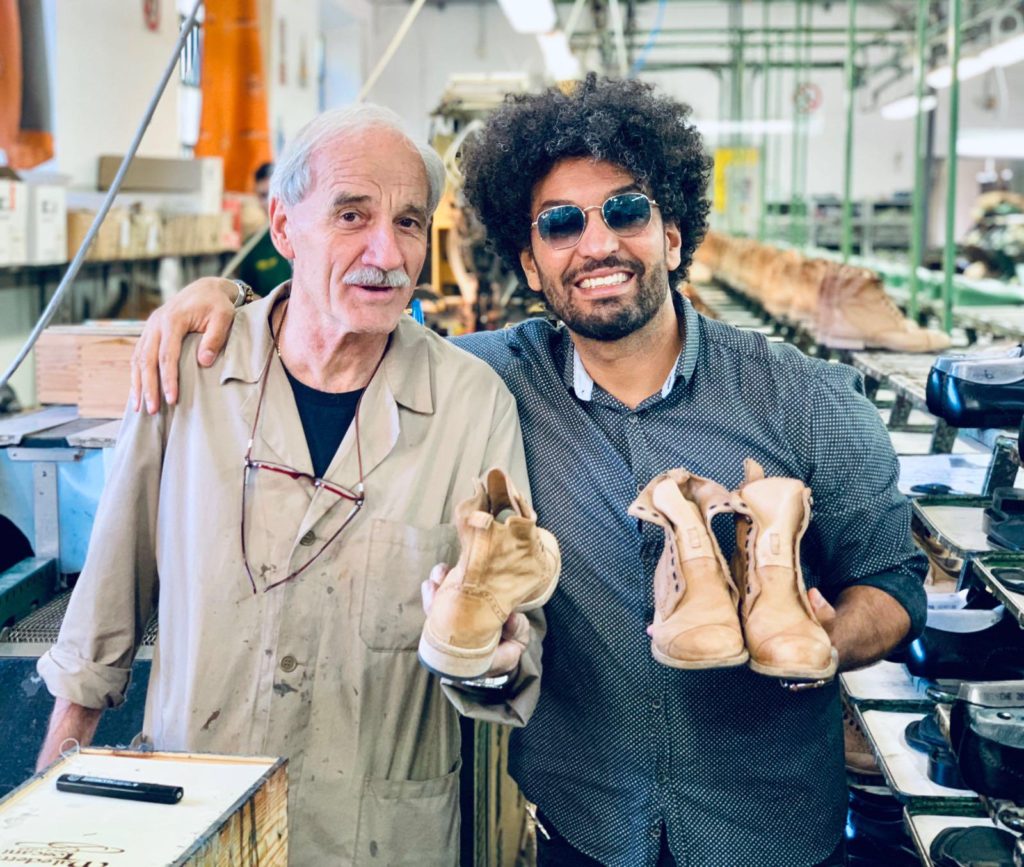 I've written about him on the blog and at my day job at Italy Magazine, not only because he's someone I know personally, but for me he presents one of the few true leather artisans who adheres 100% to the Made in Italy philosophy. Choosing not to solely stitch a zipper in Italy and do the rest elsewhere just for the coveted "Italy label" but actually provide a start-to-finish artisan service when it comes to quality leather accessories, including jackets, shoes, belts and bags.
In fact, his story in case you have yet to read about him on the blog is one of remarkable human perseverance and fortitude. After surviving a heart attack and subsequent transplant, it was the second chance at life that gave him the strength to pursue his passions of opening up a leather brand that mattered, that carried his own personal designs and one that could multiply around Italy and possibly the world.
Now years later you can say that dream has more than become a reality.
Benheart now boasts over six stores in Italy alone, with flagships in Dubai, Kuwait City, Strasbourg and Japan. His biggest dream is still to have a shop in San Francisco or anywhere in the states but for now he has created a loyal following of people who love his products, especially those garment-dyed leather jackets (which can be entirely customized) and whom come back year after year to update their wardrobe. Willie G, Barack Obama, Enrico Ruggeri, Fabrizio Moro, Orlando Bloom and even Rick Ross from the soap "Beautiful" are all fans of Ben's work.
Ben is a stubborn person that much is true, there is nothing that he lets out of his sight or under his control. All of the materials and leather that are used are of the highest quality in a Tuscan environment, and with this kind of true dedication to quality and artisan craftsmanship. This includes garment dyeing himself, very unique in the leather world because it is a complex and expensive process not one that everyone practices. With this, Ben is able to provide each customer with a certificate that ensures a lifetime guarantee to each item due to eventual defects or issues. I don't even know that many health care plans that are that thorough.
And what is the case for many of my favorites shops in the city, when I personally need a pick-me-up all I simply walk into one of his stores in Florence.
His shops have become like a second home, a place to feel comfortable to just chat a little, get off my computer and see Ben's latest designs. I feel like many of us who work from home need these little breaks from life to just be a human again, among other humans.
When he's there I embrace his intense energy and enthusiasm for every day, as quite frankly he has been given an indescribable gift, a second chance to life. Inspiring for sure, but also a reminder to not let those dreams go, even in a country as red-tape nightmarish as our beloved Italy.
As for the accessories, I love how he embraces color and cool designs, my problem with leather here is that often the classic shops are well a little too classic for my tastes. Nico and I both have several items from the shop, include jackets that are ideal during mid-season like April and my favorite pair of shoes (pregnancy has made this girl's options fairly limited) – a crisscrossed pair of brown leather sneaker that has now traveled the world with me.
Now one of his shops has reopened on Via Calzaiuoli, one of the most popular pedestrian paths in the city, a huge feat for a small leather artisan that started on Via il Prato. This street has a lot of history in the city and remains the artery bringing together two of the city's main squares; Piazza della Signoria and Piazza del Duomo.
Via Il Calzaiuoli – An elegant street with quite a past
If there is anything I love most on this blog, it's the chance to tell people's stories and that of the city. It gives me a good reason to step away from day-to-day busy work life and focus on what I love, exploring Florence and doing an introspective deep-dive into its most interesting corners.
One of those corners is actually more of a 400-meter long elegant street, Via Calzaiuoli had a very different look before the 15thcentury when it was divided into factions depending on the noble family who lived there, artists had their studios here including Michelozzo and Donatello. Not only that but names were often passed down due to the trades that worked here, such as Via dei Cimatori or "cloth cutters' street and Via degli Speziali – the apothecaries' street.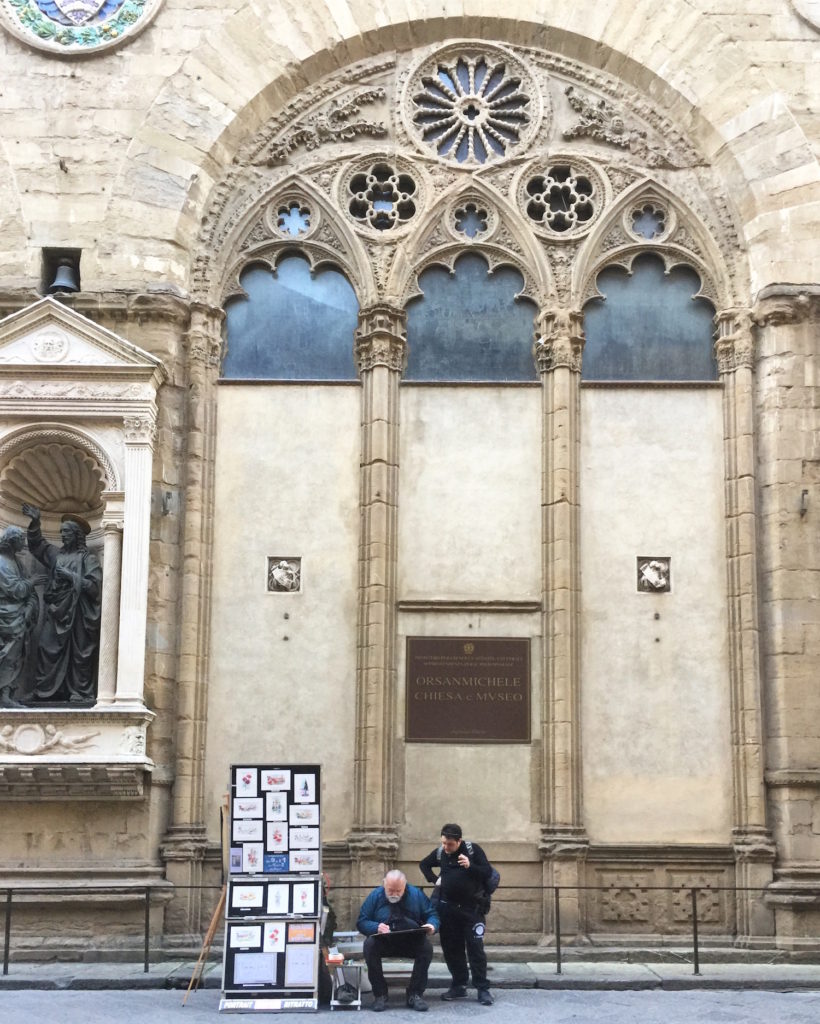 About halfway down the street you'll find an imposing church with cut in tabernacles housing the patron saints of the once powerful Florence guilds, this my friends is the Orsanmichele Church and somewhere you should definitely plan to visit. Its peculiar design lends to the fact that it was once used to house grain and don't miss a chance to visit the museum inside to see the original statues that were once outside, sculpted by Donatello, Verrocchio, Ghiberti and others. Also along the road is the 14thcentury church, San Carlo dei Lombardi featuring a single nave that ends with a presbytery divided by three pillars.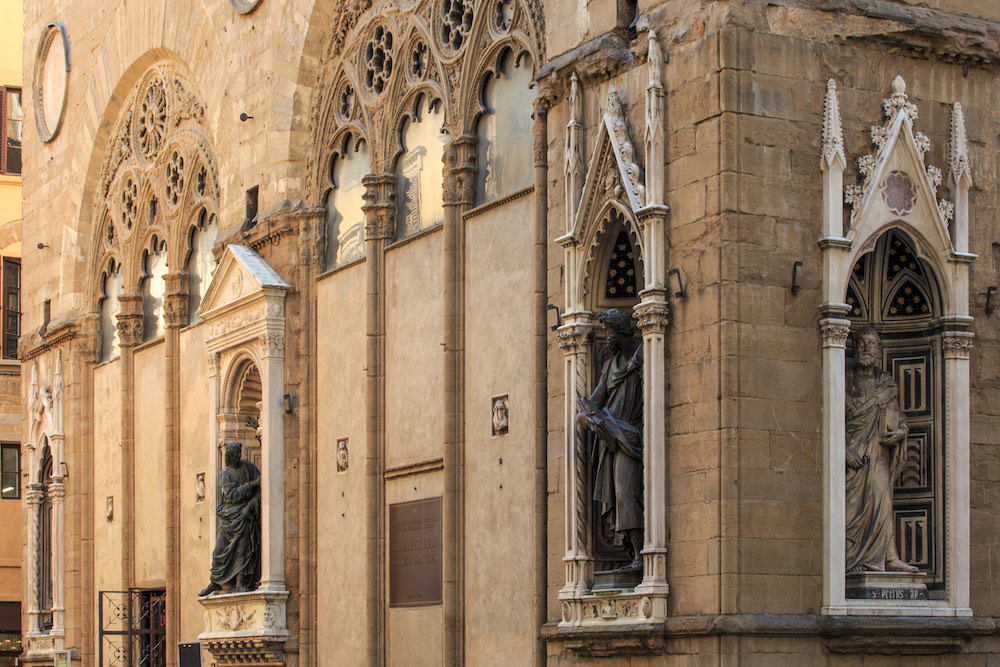 An Artisan comes to Via Calzaiuoli
The road itself also hints at some of the additional origins that lie here, it was actually quite well known for shoes and leather, another reason why Benheart wanted to have a place in such an iconic location.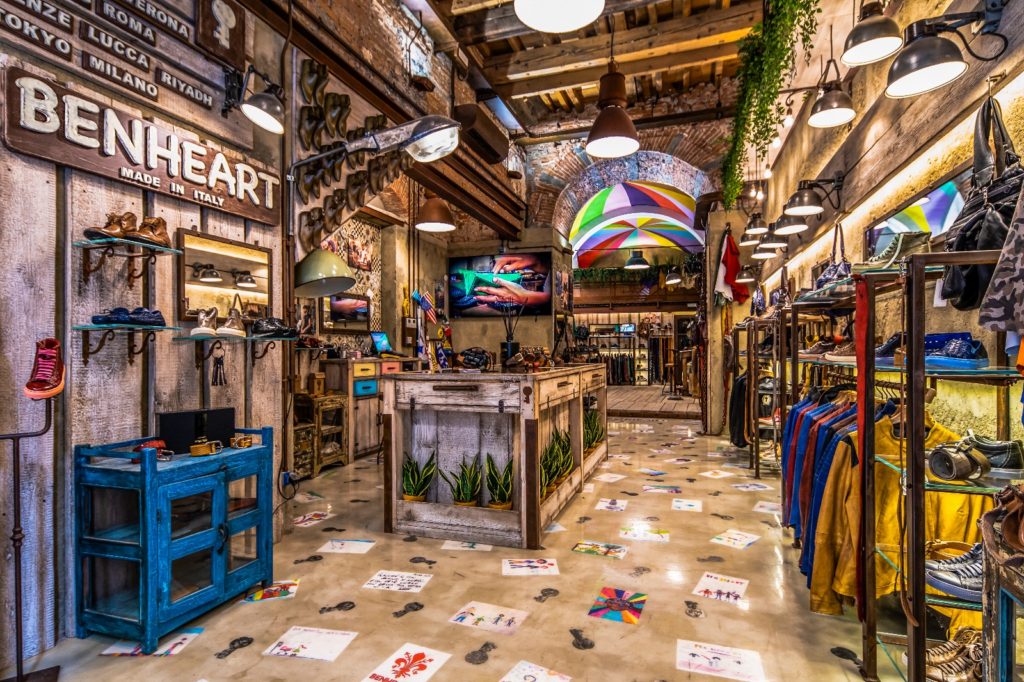 He shared with me "I could be in a better street than here, where you can quite literally smell of renaissance, her is where my mind feels creative and my heart beats stronger, I am happy and excited because I too can donate my creativity to others, doing so at my work table in the middle of the shop."
We talked more about America and his next projects and wants and he shared something quite surprising.
"I admit that I am ambitious and I will do everything to be present in the United States where I have a lot of requests, and in Canada and many other splendid places. However, for now staying in Via Calzaiuoli will be like staying on the couch my family. I have found my home here, and I want to truly just embracing living in this moment." 
Benheart is located on Via Calzaiuoli 78r just steps from the Duomo Cathedral while a second location lies on Via della Vigna Nuova. Store hours are 9am-8pm. You can explore more about the brand and discover the rest of the worldwide locations here. For custom orders and shipping to the USA and abroad, please email [email protected].