Lucky for me (and for you), there are people far more cooler than I can harass into doing an interview for this blog. Especially because next week there is a special event in Florence at the soon-to-be-inaugurated The Student Hotel that brings together 100 speakers from around the city in the casual ambiance of a bedroom, me included, these free-form chats will be open to the public (more explained below).
Born on August 14 1987, Michelle Davis is one of those people whose talent is hardly one dimensional; her American/Italian background and insatiable curiosity gives her a special edge that carries into her daily work and passions, did I mention she is also a DJ and photographer? She studied languages in high school and Painting at the Academy of Fine Arts in Florence. Her mother is a graphic design teacher, her stepfather is an artist and she has two younger sisters, Alice and Julia.
After half a decade in Santo Spirito, she moved to the neighborhood of San Jacopino (affectionately dubbed "St J") with her partner Andrea and two cats, Mingus and Orzo and has found a total new dimension of Florence. She had a stint as a singer in a band called Walking the Cow and released an album with them in 2012 titled "Monsters are easy to draw". She has been deejaying since she turned 17 and loves stirring up the dancefloor with tunes from all kinds of repertoires (see what I mean when I say she is so much cooler?!).
She is a magazine hoarder and has so many subscriptions that she can't even keep count. She loves walking and has hiked to the top of the Annapurna Base Camp in Nepal and crossed Spain in 29 days on the Santiago trail. She visits her father in Louisiana at least once every two years and is a big fan of gumbo, jambalaya, po'boys and crawfish. She dreams of living in New Orleans one day. I hope for Michelle she gets that opportunity and let's get to know her better and dive into the prose.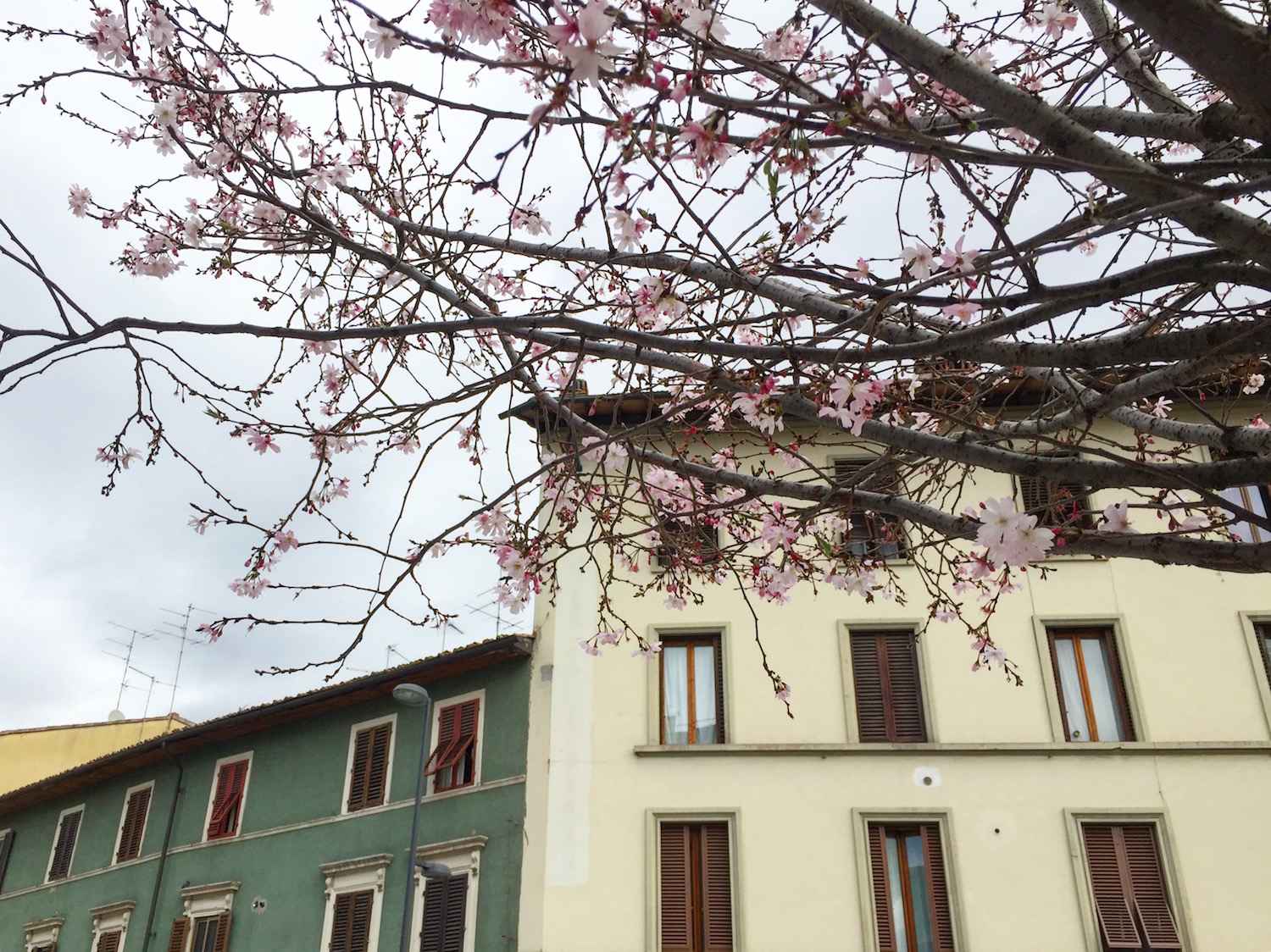 your name: Michelle Davis
nationality: Italoamerican
Profession: Connector at The Student Hotel
Favorite drink: Amaretto Sour (alcoholic) or green tea 
---
Tell me a little bit about yourself Michelle, where are you from and what keeps you in Florence?
My parents met in California on the tail-end of the 80s. My mother is originally from Viareggio, the seaside town in Versilia renowned for its colorful carnival float parade, while my father is from Louisiana, the land of Mardi gras, swamps and jazz. I like to think that I am genetically linked to places that have such strong natural features and traditions that are deeply rooted in creativity. I spent most part of my childhood in a secluded town called Oregon House, at the foothills of the Yuba county, and at age seven me, my mother and my two sisters moved to Italy. I kind of glided back and forth for a year, until I landed in Florence in glorious 1996, the year of the Spice Girls' first album and when the lira was still the reigning currency.
I've had my ups and downs with this city but in the end, it keeps me on edge all the time and I find that very stimulating. Now is a very interesting time to be in Florence. You never know in which direction things are going to turn, especially in terms of urban and cultural change… and I would like to stick around and see if I can give it a little nudge every once and a while.
I don't think anyone born in the 80's could forget that Spice Girl's Album. You are half American and half Italian, how do both cultures affect your daily life and do you feel more drawn to one than the other, if so why?
I like to think that I've inherited a positive, driven, independent outlook on life from my American side – as well as the fact that I'm terrible at geography – while my Italian roots have made me more grounded, sensitive to beauty and a bit of a food nazi. When people ask me which identity I feel the strongest, I can only answer that to choose would mean to live lopsided – I prefer to see myself as a citizen of the world. No boundaries – just endless potential.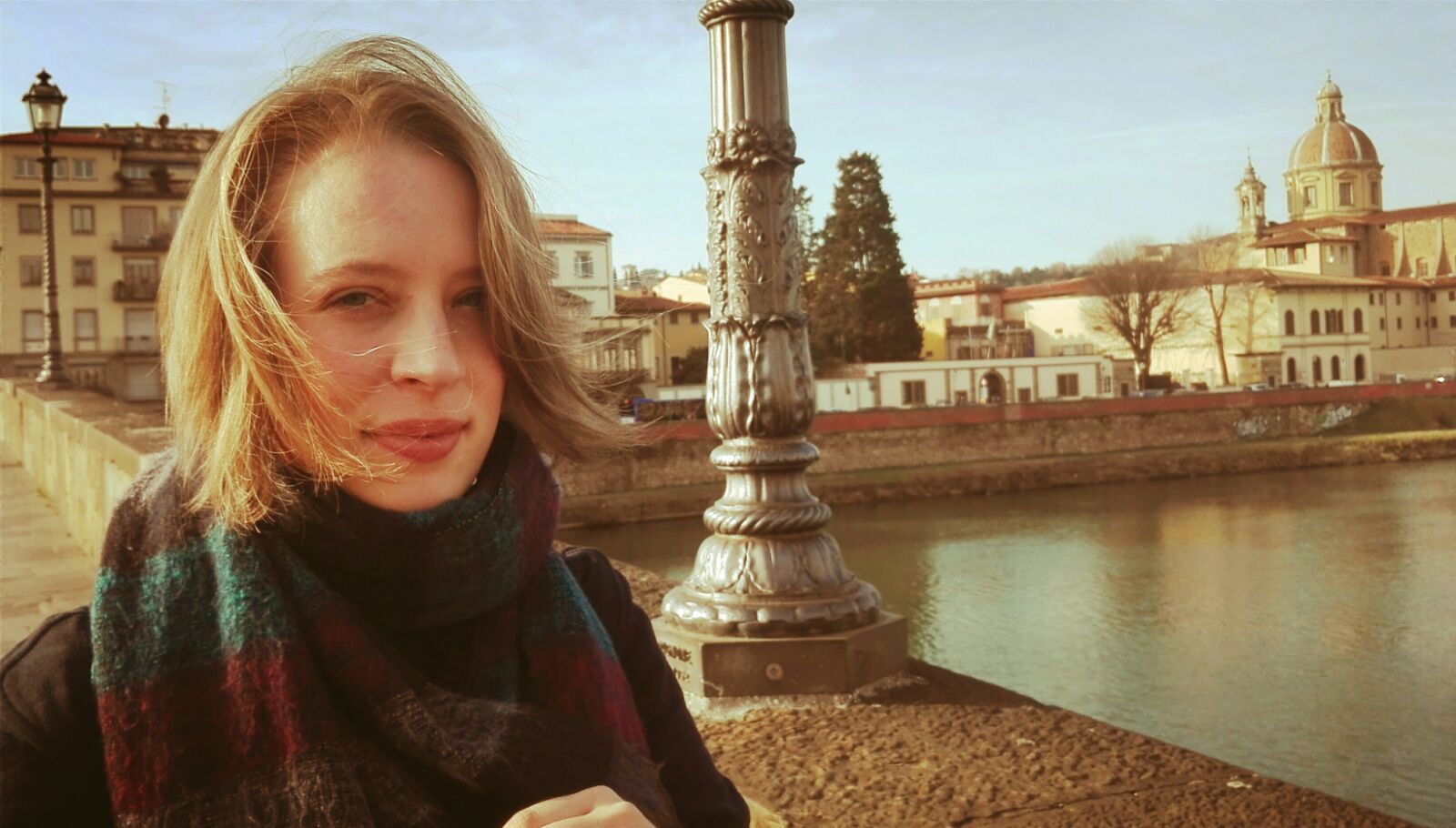 I love "no boundaries – just endless potential." That's definitely the Americana in you ;-). Rest assured that you are not alone at being terrible at geography  What are you up to here? Could be hobbies, work, passions or all of the above.
I've been in Florence for over two decades now and I've tried all sorts of things – from waitressing badly to hosting an amateur radio show, writing articles, working as a dance photographer and organizing events. I currently cover the role of Music Editor for The Florentine, a position that I am very proud of and that has given me the opportunity to showcase some amazing musicians and support our local scene. I have always been very passionate about music, I occasionally deejay and love exploring new tracks on my walk to and from the office. It's a special moment, between me and my headphones. As for what I am up to now… let's just say that it's something that I myself could never have imagined! I'm really looking forward to see how everything pans out.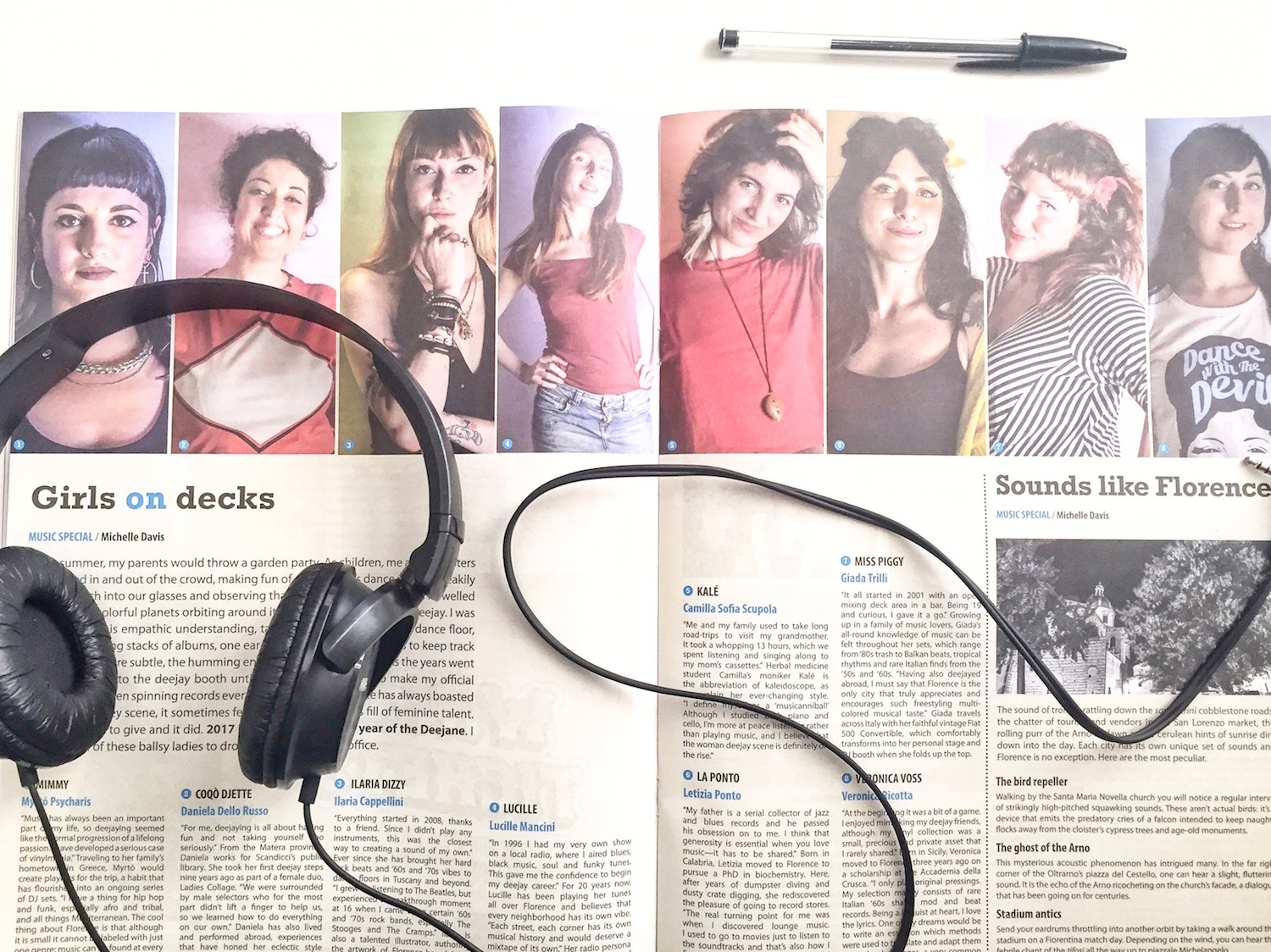 I always delighted at reading your articles about the local music scene, so very valuable for those who live here or are visiting. You work for the about to open Student Hotel in Florence, can you tell us about this new venture and what this means for Florence?
I am currently working as the Connector, which is the best job title ever in my opinion! In a nutshell, I have to build bridges between The Student Hotel and the city of Florence… so I'm faced with a pretty exciting challenge. We are more than a hotel: we are an incubator for talent, ideas and change. Our structure is a leading example of hybrid hospitality and apart from a variety of room types it offers private classrooms, a co-working office, an auditorium, a rooftop pool, a gym, study areas, soundproof music rooms, a community kitchen and shared spaces for events and exhibitions as well as our own piazza that will be open to everyone. We plan to offer a student housing system that can somehow unburden the city center and help shake off certain stigmas and harmful stereotypes. I do realize that these are all big goals and fancy words for now, but I believe that we can really make a difference – hey, look at me acting all speechy! It must be my American side in action.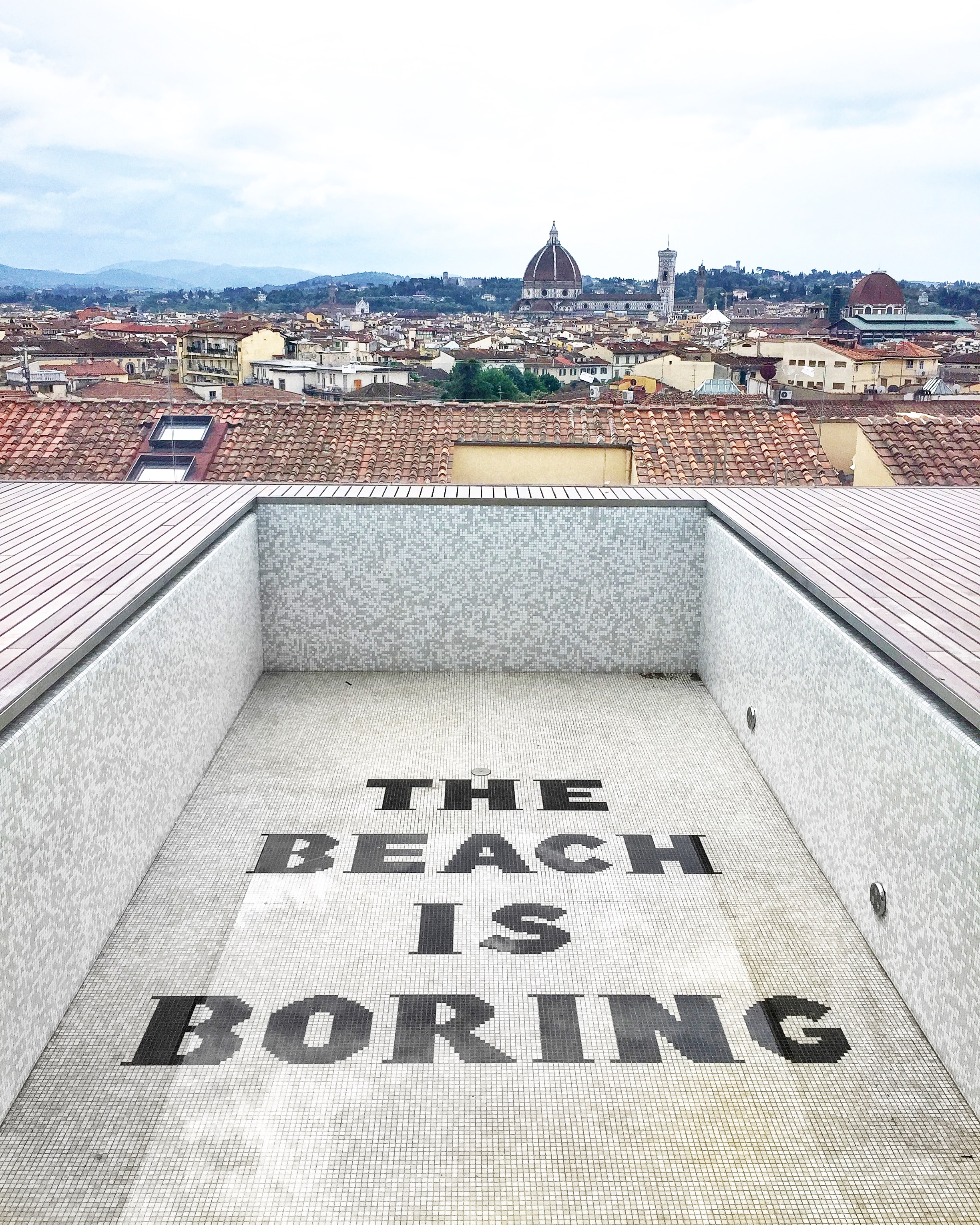 Thank you SO much for explaining more, I found it a little difficult to understand so this really clears up any misconceptions that it is solely a hostel or co-working space. Let's also talk about Bed Talks, an upcoming event at the Student Hostel in Florence on June 7th.  How would you describe this to someone who has never heard of the event and why does it matter in 2018?
It's important to point out that the actual format of two individuals talking in a bed was inspired by John Lennon and Yoko Ono's revolutionary 1969 bed-in for peace. Today, almost 50 years later, we feel the need to rekindle that inquisitive spirit and encourage people to take a step out of their comfort zone. It's incredible how a bed can become the launching pad for life-changing synergies, intense daydreaming and new collaborations… like in Winsor McCay's comic book "Little Nemo", this piece of seemingly meek furniture has the power to fly us into a realm of infinite possibilities.
So basically two people, usually complete strangers, put on a pair of our trademark red socks and sit down in a bed together in front of a small audience, and for 45 minutes they address a topic they have either chosen together or has been assigned to them, according to their backgrounds and vision. There is no way of knowing how the conversation will turn out but that's the beauty of it… it is spontaneous, raw, beautifully goofy and to witness such a thing is deeply inspiring. Our society and way of life make sure we always feel at ease or at least we find solace in our devices and networks. BedTalks puts people in a condition of marvelous face-to-face unconventionality and that is why it matters today and why it has been so successful in its past editions. I can't wait to see what happens on the 7th of June! 
The event will involve 20 rooms, more than 120 speakers and from 3.30 to 8.30 pm the audience can pop in, take a seat around the beds and learn about all kinds of topics, from shamanism to sake and community building or design. While the talks go on across the two floors of the hotel, the courtyard will resonate with toe-tappingly good live acts King of the Opera, La Banda del Brasiliano, Birthh, Monique "Honeybird"Mizrahi and I Citofoni and a number of hands-on workshops will be held within the Collab and classroom spaces. All you have to do to participate is register through our website – it's going to be a blast!
https://www.facebook.com/bedtalks/videos/1090845851057253/UzpfSTI0NjEwNDI5OTI5ODU0MToyNDY2OTUxMTU5MDYxMjY/?acontext=%7B%22ref%22%3A51%2C%22source%22%3A1%2C%22action_history%22%3A%22%5B%7B%5C%22surface%5C%22%3A%5C%22permalink%5C%22%2C%5C%22mechanism%5C%22%3A%5C%22surface%5C%22%2C%5C%22extra_data%5C%22%3A%5B%5D%7D%5D%22%7D&active_tab=discussion
PS: Here's where to register to attend the (free) event http://bit.ly/BedTalksFlorenceRegistration 
I'm really excited to have been asked to be one of the speakers! What I love about this concept is that it gets people face-to-face who might not ordinarily get together. Being that you too work in social media, what are some of the advantages and disadvantages of making an online "social" career in a country that is so into human contact?
I think that the most fascinating aspect of BedTalks is that nothing is scripted and that is very rare nowadays. Two people are faced with a topic and they just wing it, throwing in their personal experiences as a way to contemporaneously create complicity and question themselves. As far as social media is concerned, I personally need online and offline to go hand in hand. For example, when I work on communicating an event or a space, I draw satisfaction from the actual turnout. Meeting people, giving names to faces, gathering feedback and feeling the pulse of the situation – these moments give me the energy and strength to believe in what I'm doing. This balance between screen-to-screen and face-to-face conversation allows me to feel free to share my faults, my passions and vision.
I could not agree more, we need to get away from the screens and humanize our interactions a hell of a lot more. How is it working in this kind of career in Italy, do you find being in Florence an advantage or a disadvantage professionally, and why?  
Having just started, I'm still learning the ropes of it all… but honestly, if someone had told me just a while ago that I would have ended up working in the hospitality field I would have blown them off. Growing up in Florence, I inherited the local tendency towards skepticism, shunning the hotel business and seeing tourism as the ruin of the city. And I guess that's the advantage now that I'm on the other side: I know what people in town expect us to be and do – so I plan on doing exactly the opposite. I want to show Florence that a space like ours can and will respond to the city's needs. Inclusion, integration, community – these are words that we use on a daily basis at The Student Hotel and every action aims at achieving these goals.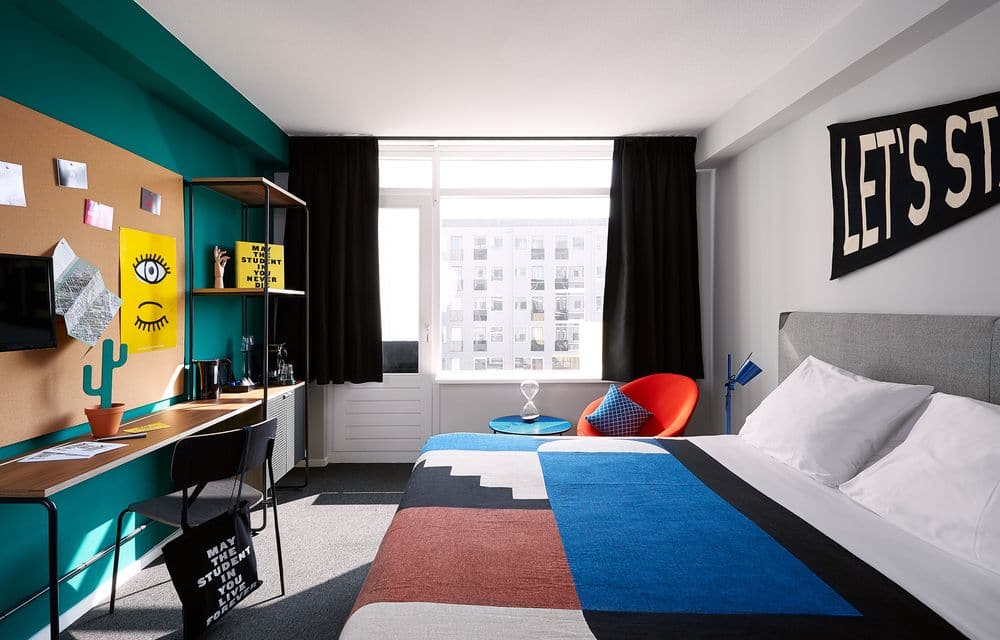 That's really awesome Michelle, I bristle when people dismiss Florence as a sort of Disneyland. It's not like that for us who live here, yes there are frustrating aspects but nothing will change with apathy and complaints. Moving on, I know you are DJ and have a true love for music, can she share where fellow music lovers should go in Florence and about the local scene Florence?
There are so many great spots! I am personally in love with one of the city's new entries called BUH Spazio Culturale Urbano, just near the Rifredi station, opened about a year ago by a group of young music aficionados who wanted to create cultural oasis on the outskirts of town. Glue Alternative Concept Space is another great venue, especially for those who want to meet real Florentines and get their feet wet with the Italy's indie scene. Just a few steps away from Piazza San Marco, inside the former cloister of Santa Apollonia, La Polveriera Spazio Comune is another go-to place for daring spirits. This self-managed occupied hangout has been given new life by an active group of volunteers who organize concerts, book presentations, zero-km food fairs and community events. Sala Vanni is also an extraordinary place for live music – a concert hall located inside the church complex of Piazza del Carmine where you can enjoy everything from rock to folk, indie, jazz, experimental and electronic music.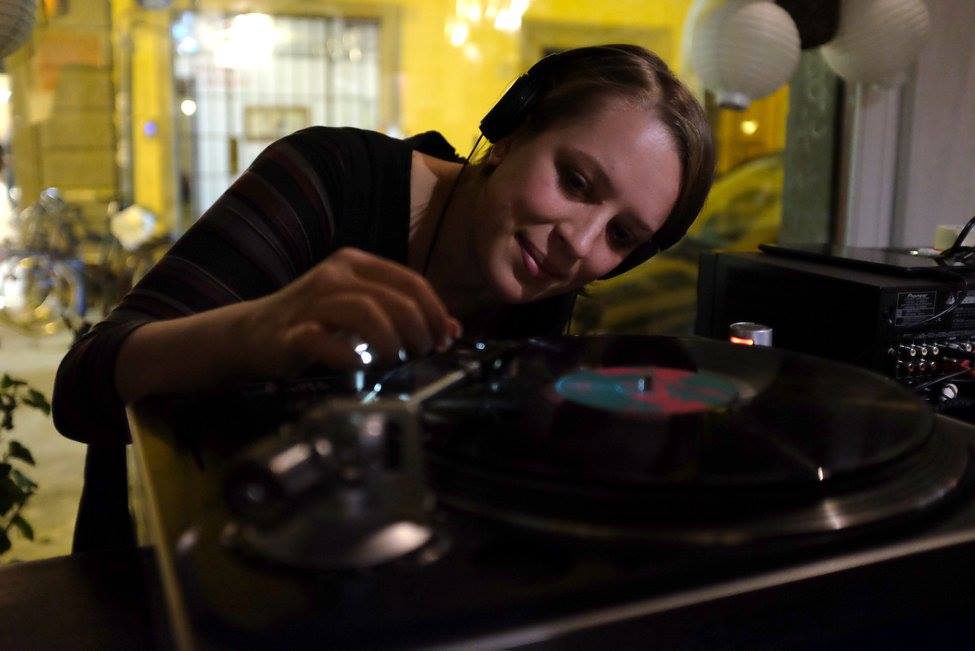 I've heard a lot about Sala Vanni, this I gotta check out! Top 3 indie Italian musicians we should be listening to and why?
Among my latest obsessions, a special mention goes to Wrongonyou, Italy's very own Bon Iver. I love the fact that, apart from having a knack for incredibly catchy songs, he plays great indie-folk music without looking the part, wearing casual streetwear and sporting baseball caps and beanies. I know it sounds like a stupid thing to point out but I find it so refreshing in the typecasted entertainment industry! Lucia Manca's latest release "Maledetto e Benedetto" is mind-blowingly good (produced by the übertalented Matilde Davoli – her 2015 album "I'm Calling You from My Dreams" is dream-pop perfection), mixing 80s vibes with sensorial singer-songwriting, while deliciously winking at Italian music legends Lucio Battisti and Giuni Russo. Among the recent local releases, Florence-based band City Final has a great sound, drenched with Britpop nostalgia.
I'll throw in a fourth, because I know how much you appreciate good workout music. Italian duo Santii (formerly known as M+A) have flown the indie coop and were recently signed by French electronic music record label Kitsuné. Their intrinsically elegant rhythms and beats are irresistible! I'm really looking forward to listen to their latest endeavor "S01".
What annoys you about Italy? Feel free to be as open as you want.
Definitely the widespread whining and the fact that the language underlying our political system has become so cryptic and muddled.
Complaining is pretty much a local sport ;-). What do you think of the current economic situation in Italy? Do you think Italy is doing a good enough job keeping its young talent (like you) here?
The economic situation is just one of the causes of the so-called "brain drain" Italy has been experiencing. It is but a consequence of our unstable and corrupt government and the system and mentality that ensues. I firmly believe that living away from home can only do you good and offer new perspectives, but what I have noticed is that many of my Italian friends living abroad have recently chosen to come back. I find this deep attachment very moving and it's not just because of La Dolce Vita or because they believe they can do something to improve the country's situation… I think it has more to do with the land itself and its being such a radiant, generous and abundant source of inspiration, human connection and nourishment. Italy's landscapes and atmospheres silently spell out the words "hope, resilience and strength."
https://www.instagram.com/p/BSWX2xwhbW6/?taken-by=michelledavisizm
Well said. What advice would you give to a young person who is looking to have a career like yours?
Just test yourself constantly and don't settle! I've never been able to see careers as linear paths, made up of promotions, raises and a steady job environment. I've also never understood how protective people are of their positions and their contacts – strict vertical hierarchies are misleading and generally less effective in the long run. Generosity has always been my credo and I owe everything to my community, to the people who surround me and that have supported me throughout the years. This goes to show that sometimes all it takes is an open approach, less hubris and more trust.
Another unoriginal but useful tip is to learn an extra language– it opens your mind and gives you the key to your own independence. Google translate is getting pretty good but it will never capture the nuances of the human mind and in our increasingly multicultural society, the industry values multilingual conversationalists and foreign culture experts.
It's a bit like "google maps trust in it too much and you'll end up driving into a frog-infested pond. Weekend escapes: where do you go when you need a break from Florence and why?
My partner is a sound technician so he usually works during the weekend, so when it comes to taking a break from Florence I try to meet up with my two best friends, who respectively live in Cesena and Milan. We try to schedule frequent get-togethers in cities that we have either never visited before or are easily reachable for all of us, therefore we don't have a recurring destination… but I love that we challenge each other constantly, keeping our eyes peeled for cool music festivals, cheap train tickets and under-the-radar itineraries.
https://www.instagram.com/p/BdV8wssBXvd/?taken-by=michelledavisizm
You share three special places everyone should know about in Florence that are Michelle-approved?
I have a thing for unpretentious places with a positive vibe. One of my most recent discoveries is Hangar in via dei Pepi, a cozy and colorful hideout for the bohemian at heart with wall-to-wall memorabilia from all over the globe where you can enjoy a concert or a casual drink. Black Spring Bookshop in Via dei Camaldoli is where I go to grab a cappuccino and a copy of the latest obscure release from a niche publishing house. They host insightful book presentations, exhibitions and have an amazing photography and graphic design selection. When It comes to shopping, I am obsessed with my neighborhood thrift and second-hand store in via Maragliano 31 – I could spend hours perusing its bookshelves, taking in the smell of wooden furniture, rummaging around in search of hidden treasures! I just love objects that have a story to tell.
https://www.instagram.com/p/Bik0iuWgVWd/?taken-at=221888841582466
Three foodie favorites and why?
I am a total Asian food junkie! I know it's a sacrilegious thing to say in a city where every corner is packed with delicious Italian goodies but when I go out I crave for exotic flavors that can't be obtained in my kitchen, like pad thai, dumplings, steaming noodle soup and crunchy seaweed. Vino e Ravioli, Icchethai and Banki Ramen are definitely my top three! I would trade forks for chopsticks any day!
https://www.instagram.com/p/Bf3aRGWlkcG/?tagged=bankiramen
 What can you do in Tuscany and nowhere else?
I've only recently been introduced to the sacred lunch-break ritual that consists of a lampredotto sandwich topped with green sauce, usually devoured standing at one of the local kiosks while sipping a glass of red wine. This is one of the only occasions where I've noticed that drinking before 6 pm is not frowned upon. Authenticity lies in the little things.
https://www.instagram.com/p/BjHwyJhBN8E/?taken-at=2726642
Bravissima! If you had to make up a tagline for Florence according to Michelle, what would it be?
Tuscany, a surprise around every corner.
SaveSave
SaveSave
SaveSave
SaveSave
SaveSave
SaveSave