This week's local I love is an extraordinary person who lives in what I think is an instagram dreamworld (her terrace) but Katja is anything but a vapid social media personality. She is a former actress turned writer, altruistic soul, olive picker—and now author of her first book "Across The Big Blue Sea" that highlights her time working in an Italian refugee home that I highlighted earlier this year in a "what to read" roundup on the blog.
We've met a few times in and around events in Florence and every single time I've left our conversations with a smile as we certainly have plenty to talk about. I've been meaning to get her on my locals I love series for some time now so without further ado, find out how she came to Tuscany and what's to come in the life of Katja Meiers.
Name: Katja Meier
Nationality: Swiss
Profession: Writer and occasional olive picker
Favorite drink: A good Rosso di Montalcino from a small organically run winery
Cover photo Credit: Photographer Moritz Hager 
Tell me a little bit about yourself Katja, where are you from and tell us how you ended up in Tuscany
I moved to Tuscany in 1999 (that Prince song rings in my ears every time I say this). I had a job for the season in a hotel in Montalcino and knew on day two that I wanted to stay for good. I had worked as an actress in Zurich, but I was tired of the lifestyle and loved the idea of living in the countryside (not an option if you work in theater). I settled in southern Tuscany and got by doing the most varied things. I started off picking olives, worked as a wedding planner and life coach and have run a refugee home in the Tuscan hills. Today, I'm a writer among other things, but olives still play a big part in my life, albeit only the ones in my family's grove.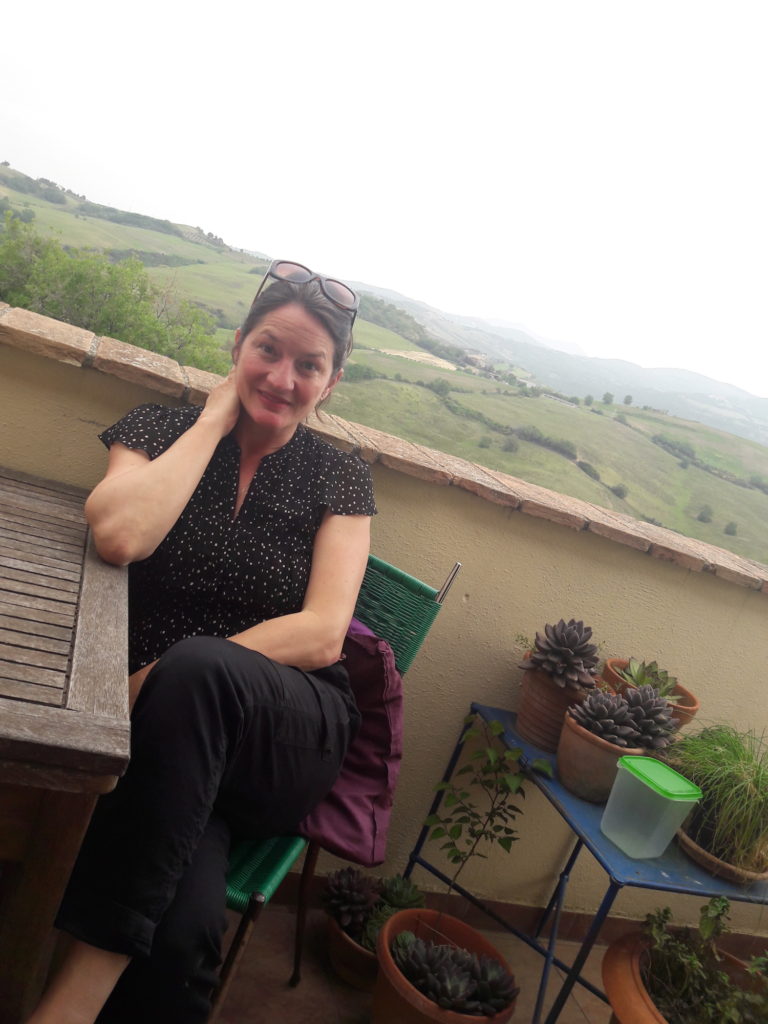 What are you up to here? Could be hobbies, work, passions or all of the above.
Across the Big Blue Sea, my memoir about my experience with the "refugee crisis" was published this year. It focuses on the joys and challenges I experienced while running a shelter in the Tuscan outback. The current migration situation is still a big focus of my work, but I also write about "lighter" topics on my Tuscany blogs and for Trust & Travel, a boutique Italian villa rental company. I also run Trust & Travel's Instagram account.
https://www.instagram.com/p/BZ1wXN1HSAA/?taken-by=trustandtravelvillas
I definitely get to see the extremes of this country, since my jobs all have to do with foreigners travelling to Italy, albeit for very different reasons and under the most diverse circumstances. I share my life with a true local though. Sergio and I have two children and we live next to our olive grove in my partner's home town in the Maremma in Tuscany's southern tip.
People often describe Italy as a sort of love story upon arrival, how was this for you? Can you share some of your challenges with adjusting to life in small-town Tuscany
Tuscany was love at first sight for me. But my infatuation with anything Italian started when growing up in Switzerland in the 70s and 80s. My two closest friends at primary school were both called Maria and both were the daughters of Sicilians who had left the island for a better life in Switzerland. Dark haired and Mediterranean at heart, both Marias have grown up bilingual, but in many ways they are much more Swiss than I ever was. They wouldn't dream of moving back to Italy while I never felt totally at home in Switzerland. Growing up with so many Italians in my vicinity meant moving here wasn't much of a culture shock. I had been to Sicily several times and in comparison Tuscany felt rather organized and nearly a bit "Swiss" to me. But living in the Tuscan countryside is definitely not everybody's cup of tea. Summer is easy. The weather is great and the calm backwater we live in comes to life with a myriad of food fairs and music festivals. But winter isn't for the fainthearted, especially if you enjoy an active cultural and social life. My persona seems to consist in equal parts of a crazy party-goer and a total hermit, so after a busy summer and autumn – people love to visit if you live in the Tuscan countryside – I'm totally fine with the social and cultural hibernation during the rest of the year.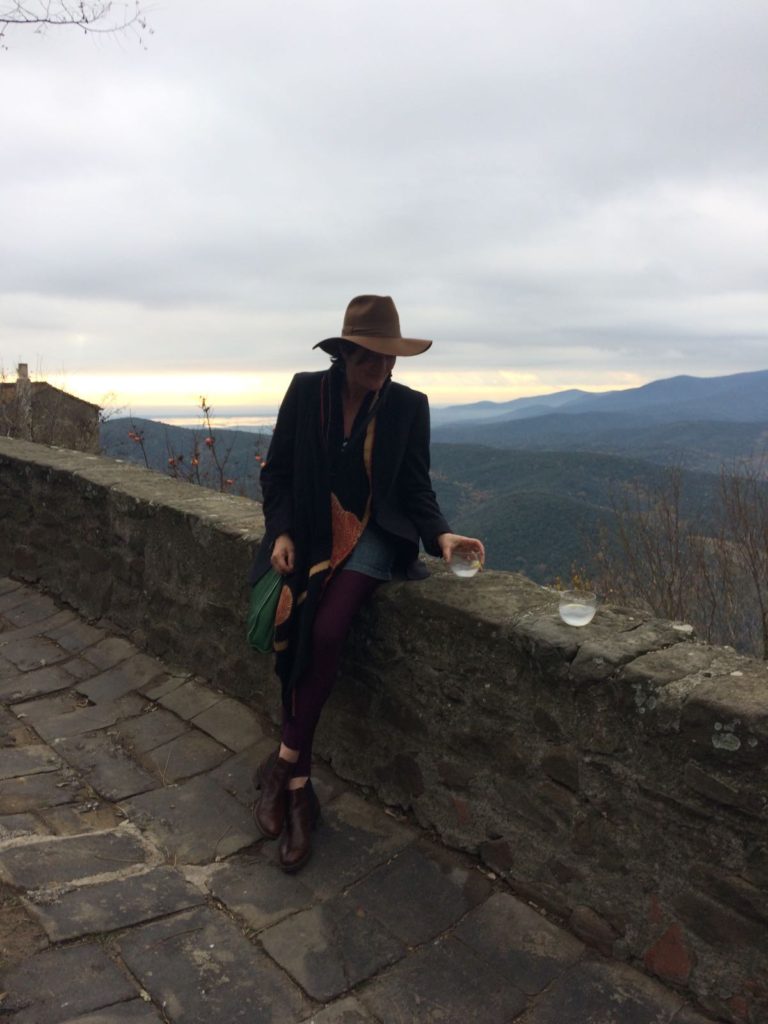 Tell us about that amazing terrace we often see on your Instagram account. What are we looking at from the terrace and what does this place mean to you? You do realize I'm going to invite myself over one of these days right? (Please also share a link to a photo of the terrace from your Instagram account).
I'll have a bottle of Brunello ready! And I'm sure I can talk Sergio into firing in the pizza oven. The view from our terrace and from the olive grove over the Tuscan countryside is what I love most about our home. Starting the day with a cappuccino at the table in the grove is the sort of thing that keeps me sane even when the going gets tough.
https://www.instagram.com/p/BRiHuukAT8v/?taken-by=anythingtuscan
Speaking of books, I have read your wonderful book "Across the Big Blue Sea: Good Intentions and Hard Lessons in an Italian Refugee Home" can you tell us a little more how this came to be?
I started working in a small refugee home in a Tuscan hilltop town in the summer of 2014. The situation in the Mediterranean had been bad for years and with the growing arrivals in Sicily refugee homes had to be opened up quickly all through Italy. I had already worked at a women's shelter before and when the organization running it opened up a refugee home I was asked to look after it. I'm a migrant too, and the different ideas our society has about the so-called "expats" like me and the less fortunate people labeled as "immigrants" is something that has always infuriated me. Expats, immigrants, refugees – we're all migrants, people, who for the most varied reasons have decided to leave their country of birth and I felt that this common denominator would help me in the work at the shelter.
Regarding the book, how has the reaction been so far? How can people help?
The feedback from readers is extremely positive and Across the Big Blue Sea has gotten some wonderful endorsements and reviews from writers who I extremely admire. However, it's really hard to get the voice out about a book if you don't have the huge marketing machine of a big publisher in your back. Hence, I rely on a sort of grass root movement which can only grow if the people who read the book keep talking about it. If you learnt something from Across the Big Blue Sea or have been touched or inspired by it, please take the time to leave reviews (on Amazon, Goodreads, etc.) and help spreading the word by discussing or recommending the book on social media or in the real world. It's for a good cause!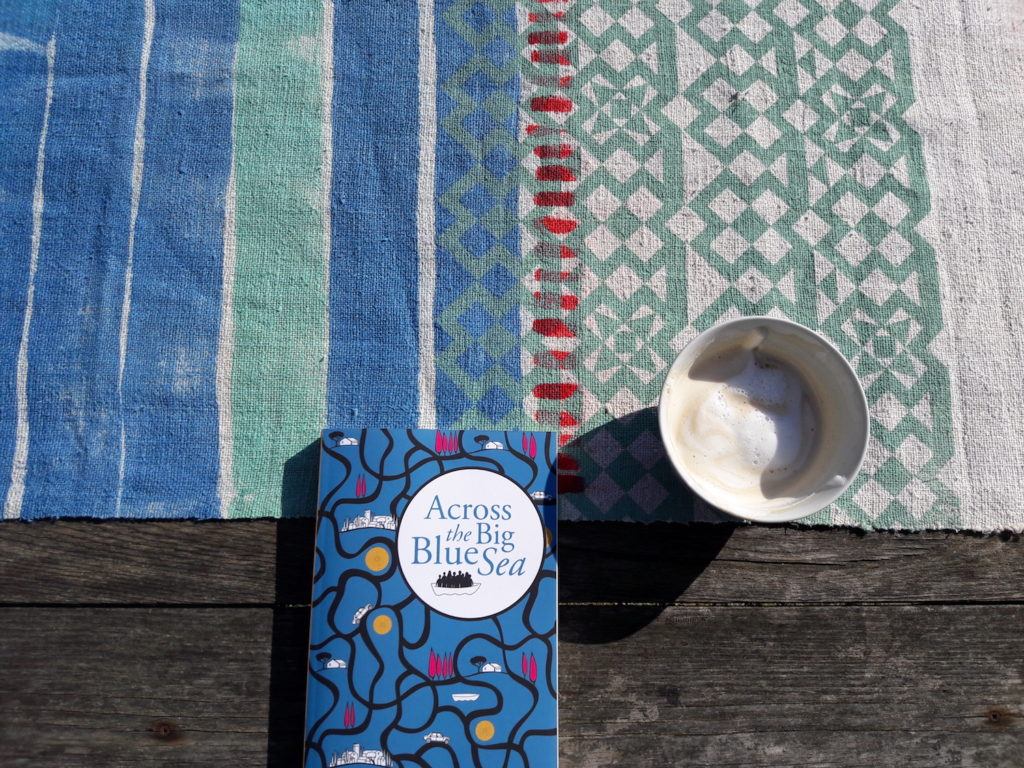 Can you share some of the most interesting memories of working at the refugee home?
This is a tricky one. Before writing the book I had been asked to write an article about my work at the refuge, but realized early on that the topic was so complex that I couldn't boil it down into a couple of episodes or paragraphs, hence the book. But what I can say is that Across the Big Blue Sea tells stories of female refugees that are perhaps not quite what you'd expect. The biggest group of people I looked after were young refugee women from Nigeria. Human trafficking, exploitation in Libya and sex work in Europe are big topics connected to Nigerian migration from Benin City to Europe. You might hear about these challenges in Rome, London or Amsterdam but most people aren't aware that these situations are just as present in the seemingly idyllic Tuscan countryside. Podcast lovers can get a bit more background information about the complex and challenging issues at hand by listening to Angela Ledgerwood's interview with me on the Lit Up Show.
https://www.instagram.com/p/BXN8SIwHNmp/?taken-by=anythingtuscan
This might be a loaded question but what are your thoughts on the asylum issue in Italy? I feel like a lot of people have misconceptions about those coming to Italy or Europe and there is a lot of fear-mongering. I'd love to hear your thoughts.
Yes, there are huge misconceptions starting with the notorious 35 euro a day which the Italian government pays to the shelter and not to the refugee, even though you keep reading in the press and on social media that it's the other way round. In reality the refugee only gets 2.50€ a day for personal use like phone credit (which isn't a lot if you have to get by in Italy) and the rest goes to the charity running the shelter.
And just this morning I heard somebody complaining again about refugees owning smartphones. As if this is not the first thing we'd want to buy or take along if we ever had to leave our homes.  Smartphones are the cheapest way to stay in touch with family and friends abroad. Hence, refugees are often seen chatting or surfing on their smartphones in public places where they can access the free Wi-Fi. The internet isn't just a vital tool for all of us to find train connections, read the news, learn a language and find legal information, but also serves as a welcome and often needed distraction (the monotony and tedium of months or years on end with hardly anything to do is a huge challenge if you're stuck in a refugee home).
This said, I don't mean that we're not allowed critical thinking when talking with or about refugees and migrants (again, I'm a migrant too). Depending on our political leaning we see migrants and refugees as a threat who needs to be kept outside or as poor helpless victims who we need to save. Of course, reality is much more complex than that and keeping the discussion going forward along exaggerated stereotypes doesn't help.
Just to change subjects a little, Let's talk Tuscany. What are some of your favorite treasured spots and why?
Prepare for many, as I have been living between the Maremma and the Val d'Orcia for nearly two decades! My hermit side loves everything that's off-the-beaten-path like hiking in Cinigiano (the Tuscan village I live in), the natural hot springs in winter when they're less busy and visiting the small family owned and often organically run vineyards in Montalcino. City wise I love to take our kids to Florence in the winter when the museums are less crowded and Siena with its Palio and cultural heritage is a great city to explore with children in tow, especially once you start exploring the backroads which are entirely tourist free all through the year.
As a family we spend a lot of spring and autumn weekends on Maremma's long and beautiful beaches, where DIY beach huts created with driftwood provide ample shade.
https://www.instagram.com/p/BTAJupeAg5s/?taken-by=anythingtuscan
If you'd like to spend a holiday on Tuscany's southern coast, have a look at Trust & Travel's many fabulous seaside villas or check out il Baciarino, our friends' simple but incredibly beautiful place in Vetulonia. I love Baciarino's outdoor bathtubs and the village bar has a gorgeous view for a sunset aperitif overlooking the Maremma and its coastline near Castiglione della Pescaia.
Do you think life in Italy is for everyone? Why does it work for you? What advice would you give to some who has stars in their eyes and wants to move here?
Italy is definitely not for everybody. I have seen a lot of foreigners leave, rich and poor. Among them "expats" who invested fortunes into buying property before realizing that the picture perfect life of Under the Tuscan Sun isn't that easily achieved (or never really). But if you don't aim for perfection, if you're flexible and know how to improvise, life here has a lot to offer.
Time to get real, what annoys you about life here? Feel free to be as open as you want.
Actually, the list isn't that long. But if I had a magic wand I'd make sure every bar in Italy has a bathroom with a working toilet seat (I'll never understand why that's not possible in a country where people are total maniacs about hygiene in their own home). And of course, bureaucracy can drive you nuts. The Florentine published an excerpt of Across the Big Blue Sea about one of the many exasperating mornings I spent at the questura, the Italian immigration office, supporting refugees with the paperwork and interviews needed to lodge their asylum request. I heard from foreigners and Italians from every walk of life that they can totally relate to that scene in the book!
Favorite Tuscan comfort food and where to get it? 
Some of my favorite restaurants in Montalcino can be found here, but I don't eat out that often as I chose my partner and friends carefully! Sergio loves cooking and firing in the pizza oven, his mom makes some insane homemade pasta and Raffaella, a very good friend of mine, runs a fabulous cooking school in the Val d'Orcia.
https://www.instagram.com/p/BabPGT5ng9k/?taken-by=anythingtuscan
What can you do in Tuscany and nowhere else?
Only in Tuscany can one experience the strange juxtaposition between the gently rolling hills and the people who inhabit this landscape. Considering the peaceful, soothing, and some say mindfulness-inducing qualities of the world-famous countryside you'd expect the Tuscans to be an incredibly serene and even-tempered people. Quite to the contrary, the inhabitants of the rolling hills are known all over Italy for their propensity to blow off steam with blasphemous expletives and the most imaginative swearwords. Often when I sit in our olive grove to enjoy the calming view, the peacefulness is interrupted by a staccato of curses fired by a hunter who has lost his dog or a neighbor who has a couple of words with Jesus Christ and the Madonna because his Fiat Panda just broke down again. Not one to enjoy too much saintliness, this works just fine for me!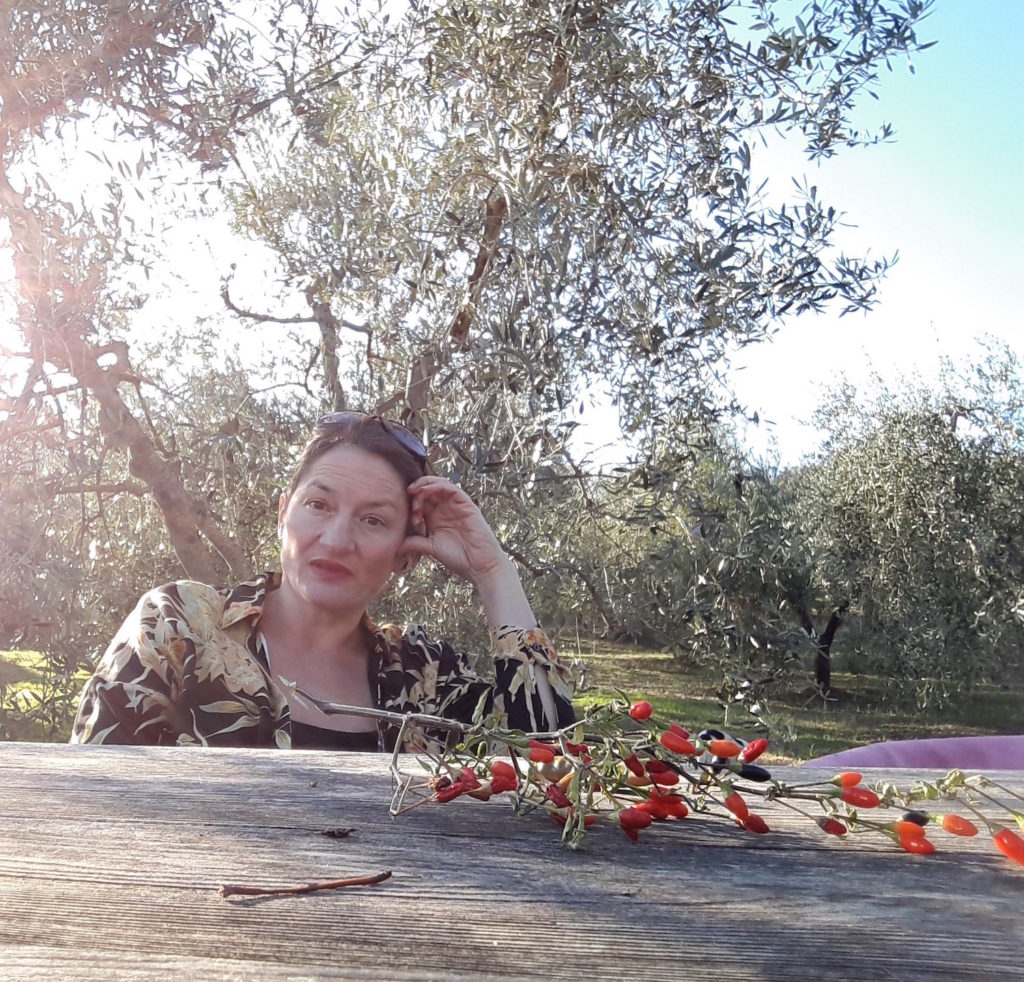 Last question… what is Katja working on next? 
I no longer work at the refugee shelter. I won't say why, as this would spoil the book for the people who might want to read it. However, I'm still supporting refugee projects on a voluntary basis. We just created a website for CRUNE a social initiative and multicultural workshop that provides migrants and refugees staying in shelters in and near the Val d'Orcia with sewing lessons from professional Italian tailors. Made in Italy by African hands, the first creations have already been sold and they are fabulous!
And as you know from my book, I try to support Lesley and her family as good as I can. Lesley is a Nigerian woman who after standing up to her abusive Italian husband had to find out that the Italian legal system is fraught with racism and nepotism. It's a long, sad and complicated story, and I'm collecting money to provide Lesley with better legal support. You can find out more in Across the Big Blue Sea or on the book website where you'll also find a Paypal link to support Lesley's legal case.
I'm also researching a new book idea which focuses on the life of Swiss migrants who for centuries moved all over Europe to open up pastry shops and coffee bars. Many of Italy's most famous cafés – e.g. Gilli in Florence, bar and pastry shop Sandri in Perugia or Caflisch in Naples – have been founded by Swiss immigrants. Their remittances didn't just improve the livelihoods of their families in the then very poor Swiss Alpine valleys but also provided the base for the famous tourist industry in St. Moritz. Today we only remember the Swiss migrants who came to riches abroad. But many were exploited and worked endless hours – often in the pastry shops founded by their fellow countrymen – and died young and alone in utter misery.
What interests me in this regard is the connection to my own work with migrants and refugees. Why do people leave? Who stays behind, who succeeds and who doesn't? The young men who left Switzerland dreaming of a better life didn't have to cross the sea, but the struggles they faced are not that different from the ones of today's migrants and refugees.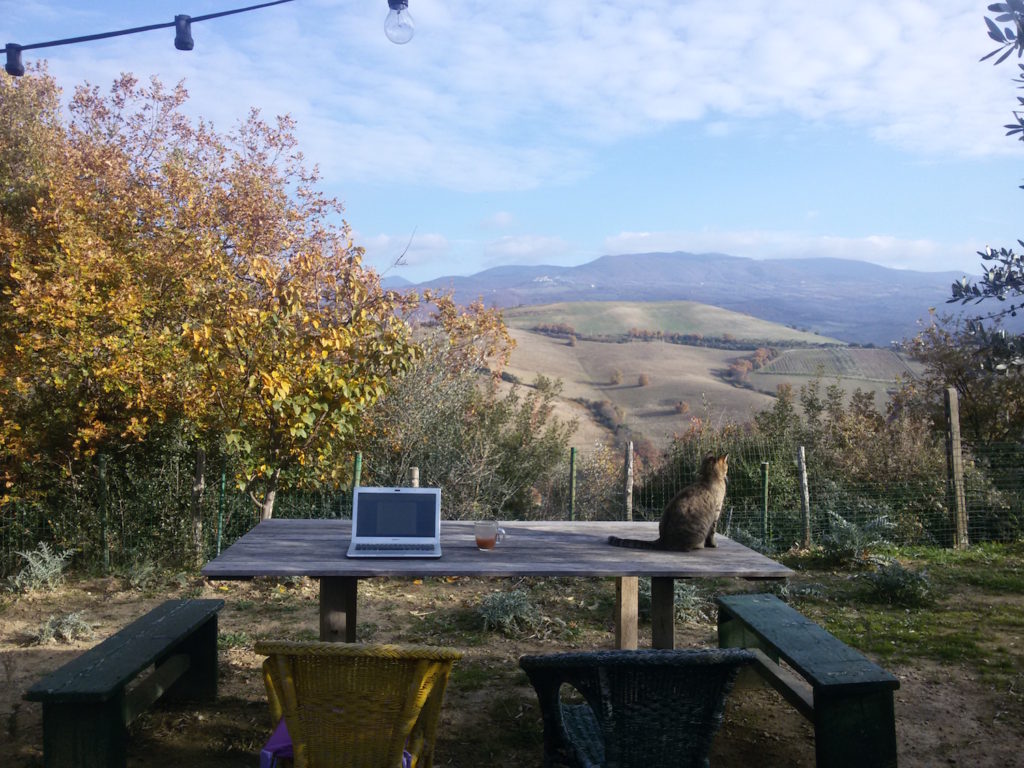 If you had to make up a tagline for Tuscany according to Katja, what would it be?
An enchanting and beautiful land where, everyday anew, locals and foreigners are learning to live together, among a swearword or two.
….
Follow Katja on instagram or check out her blog or buy her book here. 
SaveSaveSaveSaveSaveSaveSaveSaveSaveSaveSaveSaveSaveSaveSaveSaveSaveSaveSaveSaveSaveSaveSaveSaveSaveSave
SaveSaveSaveSave