****Update for 2019, unfortunately Momio has closed indefinitely since January 1, 2019. 
I have to be honest, it's been forever and a day since I've craved anything resembling eggs benedict.
In Florence, it almost feels like brunch was a fad that came and went. After 10 years here, I have become more Italian than I would care to admit. I drink coffee and sometimes have a pastry for breakfast. It's not really a thing we do in our household though for lunch, avocados often sneak into our meals.
When the craving for bacon, eggs and anything "brunch-friendly" there are certainly some staples have remained true and good in Florence, namely Mama's Bakery or Le Vespe. Both places are where I normally go when I crave something a little more Anglo for for breakfast or an early lunch.
However there's a new kid on the block and boy is she beautiful.
Enter, stage left, Momio. Let's embrace a little honesty hour, Via Pisana has never been Florence's sexiest street, actually it has remained defiantly unsexy as it serves as a residential endless stretch of a road that gets more exciting as you near the city. Near Borgo San Frediano, you have dependable old-school trattoria Sabatino, the best no-frills pub with craft beer Diorama and now a place with omelettes, eggs benedict, a full english breakfast, a curated dinner menu and space for cowering. It's a bit surprising that they chose a spot so off the regular tourist grid but perhaps that was the point.
I broke my usual rule of not writing about a place until it has been there at least a year because I just want to support what is a really cool new spot. Being that the location is a little non-obvious, hopefully this will spur those who don't mind walking off their dinner to try something new away from the crowded streets surrounding the Duomo, Santa Croce or Palazzo Vecchio. Nearby, you have the pub mentioned above and proximity to Piazza Tasso for an after or before-dinner drink at Aurora, a local favorite with outdoor seating.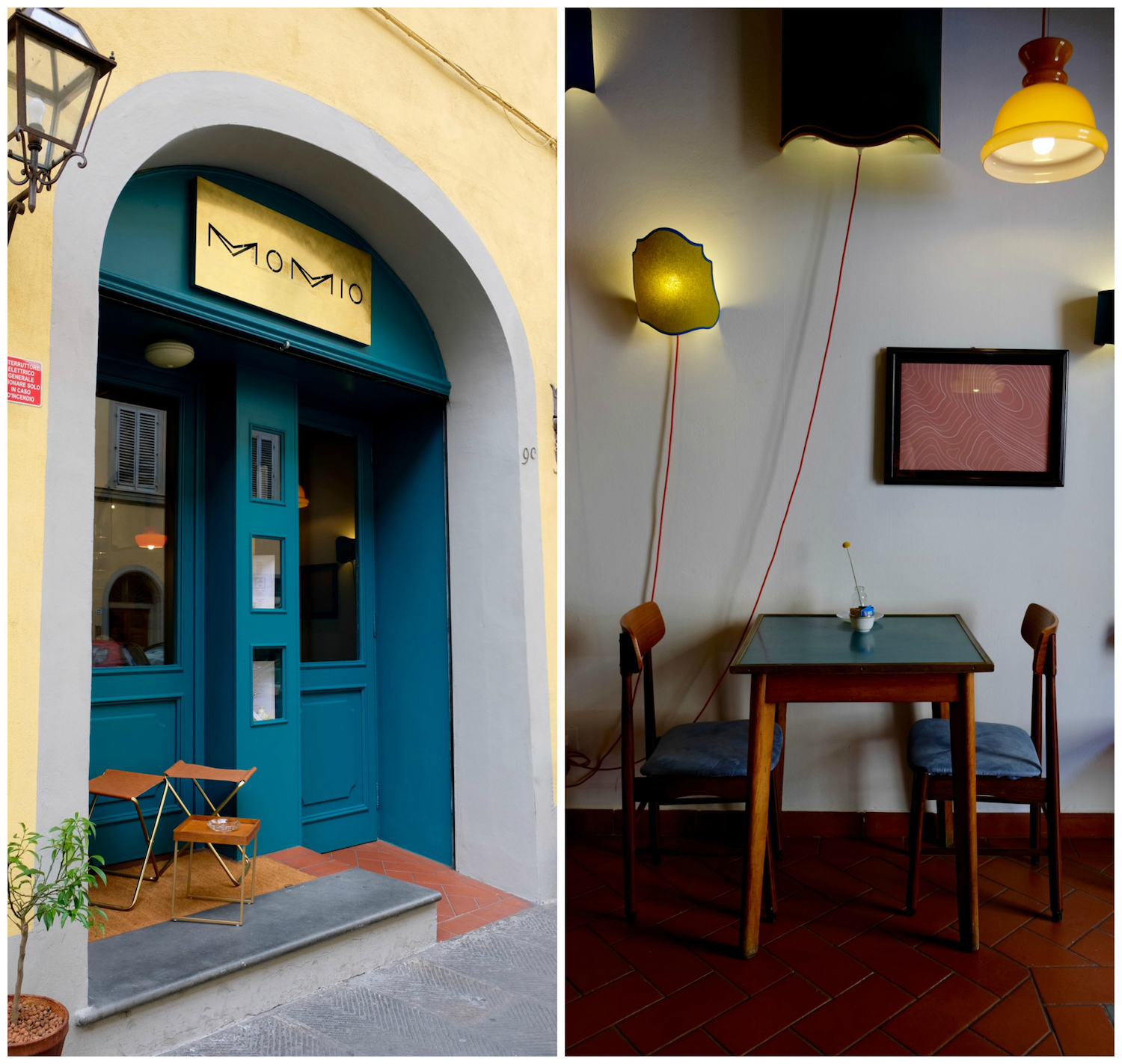 At Momio, the feeling you get upon entering is very British but don't be fooled, the menu features a wide array of International options. However, when I think about it, is actually very British. Isn't the Uk's national dish Chicken Tikka Masala?
The front room is pleasantly muted in cool shades of blue, brown and pink, with colorful lampshades and exposed wire. On one wall, a glass cupboard showcases a selection of pretty china, a child's tea party waiting to happen or —who am I kidding, one for adults.
Along the main cafeteria bar sits a various array of glass-covered nibbles, of the sweet variety. Stacks of large chocolate chip cookies, one-person crostini and berry muffins, a perfect pairing go to go with a selection of tea from local tea-haven Tealicious (good choice guys) or an excellent selection of single-origin coffee (labeled on the menu with the place of origin).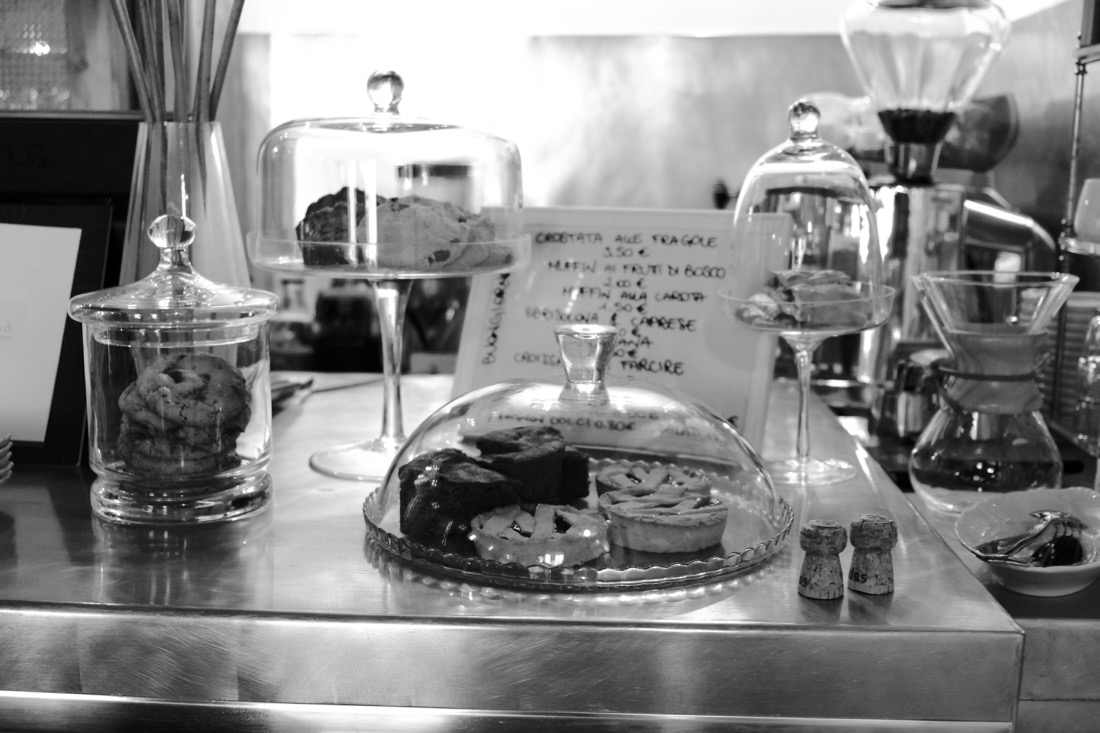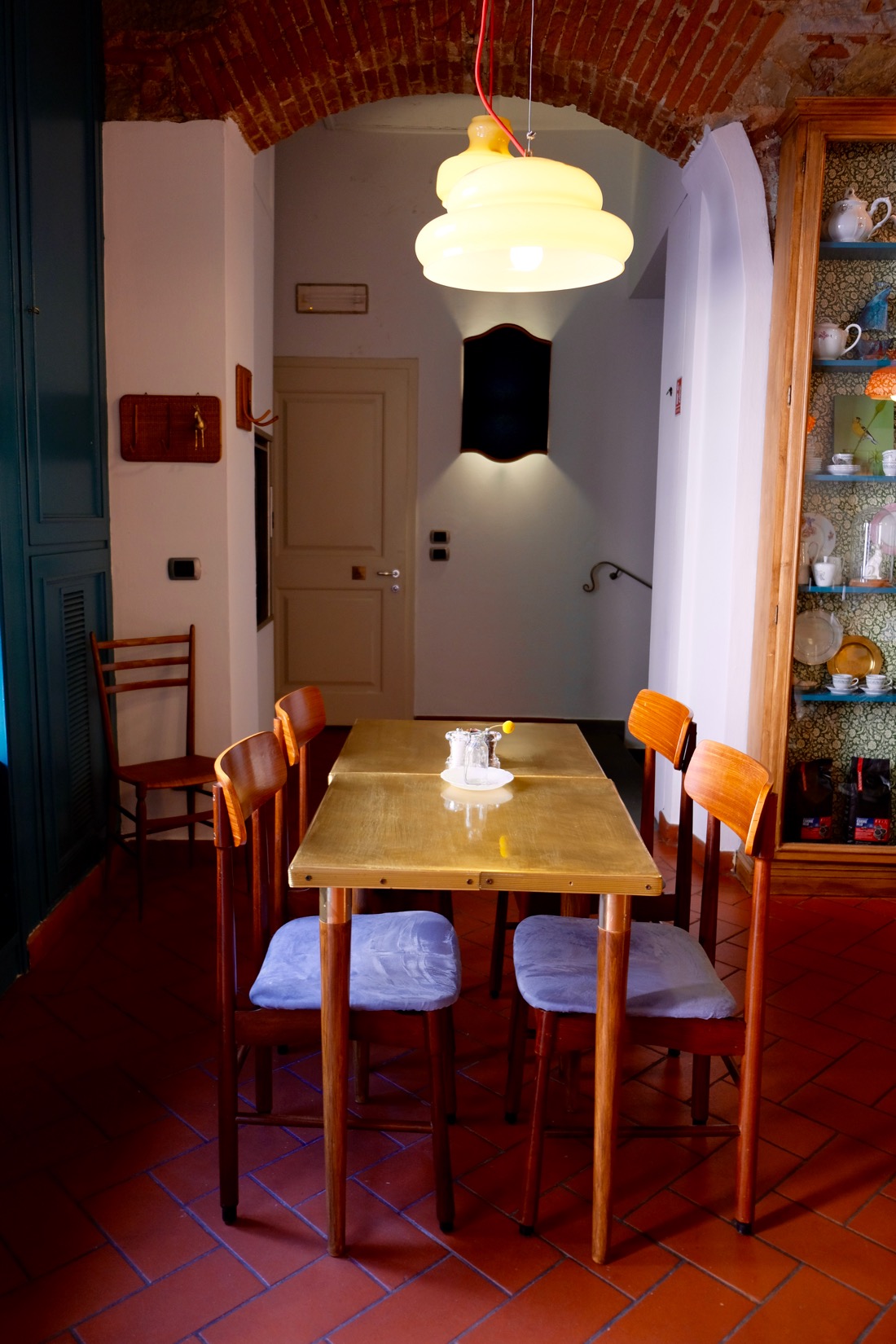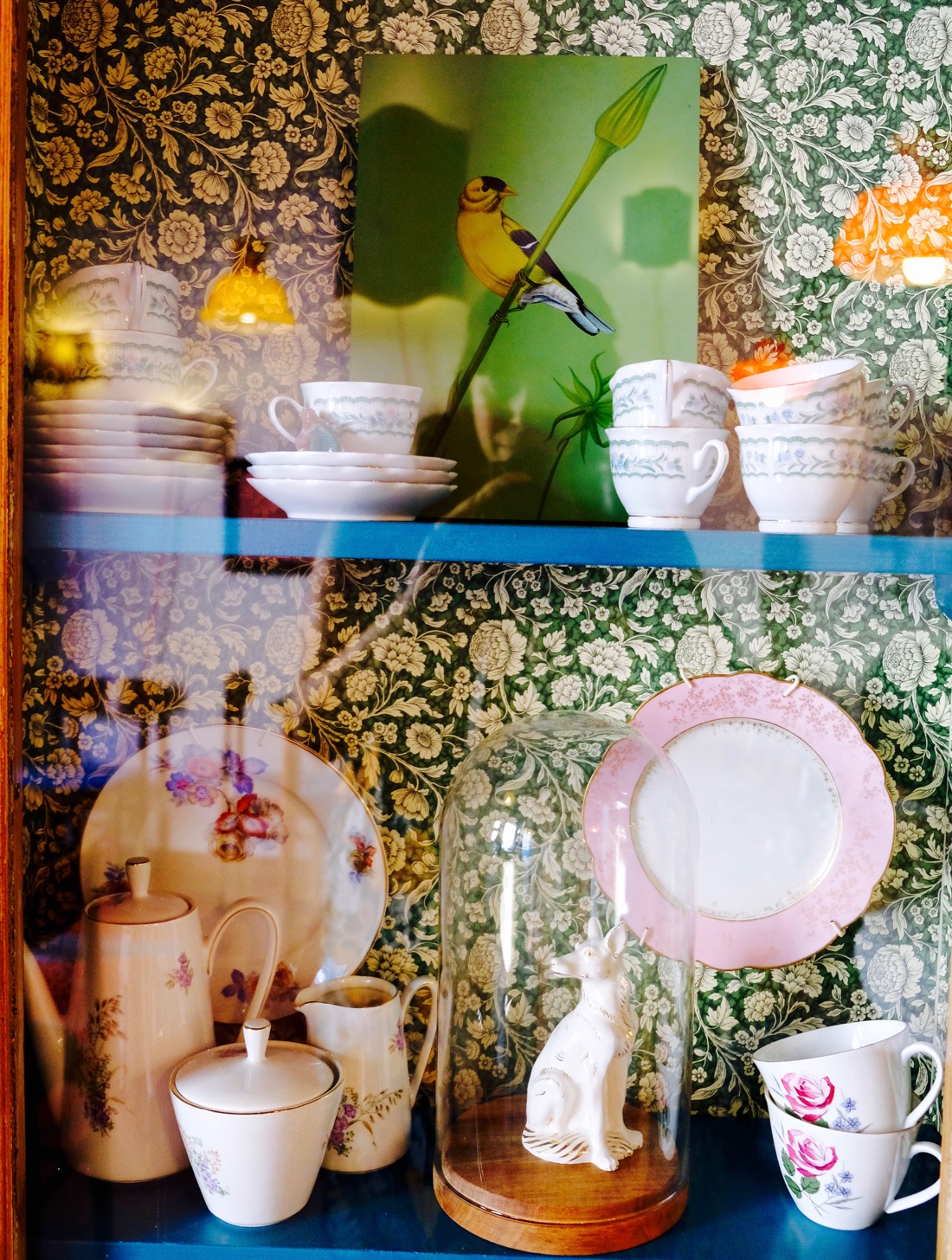 We eagerly had a look at their cafeteria menu and chose a selection of their egg dishes. Perfectly cooked eggs benedict, eggs royal or eggs Florentine (9 to 11€ a plate), all of the English muffins are handmade as Nadia was on a mission to find ones that were perfect, after living for some time in London. Also on tap on omelettes, pitas, yogurt and granola. We shared a deliciously crunchy pizza fritta (10€), topped with mortadella ham, each bite convincing me that I could just come back for this.
I also spotted Vietnamese bánh on the menu, this is a Vietnamese sandwich with baguette bread topped with pork pate, roasted pancetta, carrots, daikon, cucumber and coriander. We didn't try it this visit but I am very intrigued to sample this delicious-sounding treat another time. Surprisingly I only got 1/4th of the pizza fritter's crumb on my shirt, I saved the rest for the cookie I had for dessert.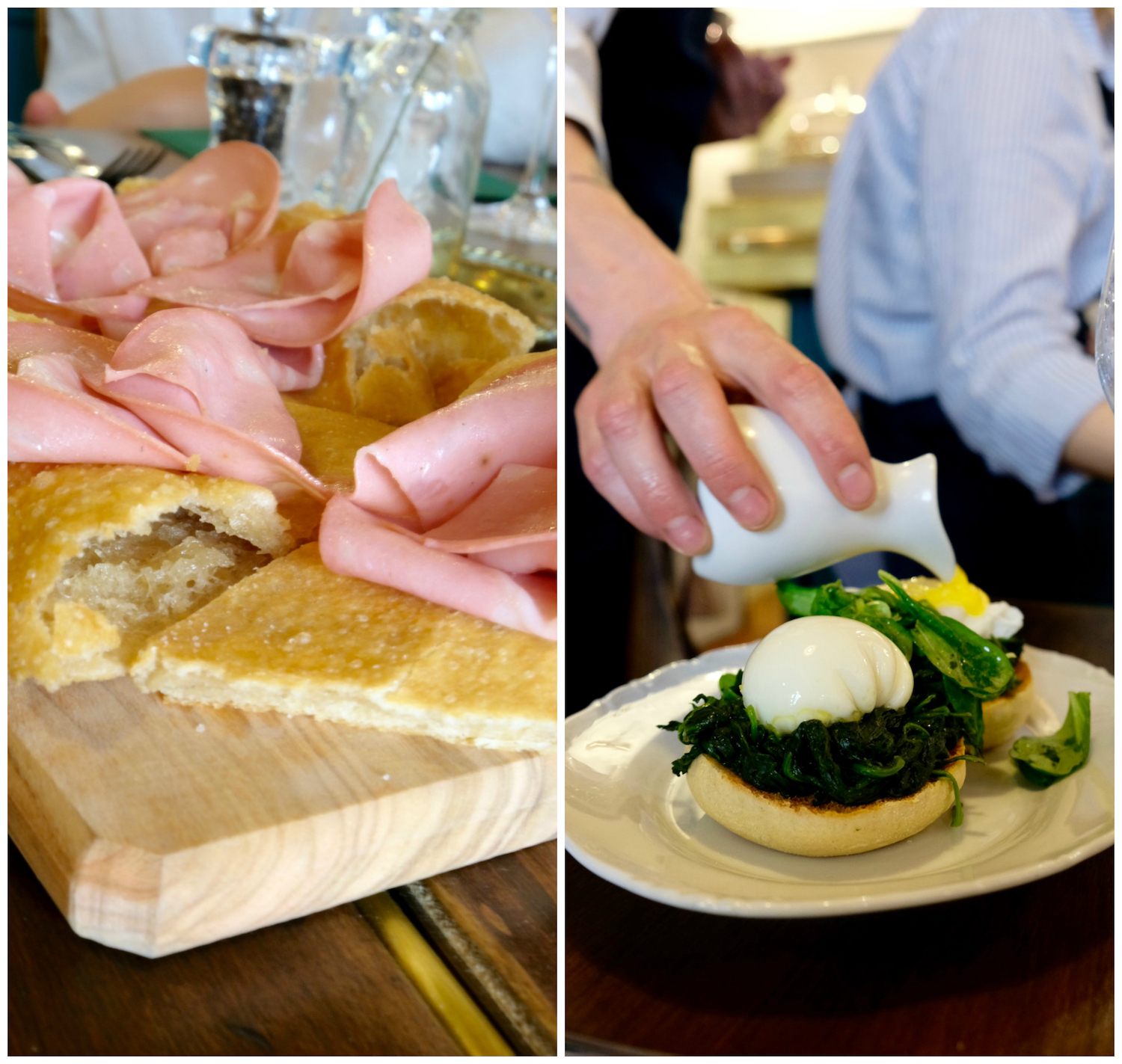 Nadia also brought us out a before-meal amuse-bouche which you normally don't get before brunch. We bit into airy, crunchy puffs filled with a beet creme and topped with sprinkled cheese. Deliciously light, and wonderfully fresh for a hot weekend summer day in Florence. Did I ever tell you guys I have a thing for beets?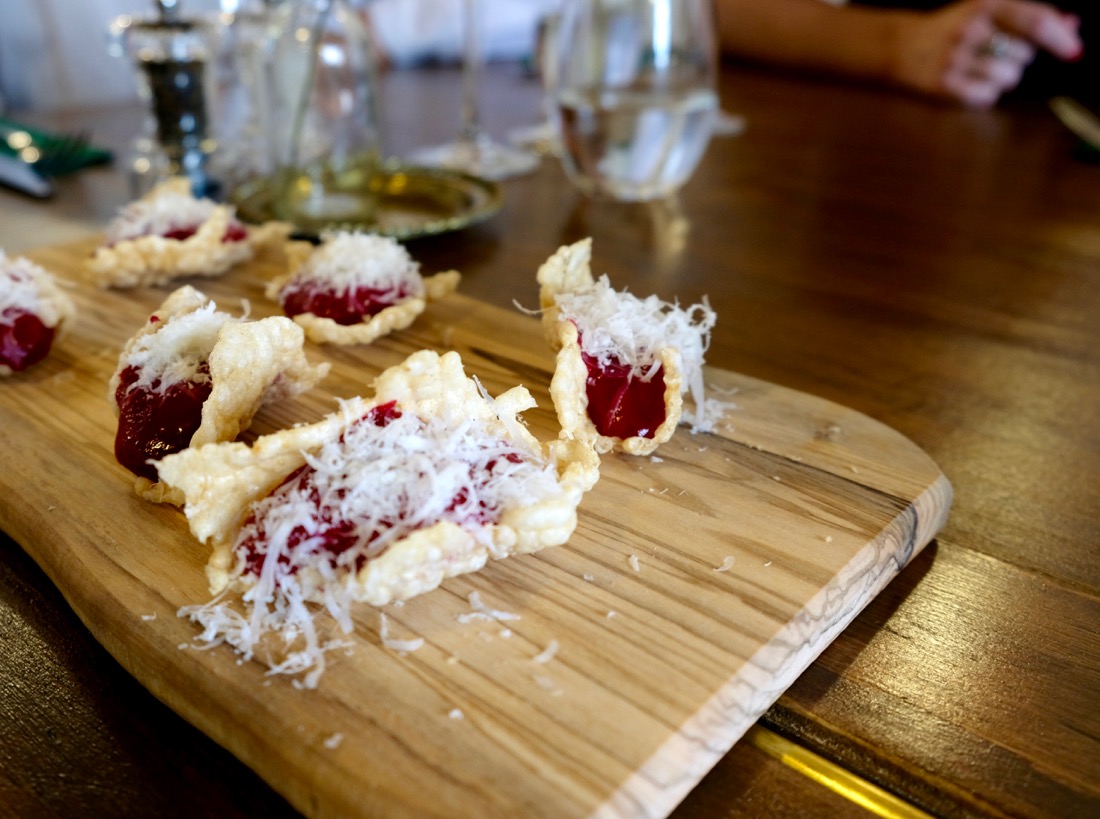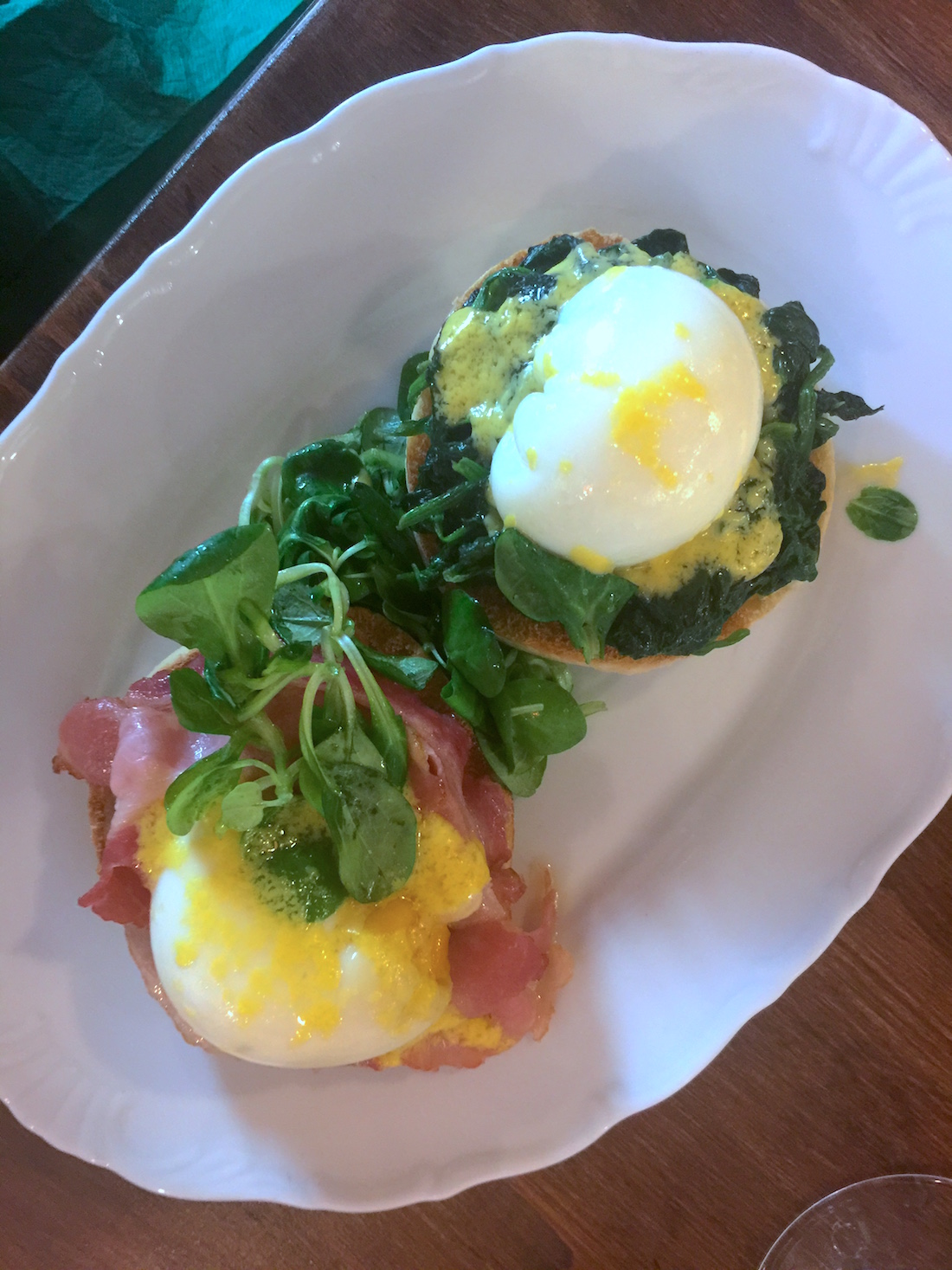 One of my clever friends ordered the full English breakfast, which of course resulted in immediate food envy when we spotted his full platter of steaming sausage, baked beans, toast, plump grilled tomatoes, mushrooms, bacon and eggs (12€).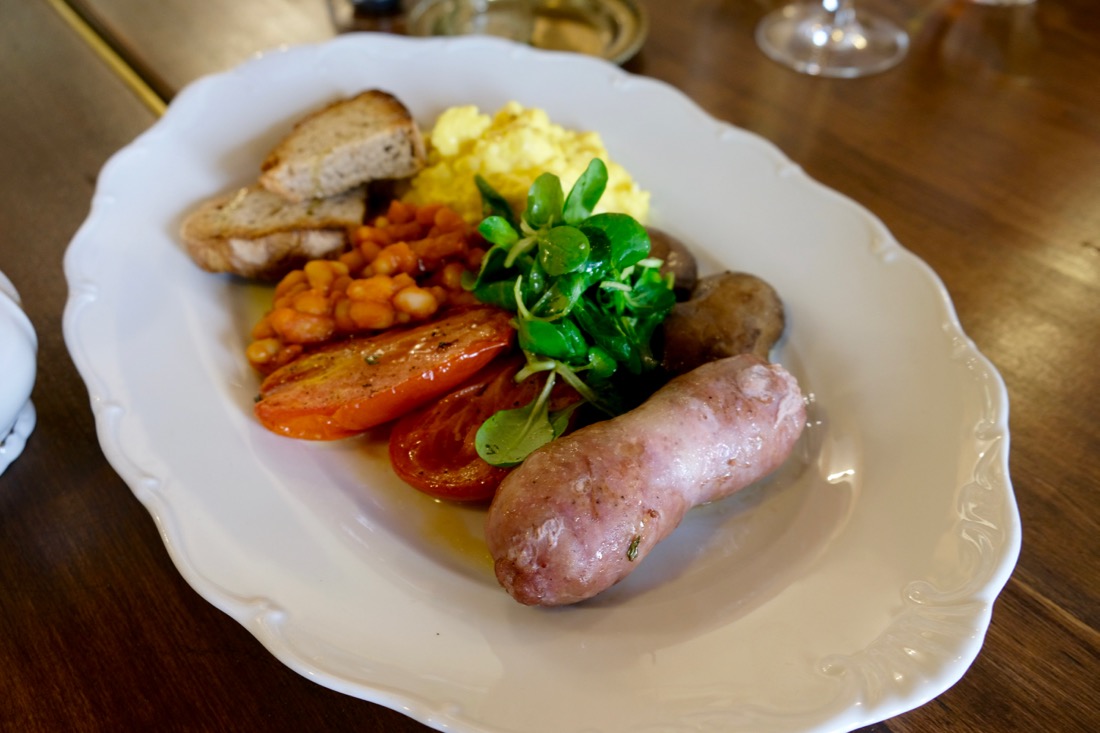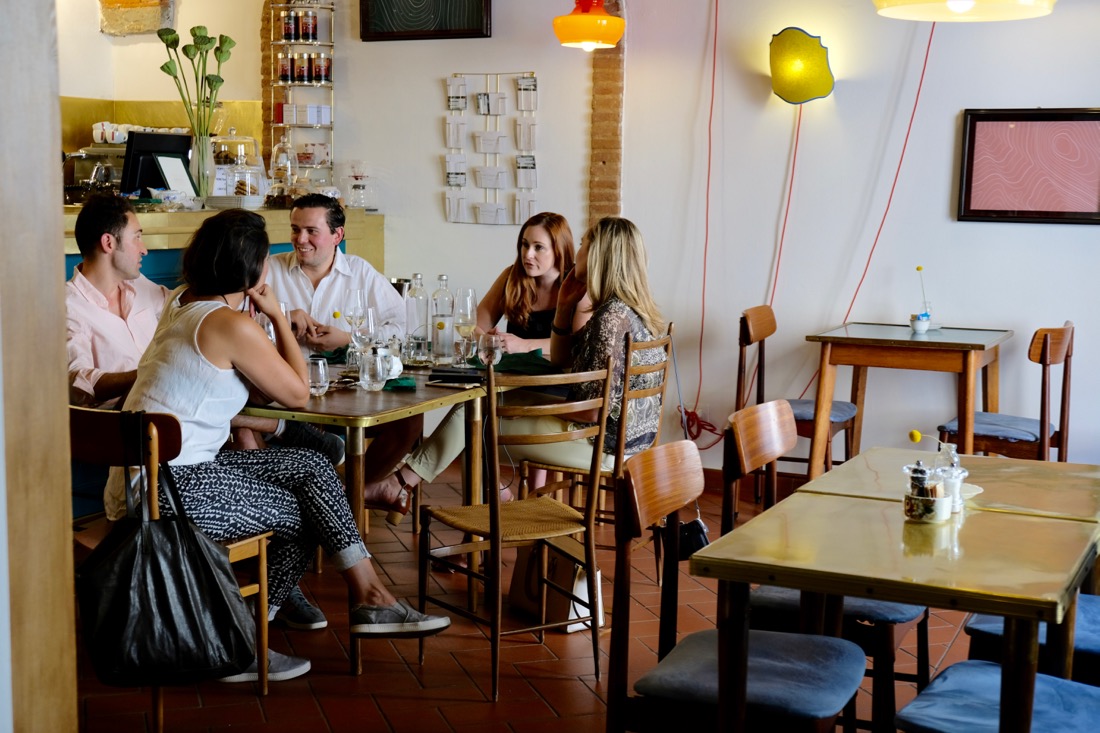 I ended of course with a swift shot of espresso and a chocolate chip cookie. For some reason I do not have the "cookie master" skills so many of my friends possess. My normally come out like burnt flying saucers or some sort of test for my husband to see how much he loves me "these are great honey (while coughing)." Here these cookies mean business, perfectly soft and crumbly with no burnt edges to be seen. Hallelujah!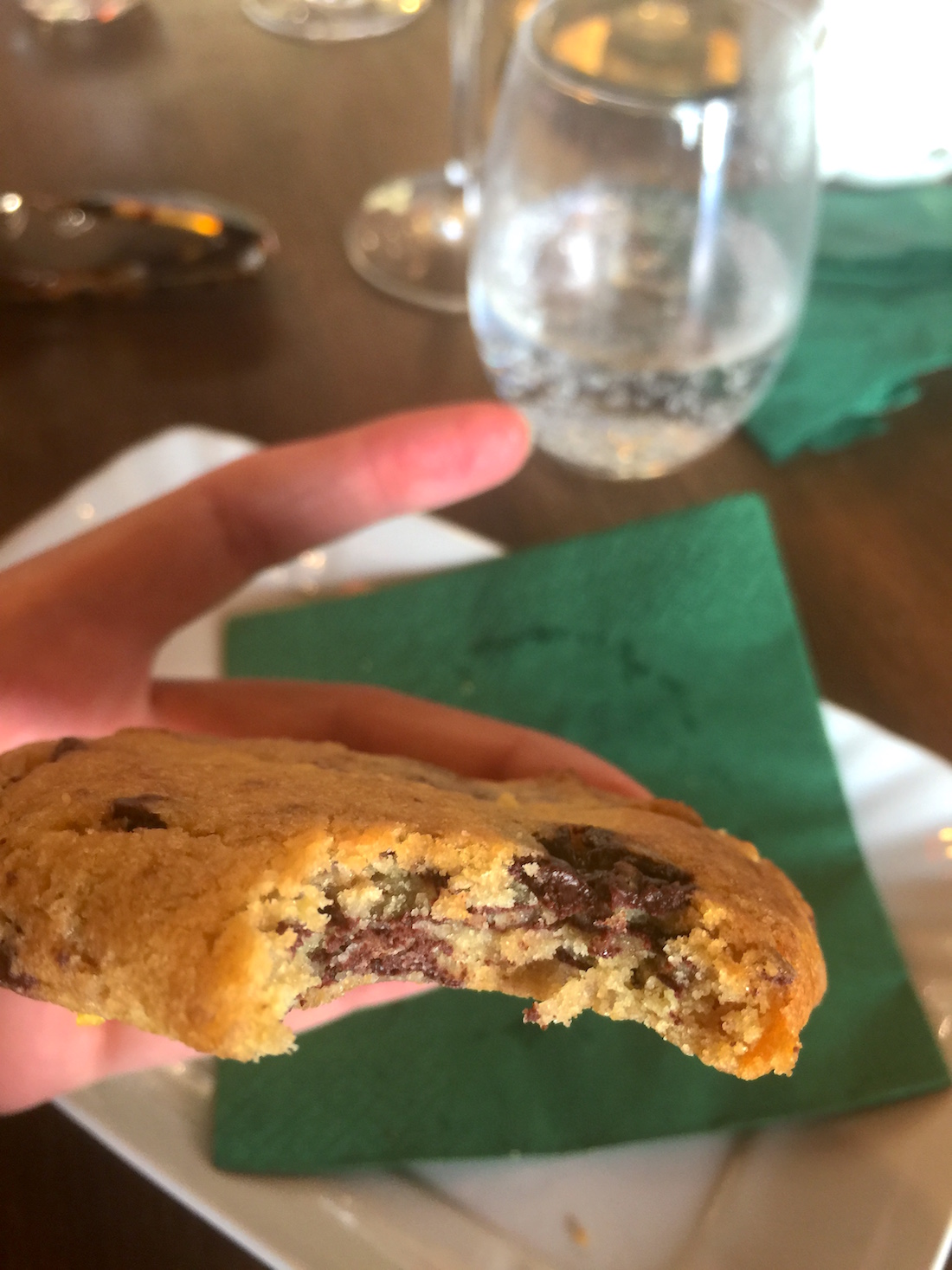 We got the chance to speak a bit with Nadia, Momio is the brain-child of both her and her partner in life Marco and a cherished word of love affirmation between them both. A refreshing and notable point since sometimes I wonder how these restaurants come up with their names. It's a bit like a tattoo, it should have true meaning or maybe you shouldn't do it at all.
A bit of backstory on them: Nadia and Marco are from Orvieto, and have traveled extensively before living in London and now Florence. I heard about the place from my friend Emiko Davies, you know that amazing cookbook author and food writer?
I couldn't help but ask Nadia "why Florence?" since neither of them are from here and she answered with "Firenze is the perfect middle-sized city, small enough to be easy livable but hip enough to accept an International place like this. We wanted to create a selection of dishes that reflect our time abroad."
She led me downstairs to the charming basement level space where the restaurant and lounge are located. I swooned over the exposed-brick details, floral furniture and retro furnishings. This area is for those who want to have a cup of tea, a coffee who can feel free to plug in their computer and stay awhile (free WiFi), a godsend to us freelancers.
in an adjacent room is the restaurant, sleek in design but also friendly. Here diners can tuck into a sophisticated menu featuring items such as interesting plays on risotto dishes with pork cheek and spring onion — or dive into a liver brulee with chicken liver, anchovies and capers, tangy yet smooth, it sounds delicious. Like I said, I haven't yet tried the dinner menu but I'm intrigued.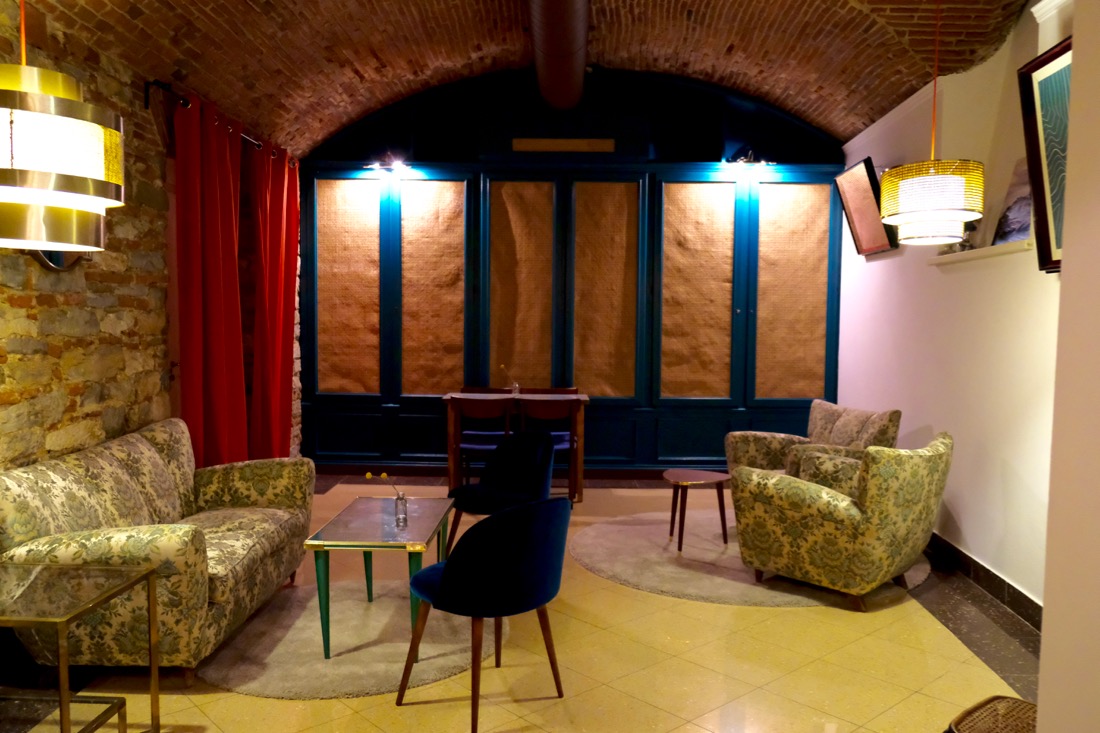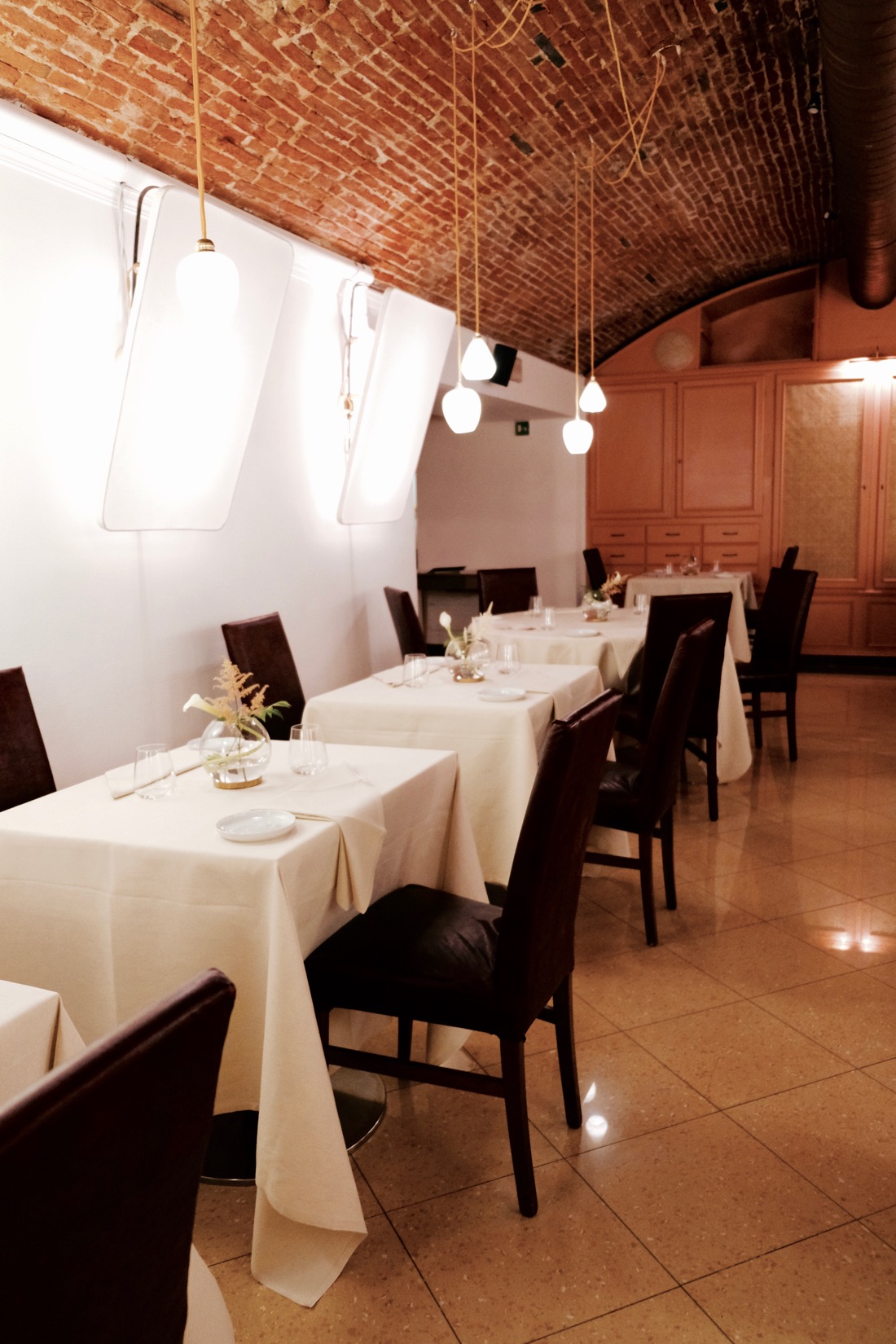 For other brunch options or new openings in Florence, I invite you to take a look at my "eats" page, a list that evolves faster than you can say "si mangia?"
Momio Firenze: open 9am-11pm Wednesday-Sunday. 9am-8:30pm, Tuesday, Closed Mondays. address: Via Pisana 9c, Florence, Italy.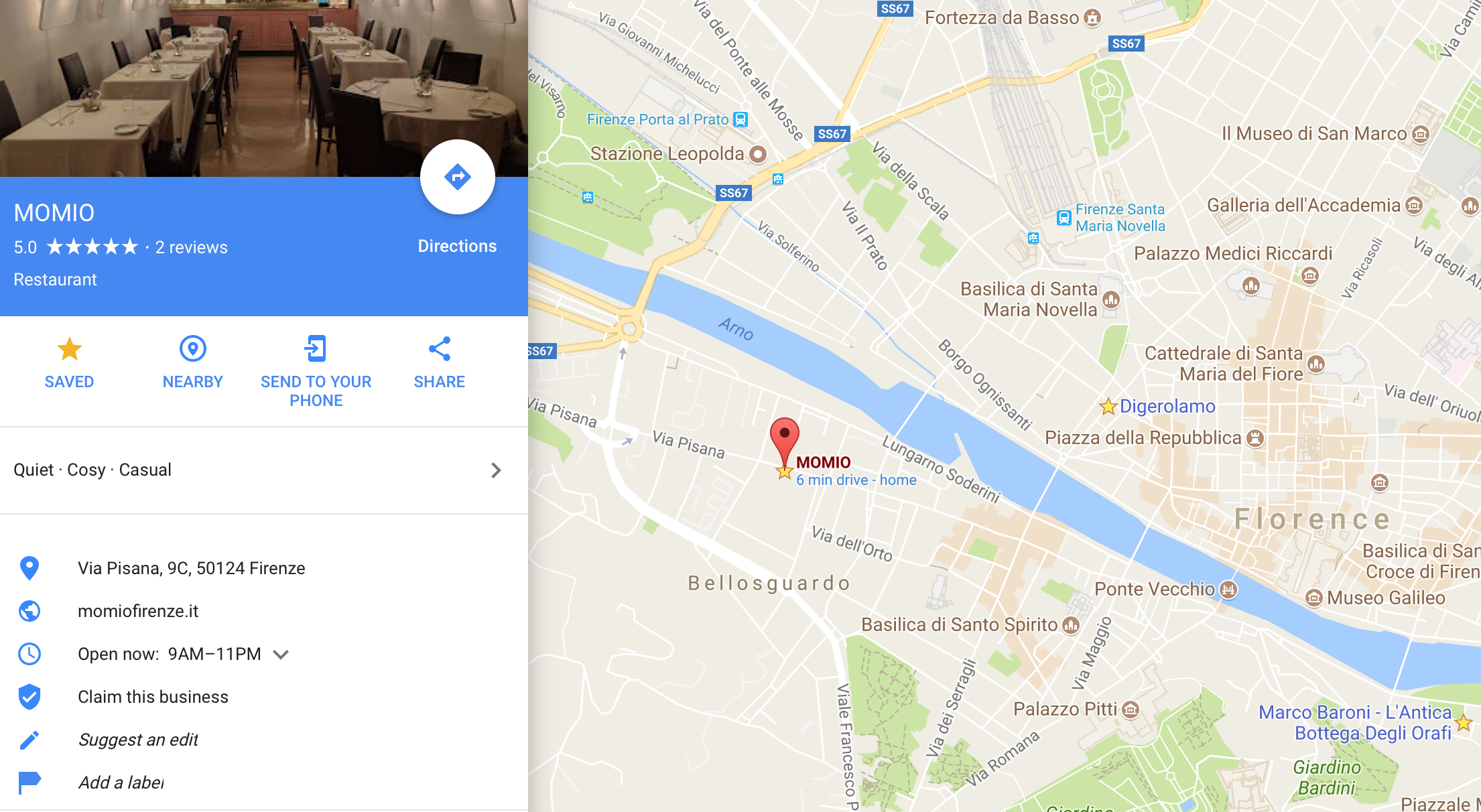 SaveSave
SaveSaveSaveSaveSaveSaveSaveSaveSaveSave
SaveSave