"This is my favorite" Paolo smiles as he runs his hands over the top of a rectangular box "inside, it represents the gold rush in America, from a female point of view. Many don't know this but women made a lot of money during this period. Not digging up gold of course, but instead, selling useful things to those who were searching for gold," he laughs as he slowly opens the box.
We peered eagerly inside, the front end of the opened box was covered, corner to corner, with photos from a begone era. It was as if the 19th century and the gold rush was staring at you in black and white, or a faded brown sepia; with people who look as wild as the time they were in. Probably they were embarking on the most incredible of adventures, and for a moment you are there with them, transported in another, likely pretty dusty time (pun intended). The Wild West, something I should be more familiar with. That, was just the beginning.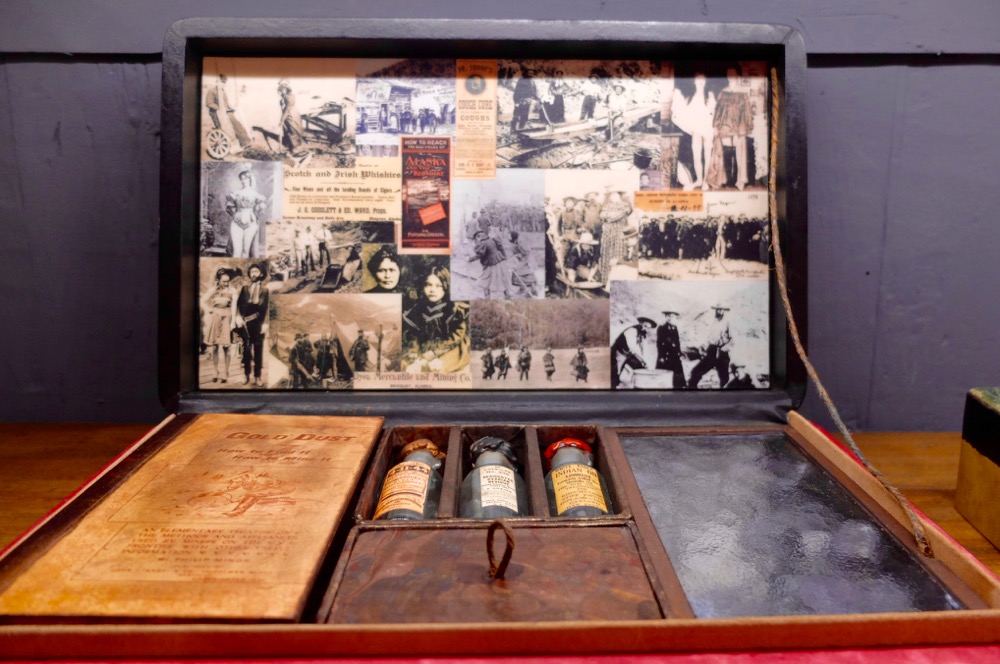 I was inside the shop of Paolo Carandini, on a quiet street just off of Santa Croce, the elusive Borgo Allegri. Crowds don't come here much, they tend to hoard around the questionable leather shops that line the alleyways with signs shouting "tax free" to tour groups stopping for the day in Florence. If only they would know that just going a few steps further, you might get the chance to find something truly memorable, a living time capsule of sorts..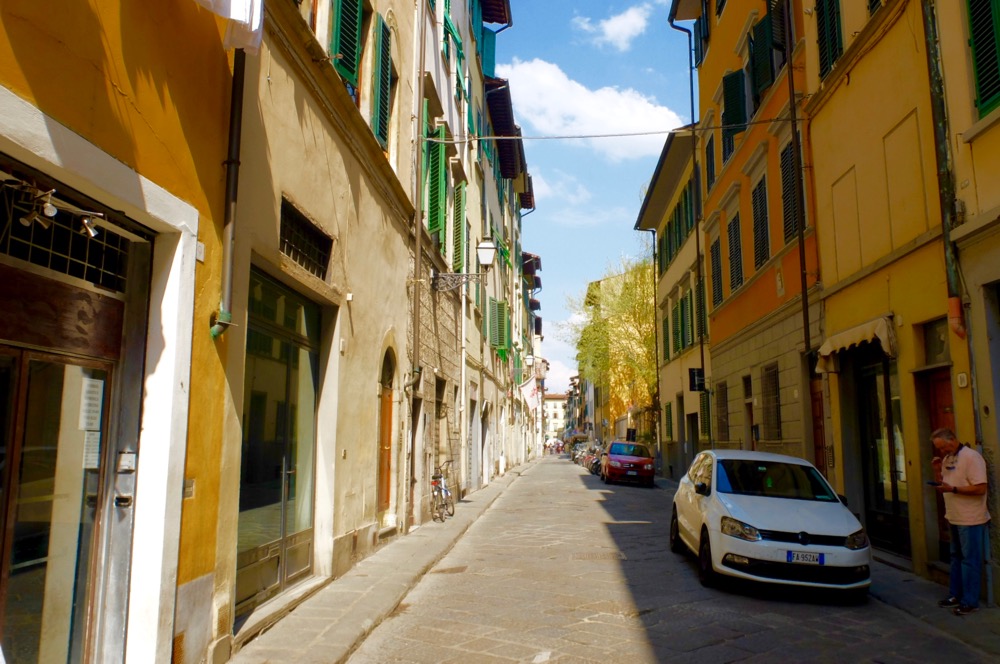 I was introduced to Paolo's shop because of a GirlinFlorence blog reader, the lovely Sally Carrocino who lives in Florence after retiring from an illustrious career in the states as a fashion buyer. After selling everything she owned, she came here to embark a new live in our Renaissance city and has thrown herself into making the most out of every day. In tow with Sally almost always is her small dog Zoe. A fluff ball of gray and as docile as they come (as long as you don't mess with her food). They make an adorable pair, I often see her out and about at book readings, shops, markets, it's nice to see someone so enthusiastic about the city. Also, I have her to thank for this blog post, which was inspired by her insistence that I visit this shop.
We visiting Paolo on a Saturday in March. It was bright and sunny. Spring has been good to us this year and Nico and I were game for explorations. Inside Paolo's shop, you'll find a clean, modern space with boxes expertly places on every corner. His materials stacked to the far end next to a busy desk.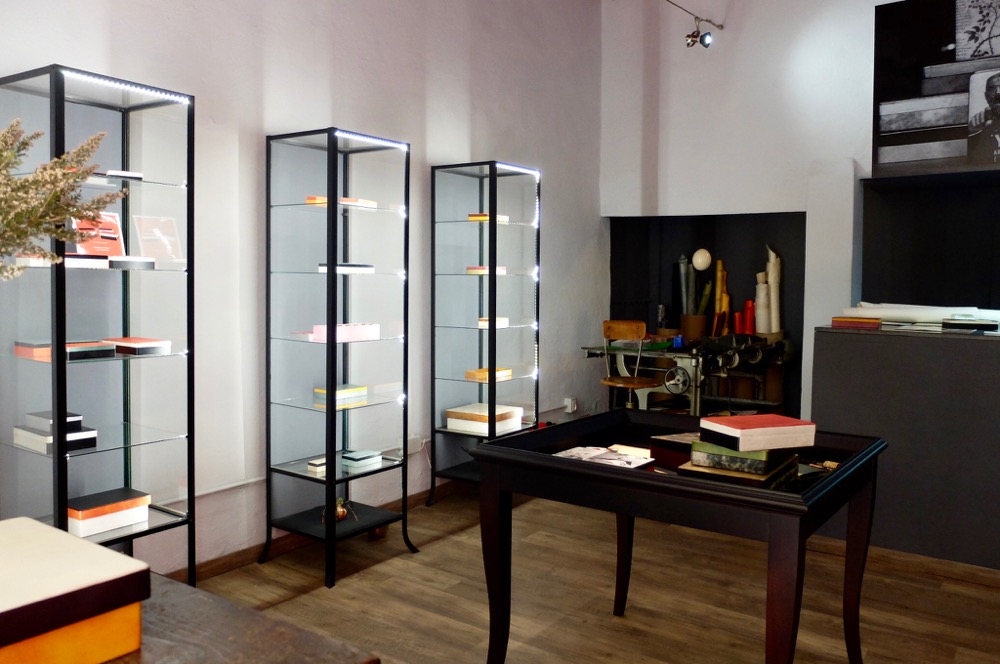 What Paolo does is create one-of-a-kind memory boxes out of French parchment which becomes transparent when placed on the wooden boxes, and naturally-dyed calfskin. This is a material he has been working with for over 15 years,  and leather, even more. His love for parchment stems from its uber-strength and versatility, that and the calf leather means that these boxes take a bit more time to make but its with it. They serve as perfect containers to hold photographs, letters, memories that mean so much more than just some forgettable gift that just adds to a houses clutter, this instead is like the best gift you've been waiting to show your better friends and family. A piece of you, if you'd like it to be.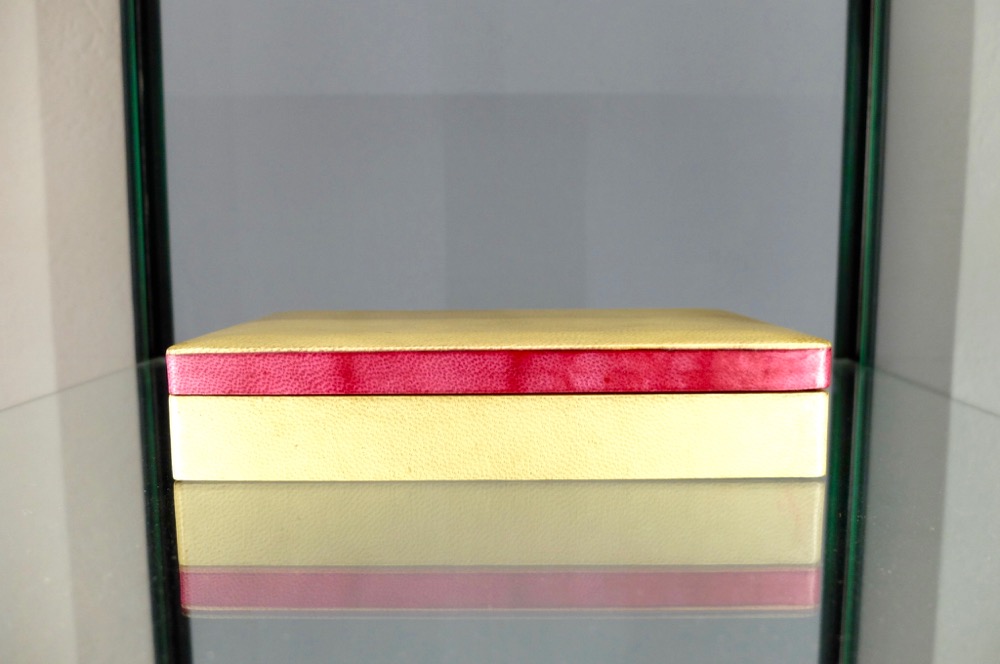 It brought me back to when I was a young girl, always keeping random boxes or sorts with my most beloved collectables. It could have been letters to my friends, a pretty ring, my journal (with a lock and key of course), the deepest darkest secrets Judy Blume style in San Antonio, Texas. Paolo's boxes are of the classier sort.
His pride and joy are the thematic boxes, which are often based on famous novels or time periods throughout history. A favorite was a Moby Dick version, with a glass fish suspended in a sea of turquoise papier-mâché. Or what about Freud's interpretation of dreams, inside you'll find love letters, photographs, a stop-watch, tablets of cocaine and a dream-catcher.
Other interesting items in his shop is a thin, longer box with a line of potions, titled "tears of boredom, tears of laughter, crocodile tears" you get my drift. The liquids themselves come from one of my favorite quirky shops in the city, Bizarri, and I could just imagine having this on display at my own home.
Or what about his miniature vintage condom boxes, turned into tiny works of art. This is probably going to be a purchase for me, as I couldn't be more delighted to see birth control tins from the past so cleverly masked as something more, always with double innuendoes. One box depicts a woman from the 19th century swatting at a stork with text underneath stating "and the villain still pursues her." Another favorite, a man in colonial-era wear pointing like an ad for military inscription with the words "I want you," which could make even the shyest girls share a secret giggle.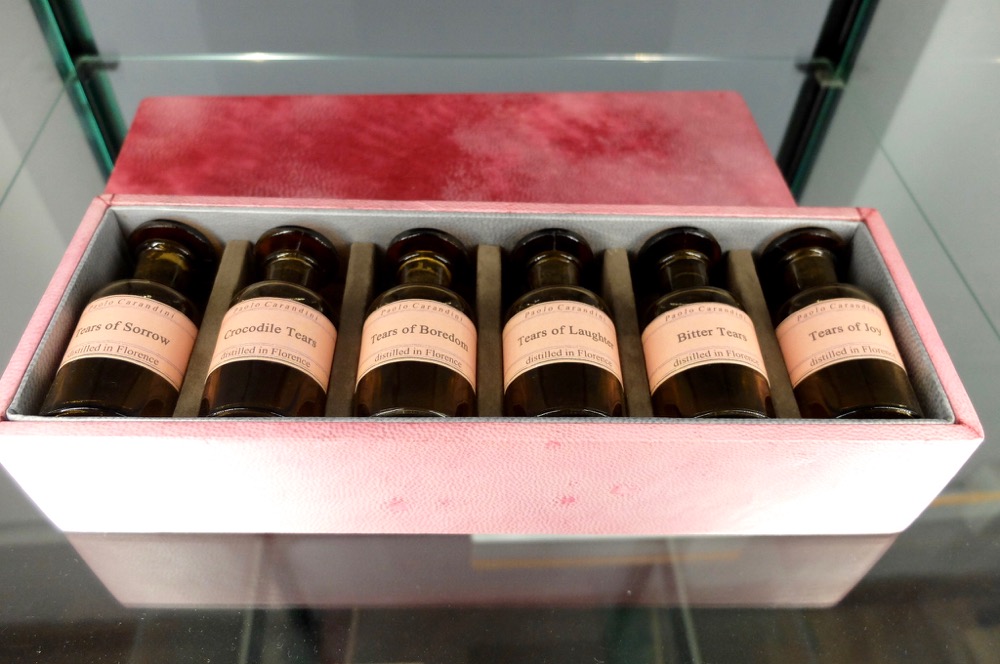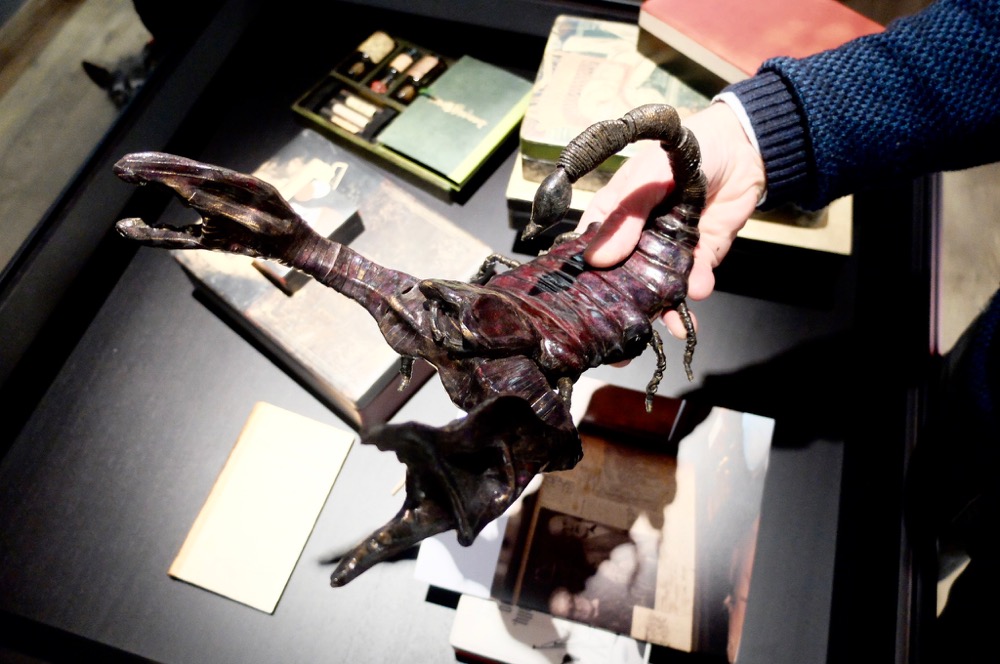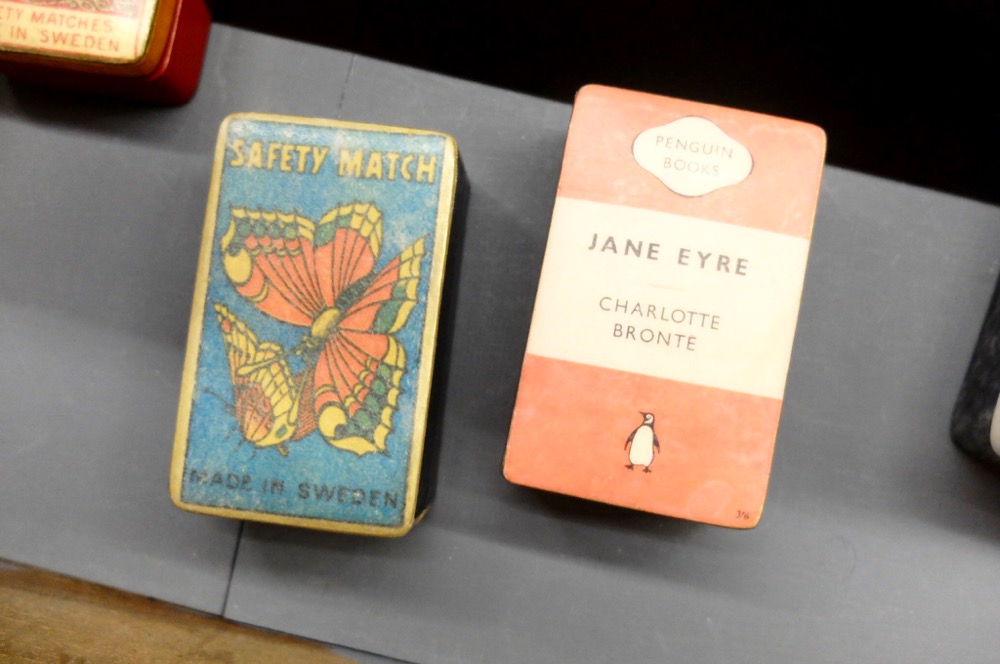 Customers don't just include the odd, random passerby but also famous celebrities, authors who wisely value the combination of a modern artisan with the opportunity to make your own memories, or fantasies come alive in a box.
Of course, I asked him how long it takes to make a box and he it could be a month, the box itself might take a week. Think about how amazing it would be to give something so meaningful, based on providing Paolo with aspects of someone's life or a favorite theme of theirs. I imagine for me, I would love to see a box of someone like Anne Frank, as part of a series of books I cherished as a child. Or another thoughts, wouldn't it be nice to memorialize a long lost relative who's only stories are passed down through family memories, imagine that coming to "life" in a special box that you could pass down to your own kids. The possibilities are truly endless and Paolo's creativity knows no limits.
Afterwords, we shared some stories about each of our lives, fluidly moving from Italian to English and vice versa and somehow that just seems to work here depending on someones fluency. I'm happy that Sally found in Paolo such a nice friend, and felt like showing a few of us his pretty shop that deserves to not be overlooked. He is an incredible artist and someone who value memories, a timeless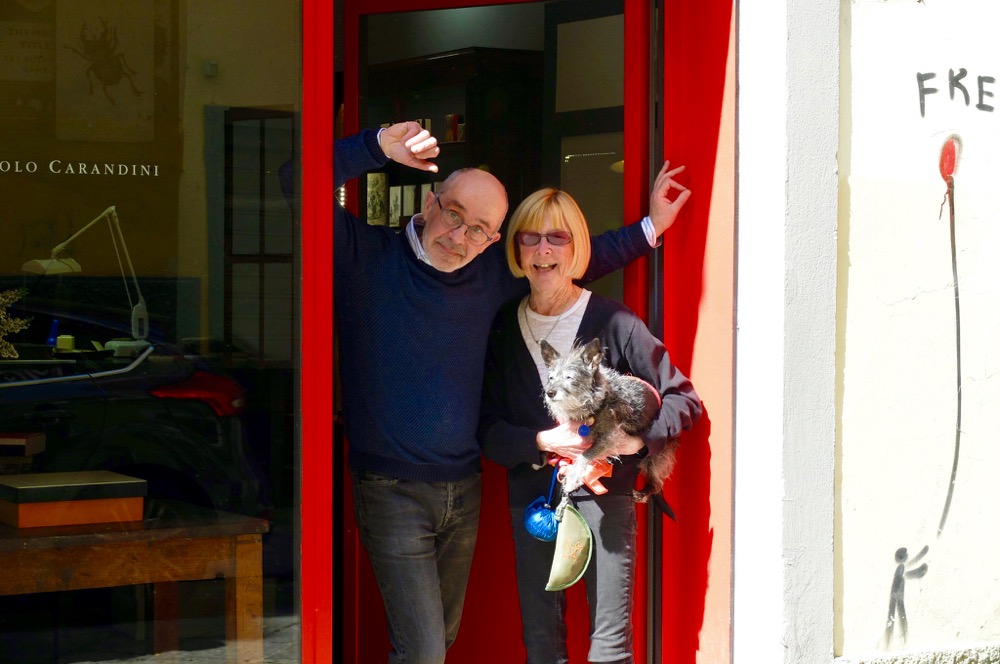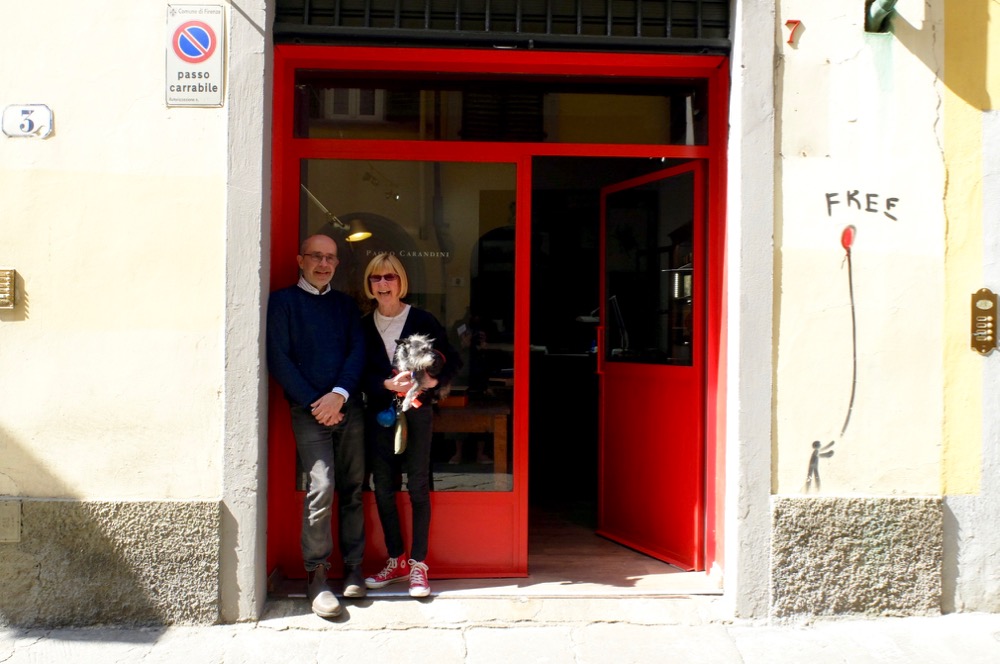 ---
Quick Details
Paolo's boxes range from 135€ to 1,200, with the average around 200-300€, depending on size and research. Everything is handmade by him and he's very willing to talk about any ideas you might have for a box. I also included him in this list of "Hidden Florence" finds in a recently article for Italy Magazine where you can find additional treasures when it comes to shopping, museums and eateries around this Renaissance city we all adore so much.
Paolo Carandini
Borgo Allegri, 7r – Firenze, Fb page, website.  
Write Paolo to ask about his boxes here [email protected]
 Google Map