While I type, sun slowly filters in my bedroom window. I can see the red terra-cotta tiles of our neighboring palazzi shine in a way that only happens in late October. A slight chill in the air, but still pleasant enough to keep the windows open. It's really my favorite season in town, and sooner than you know it November will be here. Coming up just next week marks an important event in local history. The 50th anniversary of the great flood in Florence in 1966, when the Arno river burst its banks early on November 4th, sending a torrent of mud and water into the city streets. It cost several lives and damaged countless buildings.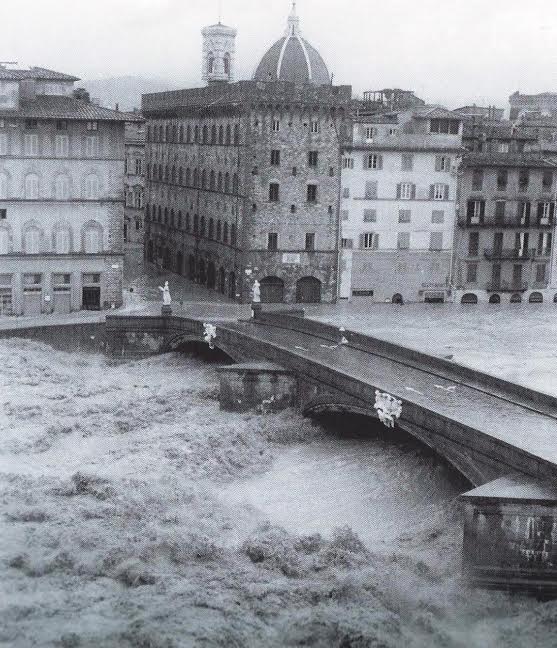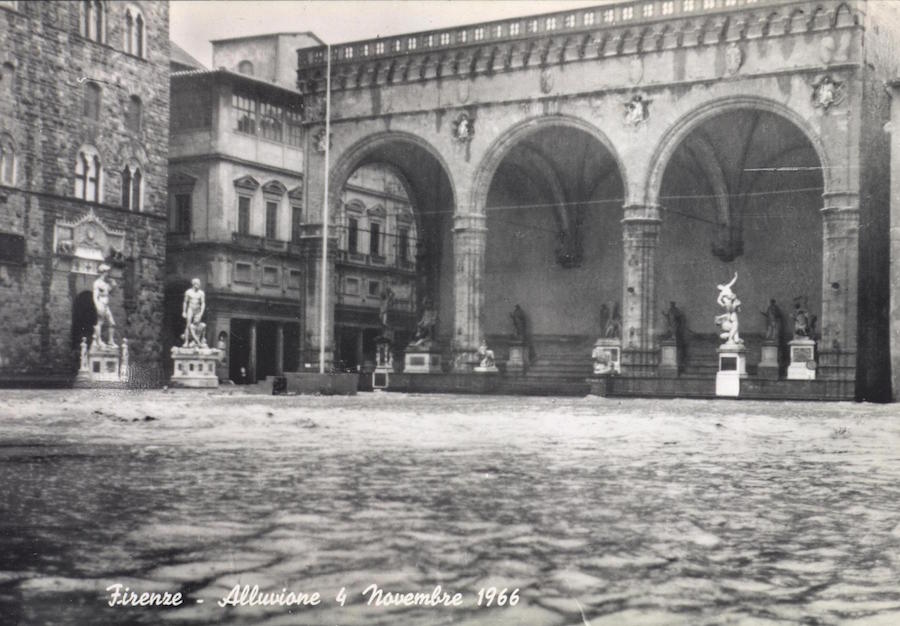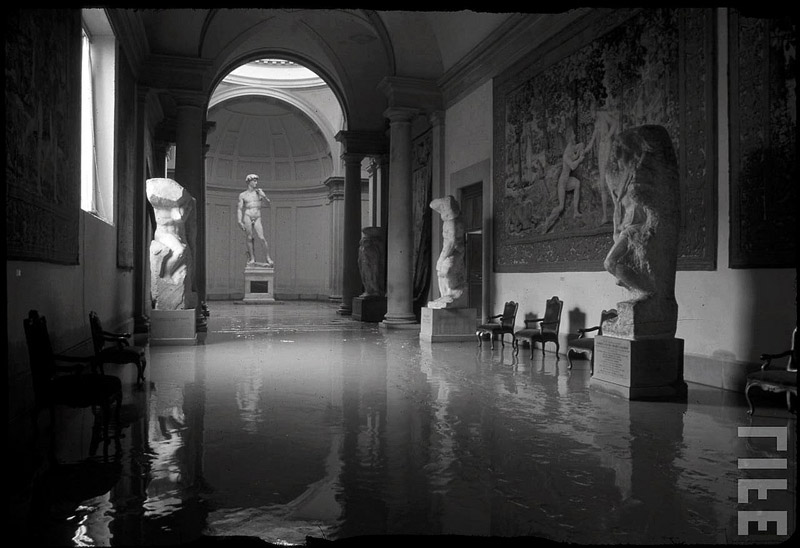 The world watched from afar in stunned shock-horror at the devastation of this Renaissance city thus resulted in a great and extremely generous outpouring of International support, with many flying in to help save artworks, dubbed the "Mud Angels" who quite literally joined in to help clean up the city. It's a wonderful reminder to any seasoned skeptic of just how the world can come together when disaster strikes.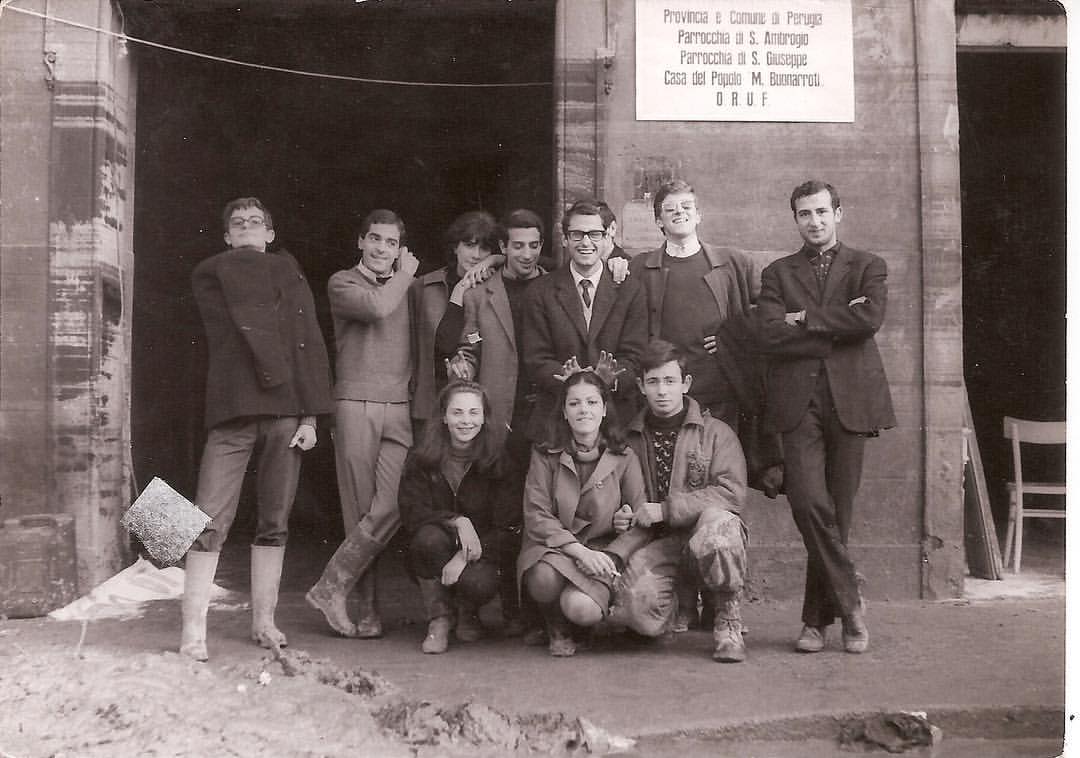 I have two articles planned in anticipation of this anniversary, this interview with Linda Falcone, who is the Florence director of AWA, the Advancing Women Artists Foundation. In 2014, Linda and founder Jane Fortune published a book "When the World Answered: Women Artists and the 1966 Flood" followed by a 30 minute documentary on the subject made in 2015 for the American Public Television network. In a few days I will also publish an interview with the Friends of Florence, a non-profit International organization who's aim is cultural preservation around their beloved city of Florence. Exciting times!
Below you will find a list of flood-related anniversary events around town that will provide a greater understanding to this event and if I missed anything, let me know! 
Ciao Linda, thank you for taking the time to answer my questions. Can you briefly introduce yourself and AWA?
Advancing Women Artists is a not-for-profit organization, founded by American philanthropist Dr. Jane Fortune, and its main mission is to research, restore and exhibit works of art by women in Florence's museums, churches and storehouses. I've been the foundation's director in Italy since 2007.
Can you tell my readers who might not be aware of the flood and its destruction a bit about what happened that fateful day?
On November 4, 1966 the Arno River flooded Florence, engulfing the city with 600,000 tons of mud and rubble and heating oil from the city's exploded boilers. Over 14,000 works of art were damaged as the world watched in horror and then immobilized to lend a hand to the stricken city.
You and Jane Fortune wrote a book about the flood, called When the World Answered, in which you talk about the "Flood Ladies". Can you tell us who they were?
After the flood, the city launched a plea called 'Artists for Florence'. People were mourning the precious art that had been lost. Restorers made huge efforts to save ancient art, but modern artists wanted to show solidarity too, by gifting their work as a symbol of Florence's rebirth. Over 200 artists answered the call, 40 of whom were women. Jane Fortune coined the phrase "Flood Ladies" when talking about their experience.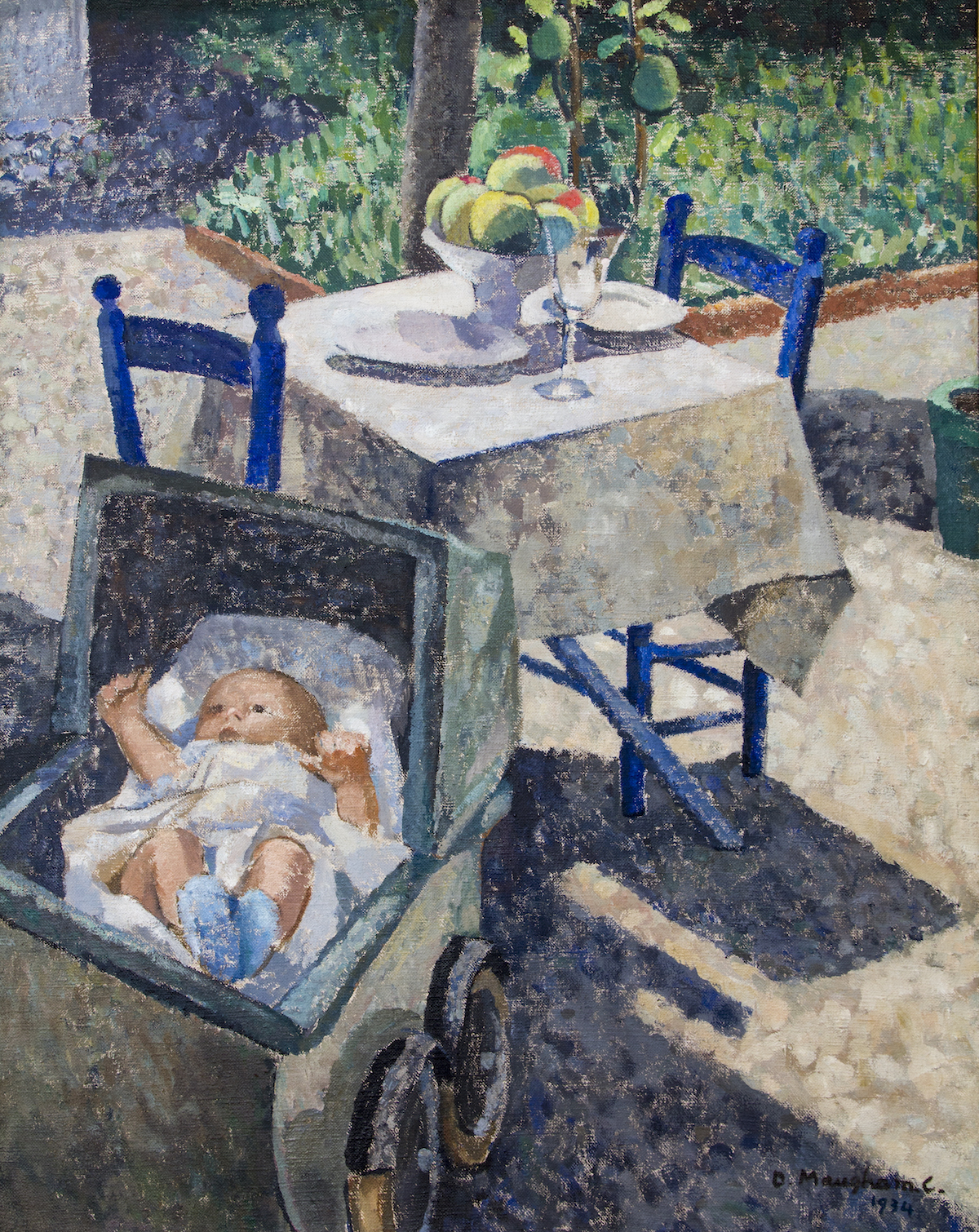 Can you share one of the lady's personal stories that touched you?
We had the opportunity to speak with several living 'Flood Ladies'—Amalia Ciardi Duprè, Paola Troise, Stefania Guidi, Maria Luisa de Romans… Every one of them asked if they could give something new to the city, rather than having their early art restored. It surprised me and was moving to see how artists seek constant renewal.
When it comes to the stories of the artists who are no longer living, I was particularly touched by that of experimental painter Paola Levi Montalcini. She had fled her home town of Turin with her noble-prizewinning sister, Rita, when the Nazis invaded their city. They went into hiding in Florence—where Paola painted the most prized art of her career. Florence was liberated from Nazi control partially thanks to the efforts of Carlo Ludovico Ragghianti, who later became the art historian to whom Levi Montalcini donated her flood gift.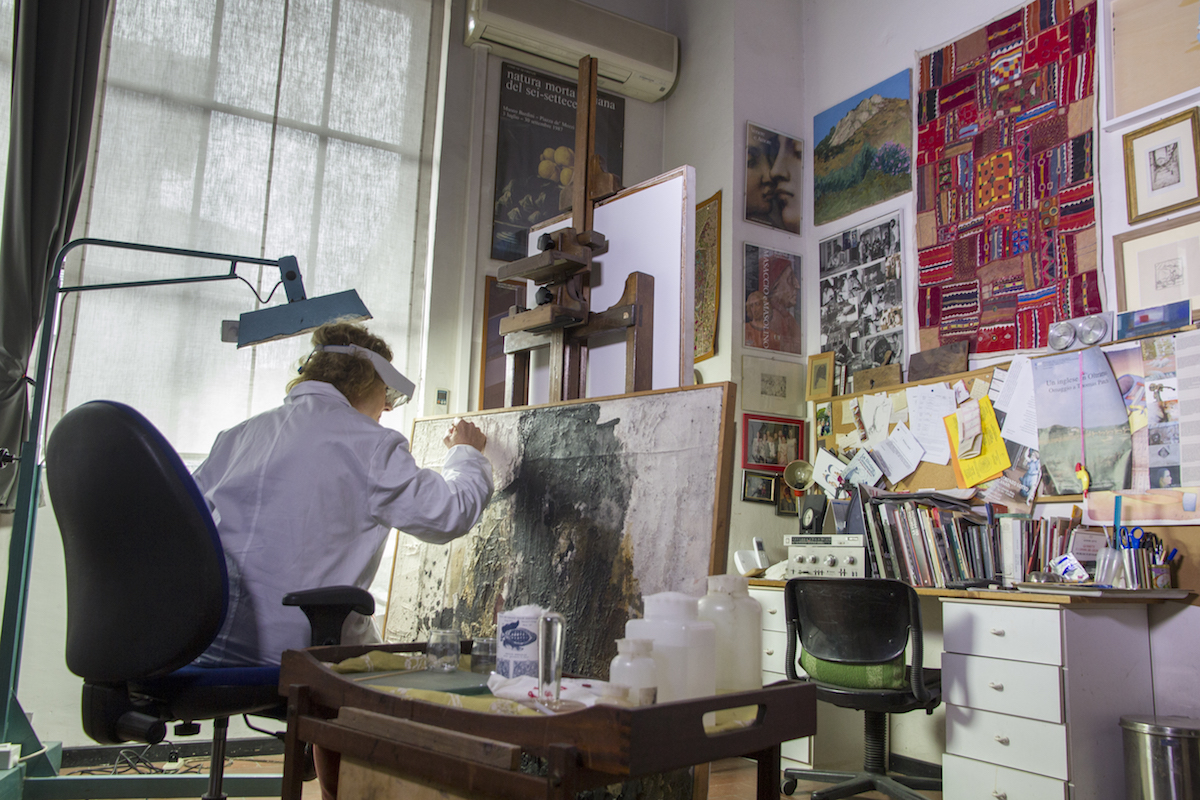 That absolutely incredible. What was your experience in the making of the book and documentary?  What was it like contacting the Flood Ladies and putting their stories together?
When the World Answered is our second documentary for American Public Television, after the Emmy-winning Invisible Women: Forgotten Artists of Florence, both with Indianapolis-based WFYI. Filming on location in Florence is always exciting—rooftop views are guaranteed.
But what excited me the most was how surprised the Flood Ladies were to be contacted. New York-based artist Sarai Sherman was 96 years old and sustained a phone interview about the experience. Paola Troise, now a decorative artist, was just 16 years old when she donated her painting—a child-prodigy artist. We read her the letter she had written, now hosted in the city's archives, and she marveled about it, saying, 'Wow, look at that! I was a good girl." It was like each of these artists were receiving a surprise visit from their younger selves!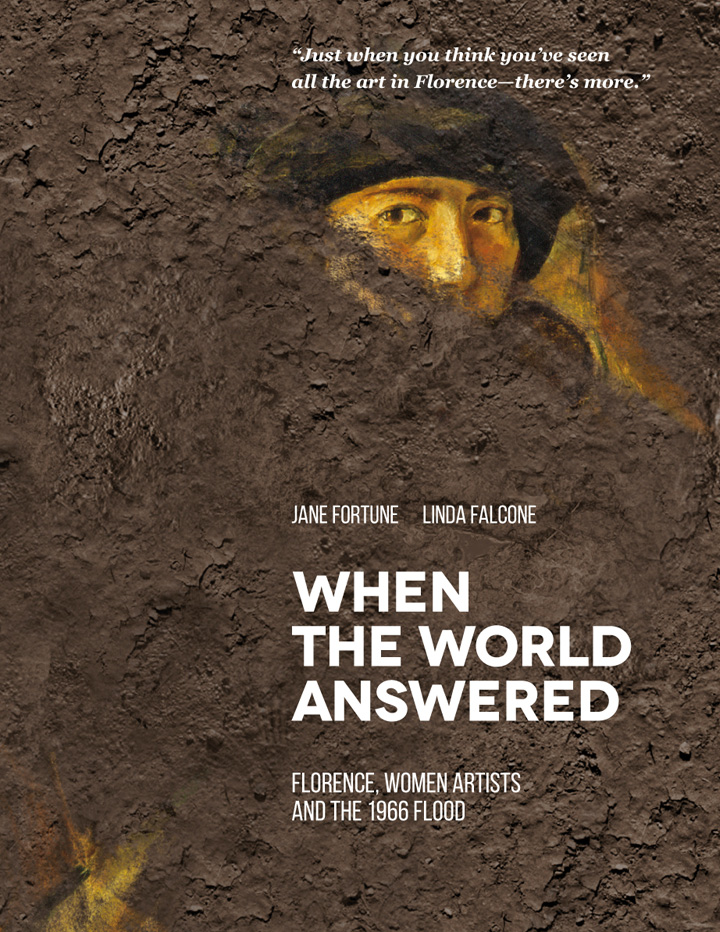 Is there anything that people might not know about the time of the flood that you do?
I didn't experience the flood first hand. But what I have experienced thanks to this project is the continued sense of nostalgia that people feel when they remember that moment of great giving in which everyone did their part to see the city healed. In response, I can't help repeatedly asking the question: "So, what can we do for Florence today?" Because, in reality, we do not need a tragedy to be moved to do something for the city we love.
Why do you think Florence captures the hearts and souls of so many? Especially in the sense that so many were willing to donate time and their art?
Florence is the birthplace of humanism, and for many people, it showcases the best of what humanity can achieve, creatively. It may sound strange, but I believe that creative people seek out Florence in hopes of getting in touch with their own humanity, in the highest sense.
https://www.instagram.com/p/BMBWuAcjDSW/
Can you expand on the post-flood art revival?
In 1966, art historian Carlo Ludovico Ragghianti dreamed of making Florence into a center for contemporary art. Many art critics of his time shunned Italian art from the early twentieth-century because they believed it was tainted by the directives of the Fascist or Communist regimes, which both supported art as a way to influence society. Ragghianti wanted Italian art to be freed from past political connections and amply displayed, so it could be evaluated against trends occurring in other parts of Europe. He thought that flood relief efforts should not be limited to saving ancient art, but used as an opportunity to garner works that would 'substitute' all that had been lost.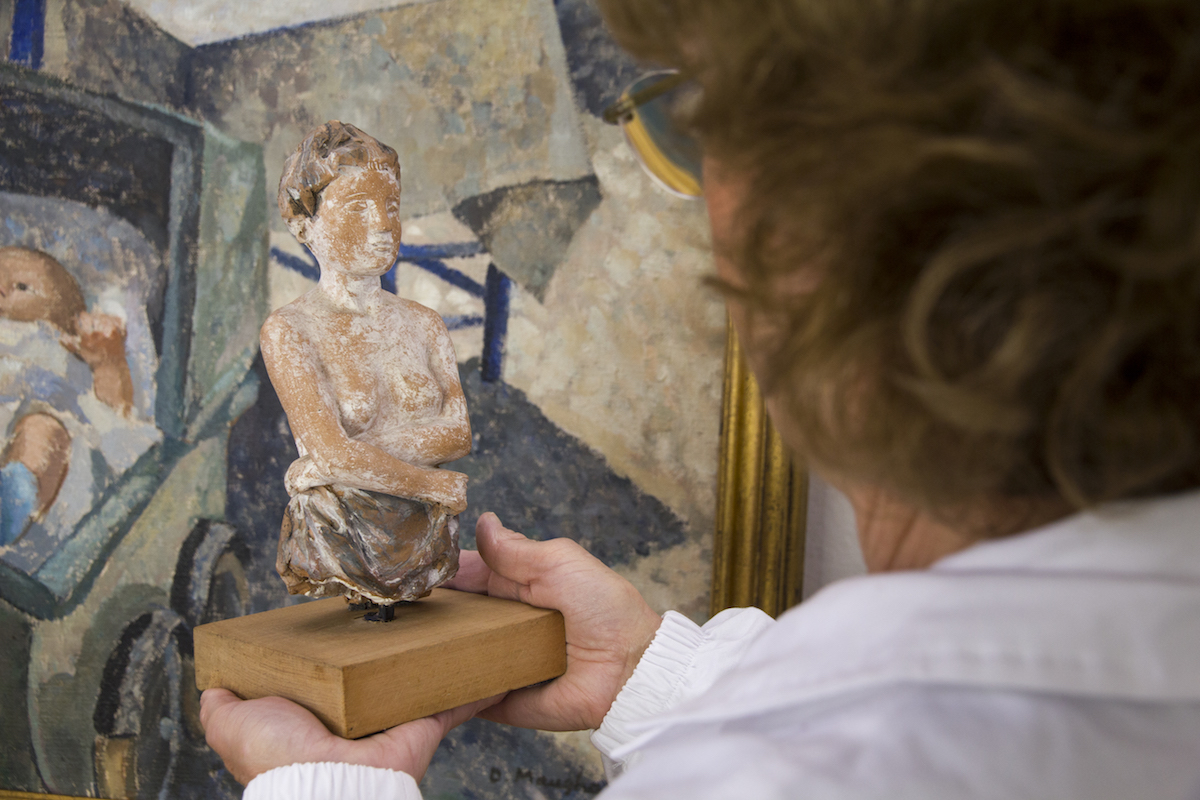 Where we can see the Flood Ladies' art?
Forty-eight years after the flood, Ragghianti's dream reached partial fulfillment in the Twentieth-century Museum (Museo Novecento), inaugurated in 2014. It's located in Florence's Piazza Santa Maria Novella and its permanent exhibition hosts many gifted paintings and sculptures, including five works by Flood Ladies that AWA restored prior to the museum's opening. The artists featured are Abstract painter Carla Accardi, Pop artist Titina Maselli and Lithuanian sculptress Antonietta Rafael Mafai, part of the Scuola Romana. In November, this permanent collection will be enhanced with one more sculpture by Antonietta Rafael Mafai, restored by AWA this year.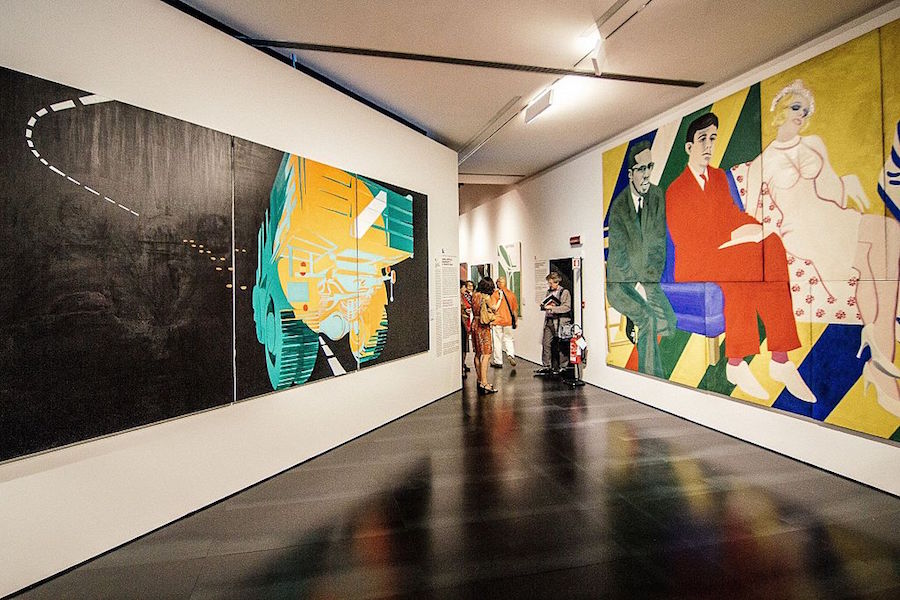 What are some of the flood-related events coming up that our readers can get excited about?
On November 4, the Twentieth-century Museum will be inaugurating an exhibition called, "Beyond Borders. Artists' Engagement after the Flood." It will mainly focus on contributions of foreign artists. Happily, it will feature additional works by Cuban artists that the Foundation has restored, including a still-life by Amelia Peláez who was part of the Cuban avant-garde, particularly in the 1930s and 1940s. Like other painters of her generation, she was intent of fostering a Cuban sense of identity though art—but she is the only one who did so by painting the domestic sphere and putting women at the center of her canvases.
Let us in on your exciting future projects and how people can get involved!
With our next projects, the intent is to go further back in time. We hope to restore works by a Renaissance artist the next time around. We are intent on discovering the "Renaissance woman" and pulling works in storage out into the museum spotlight. All names will have to wait for a follow-up interview…until, so to speak, we've got the works, 'in the bag'!
We have many volunteers working for AWA in myriad capacities, including event planning, graphic design, photography and social media. They give their time toward the advancement of the mission. Others contribute funds to support tailored restoration projects or offer historical expertise and generate new research. In general, any time you seek out art by women, in museums, in books, and throughout the world, you are helping raise awareness about the need to promote and value the place of women in art history.
To know more about AWA:
Florence: linda@advancingwomenartists.org
USA: carol@advancingwomenartists.org
www.advancingwomenartists.org, Facebook
Flood-Related Events
November 4th (full info here) 
9am – City council meeting at the Salone dei Cinquecento in Palazzo Vecchio with visiting Mud Angels, followed by a rally.  The entrance will be open to all, although you will be invited to show the badge distributed in Piazza dell'Unità on 2, 3 and 4 November.
11:30am – Mass at Santa Croce celebrated by Cardinal Giuseppe Betori, who was also a Mud Angel. Seven other Mud Angel bishops will be present in Florence during the days of commemoration. At 1pm, a small procession will reach Ponte alle Grazie to lay wreaths in memory of the victims of the Arno flood.
3pm – Relocation ceremony of the restoration of Vasari's Ultima cena in Santa Croce will be attended by the President of the Republic and at 5pm, the official ceremony will be held in Palazzo Vecchio's Salone dei Cinquecento again with the President of the Republic.
6:30pm: World premiere of the new documentary "Dopo l'alluvione" in the Salone dei Cinquecento. The documentary was produced by SKYARTEHD and E. Pacciani.
8:30pm – a torchlight procession will begin at the Basilica of San Miniato al Monte and end at Piazza Santa Croce in memory of the same one organized on November 4, 1967. The Mud Angels, as well as the general public, are invited to participate in the vigil.
8:00pm – Two Nights with Vasari, November 4th and 5th: special and free entrance. Fifty years after the Flood, the newly restored masterpiece of Giorgio Vasari returns to Santa Croce.
On the occasion of the 50th anniversary of the Flood of Florence, Opera di Santa Croce celebrates the return of the restored masterpiece by Giorgio Vasari, with two special and free openings: Friday, November 4th and Saturday, November 5th 2016 from 8pm to midnight, with free entry to Cenacolo of Santa Croce.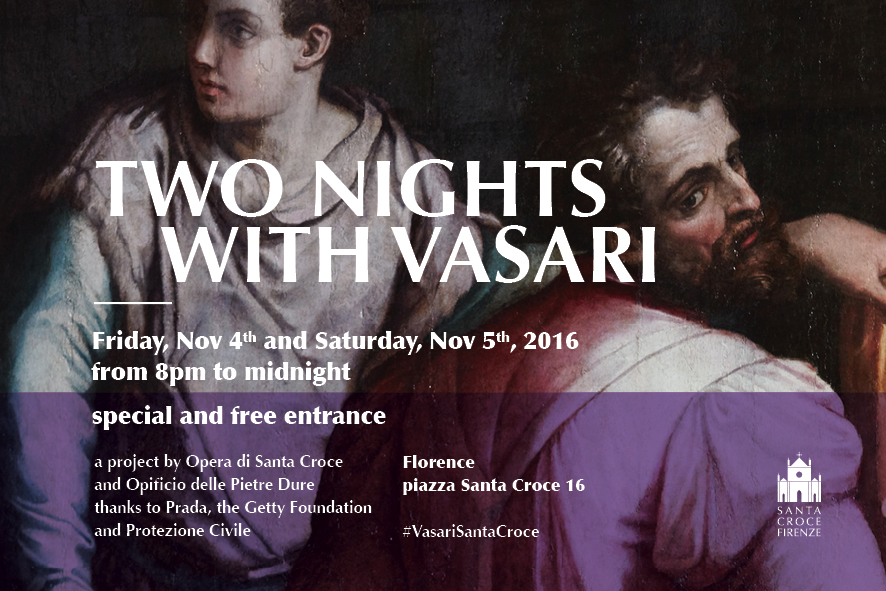 9pm – in collaboration with the Festival dei Popoli, a film by Mario Carbone, Firenze, novembre '66, (Italia 1966, 24'), reimagined by L'Immagine Ritrovata in 2016, focuses on the cultural, social and human issues in the aftermath of the Florence disaster, a poignant testimony produced as the rescue was underway.
9:30pm –  in continued collaboration with the Festival dei Popoli, there will be a screening at La Compagnia of Camminando sull'acqua by Gianmarco D'Agostino. It presents the flood through the eyes and camera lens of Beppe Fantacci who, along with Emilio Pucci and Enzo Tayar, devised a plan to revive more than 300 artisan workshop from the mud, many of who are still in operation today. In the film, the testimonies of Bargellini, Ferragamo and Pucci and previously unseen colour archive footage.
November 6th 
9:30 am ribbon-cutting inaugurating November 6 an exhibition on floods in Tuscany at the headquarters of the Regional Tuscan Council, Via Cavour 2/4 – Florence.
November 7th
Monday – Friends of Florence & Save Venice Celebration,  Horne Museum, Via de' Benci, 6, Florence: A celebration of Save Venice's support of the restoration of 48 sketches by Venetian artist Giovanni Battista Tiepolo housed in the Horne Museum.  The occasion honors the restoration collaboration between Friends of Florence and Save Venice.  A reception in the museum will follow. The event is free & will be conducted in Italian. More info here
Ongoing
At Tethy's gallery in the Oltrarno you can currently check out a photographic exhibition "I Giorni dell' alluvione" (Days of the Flood) by Balthazar Korab which will be running until November 27th. Monday-Friday 9am-6:30pm, Saturday 3pm- 7pm.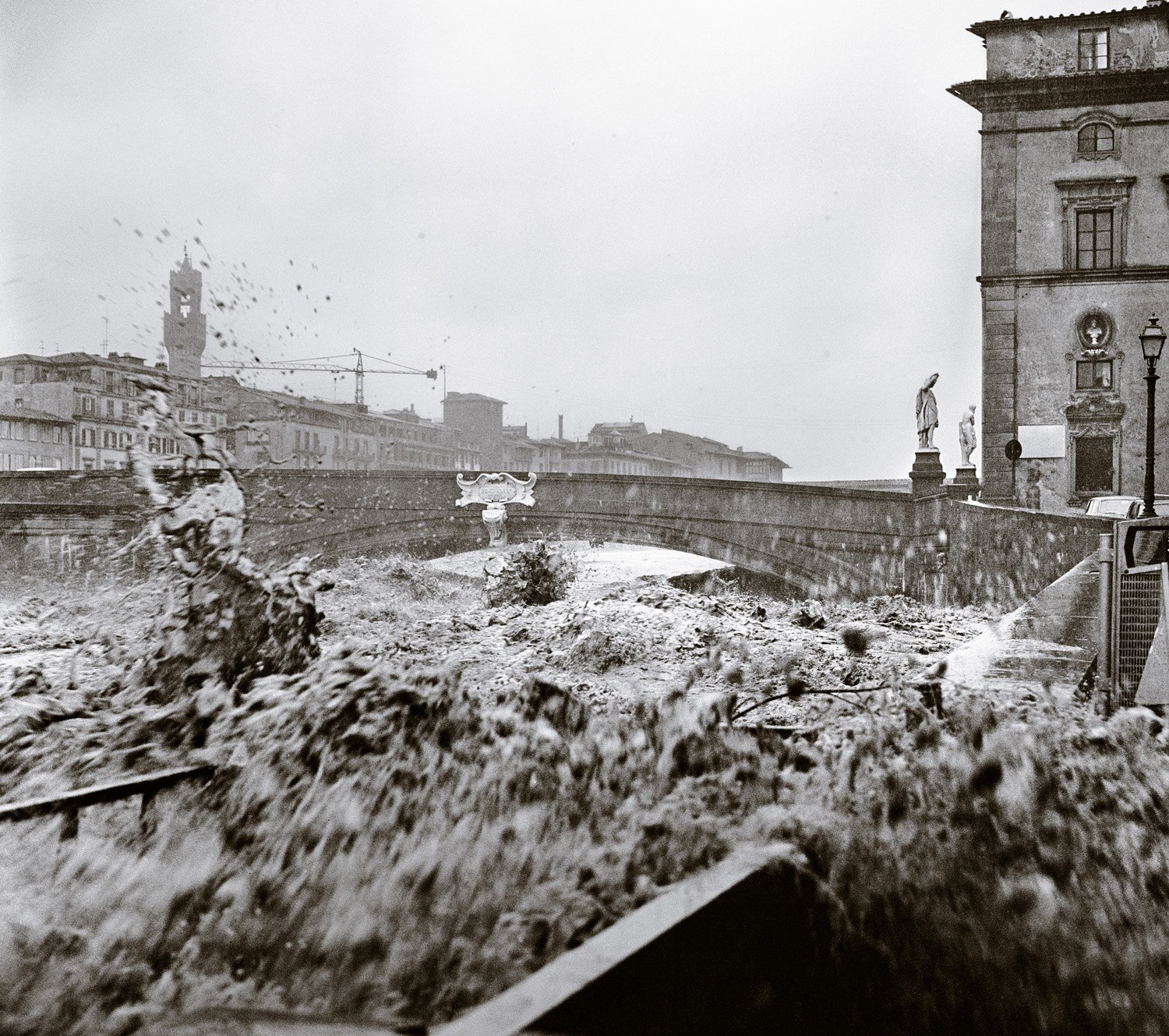 …
Additional articles recently published on The Flood and Art
"New views of Violante: Jane's Gems" via The Florentine
Also don't miss the release of the first bilingual literary magazine, The FLR, just published by The Florentine press. Their first theme is "Invasion" which coincides with the anniversary of the flood.