Blink and before you know it, September is over. It's been a fast month, albeit a wonderful one for us. I felt a bit like I had more of a French experience than Italian due to my husband's parents visiting and our road-trip through Normandy and Brittany. But its great to be home. Sunsets arrive a little sooner, sure, but the current weather brings out the happiest of my moods. The crisp nights mean the humidity spell has finally broken (hopefully) and the abundance of events and festivals mark the most pleasant of seasons in Italy.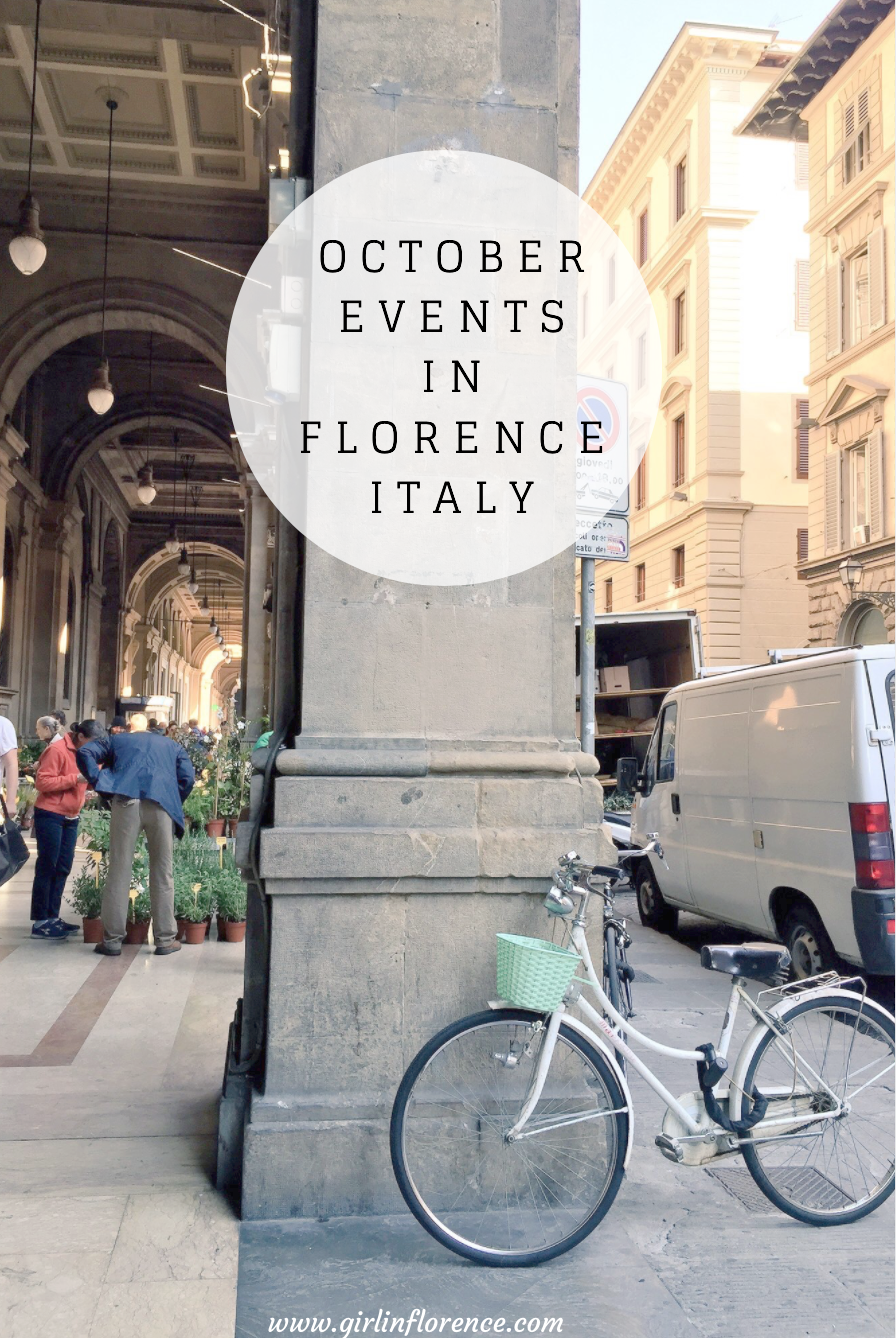 Harvest period and all of the beautiful wine, schiacciata all'uva mushrooms, chestnuts, and come next month, olive oil. When I open our living room window to let in the evening's breeze, I hear soft jazz wafting over the Oltrarno rooftops. A collective clink from wine glasses down below at the tiny wine bar, adjacent on our corner and remember, life is good. Summer is so beyond overrated, autumn is truly my favorite time of the year. Getting back to the topic at hand, here's my roundup of the best events and festivals in Florence. Also don't forget to check out those organized by the Yelp Firenze community.
Market |  'La Fierucolina della Ceramica', October 1-2nd, Piazza Santa Maria Annunziata
An interesting all-day market dedicated to contemporary ceramics from all over the world among other various goods, 9am-8pm.  More info can be found here (In Italian), there will also be special workshops for kids.
Flowers | Floral Exhibition and Market, Two Locations, October 1-2nd, Florence, Italy
For those with a green thumb or who like pretty instagram photos, this weekend plays host to two important floral Autumn exhibitions. The first will be at the horticulture garden near piazza della liberta (9am-7pm).
The second exhibition "Floralia" will take place in the cloisters of piazza di santo spirito (church). The organization  l'Associazione Città Nascosta is organizing guided tours of the church on Saturday, 1 October 16-19; Sunday, October 2, 16-18.  for info and reservations: 055/2302788. More info can be found here.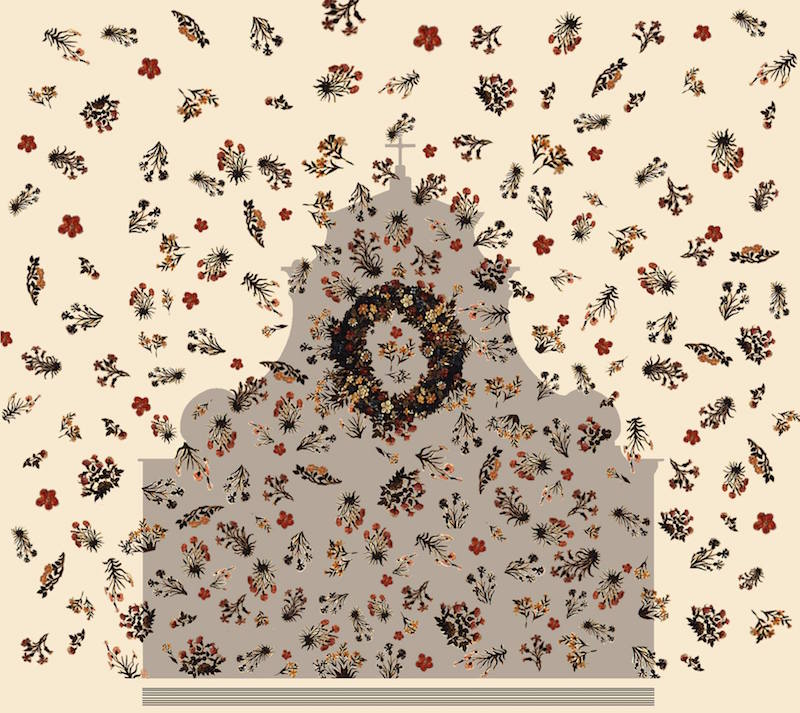 Festa | Block Party, October 2nd, Boboli Sogna, Via Romana & piazza della Calza, 10am-11pm
A neighborhood block party is coming this Sunday to the Oltrarno including local businesses on via romana. A great excuse to see this area (that I adore) of the city at its full jovial potential. The day portion (until 7pm) will be dedicated to children while from 7:30pm-11pm there will be a large 130 meter charity dinner along the street. Check out their FB for more details
Art | FIRST FREE SUNDAYS, October 2nd, ALL OVER ITALY
First free Sundays is something I have been including in every monthly lineup because how amazing is it that in a city with so many museums, they offer at least one day where you can visit some of the most important places in town, for free. After May day holiday and #nottebiancafirenze (which ended up being pretty lame), head out this Sunday for a little art & culture. I recommend visiting lesser-known but incredible places like the Bargello Museum, Palazzo Vecchio and the Brancacci Chapel near piazza della carmine. FYI the Palazzo Vecchio is open today from 9am-11pm, Santa Maria Novella: 1pm-5:30pm, Archealogical area at Palazzo Vecchio: 9am-11pm, Museo Novecento 1pm – 5pm, Cappella Brancacci in Santa Maria del Carmine: 1pm to 17. More info can be found here on which museums are free and open.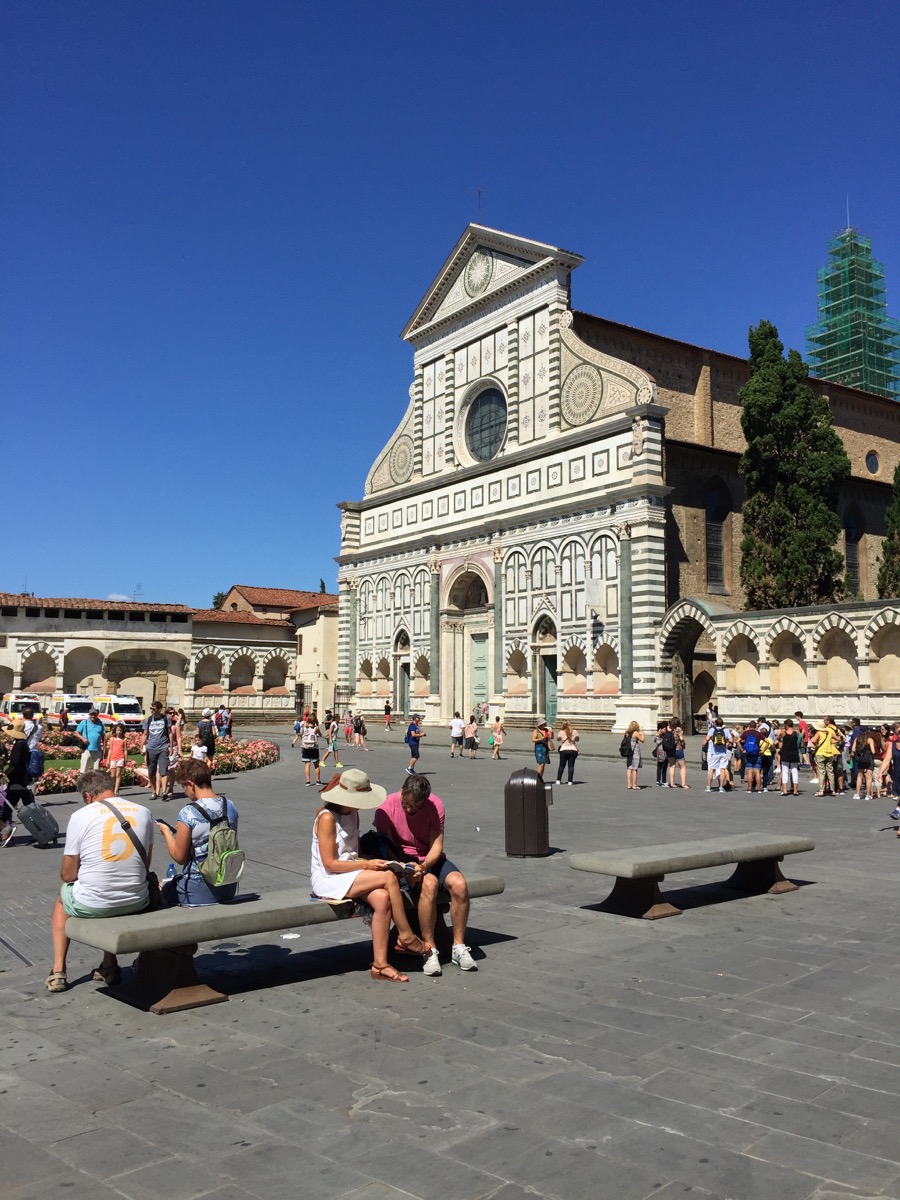 Beer | Oktoberfest "Festa Baviera" at Obihall Florence, Until October 2nd, 7:30pm
Celebrate Oktoberfest, in Florence at the Obihall space on lungarno aldo moro (you need to get on number 14 bus and get off at via ripa then walk). There will be traditional music, food and plenty of beer. Also a good way to meet Italians :). Official site.
Community | Open-Mic Night at Tasso Hostel, October 5th, 9pm-11pm
In their words: "Our second fall season continues with the October edition hosted by Lee Foust with special musical guest Sushi Rain doing a pre-word set of acoustic progressive funk! Music starts at 9, words at 9:45–come early to sign up to recite, poetize, sing, rant, and/or rave with us! All we ask are your words and your ears." More details here. Ps. This is ALWAYS a lot of fun, and a great place to meet people.
Film | Florence Short Film Festival, October 5,6th, 9pm at the Odeon Cinehall
This "young" film festival in its third edition in Florence celebrates the talent of talented Indie filmmakers who will be showcasing their films over a two night period (many in English), this year focusing on animation and fiction. See the lineup and updates via their FB page.
Traditions | Santa Reparata Co-Patron Saint Feast, October 8th
We bet you didn't know that Florence has a co-patron saint, she was a third-century Christian virgin and martyr, On the 8th you can follow the medieval procession that starts at 3:45 pm from Piazza di Parte Guelfa to the crypt of the Roman saint at the Cathedral.
Community | Speakeasy Language Exchange at Uva Nera, October 8th, 7:30-10:30pm
Join this multilingual happy hour in a very cute wine bar in Florence. The event starts around 7:30pm and anyone can join. Cost per person is 11€, with 3€ dedicated to an association helping migrants. address: borgo ognissanti 25/r.
The Divine Comedy of Venturino Venturi is the new exhibition at Villa Bardini, an extraordinary, modern interpretation of Dante's eternal verses. The personal and human background of Venturino Venturi is the basis of his artistic expression: the son of Italian emigrants, he learned the Italian language in France, and later in Luxembourg, from the two books his father had carried with him: Pinocchio and The Divine Comedy.
Always attracted to his Tuscan origins, Venturino Venturi (Loro Ciuffenna, 6 April 1918 – Terranuova Bracciolini, 28 January 2002) is an extraordinary exponent of the cultural heritage of the second half of the 20th century. He lived in Florence and in Italy during the season of hermeticism. He moved in artistic and intellectual circles in Florence, Milan and then again in Luxembourg.
On view and being shown for the first time are 54 works consisting of drawings on paper done by the artist in the early 1980s. Entrance will be free of charge for the first five months of the exhibition.
The exhibition devoted to Ardengo Soffici (1879–1964) will provide visitors with an opportunity to explore the figure of this painter, writer, polemicist and art critic who played such an active role in his day, coming into contact with, and on occasion even deeply and courageously clashing with, the movements on the Italian and European art scene of the time.  The title of the exhibition, Discoveries and Massacres, alludes to the title of Soffici's collected writings, published between the first and second decades of the 20th century and acknowledged today (together with the cultural initiatives that he promoted and organised, such as the First Italian Exhibition of Impressionism in Florence in 1910) as marking a crucial contribution to the renewal of Italian art in a 20th century vein.
The exhibits on display (from Segantini, Cézanne, Renoir, Picasso, Degas, Medardo Rosso and De Chirico to Carrà and beyond, in addition to Soffici's own work), chosen on the basis of Soffici's explicit predilections and aversions, will be accompanied by critical pieces from his writings on art, ideally accompanying the visitor on a voyage of rediscovery to explore one of the most fertile and productive interpretations of the origins of contemporary art, with its crucial "discoveries" and equally drastic "massacres".
Art | Ai Weiwei. Libero, Art Exhibit (Ongoing from September 23rd), Palazzo Strozzi (Strozzina)
A new exhibit that I'm actually quite excited about starts late this September (the 23rd) and runs until January 22, 2017. It feels crazy talking about 2017 already. From Palazzo Strozzi: "The exhibit will present Italy's first major retrospective dedicated to one of the world's most celebrated and influential contemporary artists: Ai Weiwei. Libero, who is a  dissident artist with a leading voice, he is known world-wide as much for his challenging contemporary art practice as for his political activism.
Ai Weiwei will be the first artist to exhibit across the entirety of the Palazzo Strozzi spaces, presenting a series of new and major works from the façade of the building and the courtyard to the piano nobile and the Strozzina gallery. This major exhibition will include key monumental installations, sculptures and objects, as well as videos and photography series produced throughout his career. These range from his years living in New York 1980s and '90s when he discovered his 'masters' Andy Warhol and Marcel Duchamp, to the large iconic assemblages works from the early 2000s consisting of objects such as bicycles and stools, to his recent controversial and engaged works such as portraits of political dissidents built with LEGO bricks, and his projects on migration in the Mediterranean region."
Open Daily including holidays 10.00-20.00
Thursdays: 10.00-23.00
Concert | Mercato in Musica, October 15th, 7:30pm, piazza san lorenzo
These series of concerts in some of the more famous market areas of the city is back. The grand finale will be on the 15th, a gospel choir performance in the square in San Lorenzo, dedicated to peace.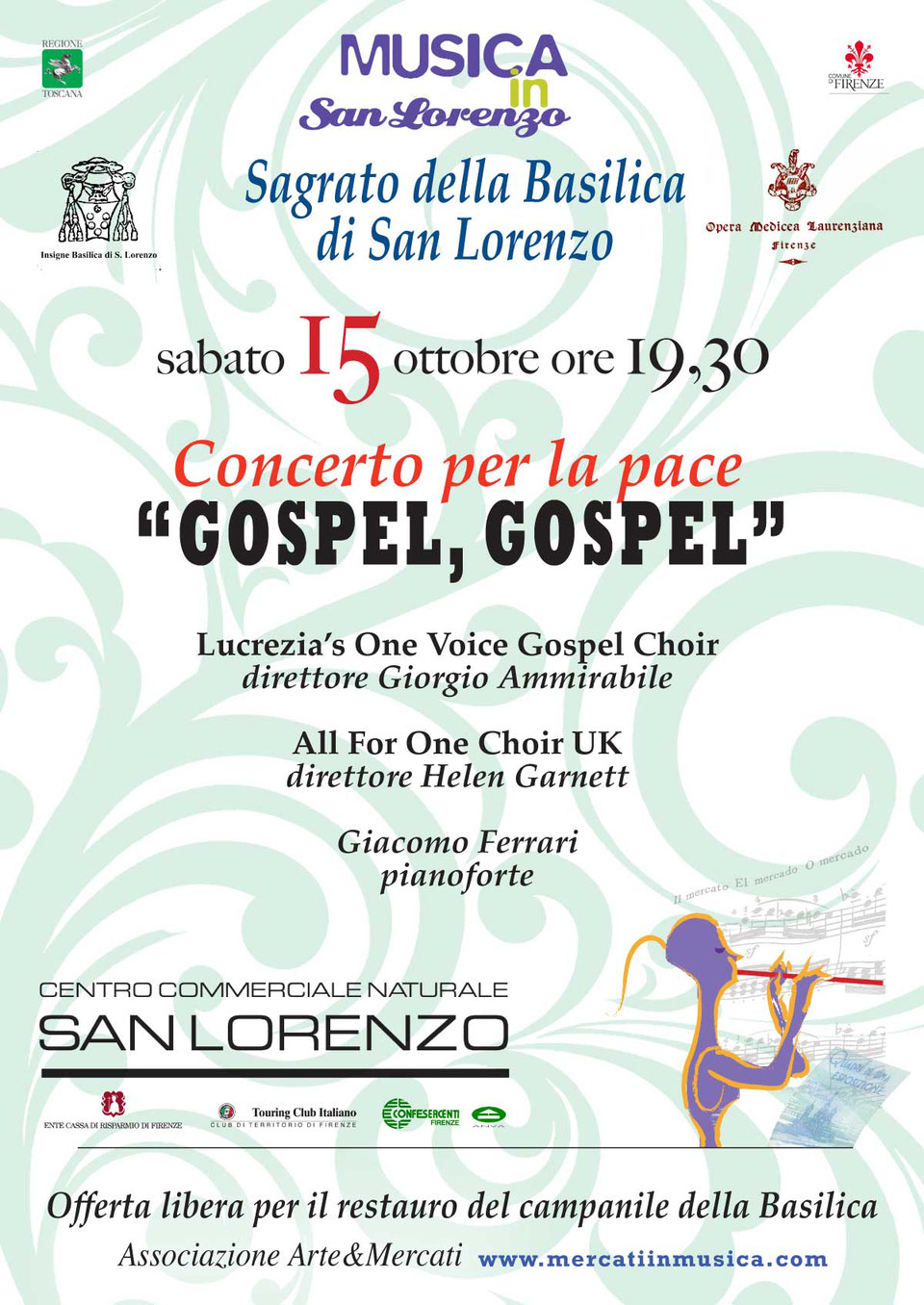 Market | Antique Fair at Fortezza di Basso, October 15/16th
This monthly fair always occurs the third weekend of every month in Florence. It's a great opportunity to browse antique goods including plenty of furniture, knickknacks, old photographs, records and much more. It's a personal favorite. Fortezza di Basso is within walking distance of the Santa Maria Novella Train Station. address: Viale Filippo Strozzi, 1, Firenze. 
Market |  'La Fierucolina d'Autunno', October 16th, Piazza Santo Spirito
An interesting all-day market dedicated to Autumn flavors and organic goods among other items, 9am-7pm.
Market | Flea Market, October 23rd, Largo Pietro Annigoni
The former flea market of piazza ciompi has moved to the square at Largo Pietro Annigoni. While you can visit daily, the 4th Sunday of every month this Sunday will be a larger version with vendors coming in from all over the region. You'll be able to browse a number of quirky items but it is the perfect place to find hard-to-find items like vintage skeleton keys, old boxes, interesting glassware.
Charity Dinner | "Dinner in the dark" charity dinner for L'UICI Florence at Villa San Michele, October 29th, 8pm, address: Via Doccia, 4, 50014 Fiesole FI
One of the best hotels just outside of Florence, Belmond Villa San Michele is organizing a charity dinner in support of the Italian Union of the Blind and Visually Impaired – UICI – Florence. There will be a blind tasting, where guests will be guided and served at the table by blind staff to deliver a memorable and profound experience.
The dinner will take place in the frescoed hall of the Last Supper, which will be made totally dark for the occasion.
Each guest will have their "angel", a blind man that is a volunteer of 'UICI, who will guide him through this multisensory experience before accompanying him in the darkness, and throughout the meal. Three courses plus wine is included 95€ a person, all proceeds will be donated to charity. Please call or email to reserve your spot, check via FB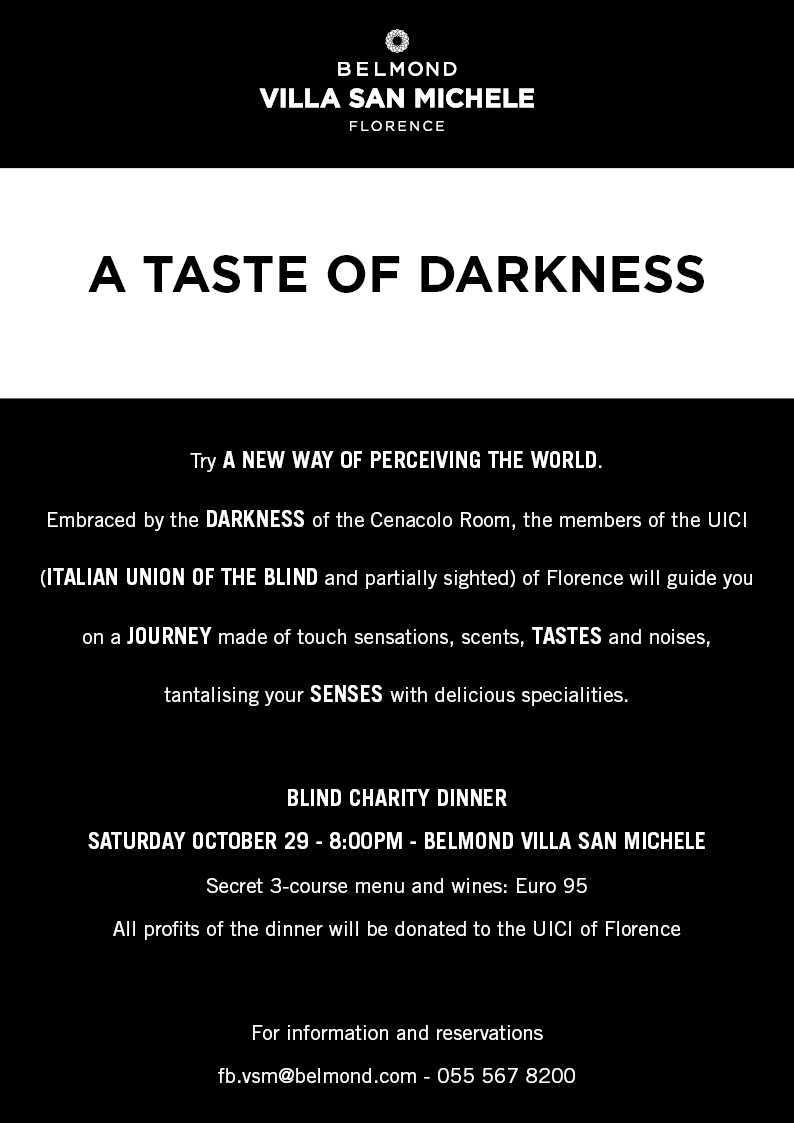 Cinema | Original-Language Movies at The Odeon. When? The month of October. Where? Odeon Cinehall, piazza strozzi.
After a brief hiatus this August, our beloved original-language cinema, the Odeon is back on track with a superb list of fall options. And there is plenty to see this month including the much anticipated Inferno,, Cafe Society, Bridget Jones Baby, check out the program here, you can keep checking the Odeon website for the next program).  Price: 8 euros for a normal ticket, or you can get a pass for 8 shows for 44 euros which is what I typically do during the colder months.
Outside of Florence
Considering that this month is filled with interesting food-related festivals all over Tuscany, here are a few of my personal favorites and feel free to comment with your top picks.
Marradi Tuscany | Chestnut Festival, Every Sunday in October 9, 16, 23, 30th
If you want to really soak in the Autumn feel in Tuscany, this is the festival (in its 53rd edition) you don't want to miss. Once there you can expect plenty of people and tons of well, chestnuts, Roasted, made in cakes, along with plenty of other types of foods. Keep in mind they do have an antique steam train that you can take which I've heard is quite the experience (it is pricy though). On the Saturdays of the 15th and the 22nd there will also be a special food truck with local specialities and fine wines with live music. All the info can be found here.
Certaldo Tuscany | "Boccaccesca" October 7-9th
An interesting food and wine related festival in the pretty town of Certaldo, hometown to one of Italy's greatest poets, Boccaccio. I actually plan to go this year, not only because they will have a special wine-dedicated section. If you want to read up more on him, check out this article by my colleague Silvia at ITALY Magazine.
Vicchio Tuscany | Chestnut Festival, October 9th and the 16th
Another chestnut festival but this time based in the Mugello area of Tuscany (one of the best I might add). Vicchio itself is a small town but you can use this festival as an excuse to discover the surrounding area. If you need tips for exploring Mugello, check out the blog of my friend Valentina aka TooMuchTuscany.
San Miniato Tuscany | Sagra (food festival) of White Truffles and Porcini Mushrooms, October 15th, 16th.
The start of incredible food festivals has begun. If you are craving truffles, there is no better place than the truffle fairs of San Miniato, starting with this festival on October 15th, 16th. Dinner service that weekend starts at 8pm, and open for lunch on Sunday. More info here.