Everyone in the world needs a friend like Rebecca. Whip-smart, and a way with words that manages to combine humor with pretty much any awkward subject, talking with her always makes me walk away smiling. And I always learn something. Rebecca moved to Italy from Chicago in 1993 and shortly thereafter opened an agriturismo at the foot of Mount Subasio near Assisi, Umbria.
She spends her time writing about the lovely region she now calls home for various print and online publications, taking care of guests at Brigolante in the center of Assisi and the countryside outside of town, and wondering what strange winds blew an urban vegetarian to a farm in Umbria. It's a beautiful life too, one that Nico and I got to experience firsthand earlier this year for a weekend meet up with friends.
Also notable, she also co-wrote the Umbria Slow: Food, Culture, & Travel app and was Associate Producer for the PBS series Dream of Italy. In her words Rebecca is best described as "Insatiably curious about the world and its people, and a born storyteller, I'm always looking for my next discovery and a compelling way to share it that makes readers chuckle, shake their heads, and book a flight."
Introducing
name: Rebecca Winke
nationality: American profession Innkeeper & freelance travel writer
favorite drink: Does that have gin in it? Then it's fine by me.
Ciao Rebecca, share with us where you grew up and how you came to be in Assisi, Italy.
I call soda "pop", have a penchant for pierogies, and spent the first two decades of my life matter-of-factly digging my car out of 4 foot snow drifts, which means only one thing: Chicago. I came to Assisi in 1987 as a high school  exchange student and made friends here with whom I kept up through HANDWRITTEN LETTERS (remember those?) through college. When I graduated, I decided to come visit old friends before beginning "real life", and just never managed to board that plane back to the midwest.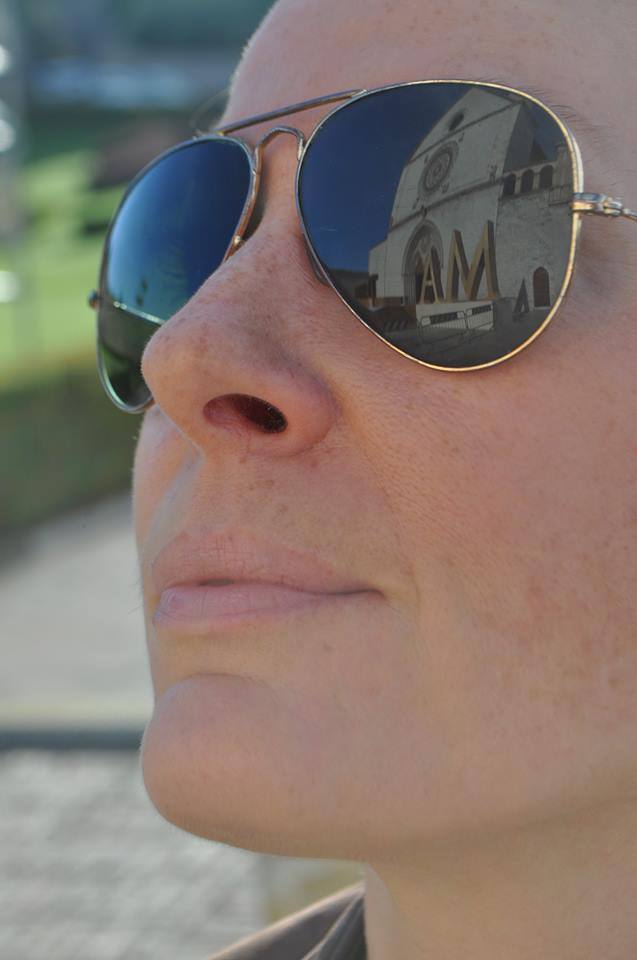 Handwritten letters — I'm impressed! I once had a pen-pal in NYC who thought all Texans rode up to school on a horse. How badly I wanted that to be true. So next question, what do you do for work and for passion in Italy?
I opened an agriturismo (a working farm that provides accommodations) in the countryside outside Assisi in 1997, and last year I also opened three vacation apartments right in the center of town on the main piazza; I've have been having lots of fun getting reacclimated to "city life" after almost two decades on the farm. My true passion is writing, and I blog about Assisi and Umbria and pen articles about travel and life in Italy for a number of print and online publications. It doesn't pay the bills, but it gives me joy.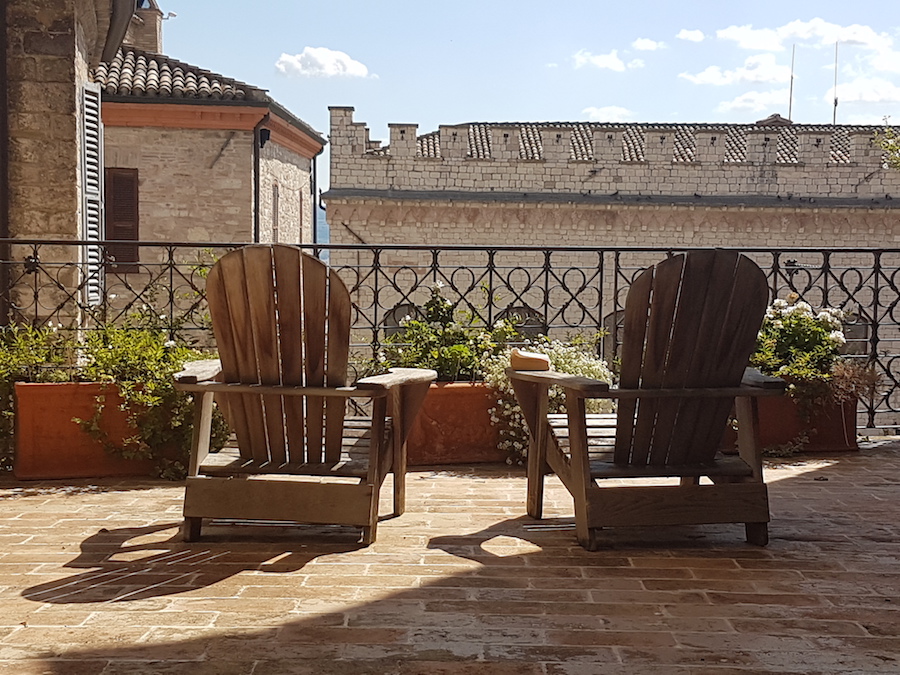 How different is life in Assisi? It's a small town (with one bar, I remembered) so what are some of the positives and negatives of life there?
I've never lived in small town USA, but I suspect that the small town vibe is pretty much the same the world over…perhaps with better food and nicer shoes here in Assisi, but otherwise similar. It's a great place to raise kids, with its bucolic setting, lack of major social problems, and slower lifestyle. It can be wearing as an adult, however, as the small town gossip mill often feels like the only pastime. Luckily, I can hop a train and be in Rome or Florence in just two hours when I feel the need for ethnic food, culture, or just a few hours of blissful anonymity.
So many people have stars in their eyes and want to move their who life abroad because of that magic appeal Italy carries. What would Rebecca's wisdom be for those thinking that small-town Italy is where they need to be.
Living in Italy is like dating a supermodel: you wake up each morning and feel like the luckiest S.O.B. who ever walked the face of the earth, but by the end of the day you have reached the conclusion that it's more trouble than it's worth. Italy is not a user-friendly country, either in the big cities or the small towns, and the financial and bureaucratic red tape can cast a long shadow over your sunset cocktail-filled dreams. Before you marry that supermodel, date for awhile. Set aside a chunk of time to take Italy for a trial run before you sell your house and pack your bags.
https://www.instagram.com/p/BHwWzBvg6tc/?taken-by=brigolante
"Like dating a supermodel" is quite possibly the best analogy I've heard about life here. HA! How do you stay involved in the local or expat community — any advice for those looking to do the same?
My litmus test about fellow expats is the question, "Would I be this person's friend if we were in the States?" I think often we are drawn to fellow expats because of the comfort of familiarity rather than true shared experiences and values, and that can only take a friendship so far. To stay involved in the local community, I have to words of wisdom: Give birth. Nothing drags you into the fray like PTA meetings, sport teams, play dates, music recitals, and birthday parties. My social life has been more or less hijacked by parenthood since 2001.
Sound advice! What annoys you about Italy? Feel free to be as open as you want.
Jaysus, can just one bloody store break a €20 bill without having to go next door and borrow change from the bar? Why does no one ever have coin here?!?
Now if only ATM's would give smaller bills. Top three questions you hate visitors asking and why?
Why are Italians such bad drivers? (Puh-lease. Chicago drivers eat these chumps for lunch.)
Why do stores close at night/on Sunday? (Because people still sit down and have meals with their family here. There is no reason that you need to shop for groceries at 11 pm.)
When are you moving back to the US? (You people solve that Trump problem and we'll talk.)
I always say that Italians are adept drivers who choose to break the rules, you wouldn't want to see the average person from my hometown trying to parallel park on a hill. Since you are raising kids here, do you want them to stay in Italy or go abroad? What do you of the future here?
That is a question we have been talking about more and more around the dinner table, as my older son is starting to look towards college. I have no opinion either way, as I can see the advantages and disadvantages of both countries. I have lived exactly half my life in the US and half in Italy, and my loyalties are deeply divided. I feel very strongly that both my sons will spend some, if not all, their student and professional life outside of Italy, as the economy here is limping along and unemployment among young people sky-high. However, they are in many ways fundamentally Italian, and they will certainly always have strong roots in Umbria. As long as settle down somewhere I would like to visit, I'm good. Preferably close to a good bagel place.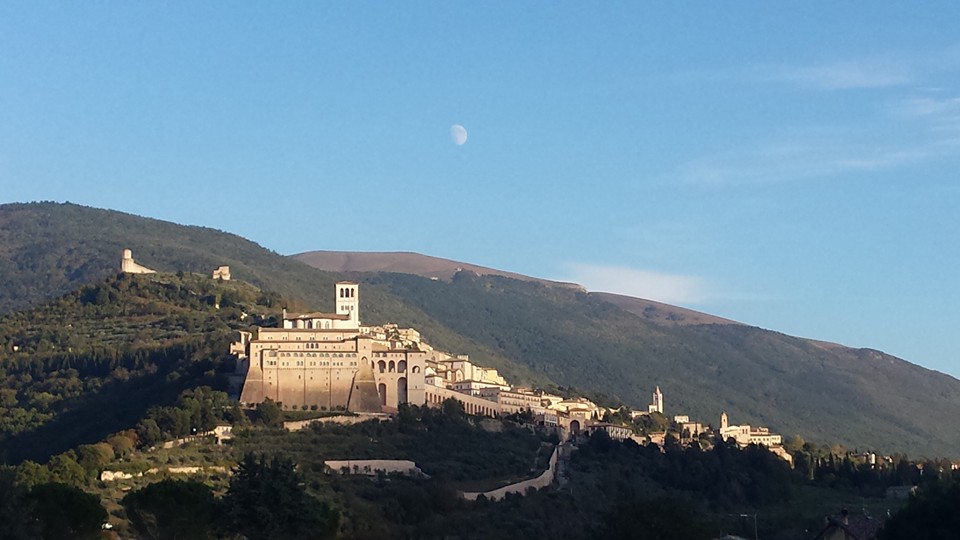 Let's talk food! Tell me about the local cuisine in your area of Umbria and a few favorite dishes/places to eat.
Lordy, where to begin? As a vegetarian, Umbria can be tricky.
They love pork here, and meat and game in general is a large part of the cuisine. That said, this is also the land of heirloom legumes, the best olive oil in the world (ahem), big bodied Sagrantino, earthy truffles, ubiquitous kitchen gardens, and a food-centric culture second only to…uh…nowhere, maybe. They do traditional cuisine impeccably, updated gourmet spottily, and ethnic not at all. If you want a good meal in Umbria, your best bet is traditional with an eye to great local producers and suppliers. L'Alchimista in Montefalco is a perennial favorite, and recently I am loving Trattoria del Borgo in Perugia and La Terra Chiama in Assisi.
When you need a break from Assisi, where do you go?
Two things Assisi doesn't have is the vibrant energy of a big city and the endless horizon of the Mediterranean. If I need to recharge, I head to Rome. If I need to unwind, the seaside.
https://www.instagram.com/p/BH2CZ8RgdrH/?taken-by=brigolante
Three special places everyone should know about in Assisi?
I love La Rocca, or the Medieval fortress that sits above the town and glowers across the valley toward Perugia, Assisi's historic rival. Just restored enough to be safe, and just crumbling enough to be romantic, La Rocca has the best sunsets in Umbria.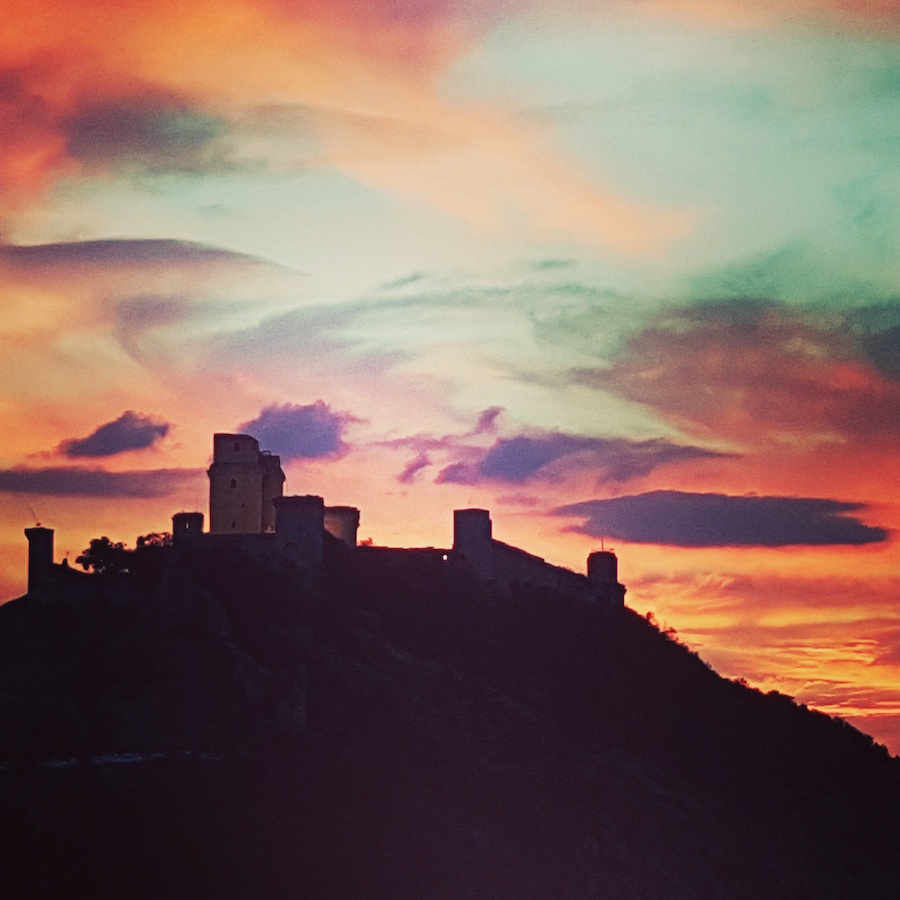 Everyone swoons over the majestic Basilica, but to get a real feel for the poverty and humility Saint Frances espoused, you must visit L'Eremo delle Carceri, his mountainside hermitage. Best visited in early morning or late afternoon, this monastery is moving regardless of your faith.
A newcomer to the Assisi sights is the Bosco di San Francesco, a newly-reclaimed woodland on the slope beneath the Basilica. Pristine forest, restored Medieval bridges, monastery, mill, and watchtower, and lovely walking paths…a quiet respite from the often-crowded center.
What can you do in Italy and nowhere else?
Have three hour long conversations about the correct way to prepare parmigiana di melanzane. No, really.
If you had to make up a tagline for Assisi according to Rebecca, what would it be?
As "Holy Guacamole" as you can get in a town with no Mexican food.
….
Keep in touch with Rebecca on Facebook, Twitter, and Instagram!