I don't produce paper
I give shape to desires
To precious materials
Add passion and love
And an alchemy emerges
Material and Immaterial join.
It is not paper, it is the essence of the dream
These are the words or rather the poetry of Sandro Tiberi, master paper artisan based in the tiny town of Fabriano, nestled in one of my favorite region in Italy, the mysterious Le Marche. As I walked inside his pretty workshop, more like an art studio than a place where you'd think paper is made, we were transported into a craft that has been honed in this town since the 1200's. Here he makes his handcrafted paper in the ancient way, using just water and 100% hundred percent cellulose.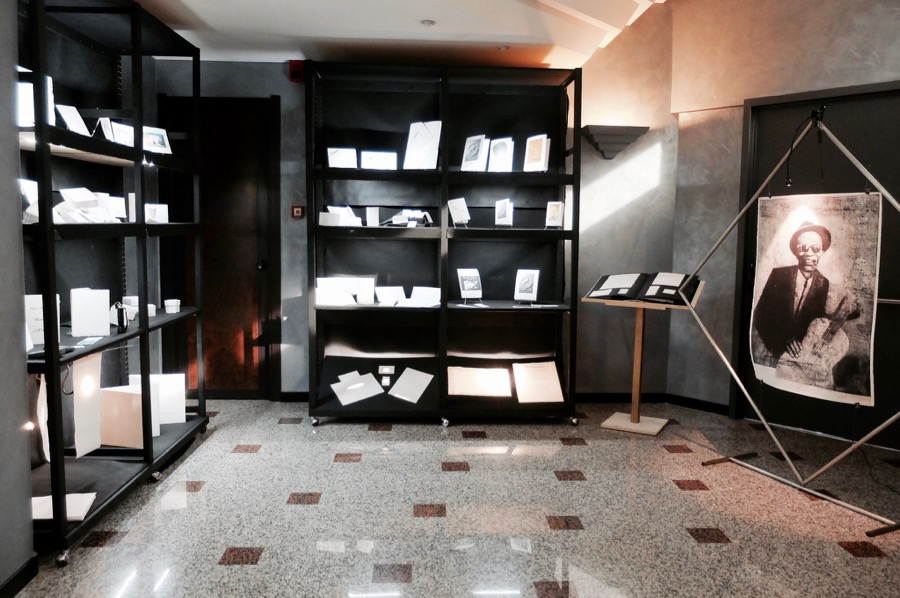 Sandro has been been working in the paper industry since 1985, in 1999 he decided to use his expertly-honed skills to create an artisan workshop of his own. In addition to promoting the town's cultural heritage and even helping to achieve it UNESCO-recognition as a creative city, he works proactively with various associations for people with disabilities who use the work of manufacturing handmade paper as a method of social reintegration. 
An important aspect of his work is his dedication to modern technology as applies to paper.
"We use tradition and technology together, it is a work of art. We need to remember as artisans that technology is not a monster."
You can see him put this into place via his unique watermarks, which he is immensely proud of. Sandro carries a lifelong passion of paper and light. Chip technology and barcodes are used to create one of a kind business cards for companies, just hold your phone over one of his cards and you'll immediately save/scan the contact. Anything and everything is customizable.
And what about the musical bookmark? He held his phone over one barcode, the phone instantly picking up the notes — soon we were all listening to a melody. Sandro's even created paper embedded with vegetable seeds that yes, can grow.
You have to wonder if he's a little crazy, but I think you have to be to go that outside the box. His energy is contagious and all of us present got the exciting feeling of being part of Sandro's world, if only for an hour.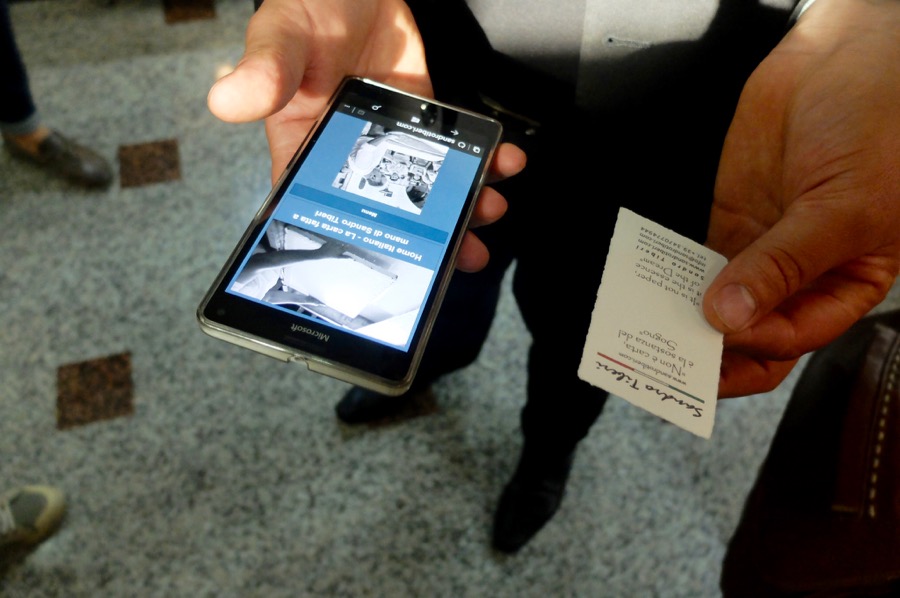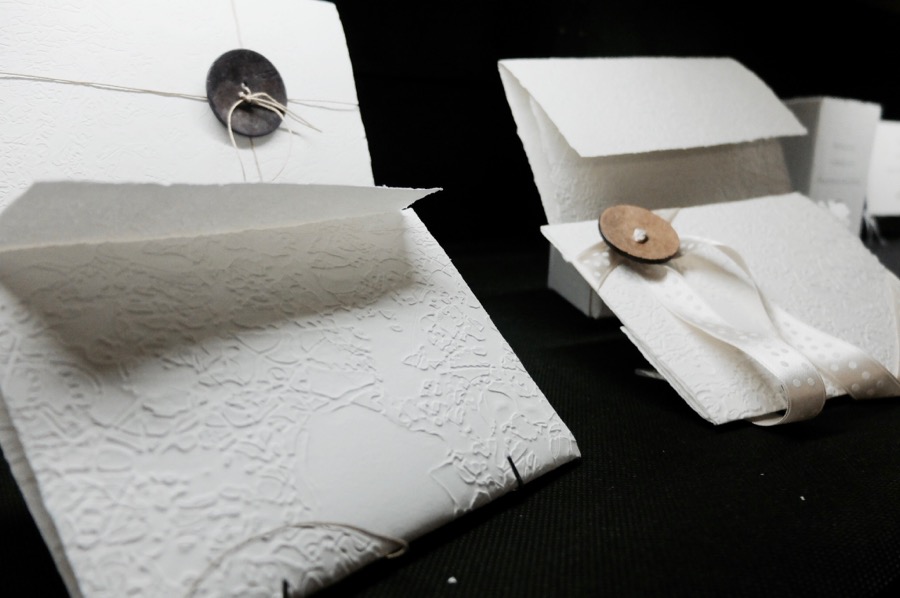 Since the 13th century, Fabriano has been adept at creating high-quality paper on an industrial scale. Money is made using the paper from this tiny town in Le Marche. While Italians certainly didn't invent the product, we have the Chinese to thank for that, they sure have gone above and beyond your average loose leaf that I grew up scribbling on as a child, ps. they also invented the watermark.
Fabriano enriched the art of paper-making to a mass scale by using animal gelatin to help make it durable for printing. Thus machines were created to make the pulp slurry and production got the kick-start it needed. They became so synonymous with quality paper that even Michelangelo ordered his stock from this tiny town.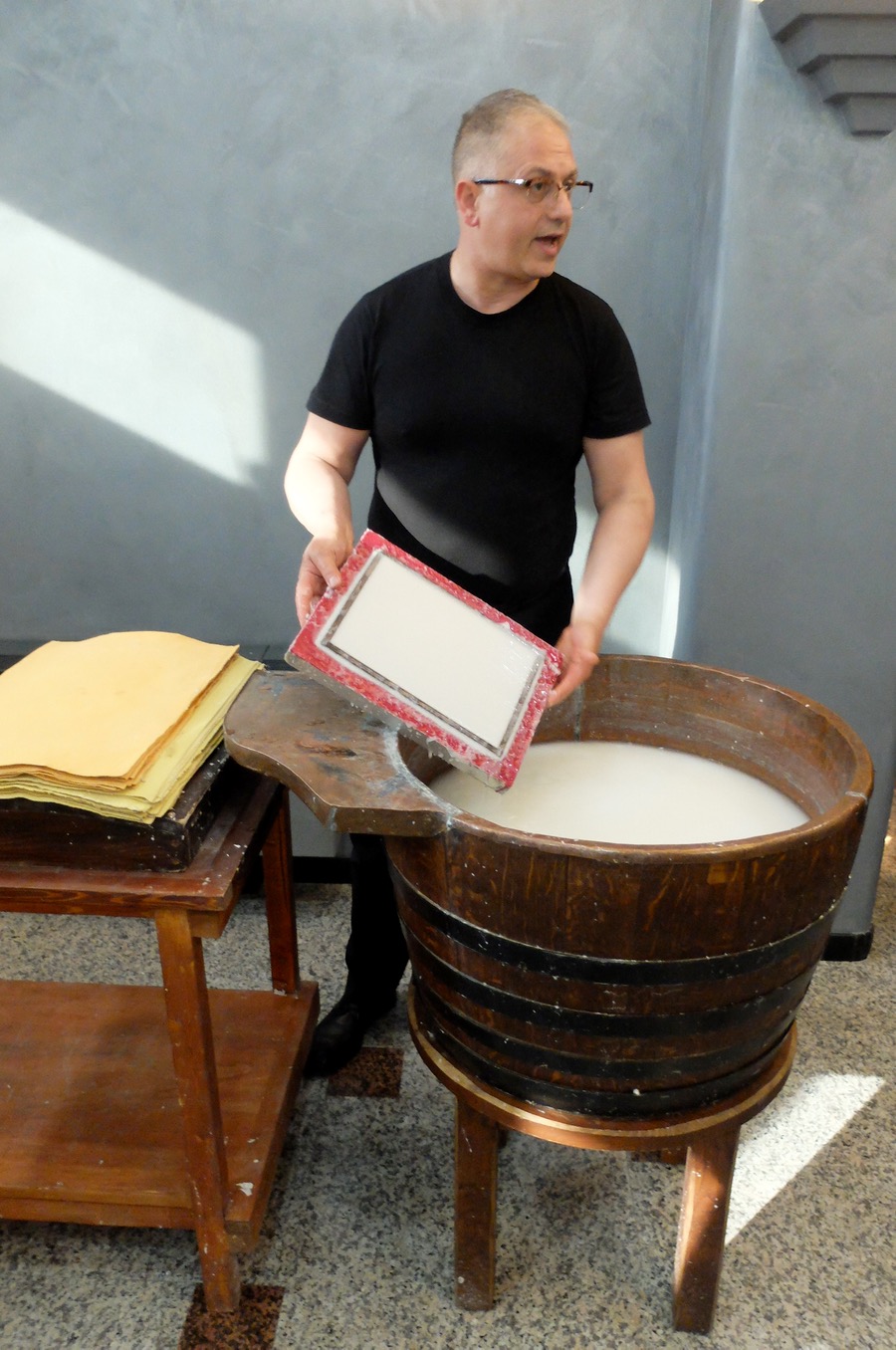 As we leave Sandro's wonderful world of wonders, it should be noted that Fabriano itself shouldn't be overlooked. While our time was all too short, we literally did a quick walk through the town on our way to more artisan workshops in Umbria. I was instantly charmed by it's tiny, yet elegant stature situated inland in Le Marche.
The main action accumulates around in the piazza where the Palazzo del Podestà is located, outside you'll spot an ornate large fountain that the locals call "Sturinalto"  which strongly resembles the one in Perugia. That's not coincindence, it was meant to be a copy built in 1285 by Jacopo di Grondolo a few years after the Perugia one.
This is the kind of place I really want to return to when Florence gets me a little jaded. Here, the town is pristinely kept clean with smiling locals going about their day's chores, it's the kind of place that is unfettered by tourism and it knows it. I'd like to get a coffee at C.Storelli and just waste my time people watching. There's always a next time though, isn't there.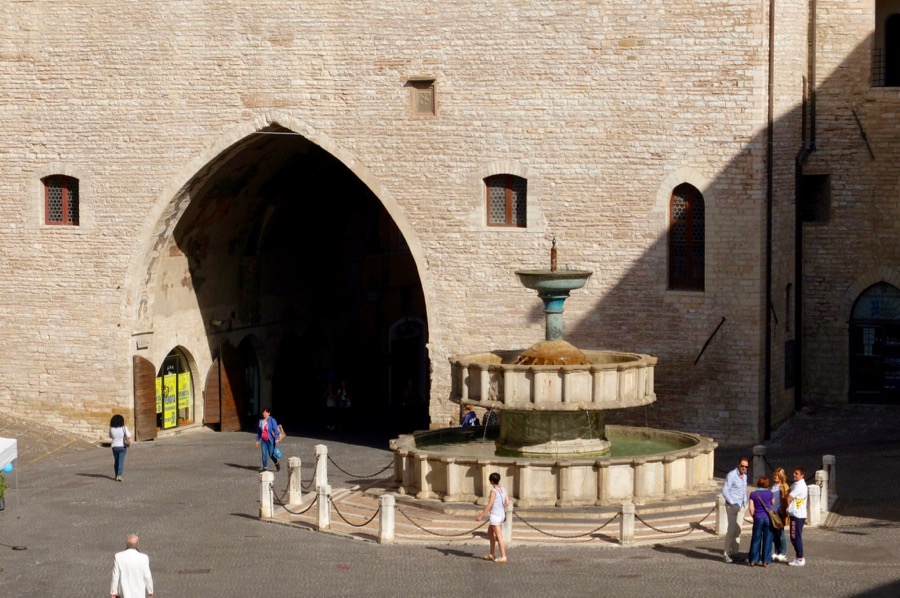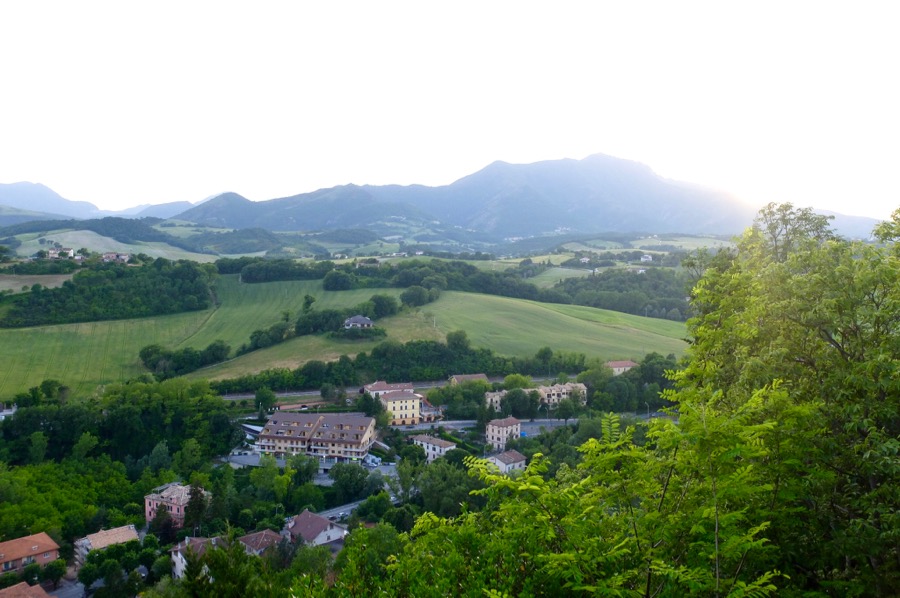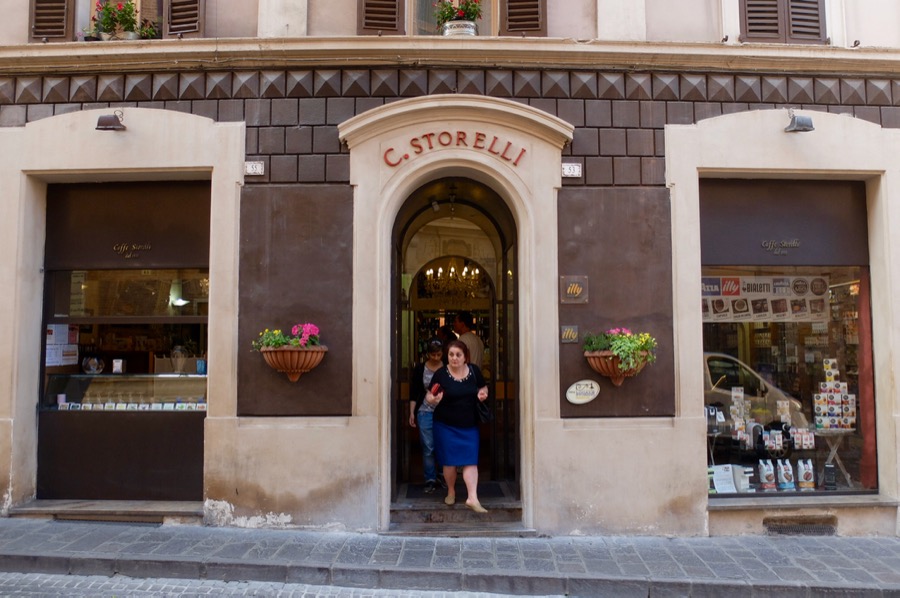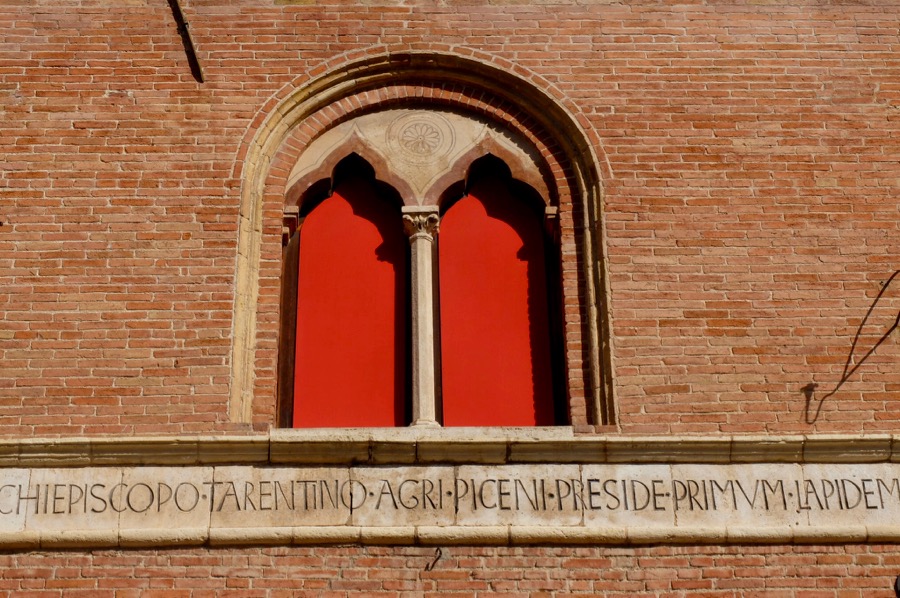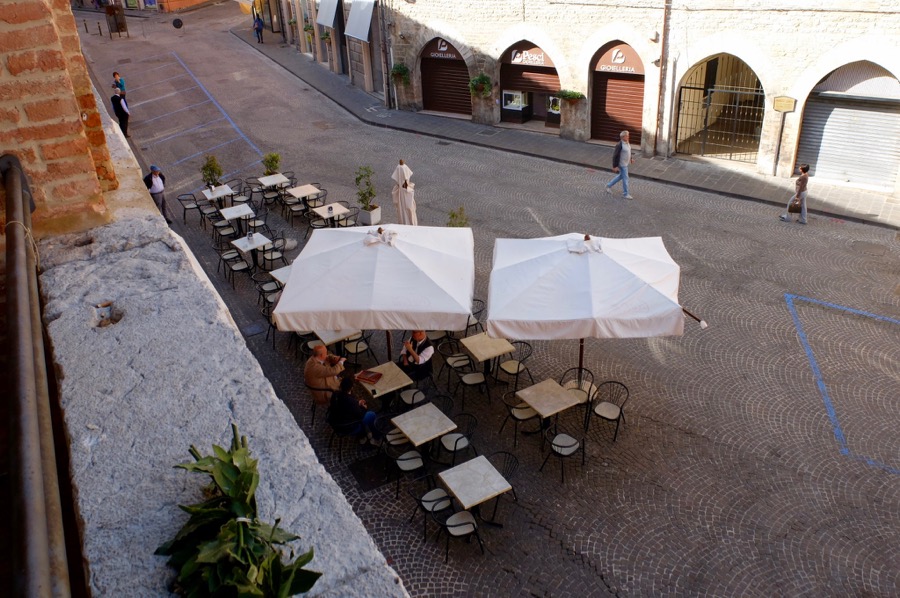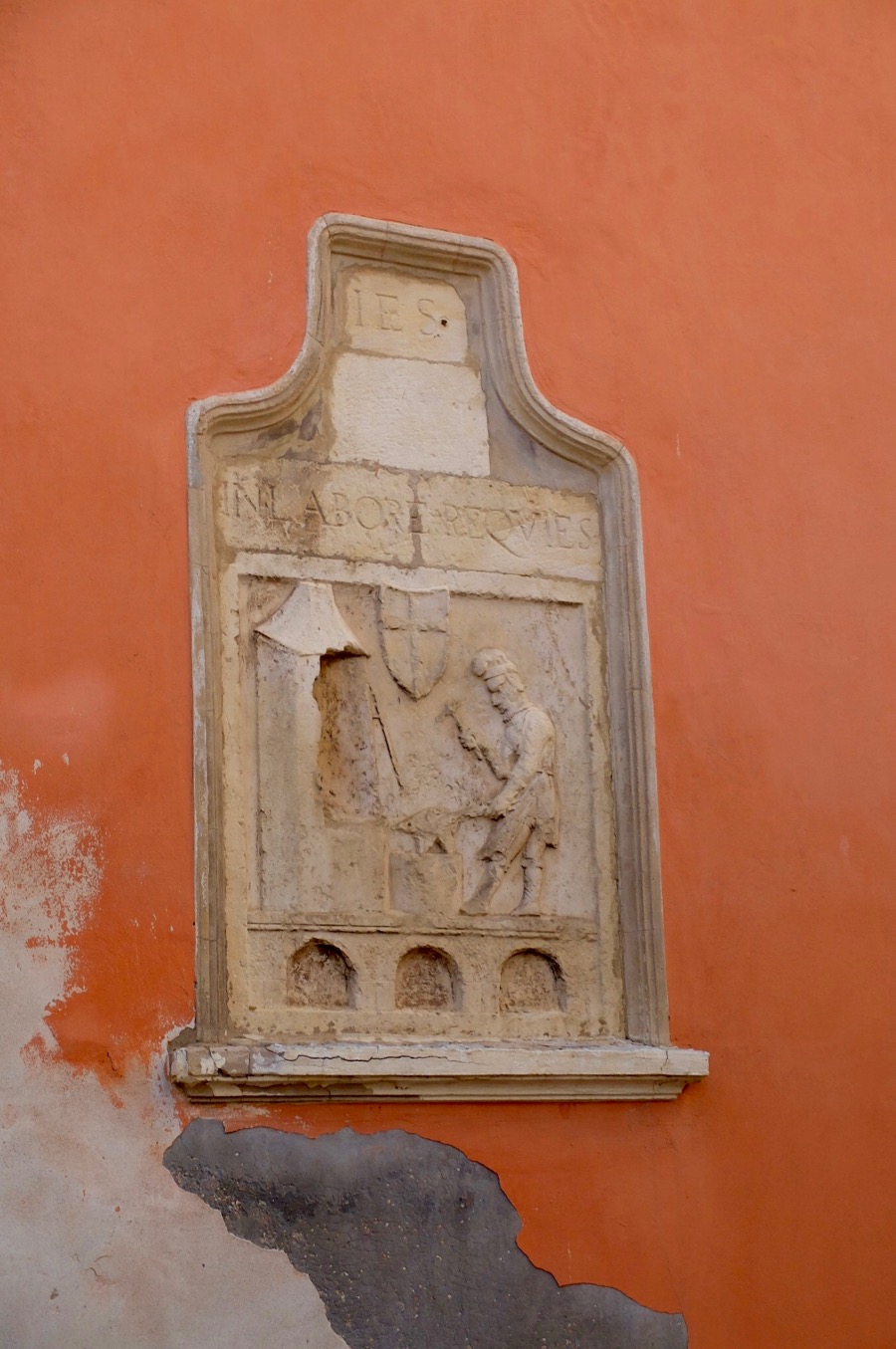 https://www.instagram.com/p/BF65Zu8RTMe/?taken-by=girlinflorence
Moving on, next up on our Fabriano itinerary is an old workshop featuring the iron and aluminum works by local artist Fabrizio Maffei. Paper isn't the only thing Fabriano once "Faberius" is known for, they have have been long known for the iron work here since the 11th century which was once found in nearby caves. You can see this evident in the town's coat of arms, which features a blacksmith as its symbol.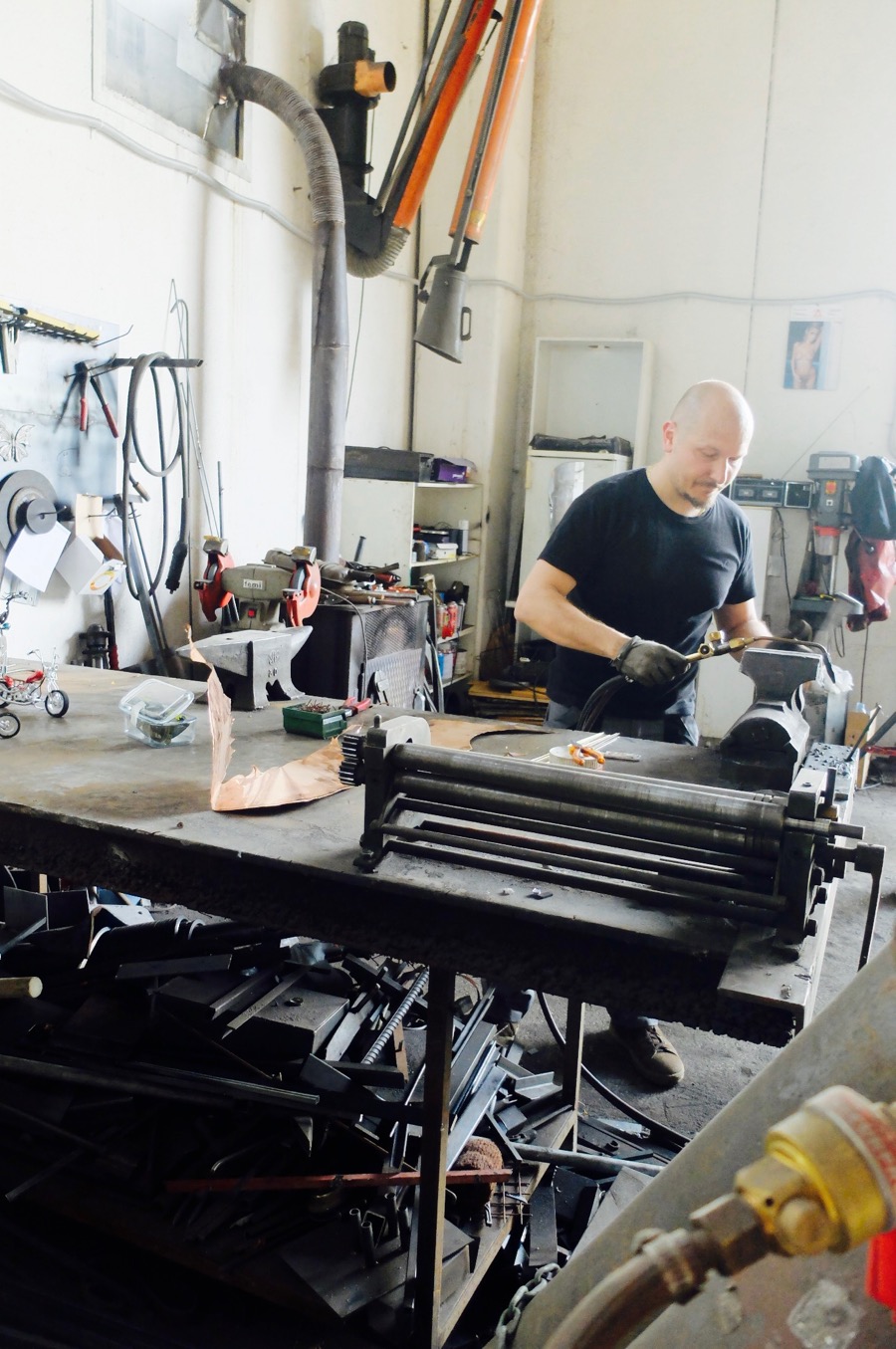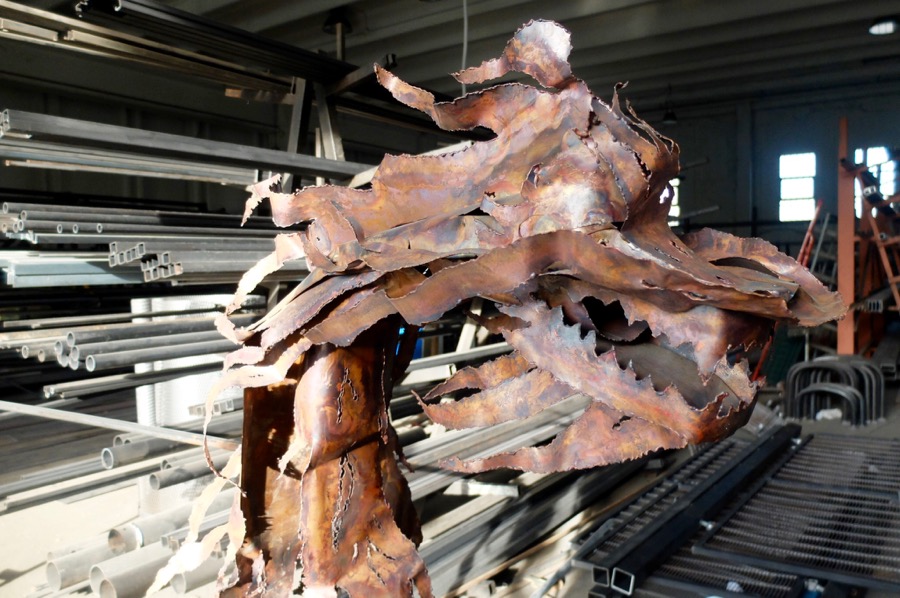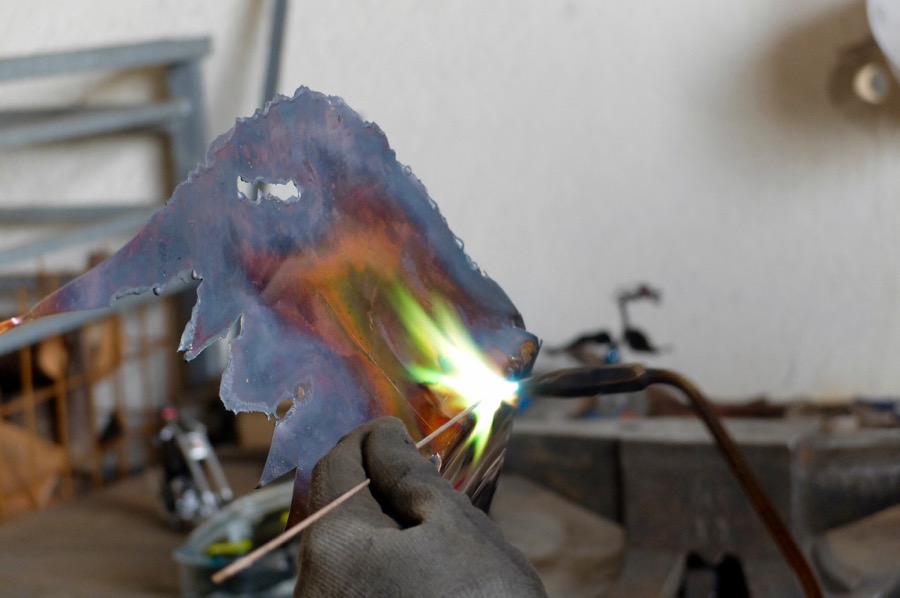 Through the melding of metals, he tells stories. A huge screw stands tall and center, featuring an iron man going through several stages of life and inebriation. Another screw features a long lithe figure with flowing hair. She has anorexia and through the windy turrets of the screw, we follow her difficult path. Then she meets a bird and flys away, a glimmer of hope in what can seem like an endless path of destruction.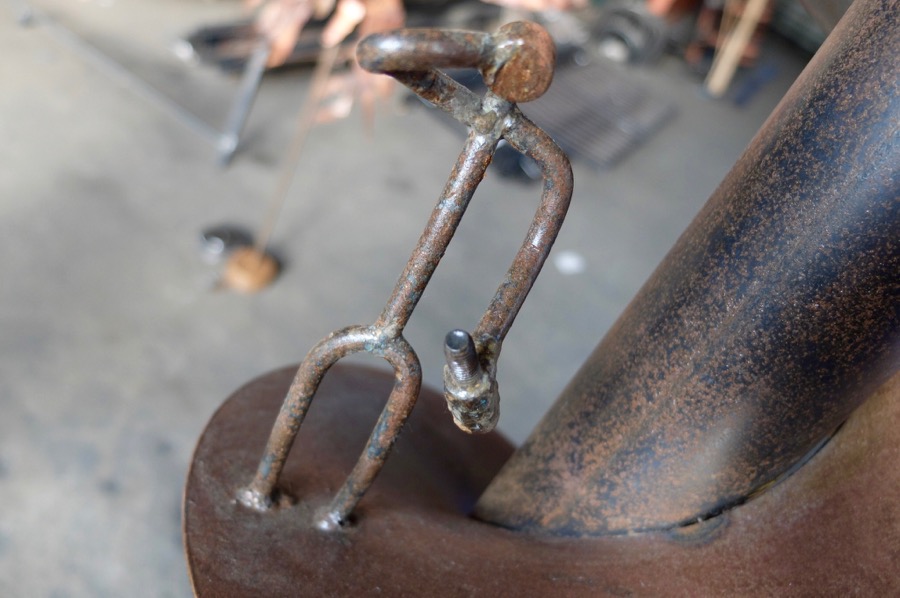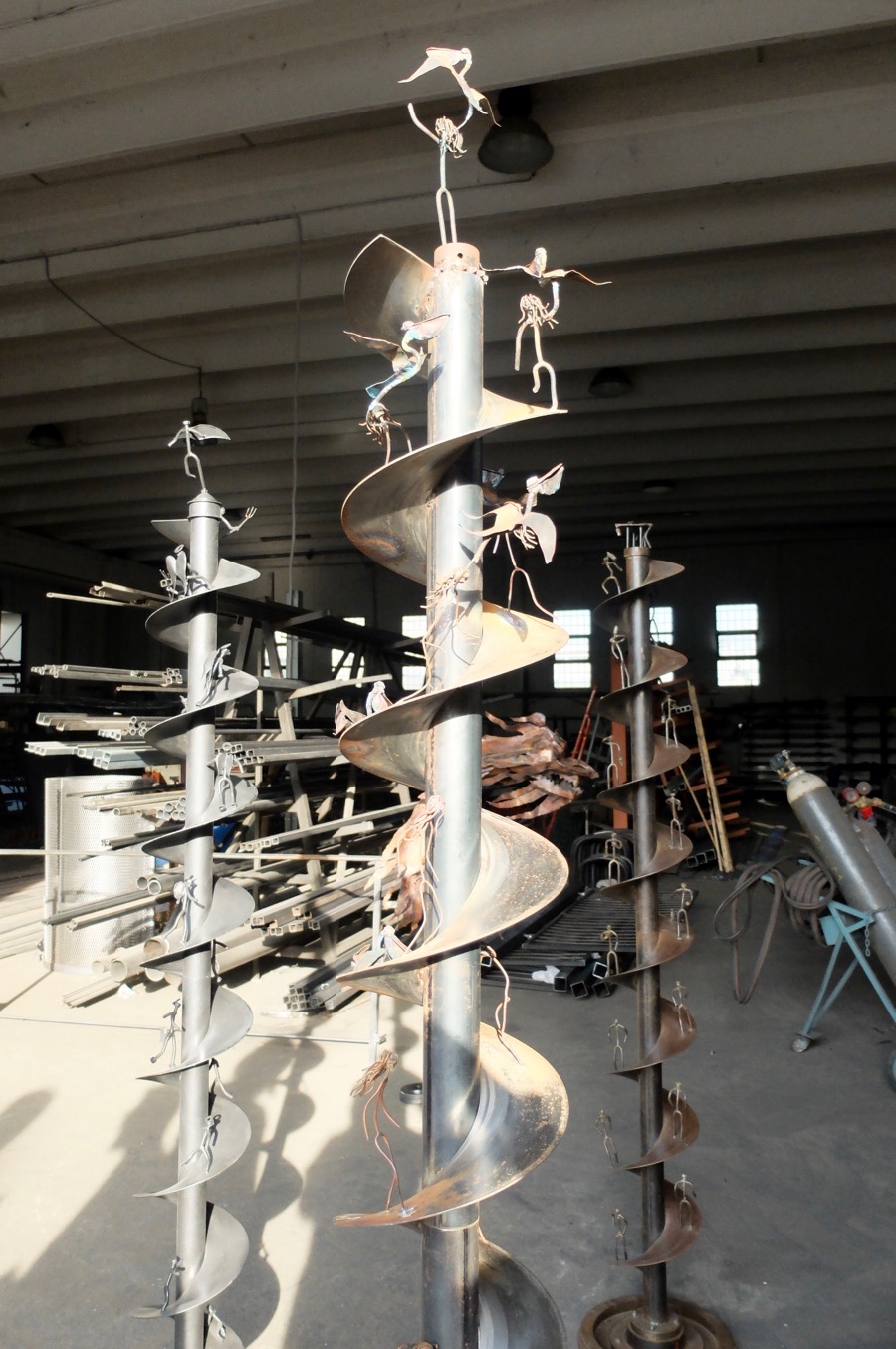 Italian Stories 
You might notice that I can't seem to shut up about artisans in Italy and there is a strong reason for that. Big brands have budgets, have marketing teams and influencer connections on instagram, but that artisan in a small town just trying to make it doesn't always have access to this.
Instead I prefer to talk about that person who is behind-the-scenes, continuing the Italian tradition of handmade artistry and handicrafts in a variety of forms. What they lack in a big marketing budget, they make up in passion.
Meeting them, you get the chance to feel what they feel, sense what they sense. Sometimes they don't even have a website or Facebook page, but they're out there, you just need to find out about them.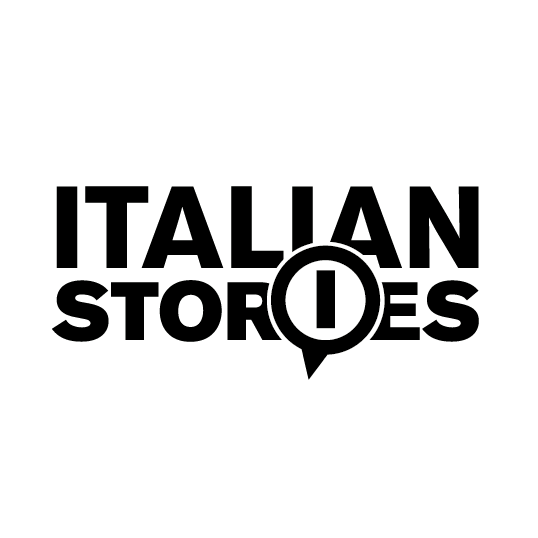 This is where Italian Stories comes in handy. Founded by two Italian architects Eleonora Odorizzi and Andrea Miserocchi in January 2015, they have amassed a talented team dedicated at showcasing local artisans all over Italy on a digital platform where anyone can search and book a specific workshop for the chance to actually meet these craftsman in person. This was started in part to help preserve and protect the iconic #MadeInItaly brand that has many times been abused in year's past. Here you can be assured you're not getting the Walmart version of a trademark.
They've already done the pre-selection of locals based all over the boot, you just have to search for what material interests you the most and search by geographical location. You pay online and everything goes through the website with the artisan sets the price. The experiences are super affordable, I saw tea times with artisans for as little as 10€ up to 200€+  or more for an all-day experience.
Guests are encouraged to leave a rating and review to help others get a first-hand viewpoint on what their experience was actually like. It's almost the Uber or Airbnb of local workshops, just much better regulated.
What I like about them is the fact that they are helping these small businesses (sometimes of just one person) create an additional revenue stream and opportunity to meet people all over the world who are keen to see how they work and get their owns hands a little dirty. My only question is, why didn't anyone think of this sooner?
One thing to keep in mind is that while they do connect you with the artisan, they don't provide transportation or translation while there, however it is worth checking out where you plan to base in Italy to see who's around you that way you can include this as part of your trip. Perhaps even arrange a multi-day visit to really go in-depth on the art of terracotta making etc. Opportunities like is what makes the different between a tourist and a true traveler. Instead of just gawking wide-eyed at Italy's monumental sites and checking off a bucket list, you can actually get involved in what makes this country great by getting to know people personally. That's the Italy I love to share.
I also have to offer a huge thank you to those who organized this fascinating tour through the workshops of Fabriano and Gubbio (more to come),  Amano Appennino Umbro together with Italian Stories.
https://www.instagram.com/p/BGEYmyxsVlq/?taken-by=italianstories&hl=en
You can book your own experience with Italian Stories here, at the moment the site is in both Italian and English and even offers gift cards for those who want to surprise a friend coming to Italy with probably the coolest kind of gift one can hope for. Massages can be had anywhere in the world, but how many times can you get up close and personal in someone's private laboratory?