Wow, what a month. 
After over a week of wedding madness, this girl is officially a Mrs. (yay!) and breathe a little easier. All is done, family and friends had an incredible (I hope) time and we actually managed to enjoy the day without it passing by with a blink of the eye. I might sound like a broken record with all of the wedding talk, but honestly I don't give a damn because I'm over the moon still and plan on hoarding this feeling as long as physically possible. We hop on a plane today, first stop Bangkok, as part of our honeymoon trip through Thailand which I will also be sharing on the blog :). After, Texas is next on the radar, for Christmas and another party with my family down south. We won't be back on Italian soil until early January, but that certainly doesn't mean I've forgotten you guys! My December events list is an important one because so many people come from out of town to see a fantastically lit-up Florence, shining like St. Lucia.
I also ask a favor from you guys, my local readers, to keep me from getting homesick by tagging your instagram photos in Firenze with #GirlInFlorence. My plan is to share the best ones from my own account (crediting of course) to keep the Italy love flowing this month, in between shots of our honeymoon and fun in the USA.
Also check back soon for additional events, especially for New Year's Eve to be added shortly, unfortunately I cannot get this info sooner but I will make sure to share any news on cool happenings around town as soon as I get them! Additional fun events can be found via YELP which is always at the forefront of cool mixers and exploring new hot places in town.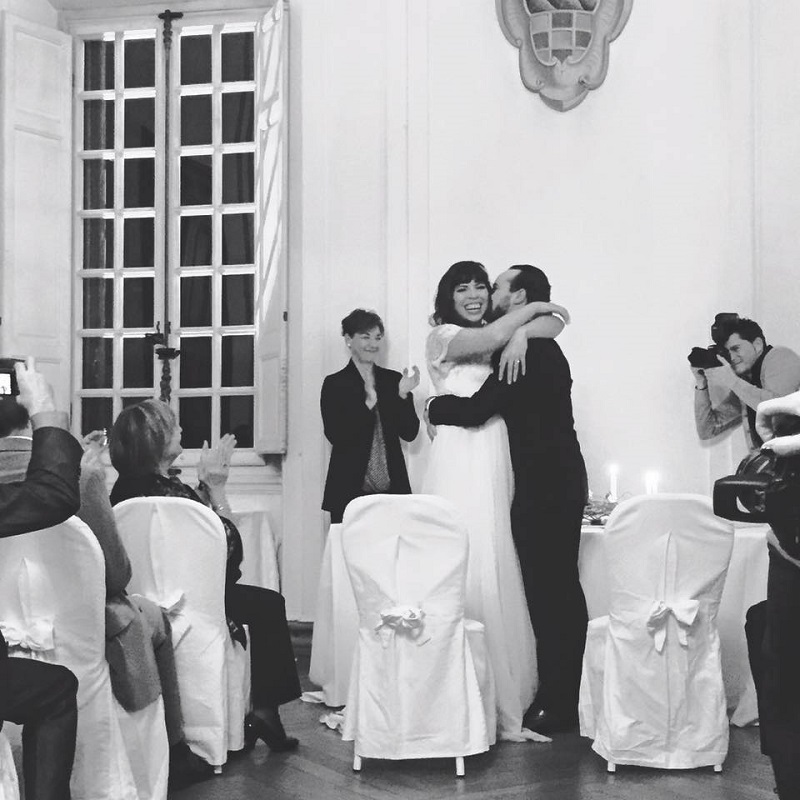 Nativity Scenes | All Around Florence, December
For those seeking Nativity scenes, known as 'presepe', there are several to choose from around town, including the famous one that will be set up outside the Duomo cathedral. I recommend heading to the church of Santa Felicita in Piazza Santa Felicita and the church of Santa Maria dei Ricci in via del Corso for a peek, also because these churches are rarely visited by tourists. The biggest ones around the region of Tuscany can be seen here.
Christmas | Lighting Of The Christmas Tree, December 8th, Piazza Duomo, TBD
Christmas | Weihnachtsmarkt German Market December 2nd-20th, Piazza Santa Croce
Everyone's favorite Christmas market is back on December 2nd, selling holiday goods and yummy food in the square of Santa Croce church. The perfect place to meet up over mulled wine and huge pretzels.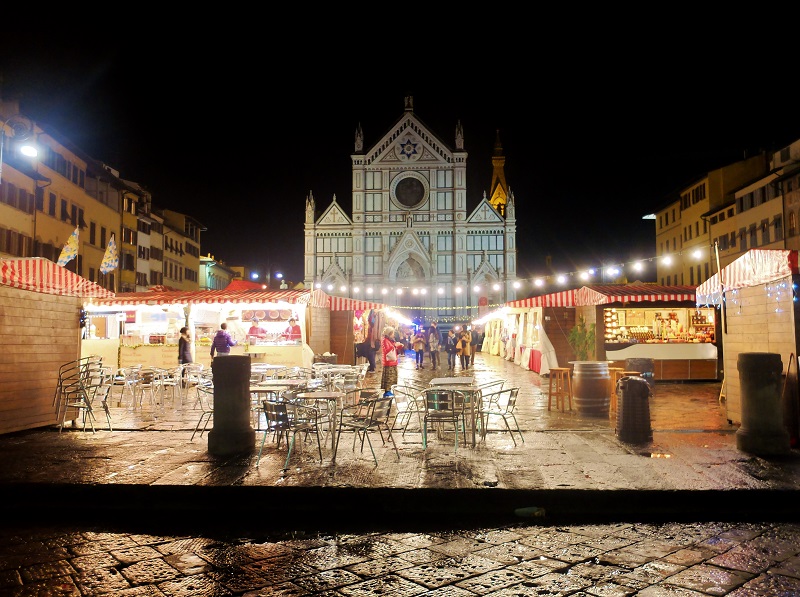 Christmas |  Christmas Market, Solidarity Fair – December 4-6th, Obihall, 10:30-6:30
Support the Italian Red Cross by attending this Christmas market just outside the center at Obihall (easily reachable by number 14 bus). €.5,00 to go. Open Friday 3:30-6:30, Saturday and Sunday 10:30-6:30pm.
Obihall
Via Fabrizio De' Andre, 50136 Firenze
+39 055 650 4112
Movies | 'River To River' Film Festival, Odeon Cinema, December 5th – 10th
Always a favorite film festival of mine, the 15th edition of River to River will be shown at the beautiful Odeon Cinehall for a five-day period. The Festival is organized and produced by the Cultural River to River, which aims to enhance and promote cultural exchanges and spread exhibitions, manifestation and events aimed at highlighting contemporary artistic expressions are particularly significant. The River to River Florence Indian Film Festival is the first festival in the world entirely devoted to films from and about India, and is the only of its kind in Italy. More info & Programs can be found here. I also have to send a shout out to the crowdfunding effort, heeded also by my friend Alexandra Kory of FLOD, that made this festival happen.
Odeon Cinema
Piazza Strozzi
055 214 068

Christmas | 'Natale è Oltrarno' – Christmas In The Other Side Of The River, Dec 8th – Jan 6th
For the first time, stands will also be in the 'rive gauche' or other side of the river bank of Florence, how cool!  The oltrarno in this case consists of Santo Spirito, San Niccolò and San Frediano. Stands will be open from 10am-10pm daily. Follow the excitement and updates via their facebook page.
Christmas | Santa Claus Village, Largo Pietro Annigoni, Dec 8 – January 6th
Apparently there will be a Santa Claus village for the month of December for both kids and adults (and yes kids can leave letters) in a space on largo pietro annigoni.
Exhibit | "And There She Was' OPENING: SONJA DE GRAAF, December 10th, 7pm-9pm, Via di Mezzo 6r, Florence
Dutch artist Sonja de Graaf attended LABA Academy of Fine Arts in Florence. The broad gestural sweeps of color in her drawings celebrate youth, beauty, and energy. De Graaf's interest in fairy tales and literature is revealed through references to Lolita and Little Red Riding Hood, for example. The persistent theme of innocence lost is. Please join them for the inauguration of And There She Was, an exhibition of works by Sonja de Graaf at The Creative Collective (Via Di Mezzo 6r, Florence) on December 10th from 7-9pm. The show will be on view through January. RSVP here.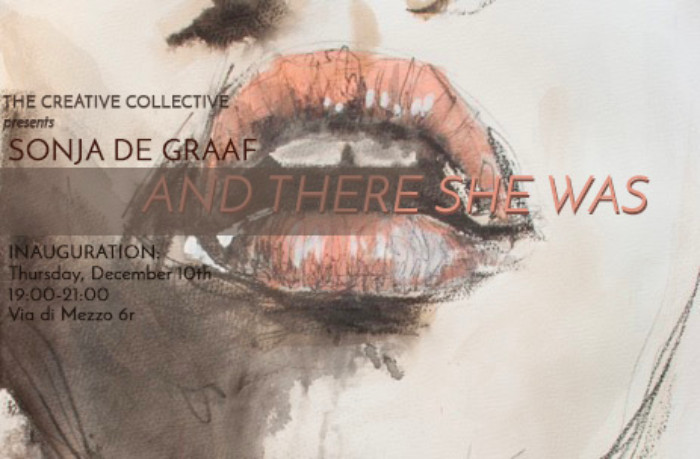 Holidays | Pop-up Shop, December 11-th, 5pm, Via Salvestrina, 1
I always am a fan of anything the Creative People in Florence support and on the 13th of December there will be a holiday party and Pop Up Shop in collaboration with La Serra MK Textile Atelier featuring handmade and one-of-a-kind items from their talented members. Shop local and give a unique gift this holiday season. Opening night will be Friday December 11th with a hot chocolate bar and photo booth from 17:00, wine and snacks from 19:00 – 21:00, and live music. You can also shop on Saturday and Sunday from 11:00 – 18:30. Via Salvestrina 1, Florence. RSVP here.
Featured designers will include:
Sarit Mehta – Fashion Universe
Tom J. Bryne
Emmanuelle La Fage
Auria Bohn – Vintage Fables
La Serra MK Textile Atelier
ELY. B. Eleonora Bruno
Two Blondes on a Bike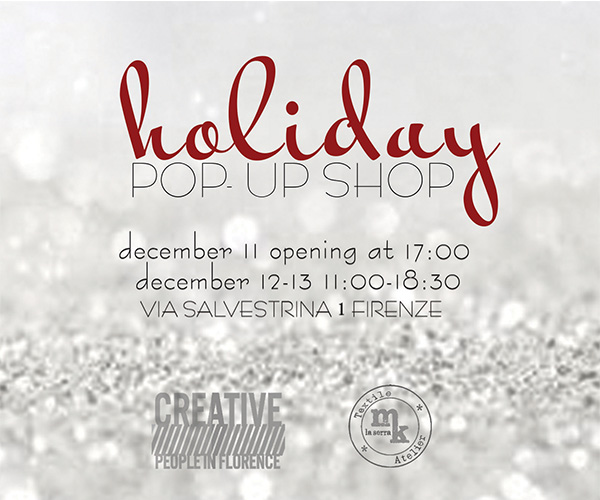 Karaoke | Karaoke with Yelp – Christmas Songs, December 10th, MelaBevo Firenze, 10pm.
Love to sing Christmas carols? Than this is the event for you! Yelp, one of my favorite communities in Florence is hosting a karaoke night at Melabevo in the city where Christmas songs are the theme. Open to anyone who wants to come, even if you hate singing, come have a drink and mingle with Italians! Event listing.
MelaBevo Firenze
Via Ghibellina 40R
50122 Florence
Italy
Christmas | Mexican Christmas Galà, December 10th, Giardino dell'Orticultura, 8pm.
I'm pretty upset to miss this as Mexican + Christmas is right up my alley taking place in the beautiful Tepidarium del Roster near piazza della liberta. But please, go on my behalf. Tickets to this dinner will go to charity and there will be a DJ set and live music. Tickets range from €15.00 – €60.00. Tickets can be bought here.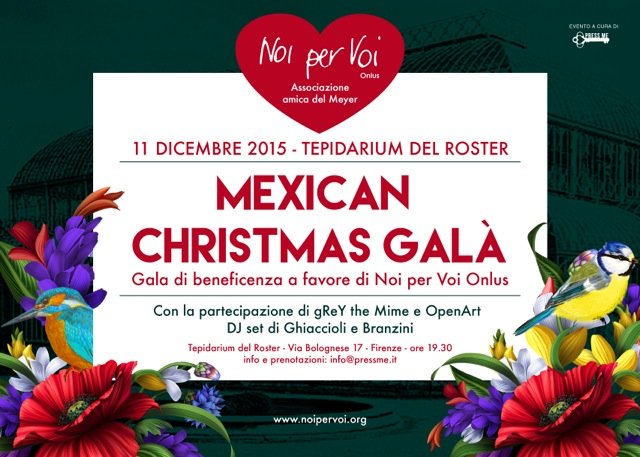 Giardino dell'Orticultura
Via Vittorio Emanuele II 4
50139 Florence
Italy
Phone number 055 20066237
Market | Unusual Market, December 13th,  11am- 11pm, Palazzo Pepi – via de' Pepi, 7
One of my personal favorite markets in December, I highly recommend making it out to the 'Unusual Market' which sells interesting knickknacks and gifts for the holidays in the courtyard of the lesser-known Palazzo Pepi in the Santa Croce neighborhood. There will be music,  books, glasses, items of furniture, silver, books, old and new toys, sandwiches, dresses, illustrations candles, perfumes, magazines, music and children's clothing. Mingled with a bit of beer and cocktails to a DJ set, sounds like my kind of Sunday. More details can be found here.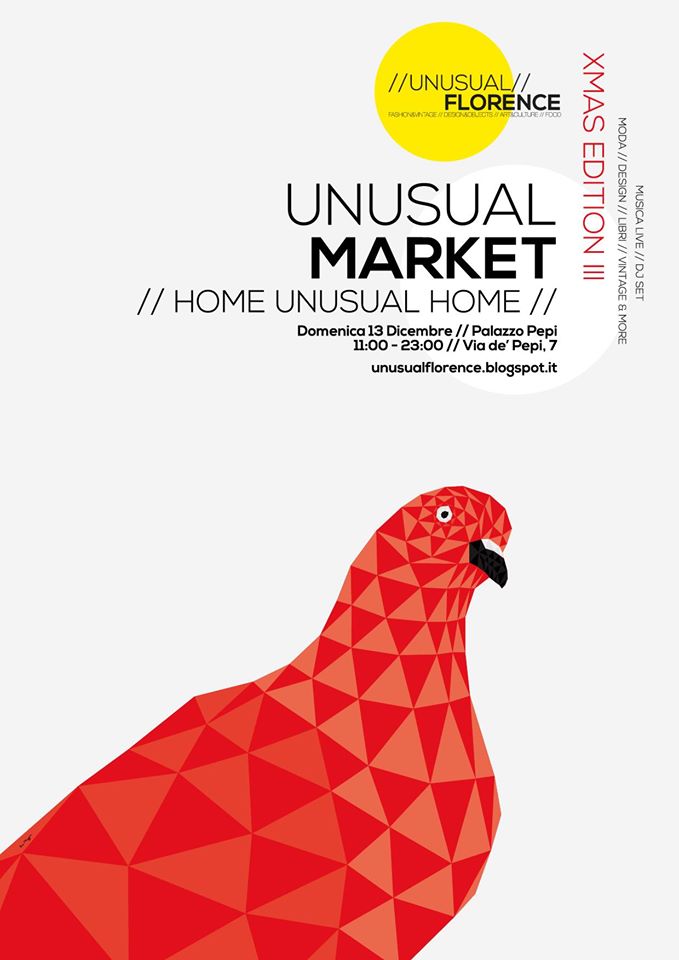 Workshop | 'Vicoli di Natale' December 12th & 13th, Borgo antico di Massa e Cozzile (PT) (Out of town).
A weekend packed with fun activities. I highly recommend attending this workshop outside of Florence this 12 and 13th of December! Together with  the talented Jennifer of Suite Dresses, you guys will create a newspaper clutch and beautiful, colorful and fun headbands, fun accessories, ideal for Christmas gifts! There will also be prosecco, candy and fun sewing together. For info j_diederich@yahoo.com. More info can be found here.
Terró un workshop a Vicoli di Natale i prossimi 12 e 13 dicembre! Realizzeremo insieme una clutch giornale e delle bellissime, colorate e divertenti fasce per capelli! Accessori in perfetto stile Suite, ideali anche per i regali di Natale! Brinderemo con prosecco, caramelle colorate e ci divertiremo assieme cucendo. Per info j_diederich@yahoo.com
Gardens | Open Day, Four Seasons Florence, Parco della Gherardesca, December 13th 10am – 4pm.
One of the most beautiful private gardens in the city opens its doors one Sunday for a good cause. With an entrance fee of just 1 euro, you will be helping children of the l'Istituto degli Innocenti. There will be music, an area for kids, Christmas market and you can try a range of delicious winter foods like polenta, grilled meats, chestnuts. More info can be found here.
Art | 'A palace and the city' at the Salvatore Ferragamo Museum, Lasts Until Spring 2016.
'This opportunity is offered by the celebrations of the 150th anniversary of Florence as capital of the Kingdom of Italy , when Palazzo Spini Feroni was chosen as the town hall, in 1865. The exhibition , entitled ' A palace and the city ', presents works of art and documents of great prestige that come from museums and private collections all around the world . He chronicles the complex historical events of the building and its inhabitants , in a setting very addictive designed. While there is a historical and architectural value extremely important for Florence, the other is actualized the past and strengthened the close connection between the complex that is a magnificent example of medieval architecture, and Florence, according to the italian lifestyle and elegance.'
Opened every day from 10am to 7,30pm
Ticket price: € 6
Museo Salvatore Ferragamo
Palazzo Spini Ferroni – Piazza di Santa Trinita, 5 50123 Firenze
+39 055 3562846 / 055 3562813
Art |  "Il Rigore e la Grazia" Exhibition, Silver Museum, Palazzo Pitti, Until Spring 2016
I adore Palazzo Pitti and always encourage people to visit this museum that I personally think is better than many other more famous museums in town. A large exhibition, spread across the Boboli Gardens, The Museum of Silver and the Costume Museum (all at the Pitti Palace), it is billed as 'a secret treasure, rediscovered', and features a series of virtually unknown works by Matteo Rosselli, Jacopo Vignali, Carlo Dolci, il Volterrano, Vincenzo Dandini and othe Florenctine masters of the 17th century. Part of the exhibition is to be visited in the Palatine Chapel of the Pitti Palace, a section pf the building that is rarely open to visitors. The 'compagnia di San Benedetto Bianco' of the exhibition title is the source of the vast bulk of the works on show.
Palazzo Pitti
Piazza dei Pitti, Florence
Cinema | The Hunger Game: Mockingjay – part 2,  Odeon cinehall, December 14th-15th
The film that so many of you guys have been waiting for, the sequel to the Hunger Games will be playing at the Odeon Cinehall in the center of Florence in mid-December. It will be played in the original language with Italian subtitles, shows start at 4:15pm, with two to follow, check out more info here.
Christmas | Christmas Concert, December 19th, Basilica di Santa Maria Novella , Piazza di Santa Maria Novella 9pm-11pm
For those who enjoy concerts around the Christmas season, check out this lovely one at one of my favorite churches in the city, Santa Maria Novella, which is the perfect setting for such an event. Beethoven and Mozart are part of the roundup so reserve your spot fast, these concerts tend to be quite popular. Tickets are free, but you must reserve your spot. Do so here.
Exhibition | Bodyworlds at Santo Stefano Al Ponte church until March 20.
Through the specimens on display, visitors will gain profound insights into the structure and function of healthy and unhealthy bodies in a way that is not possible elsewhere on such a comprehensive scale. BODY WORLDS will stimulate curiosity and interest in science and I think it sounds pretty cool! My dad told me about it in NYC and I think it a worthy visit for those who are not squeamish. More info here.
Wine Tasting | 'The Wine Road' December 19th-20th, via dei neri, 3pm-10pm
How fun is this! For those in Florence in late December, you can enjoy wine tasting and Tuscan snacking on one of my favorite streets in the city, the lovable via dei neri (yes where the famous sandwich shop Antico Vinaio is, they are participating partners along with La Prosciutteria). At the event will be large and small wine producers alike offering up tastings to the wider public from 3pm-1opm. How it works is that you can get a 10 euro wine card with which you are entitled to 5 wine tastings. facebook page.
Tuscany
The awesome team over at Around Tuscany have created this wonderful post on Christmas-related events all around the Tuscan region, and they also added a few yummy recipes. Also my friend Valentina of TooMuchTuscany wrote this great roundup of 4 cool Events This December in Tuscany. 
---
New Year's Eve
In town for 'capodanno' this year? Here are a few last-minute events if you are still looking for some fun ideas this Thursday. IZ would have posted this earlier but as we know in Italy, I only got the info now.. Auguri in advance and wishing you all a wonderful (and safe) evening! Avoid the crazy kids throwing fireworks (something I personally find bizarre that the police look the other way), it can be a little dangerous and wear good shoes since there always seems to be a plethora of broken glass scattered all over the ground.
If you can read in Italian, La Nazione has this wonderful list of Capodanno events all over Tuscany. Also I highly recommend this curated list on The Florentine.
Transport: Public transportation will be more abundant on the 31st (so they say) running every 8 minutes until 2am on January 1st.
Live (Free) Concerts
Piazza Pitti, 9pm this year you can jam out to the cool tunes from the Street Clercks, aka Mannarino, Irene Grandi in the square of Pitti Palace on the 'oltrarno' or 'other side of the river' (just five minutes walking from the Ponte Vecchio).
San Lorenzo, 10:30 live music (swing dance) will be here as well, in front of the church steps
Gospel Choir music in Santissima Annunziata, starts at 10pm
In Piazza Signoria, 9pm there will be classical music as they always traditional have in the main square, one of my favorites!
Recommended Restaurants
For those looking for a good restaurant for NYE, I recommend Il Santo Graal, always a favorite, on via romana. According to their  facebook page, they will have a set menu for 100 euros which includes lobster. Call 0552286533. Also Irene Firenze, one of my favorite bistros in town is hosting a celebration that will surely be an awesome time with a dj set to dance all night, oysters are on the menu! Also La Bottega del Buon Caffe is always a guaranteed great spot for food and drinks in a fancy ambiance that anyone would love.