"Photography is a love affair with life." – Burk Uzzle.
Mix that with the simple act of drawing, then you have pure magic. One such person who blends the two in a way that I can truly appreciate is Pietro. A young Italian student from Sicily that I spotted on instagram a while back, he is part of the Instagrammers Italia community and is well known for a fascinating project titled 'CityLiveSketch' which I will let him tell you more about. These past two years, I have really gotten into instagram, the non-annoying part anyway that isn't obsessed with numbers of likes and followers but instead the one that celebrates true creativity. The ability to share daily life in a way that makes so people such creative storytellers. Pietro being one of them. I really hope to meet him in person in the future, I need to buy him a coffee because someone with that cool of an idea, deserves at least that. Let's get to know him a little better.
provide your name: Pietro Cataudella
nationality: Italian
profession: University student
favorite drink: Beer
Pietro where are you from originally and where do you live now?
I'm originally from Pachino, a city in the province of Syracuse (Sicily). Now I live in Pisa (Tuscany), where I'm studying for the Master Degree in Exploration and Applied Geophysics.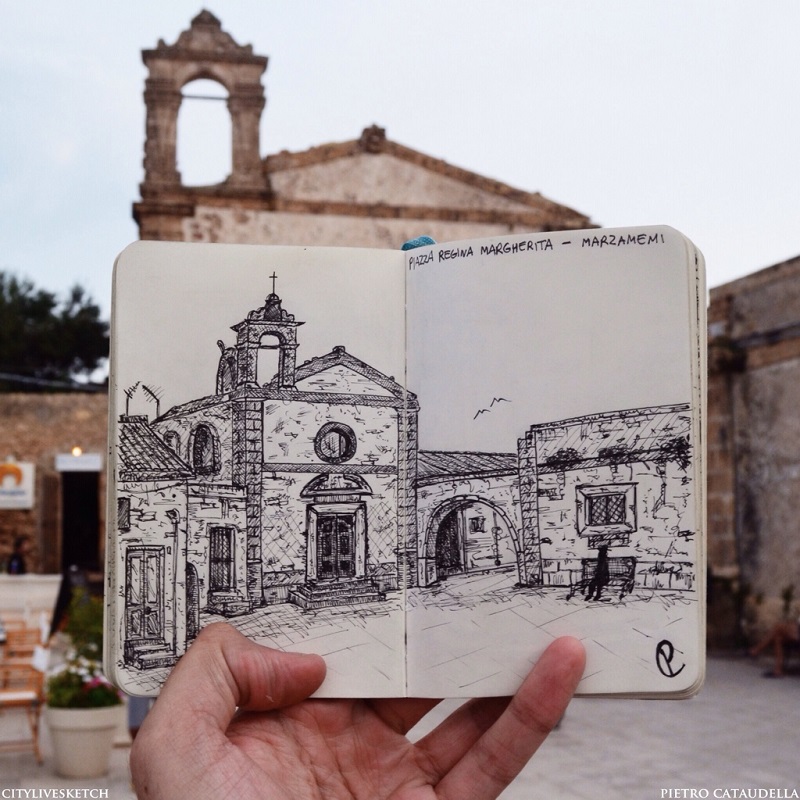 Have you ever lived anywhere else, or ever wanted to?
From 2010 to 2014 I lived in Palermo (Sicily), where I attended the university and took the Bachelor Degree in Geology. After then I moved to Tuscany that has always been one of my favorite regions in Italy where I can combine the study with my passions.
What are you up to in Italy? Work, daily life, passions?
Lessons, study and exams occupy most of the time of my ordinary day, but during my free-time, weekend and holiday I completely dedicate myself to my passions: photography, drawing, travel and walks with friends around cities of art.
https://instagram.com/p/36kvybCykk/?taken-by=pietro2o
I recently spotted one of your amazing CityLiveSketches. Can you tell us more about this project and what you hope to do with it?
Of course! CityLiveSketch is the result of the combination of all my passions. The project consists of a series of photos I take in the places where I go during my travels, walks or excursions. The particularity of these photos is that the object of photography is always my sketchbook, where first I drew the scene in front of me. In this way the drawing (in black and white) is framed by the colors of the represented area. The goal of my project is showing the beauty of Italy in an alternative way and letting people discover places more or less known, from big cities to small towns full of history, art and traditions. Thanks to this project I hope to travel even more and discover new places to share with my followers. I also hope to be able to sell my works very soon.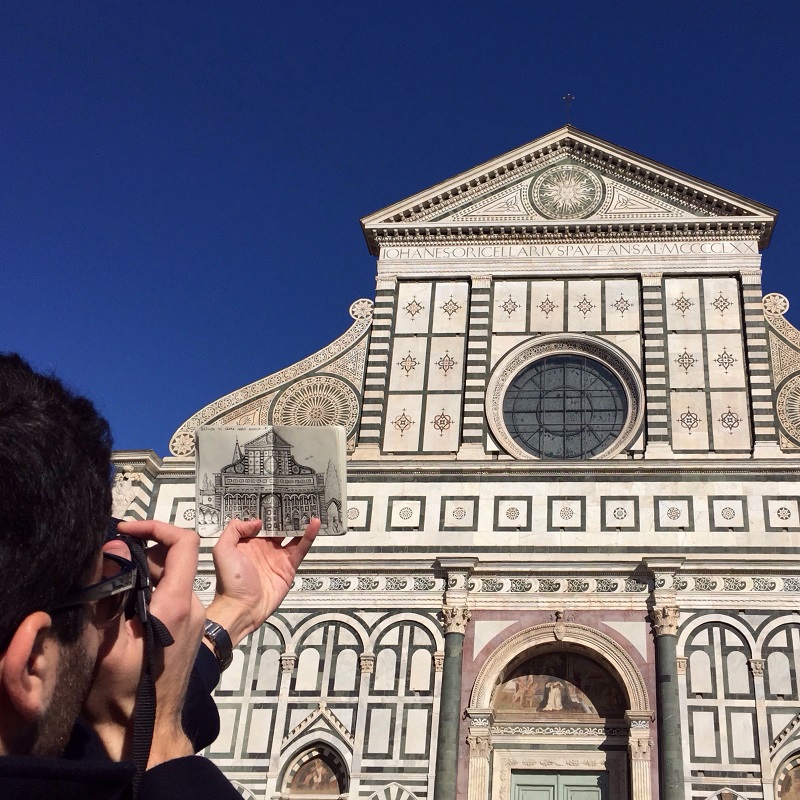 I think you should, I will be one of your first customers! I see you also use Instagram to showcase your work, can you tell me how using Instagram helps #citylivesketch get the word out?
The project was born on Instagram in July 2014 when I began to publish the first pictures of my drawings initially around the Sicily and then in Tuscany. Instagram is, in my opinion, the best social network for sharing photos because everyone, through a few taps on the smartphone, has the ability to publish freely their art (photographs, drawings, photomontages, video…). The features of Instagram that help CityLiveSketch to grow are the opportunity to receive feedback and critics to improve yourself, to follow and be followed according to your own interests, to add hashtags to your photos to allow other users to find them and also to get to know lots of new people. Thanks to this social network and to the friends of the amazing community of "Instagramers Italia", I visited many new places, added them in my sketchbooks and shared my works with others.
https://instagram.com/p/4uR-K0mrK9/?taken-by=citylivesketch
I agree with you regarding the fact that instagram is an important platform, and a whole lot of fun too! Back to Life in Italy, As in Italian, what do you feel about the creative scenes in Italy, do you see a vibrant future, and what do you hope to see?
I think Italy is very rich in landscapes that can inspire artists from all over the world: photographers, painters, filmmakers (to name a few) can surely find inspiration in many wonderful places, such as the beautiful city of art, small villages (perhaps little known) and the breathtaking views of mountains, countryside, beaches and smaller islands. I think that all these places should be preserved and enhanced, to continue to be a source of pride for Italy in the future. I still know a few of these locations, so I hope to visit in a short time cities such as Rome, Milan, Turin, Bologna and Venice, the beautiful regions of Sardinia and Puglia and the Aeolian islands.
I'm sure you'll get there! Three finds/places everyone should know about in and around your home town?
My hometown is located at the south-east of Sicily. The three places in this area that deserve more to be known and visited are: Marzamemi, a small fraction of Pachino, which is a fishing village and a tourist destination thanks to the beautiful landscapes, beaches and good food; Vendicari Nature Reserve, where you can stay in contact with nature between marshes, beaches and rocky shores populated by many animals such as flamingos, herons and turtles and also visit the old tuna fishery and several old fishermen's houses; Capo Passero island and Correnti island, which belong to the city of Portopalo di Capo Passero and are famous for their beautiful sandy beaches, full of tourists during the summer.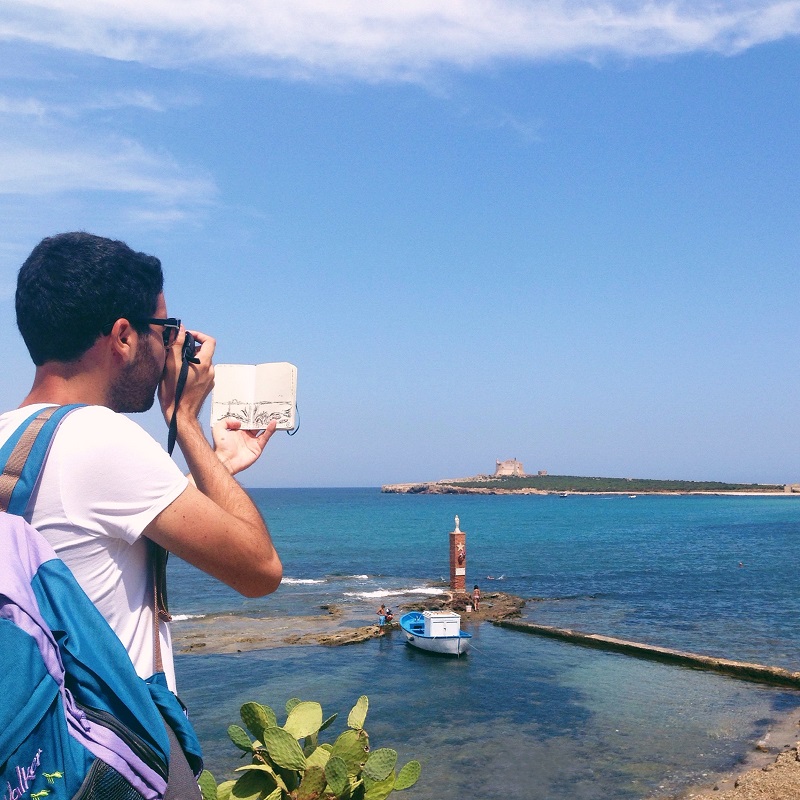 What can you do in Italy and nowhere else?
I think that in Italy you can do really everything, but very often we forget it. Italy is nature: thanks to the variability of the landscape, sometimes you can find in the same region mountains, plains and beaches, thus having the opportunity to do different kinds of sports, excursions and holidays; Italy is art: over the centuries many painters, writers, sculptors and architects have left an indelible mark in the history of our country and you can find their works in museums, libraries and along the roads and squares of many cities; Italy is good food: Italian cuisine is known throughout the world for its simplicity and authenticity, which in each region is expressed by different types of dishes that you can taste from the luxurious restaurants to the simple and characteristic country festivals.
Well said! Italy is full of amazing places to sketch, do you have any favorites?
My favorite places to draw are of course the cities of art, because they are rich in buildings, squares and views that represent for me source of inspiration: more they are rich in details and more I'm tempted to draw them!
When you want to escape your city you go….
When I'm in my hometown and I need to escape I go for a walk along the coast to admire the sea and stay in touch with nature. When I'm in Pisa, however, I prefer to move to other nearby towns with friends, and take walks, photos… and CityLiveSketch!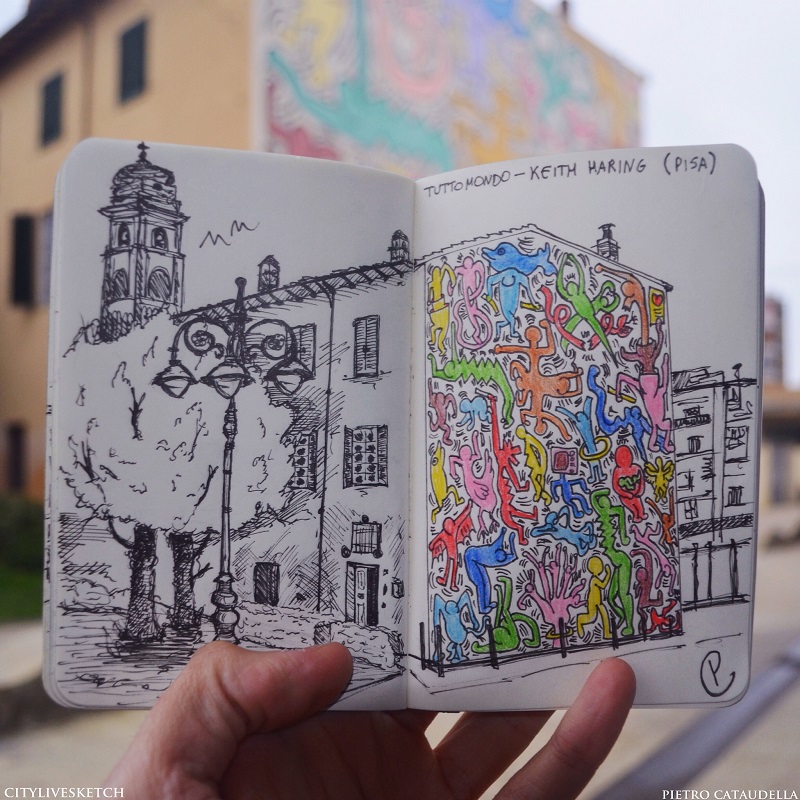 If you had to make up a tagline for the city of Florence (because I have to ask), what would it be?
Florence: where history, art and traditions have found together the perfect balance.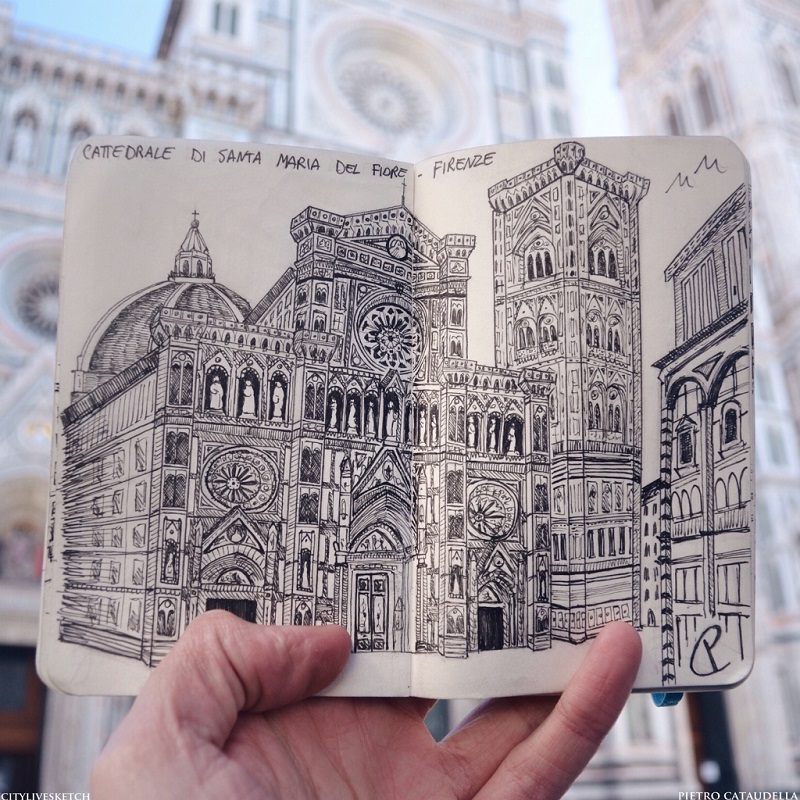 ---
Stay in touch with Pietro via his personal instagram account, facebook, citylivesketch instagram and his email citylivesketch@gmail.com