Imagine an evening that looks straight from the 19th century, long ball gowns with lace on the sleeves, gents wearing floral jackets with pride and a villa overlooking Tuscany. Sounds a bit like a film yet for one night, I got to experience what felt like a fairy tale in San Giuliano Terme with a wonderful group of people.
We were there for a fun weekend this fall, bloggers and instagrammers getting to know a part of Tuscany that many miss, the town of San Giuliano Terme is in between Pisa and Lucca, strategic and charming with a long history of visitors crossing its wake to rest their weary feet in the thermal springs along their journey to the holy city.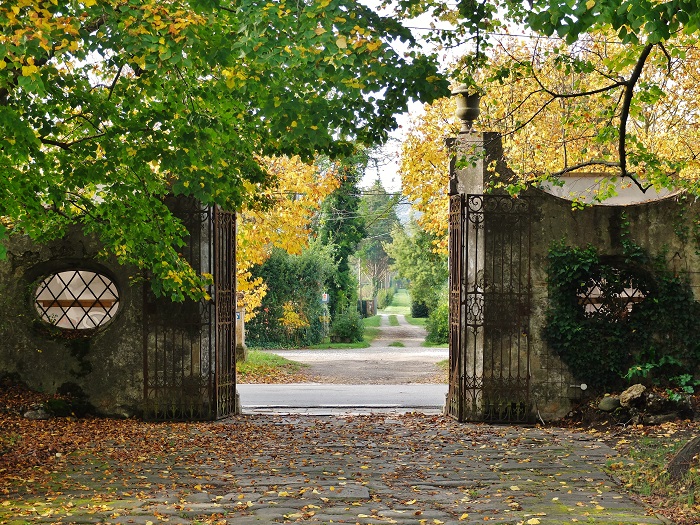 30,000 Historical Costumes in one Tuscan villa
The start of our journey was at the stunning 16th century Villa Roncioni with guided by Diego Fiorini, the villa is located at the foot of Mount Pisano and is the location where some scenes from 'Portrait of a Lady' was filmed. Its origins date back to 1468 when it was purchased by Guelfo Roncioni and later redone in the 18th century by Francesco Roncioni when it became a holiday home, renovations didn't end until the 19th century.
Probably what struck me the most was the exquisite silkworm house, built in the surrounding park, closely resembling an English abbey, built by architect Alessandro Gherardesca in 1822. Today the villa is home to the Cerratelli Foundation (founded by opera baritone Arturo Cerratelli) which this year celebrates its 100th year of existence, providing over 30,000 historical costumes for the most important operas, film, theater and much more.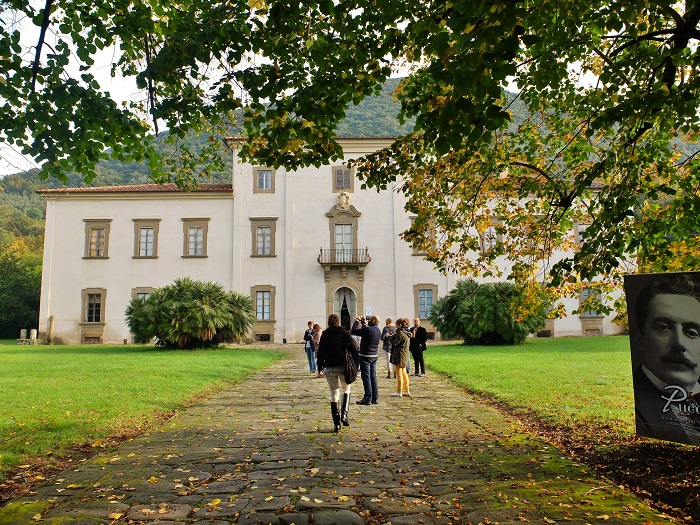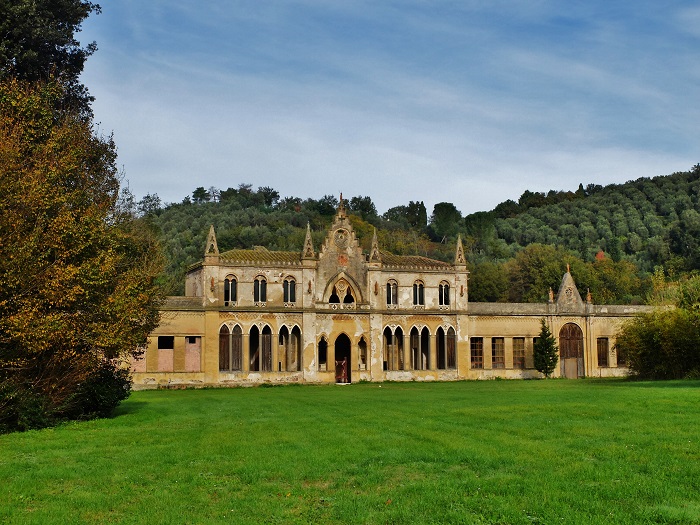 Villa Roncioni & The Silkworm breeding house.
Currently visitors can check out the exhibit 'Le Donne di Puccini' or 'The Women of Puccini' which displays costumes from famous Puccini operas, who was a friend of the founder of the House, Arturo Cerratelli and admirer of his work.
Visiting the exhibition was quite the special treat. The ladies man and creator of masterpieces such as Madame Butterfly and Turandot. He was called 'the greatest composer of Italian opera after Verdi.'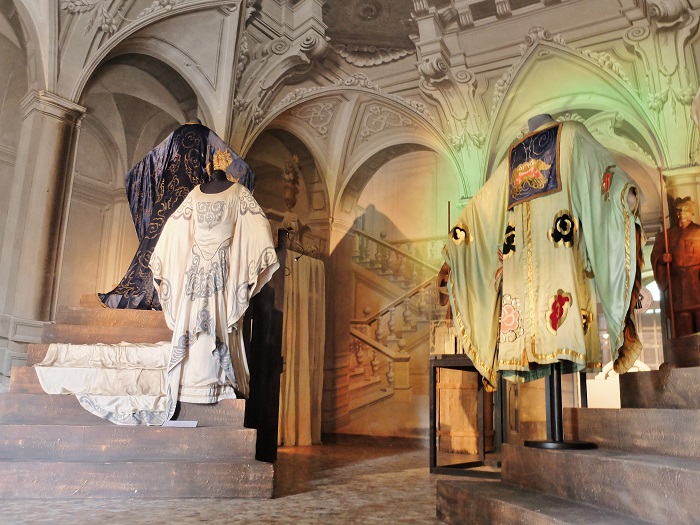 Puccini (Really) Loved His Women
 I wonder if the name of this exhibit wasn't somewhat of a planned 'coincidence' considering that Puccini has quite the checkered past when it came to relationships. Puccini wasn't just well-known for creating operas. He also was quite the 'ladies man' back in the day. Besides having no qualms about starting a relationship with an already married women, he also embarked on many affairs, some with famous singers.
Playing Dress Up – Italian Style
If that wasn't special enough, we were there for an even greater purpose, trying on some of these historical costumes to later wear to a special dinner that night in another villa/hotel in san giuliano terme.
Mine was a burgundy color with champagne colored sleeves, floor-length. I wanted to use the word 'frock' because that was the first word that came to mind when describing this costume. It was so heavy that I couldn't even begin to imagine how women in the past managed to actually do anything in garments like this, plus a corset. But like any good girl growing up in Texas, rummaging in the basements of my aunts and uncles trying on old clothes with my cousins, this was like the pinnacle of girly heaven for an adult.
Fortunately for me, Nico was game too, they put him in a jacket that made him resemble Napoleon's favorite son, so much gold that I almost needed a pair of sunglasses to look at him. Real men can truly pull off a lace-necktie with ease ;-).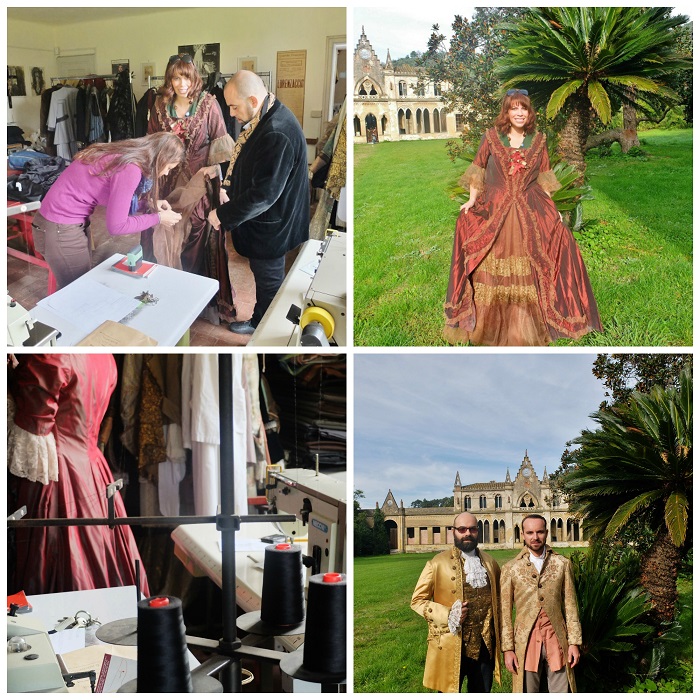 A Ball at Villa Alta, Panoramic Tuscan Villa
Dinner that night was in a magical location, the stunning Villa Alta, which happens to be along the ancient and legendary "silk road". During the Renaissance and Baroque times, many famous merchants from Pisa and Lucca traveled along it to reach the Northern European Courts carrying their fine and elegant damasks.
It is considered one of the most beautiful 18th century villas in the Pisa territory and the villa itself is an architectural treasure. Many people choose this panoramic location as the place to get married and I can definitely see why. We however were there for what can only be described as a ball. Our costumes were waiting for us and we all changed in order to transform, at least for one night only.
As you can see, everyone was in a wonderful mood. The men contrasting from their historical attire but with blue jeans and sneakers protruding from below. I can't lie, it was hard not to trip over my dress, it was definitely an evening that I couldn't overdo the prosecco. But with a beautiful harp playing famous tunes, like that of Yann Tiersen from the movie Amelie in the background and a delicious buffet spread for us all, it was one of those nights in Tuscany I won't ever forget.
---
 Useful Links
Cerratalli Foundation (where you can rent costumes and find out more information), website. The exhibition 'Le Donne di Puccini' will be running until May 3, 2015, open Friday to Sunday from 3pm – 7pm.
Villa Alta, Via Statale Abetone, 110, 56017 Rigoli PI
050 562327