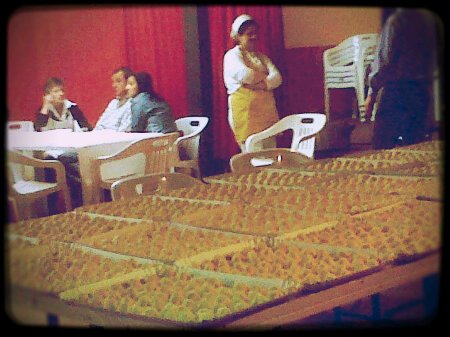 Anyone who knows me  knows that there is one place I will always say yes to going, and without a doubt that would be… una sagra.
Sagre are local food-festivals that offer seasonal specialties from around the surrounding areas. At the ones that I normally attend, locals including children, volunteer to make and shuttle food to hungry festival-goers. Prices are cheap, recipes are traditional, and you usually line up and wait to be seated at a communal table. House wine and water is the beverage of choice and service is quick and efficient.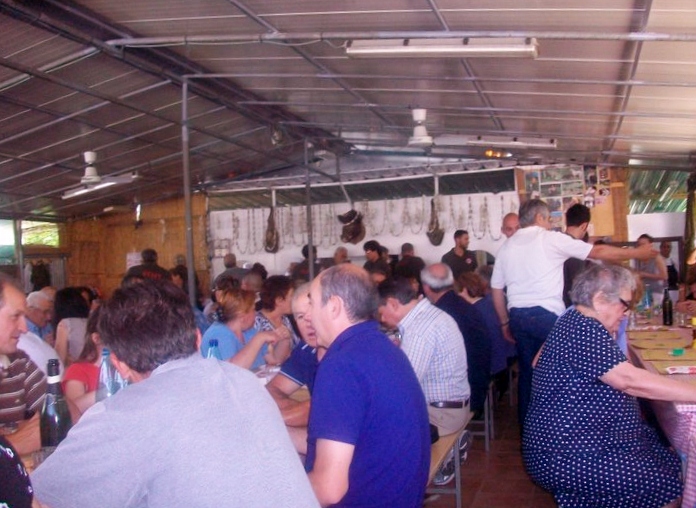 Often they are tied to volunteer organizations or political fests but they have become much more mainstream in these last few years, or so I've heard. They are still very much a cheaper alternative to a restaurant and usually the quality of the food is pretty good depending where you are (usually you want to go as far away from the center of Florence as possible).
Allegria (happiness) is the best Italian word I can think of to describe the atmosphere, all ages attend and the vibe is great. I make it a point to take all of my friends to one since I think it's a great way to actually mingle with locals. One fact of life that reigns true in this country – food brings everyone together, no matter what nationality you are.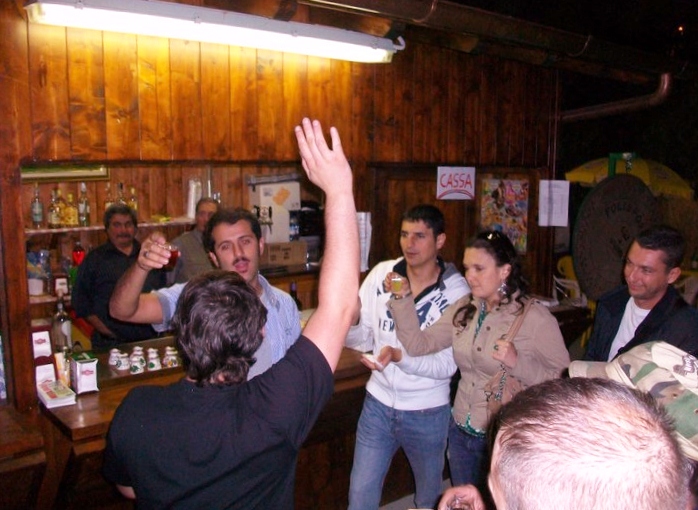 I am inclined to believe that according to many Italians, everything was better in the past. I can't tell you how many times I am with t-man and his family  and someone always has to bring up how much cheaper/better/nicer everything was years ago, while I sit back roll my eyes and enjoy my plate of deliciousness. I know we are living in a country that is rapidly aging  and with that comes nostalgia but seriously, it's kinda annoying when I choose to live quite happily in the present.
Dress code at the food festivals is very casual and if we go to any near our house we always run into old neighbors of the family, shyness need not apply as everyone is cracking jokes and speaking in Tuscan slang. At the last one we attended there was even a two-hour comedy show and I was impressed with the actors. The best part were the dirty jokes told in full view of many children which I found pretty hilarious. Every nonna in the audience was slapping her knee in laughter at the quirky actors playing husband and wife and dealing with the news that their daughter was a lesbian. And this was in small-town Ellera, wow! Part of the reason I live in Italy is to attend festivals like this where I find people  to be open, honest and fun-loving, it actually reminds me of Texas.
I am making it my mission to list what sagre/food festivals are going around this season for everyone to enjoy these lovely places  as much as me so check out my recommendations below. There are also from time to time vegetarian food-festivals and we even attended a vegan one last year, though they are somewhat rare. The strangest one I have ever attended was at the seaside in Vada and was a festival celebrating frogs legs – yes Italian seaside not French and nope I did feel the urge to try them. It is very worth going with a group of friends and there is only one stipulation you MUST respect. Come hungry and with a sense of humor.
SAGRA/Food Festival of wild boar and duck..yum! Not only that but they also will be having a fair of Chianti wine. On display will be open inns and taverns, trades and daily life, storytelling, games, dances and Renaissance music and performances. Cerreto Guidi (FI)June 28 – July 15th                                                                                                                               Historical Center, Circolo Arci, Tel: 0571906225
Festival of Pork Shank 
Gastronomic event dedicated to all that love pork. July 15th
MARRADI (FI), frazione Crespino del Lamone Tel: 0558045170
FIRENZUOLA Outside dining                                                                                                                  Open-air dinner organized by the Misericordia                                                             FIRENZUOLA (FI)                                                                                                                              August 10th                                                                                                                                                 Piazza Agnolo, Tel: 0558199459
FESTIVAL OF STEAK In August, in the hamlet of Galleno. Two weeks where you can taste typical local dishes – above everything the famous bistecca/steak – and have fun with music, entertainment, craft markets and collectors.                                               FUCECCHIO (FI)                                                                                                                                    August 1 to 12                                                                                                                                        Galeno fraction of Fucecchio                                                                      www.comune.fucecchio.fi.it
Festival of cake! (dangerous for me)                                                                       The festival is organized around traditional local desserts, accompanied by live music. FIRENZUOLA (FI)                                                                                                                                August 22                                                                                                                                                       Along the main road in town. Tel: 0558199459
Festival of wild boar and ricotta tortelli                                                            MARRADI (FI)                                                                                                                                        August 13 to 15                                                                                                                               Campigno, Tel: 0558045170
Festival del Mugello                                                                                             Florence south near Saschall concert hall (close to the center, directions are on the website. This food festival has become a summer occasion with lots of local specialities for cheap prices. Roasted meats, crostini, tortello, cheese & honey. It's pretty good, we went a few times last year.  Every day until the beginning of September.                                    http://www.festadelmugello.com/, Tel:     Telefono: 338 3331001                                                                                                     

 
Festival of Pizza 

                                                                                                                                         Ongoing until July 29th.                                                                                                                     Castelfranco di Sotto (PI) – campo sportivo Orentano


   
Festival of Soup, celebrating peasant food.                                                                                                                                                                                                   Until July 15, many musical concerts.                                                                 Fucecchio, (FI) – Massarella
Festival of Tortelli and Steak                                                                                 Always really good in this location. They also have pizza, ravioli, grilled meats, and mushroom dishes.                                                                                     Until July 22nd (only weekends). Vicchio (FI)  
Festival of cacciucco/seafood soup                                                                              Coinciding with the Livorno summer festival, this food festival features this famous seafood soup, livorno style. It's absolutely delicious – very much worth a trip to Livorno.                                                                                                  Until July 21. Via di Collinaia –  Livorno
In addition to these food festivals, this weekend and next, is the annual medieval festival in Monteriggioni. We went last year and had an absolute blast. It's a beautiful walled fortress of a town and normally they have a lot of food available, even spiced wine and roasted meat. Expect to see lots of people and locals dressed in medieval garb. Only an hour away from Florence, the view from on top of the wall is absolutely stunning.