By Emily Bruck
"In order to be irreplaceable one must always be different" – Coco Chanel
Vintage shopping and thrifting has a longstanding reputation of bringing us into the past with the ability to love someone else's clothing and accessories and essentially give them a new life. These treasured items stand in vintage shops waiting for their next owners to take them on new adventures ultimately resulting in further stories to tell. Just where will that lace-collared take you or that pair of block-heeled strappy sandals? The sky's the limit we dare say.
Thrifting and buying clothes from vintage shops is also an eco-friendly way to invest in clothing because recycling and reusing pre-loved pieces aids in reducing carbon emissions. In addition, it helps preserve water and other resources, preventing more garments from winding up in landfills via "fast fashion" and reducing manual labor, where employees are often subjected to unfair working conditions and minimal pay.
So, naturally, as a new arrival to Florence and a passionate thrifter, where on earth does one start? And, even more, what shops are walkable to a newcomer who doesn't know the next thing about how to navigate this beautiful city?
We all know that the city is notorious for its leather accessories, located in stands and shops all over. But a less broadcasted feature is the thrift shops hidden within busy streets, or narrow alleyways, all containing countless items home to vibrant stories hand-picked by their passionate owners.
Here are five vintage shops, all in walking distance of each other
Art and Fashion – Vintage & Low Cost. – Via Guelfa, 8R
Located on Via Guelfa, a street full of restaurants and shops, Art and Fashion Vintage is placed in a primary location for customers and tourists alike. With a five-minute walking distance from Florence's Piazza del Duomo, Art and Fashion Vintage is a charming hidden gem worth your time and energy.
The outside of the shop prefaces what you will be met with on the inside; it is chaotic and colorful, with crochet and decor packing the entrance. Once inside, clothing, apparel, shoes, bags, accessories, and trinkets line the walls, beckoning you to look further.
Upon entering, you will be greeted by a strong smell of incense and big smiles from owners Fabio Bianchi, and his dog, Emma. Fabio emphasizes the beauty of every item in his shop, explaining that he aims to stock the shop with only items he would buy himself.
"I am in love with everything," says Bianchi, referring to the items in his shop, "especially all of the uniquely branded pieces and vintage jewelry, which are very fashionable right now."
Art and Fashion is open every day of the week from 11:00 to 7 pm and you'll find the owner there to constantly welcome their customers with open arms who are encouraged to see the beauty and story in their items. The prices range from high-end purses selling for 200 euros and smaller trinkets/ accessories ranging from 13-20 euros. Their exact address is Via Guelfa, 8R, tel. +39 333 320 7276.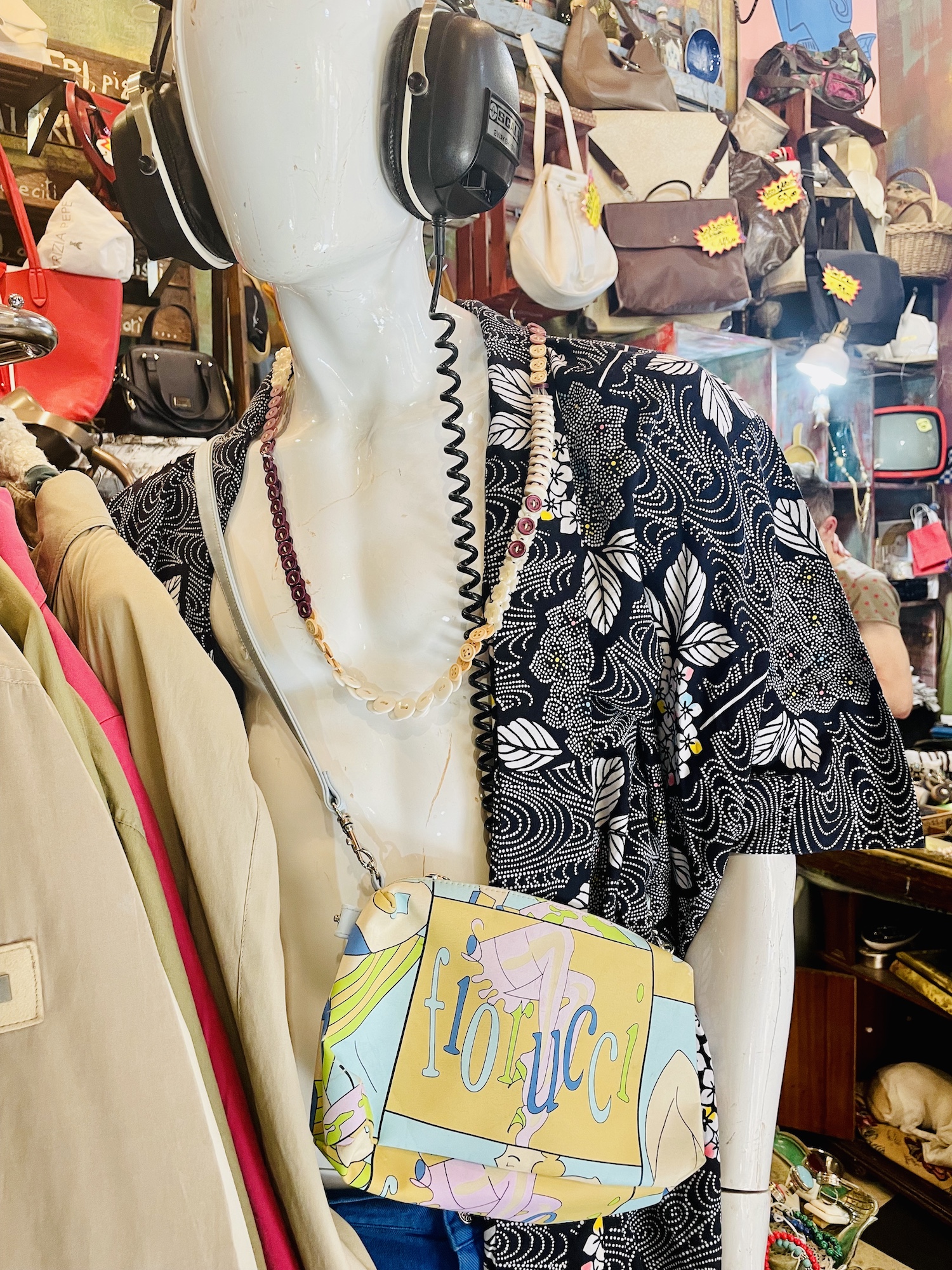 "I think every vintage store is unique. Everyone has something particular and something different," says Bianchi, "everything we source is beautiful and amazing, so it makes it worth it to stay awhile and browse through the magic?"
Melrose Vintage Ginori – Via de' Ginori, 18r
Nearby to Art and Fashion Vintage is Melrose Vintage Ginori, located at Via de' Ginori, 18r. The entrance greets you with colorful license plates and colorful made-up mannequins along with relaxing music and sassy country decor. A blaring red LEVI'S sign immediately catches your attention, as well as the iconic cowboy boots lining the walls.
Ariana Anda, an employee at Melrose for the past two years, describes how the decor stuck out even from her first time at Melrose. "I feel like even from the first time I came here, I was struck by the ecletic decor," says Anda, "the variety of items is inspiring and the quality is really good."
Melrose Vintage is the largest shop of the five, selling all sorts of clothing, organized by color and type. The prices are on the higher end, featuring premium brands such as Levis and high-quality fabrics and leather pieces. I browsed jean shorts for 40 euros, leather jackets for 550 euros, button-downs for 25 euros, and purses from 50 to 100 euros. Anda describes her favorite find at the store.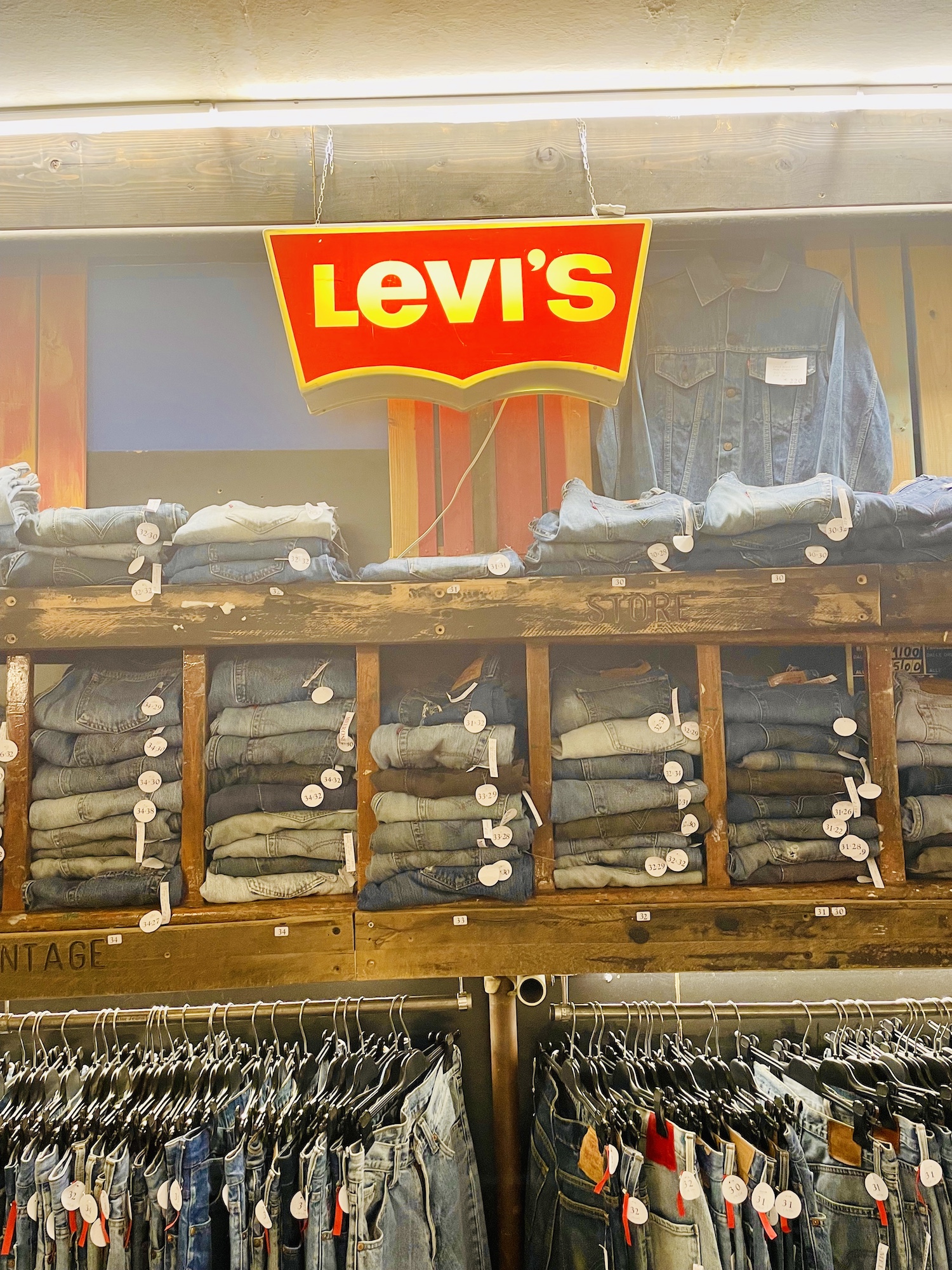 "A couple of months ago, I myself found a unique trench coat [made in Italy] by locals, and it was very beautiful and rare, something I'll have forever," says Anda.
This vintage store undoubtedly carried some of the most high-end items but is admittedly less college-student friendly due to its prices. However, the store appeals to a variety of ages, thanks to items like the vast Levi's section, which has been a timeless fashion statement.
You can reach them at +39 055 267 0030, with opening hours Monday – Saturday, 10 – 8 pm and Sunday 2 – 8 pm.
Rewind Vintage Selection – Via S. Gallo, 2
Another shop located in this area of the city is Rewind Vintage Selection. This shop is small in space but features a boisterous vibe with energetic music and modern decor. The items are very affordable, with shirts in the six euro range. Aside from their low prices, the shop sells custom-painted jean jackets and album covers. From what I saw, most of the items were male clothing but were so unique that they can be styled to anyone.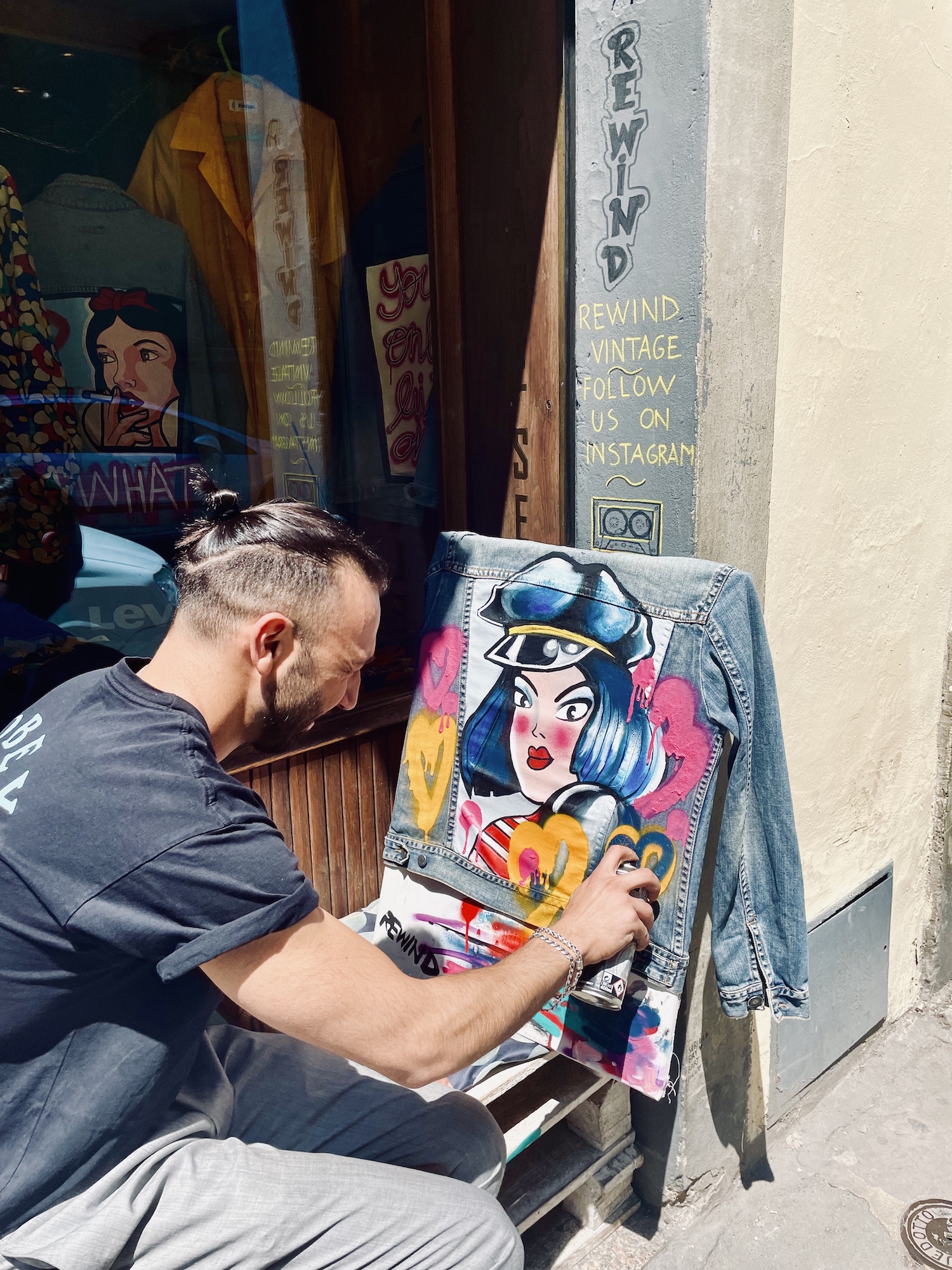 This shop is the cheapest of the five, with the least amount of items to buy due to its size. Its location is ideal, surrounded by many other vintage shops, such as Art and Fashion and Melrose Vintage. Rewind Vintage Selection's exact address is Via S. Gallo, 23, with hours Monday – Saturday, 10:30 – 1 pm and Sunday, 2-8 pm, and tel. +39 347 236 1176.
HunterVintage Firenze – Via del Moro, 56
Next, in a different part of Florence, is HunterVintage Firenze, about an eight-minute walk from Ponte Vecchio, the bridge that connects the two sides of the Renaissance city. The exact address pops up for "jules e jim vintage" so don't be alarmed; that is how I initially found this hidden gem.
HunterVintage is located on a secluded side road off of the bustling streets near the city's bridges. The inside resembles a cave, with vintage decor on the walls. They sell a variety of old fashion "historical" items, as well as colorful shirts and Levi jeans.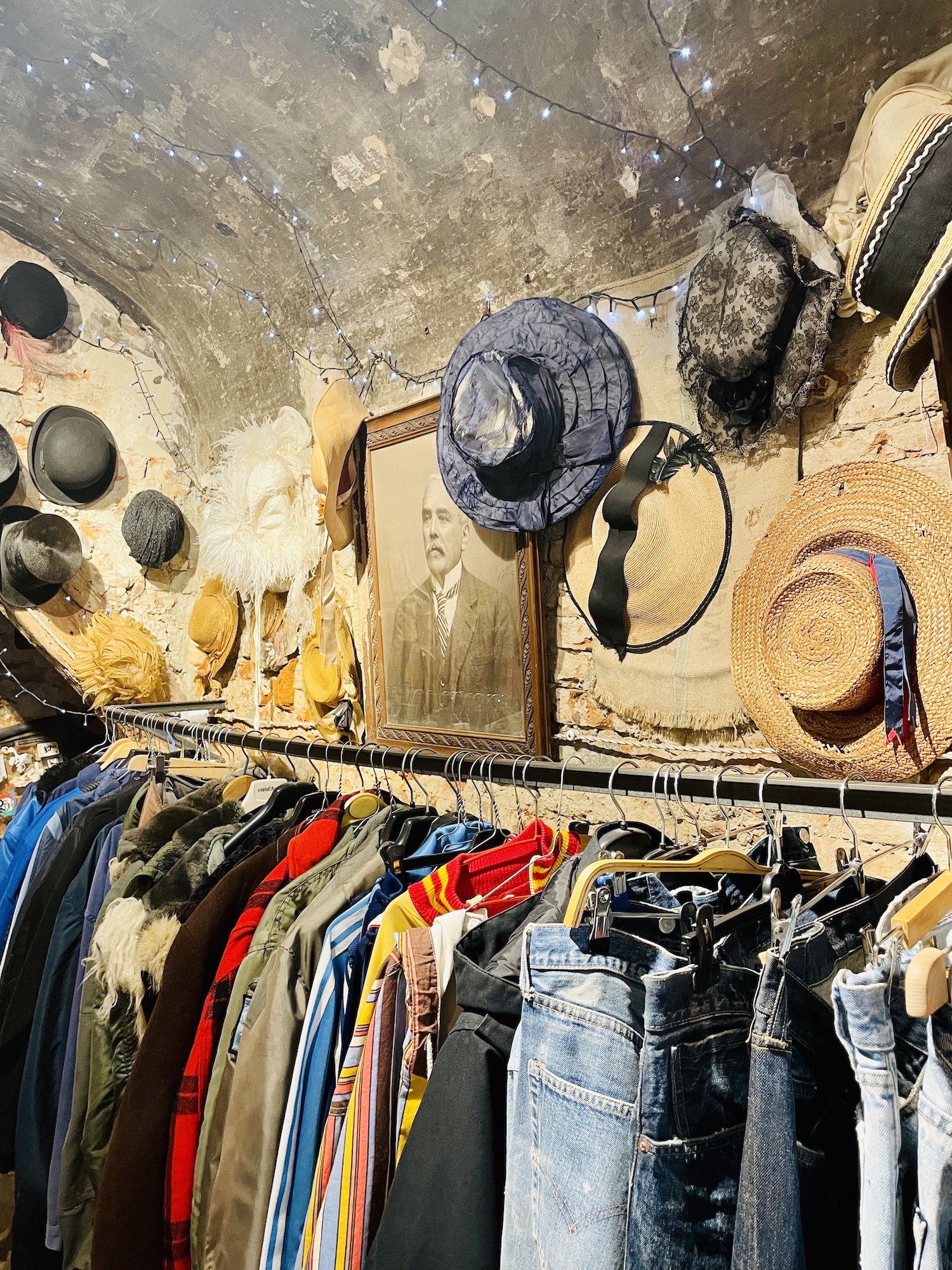 What makes this store special is how Tommaso Pampaloni, the shop's owner, can describe the layered history of each item, which I was lucky enough to overhear as a nearby woman purchased a bomber jacket.
Pampaloni describes the type of clothing HunterVintage and his other stores sell, listing, "military clothing, victorian, channeling the 1970s…."
The pricing on these items varies, from more expensive high-quality items to more basic items. More historical pieces can be found on the mannequins, matching the portraits on the walls. Pampaloni owns additional vintage stores along the river in Florence and Milan.
HunterVintage Firenze is located at Via del Moro, 56, with hours Monday – Saturday from 10:00 to 7 pm, with an hour closure from 1-2 pm, tel. +39 349 706 6961.
Humana Vintage – Via delle Belle Donne, 4/6R
Last but not least is Humana Vintage, located within walking distance of the Ponte Vecchio. It is a large shop with a variety of items at affordable prices. For example, they have skirts for 14 euros, dresses for 17 euros and accessories ranging from five euros to 20 euros.
"We offer garments, accessories and bijoux ranging from the 60s to the early 2000s, all individually selected with care and attention," says Laura Di Flurri, Marketing and Communication at Humana, "from the legendary Levi's jeans, to 80s sportswear passing through the 60s total look, style lovers can find many original proposals at totally accessible prices."
What makes Humana Vintage different is its connection to a nonprofit humanitarian organization called Humana People to People Italia. It is "an international humanitarian organization promoting sustainable development in the textile sector for over twenty years" (Humana Vintage). Their sale profits goes to finance projects in the south of the world and Italy, aiming to aid in the fields of education, sustainable agriculture, community development, and health.
Employee Diulia is passionate about the shop and the initiative, saying, "I think there's no other one like us because we are part of a really important nonprofit organization." They also have price equality for their items, because of their belief that "everyone should have the opportunity to afford to dress sustainably" (Di Flurri).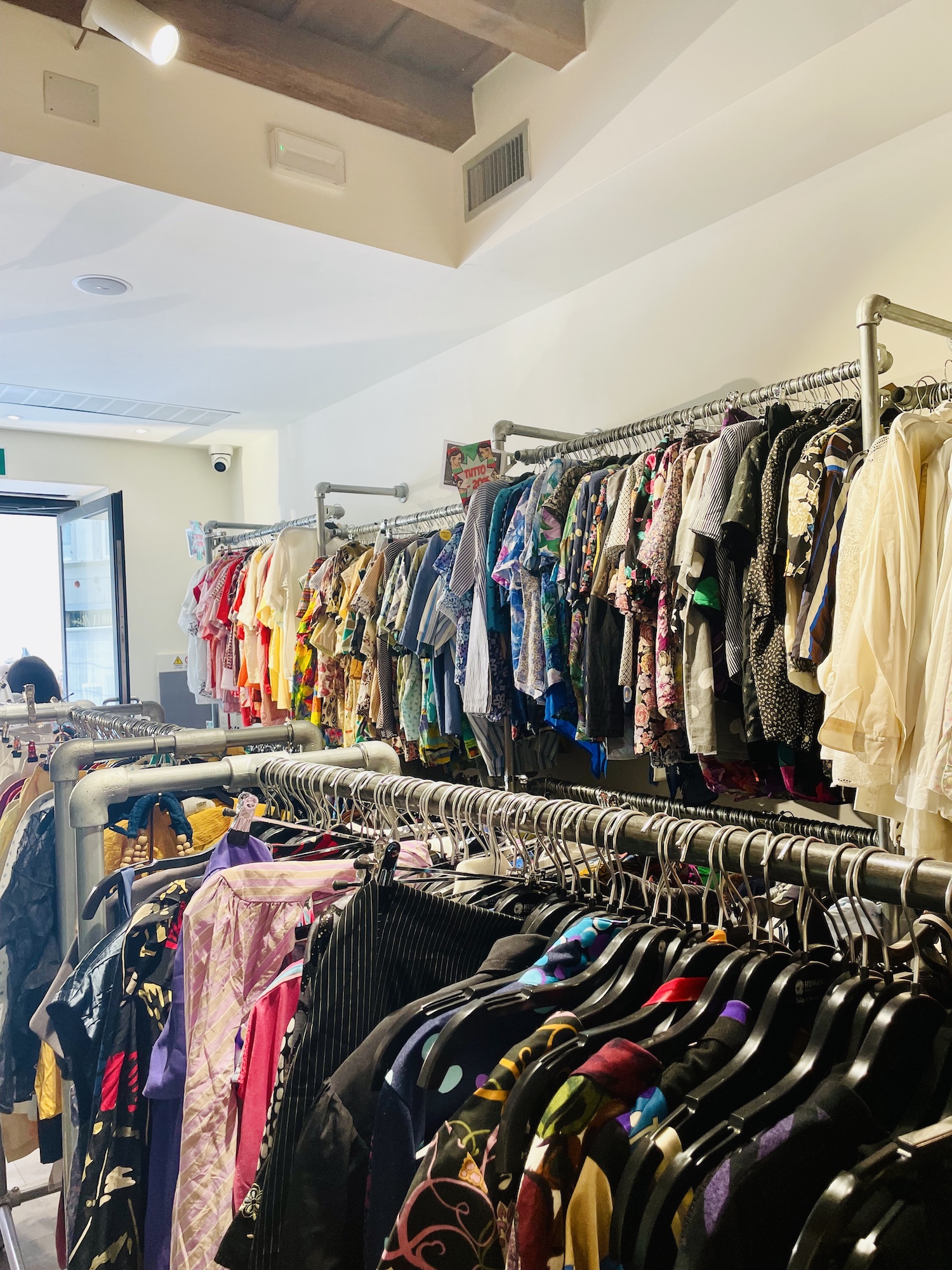 More importantly they echo the idea that "there is a thread that unites everything" (Humana Vintage). So, upon entering the shop, I was met with immediate passion from their employees and colorful vintage options to buy that would aid such good causes. Humana Vintage is located at Via delle Belle Donne, 4/6R, open Monday – Saturday, 10:30 – 6 pm. They are opening a new shop in Florence at Via Faenza 63R, which instead of vintage will be a second hang shop, with their brand as "Humana People". Be sure to check it out!
Hopefully, this inspires a vintage shopping session with your friends and serves as a reminder that Florence is not only a city of sightseeing and leather shops but one of historical trinkets and clothes with a story to tell. So use this as your guide (and save the map below) to a few walkable vintage stores to begin your journey into the beautiful history of Florence and its vintage items.
This post is a collaboration effort with GirlinFlorence's two latest interns from Syracuse University! Emily Bruck is a Syracuse University student studying Magazine, News and Digital Journalism. Emily will be pitching story ideas as well as writing pieces for the website. Emily Paradis is a Syracuse University student studying Public Relations. Emily will be helping will all things social media as well as the newsletter.