When it comes to tours and art and things you can learn here in Florence, what is personally most fascinating to me are the lives of those who came before. More so, the backstory of an artist, an apprentice, a lover, a powerful family dynasty, that to me is far more interesting than solely gazing at the beauty of all that Florence has to offer.
I gobble up historical fiction as quickly as an al pastor taco disappears upon any visit to California, books by Sarah Dundt, Catherine Fletcher, Laura Morelli, and anything that seeks to humanize famous historical figures that we mostly see as static on paintings, family plaques and hidden symbology.
Recently, I had the chance to revisit a place that you absolutely need to visit during any trip to Florence, the city's first historical seat of power for over seven centuries, the Palazzo Vecchio with a group of Tuscany bloggers by founded Ksenia Ermakova who fortunately get the chance to explore various historical (and some less so) places in the city with a true expert, Eugenio Giani, the president of the Regional Council of Tuscany.
In fact why IS the Palazzo Vecchio so important? Let's go over the facts.. 
First historical seat of power aka the Town Hall lasting a span of seven generations
Workplace and residence of the Medici Grand Dukes of Tuscany
It also contains Florence's first public clock (located in the 94 meter tower), 

installed on March 25, 1353, by Niccolò di Bernardo, a Florentine watchmaker.

Contains many mysteries, including that of the lost 

Leonardo frescoes featuring the"Battle of Anghiari" 

Home to Cosimo the I's collection of 16th century historical maps and globes (my favorite room) called the 

Sala Delle Carte Geographiche

The great Salone dei Cinquecento aka the Hall of the Five Hundred contains 

Michelangelo's

Genio della Vittoria

(Genius of Victory) sculpture, a true masterpiece.
It sits on an archeological treasure, the ancient Roman Theatre of Florentia, which you can see thanks to a special

 underground passage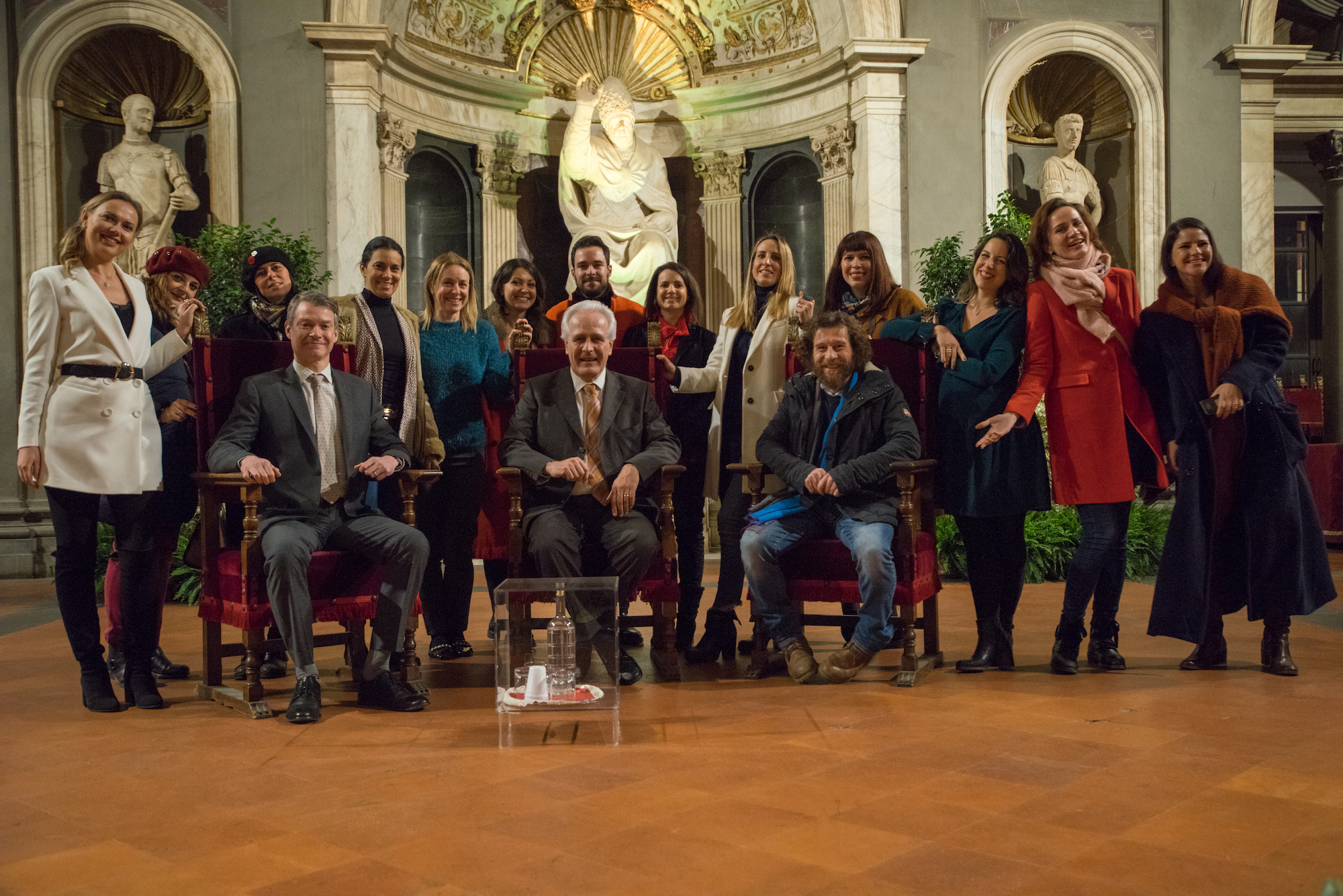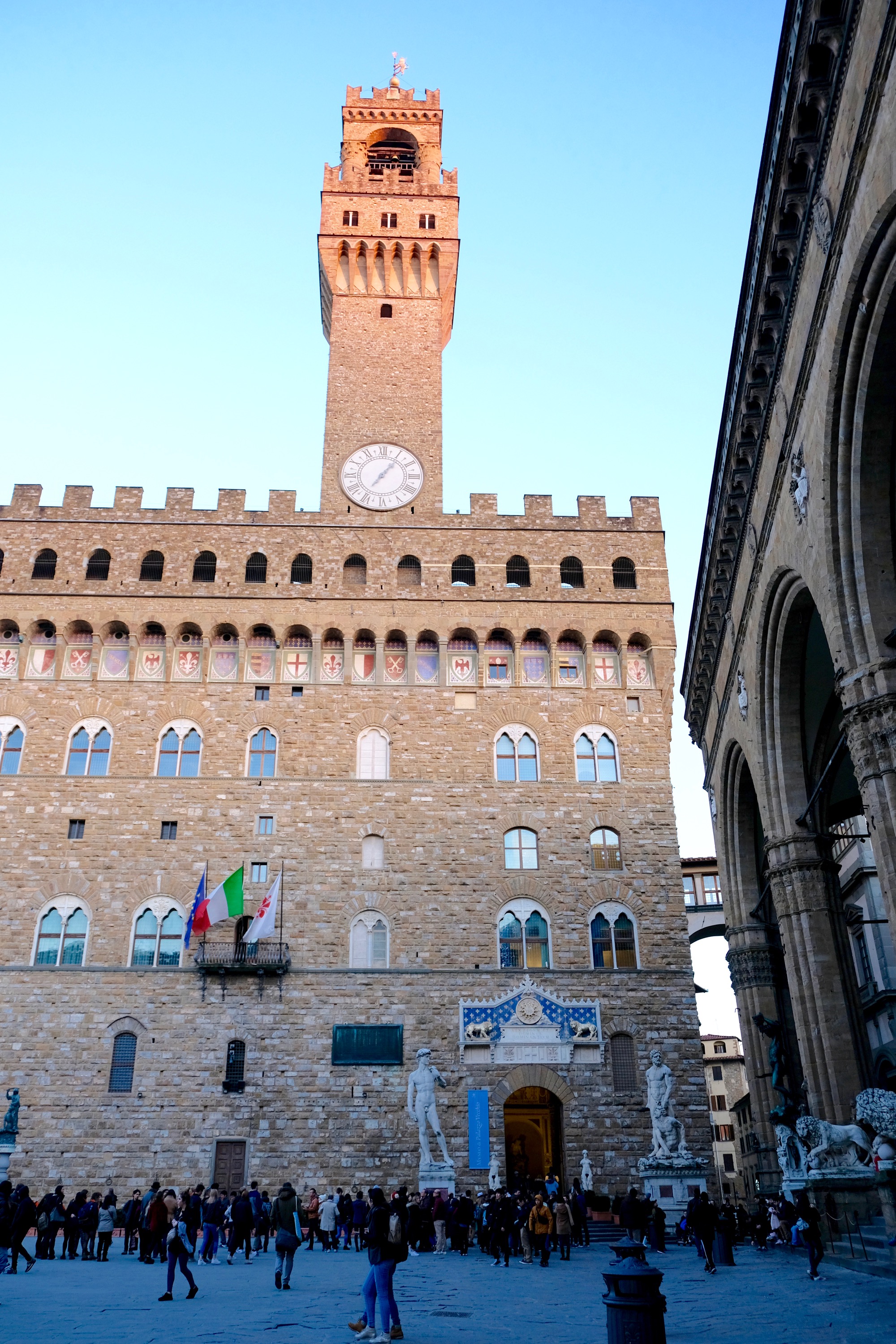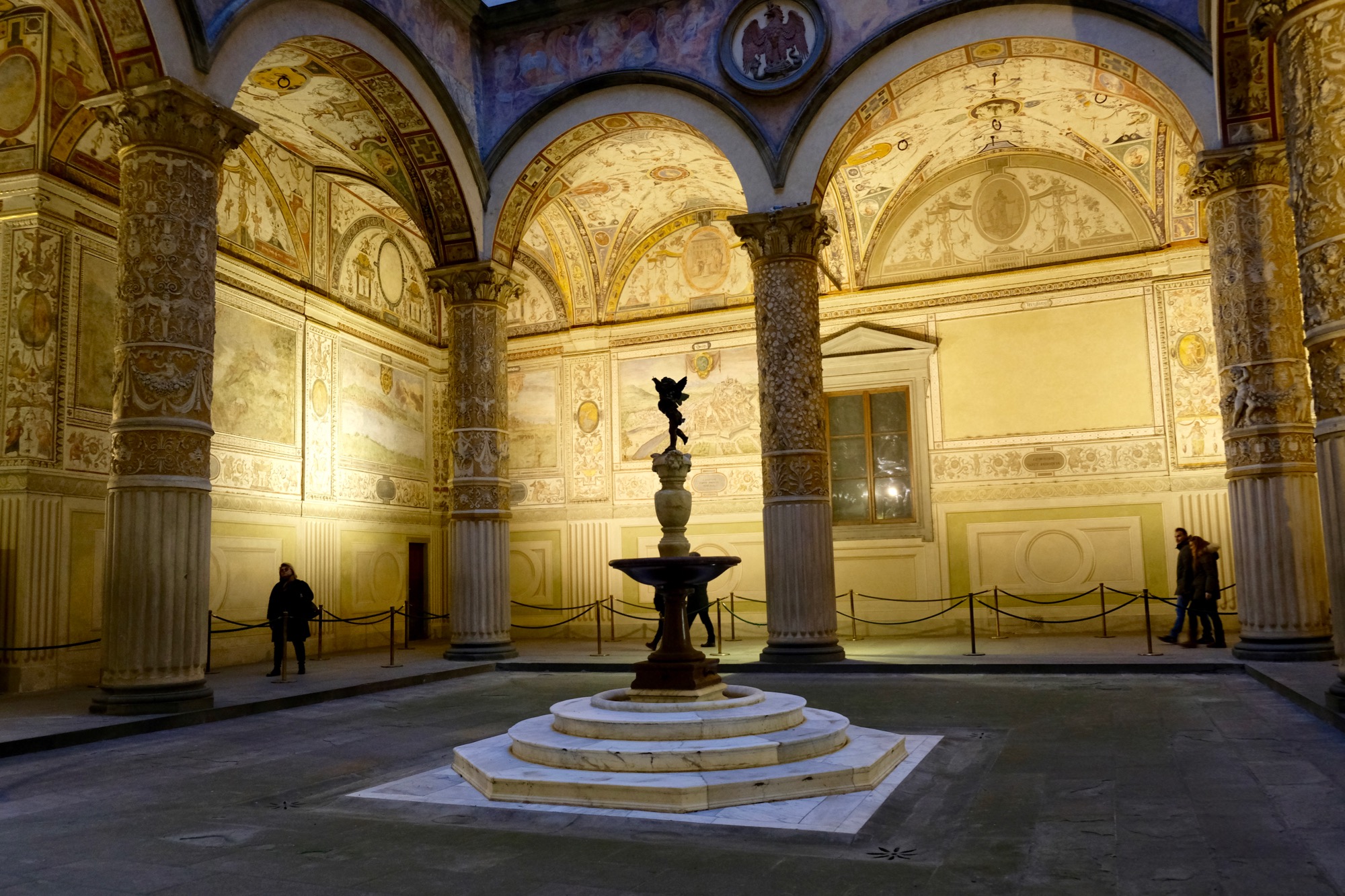 The Palazzo Vecchio is for me, much more than just another museum to visit if you have time on your next trip to Florence. This is the place where some of the most powerful figures of the Renaissance made crucial political moves now immortalized in frescoes, sculptures and well-preserved rooms throughout the space and it all lies on top of an ancient theater of the Roman colony of Florentia hailing from the first century AD.
On a personal note, Nico and I also got married in the "sala rosso" (red room) in 2015, a splendid homage to the dedicated and love we both have for our adopted city. That day, along with our family and closest friends, was the first time I had ever set foot in this room reserved for civil weddings. A space splendidly draped in red, I still can't believe we were lucky enough to get married there (want to see more wedding pictures? Check out our feature on LoveMyDress.com).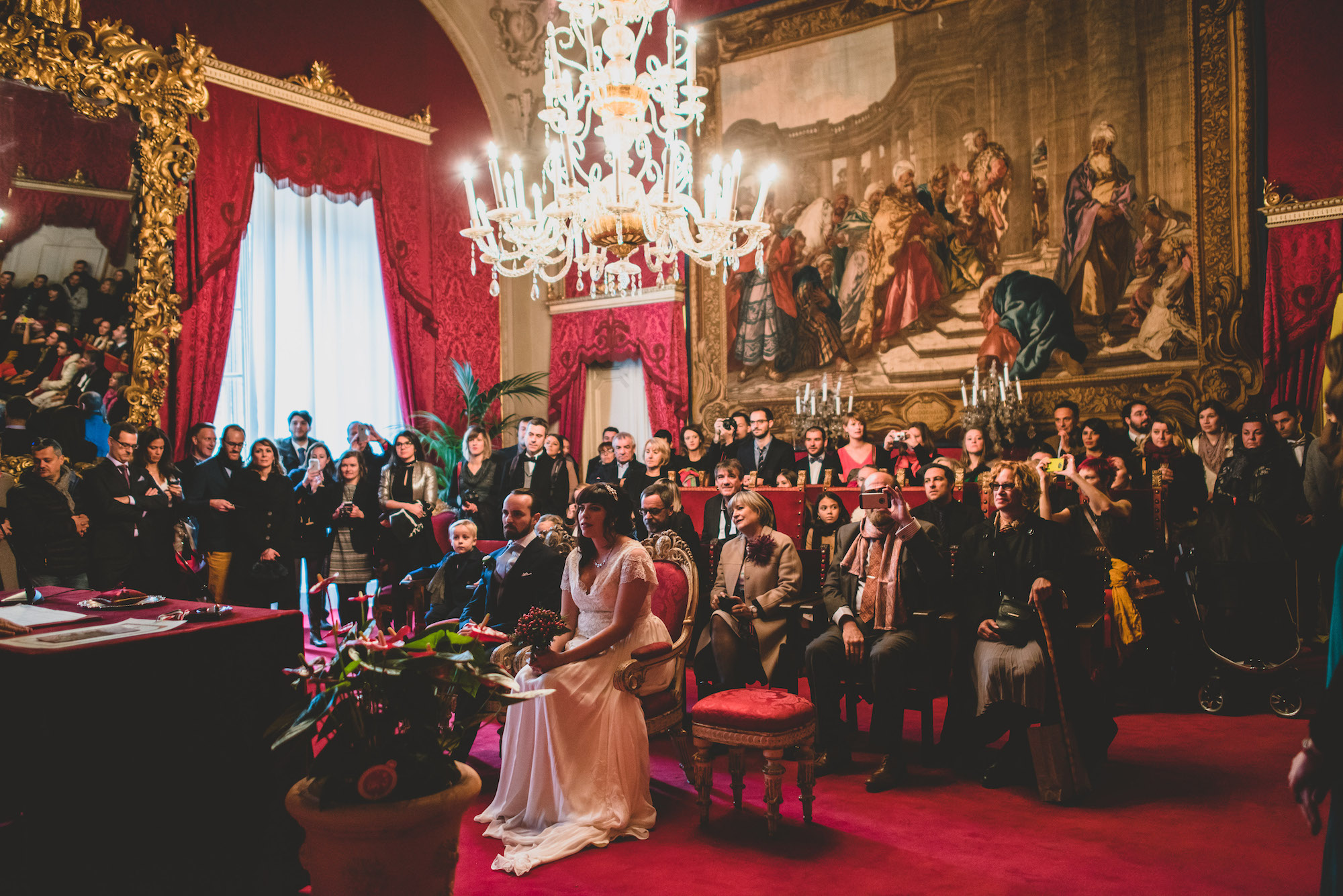 Eugenio is not only a popular local figure; he is essentially a walking encyclopedia of Tuscan history and culture, and one that is willing to share that with us. He has written several books in Italian that I highly recommend getting if you are interested in curious factoids about the region, here's a list of them.
On this particular visit, we explored the ongoing restoration effort thanks to the Fondazione Giulio e Giovanna Sacchetti of the Palazzo Vecchio's apartments of the elements. An array of various rooms with frescoes by Vasari that once made up the private living quarters of Cosimo I and his beloved wife, Eleonora de Toledo, an "it" couple by any modern terms but yet their reign took place during the late Renaissance in Florence.
Cosimo I: A New Era for the Medici Dynasty
Whether you are a Medici fan or not, to truly understand the city of Florence, you need to go back to a time when noble families ruled Italian territories and this family alone produced four popes and two queens of France and cultivated cultural art heritages in the form protégées the likes of Brunelleschi, Donatello, Fra Angelico, Michelangelo, Leonardo, and Galileo.
In this case let's go back together to the 16th century. Around the 1530's it wasn't all roses and glory for the Medici family, in fact, there was a constant power struggle between the Medici and the Republican governments and the Medici was quite known as this point for their flamboyant and sinful ways. By the time Cosimo I arrived, Alessandro de' Medici had already laid siege to Florence, ruled as the duke and was murdered by his own cousin, Lorenzacci. 
After the assassination of Duke Alessandro in 1537 it was up to Cosimo the 1st, then an adolescent, to step into the plate. Not only did he handle the job well and embody the almost ideal Machiavellian Prince, he earned local respect after crushing an invasion of anti-Medici exiles at Montemurlo. Within his time in power, he managed to create a Dukedom that would last centuries and he himself ruled for 37 years. To grasp all that he was responsible for in Tuscany, read this extensive blog post here.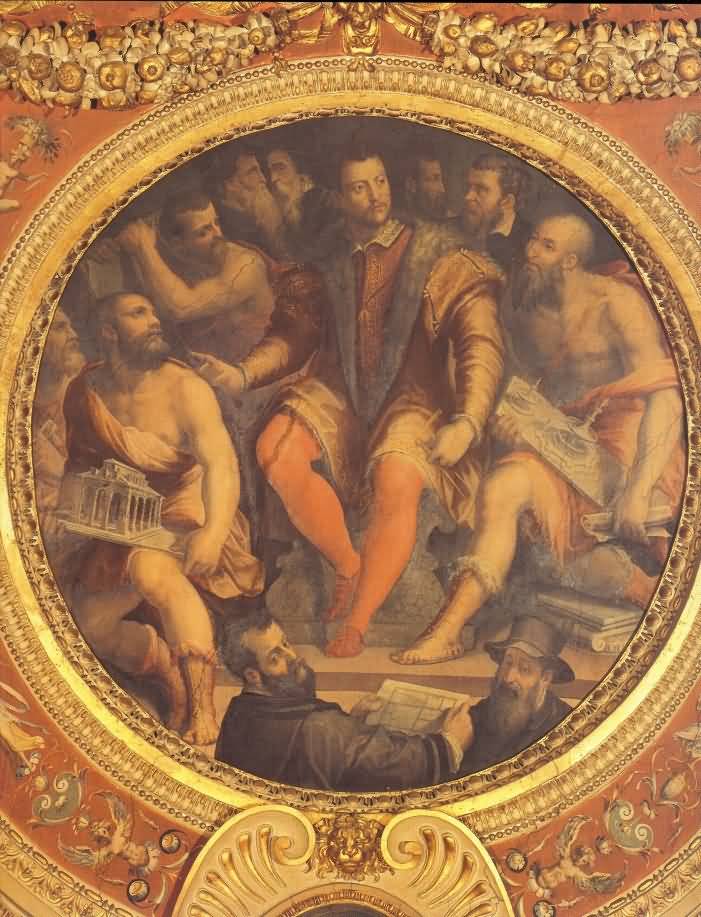 Cosimo I became the Grand Duke of Tuscany and is probably best known for having built the Uffizi gallery (then offices) and commissioning the construction of the famous secret passageway from Palazzo Vecchio to Pitti Palace, the Vasari corridor. He also was known to have used art to show power, having many copies of his portrait painted by Bronzino to hang in public places and in embassies abroad, to show that he was in charge. A practice you see even today, thus began in 16th century Florence. 
Cosimo I and Eleonora of Toledo: A True (Rare) Love Story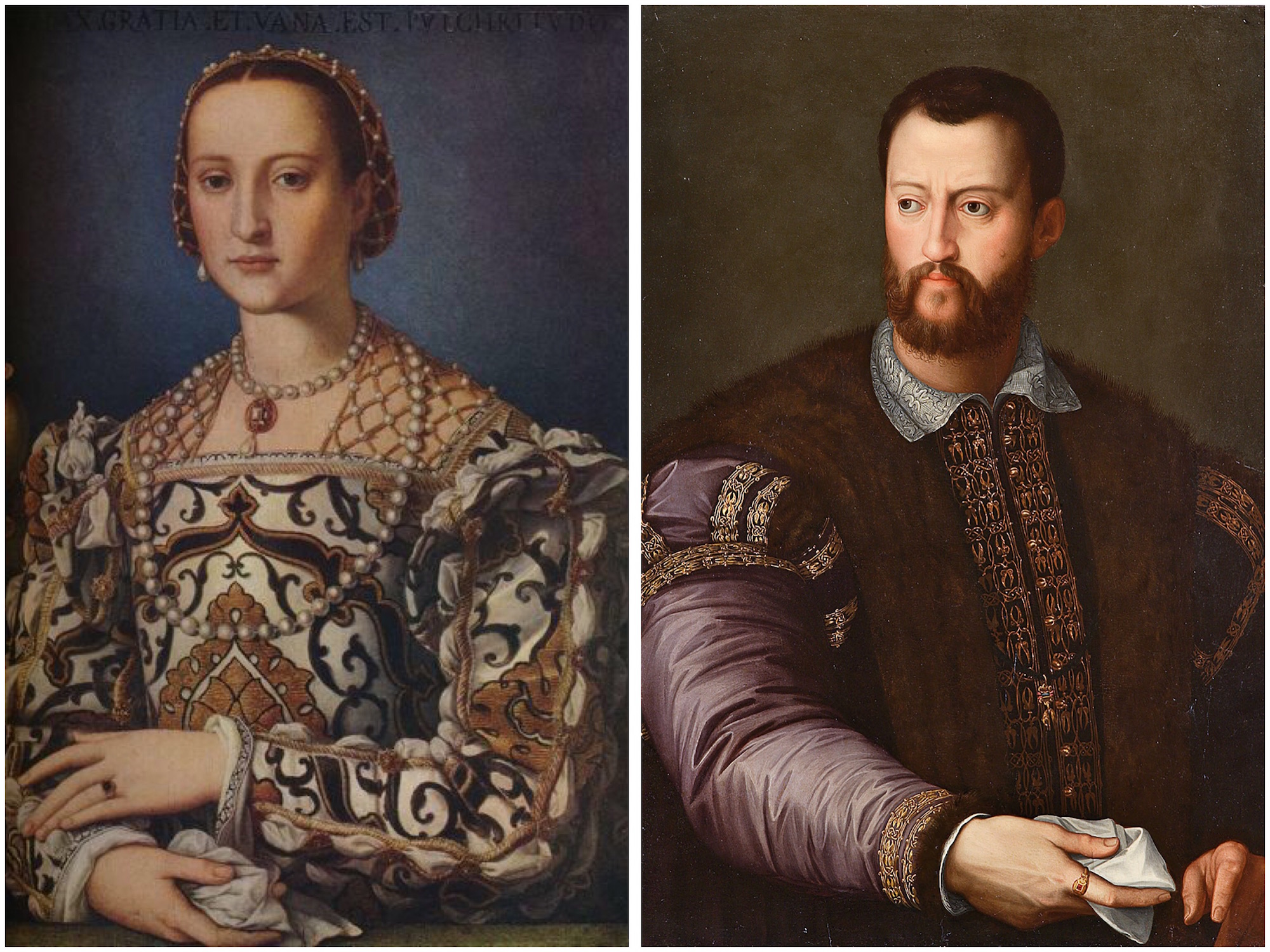 Despite my somewhat sarcastic character, I am a total slave to love stories and if learning about historical romance has taught me anything, it's that love matches during the time of the Renaissance were far and few between. Marriages were not only arranged but women were often used as pawns of power, their main job to produce children and who often met an early demise due do childbirth or an array of illnesses floating around during any given moment (did someone say leeches as a medical intervention anyone, yikes!).
With Cosimo and Eleanora and their own love match, it was decidedly a different story and one that is really interesting to follow (and in anticipation of Valentine's day, sorry I can't h help myself).
So who was this dashing lady? Eleonora was the daughter to the Spanish viceroy of Naples and this would thus prove quite the fruitful match. True, it was a marriage by proxy, but don't be mistaken, this was a love choice by Cosimo himself after meeting the teenage Spaniard for the first time in 1536. Struck by her sweet oval face and hazel eyes (I'd like to think of their first meeting akin to that of Dante spotting Beatrice for the first time.), they married in 1539 during a multi-day celebration that was planned by Cosimo to the t.
Once married and settled in Florence, it has been written that they enjoyed a true and happily married life. Cosimo I even resisted swiping right on Tinder and remained faithful throughout their marriage, a pretty rare occurrence for any Renaissance prince. The Venetian ambassador to the city once quoted  "There is no hint that he has anything to do with anyone but the Duchess. He lives rather as an outstanding family man, always eating with his wife and children at a moderately plain table. When he goes into the city or the country his wife and children accompany him."
There is often mention in historical biographies about how much love and laughter there was in their household, and Eleanora was considered a "first lady" by any modern standards, traveling with his husband and helping rule the city.
They moved to the Palazzo Vecchio, also known as the Palazzo Ducale once they had taken residence and Vasari was the once tasked with the design and decoration of beautiful frescoes. The Salone dei Cinquecento (Hall of the Five Hundred), the ministerial and representative meeting hall, is the most well-known room in the palace, a ceiling with 39 panels depicting the great life cycle of Cosimo and large frescoes showing Florence's victory in battle of Pisa and Siena. Cosimo wanted everything to know who was the top man in Florence and wasn't shy to show that.
Eleanora was known to have been quite a pious woman, she encouraged the Jesuit order to settle in Florence and she also founded many new churches in the city but she also head a penchant for fine clothes and gambling. She also gave birth to 7 sons and 4 daughters, and was pregnant almost once a year for eleven years' total. She did suffer from tuberculosis towards the end of her life and ultimately she succumbed to malaria at the age of 40 along with two of her sons after an ill-fated visit to the Maremma area of Tuscany, after which Cosimo in a deep well of depression, left political life in the hands of his son.
If you wan too peek at this great lady, head to the Uffizi Gallery where you can see the Portrait of Eleanor of Toledo and Her Son, a painting by the Italian artist Agnolo di Cosimo, known as Bronzino aka the family portrait artist, finished around 1545. This is considered one of his most famous works. Instead in the Costume Gallery inside thePitti Palace, you can spot the funeral garments of Cosimo and Eleonora.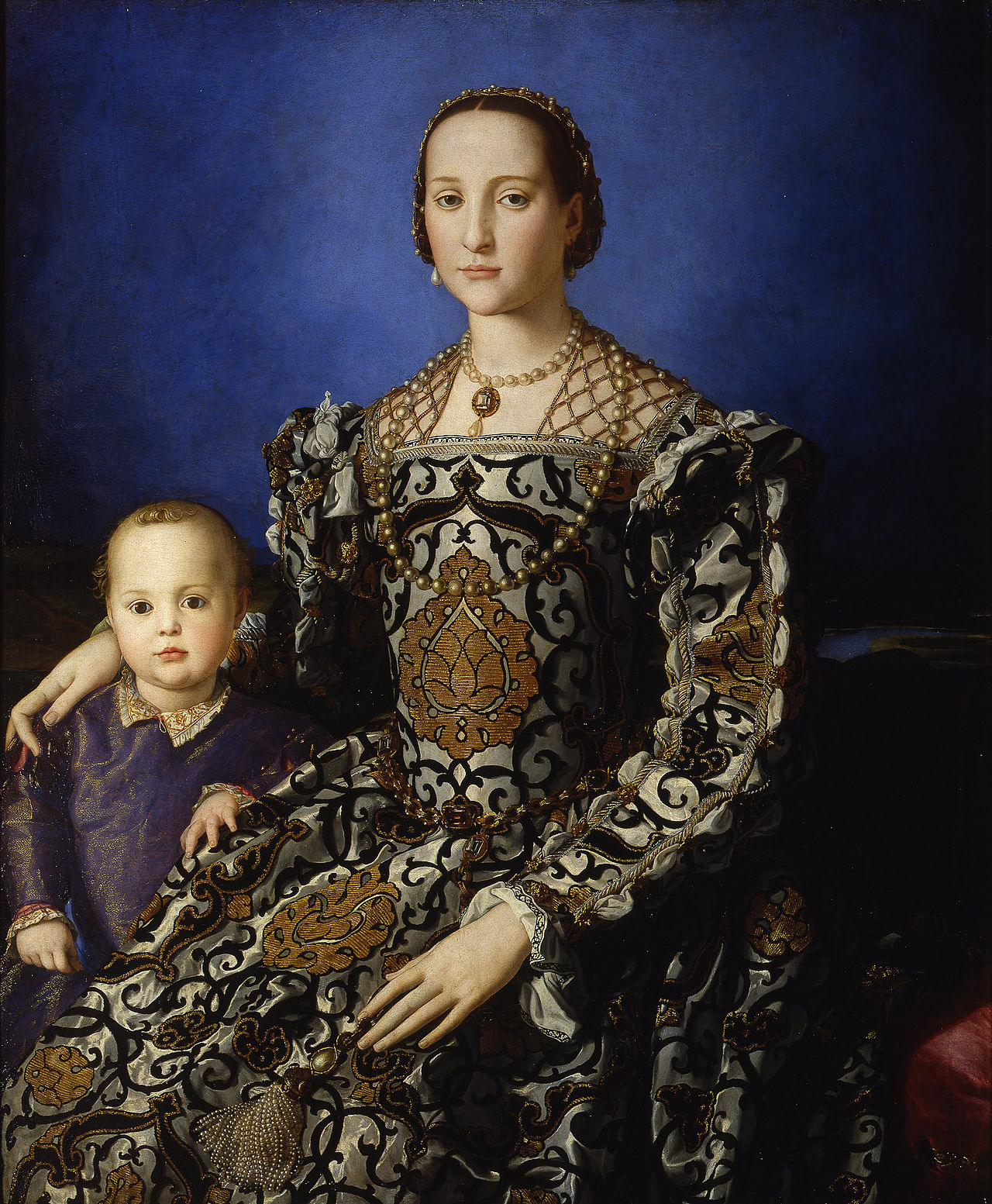 Chances are you've probably heard of Giorgio Vasari, an Italian architect, painter and writer that is well known for his mark on Florence. He descended from a family of potters, born in Arezzo and leaving to study art in Florence around as a young teenager.
To truly get a higher understanding of Vasari, you could try reading his book "The Lives of the Great Architects, Painters and Sculptors of Italy" otherwise known as "Vasari's Lives" published in 1550, when he was in his late 30s. It offers a great deal of interesting info on the lives of popular artists such as Michelangelo, Cimabue, Giotto in a narrative biography and the first of its kind.
Now let's head to the Sala deli Elementi in the Palazzo Vecchio, the one I mentioned previously that is currently under restoration and was part of the former living quarters of Cosimo I and Eleanora composing of eight rooms within the palace. In fact Marco Marchetti, the restorer in charge, allowed us access to even climb up the scaffolding to see the ceiling's details in person! Cosimo commissioned Giorgio Vasari to leave Rome and take full responsibilities for the decorations which he begun in December of 1955. In addition to the apartments of the elements he completed the quarters of Leo X, the Hall of the Five Hundred, and the Studiolo of Francesco I. They later founded together the Academy of Fine Arts.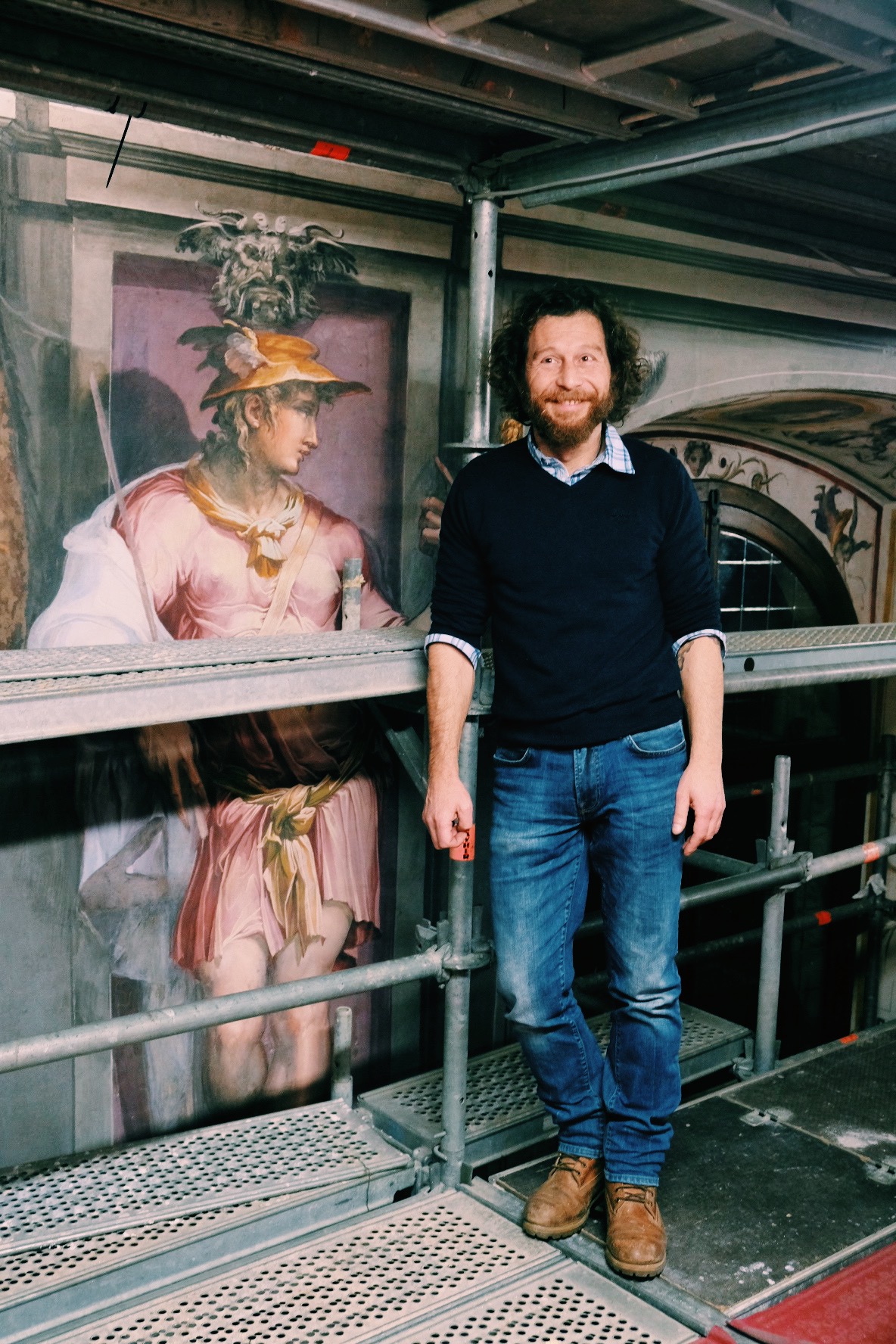 The room itself opens up to Cosimo's personal living quarters and is notably dedicated to the four Elements (Air, Water, Fire and Earth) which all work as symbology for the origins of the world in elaborative fresco cycles. As explained by Giani: on the ceiling you will find Cronus, the god of Time, surrounded by allegories of the creator's prerogatives who then mutilates Uranus (this is brutal), god of the Sky, whose seed spawns the four elements.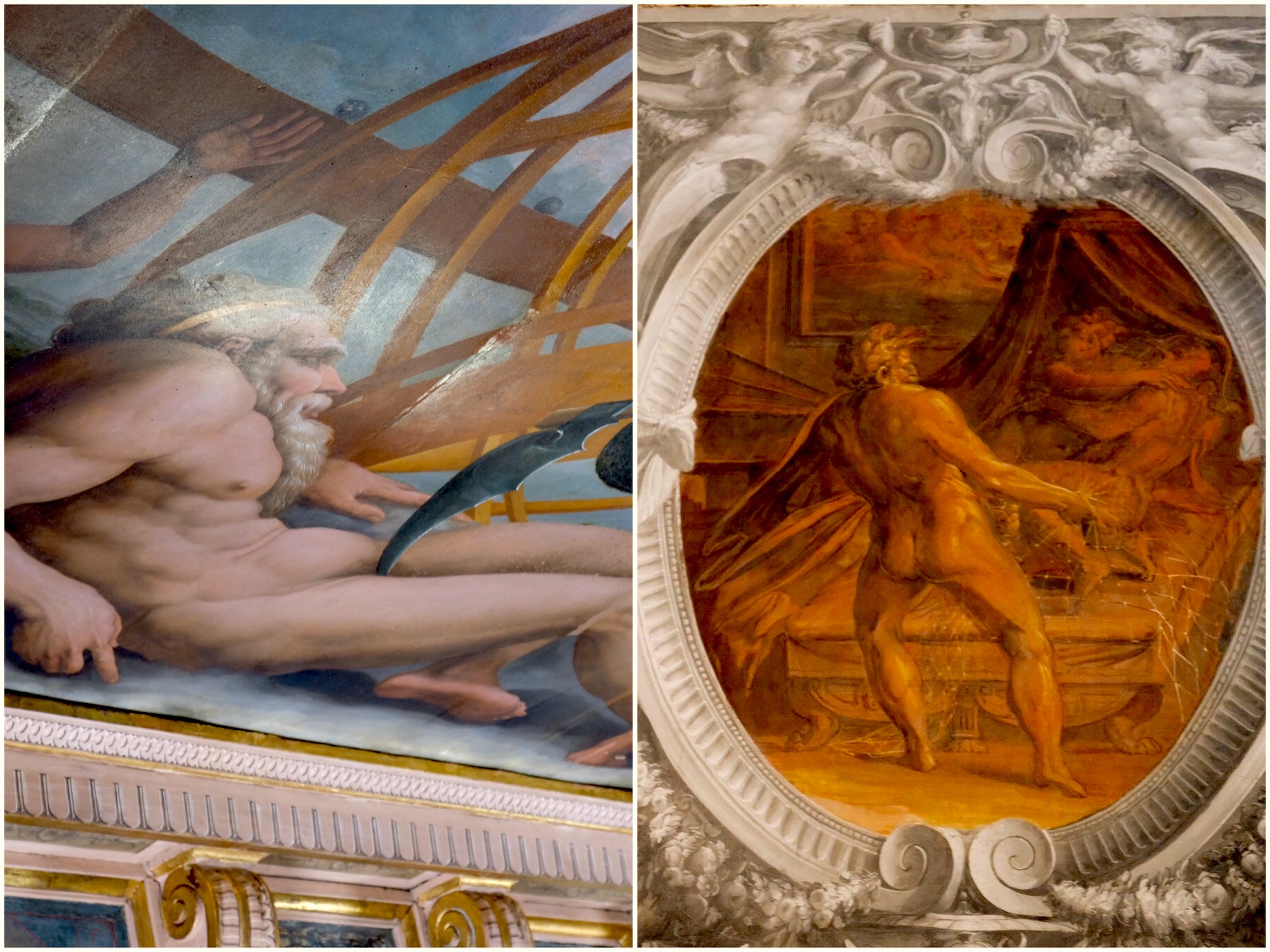 If you really want to do a deep-dive into the symbolism and world view that this room entails, I highly recommend checking out this great post by my friend Arttrav.
https://www.instagram.com/p/BttcS8aFwVr/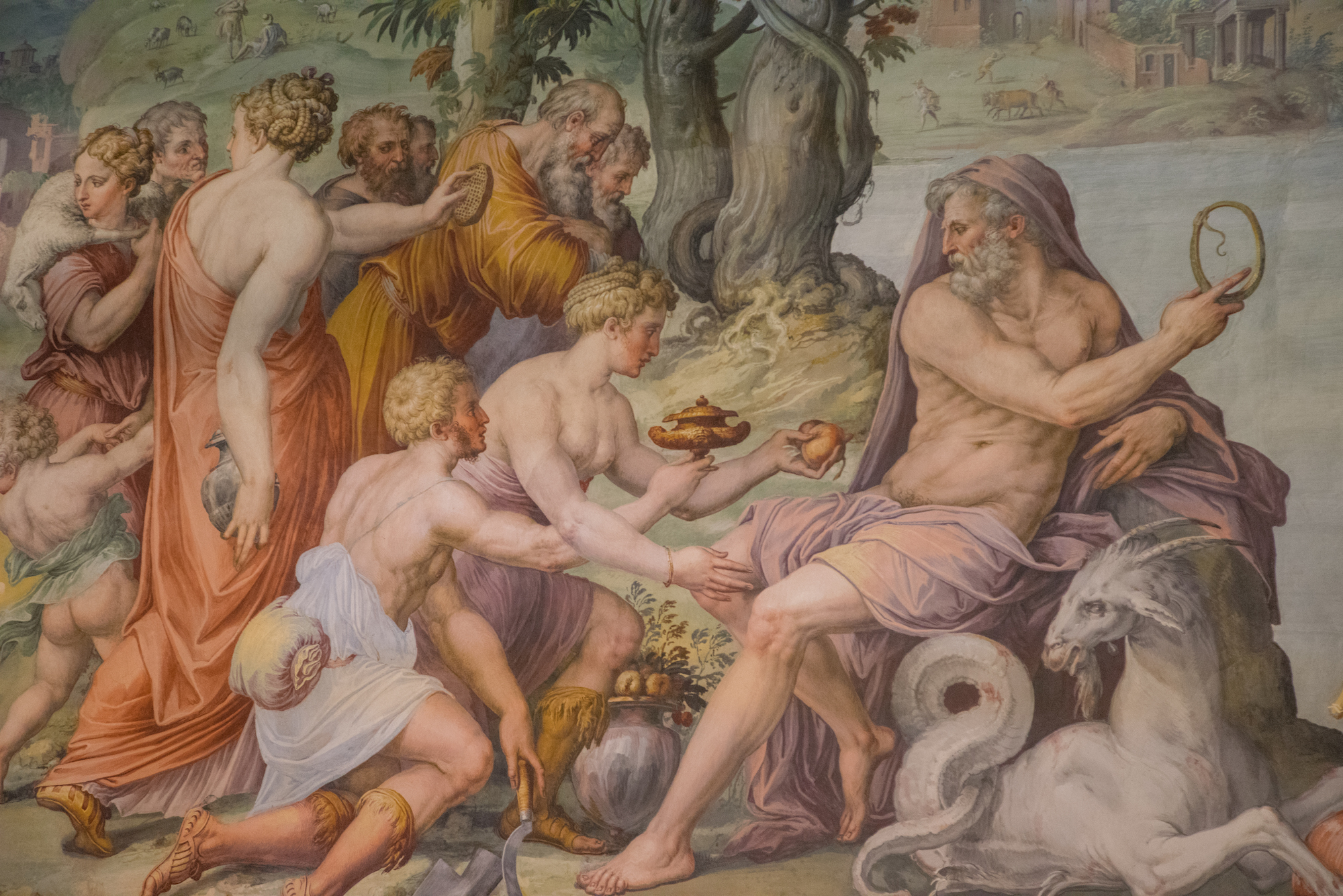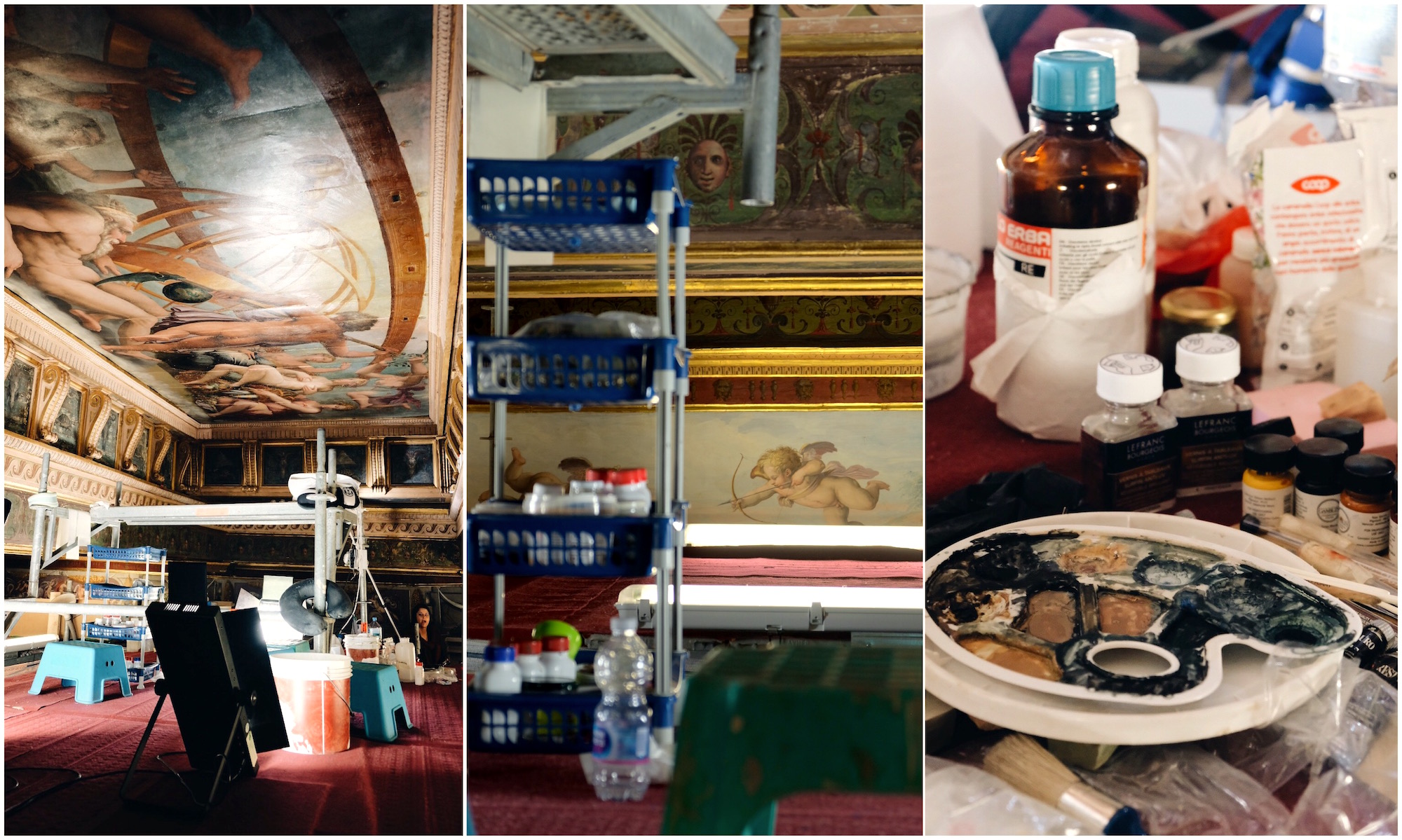 The Move to Palazzo Pitti and Creation of the Vasari Corridor
In 1550 after Cosimo and Eleonora has expended their family, it was time to move house. This time it meant heading across the river to the Palazzo Pitti, an expansive palace built by Luca Pitti in an attempt to outdo the Medici family in ostentatious wealth.
Naturally this backfired (hey, you're messing with the Medici family here, you know the ones that invented banking) with Luca losing all of his money to build the property which then went to Eleanora, who was wealthy in her own right thanks to a large dowry. What followed was a transformation into a place for her expanded family with a beautiful Renaissance garden called the Boboli by designed by Niccolò Pericoli (and later Bartolomeo Ammannati and then by Bernardo Buontalenti) and a vast residence that is now one of the city's most popular museums. Vasari was asked to create a raised kilometer long passageway, later named the "Vasari Corridor" from the offices of the Palazzo Vecchio and Pitti so that no danger would befall the family. Sadly she didn't get to enjoy it long before passing away at the age of 40 from Malaria (see above).
Pitti Palace in Florence remains a personal favorite for me because of the vast cultural art heritage you can enjoy here from room to room and of course the gardens that change with the seasons. I often come here on the first Sunday of the month (when public museums are free to the public) and take a little more time to discover one of the rooms I previously didn't get to before.
Additional Resources
Since I bet you guys love to deep dive as much as I do here are a few resources if you want to learn more about Florence's famous Medici family and specially Eleanor and Cosimo.
Medici Women: Portraits of Power, Love, and Betrayal in the Court of Duke Cosimo I

THE HOUSE OF MEDICI. ITS RISE AND FALL by Christopher Hibbert
The Medici Godfathers of the Renaissance by Paul Strathern
Check out this great blog post about the life of Eleanora and Renaissance Mothers.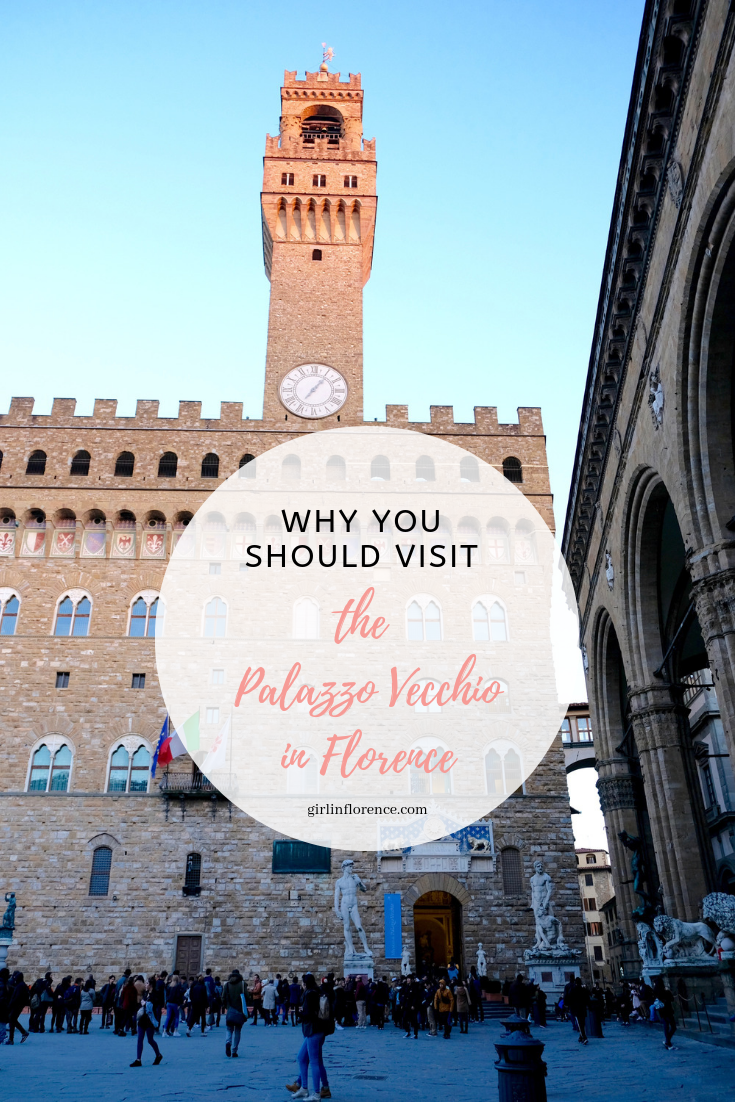 Interested in learning more about the Palazzo Vecchio? I recommend taking a private tour to best enjoy the immense history that radiates from this place. Alexandra Lawrence is a noted art history tour guide who can show you this beloved slice of Florence, otherwise I highly recommend the Secret Passages tour offered by Muse Firenze. Follow TuscanyBloggers to see what else we get up to throughout the year.