Looking for that ideal cosmopolitan city with boundless energy and an exciting nightlife to rival the best clubs of Parisian nightlife?
Well, the Île-de-Brèhat is anything but that.
In fact, it's a place that couldn't possibly be more different than France's most visited city. Here you're far more likely to run into a precocious crab scampering up the shoreline during low tide than you are an actual person. This place my friends, is an entirely different kind of paradise.
In the summer months, the population of this island of Brittany's coast swells up to 5,000 people (no cars allowed) while its year round population circles around a much smaller and manageable 420. Though that might sound like a lot, in September when we visited, it felt like we had the place to ourselves. While I don't know too much about its history, I know it was fortified during the medieval period with the original church in the main village dating back to the 12th century. After WWII artists flocked here for the stunning landscape and it became fashionable for the Parisian set to own a cottage here when needing  break from the stresses of everyday life.
Wind in our hair and oysters on the brain (even the most squeamish fish eaters would be tempted in this part of France), I was more than happy to embark on what felt more like a pensioners vacation than for two people adventure in their early thirties. By this point in the trip, Nico and I had already boogied our way through yet another French wedding in the heart of Brittany, stuffed ourselves silly with buckwheat crepes and yet just a few days later, here I was standing with some school kids at the Pointe de l'Arcouest, waiting for our ferry to Brehat.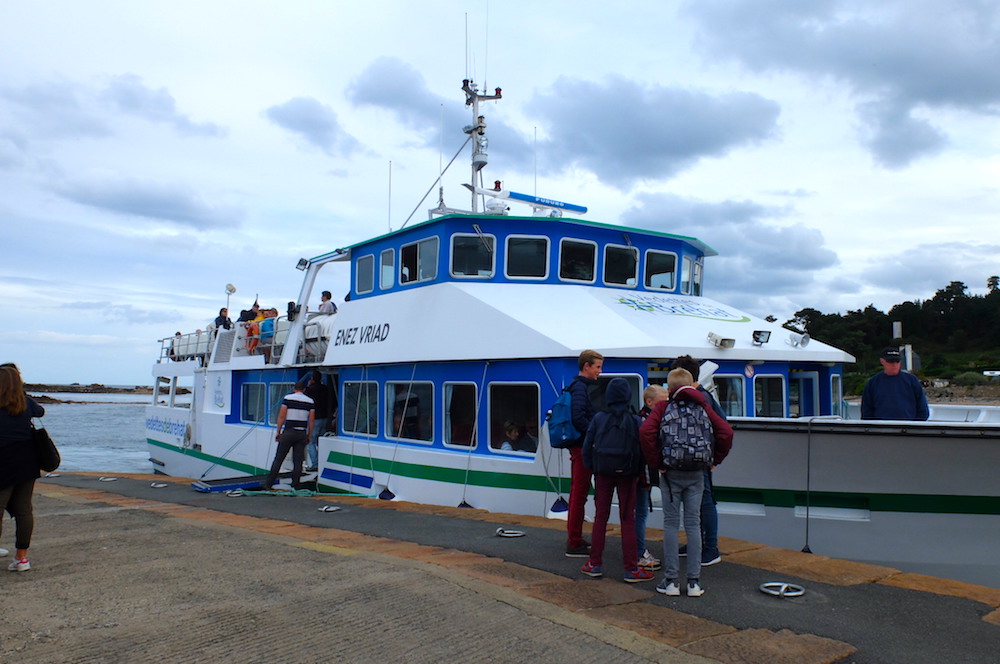 A Lush Paradise In Brittany
The first impression you get of Bréhat, also dubbed "the island of flowers," arriving at Port-Clos is of its tides—a trademark of this area of Brittany. We arrived in high tide when the boat was able to get quite close to the craggy shores (and our accommodation, Hotel Bellevue), upon departure the low tide meant we had to walk quite far to further pier where the ferry could arrive. During low tide it's quite common to spot locals in rain boots carrying buckets and rakes to comb through the sea floor to find a bounty of shellfish for that night's dinner. Boats look like they've been tossed away, a child-splay for nature's wrath, low tide an everyday phenomenon for those who live here.
The blue and white trimmed Hotel Bellevue is right at the cusp of Port-Clos and has around twenty rooms, which are simply, yet modern and I can attest to it having working internet. We had a loft setup with the desk, bathroom on the lower floor and the bedroom upstairs. I can highly recommend eating at the hotel's restaurant where if you order like a local you can expect piles of seafood washed down with crisp white wine. As the seafood lovers we are, we gobbled down every last mollusk.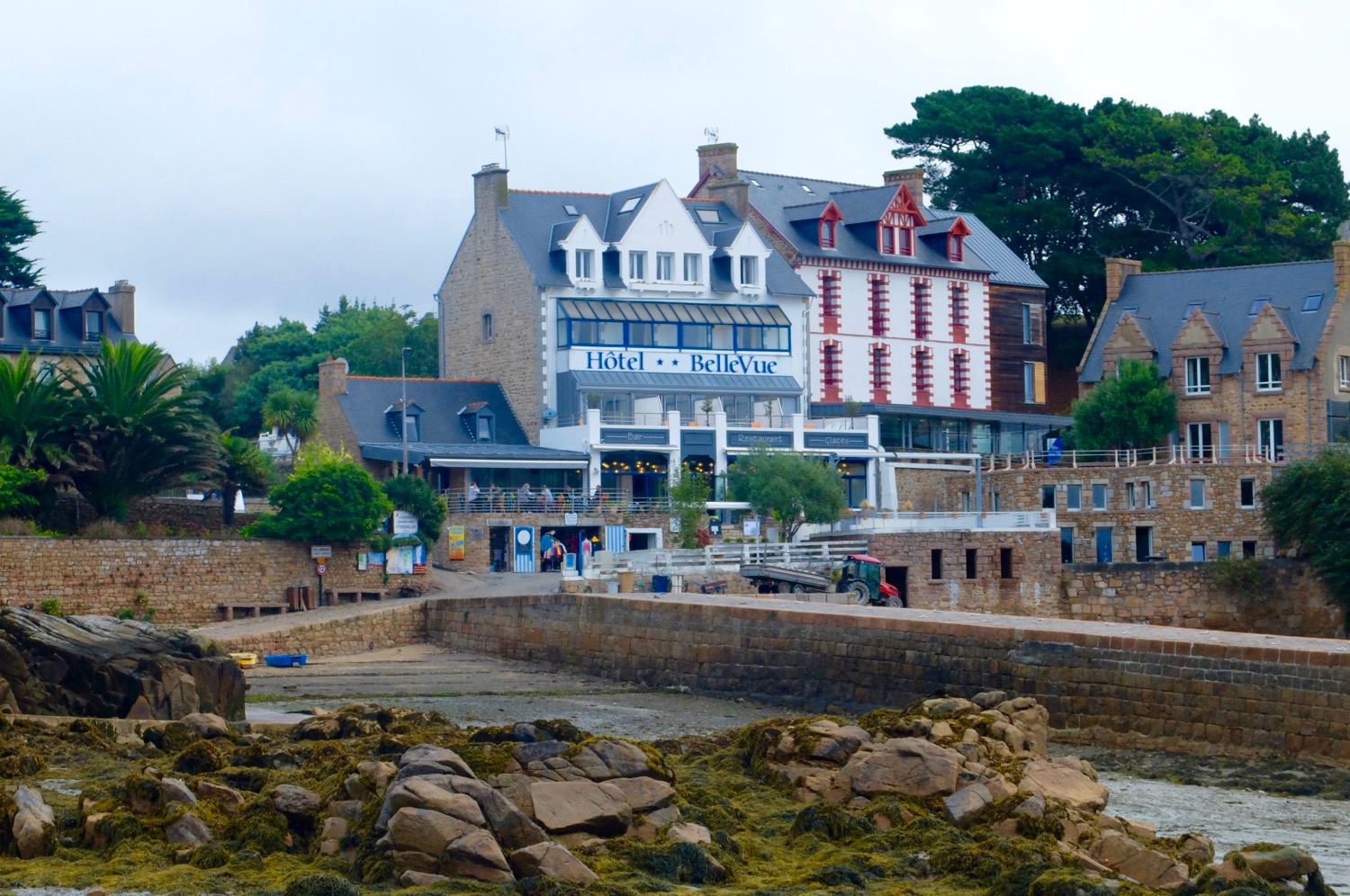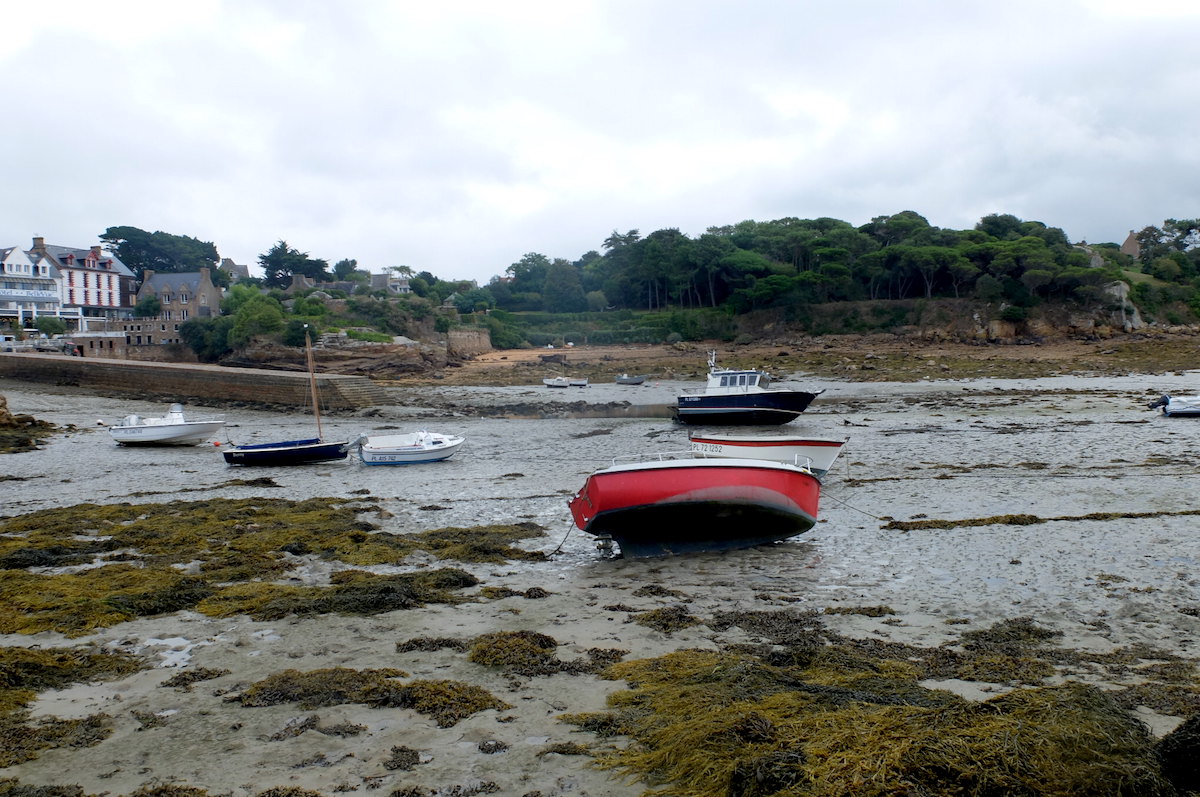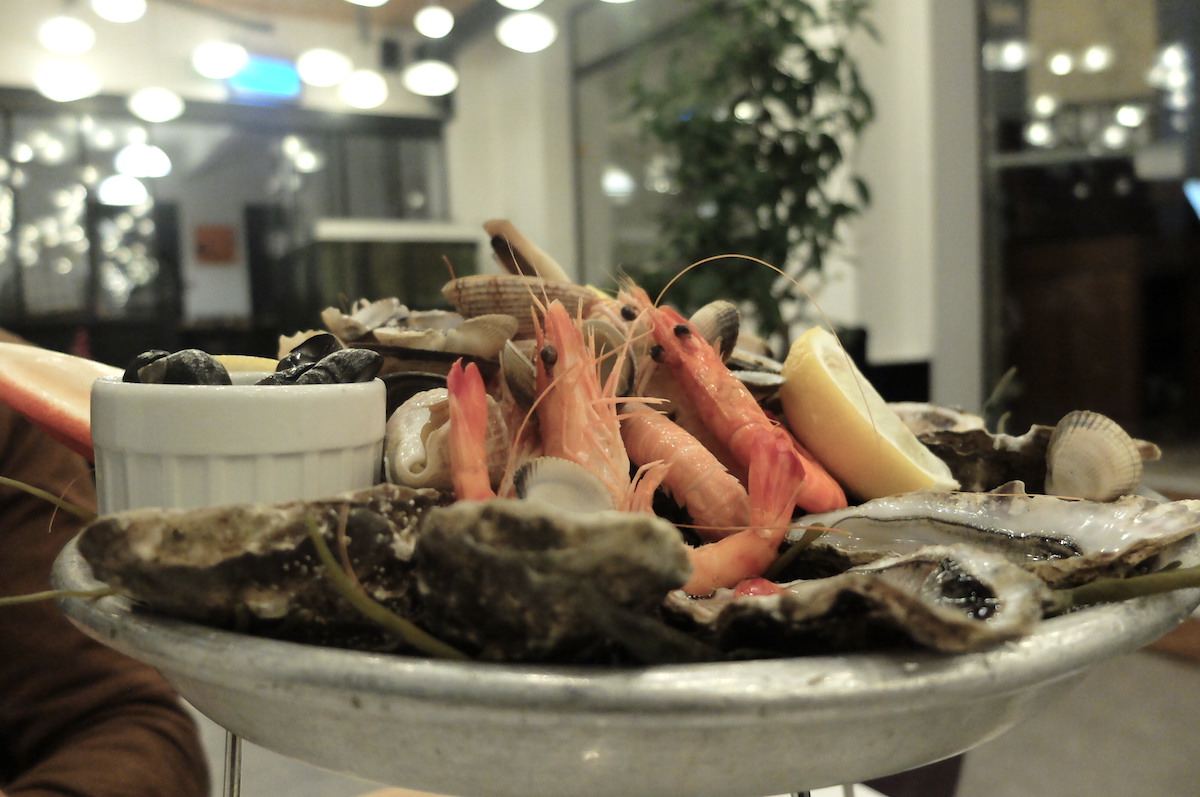 Most of the action is centered around the main village of Le Bourg (Here you'll find your standard fare of pizzerias, crêperies, and bars) with most people choose to rent bikes (we did too) to explore the paths and the narrow Pont Vauban bridge that connect the two islands that make up Bréhat. The south island is where you'll find more of the picturesque homes while wind and harsher landscape greets you on the Northern island.   
This is the kind of place best visited by bike (no cars allowed remember!) as soon as we dropped our bags off at our hotel we hopped on our bikes to get a feel of the island.
Everywhere we looked there I spotted well-tended gardens of pretty stone cottages boasting a myriad of luscious plant life including eucalyptus, agapanthus, hydrangeas and geraniums and birds too. The houses contain so many beautiful and intricate details besides overwhelming flora, quirky door knockers and colorful shutters. Since I am the kind of person that could kill a cactus in two weeks by accident, I was quite impressed at the green thumb islanders seem to possess. I was told there were a number of puffins that make their home in the pink rocks but I guess they were a tad too shy to say hello.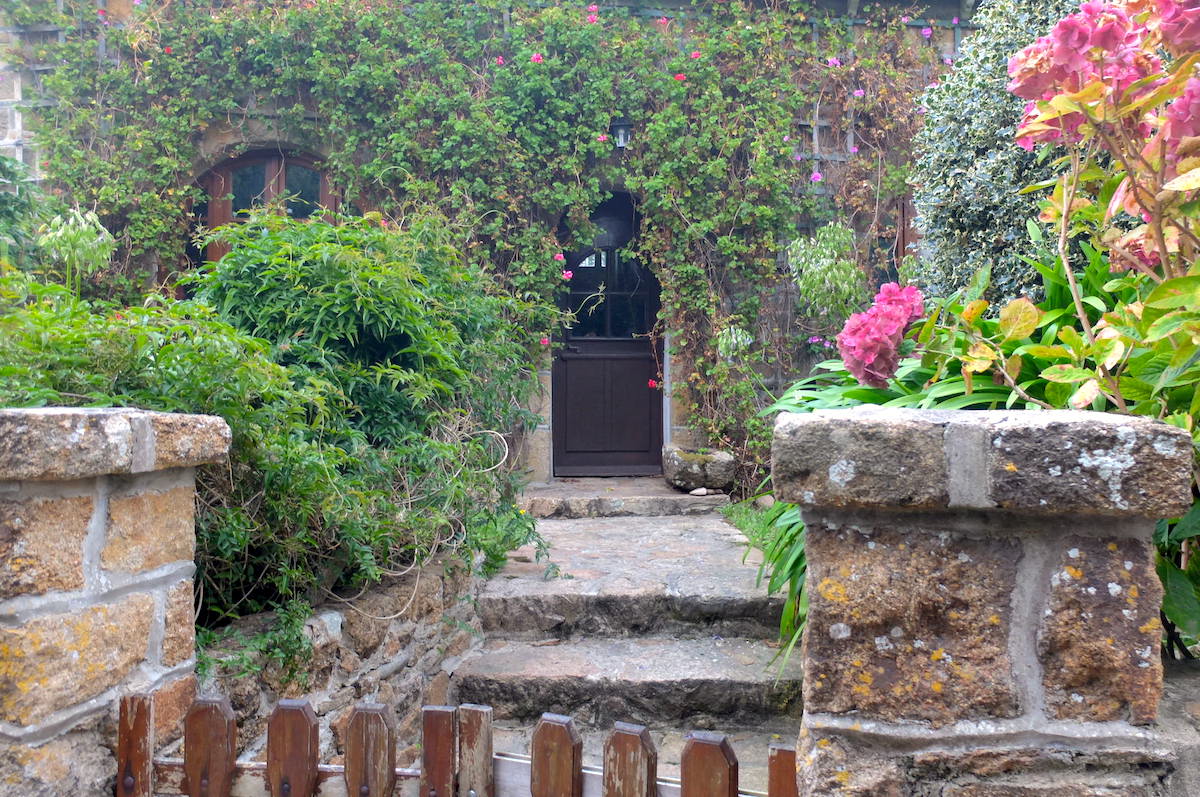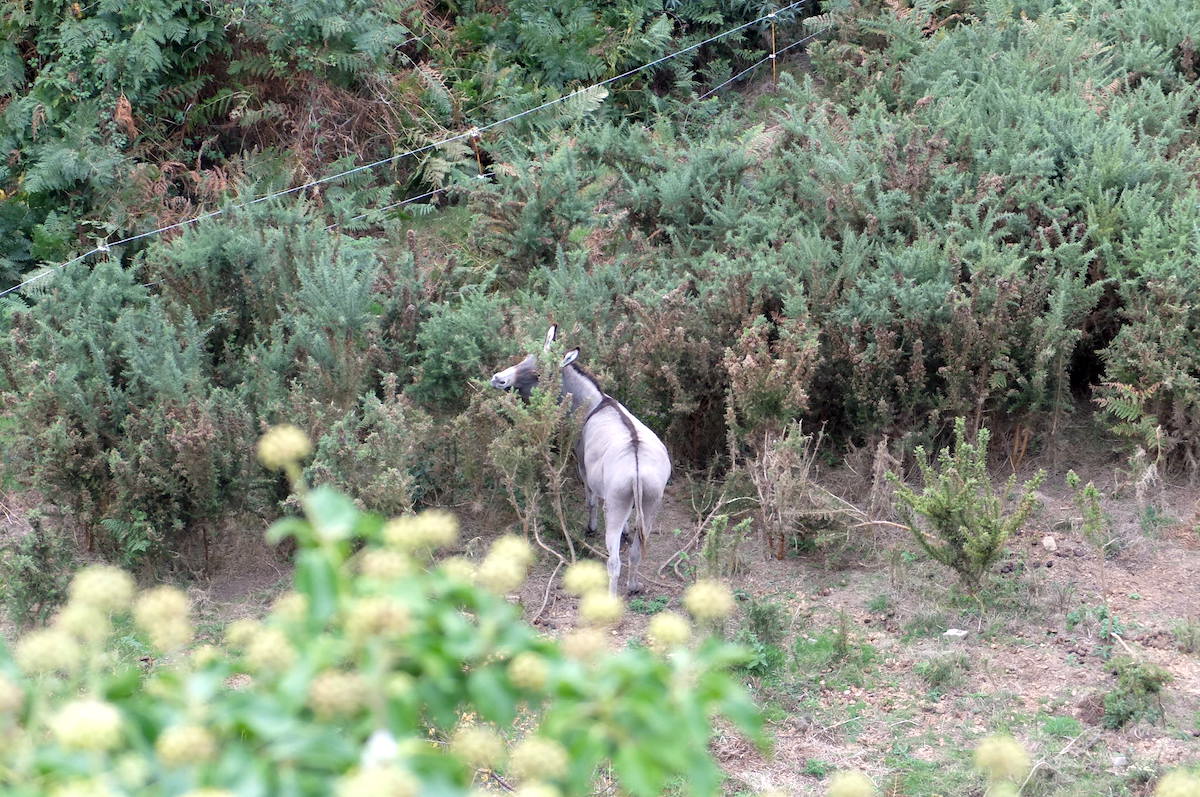 If that wasn't enough, equally as impressive is the eye-catching array of diversity in its landscape. Every path we took brought us to a sleepy bay, or pink granita cliffs and of course Brehat's lovely lighthouses, Paon in the north east and Rosédo in the north west. I recommend decent shoes when cycling because you are going to want to walk the craggy landscape and grassy hills.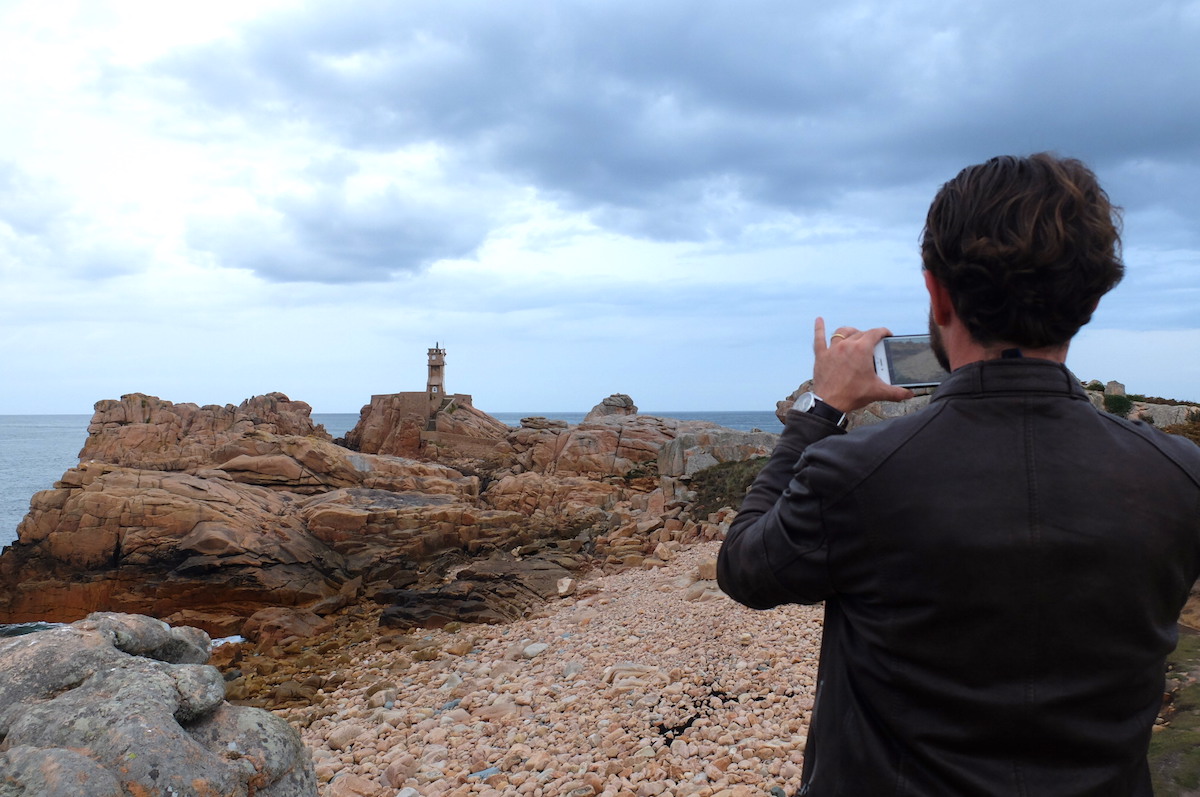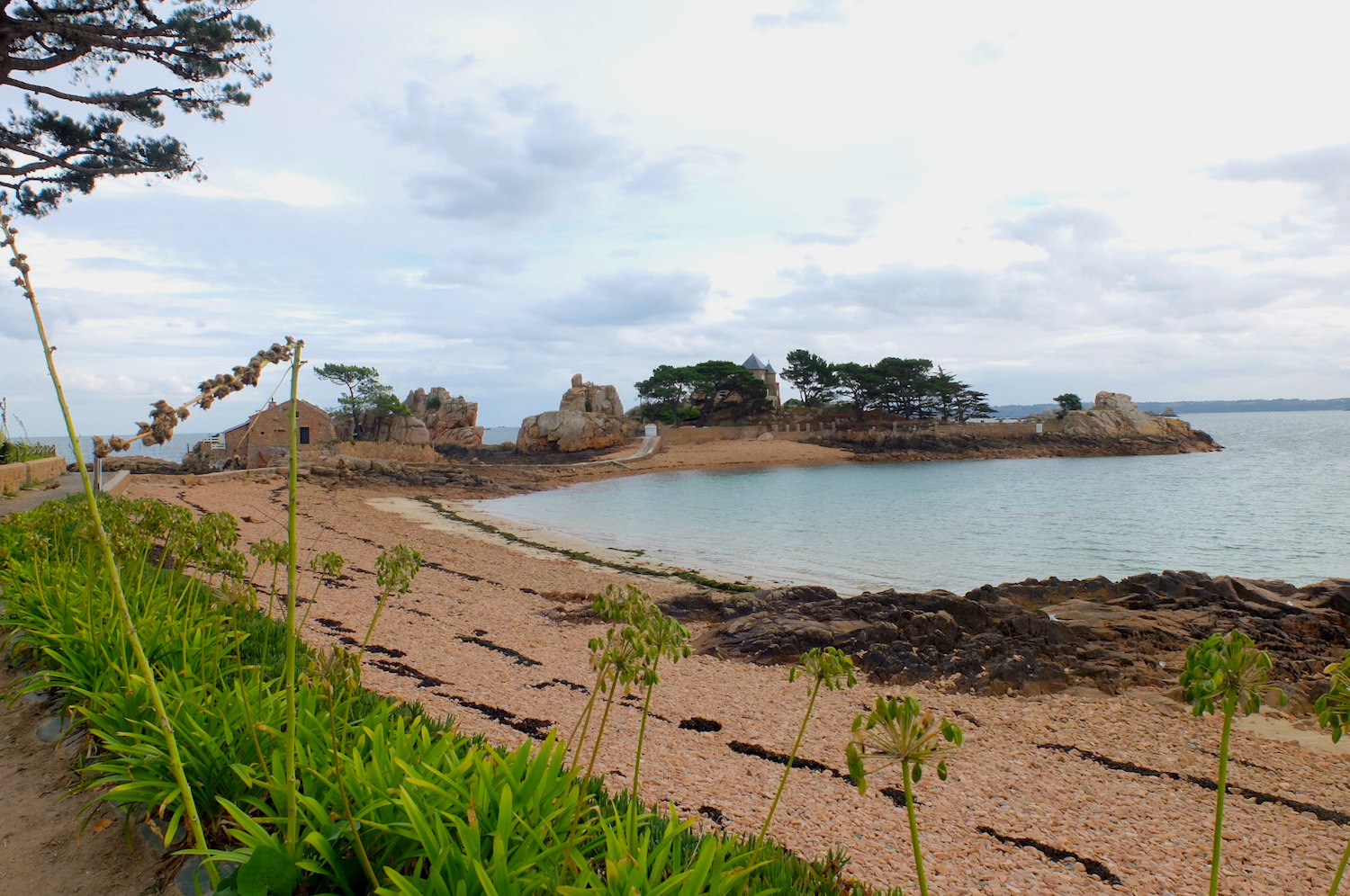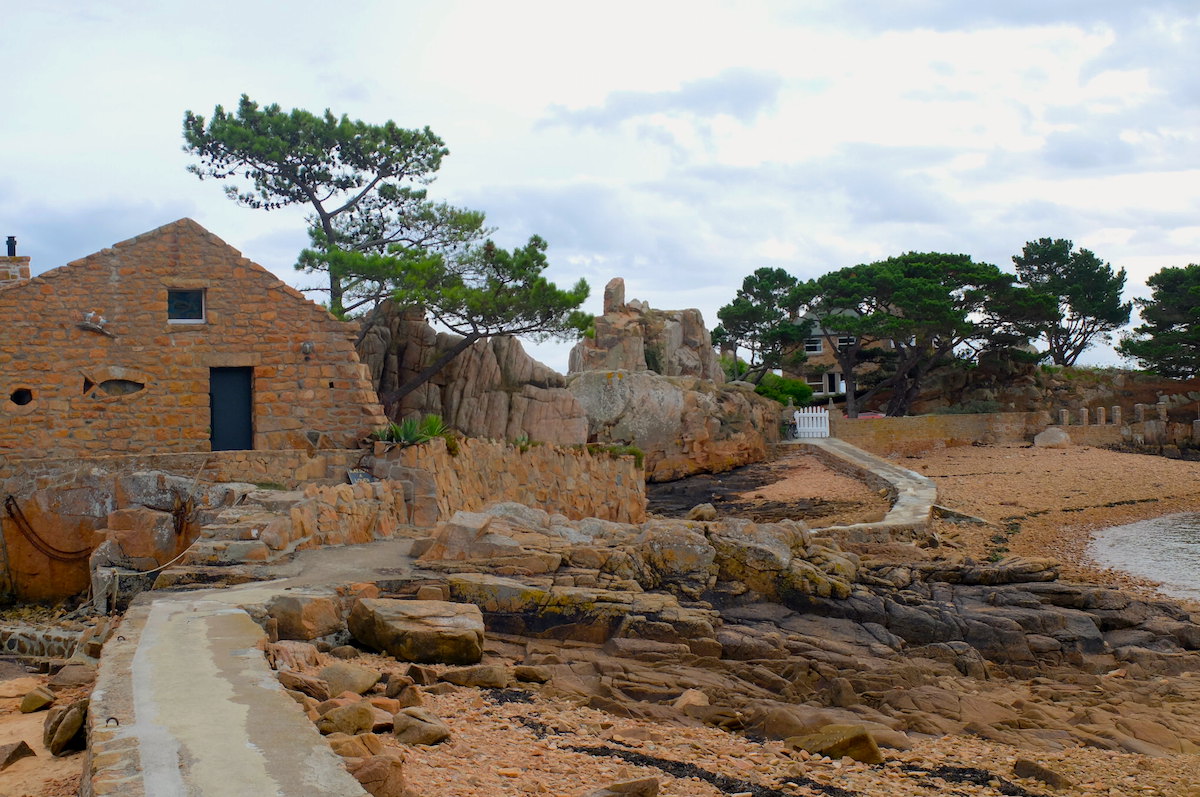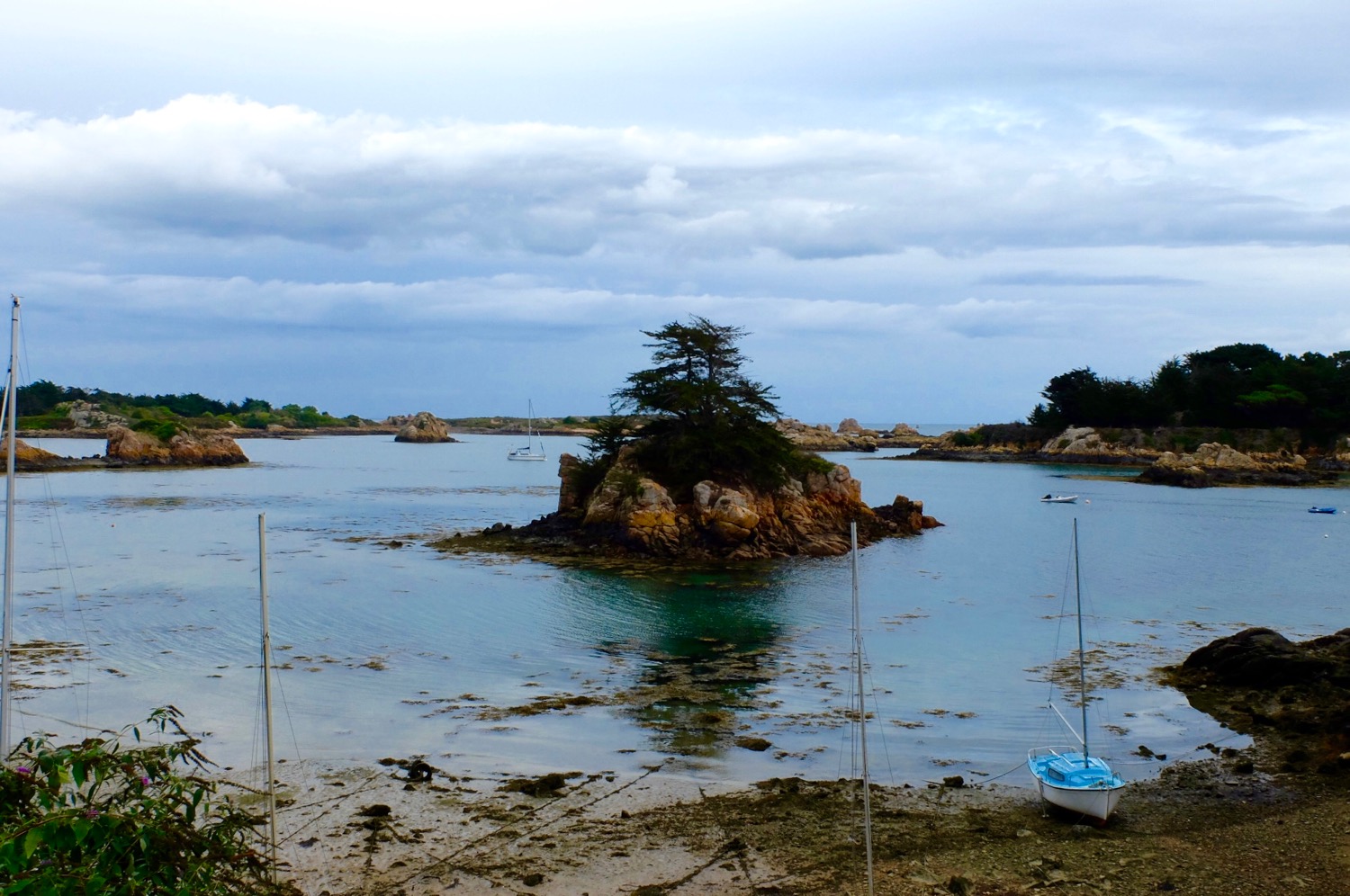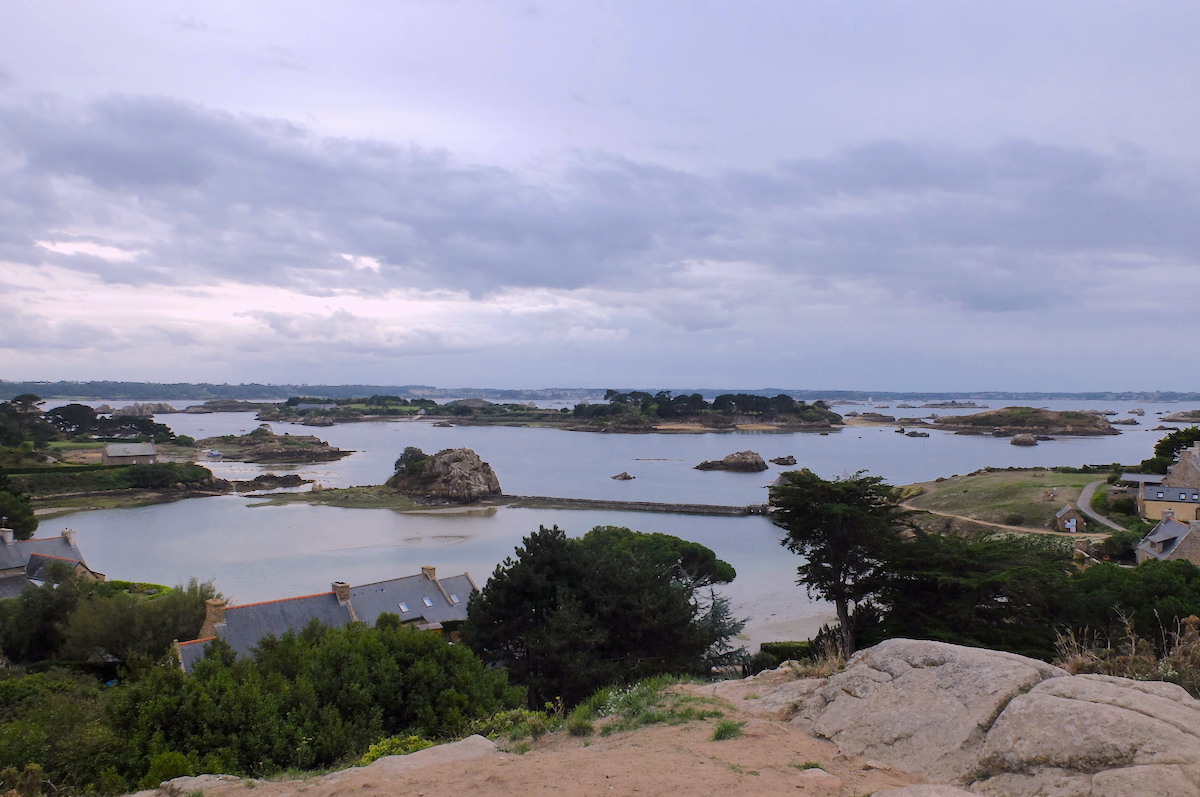 At one point in our cycle around the island(s), we ran into a quaint wooden stand selling fruit and jam, all sold using the honor method, complete with stick-on prices and to-go bags. A testament to the kind of trust people must have with one another in places like this. I can't imagine this working even in the Oltrarno in Florence, you'd find the place raided faster than you could say "boh."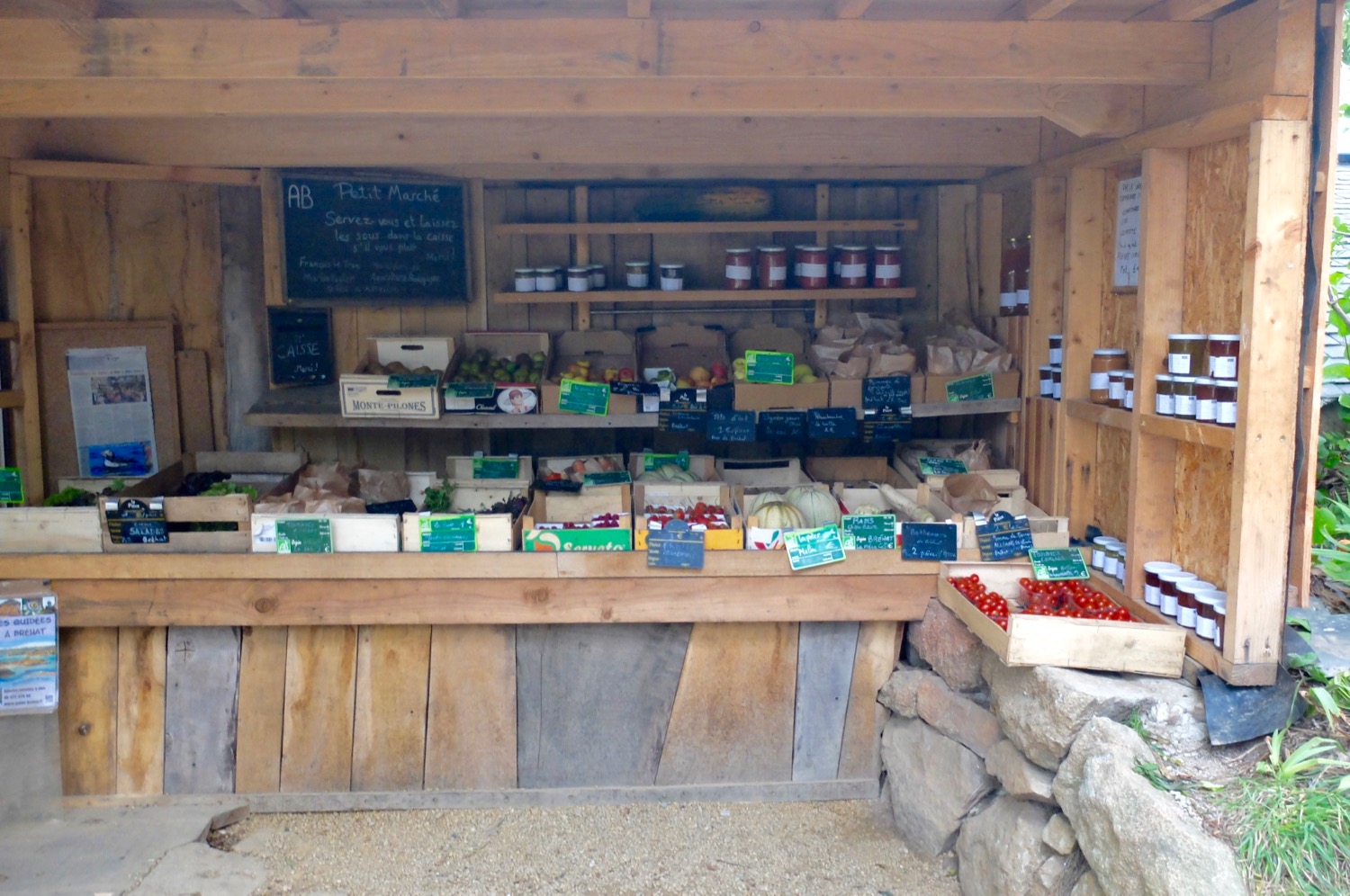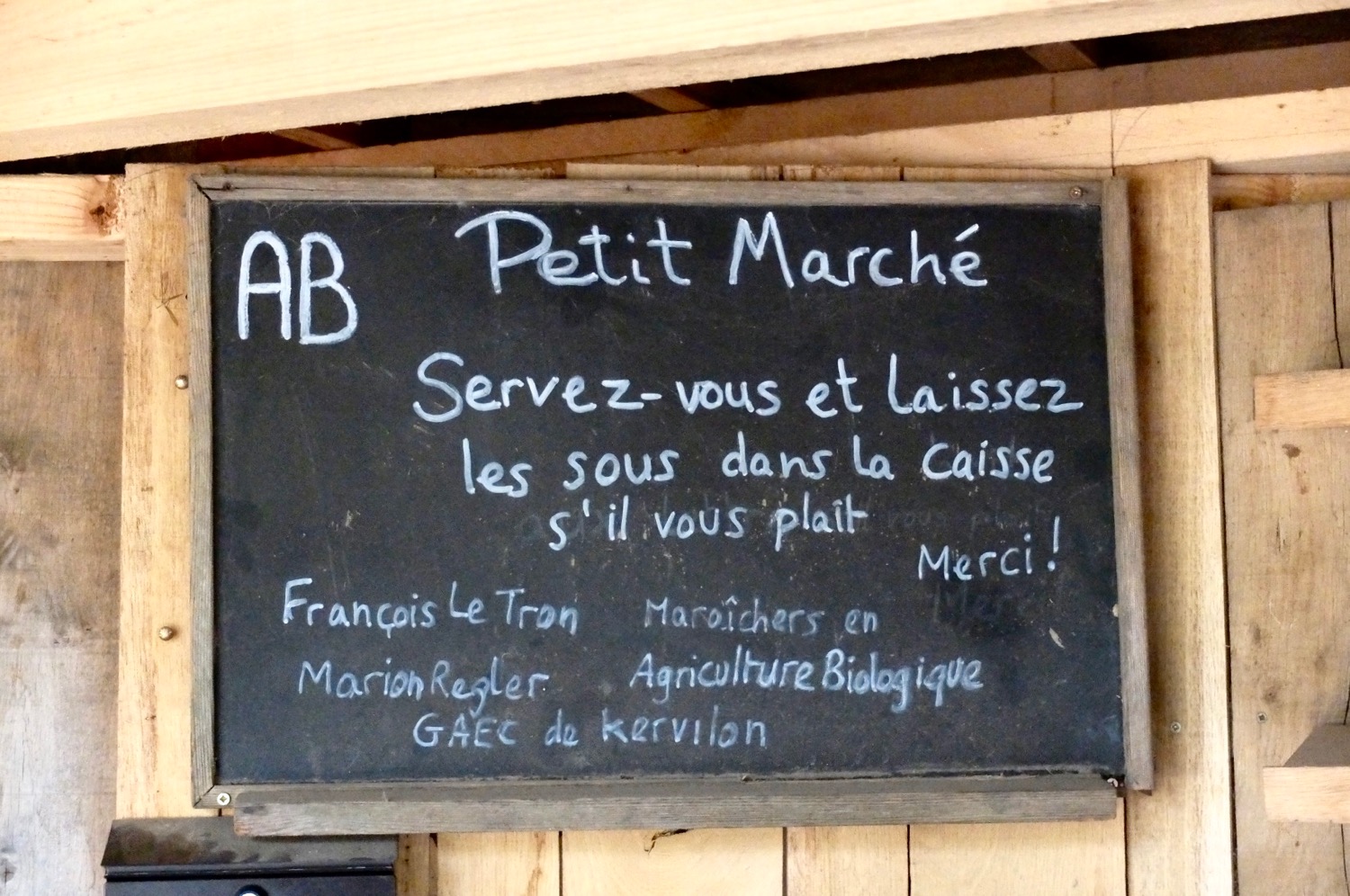 At one point we spot a plain, white chapel on top of the hill. Called the Chapelle Saint-Michel, it serves not only as a symbol for seamark for sailors but also as a symbolically high (in the literal sense) place of local worship 33 meters above sea level. Inside you won't find much but it's breathtaking beautiful in an almost austere way. From up here you can also get a sweeping panoramic view of the island, I recommend staying awhile with a good book or a decent camera.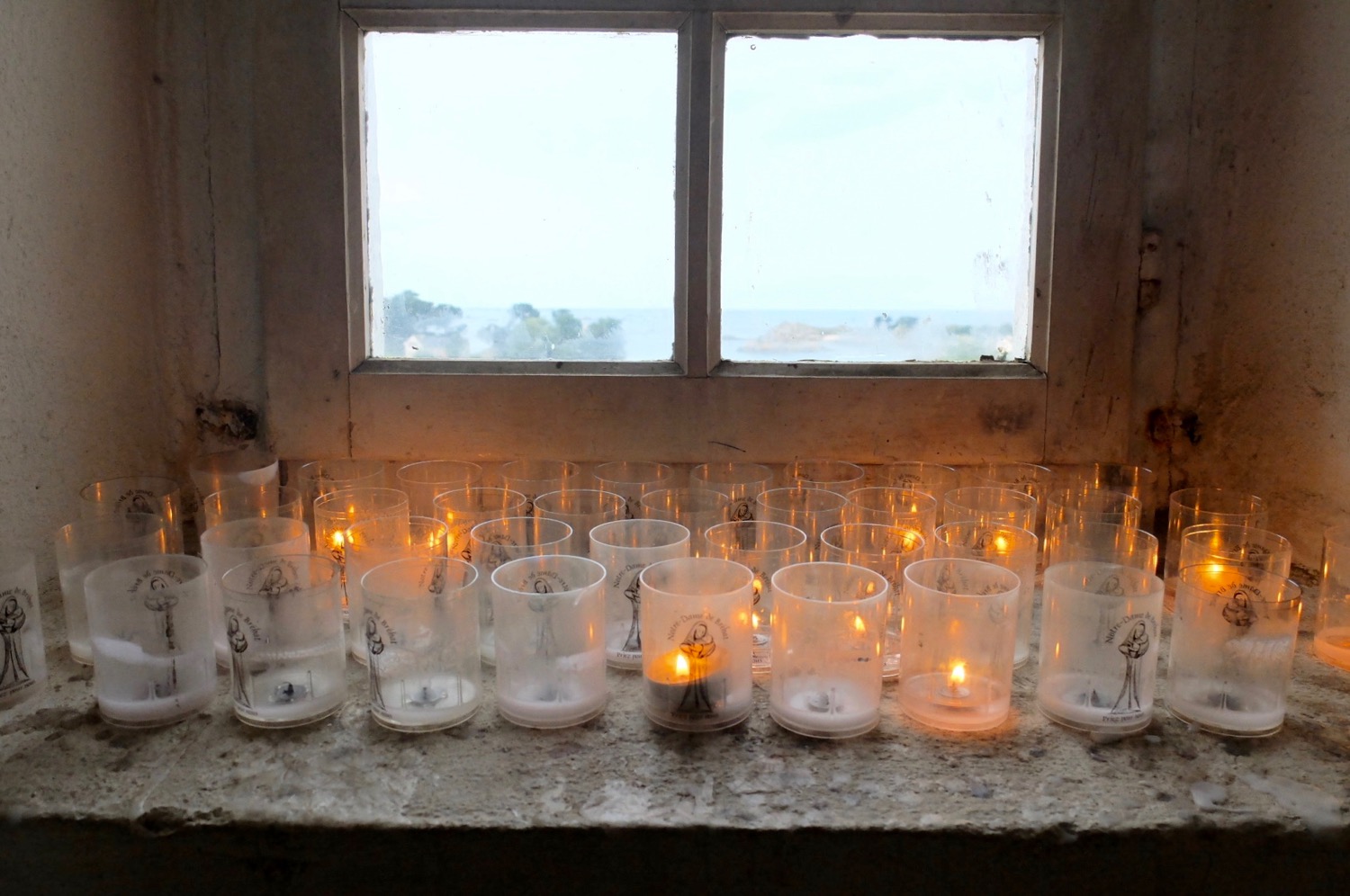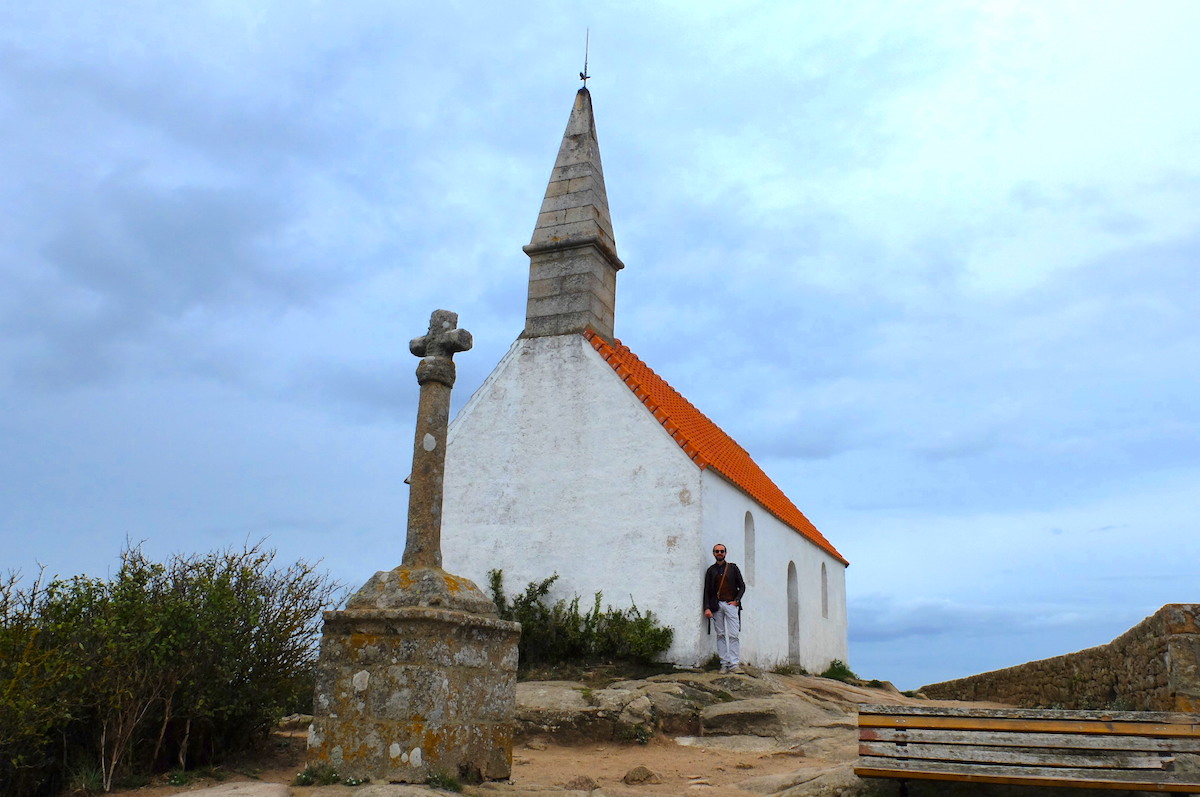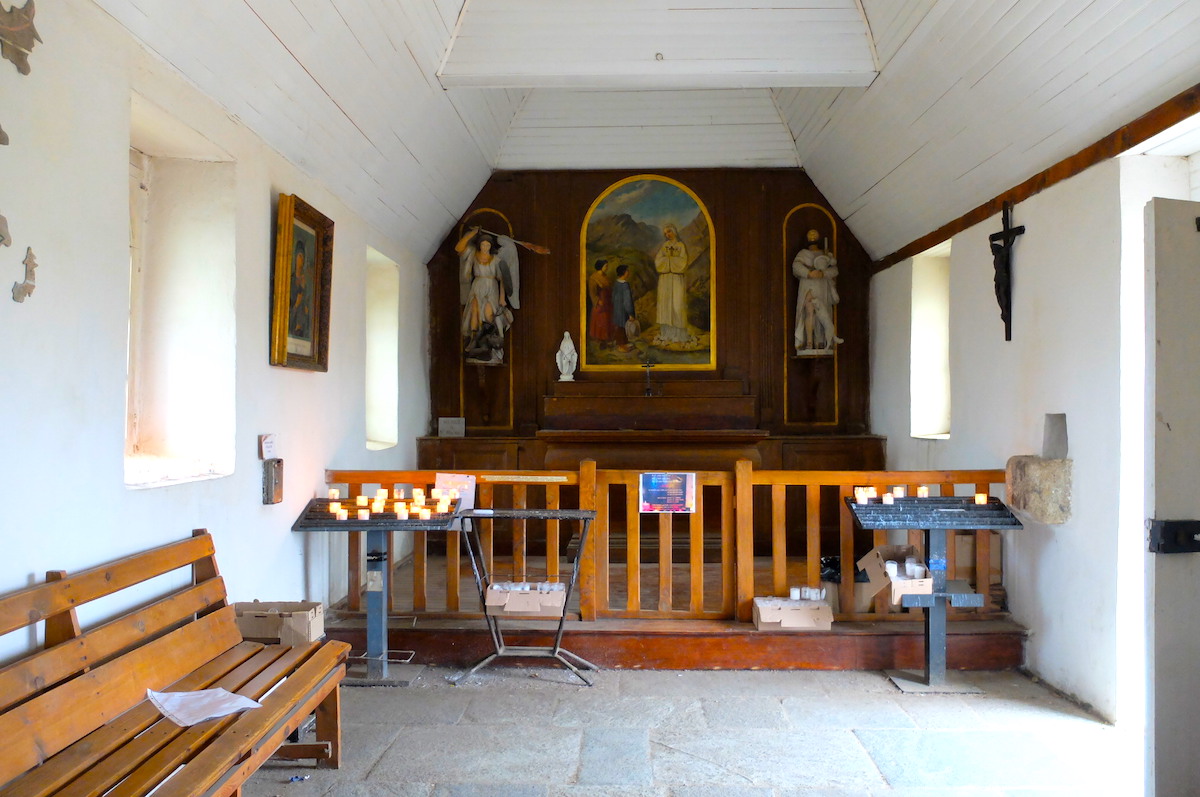 If you're looking to take home something special, locals highly recommended the artisan glassblowers who make a really spectacular array of items that you actually want to display in your house, located in the old Vauban fort. Such a far cry from touristy mini-markets selling useless crap—yet another reason to appreciate this tranquil place.
Nearby Brehat, I highly recommend timing your visit to stop at the charming nearby town of Paimpol during market day every Tuesday for a quick stroll and bite to eat in the center of town and its charming harbors. This was where I had my very first galette-saucisse (Breton: Kaletez gant silzig). A type of French street food consisting of a hot sausage, traditionally grilled with a bit of cheese, wrapped in a Breton galette. Holy hell, what have I been missing all my life. 
As per usual with market days in France, the atmosphere was a jovial one — people milling around the 17th century harbor and tiny streets buying fresh vegetables and catching up with friends. The perfect stop to curb our hunger before hopping into the car for our next adventure along France's northern coastline.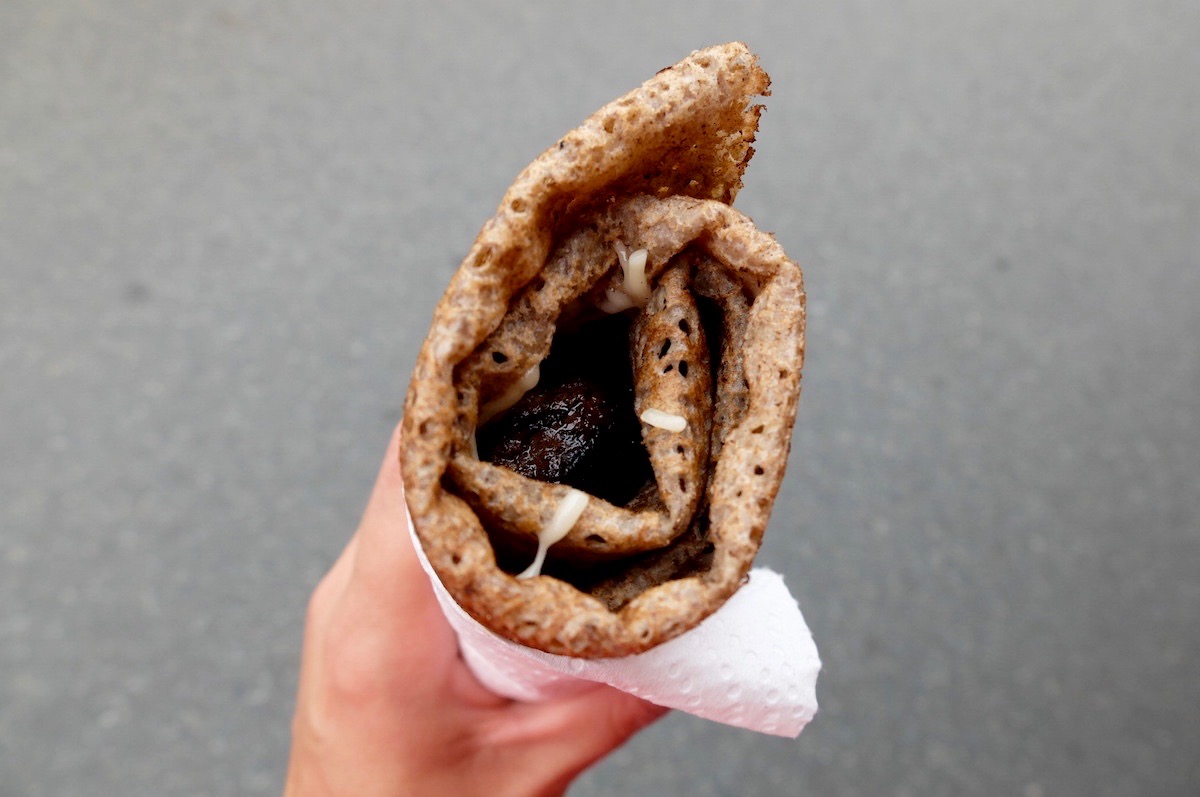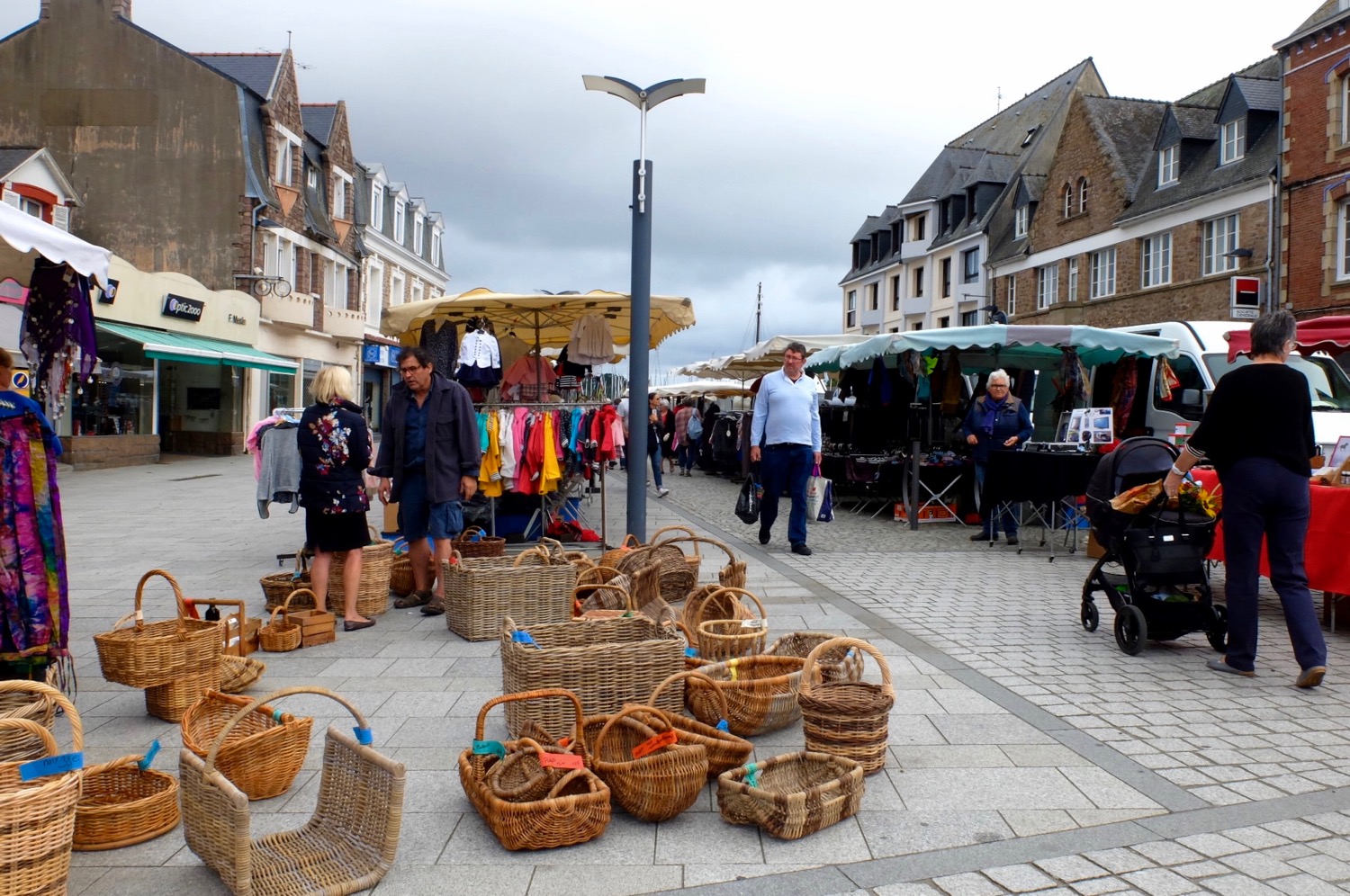 Quick Details
Where to sleep & eat
Hotel Restaurant BelleVue, address: Le Port Clos, 22870 Île-de-Bréhat, France. Rates start around 100€ a night (with breakfast). A simple, yet very comfortable blue and white trim hotel with around 20 rooms. They also have a wonderful restaurant where the seafood platter with delights from the area are on full show nightly. 
What to see 
Highlights on Bréhat include the Paon & Rosedo lighthouses, the St-Michel chapel, the Guerzido beach, the Birlot windmill and the Verrerie of Bréhat (glass blowers). If you have time, hire a local guide to take you around to learn about the island's legends (this post in French will serve as your inspiration). This is something I wish we had time to do but we were on a short time schedule. 
When to go
From what I've read, Spring is the best time to visit to enjoy the best of the blooms from Brehát's unique microclimate. We visited in September and it was actually quite lovely.
How to get there 
You can catch the ferry from the

Pointe de L

'

Arcouest. The fare is €10,30 roundtrip, 8 for kids and the ferry runs roughly every half hour in peak season (May-Sept) and spaced out to 1 hour and a half or more during low season, http://www.vedettesdebrehat.com. For more info on Brehat, here's a helpful article from the Brittany Tourism board.
SaveSaveSaveSave
SaveSaveSaveSaveSaveSaveSaveSave