Here we are you sneaky little month of February, arriving as you do with rain showers and a beautiful fog– and for me, a ton of deadlines. I don't know how I've managed to overwhelm myself with work and commitments but as I promised my husband this week, one day I'll learn. Let's be honest here, January has been quite the month, both for the world and locally here in Florence. I have a headache from everything that is going on and I only hope the following months are less tumultuous, but one thing is for sure, I'm very happy to be in Italy.
On the event-sphere, February instead in Florence will bring about plenty of fun activities including anti-Valentine's day parties (and pro ones too!) and our first wine tasting event of the year (hey hey Chianti!). For those who enjoy opera and concerts, this article from La Repubblica has everything you need to know. The light at the end of my tunnel is that we will be heading to Mexico on the 28th for two weeks of travel from the D.F to Playa del Carmen which I am SO excited about. If you've been and have a few tips for me, please let me know in the comments! Until then enjoy this list of the best events in Florence!
I also have to send a shoutout to Christine Juette who took this amazing cover photo of the Duomo above.
https://www.instagram.com/p/BP78e3PBMgI/?taken-by=girlinflorence
If this is your first time checking out the blog and you're looking for a few curated tips on Florence, check out these posts which I think you'll find helpful.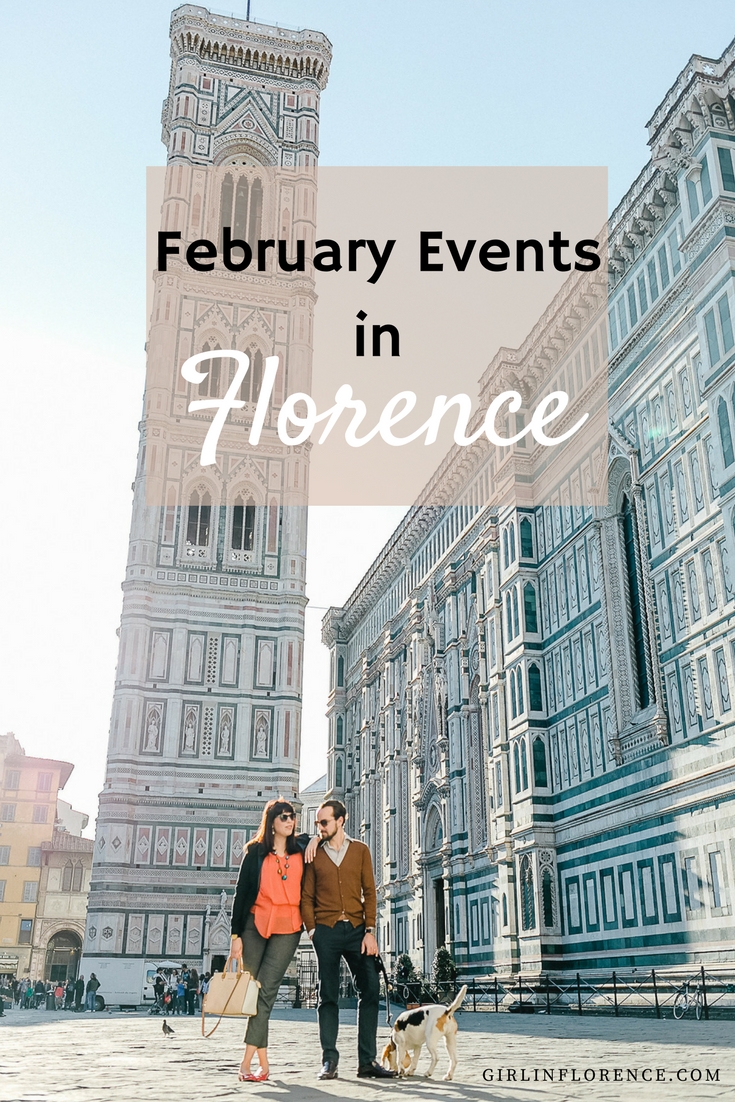 Open-mic is back at Tasso Hostel this first day of February, it's always a lot of fun and a great opportunity to meet fellow creatives in the city. In their words "Hi Everyone! Come one come all to the first Tasso Open Mic night of 2017 hosted by translator extraordinaire and Florence Writer's founding member Lori Heatherington! February, as every follower of San Valentino knows, is the season of love, and there's nothing quite like the emotion that's inspired the poems, stories, and songs–all forms of the art of the word–since time immemorial. We invite you to come and read, recite, sing, tell, recount, or merely listen and be inspired this coming Wed., Feb. 1st, at the Hostel Tasso. The words begin flowing at 9 pm sharp."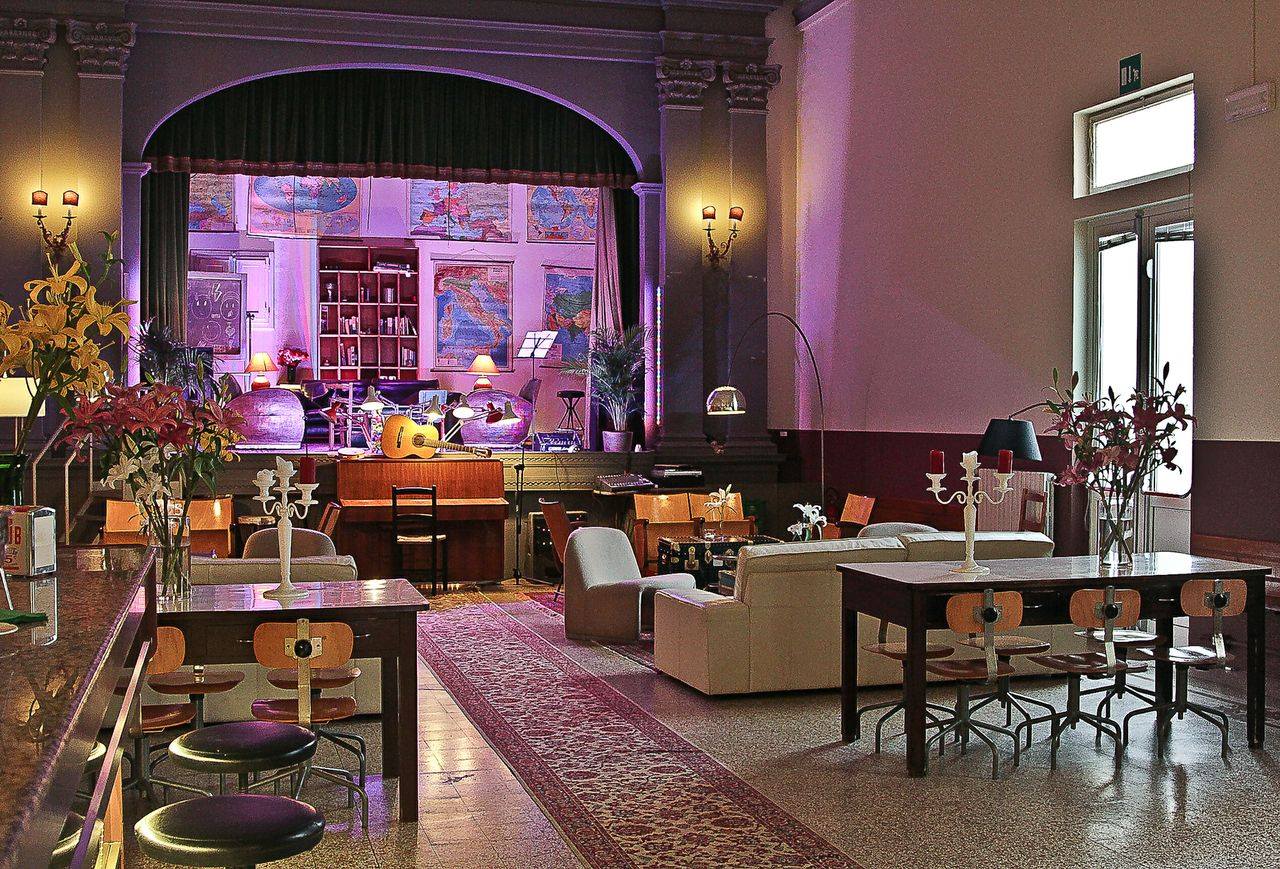 Language | Language Exchange, February 1st, 7:30-9pm, Circle Aurora (Piazza Tasso)
For those in Florence looking to improve their language skills Italian or vice versa, attend this monthly language exchange, kicking off this month at one of my favorite local bars in the Oltrarno, Circle Aurora. It's open to all, aperitivo (drink plus food) costs 10€. More info here. address: Viale Vasco Pratolini, 2 (Piazza Tasso)
Music | "La Vague in Concert", February 2nd, Ditta Artigianale Oltrarno
Live musical concert at my favorite coffee/cocktail bar in the Oltrarno featuring the latest songs by La Vague at Ditta Artigianale Oltrarno (via dello sprone 5r). Open to all, starts at 9pm. More details here.
Wine | Wine Tasting and Food Pairing With Vinovation, February 2nd, Gecko Florence
For those looking for a fun wine tasting this week, check out this event by Vinovation at Gecko Florence (in the San Niccolo neighborhood), they are offering a dinner with a difference food and wine pairing event for 30€ a person. Four different wines will be offered for tastings from Cantine Bellini. To reserve your spot check out the info on the flyer below.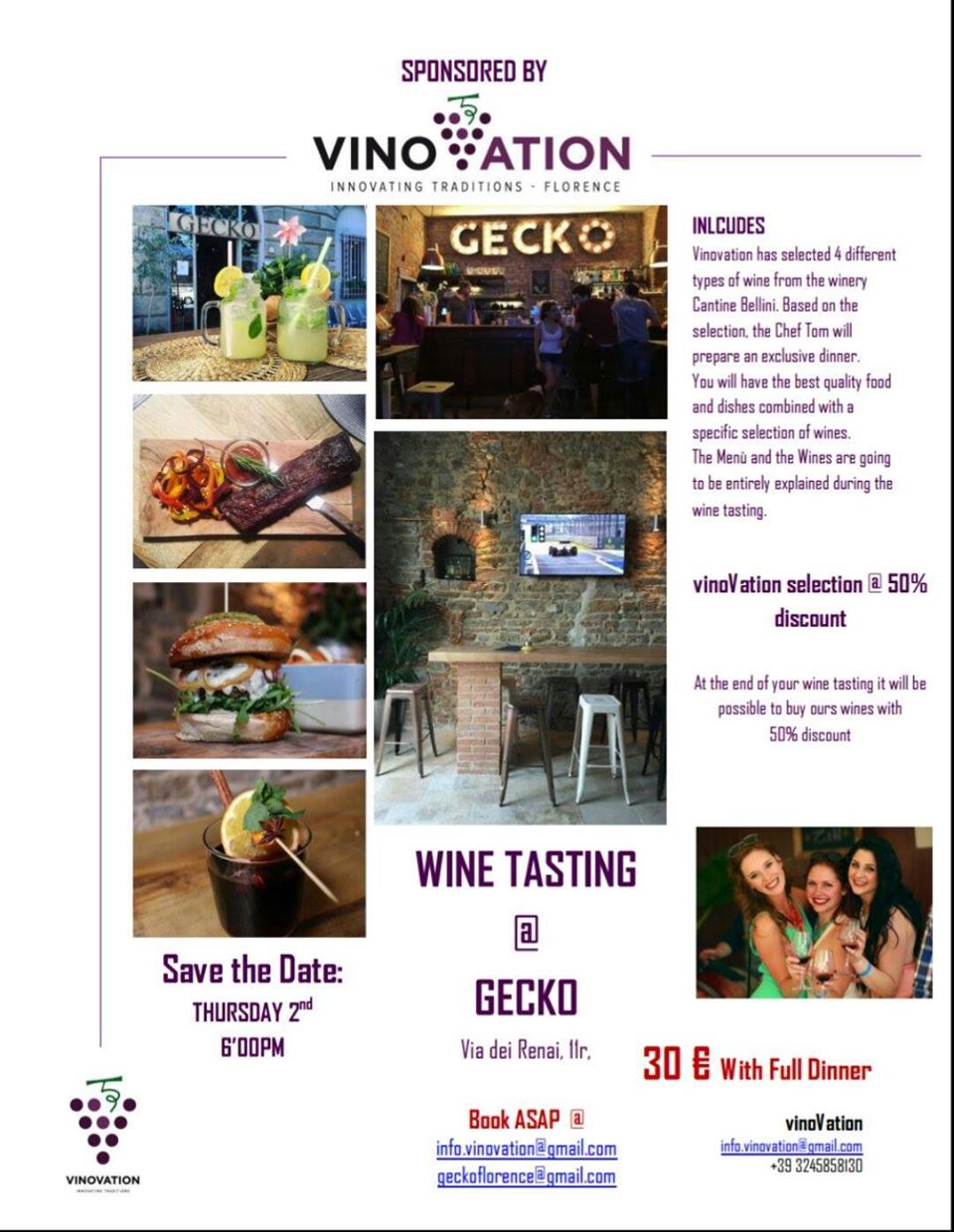 Music | Italian Opera Love Duets 
in Florence, February 5th, St. Mark's Church, 8:30pm
To get that loving feeling two wonderful soloists will sing Italian love duets at the beautiful St. Mark's English Church in Florence. The program includes duets from Italian operas including La Traviata, La Boheme, and Madame Butterfly, as well as Neapolitan love songs. 23€, get your ticket here. 
Art | First Free Sundays, February 5th, All Over Italy
One of the coolest initiatives in Italy continues in 2017, state museums will remain open to the public the first Sunday of every month, while city museums are also free for residents of the city. It is important and fantastic to have something like this even for residents because it helps locals like us get to enjoy the beautiful art that surrounds us, but hesitate to pay to see.  I would use this opportunity to visit highly popular places like the Uffizi or Accademia since come March these museums will be packed, especially on the first Sunday of the month. For lesser-known beauties, check out my list of personal favorites.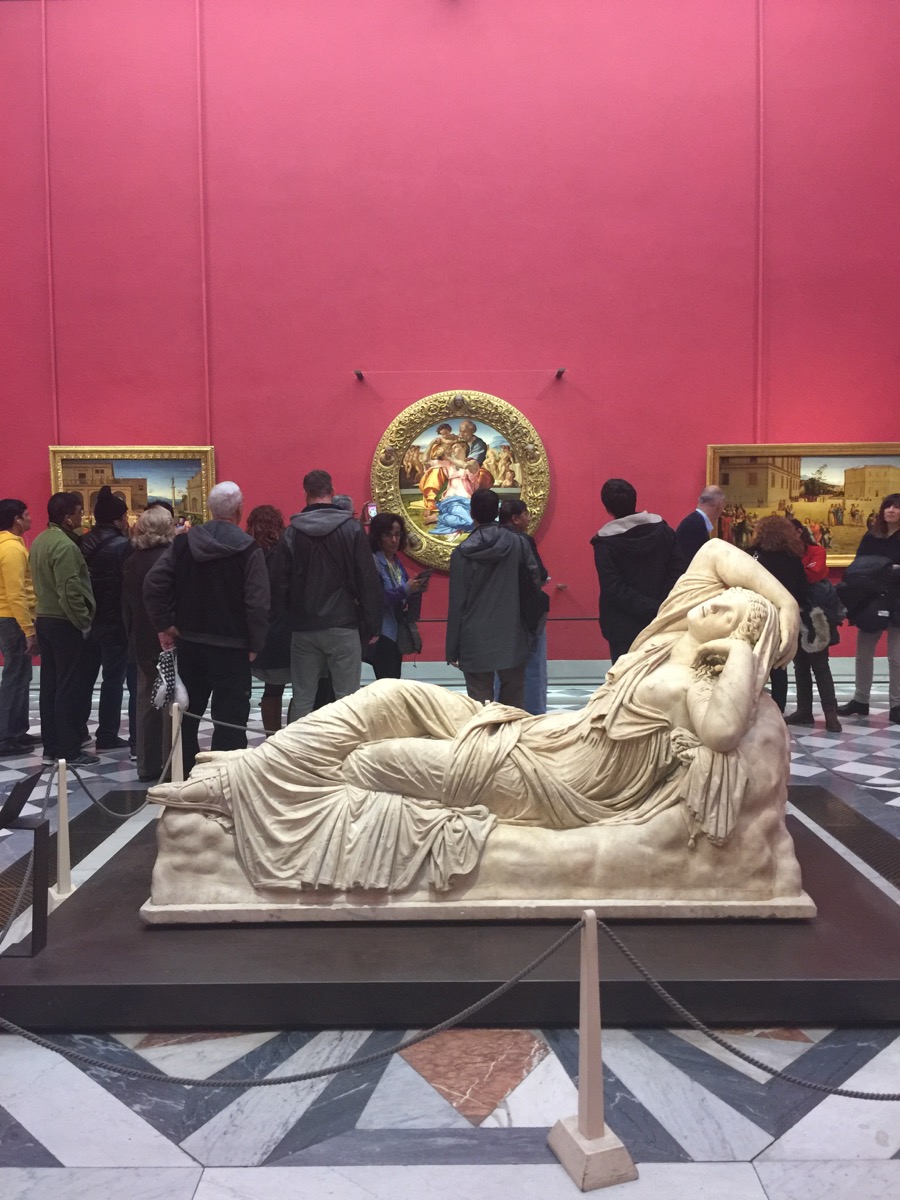 Culture | Infinite Receptors, February 8th, 5:30pm, Museo Novecento
In their words "As part of the second edition of Black History Month Florence the American Academy in Rome, in collaboration with Museo Novecento, presents an artist's talk with Enrico Riley moderated by Justin Randolph Thompson. The main focus of Riley's research in Rome is based on Judeo-Christian elements involving persecuted individuals, where strong correlations can be drawn to the lived experiences of black bodies today. He is particularly interested in the Italian medieval and early renaissance masters, for in their work, details are deposited in places that still give substantial room for reinterpretation." More info here. 
Meet-up | Creative Aperitivo with CPIF, Feb 8th, Gosh*,7-10pm.
Join a fun meet-up group in Florence made up of International artists, designers, artisans and creative thinkers at a new cool spot in the Oltrarno, the cleverly-named "Gosh." address: Via di Santo Spirito 46r. Open to all and always a lot of fun, this is absolutely one of my favorite treasured organizations in Florence! More info can be found here.

Food | Annual Chocolate Fair 'La Fiera del cioccolato' in Piazza Santissima Annunziata. February 10-19th (10am-10pm)
Chocoholics unite! If you can't make it to the epic Chocolate fair in Perugia, don't worry because the chocolate is coming to you. Artisan chocomakers will be at a special fair lasting ten delicious days in the center of Florence. This is probably dangerous for people like myself who use any and all excuses to indulge in sweet treats but hey, YOLO right? The gym membership starts tomorrow. This year there will be a special competition among local top chefs including Filippo Saporito, Marco Stabile and Cristoforo Trapani as they compete to use chocolate and bread together, presented by Marco Gemelli founder of Forchettiere.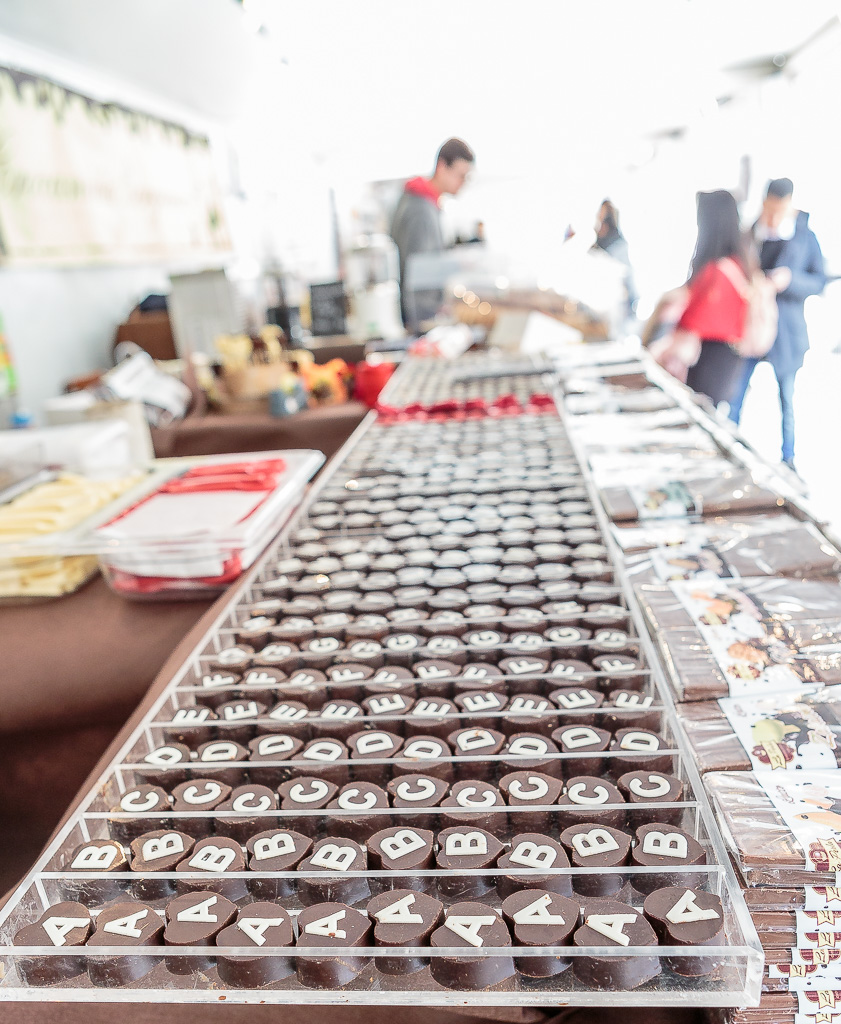 Artisans | Tea Hunt in the Oltrarno, Feb 11, 4-7pm
A collective of artisanal shops in the Oltrarno in Florence have banded together to open up their doors for a special "tea hunt" (a little pre-Valentine's day fun) showcasing some of the wonderful creatives in the city. Anyone can join the fun, I'll attach the map and flyer here below and you can read more about the individual shops in the posts of this FB event. There is also going to be a free dance party at one of my favorite artisan studios around 7pm so you don't definitely don't want to miss that!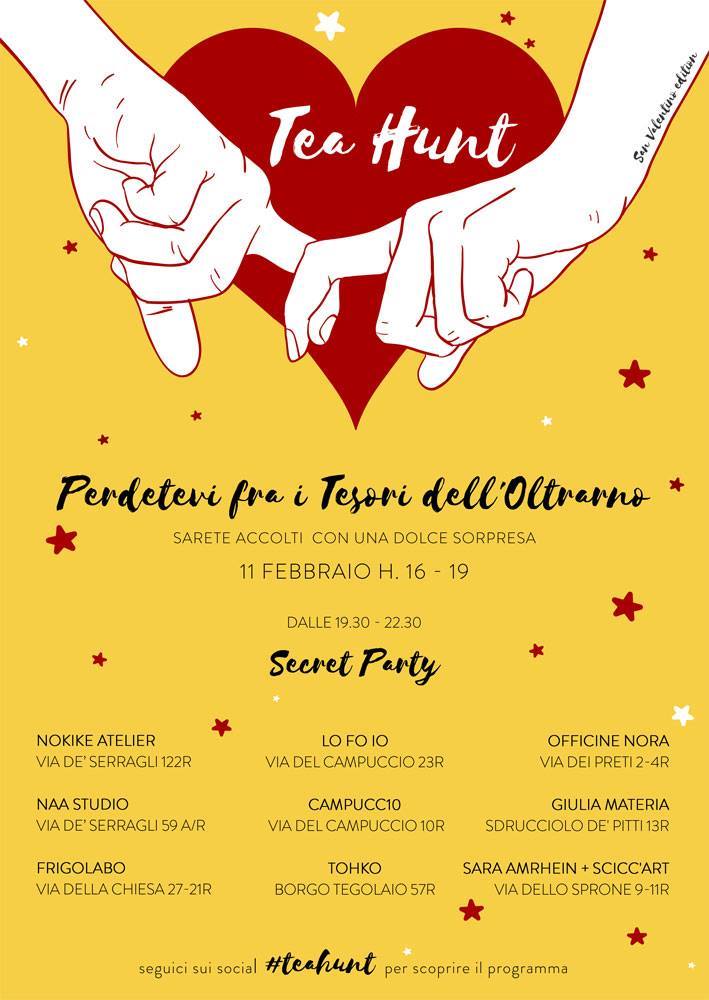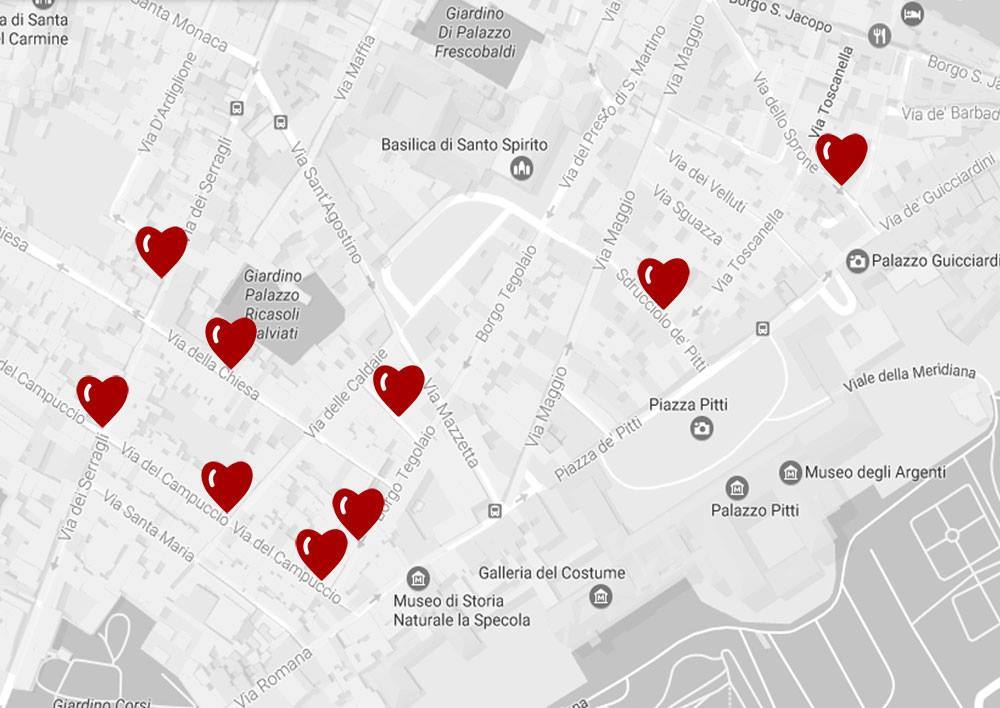 Art | Meet the "Artists," Museo Novecento, Every Sunday this February
Many people might not be aware that we have a wonderful 20th century art museum in Piazza Santa Maria Novella which is partly the reason why the Civic Museums of Florence and the MUS.E Association have proposed a calendar of meetings dedicated to the great artists of the museum in order to retrace the artistic events and offer support to the understanding of their work. Meetings will take place every Sunday of the month at the l'Altana del Museo Novecento, participation is open to all and free. Check out who they will chat about this series here (in Italian).  Reserve your spot here Tel. 055-2768224 055-2768558
Mail [email protected].
Wine | Chianti Lovers 2017, February 12, Fortezza da Basso
Lovers or #chiantilovers as 2017 would have you call them will definitely want to attend this wine-soaked event celebrating Sangiovese at the Fortezza da Basso this February 12th, last year the event attracted 3,000 people. In attendance will be over 100 producers from the Chianti wine producing area. From 9:30 am the event will be open only for journalists, trade professionals and sommeliers. From 4 pm until 9 pm the event will be open to the public. 15€ entrance fee, you can get your ticket here. 
Exhibition | "Any Kind of Love" at Multiverse, February 16, 6-11pm
Together with Pomo Florence, this awesome co-working space in Florence will inaugurate "Any Kind of Love" exhibition that explores the many different ways to express love in a digital and traditional pop-art mashup. This should be a lot of fun! More info can be found here. address: Via del porcellana 57/59 rosso. 
https://www.instagram.com/p/BP5xGKXDt92/?taken-by=pomo_fi
Holiday | "Anti-Valentines" Party, February 14th, Vanilla Club
Love or hate Valentine's Day, at least you know there are options! Vanilla Club is hosting a party starting form 9.30pm on V-Day with a fun 1920's theme. Space is limited so get your ticket here (15€ which includes your first drink). address: via dei Saponai 14r.
Holiday | Valentine's Day Themed Dinners, All over Florence & Tuscany
For the anti-anti-Valentine's Day fans (basically if you appreciate a day of love) there of course will be many restaurants all over the city (and Tuscany) offering love-infused fixed-price menus. Below are a few of my personal favorites. I will be adding to this list as I find out about events/dinners.
Irene Firenze, romantic contemporary Italian Bistro in Piazza Della Repubblica, menu includes Amberjack filet served raw on Himalayan salt with a lemon sorbet, sole with lemongrass and saffron, duck and a lovely special dessert (see the full menu here) 60€ per person. To Reserve call (+39) 055 27 351 or email [email protected]
In Tuscany my top pick would be Ristorante Mulino A Vento which is part of organic farm Fattoria Lavacchio (absolutely one of my favorite eateries). On the fish-themed menu is everything from fresh ravioli with pumpkin, ricotta and thyme to organic wine from Lavacchio's vineyards. 8pm, €34 per person. address: Via di Montefiesole 48, 50065 Pontassieve. To reserve call +39 055 8396168 mail: [email protected].
Culture | FLR (Florence Literary Review Bi-Lingual) Magazine Presentation,
Palazzo Bargagli, 

February 15th, (5-7pm).

A chance for students and professors to get to know The Florentine's latest project, the FLR, the Florence Literary Magazine which got its star last year to great fanfare. For any lover of literature, you would appreciate this magazine which features Italian contemporary writers in a fully bi-lingual read and the presentation will talk about Italian contemporary literature in more detail. Posts are limited so reserve your spot by emailing [email protected]. address: Lungarno alle Grazie, 22.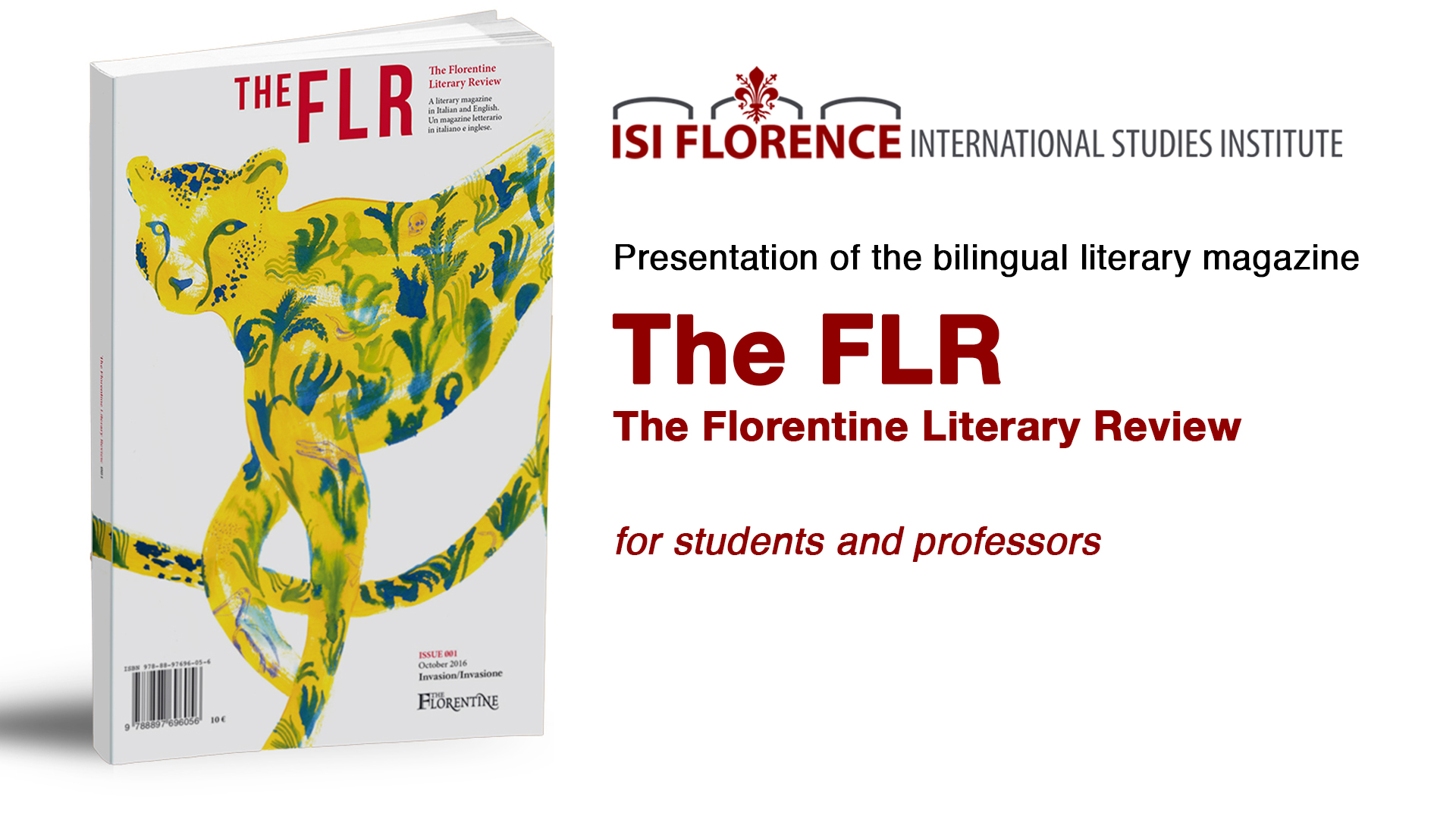 Cinema | Original-Language Movies at The Odeon. When? The month of February. Where? Odeon Cinehall, Piazza Strozzi.
A night at the movies. For me, despite having a Netflix account nothing really compares to the cinema experience and at the Odeon, you have one of the most incredibly beautiful spaces in the city. Expect to see some of the hottest Oscar-nominated flicks this month such as the very popular La La Land, A United Kingdom. Price: 8 euros for a normal ticket, or you can get a pass for 8 shows for 48 euros which lasts an entire year for original-language flicks. Check out the full program (until February 15th) here.
Organic "Mercato dei Semi" Organic Market in Piazza Santo Spirito, Feb 19th 9am-7pm.
Everyone's favorite organic market makes it way back to Santo Spirito for the February edition dedicated to seeds. Farmers from all over Tuscany come to this market to sell their wares at wooden stands, it's a great time to pick up quality cheeses, breads, olive oil and a variety of other goods.
Cinema | Balkan Florence Express, Feb 23-26th,  Cinema La Compagnia
 (Via Cavour 50/r – FIRENZE)
In it's 5th edition, the Balkan film festival organized by Oxfam Italia and Fondazione Sistema Toscana will be shown this year at the new Cinema La Compagnia on Via Cavour. Expect to see some powerful flicks from the Balkan countries (Croatia, Bosnia, Serbia, Slovenia and more). Included  in the lineup will be the winner of the Trieste Film Festival 2017 – "A Good Wife" from Serbia. Updates can be found here. 

Tuscany Events
As you might already be aware, February is Carnival month all over Italy with events taking place all over the boot to celebrate this awesome traditional holiday leading up to lent. In Tuscany, the top billing is as usual the carnival in Viareggio which has been running since 1873, which if you haven't been is really worth a visit. The parades are impressive and feature large floats with often very clever politically-minded satires (this year should be good). Expect lots of kids to dress up and way too much confetti for any human to handle — honestly after I went, I found confetti in my clothes for weeks (battle hazard). There is a train from Florence's central train station that goes directly to Viareggio ( a little over an hour). This year's lineup starts on February 5th with parades on the 12th, 18th, 26th and 28th, entry ranges from € 15,00  to € 18,00, more info here.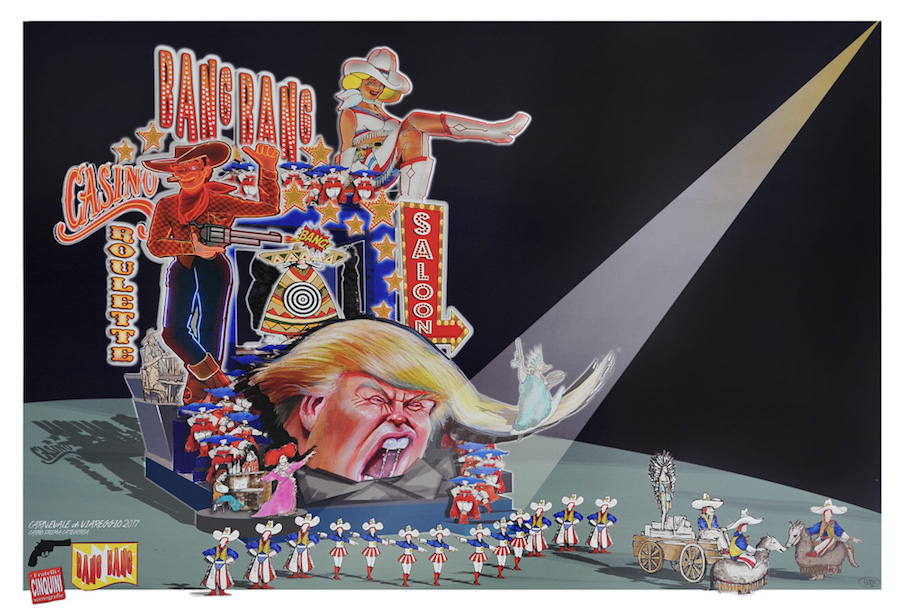 For those interested in going to Venice for carnival, I highly recommend joining the fine folks of Aegee, a student organization, which will bus it up to Venice for around 20€ a person. You really can't beat that price.