This weekend was a long-awaited 'ponte' or long holiday in Italy since Thursday was All Saints Day and why on earth should anyone work on a Friday (especially the local bus service). Halloween  for us was fun but rainy and we decided to drive down past Lucca on Saturday to visit a town known for their annual Halloween festivities.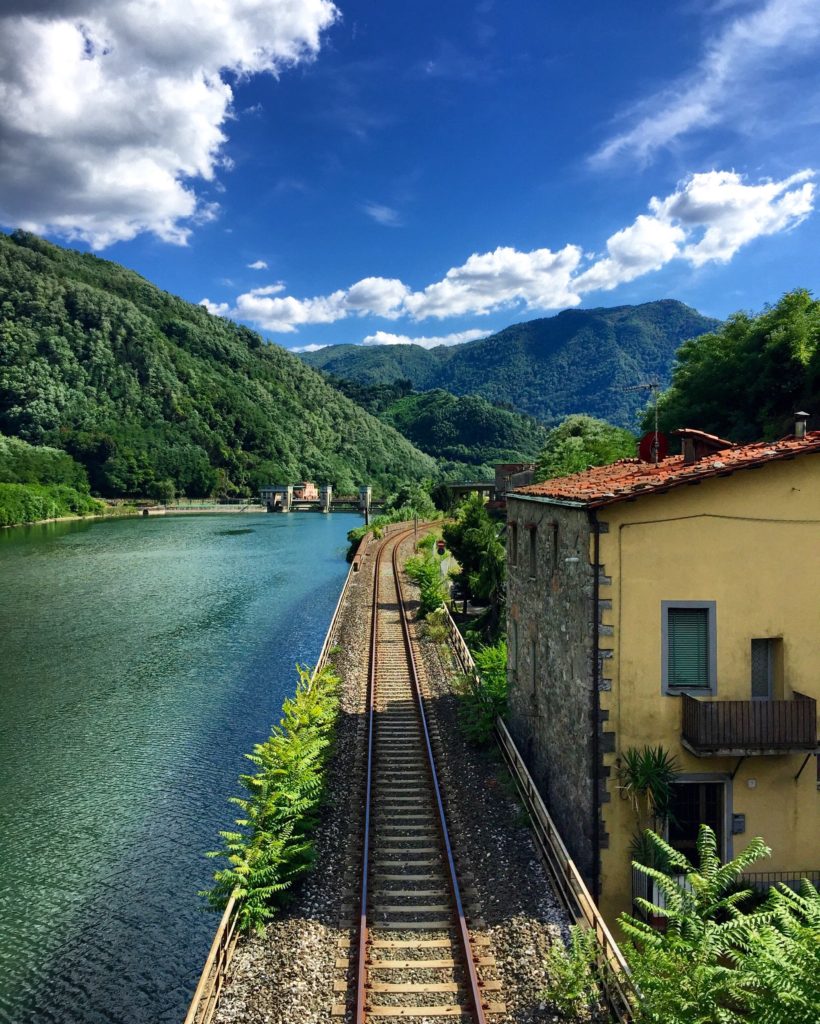 As we passed Lucca, we saw throngs of people in costumes since Lucca comics was in full swing – the city filled with Assassin Creed lookalikes. For a minute I felt like I was back in Los Angeles during comic-con. We didn't stop there and instead stopped at Borgo a Mozzano and specifically, the famous Ponte della Maddalena – otherwise known as "the devils bridge". This bridge was a vital crossing point for pilgrims along the via francigena.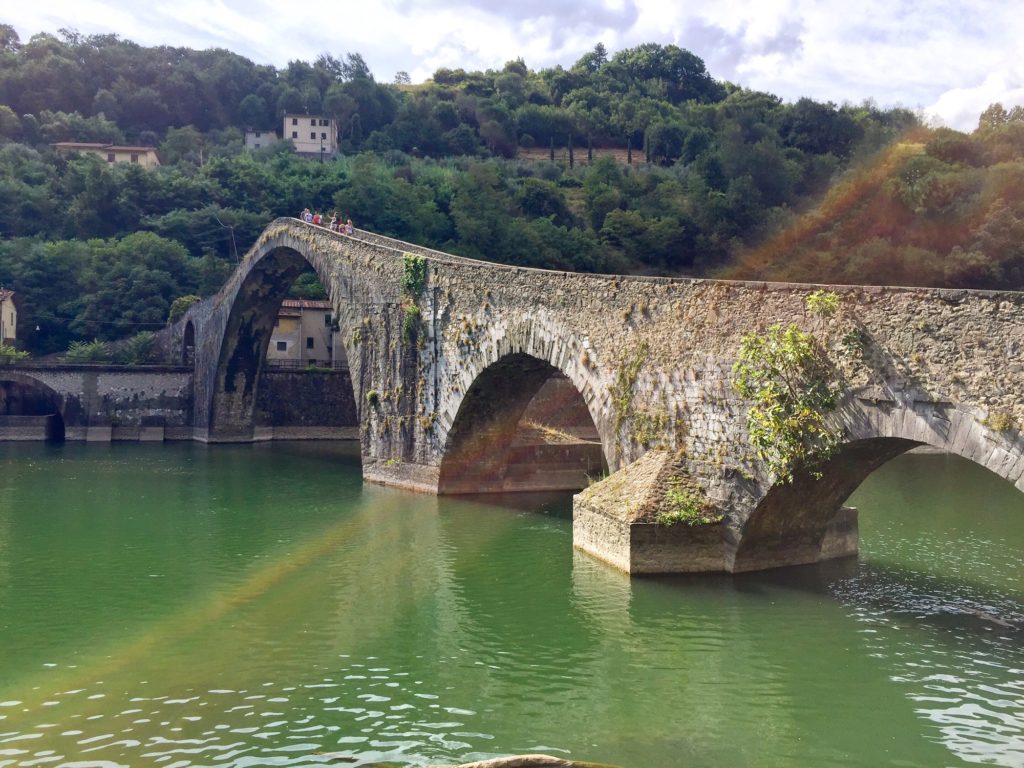 There is quite a creepy legend associated with this bridge:
According to popular legend: a master mason begun building the bridge but soon noticed that he would not be able to complete the work in time. Frightened by the possible consequences, he invoked the Devil by asking him to help. The Devil accepted the task and completed the bridge in only one night in exchange for the spirit of the first person crossing it. The contract was signed but the mason, full of remorse, confessed to a local priest  who advised him to let a pig cross the street in order to trick the devil. In the end, the Devil was defeated and he disappeared in the deepness of the river to forever haunt the place.
The bridge has a peculiar yet elegant shape with a high arch in the middle called the 'donkey's back' while the rest of the arches are asymmetric.
We parked our car and walked across it, I tried to imagine I was a weary pilgrim on a long journey to the holy land. Luckily in Tuscany it's not hard to imagine bring back in time since these small towns exude a medieval historical atmosphere and the nature allows escapism to occur quite naturally. In fact plenty of people walk the Via Francigena even today on their own modern "pilgrimages" and luckily there is a great website that will help you navigate the journey.  The weather when we were there was perfectly cool crisp and the air smelled slightly of smoke and chestnuts, in other words – like autumn.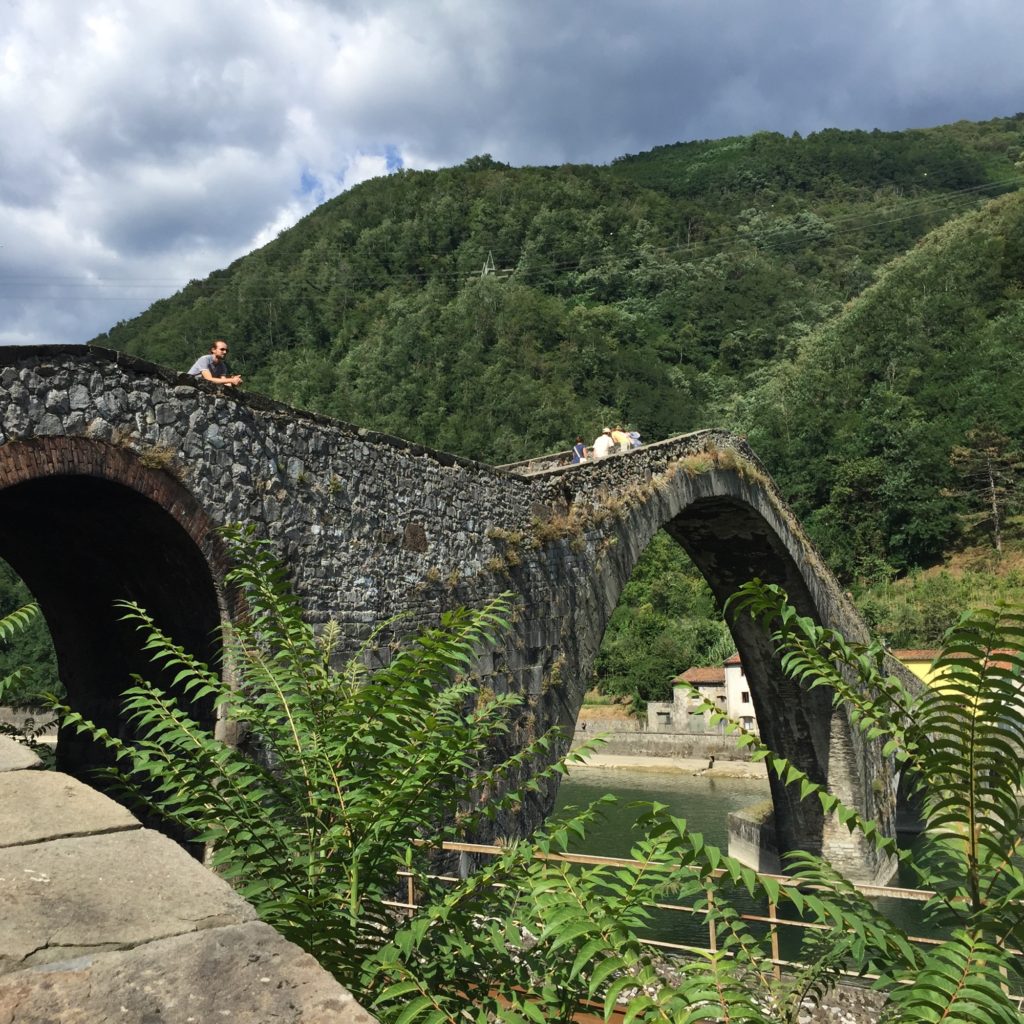 Exploring the rest of the town, we ran into an eccentric butcher who insisted on taking a 'unique photo'. Not a girl to often say no, we left him to run into his butcher shop and come out with a cow's head completed with a sawed-out brain. Thankfully we hadn't had dinner yet. He proceeded to then pose with his 'creation' while complaining about how the towns Halloween festival wasn't as collaborative as in the past, I have to say, I do love a good rant. 

Halloween music filled the small narrow streets and piazza's, people were dressed up  in costumes and ready for their annual 'treasure hunt' game taking place around the center. We stopped for a pizza and not to offend the host, I chose pizza al diavolo to keep with the devil's theme.
Bellies full, we wandered around trying to avoid the butcher (kidding) and decided to check out the "passaggio di terrore" (haunted passageway) that we saw advertised in empty wooden ticket boxes all over town. We only had to pay half the ticket price and I will admit, we both were excited. I love haunted houses and so does t-man, one of his favorite memories of America was going to Universal Studios during fright night and getting chased by out-of-work actors wielding fake chainsaws. This particular horror-way ended up being actually pretty impressive – we wandered tentatively from room to room with people jumping out of cages, mimicking a mental institution, a strange girl sewing another person's face and one desperate looking girl saying 'aiutami' in a shrill creepy voice. Bravo Borgo a Mozzano – I was impressed.
Looking back at this post, I think I have also managed to probably convince some people NOT to visit this town after all this 'horror' talk and the interesting neighborhood butcher. But halloween aside, if you are visiting Lucca and you have a car, drive the extra 12 kilometers and visit this quiet town and walk across this bridge. You will be pleasantly surprised on just how peaceful this place is. The landscape is stunning, the town is adorable, and you may just be convinced to take your own 'via francigena' like journey.
Also noteworthy in Borgo a Mozzano is the Church of San Jacopo and bell tower, it is home to works from the Della Robbia school.