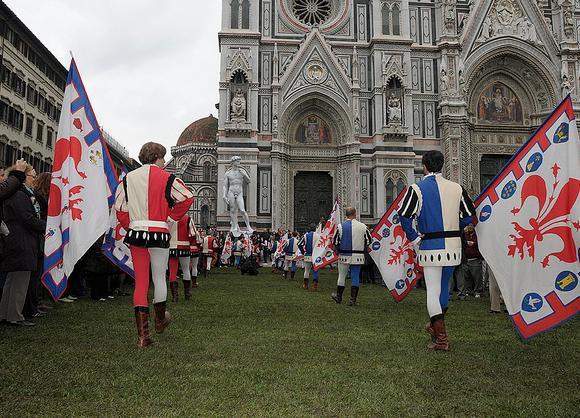 No really, is it just me or is this event really confusing to understand? As my friend Alex explained to me yesterday – Florens2012 is a biannual cultural event  including a series of events, lectures, round tables, conferences devoted to culture, the environment and the economy. "From the Grand Tour to the Global Tour" is this year's theme and events will run from November 3-11.
I have done a little research into these events and I have found that the events are FREE (awesome) and a lot of what they speak about it really interesting. They claim to have simultaneous English translations during the events ( I am curious to see how this works in practice..) and even a few events in English. Top picks include Florentine Renaissance crucifixes by Michelangelo, Donatello and Filippo Brunelleschi on show together for the first time in the Florence Baptistery from November 2 to 11 (to visit for free you can go anytime until November 11th from 11.15am to 12.15pm), an awesome National Geographic film première and many free aperitivos – need you need any more reason to attend?
 The Florentine is a media partner in the event and they are writing a lot of coverage about the event(s). Here is one article link to get you started. I am planning on attending the round table discussion on International viewpoints on cultural heritage on the 9th at the Bargello museum. Another cool event worth checking out is on Tuesday, November 6th – "Whats App in the Museum" (social media applications in Museums) in the SALA D'ARME in the Palazzo Vecchio. 

Also check out the installation in Piazza Santa Croce square by Italian contemporary artist Mimmo Paladino and an impressive olive grove set up in Piazza Duomo. I love when they do stuff like that, it shakes things up in the city in a good way and confuses tourists. These temporary exhibits are meant to make the public reflect about how our public space is used and it's importance. The olive tree being an especially important symbol in Italy, especially Tuscany. Noble idea indeed and I for one am all about more greenery (even temporary) in the city center.
Glutton that I am, I scoured the net for some food-related events going along with Florens2012 and sure enough there are special wine tastings, chocolate, tuscan products on sale, all of which make my mouth water. The complete list is here. Today you can get acquainted with the very underrated Lambrusco wine from 4-10pm for a 5 euro entry fee in Piazza San Firenze – and there will again be a similar event on November 6th featuring wine and olive oil. There are a lot of really neat food events (mostly around Piazza San Firenze). Don't miss it!
It's events like this that make me proud to live in a city like Florence. I feel very lucky that I am constantly surrounded by artistic, cultural, gastronomic, film-related events going on at any time (besides August) and that they are so easily accessible to the public. I can't even keep up with it all even if I wanted to, and believe me, I really want to. Once again I will mention the word FREE, so you have no excuses to get a little culture (and wine) under your belt this next week.
Related articles