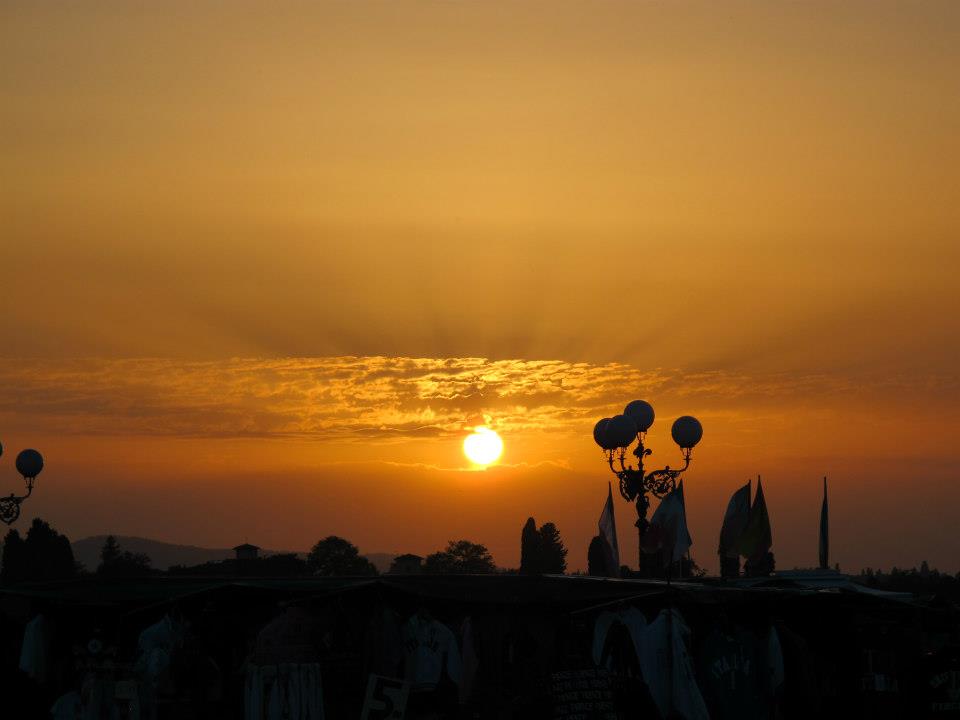 It was really nice to have the chance to relax last weekend and almost welcome the rain (and eventual freeze) in Florence. I did a lot of laying around, catching up on episodes of Homeland and changing my wardrobe for the winter season. Beach tops are now nestled in old suitcases and warm wooly sweaters and too many pairs of tights have taken their place.                             Of course, my idea of a lazy weekend never really means not going out.
On Saturday night we had a dinner with our friends Erin & Peter and Katey & Rob in a restaurant I have never been to before in the Oltrarno, Santo Graal on via romana. We had a drink at Hotel Continental first (fancy!) which has a really awesome elevator that looked like a comfortable patio seat with chairs and cushions but only went up one floor, oh well. I could pretty much afford only one drink – reminder to self, must win lottery – but it was really nice to discover a new place to bring future out-of-town guests.
The restaurant itself was really pretty inside, very contemporary in design and the owner was super friendly since he recognized some of our friends who live just down the street. By the way did I mention that via romana has literally everything a resident could ask for, yankee candles including. We sat down around a round table (always my favorite – makes me feel like King Arthur) and started what ended up being a delicious meal. A bit pricey, the menu boasted both traditional and innovative regional dishes. We decided to share an appetizer made with anchovies, and I also got a plate of 'gnochetti' made with fresh cream, pecorino and sausage while t-man got tagliata. The idea was to share but of course, I absent mindedly piled gnochetti on t-mans plate while he gobbled down my portion of the tagliata. Thanks babe!
The first photo is of a little surprise the chef brought us while we waited (service was a little slow..), basically a fresh take on ribollita – a classic Tuscan dish normally served in the winter. It was so creamy and delicious – I wish it was about 20 times the size and I probably could have eaten JUST that. We also had some really great red wine from Puglia and the table bread was so beautifully soft with crunchy salty edges which totally kicks the ass of any normal white, saltless Tuscan bread.
On Sunday,  T-man coerced me into going to a classical guitar concert in the center which I resisted because it was freezing cold and raining non-stop and … I had a pretty important appointment with my pillow ;-). I may have mentioned before, but he is obsessed with classical guitar and practices everyday. I am sure our neighbors are happy he isn't an electric guitarist. That being said, the music is really quite beautiful and I am very supportive of a positive hobby even if this means me strapping on my rainboots on a rainy, freezing October sunday.
The concert itself was held in Chiesa Santo Stefano al ponte vecchio near the.. ponte vecchio and the solo guitarist was Flavio Cucchi. The music was beautiful and I was very happy to have gone, despite my whining in the car. Here is a sample of him playing.
Not exactly a true lazy sunday in the total sense of the word, but fantastic nevertheless. I can't wait to see what this upcoming weekend has in store, let's hope it involves some real rest & relaxation, then again that would't really be me! Yet another reason why I love living in Italy.
Related articles