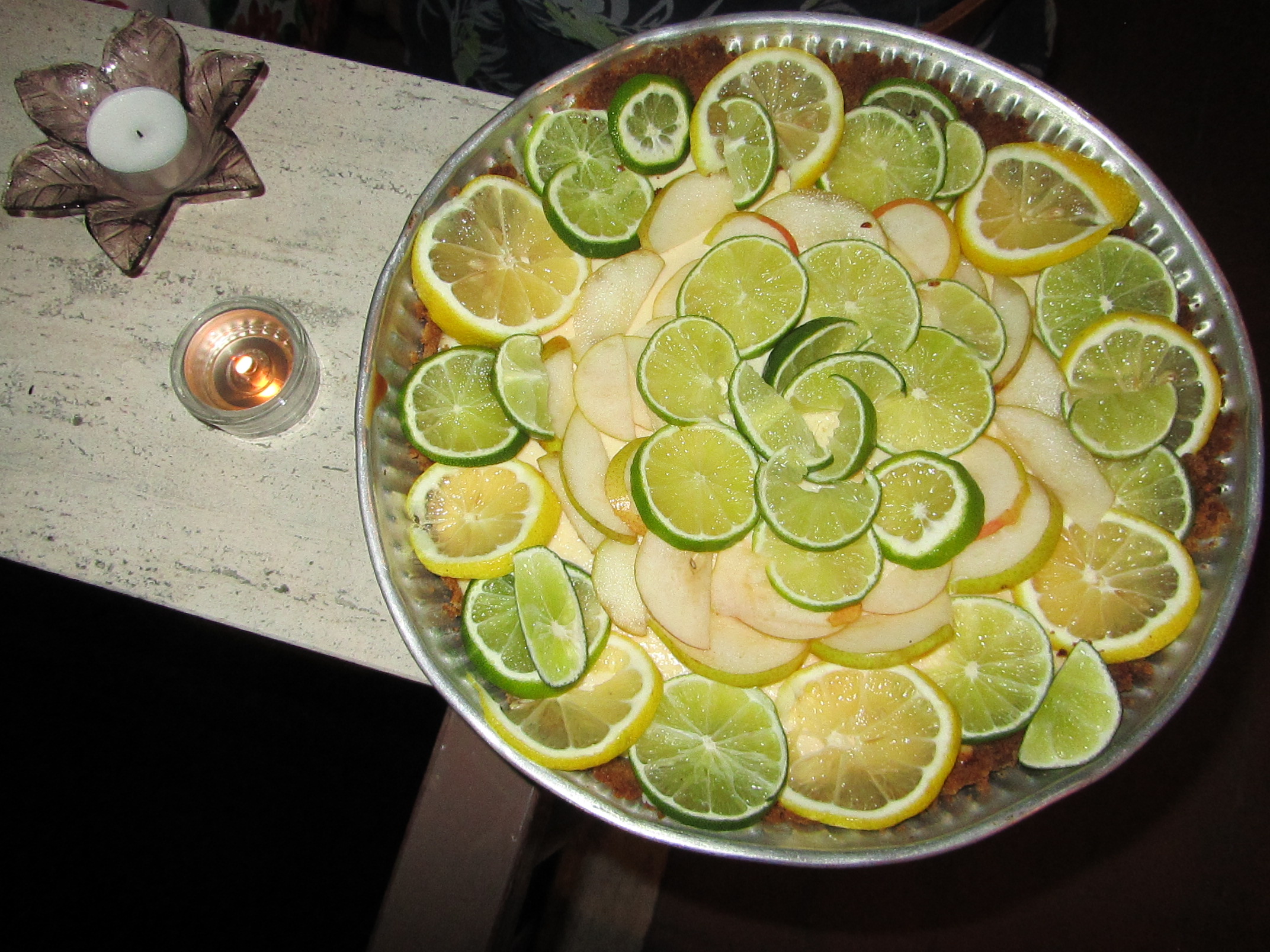 Like half of the internet-savvy world, I absolutely love Pinterest. It has provided me with so many ideas for recipes, DIY that I will never end up doing and lets face it – pinterest is a virtual adult Barbie dream world. I was recently invited to an international aperitivo with friends and as usual had no time to time to properly cook something so I decided t0 mess with a pinterest recipe for key-lime cheesecake cupcakes. I went ahead and just merged it into a cheesecake that would fit the ingredients I already had at home. The end result is a tart very limey-cheesecake with a ginger cookie crust. I topped mine with sliced lemon and limes. It ended up being quite a hit and several of my friends asked for seconds. Contrary to what many people think, cheesecakes are actually relatively easy to make and since it's one of the few foods I don't burn – they will always end up on my go-to desserts for a party or dinner. Enjoy! 
Ingredients (modified for products found in Italy):
for the base, get a bag of  any integrale (whole wheat) cookies that you like.
2 tablespoons butter, melted
1 tablespoon of ginger spice, look for zenzero in a powder form in the spice section.
2 packages of Philadelphia cream cheese (In normally get one light & one regular)
1 package of Ricotta cheese equivalent to one cup
1 package of sour cream / equivalent to one cup ( panna acida or agra in Italy , you can find this in the milk aisle of a bigger chained supermarket)
1 1/2 cups white sugar
3/4 cup milk
4 eggs (You can use three and get away with it)
1 tablespoon vanilla extract ( they should have some sort of vaniglia flavor in the dolce aisle )
1 tablespoon of lime zest                                                                                                                                     3 tablespoons of fresh lime juice (just add as much as you want)
for the topping I usually just used sliced fruit which is great for covering up errors.  tee-hee
Preheat the oven to 175 degrees Celsius. Grease a 9 inch springform pan. You need to put some water in an oven pan and then place the cheesecake in the middle of the pan which will then create a "water bath" thus ensuring your cheesecake won't crack or burn.
In a medium bowl use a food processor to crush the cookies into small pieces or even dust and liberally mix ginger powder into the crumbs and add the butter. Press onto bottom of springform pan or the pan that you are using. If you can do this the night before and stick the pan covered in crust in the freezer which will solidify the crust. I don't like to bake the crust twice. In a large bowl, mix your cream cheese with sugar until smooth. Blend in milk, and then mix in the eggs one at a time, mixing just enough to incorporate. Mix in sour cream, zest, juice, ricotta, vanilla until smooth. Pour filling into prepared crust.
Bake in preheated oven for 40 minutes. Turn the oven off, and let cake cool in oven for an hour and then place into refrigerator until cool. Once cool, then add your lime slices (pineapple is also a great topping) and serve!